Today, the office dress code rules have become more flexible, thus setting off a multitude of business casual men outfits. Although the principles aren't very strict, they're still available. And we're pretty sure that you don't want to violate them, do you? So that won't happen, we've prepared a guide that will give you the idea of how to put together a business casual outfit. Are you ready to clean up your closet?
What Do You Call A Business Casual Men Outfit?
Source: @patrickdossantosaveiro via Instagram
Not everybody understands entirely what exactly constitutes business casual attire for men. To clear things up, business casual attire is the type of clothes that has both formal and casual attributes. However, it doesn't mean that you can come to the office in such casual clothes like a tank top, shorts and flip-flops. It still should be work-appropriate, only not as preppy as it used to be.
Before you've decided to give up on the whole idea, we can give you a quick insight into what you can wear without being afraid to get into a hobble. In your mens business casual wardrobe, you should have a blazer, a dress shirt and a pair of pants. If it doesn't go against the rules of your business casual dress code, get a pair of jeans. If not, cotton chinos or another high-quality option will become a nice alternative. For shoes, you can never go wrong with Oxfords, derbies, loafers or monk straps. Basically, any dress shoes will do. A tie, a watch and other accessories are optional.
Where Did It All Begin?
Source: @kamilnizinski via Instagram
If you're wondering what the origins of the business professional attire are, here's the story. It all began in the '60s when the garment industry of Hawaii started "Aloha Fridays" to encourage gents to sport Hawaiian shirts in the office before the weekend instead of their traditional business attire for men.
At the beginning of the 1990s, this idea became popular all over the USA, resulting in "casual Fridays". But, some guys didn't seem to really understand what is business casual for men and as a result, opted for clothes that their bosses considered overly casual outfits for the office. Thus, the weekend wear company Dockers, which already belonged to Levi's, created the brochure that consisted of eight pages and was named "A Guide to Casual Businesswear". Sure thing, it contained their renowned khaki pants as a central piece of the new concept of men's business casual wear. Over 25,000 American HR departments received the brochure. This allowed for khakis to become casual male attire for every business day.
At the end of the 1990s and the beginning of the 2000s, the dress code established by Dockers became extremely popular. However, it mostly associated with employees of a low level and cubicle workers. Thus, the rules were revised, setting off the new business casual men dress code, which we have now.
Editor Chooice: Business Haircut Ideas For Men Who Do Everything Like A Pro
Business Casual Men Dress Code Rules
Source: @travbeachboy via Instagram
We want you to succeed in putting together your business casual outfits. Hence, we've compiled two lists what you should and shouldn't wear to become the most fashion savvy man in the office.
Give the green light to:
Blazers tailored of high-end fabric.
Button-down shirts with long sleeves made of cotton.
The sweater that fits tightly and is put over a shirt with a collar.
Dress pants, such as chinos, slacks and khakis or high-end jeans that fit perfectly.
Business casual men attire in neutral and unicolor shades.
Dress footwear.
Plain patterns (N.B. Applicable only when the skill of putting together business casual attire for men is mastered).
Refrain from:
Too dressy suit jackets.
Tee and polo shirts.
Bulky sweaters.
Sportswear, casual and street style jeans as well as shorts.
Bright shades unless you're sure that you can pull them off.
Informal or too casual shoes, such as flip-flops, sandals and slip-ons
Overly patterned clothes.
Business Casual Clothing Tips & Suggestions
Source: @travbeachboy via Instagram
So far, we provided you only with the general insight into the principles of business casual attire men should stick to. Now, let's look at them in more detail.
Casual Blazers
Source: @reza_jax via Instagram
Men business casual blazers should meet two main requirements – fit tightly and be perfectly tailored. For materials, you can go with light wool and tweed or linen and cotton, depending on the weather. Color-wise, stick to deep yet neutral shades, such as gray and navy. When it comes to the style, it's totally up to you to decide. We would recommend choosing a blazer that is single-breast and has either notch or peak lapels.
Business Shirts
Source: @thomasdavenport via Instagram
Of course, you won't wear that blazer on a naked body. Thus, you should pick out the right shirt. Go for button-down options with two straight back seems. Ensure that the shirt you choose fits tightly too. Talking about the colors, at first, you shouldn't experiment with bright shades, opting for white, baby blue and baby pink. In case you prefer gray and navy sweaters that fit tightly, pair them with collared shirts. If you choose button-down cardigans in the same colors, add a tie too.
Pants
Source: @emilsebastiian via Instagram
For bottoms, you have quite a lot of options as well. The main rule here is that your pants should look dapper and fit tight. Don't choose too tight pants though, as they'll do no good to you. A pair of chinos made of cotton or high-quality business casual jeans is your way to go.
Casual Men's Accessories
Source: @kamilnizinski via Instagram
To complement their business casual outfits men often resort to accessories. However, to comply with the business casual men dress code, the adornment you choose should demonstrate your exquisite sense of fashion. If you waive a tie, opt for a high-end wristwatch and add to it a bag to throw your gadgets in. All made of leather, of course.
Business Casual Shoes
Source: @Tonyvoltaire via Instagram
One of the most important parts of your business casual men outfit is shoes. But what kind of shoes can be called business casual? Although you might find this notion a bit confusing at times, in general terms, this is the type of footwear that is a middle ground between smart and casual styles. The kind of shoes you are going to complement your outfit with mainly depends on the type of clothes you are wearing. So, here is a rundown on the best business casual shoes.
Suede Derby & How To Wear Them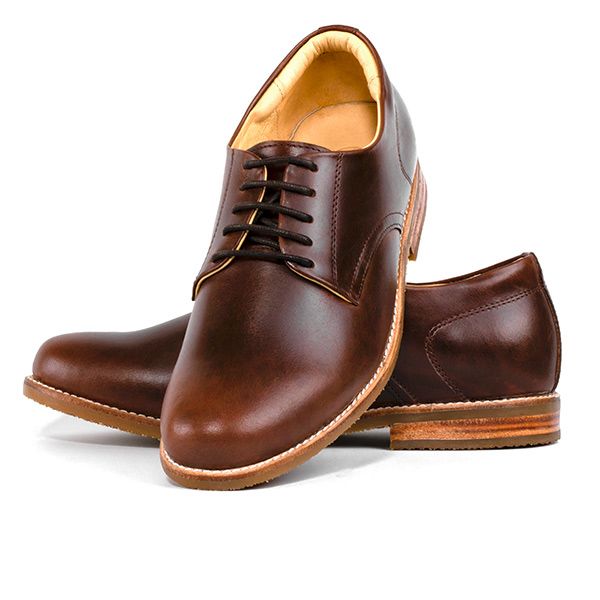 Source: StepPro/Shutterstock
If you like Oxfords but looking for something less formal, then suede Derby shoes are your way to go. The difference lies in the laces. Oxfords have the inter-eyelets area sown shut whereas if you leave the laces undone on Derbies, they will flap open. Thanks to their great versatility, Derby shoes can be sported with any kind of clothes. Just ensure the colors match nicely.
Minimalist Sneakers & How To Wear Them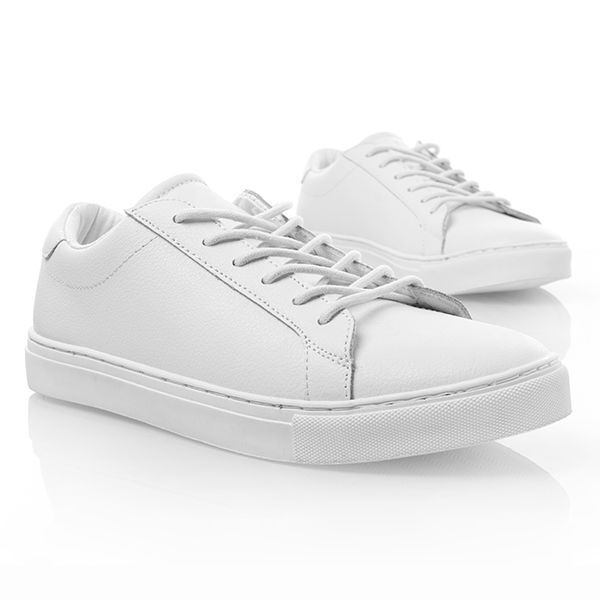 Source: goir/Shutterstock
If you think of sneakers as of tennis sportswear, then we are here to prove you wrong. For the last years, they have integrated into business casual men wardrobe and do not seem to leave anytime soon. As for the style, opt for minimalism – a pair of leather plain sneakers is your best option. Yet, they still retain quite a casual flair, so refrain from ties and buttoned-up shirts choosing a white polo or T-shirt instead. For the bottoms, chino pants are your way to go.
Contrast Sole Brogues & How To Wear Them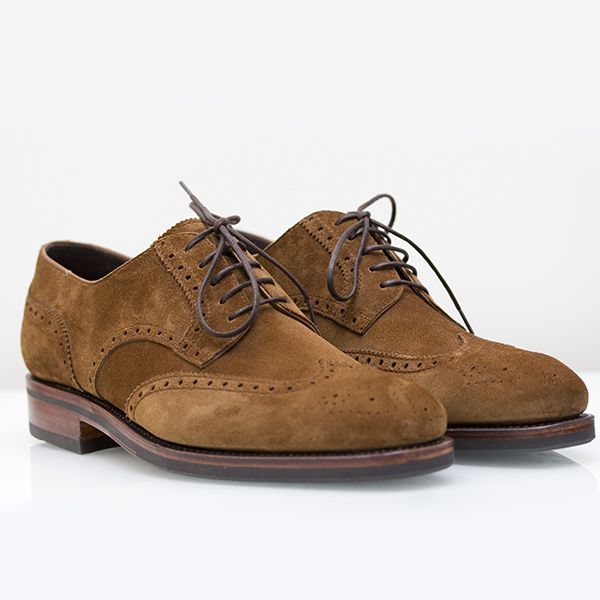 Source: KWL/Shutterstock
If you want your shoes to make a strong statement, then consider brogues. You will easily recognize them by ornamental patterns that line and perforate the shoe leather. Although they look eye-catching themselves, you can add even more boldness by opting for brogues with contrasting soles. As they are mainly performed in brown rather than black, combine them with such fabric as indigo denim.
Penny Loafers & How To Wear Them
Source: Dmitry Morgan/Shutterstock
Penny loafers are a great accompaniment for a preppy and polished outfit. They are slightly different from classic loafers though. Pennies feature a leather strip at the front with a carved diamond in it. It is important to choose a pair of penny loafers that fits you nicely. To complement refined attire, such as featuring wide-leg linen pants, go with polished leather blue shoes while for summer and spring, choose suede ones.
Oxford Boots & How To Wear Them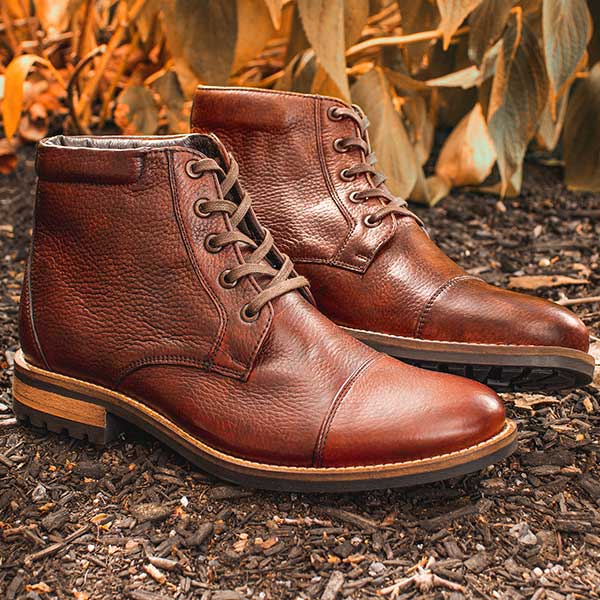 Source: Ryan Garrett/Shutterstock
If you favor Oxford shoes, then you will most certainly like Oxford boots too. They have pretty much the same design with a minimal number of stitches. The main difference is that the boots obviously go higher to your ankles. This though makes them a more versatile option, as you can wear them with both formal and casual outfits, including jeans and wool pants.
Chukka Boots & How To Wear Them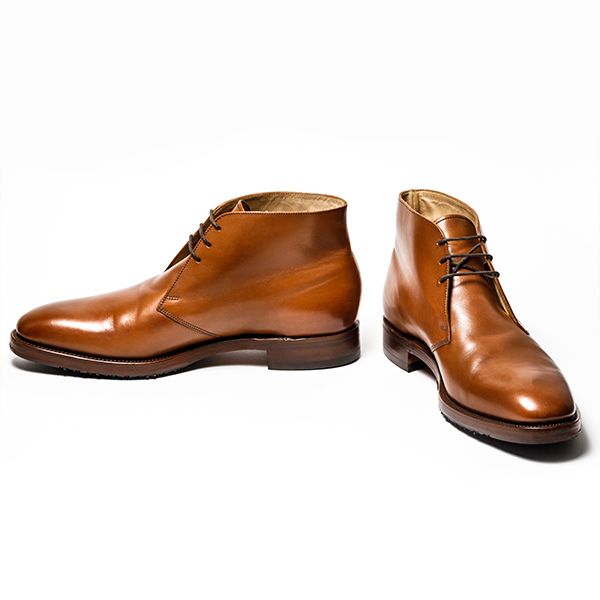 Source: BATMANV/Shutterstock
Chukka boots have come a long way to land today as one of the most popular business casual men footwear. Although they are rather low-key, they still look stylish and trendy, especially when you turn the hems on your pants up. Chukkas are known to have three leather pieces that are pulled together with laces tied through 2-3 eyelets. When deciding what to wear these shoes with, consider such factors as fabric and color. For formal attire, choose Chukka boots in polished leather whereas for a more casual look, go with brown suede boots.
Chelsea Boots & How To Wear Them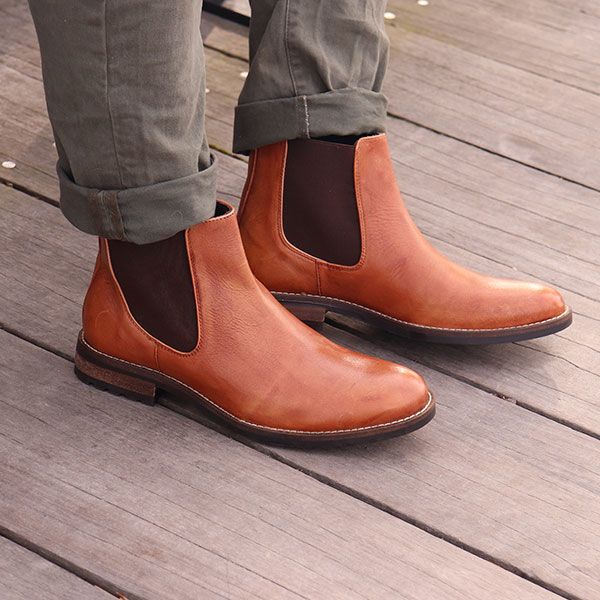 Source: Ryan Garrett/Shutterstock
Chelsea boots are highly popular for good reason. The way they curve from top to bottom gives them a unique and stylish flair while the elasticated ankle makes them extremely practical and comfortable. Team Chelseas with black skinny jeans and a white casual shirt, such as an Oxford button-down one.
Monk Strap Shoes & How To Wear Them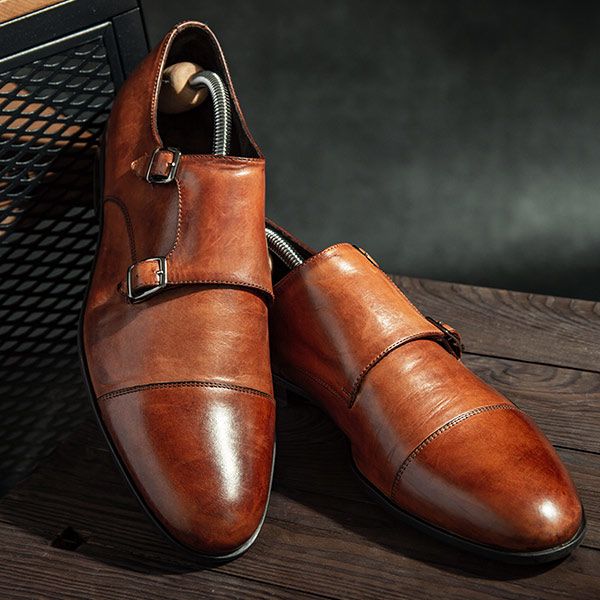 Source: Daniel Krason/Shutterstock
Thanks to the polished leather monk straps are usually made of, you will have no doubts that these are business casual men shoes. They can go with single or double straps, which does not have any practical meaning, yet makes up a really distinguishing element. Monks can complement your attire to fit any ambiance, from casual and formal to dressy and festive, with equal success. Yet, a perfect company for monk strap shoes is still a formal outfit, as their refined appearance calls for it.
Business Casual Men's Outfits
Now that you have all the necessary information on how to adjust your casual attire to the business ambiance, here are some of the best business casual examples for your inspiration.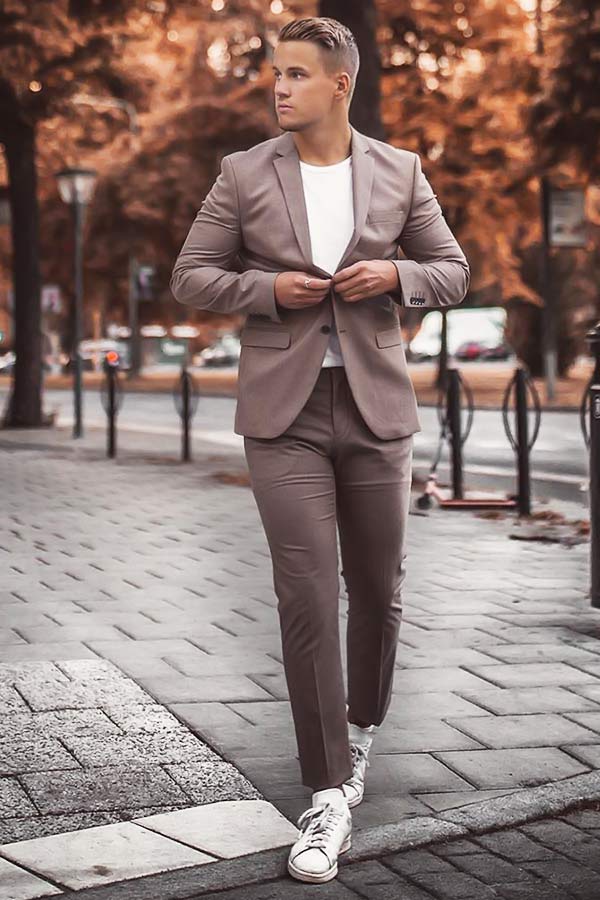 Source: @emilsebastiian via Instagram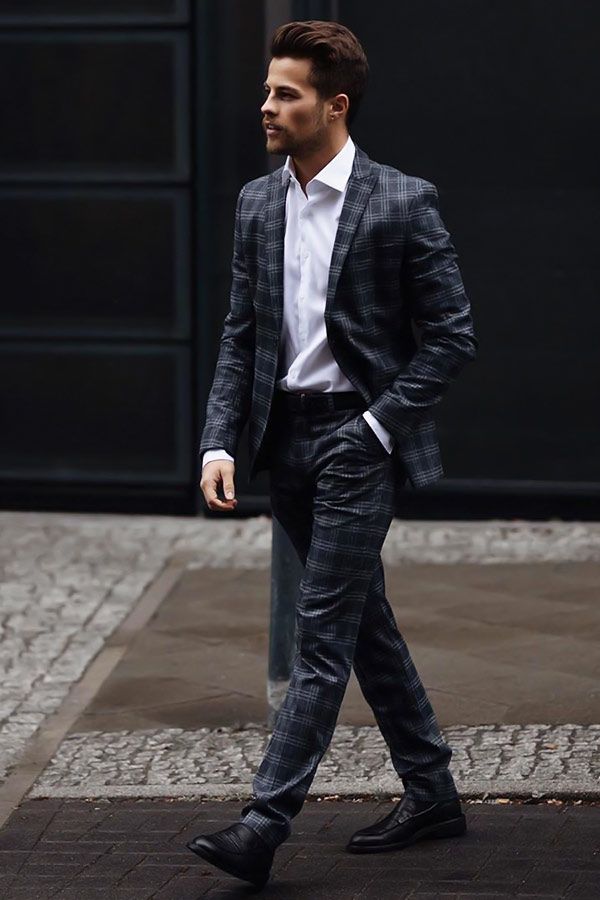 Source: @kevinelezaj via Instagram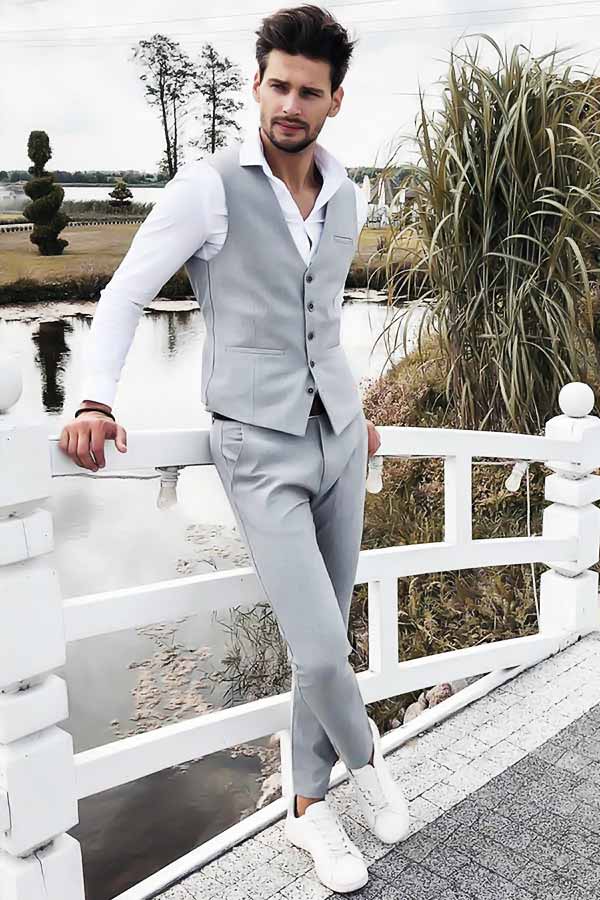 Source: @kamilnizinski via Instagram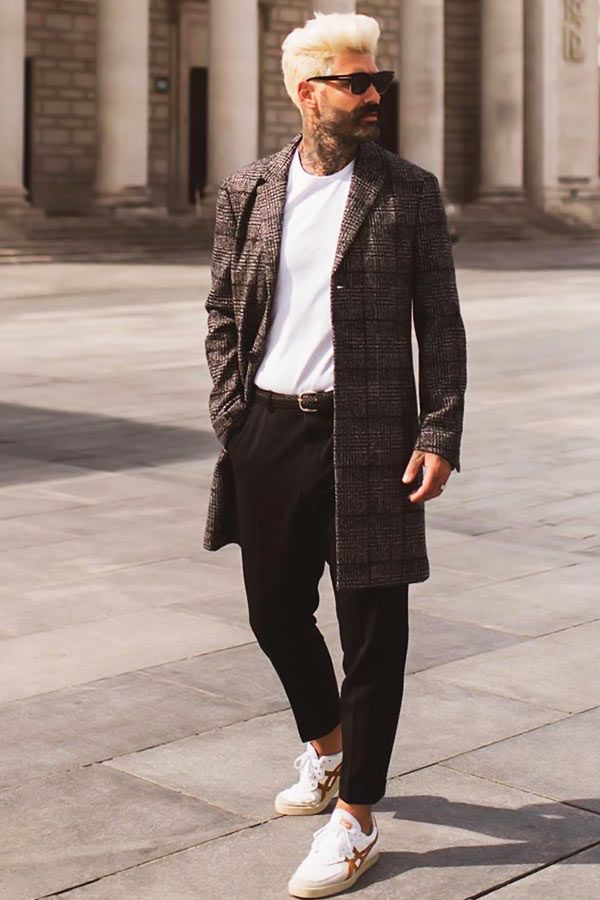 Source: @roque_80 via Instagram
Source: @kamilnizinski via Instagram
Source: @travbeachboy via Instagram
Source: @roque_80 via Instagram
PH888/Shutterstock
Source: @lanedorsey via Instagram
F8 studio/Shutterstock
Source: @Tonyvoltaire via Instagram
Source: @kamilnizinski via Instagram
Ranta Images/Shutterstock
Source: @reza_jax via Instagram
Source: @kevinelezaj via Instagram
Looking business casual for men is a manageable task if you know what are the dos and don'ts of business casual men dress code. With our guide, you should have no hard times putting together your office outfit. Just remember to keep it stylish, sophisticated and comfortable.