What is the best haircut for a black man?
It is important to understand that Black men haircuts are different from other haircuts for men, as they are curated with the Black hair texture in mind. If you struggle to choose a suitable cut for your kinks so that they would not only look groomed but also stayed protected, you are at the right place. Our guide features the best haircuts for Afro hair types. Do not hesitate to explore it thoroughly for a dose of inspiration.
*We may earn money from affiliate links on this page. Please check out our disclosure policy for more details.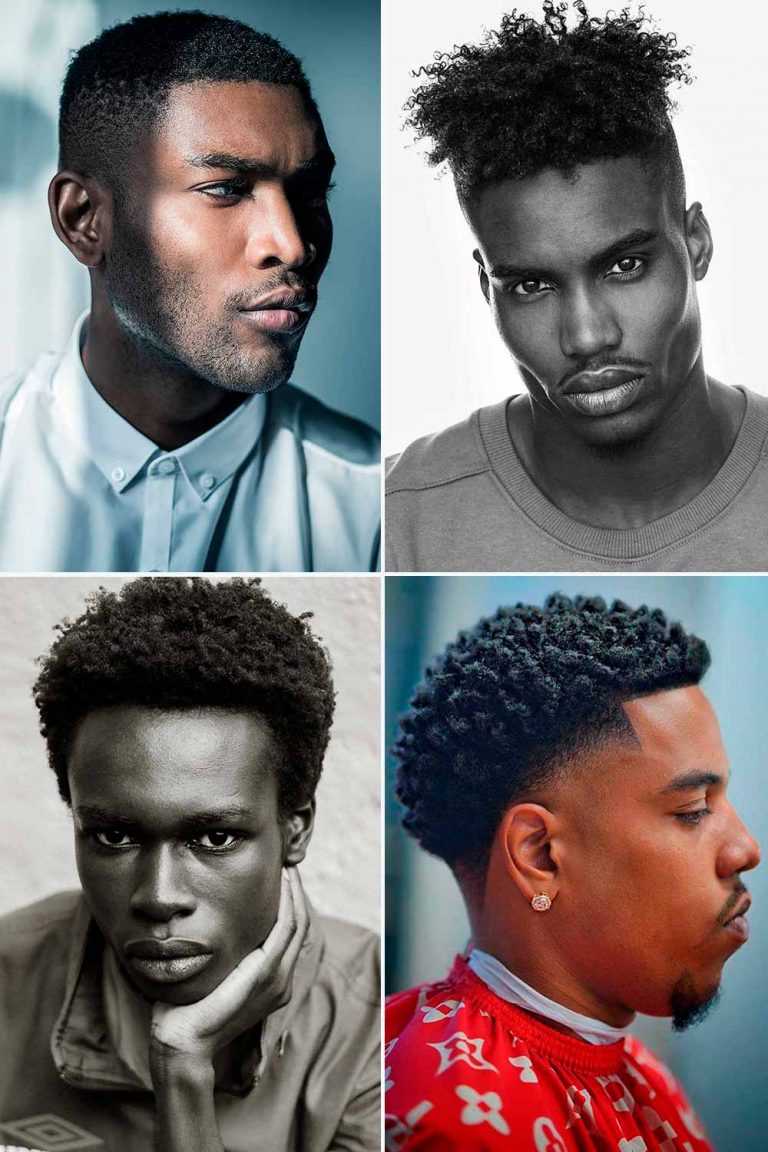 Source: @lanedorsey/@hayden_cassidy/@nickthebarber via Instagram
Here are a few of those black men hairstyles 2023:
The Popular Black Men Haircuts
In case you prefer more natural hairstyles, you are welcome to go with it. However, remember that you will need a really good styling product and natural hair care to give your textured hair the kempt look. Pay special attention to oily or buttery products as your hair is prone to getting dry and thus frizzing. Coconut oil or Shea butter will help you to keep your locks moisturized and natty. Also forget about hair products with sulfate in because they will make your hair even drier. What you shouldn't forget is heat protection since when you're using a blow dryer, the protector doesn't let it damage your hair. And lastly, opt for a hair pick instead of a brush, because it helps to keep the structure of your hair taut.
Buzz Cut With A Bald Fade
Buzz haircuts are the most basic short haircuts for men. However, if we're talking about the black men haircuts, this style can seem a bit too dull. Bring some uniqueness to the look by clipping a curvy hair design.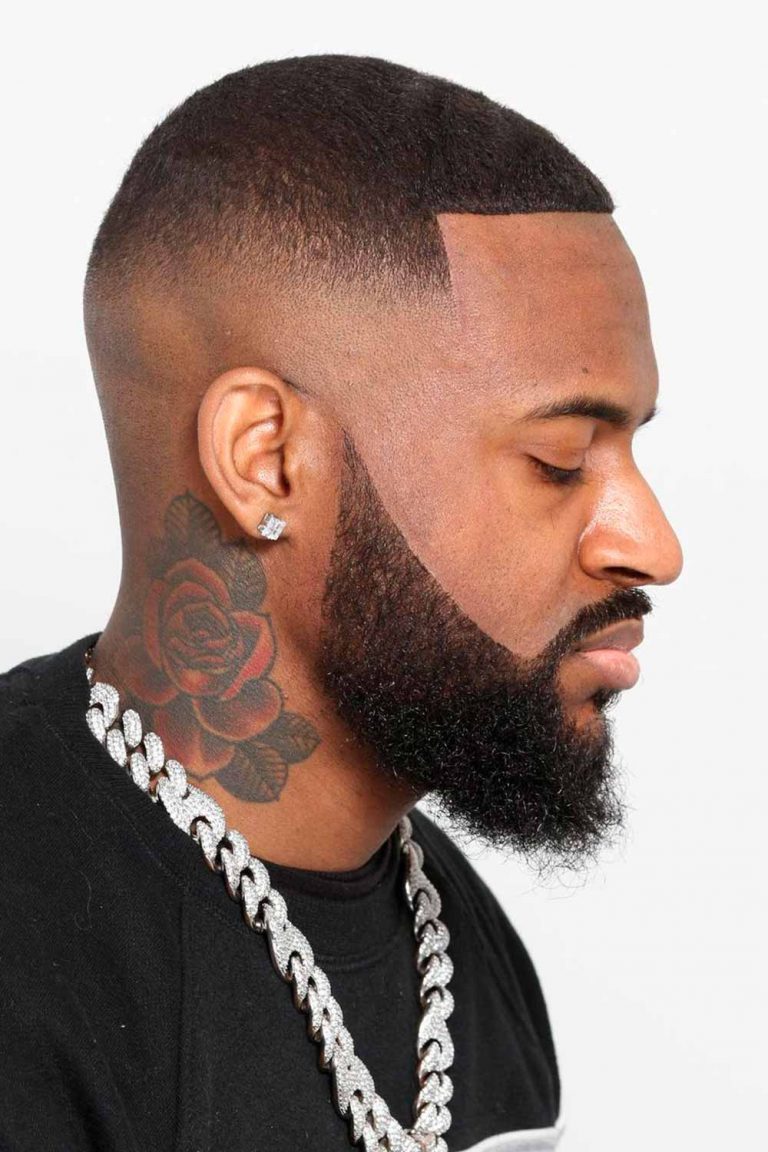 Source: @adrianfanus via Instagram
Blowout Low Haircuts For Black Men
Blowout haircut is known by many names. The New York originated haircut is also known as Brooklyn fade, taper fade, or temple fade. Just like the afro fade, the sideburns, temple, and neckline are finely tapered to give the head an exotic look. It can be long or short, depending on which one fits your face better.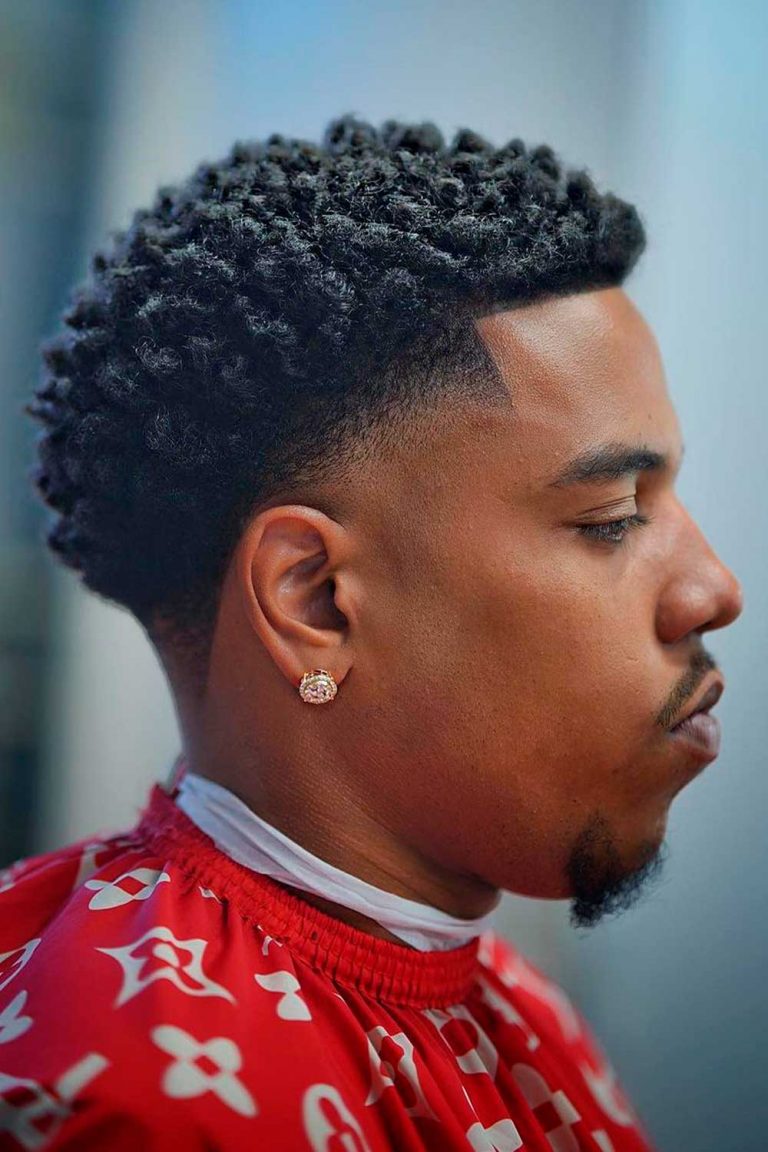 Source: @nickthebarber via Instagram
Low Fade Haircut Black Man + Beard + Line Up
Probably, you won't be surprised to find out that the most popular haircuts for black men are of a short length with a fade. The main reason for this is because short Afro hair men hairstyles are saucy yet easily maintained. If you opt for a dapper low fade with line up, you can add a simple design and full trimmed beard.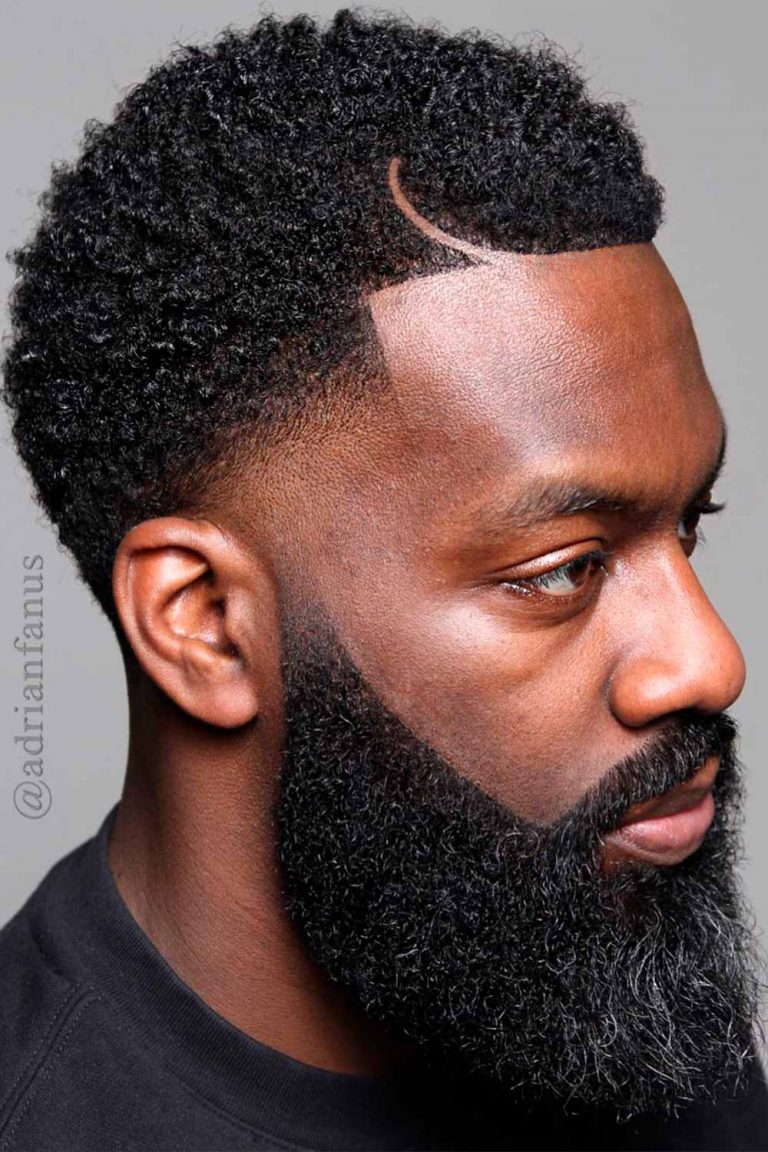 Source: @adrianfanus via Instagram
Long Kinky Mohawk Hairstyles For Black Men
Barber uses clippers to cut the sides of your hair to give your face a perfect fit. There are many short haircuts for black men you can combine with faded sides. Examples are curls, short dreads, mohawk, etc.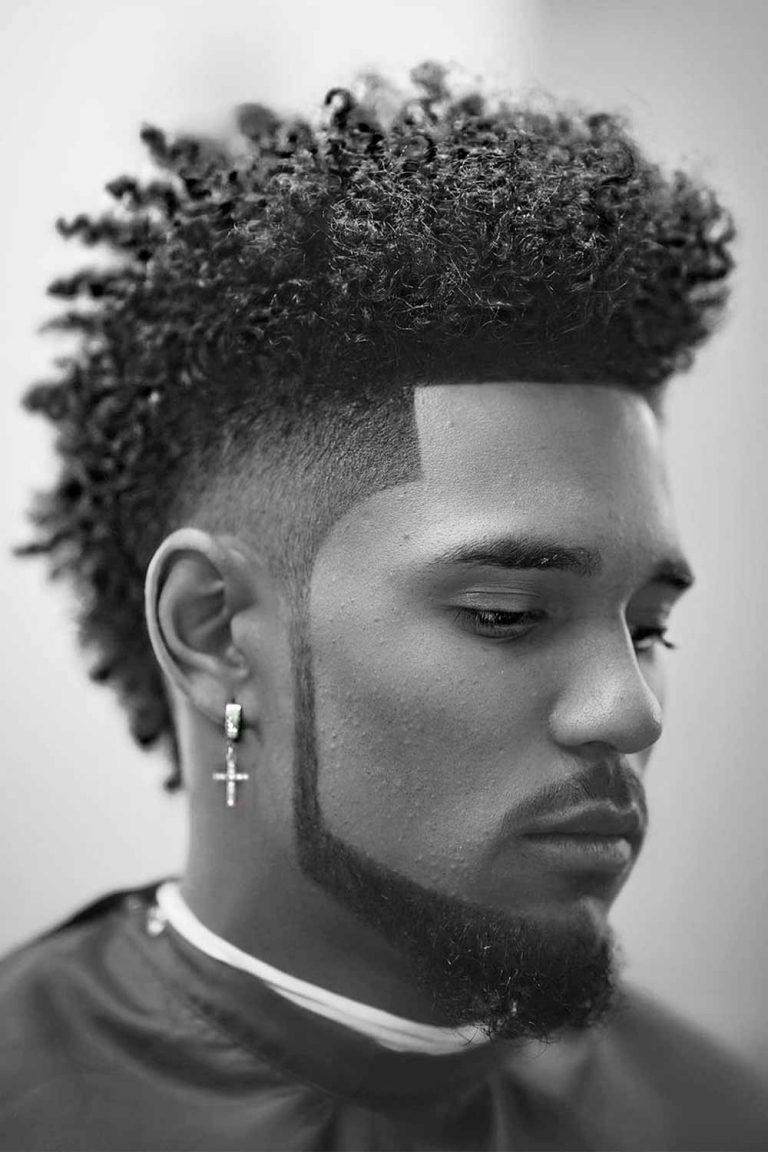 Source: @nickthebarber via Instagram
High Flat Top Black Men Haircuts
Such a high top haircut would be the most complimenting for the men with medium head size. Basically, this flat top black male hairstyle would look classy on every black man. However, due to its complex angular shape, it requires quite a lot of effort to keep the line-up haircut on top.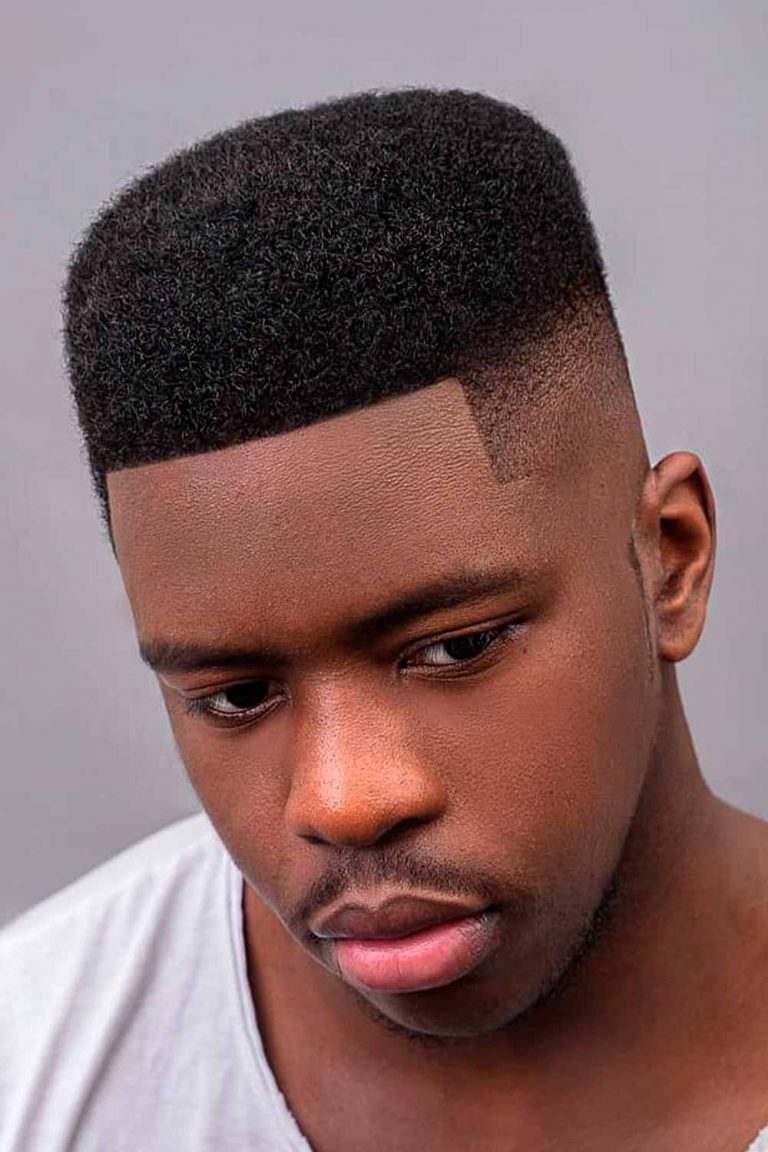 Source: @keller_konturen via Instagram
Curls Over An Undercut
This exceptionally defined haircut for black men can be achieved with the help of short cut sides and naturally styled curls. It perfectly balances two haircuts for black men – the messy top and the undercut sides.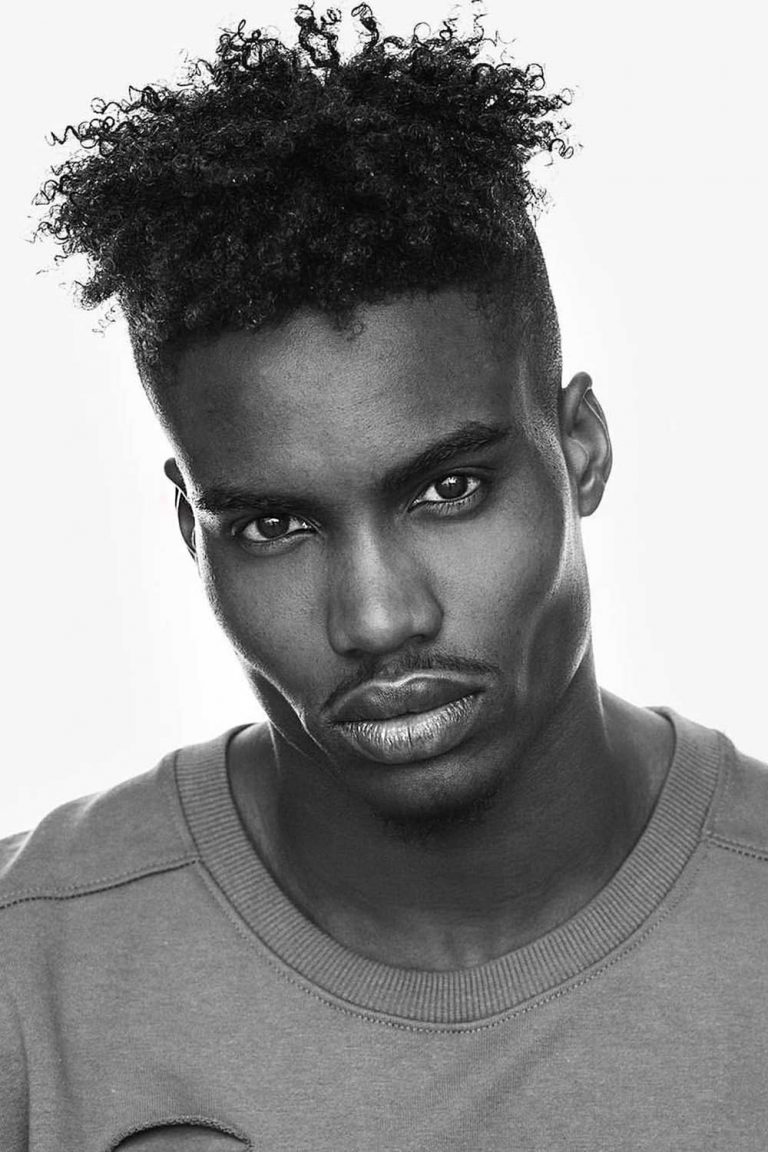 Source: @lanedorsey via Instagram
Shadow Fade Black Men Haircuts
The Mohawk and its variations can be certainly considered the classic black men haircuts. To get a really edgy look, it's not necessary to make a lot of effort. Simply shave the sides close to the skin and leave the top hair to shape the Mohawk itself. This is an excellent example of black men fades, which creates an impression of the faux hawk fade.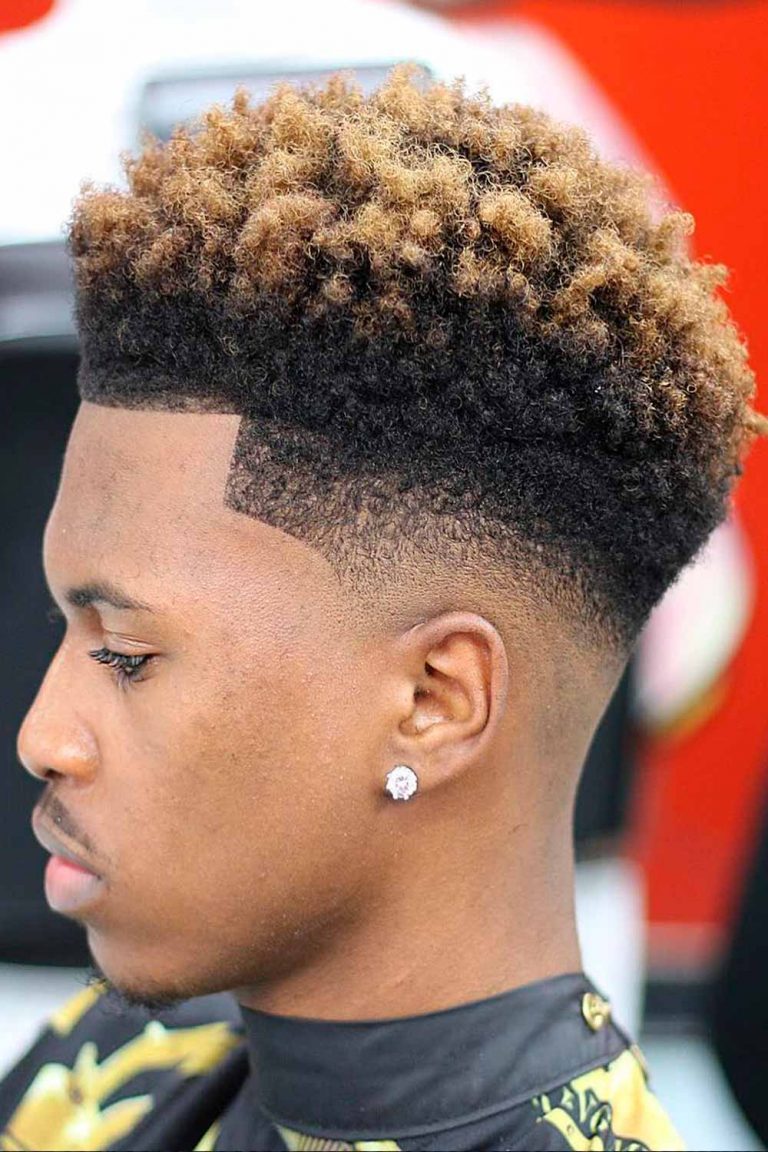 Source: @cool_cutz via Instagram
Temple Fade Black Men Haircut With Design
When you opt for short black male hairstyles, you can diversify them with some fresh elements like shaving or lines. Style the hair on with a twist and complement it with a low fade haircut and shaved lines.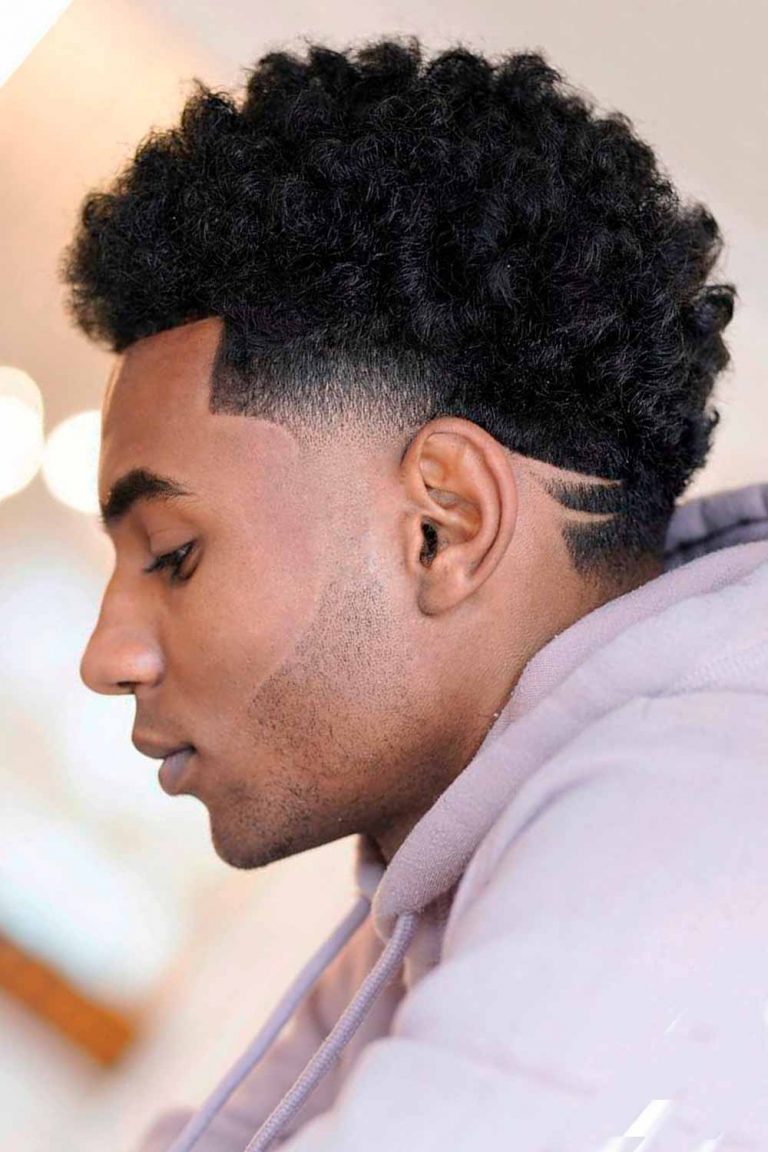 Source: @z_ramsey via Instagram
Waves + High Fade
Among other black hairstyles, there are plenty of good ones for short hair. However, we believe such a wavy one with a high fade to be one of the most stylish. Don`t you agree? The beautiful transition between length of hair will make you look neat and clean.
Source: @nickthebarber via Instagram
Spiky Afro Black Men Haircuts
As a matter of fact, spiky hair looks unbelievably funky. Moreover; it is one of the black men hairstyles men can recreate themselves. Just cover your fingertips with some styling product and twist individual strands around them.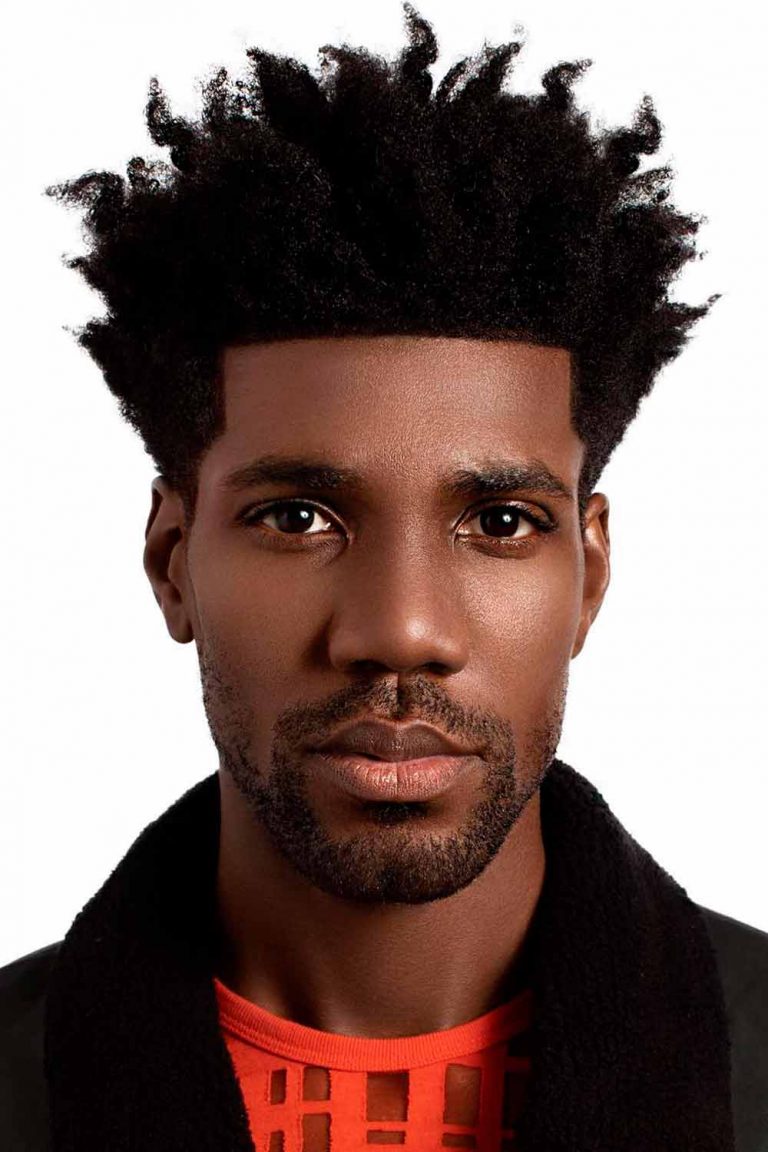 Source: @dexterdapper via Instagram
The Short Afro And Skin Fade
Short haircuts are extremely popular among black men because of the freedom and tons of styling options you get with them. First and foremost, the short afro is the basis for short natural hairstyles. Moreover, having your hair cut is good for its health because the dead ends will be chopped.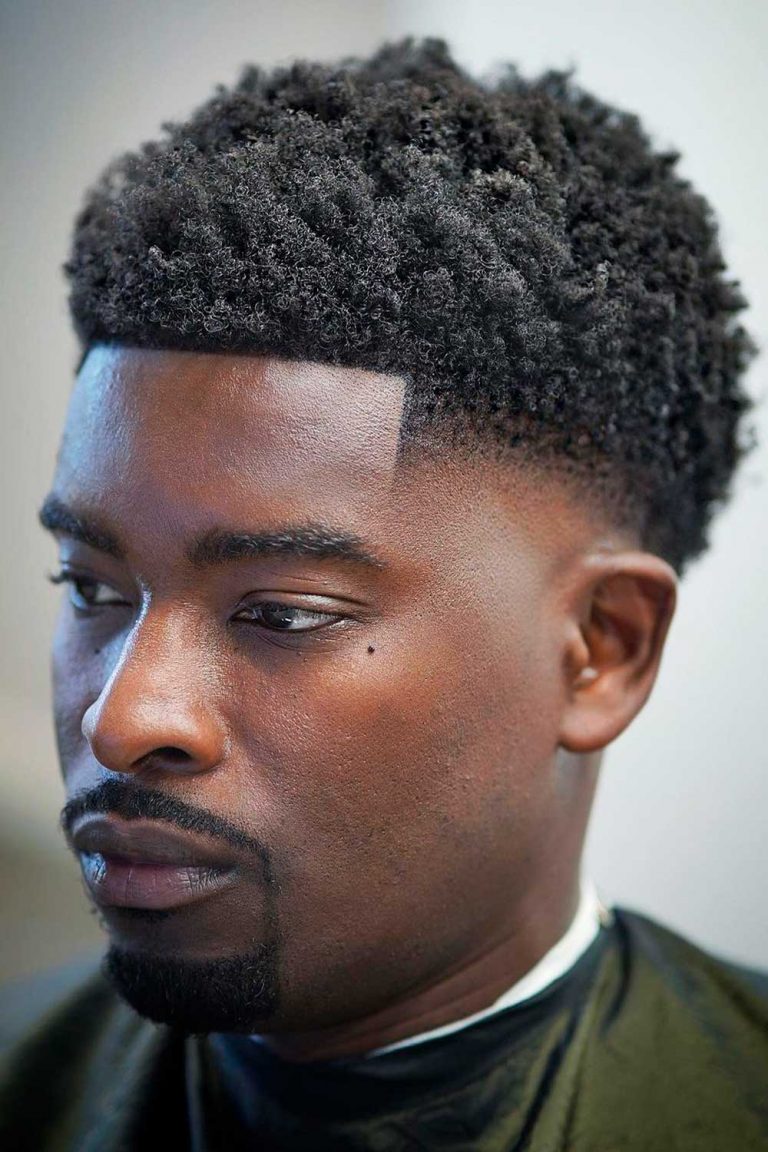 Source: @nickthebarber via Instagram
Clean Cut Tight Top
This is the type of fade haircut black men find the most dapper and snug among the black short haircuts. Because the hair on the sides and at the back is buzzed short, it creates an extremely clean appearance. For the men who prefer some haircut designs, add a carved line to this look.
Source: @dexterdapper via Instagram
i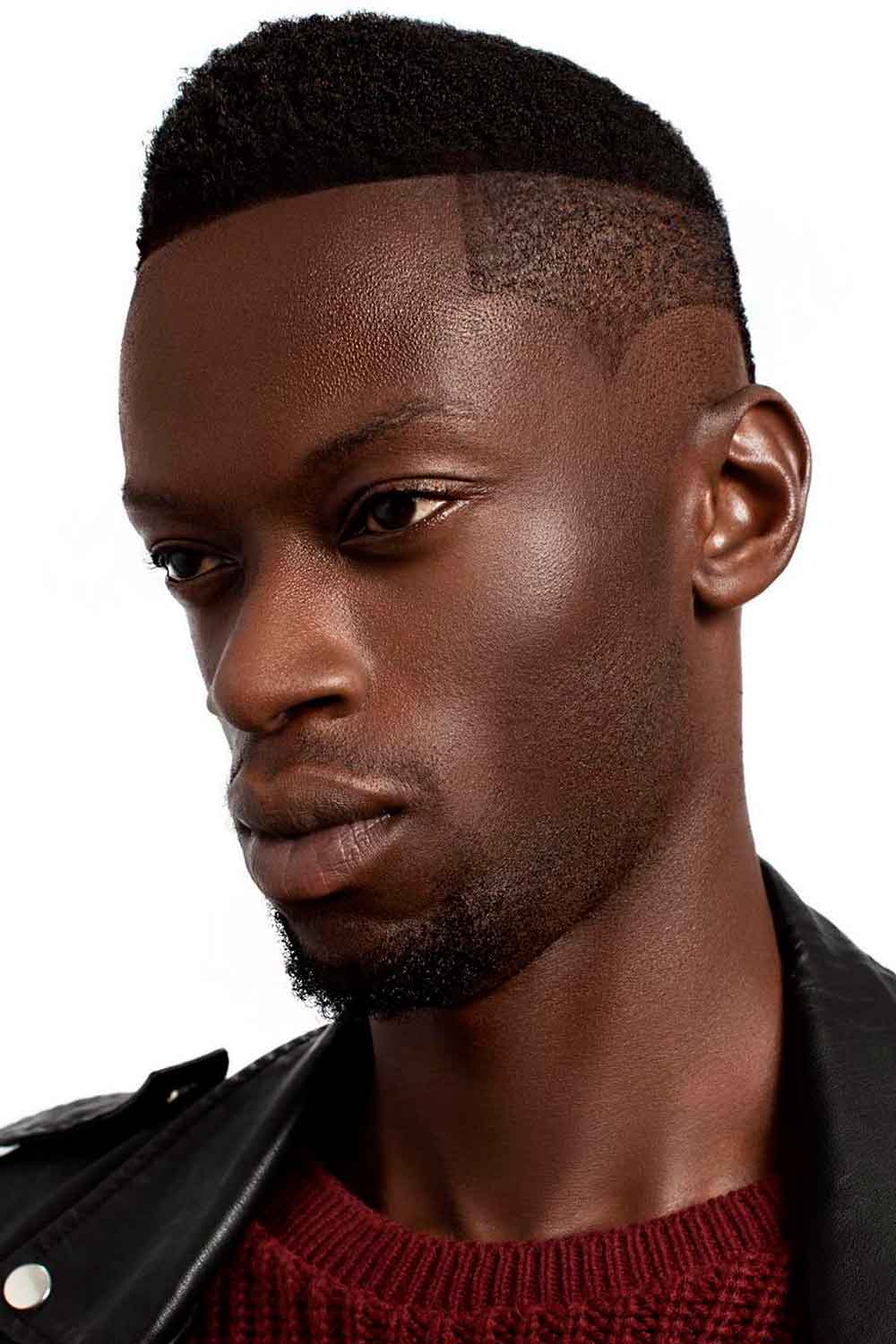 /
Bald Fade Black Hair Men + High Curls
Perfect fade with a long curly top is a type of fade that's similar to bald high fade. The only difference is that the top of the hair is longer than the sides. Though old, but it's still one of many haircuts for black men that millennials rock. Don't forget to style your curls with a gel or hair cream.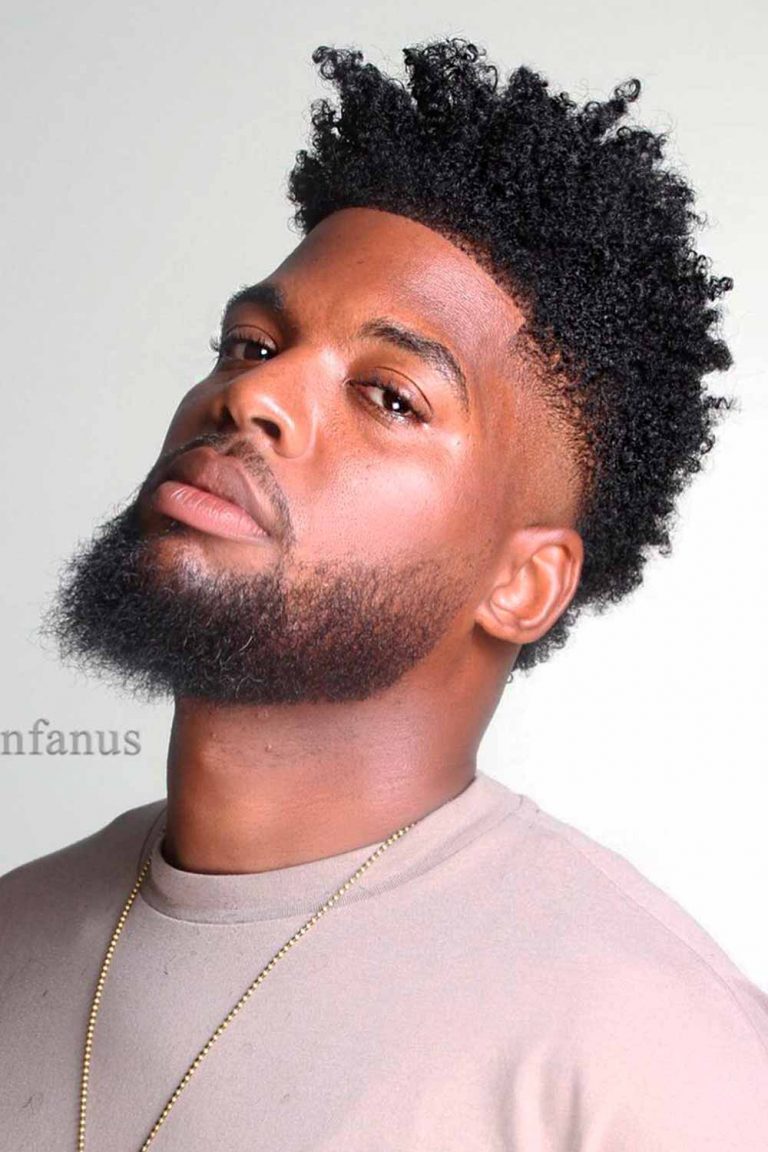 Source: @adrianfanus via Instagram
360 Waves With High Fade And Line Up
It's one of the few haircuts for black men that comprises of three iconic black men's haircuts: High fade, 360 waves, and a lineup. With this style, the sides and back of the are closely shaved, while the top is wavy, and the hairlines to the sideburns are finely straightened.
If you have been rocking your high fade and want to switch to a 360 fades with a high fade, you need a sporting wave cream, wave brush, and a drag for your hair.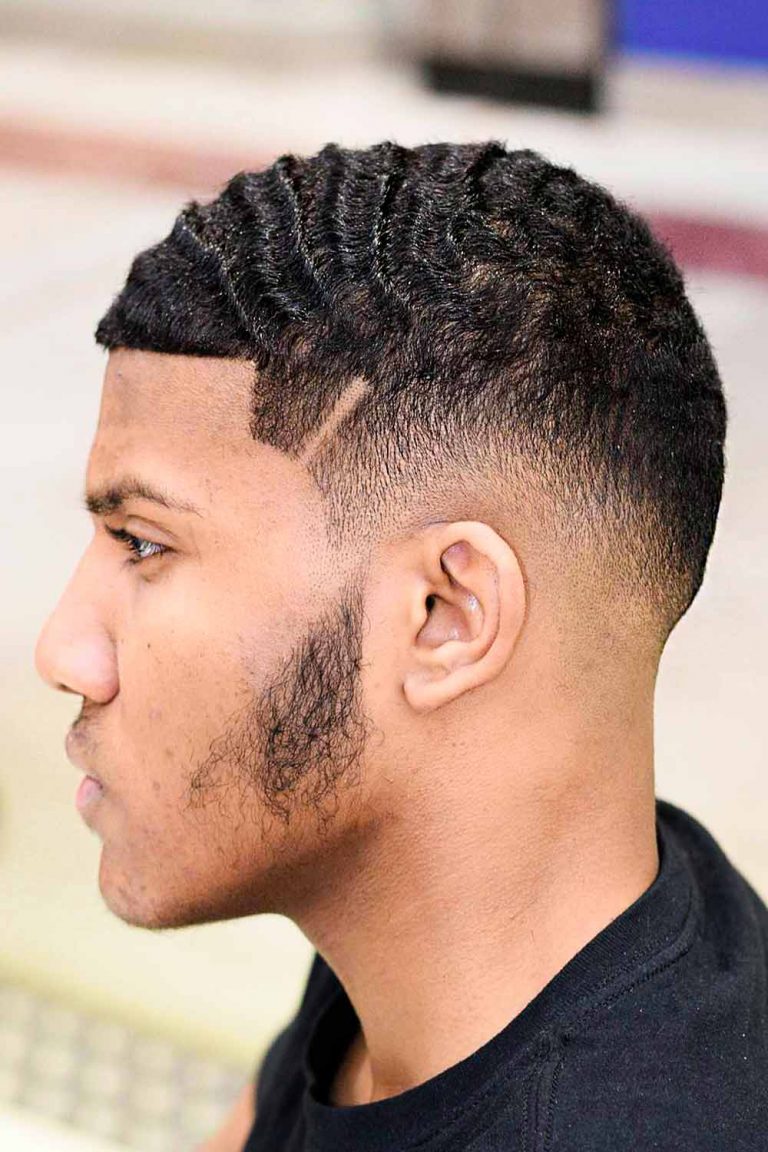 Source: @spukthebarber via Instagram
Black Men Braids
Black men widely favor box braids, which have the advantage of requiring minimal maintenance and can be worn for several weeks or even months. Braids black men not only simple-wearing hairstyle, but also stylish.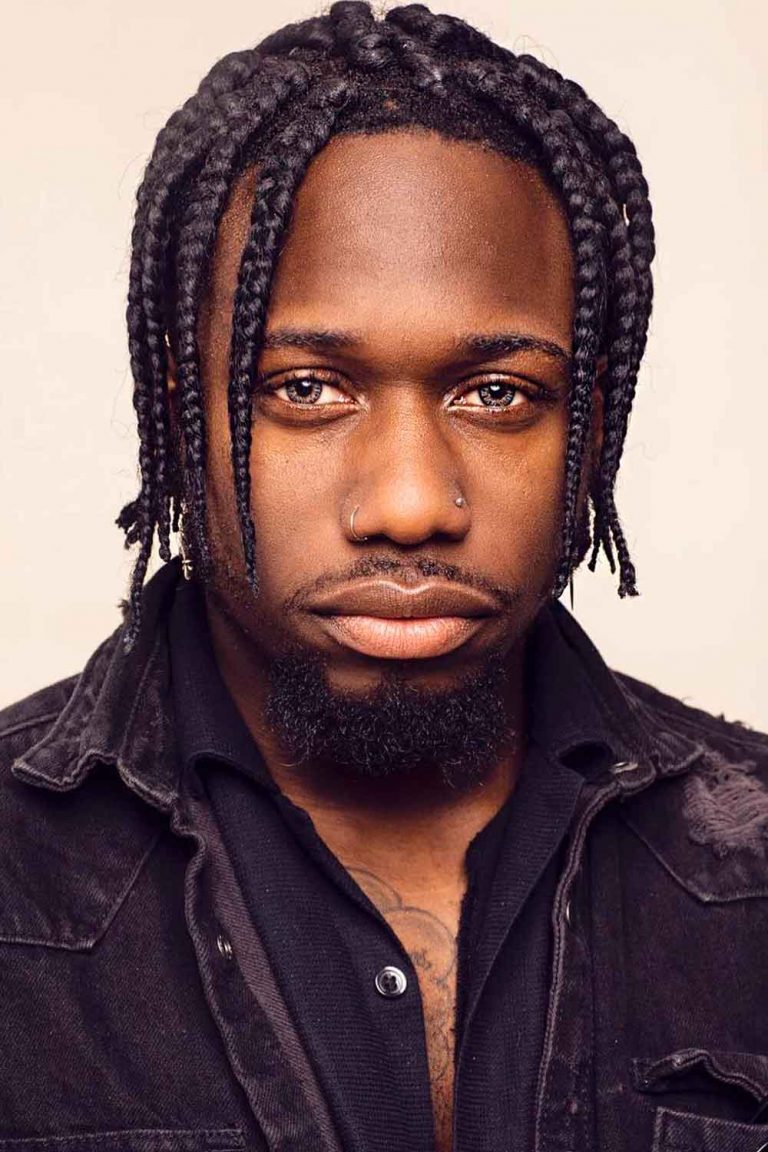 Source: @dexterdapper via Instagram
Taper Fade Black Male
A taper fade afro is a popular hairstyle for black men where the hair gradually gets shorter from the top of the head down to the neckline. This creates a clean and sharp look, with a lot of versatility in terms of styling.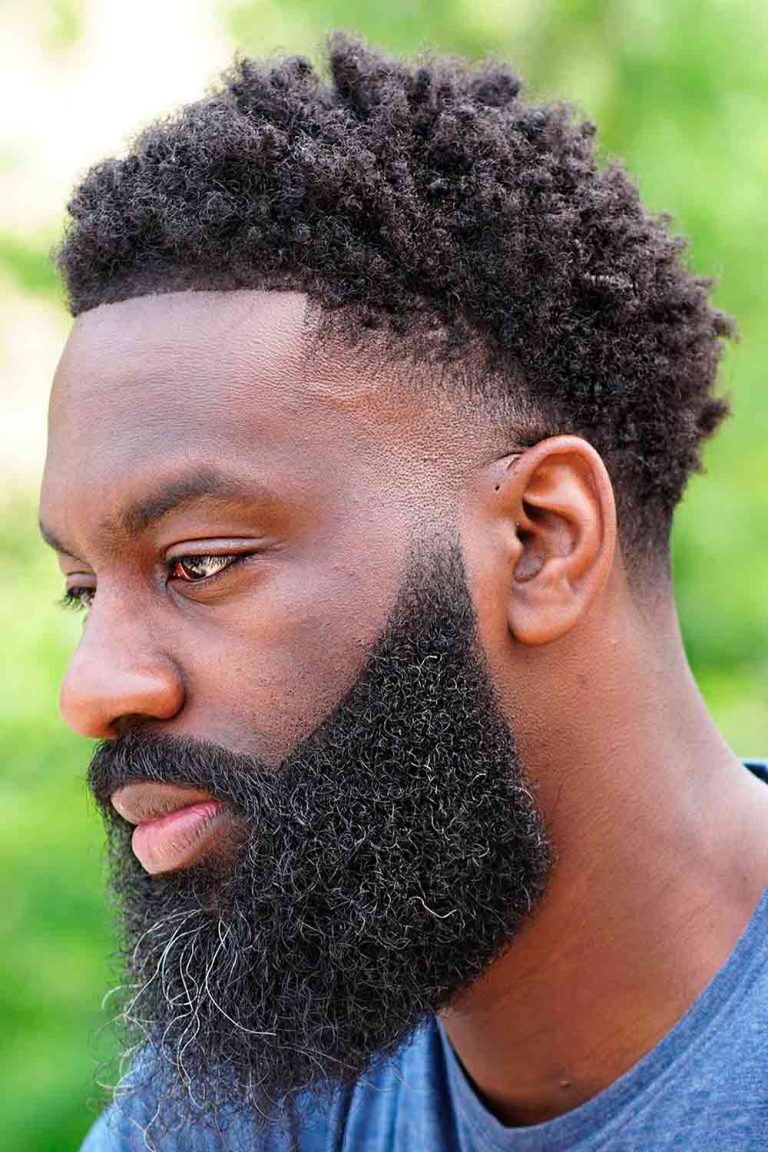 Source: @adrianfanus via Instagram
Buzz Cut Black Men
A buzz black male haircuts is a popular choice for black men due to its low maintenance and versatility. The style can be worn in a uniform length all over the head or with a fade, where the length gradually decreases towards the nape of the neck.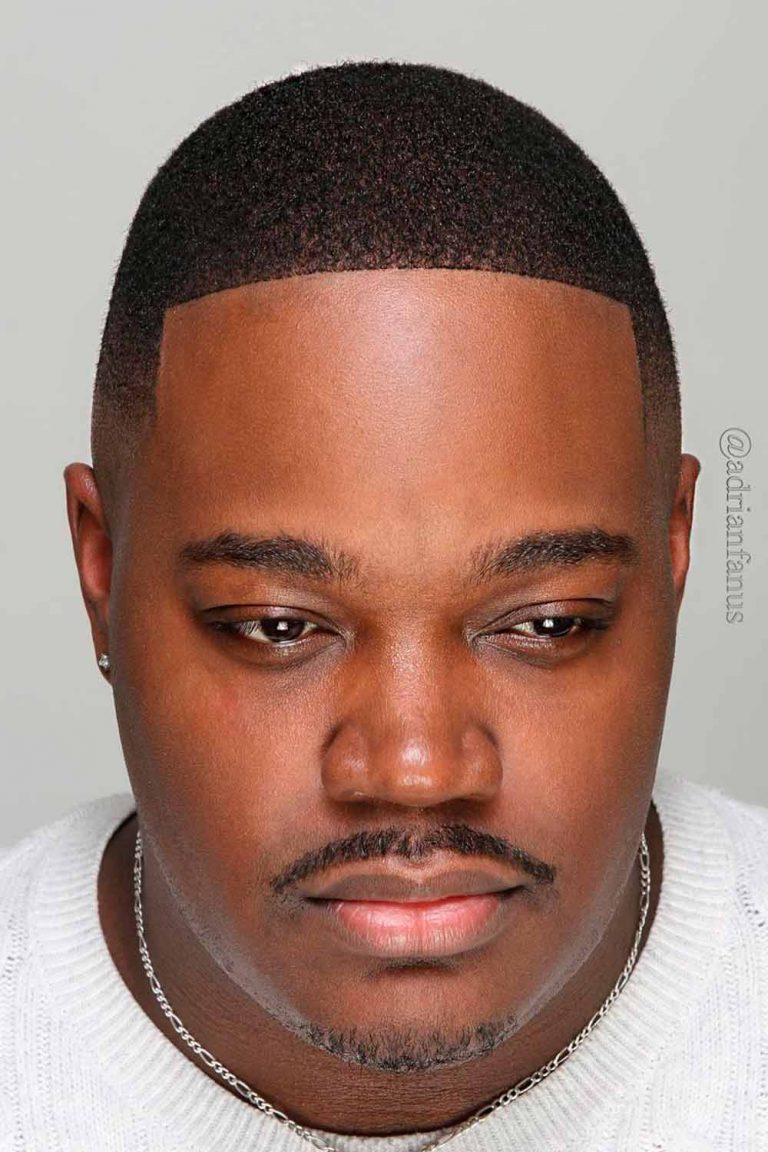 Source: @adrianfanus via Instagram
Tapered Afro
The beauty of tapered afro cuts lies in their ability to suit all face shapes and hair textures. The transition of levels is what you need to combine your cut with a full beard. This is one of those black short hairstyles to never go out of style, that is for sure!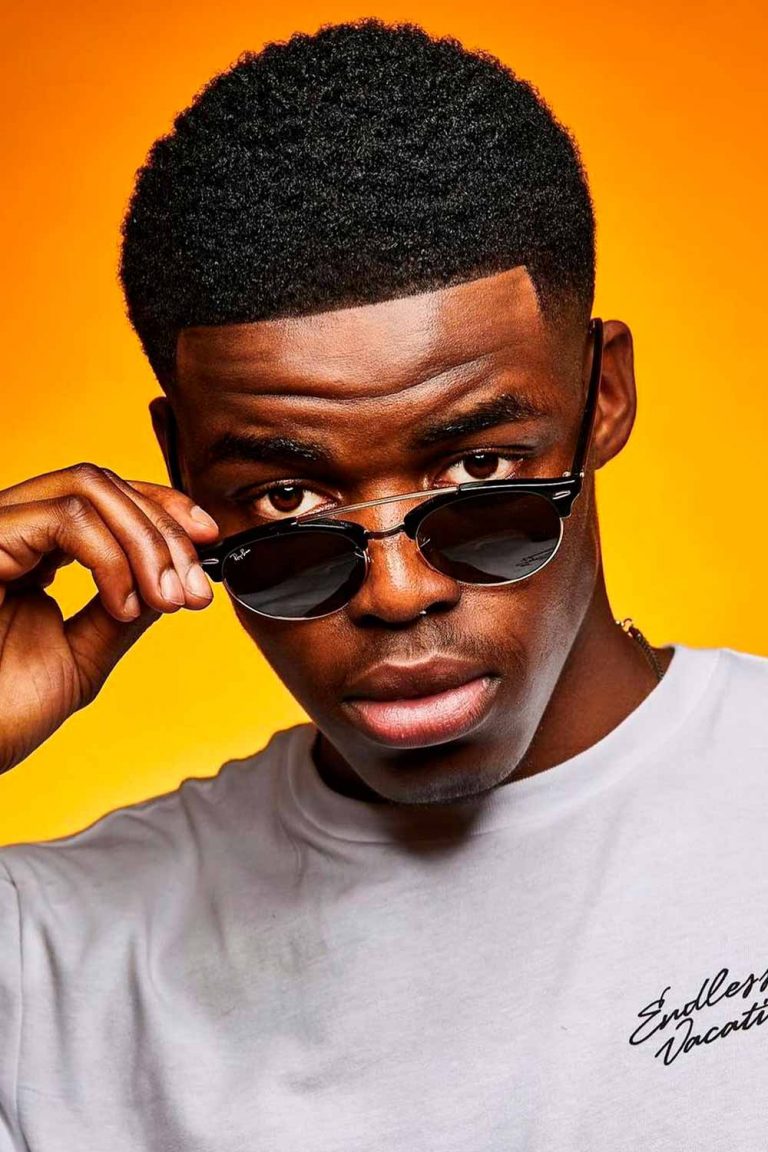 Clean Buzz Cut With Simple Design
Very often men seek haircut styles that are easy to maintain. This is precisely the kind of black hairstyles, which will grant you style and will take you neither the time nor effort to maintain. If you seek for simple black men haircuts, this may be what you need!
Source: @adrianfanus via Instagram
i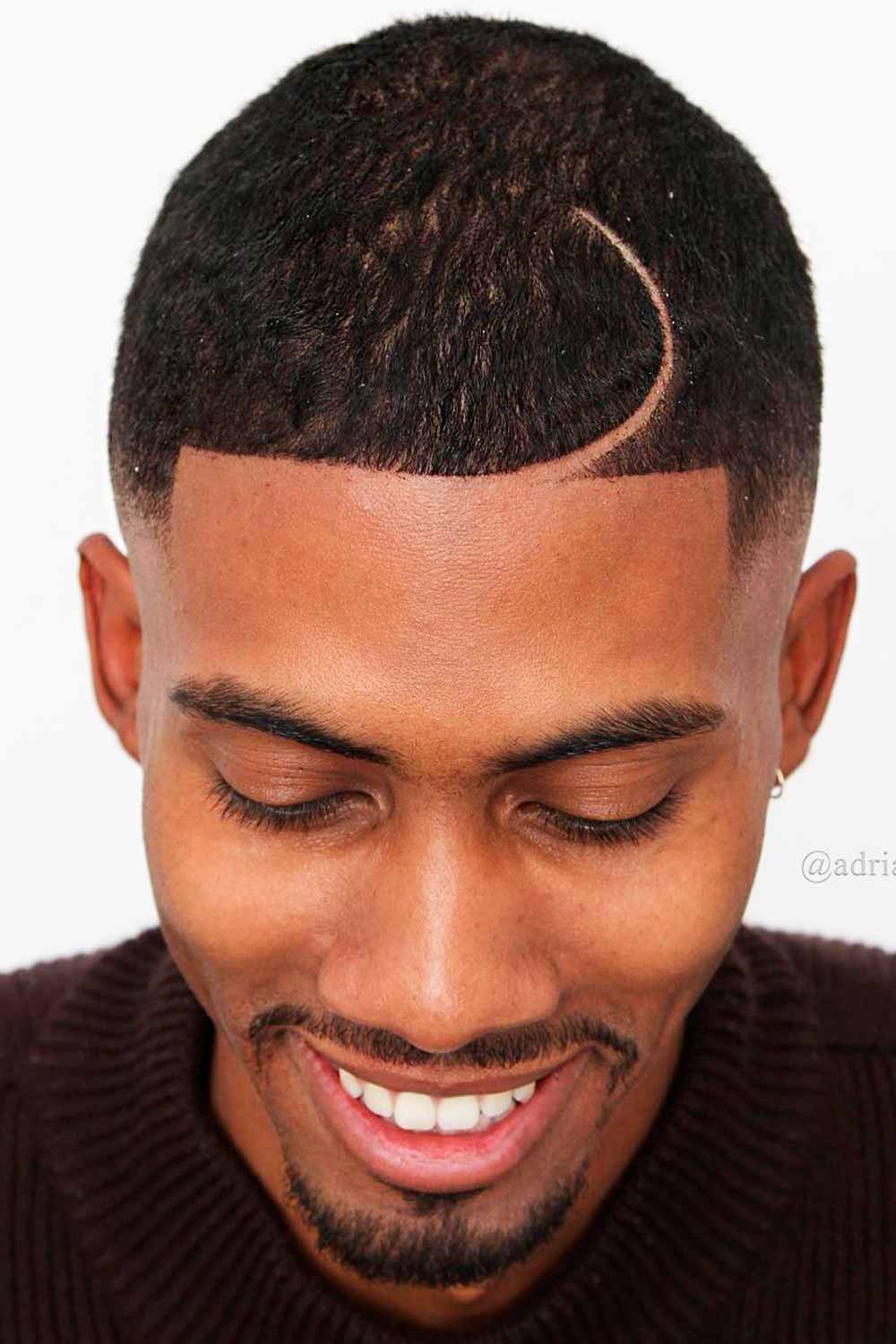 Source: @adrianfanus via Instagram
i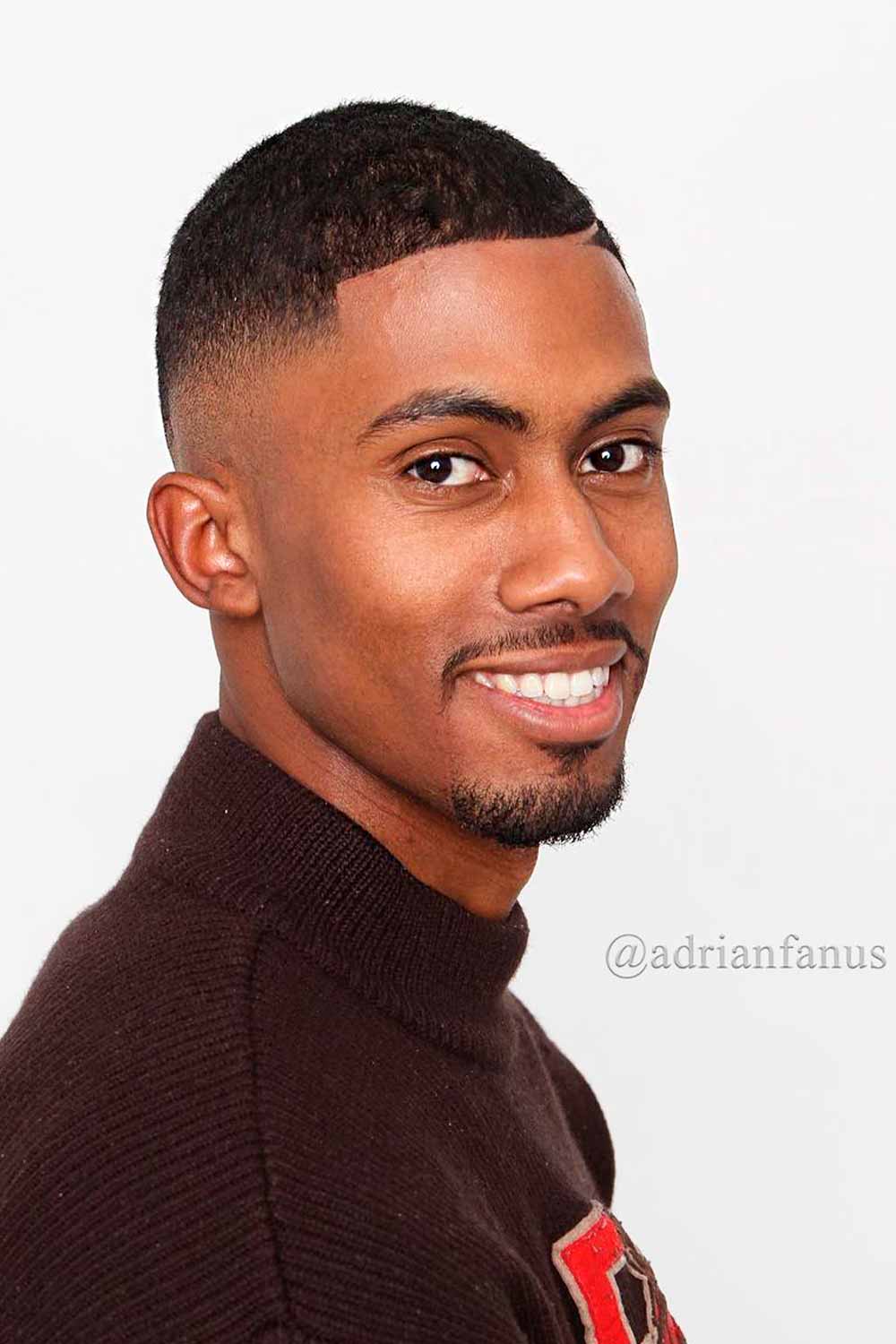 Source: @adrianfanus via Instagram
i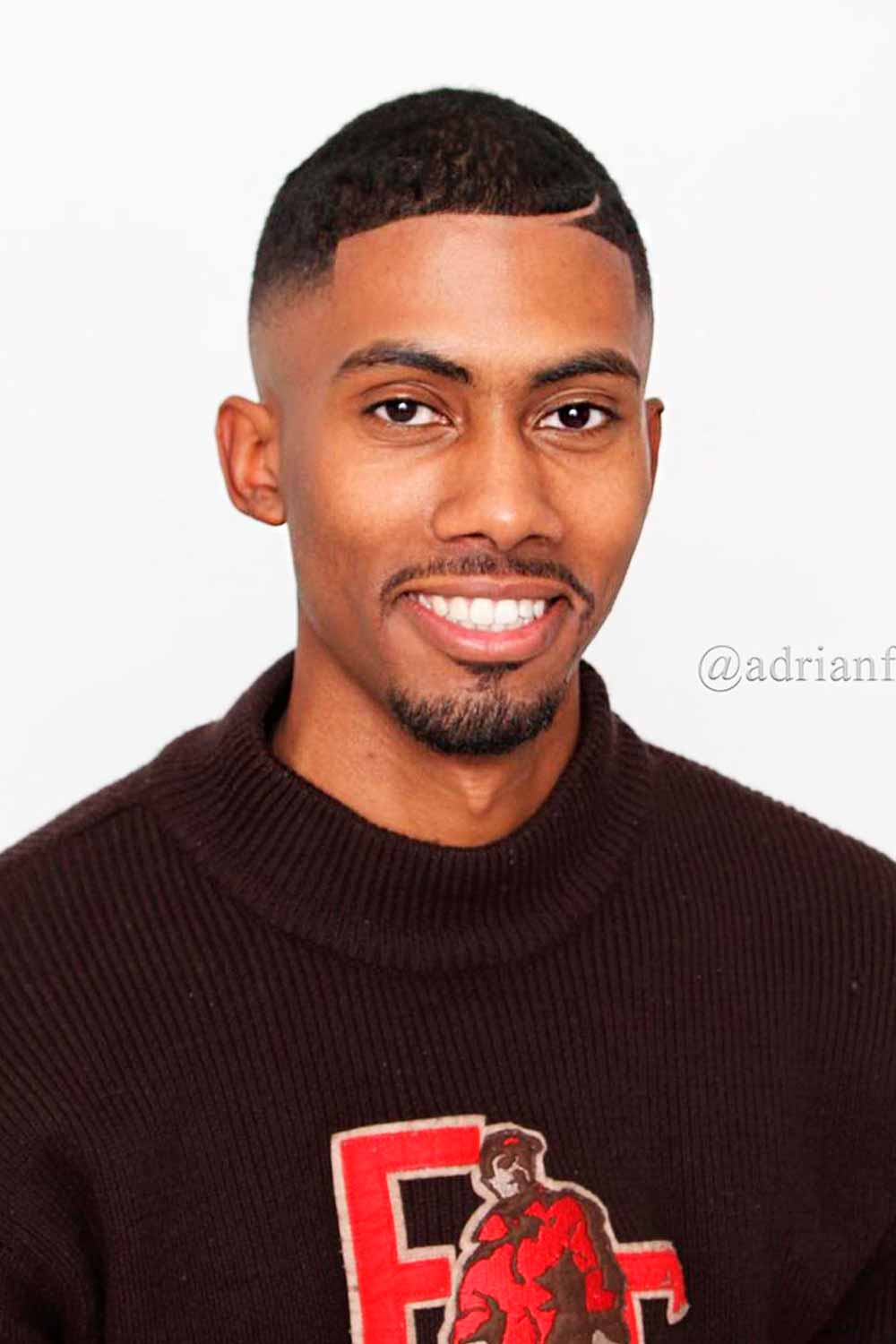 Source: @adrianfanus via Instagram
i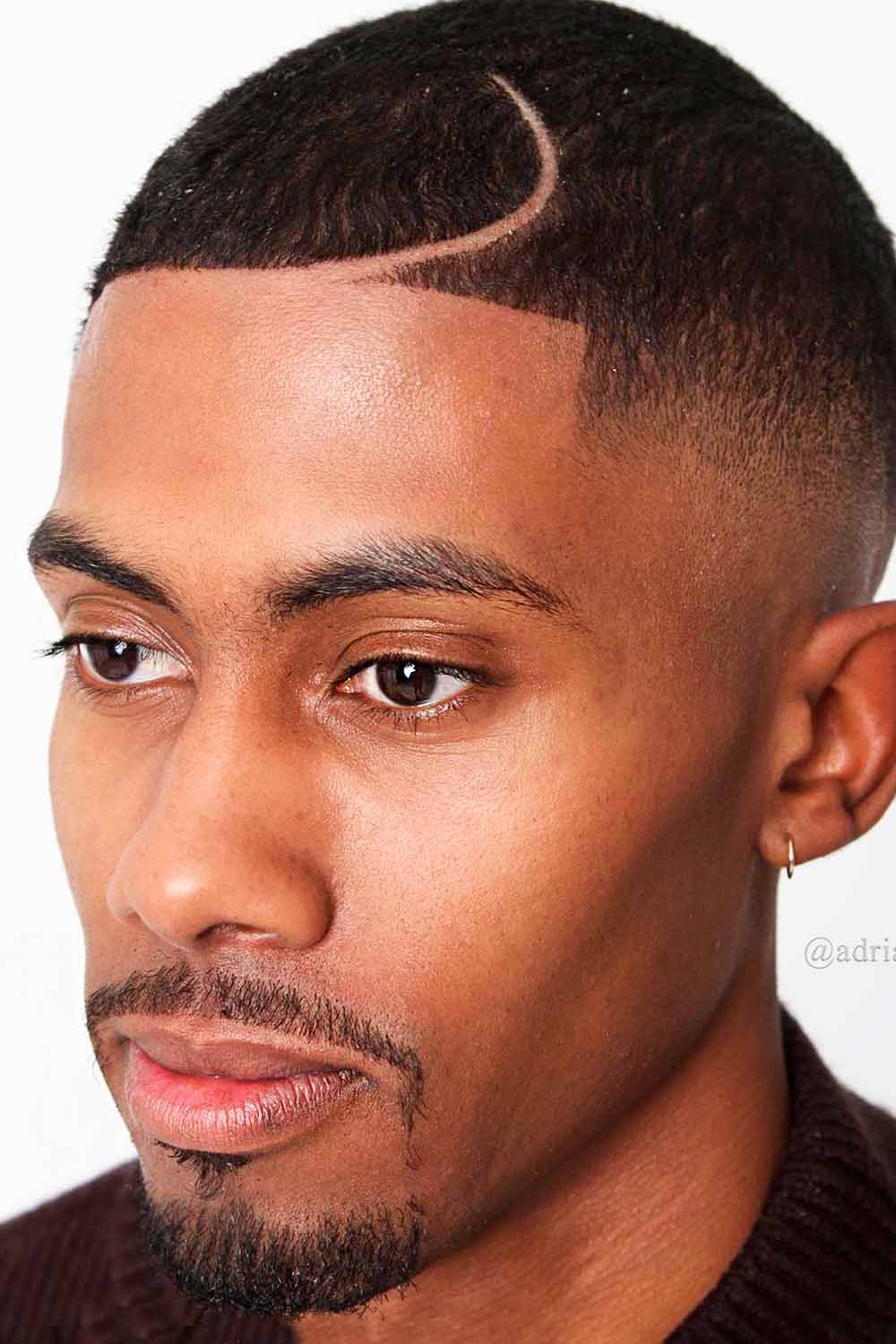 /
Afro Temple Fade
If you are not ready to say goodbye to an afro style that has got popular again recently, then we have figured out an idea for you. Why don`t you combine it with a modern hint of faded sides? We love such black hair styles that are updated and so stylish looking.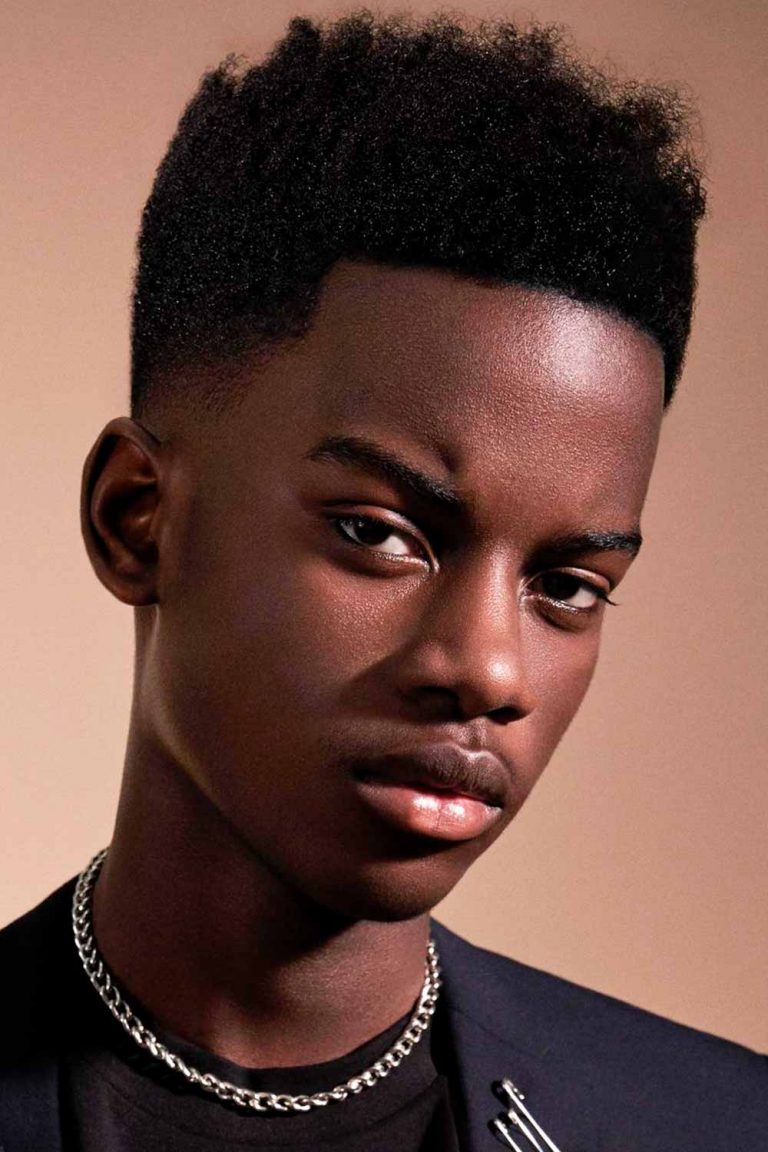 Source: @dexterdapper via Instagram
Asymmetrical Flat Top
This short hairstyle stands out among the common black short hairstyles. It will definitely keep the eyes of the people around glued to you. The fade accentuates the asymmetrical flat cut of the hair on the top of your head even more.
There is a stereotype that a flat top hairstyle is an aftersound of the 1990s. But don't jump the gun as with a bit of your effort, this afro look can be completely up-to-date. A line-up and a high skin fade wash out all the doubts regarding its irrelevance, making the flat top one of the fanciest and trendiest black men hairstyles.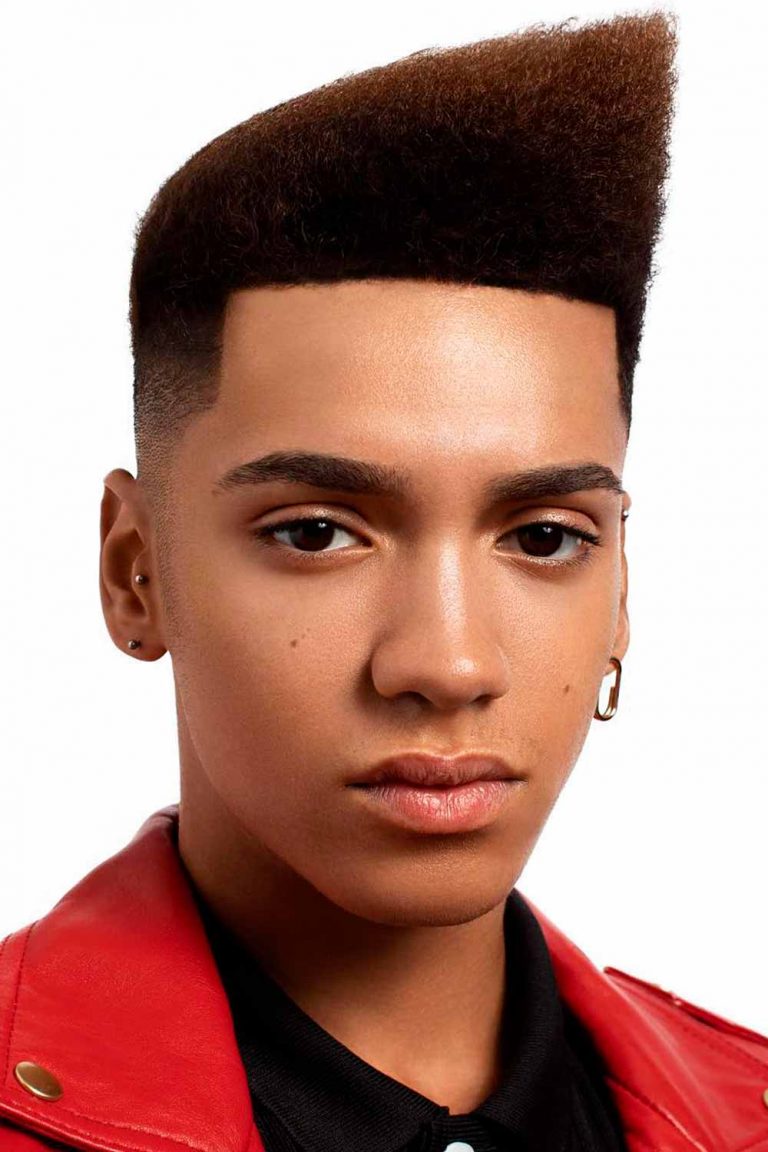 Source: @dexterdapper via Instagram
Rounded Mohawk And Undercut
One of the oldest haircuts among black men in the 1950s, the rounded flat top is still a thing today. It requires a lot of hair to give the headgear a perfect fitting. The back and sides of the head are usually short, while the top is very high.
The rounded flat top is a flat top haircut that the top is intentionally curved by the barber from behind.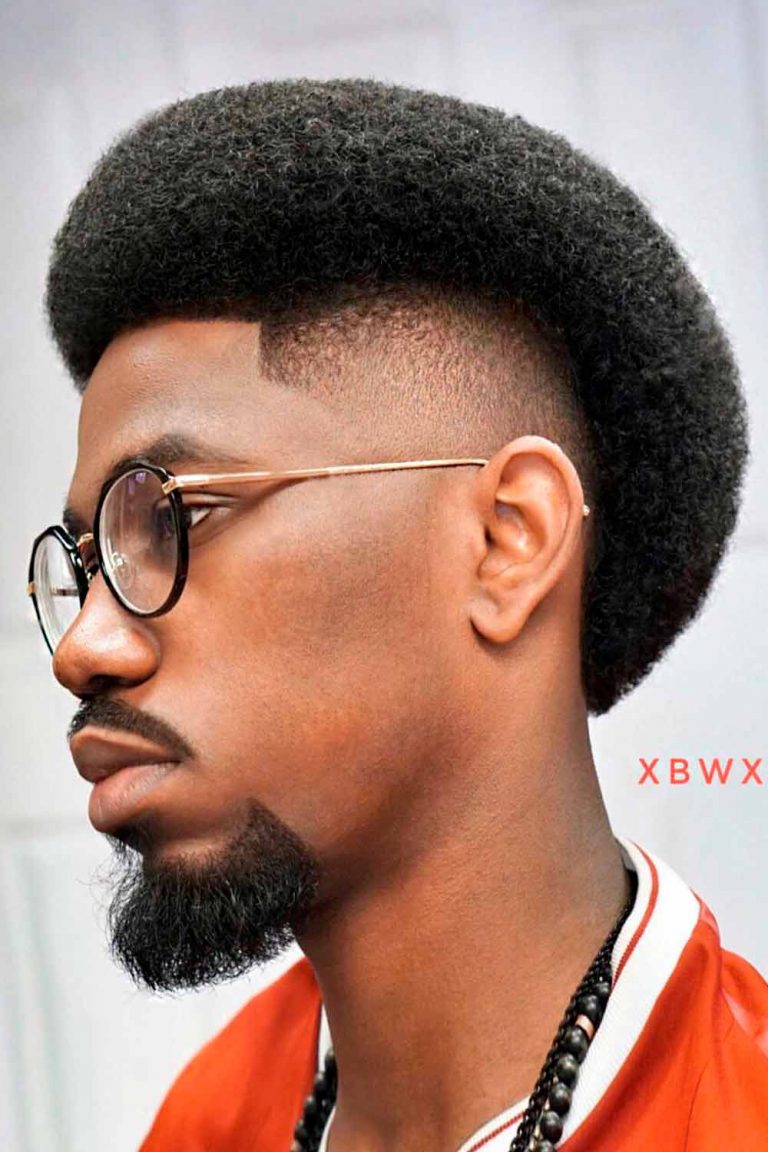 Source: @xbigwesx via Instagram
Rounded Top High Fade
A flat top haircut is a choice for men who love simple but rocking hairstyles. Look at how cool curly hair looks in such a haircut. Structured, neat and clean. Goes so well with a beard, too.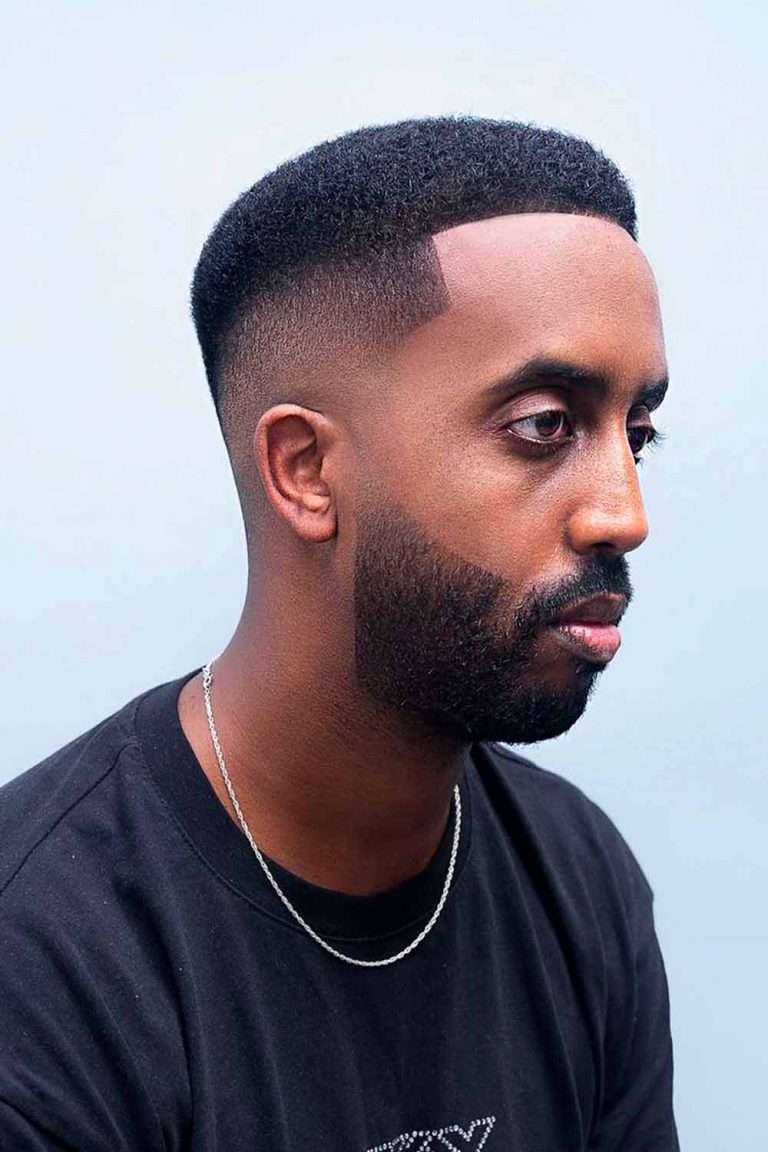 Source: @keller_konturen via Instagram
Afro-Textured Hair
If you are lucky enough to have naturally curly hair, just allow it to grow without trimming. You can then try one of the natural curly hairstyles, like a messy top bun. Nothing looks as eye-catching as a black man with long hair.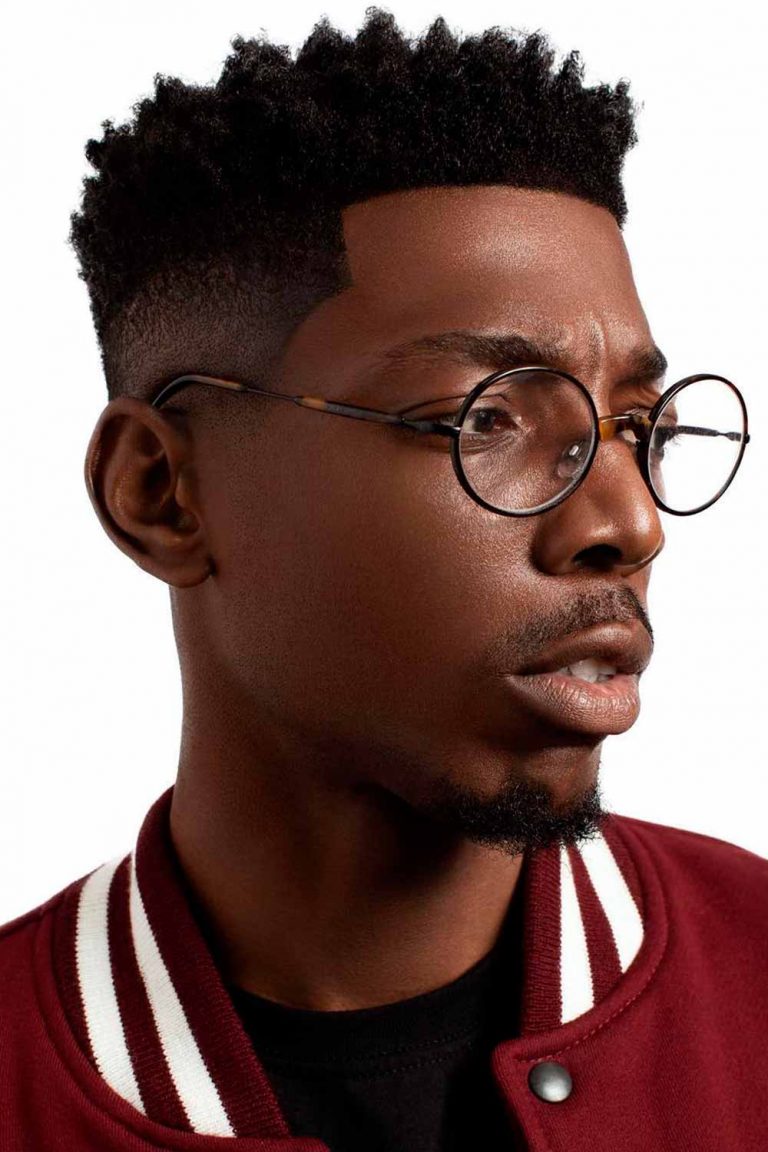 Source: @dexterdapper via Instagram
Undercut Fade Mohawk With Curly Highlighted Locks
Temple fade also know as Brooklyn fade or blow out is an American haircut that involves fading the hairs on the sides till it gets to the temple. How detailed the line up of the sideburns is played a major in this style's success. In essence, the temple fade longer mohawk is temple fade with a long mohawk.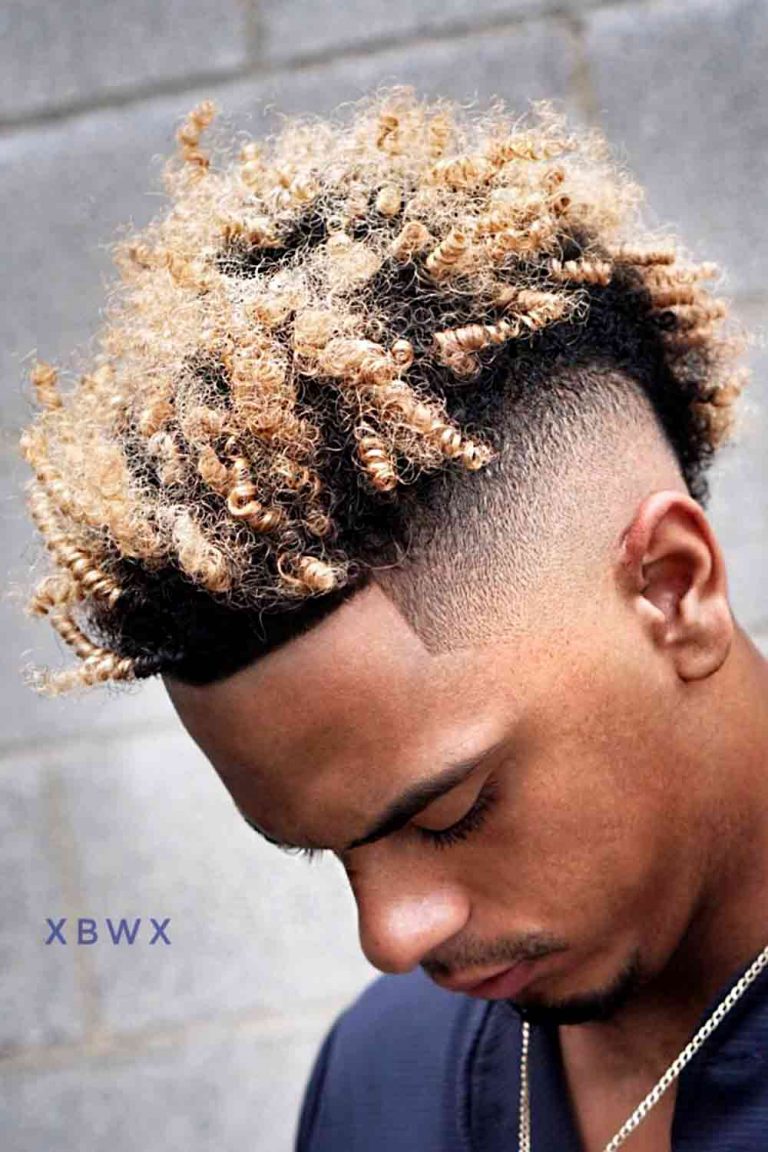 Source: @xbigwesx via Instagram
Short Sponge Twist Bald Fade
In case you are looking for natural hairstyles for short hair, wavy hair is a very nice option to consider. To balance the defined texture of the black men hairstyles, add a taper fade to the sides and back of your head. Mind you, such black hair styles are highly adjustable to any age.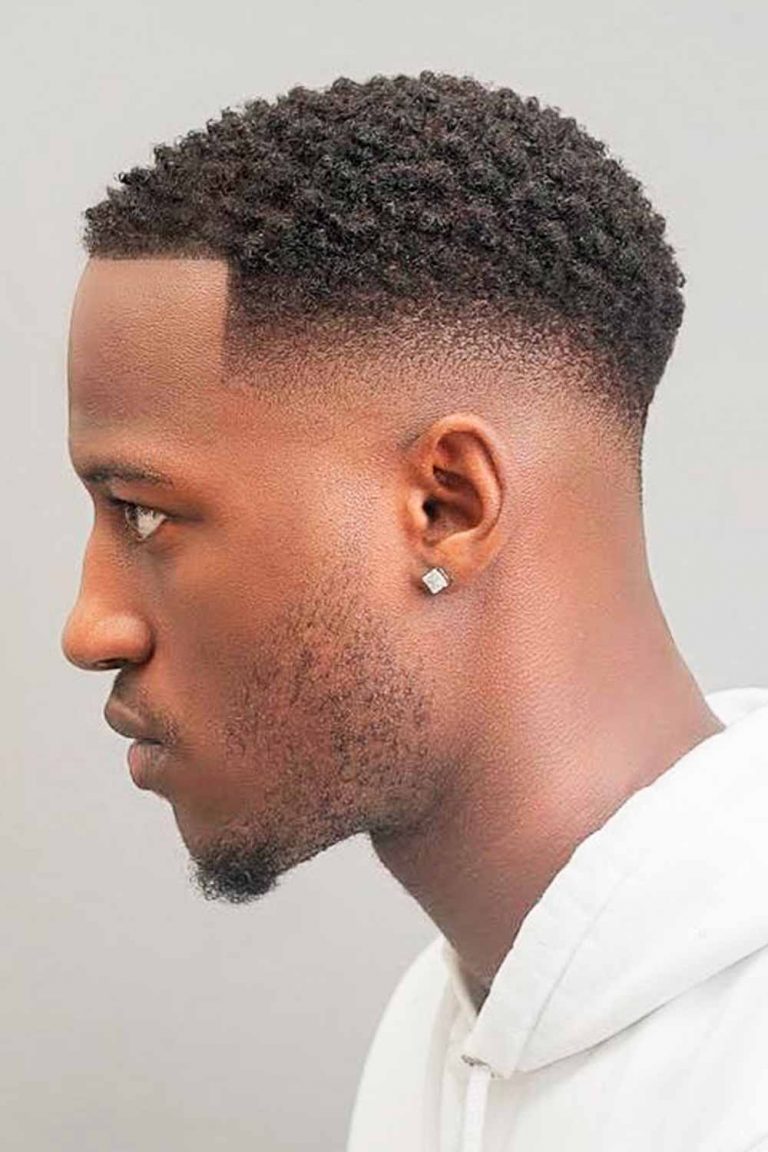 Source: @keller_konturen via Instagram
Low Taper Curly Black Men Haircuts
Curly hairstyles for men are very often underestimated. While the truth is that, there are lots of options to pull off with a curly mane. If you are in need of a short cut then make sure the top is left longer so that with the help of some product you can easily style it.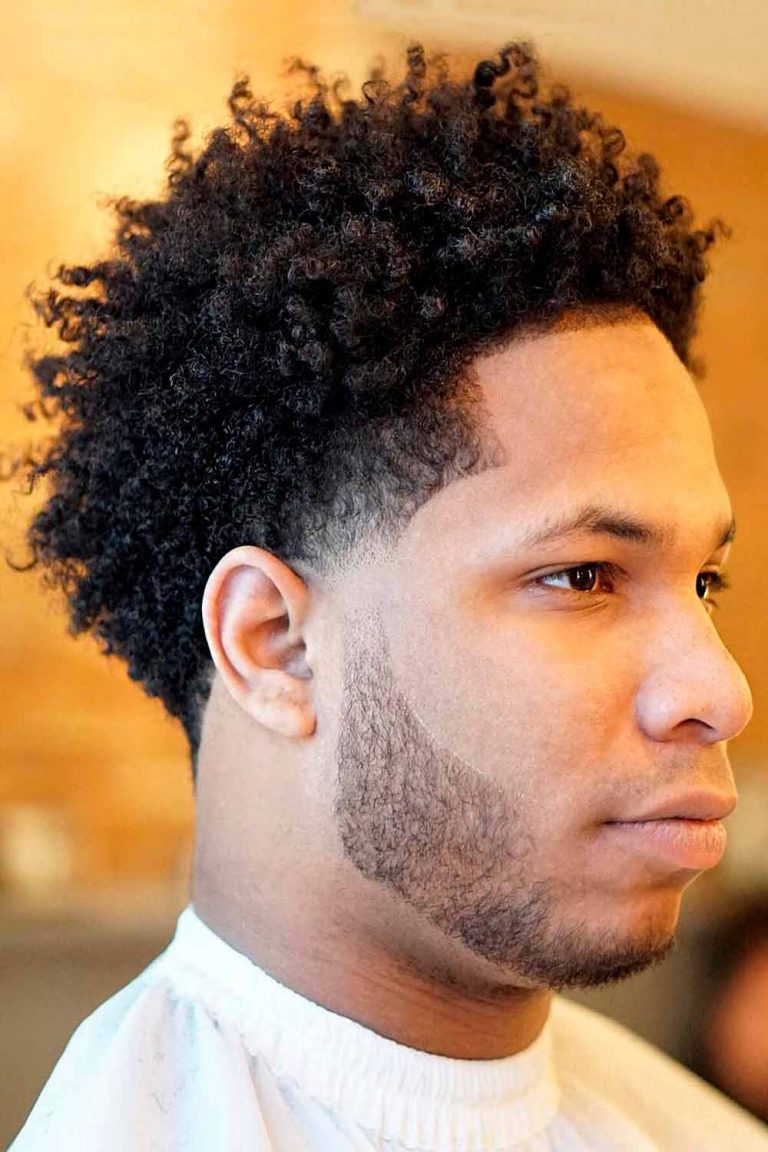 Source: @z_ramsey via Instagram
Clean Afro
There's arguably no better way to embrace your coiled hair texture than wearing your big afro. However, to pull it off, ensure that your hair is moisturized and nourished for its best look. As for the style, it doesn't require much effort. Simply leave your hair air dry after washing and it will create the perfect shape itself.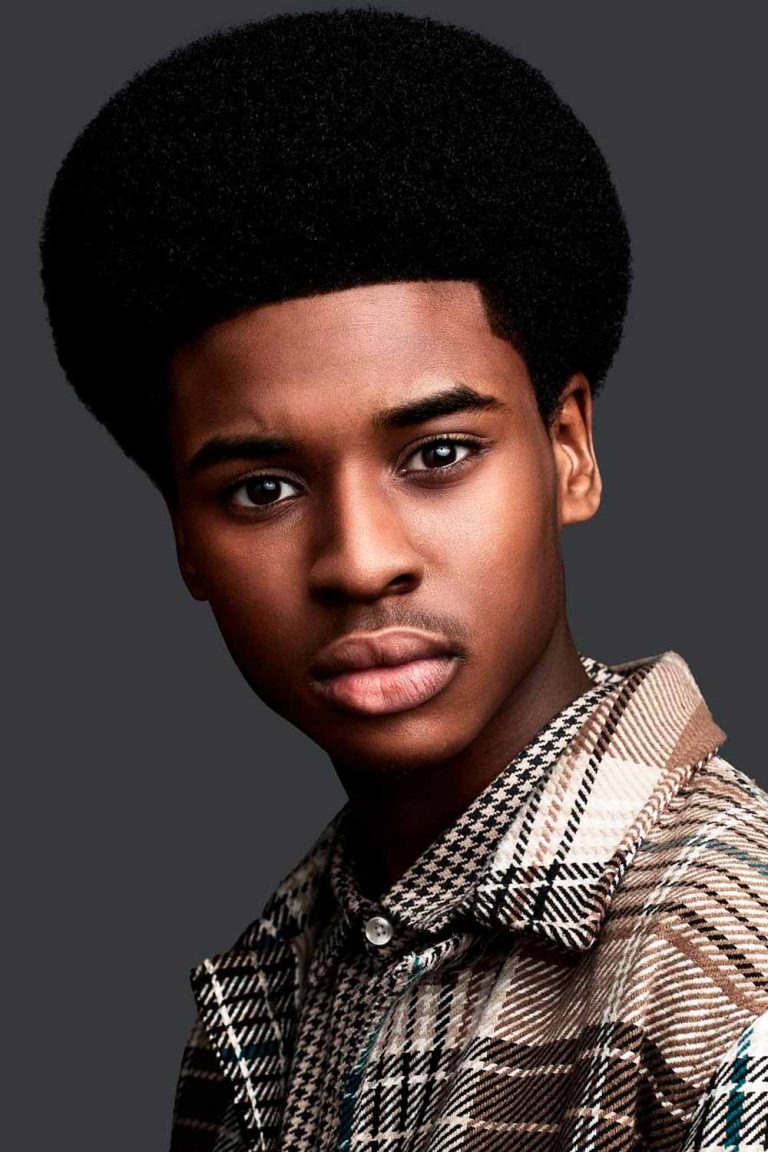 Source: @dexterdapper via Instagram
Short Twists With Short Sides
In case you are looking for twisted male hairstyles that look a little messy but stylish at the same time, we may have something in store for you. Short black hair with twists on top is what we have in mind. Keep in mind that a beard is always a winning option when you want to add some sassiness to the look.
The Gentleman's Haircut
Among all of the fade haircuts black men wear the most, the gentleman's haircut is the most elegant and refined. This hairstyle will look equally appropriate in the formal and informal environment. Not many men's medium hairstyles combine the gradually fading sides with the voluminous Afro top.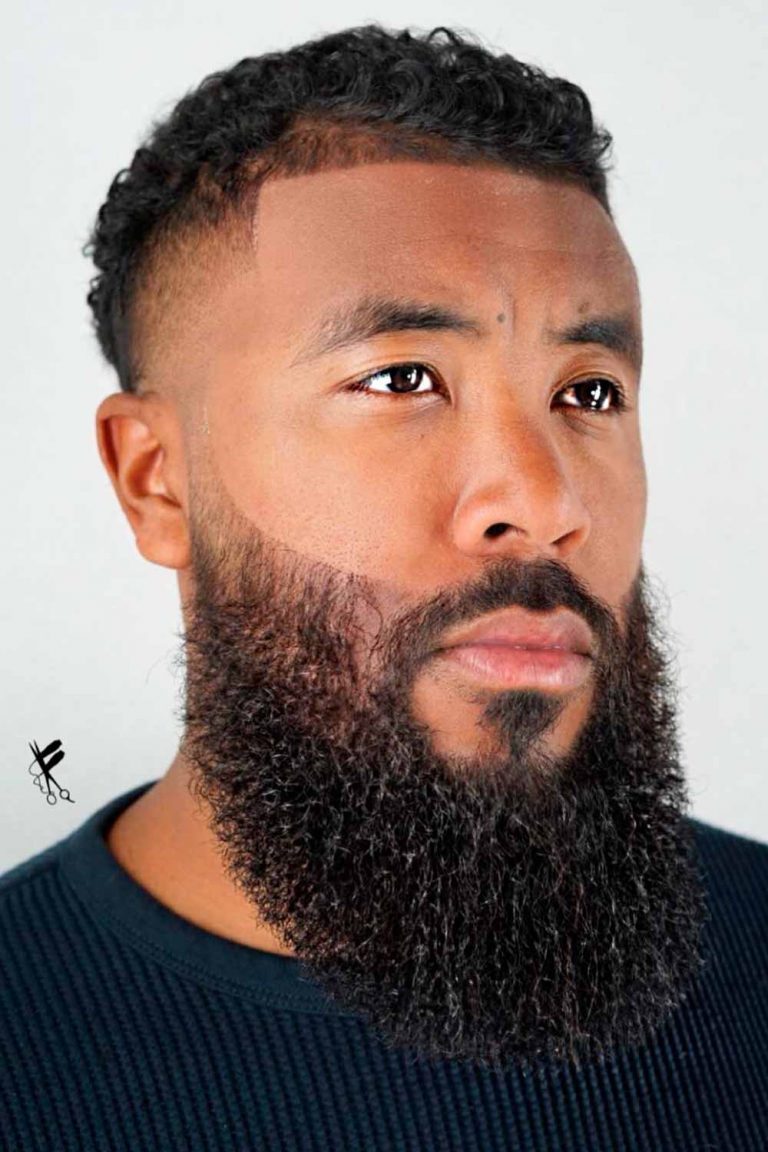 Source: @frankdabarber via Instagram
Twists With Faded Sides
If you want to refresh the shaggy look of your hair, you can easily transform it into a short sides long top haircut. All that you need to do is just cleanly shave the sides and back of your head and don't let your top hair grow too long.
Flat Top High Fade
Fade haircut is always a good idea, especially if it did with some beautiful techniques. Consider adding a sharp surgical line to the side. Doesn`t it look great? Especially, if you leave the top layer of your hair longer.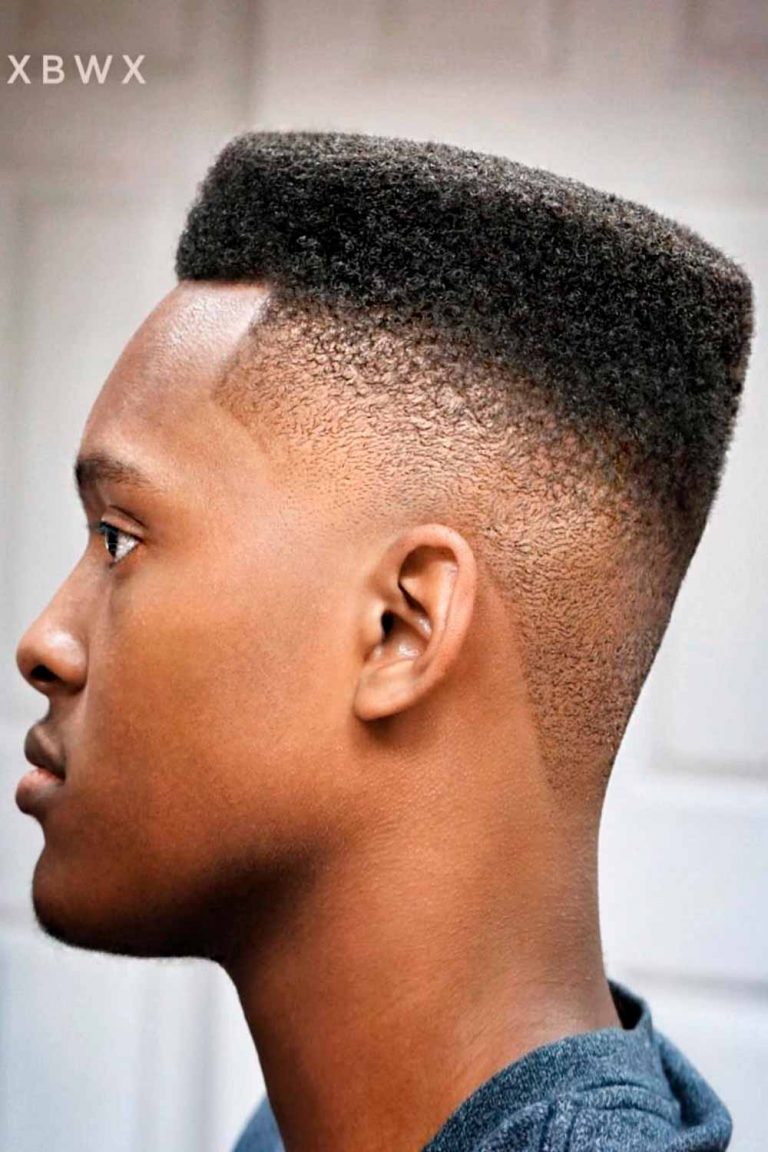 Source: @xbigwesx via Instagram
Extra Short Bald Fade
As simple as changing haircut sounds, It's a risk many black men don't want to take. But if you have made up your mind switch your haircut, we have some amazing styles that will be perfect for your face.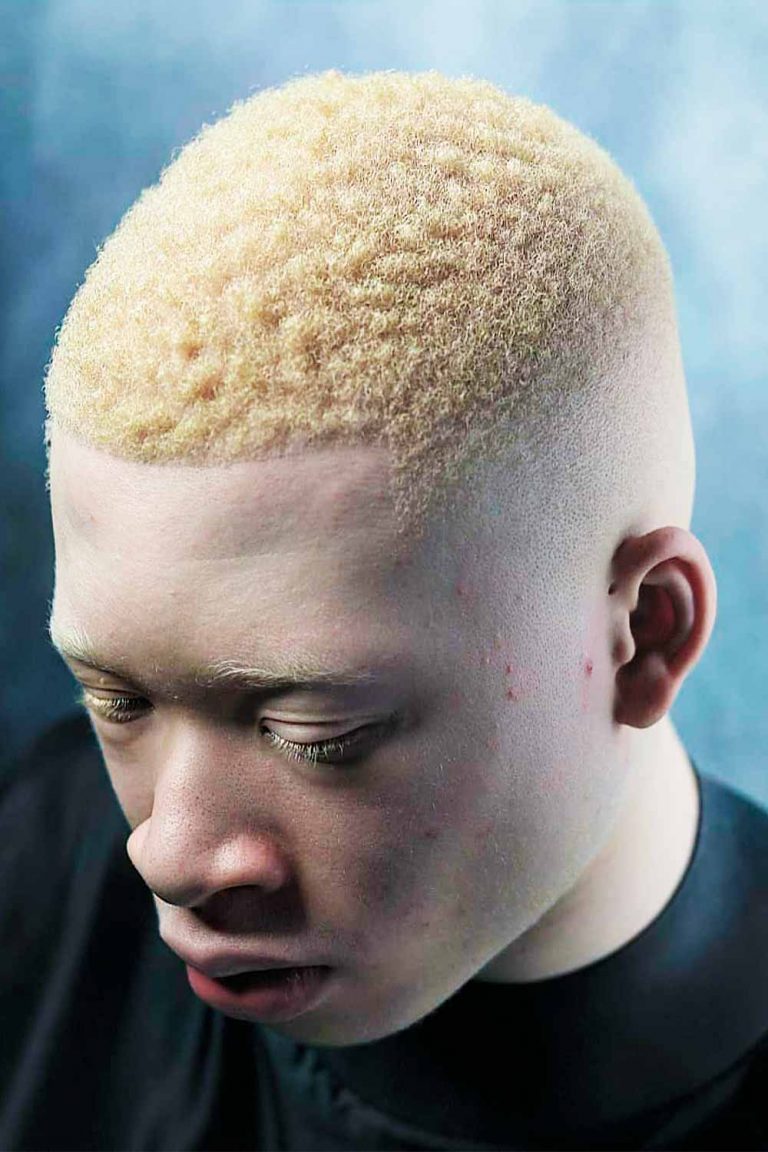 Source: @spukthebarber via Instagram
Neat Mid Length Curls
A classic afro hairstyle will never go out of style and legendary mens haircuts. Short but with the defined structure of hair, it will be there to enhance your facial features while keeping your curly hair in place all the time. Relaxed looking but neat at the same time it is a haircut that every man should try.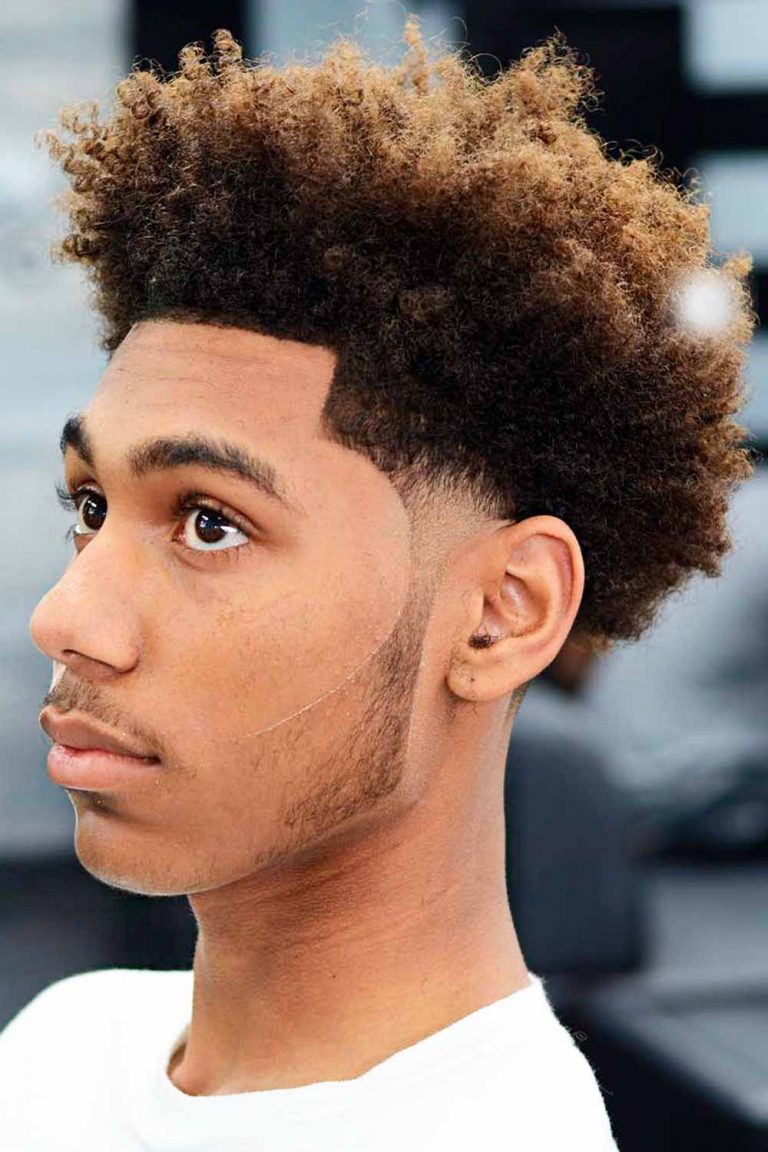 Source: @andyfadepro via Instagram
Dyed Mohawk Fade
The dyed top hairstyle brings the fade haircuts for black men to a totally new level. If you feel brave enough to wear this style, then it's definitely worth trying. Such a modern breathtaking haircut looks hip on black men.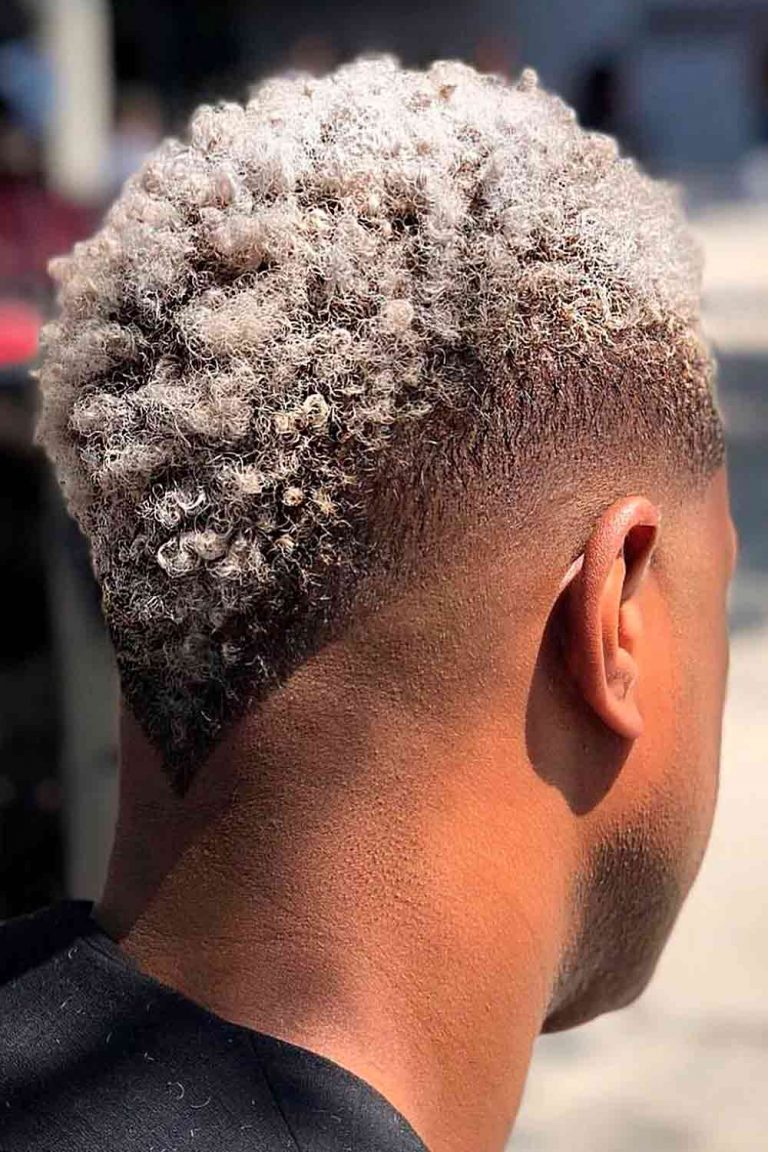 Source: @los_cut_it via Instagram
Perfect Afro
Evidently, such African American hairstyles are the immortal classics. They are simply achieved by letting the black men curly hair form the rounded shape.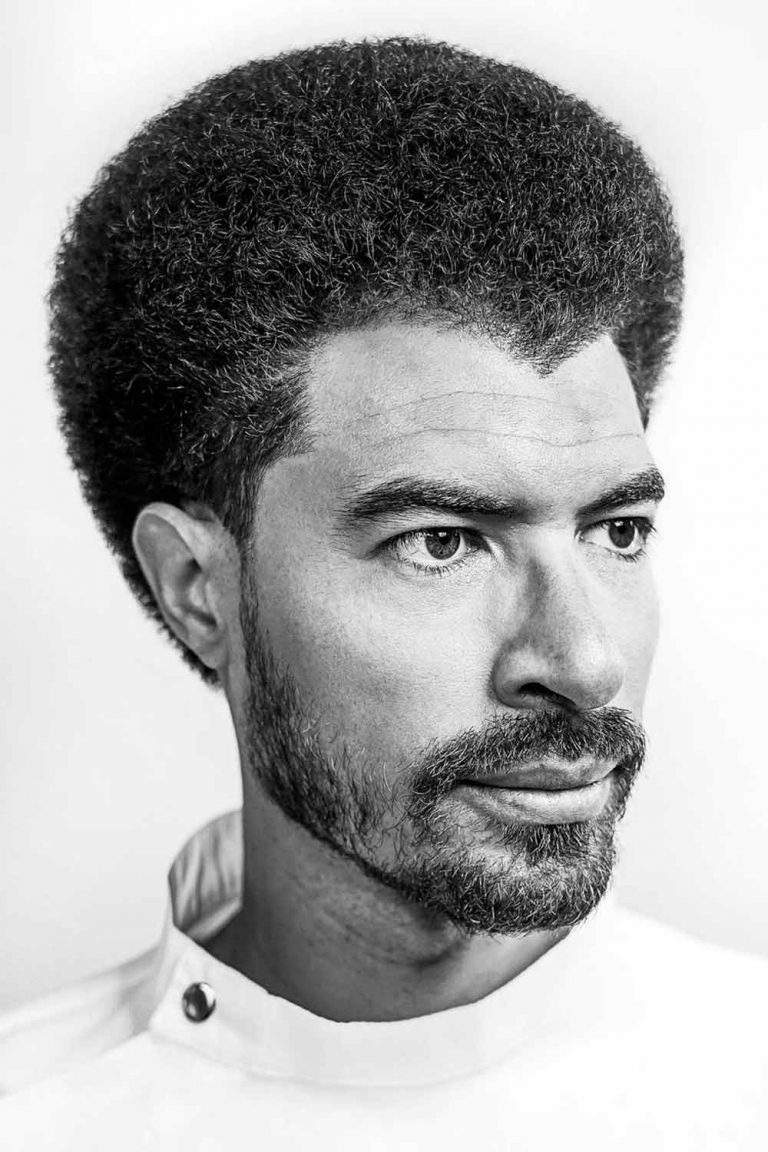 Source: @mattyconrad via Instagram
Long Dreadlocks Braids Disconnected Undercut
If your hair is ear-length, you should definitely try the dreaded hair look. It's better not to twist out the locks yourself but rather arrange with a pro to do it. Again, utilize only high-quality hair styling products for the best result.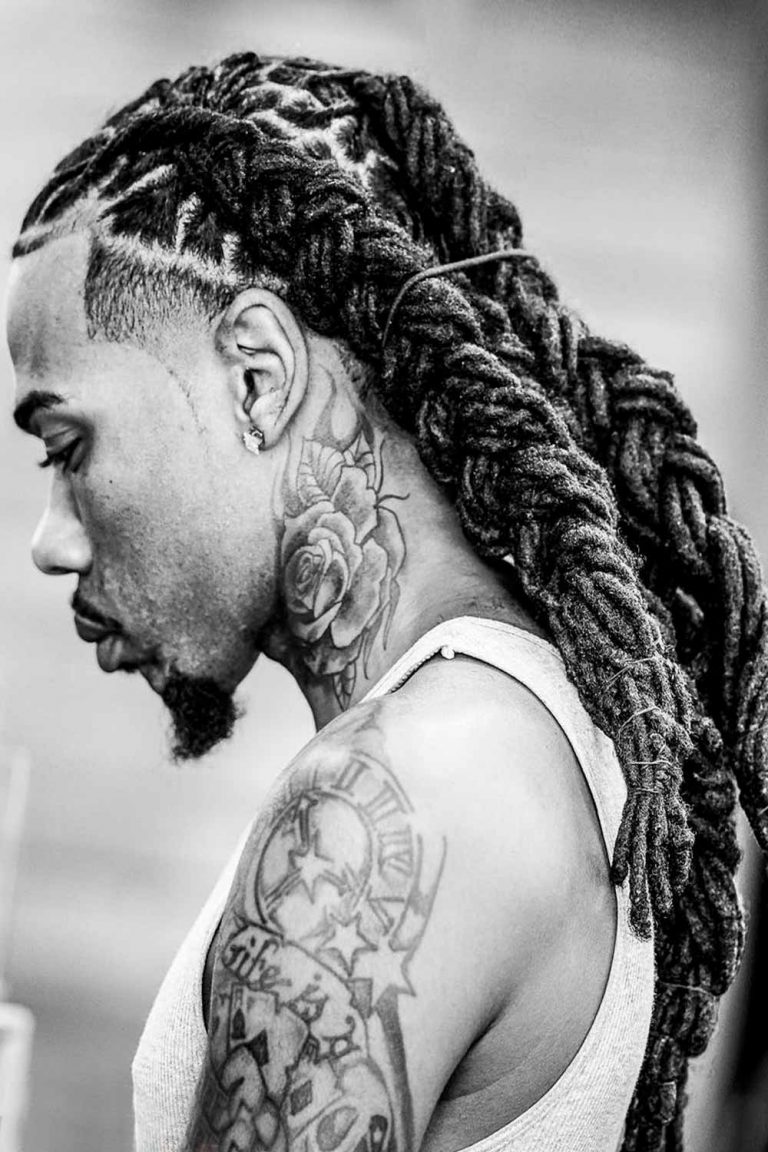 Source: @andyfadepro via Instagram
Bald Head And Full Beard
We believe such a haircut that contains high fade is perfect for men who have curly hair that they would like to tame. You won`t have to spend any time styling your curls, cause they will be too short to be a problem. A beautiful transition with the fade will create a gorgeous hair look.
Source: @adrianfanus via Instagram
i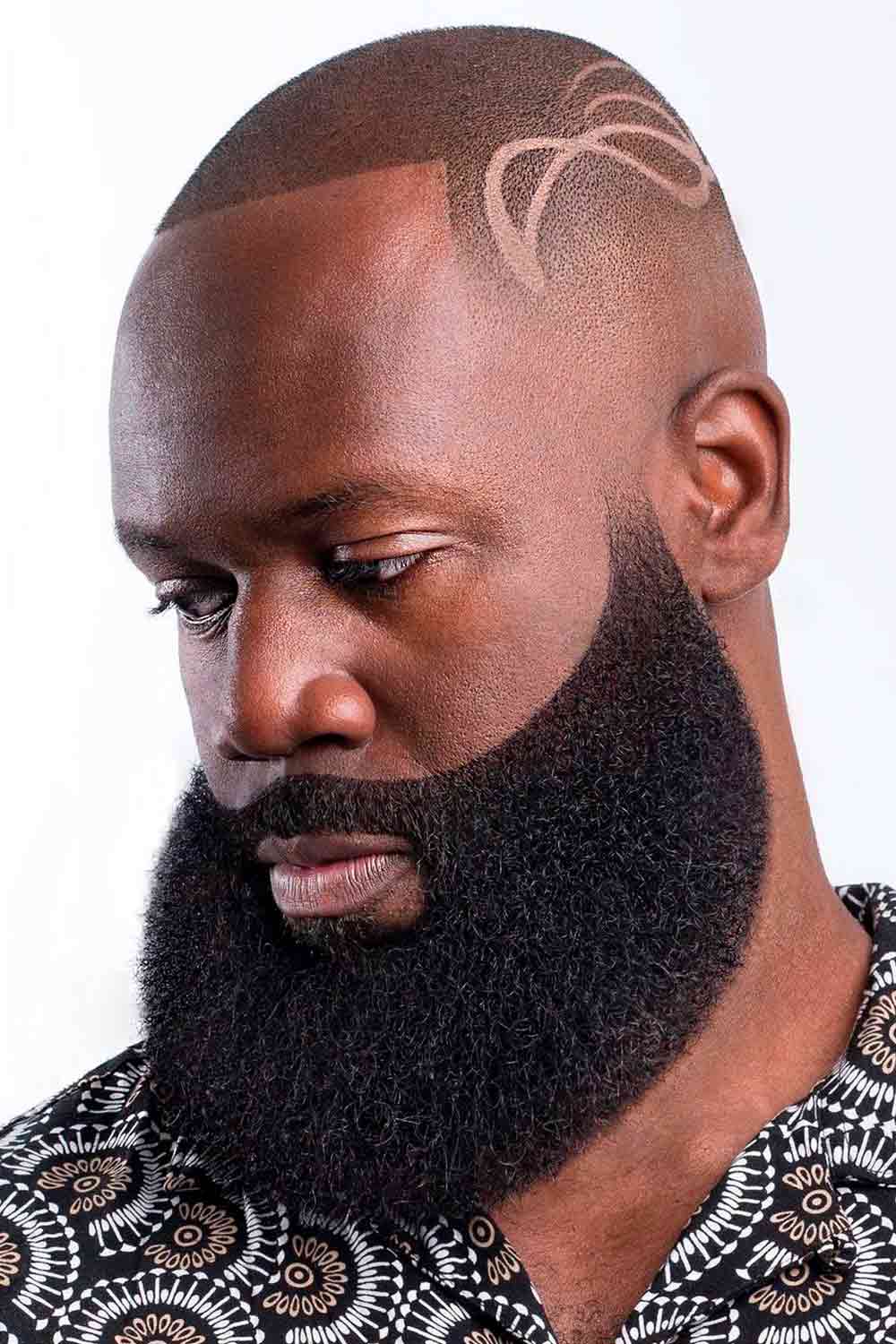 Source: @adrianfanus via Instagram
i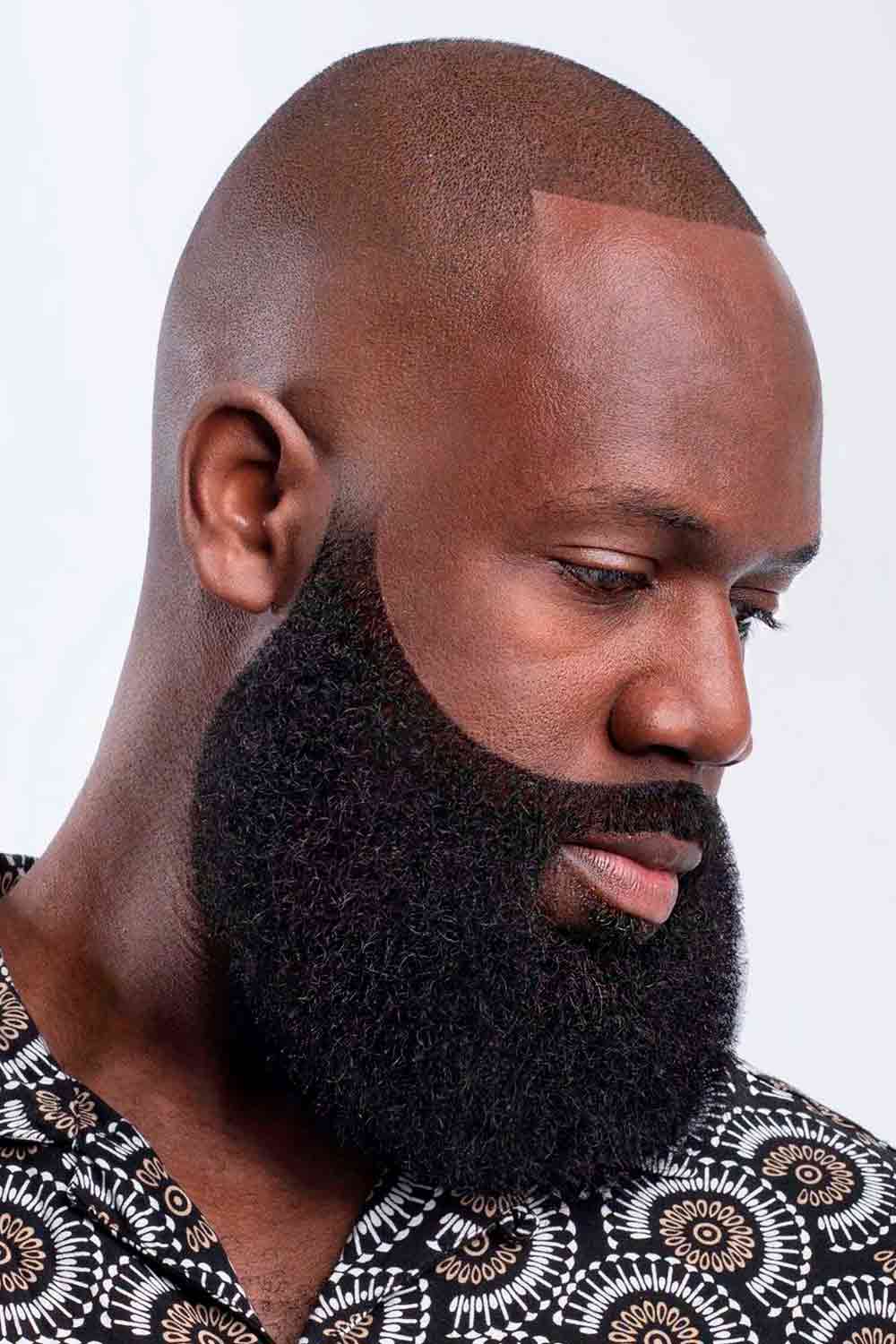 /
Ideal Faded Mohawk
Also known as the mohawk fade, the faded mohawk is one of the many black hairstyles men wear that give them a rebellious look. Unlike the normal fading style, the tapers and sides are used to form a mohawk on the head.
It is perfect for any type of mohawk. The mohawk can be in the form of braids, curls, dreads, colored, short or long top.
Source: @xbigwesx via Instagram
i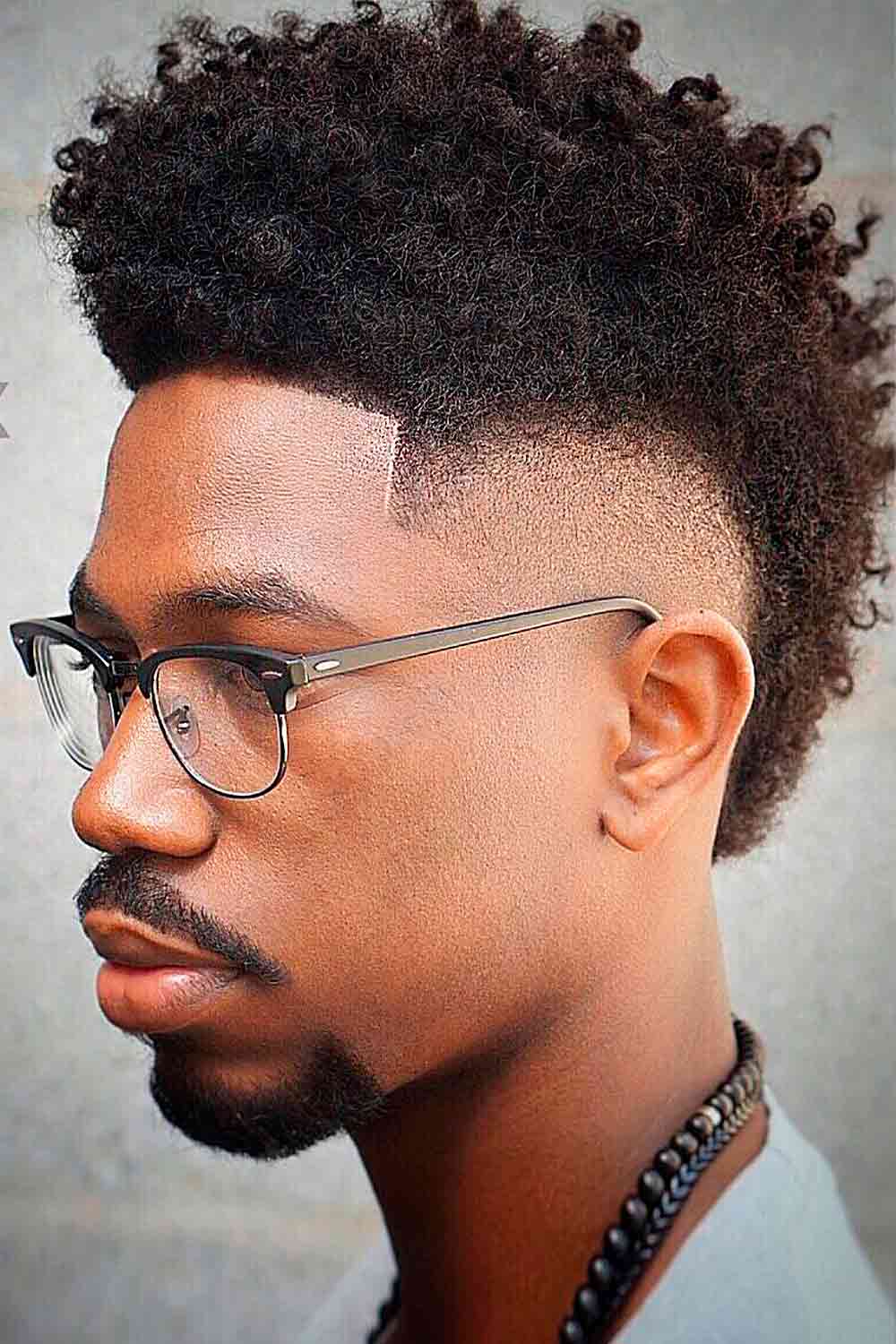 Source: @xbigwesx via Instagram
i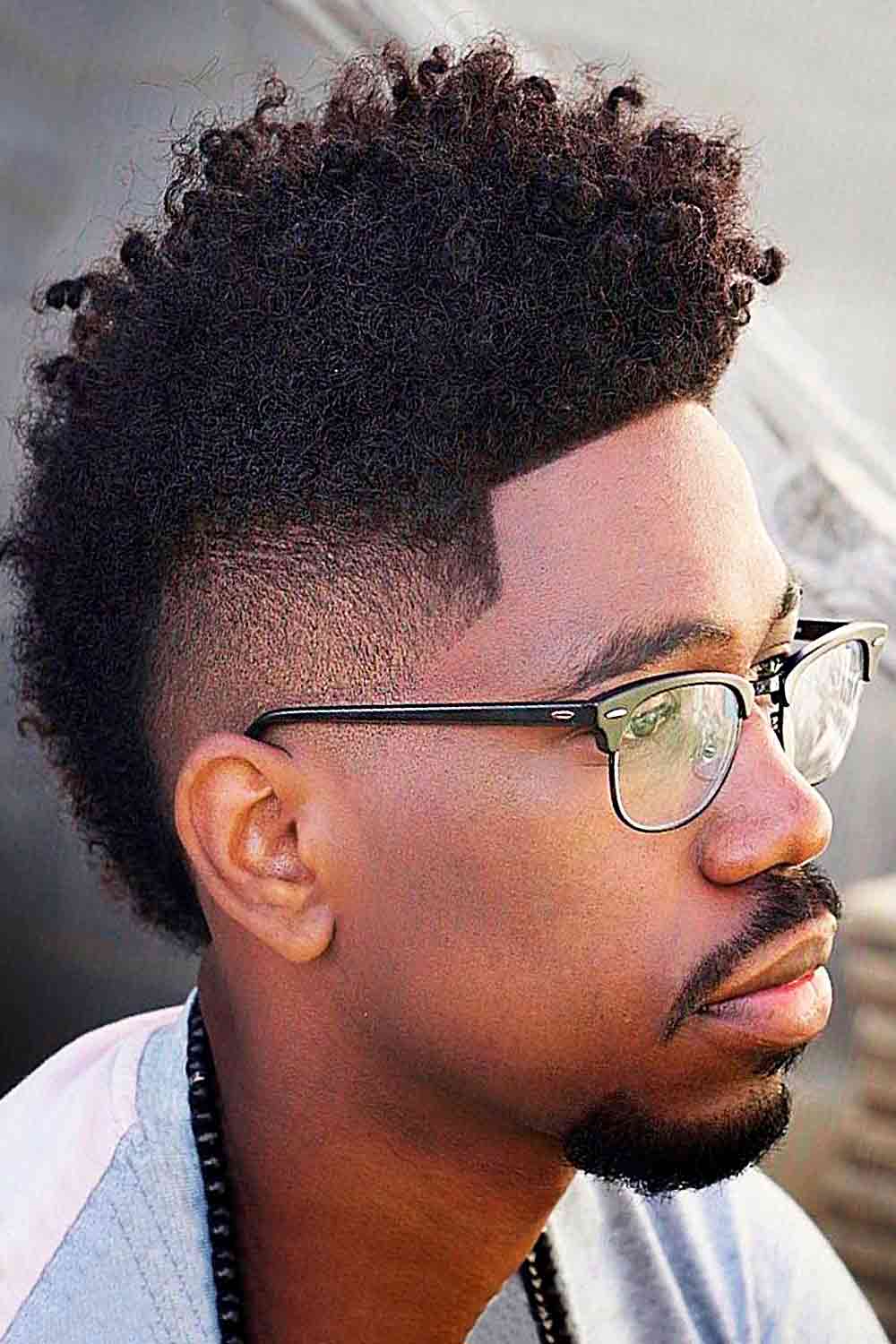 /
Two-Level Black Men Haircuts
Short male haircuts can look very creative. For instance, when the two-level cut is too dull for you – add another one. Divide the first two with a side part and then let the second level fade on the sides and back of your head.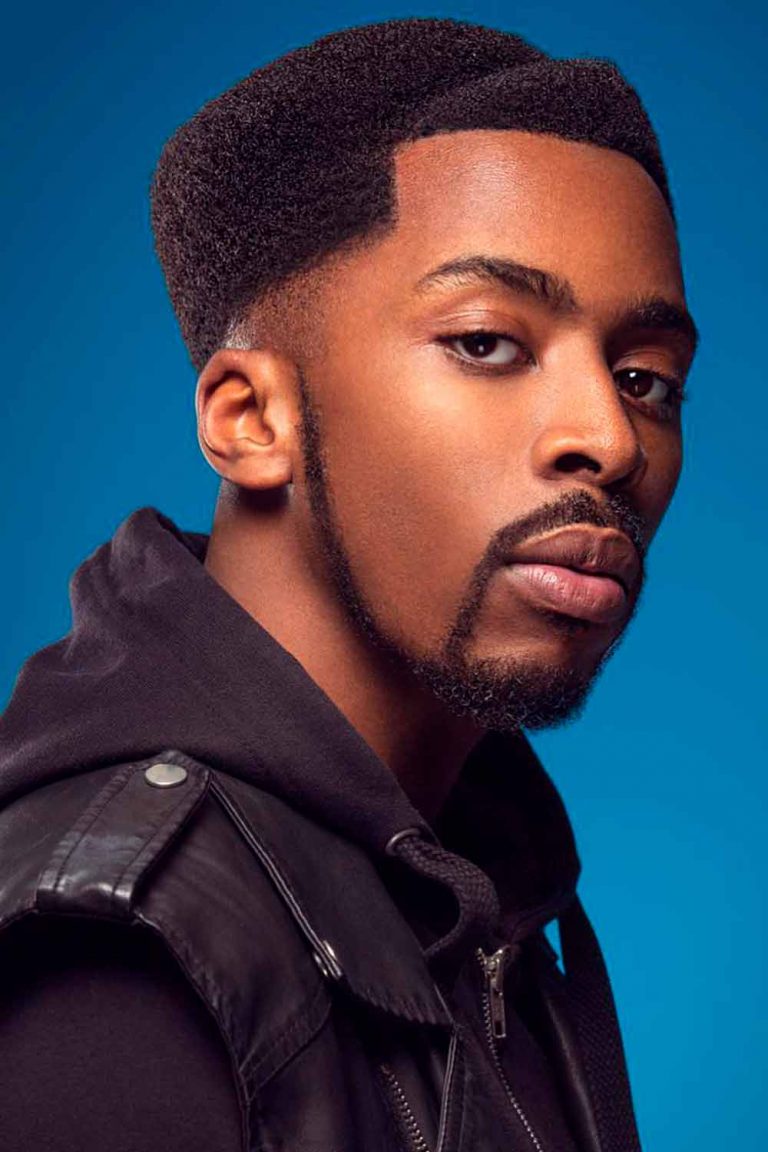 Source: @dexterdapper via Instagram
Undercut Fade Thin Dreads
In case you have decided to tie your dreads in a trending men bun but are afraid that it will impede your masculinity, complement it with a true sign of men power in terms of appearance – a beard. Besides, there is no big difference whether you will go for a full coarse beard or a thin strip of facial hair. You can rest assured that your virility will not get hurt.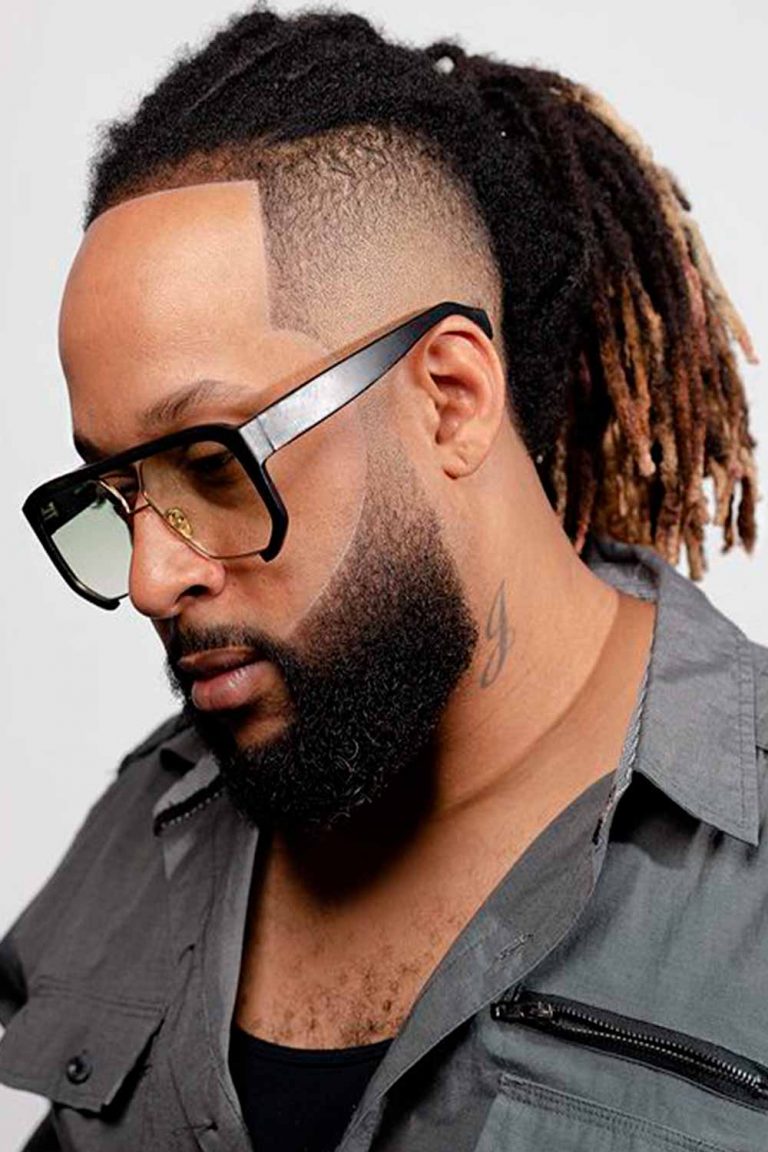 Source: @andyfadepro via Instagram
Long Curly Frohawk
We wouldn't be talking about afro hairstyles if we ignored the Frohawk. The name combines two words – afro and Mohawk the same way as the haircut combines two black men hairstyles. Basically, you just buzz short your hair on the sides leaving the crest on the top and back of your head.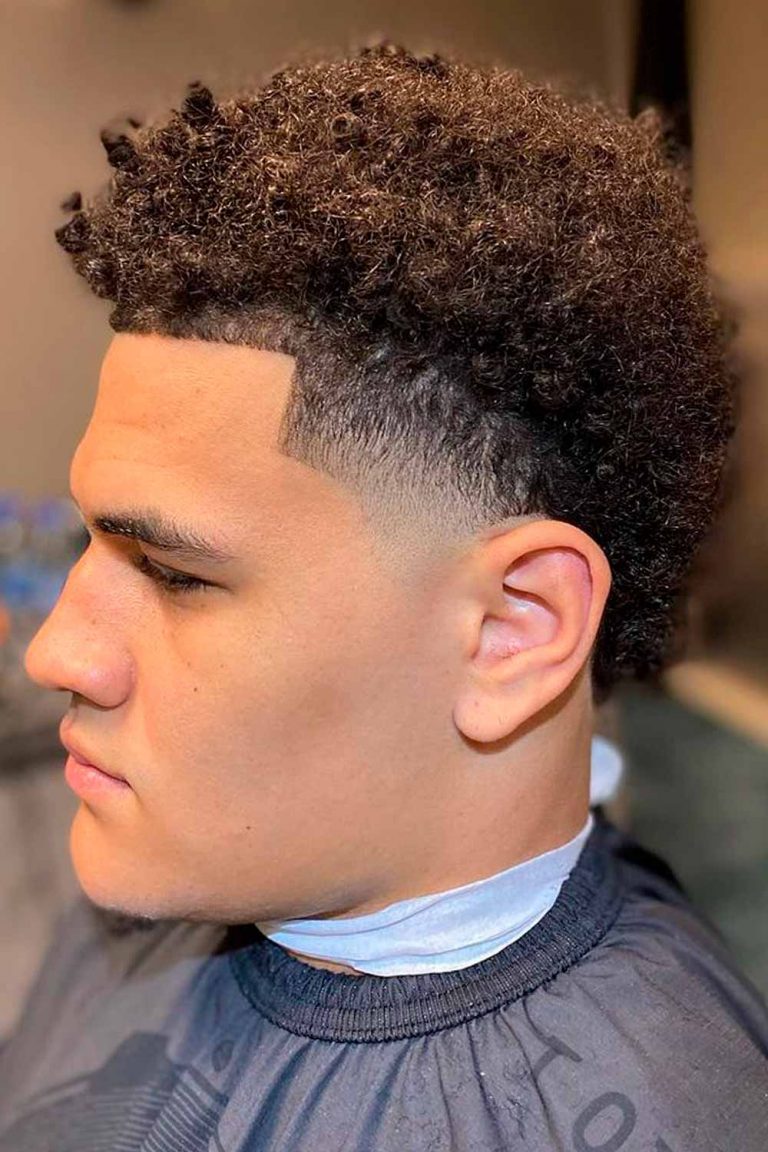 Source: @ledanieljames via Instagram
Long Top Short Sides + Neckline Design
As the name implies, this one of the black haircuts that has the hair on sides shortened while the top remains long. This haircut looks like the high top fade, but the difference is that the sides aren't as low as that of high top fade.
At the top of your hair, you can curl, braid, twist, color your hair or design it any way you deem fit.
Source: @nickthebarber via Instagram
Purple High Top Hairstyle And Haircut Design
Having a cut is not the only way to make the most out of your hair texture. For added emphasis on the spiral shape of your coils, you can dye the tips of your hair on top. This not only will add an intricate touch to your hairstyle but will also create extra contrast.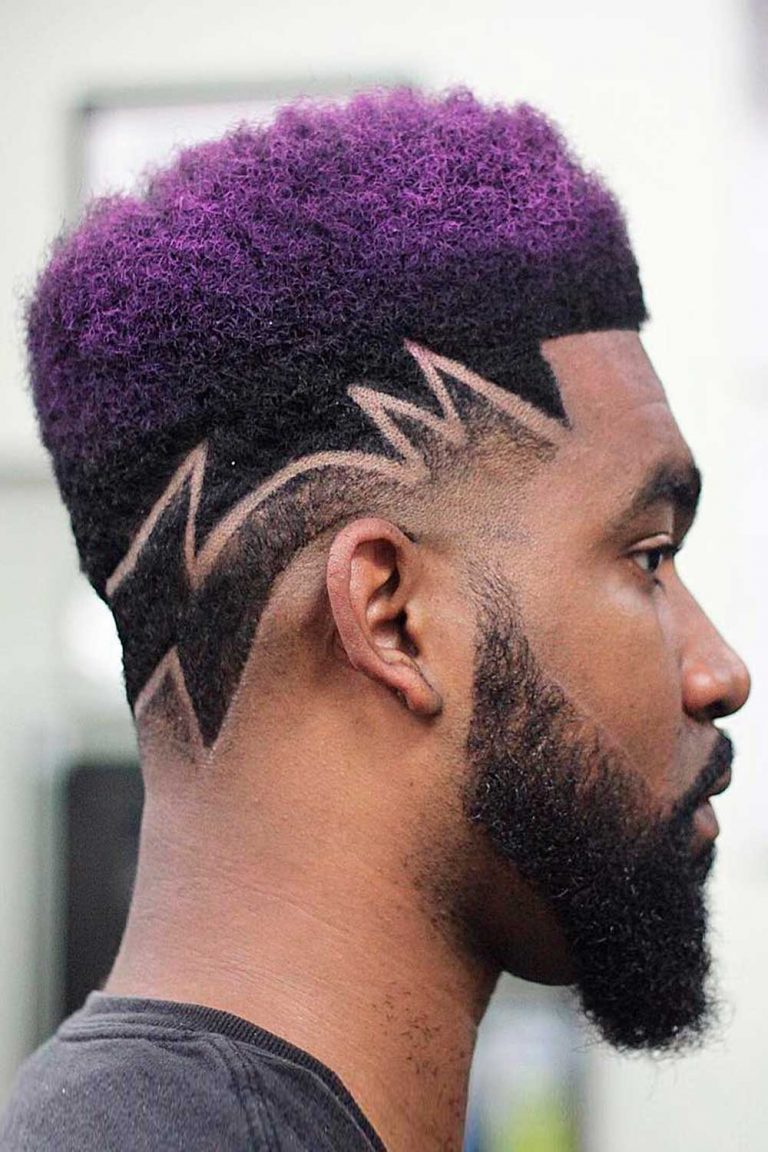 Source: @shawn_barbz via Instagram
Bald Fade Black Men Haircuts
To keep things simple and trendy we can suggest one of the most popular American haircuts, and not only black men prefer it. The thing is that closely trimmed top and the sides cut even shorter look stylish while you do not need to waste any tie on styling!
The Rounded Top And Hair Ombre
The flat top haircut makes your image somewhat military. Such men's cuts make the most of the look if created on thick hair that holds the shape really fast.One of the best ways to voice your personality is through the hair look. If your black natural hairstyles sometimes seem a bit dull to you, brighten them up by adding a hint of color. If this is your first time coloring, maybe it would be better to confide in the hands of a professional because you risk damaging your hair with the bleach and dyes. With proper care, your hair health won't lose, but your hair look will win.
Source: @shawn_barbz via Instagram
Sponge Curls + Fade + Surgical Line
A skin fade is always a great option to accompany black men hairstyles. It helps to add neatness to the look and keep your unruly locks tamed. For more definition, carve a surgical line that outlines the hair on the top of your head. And finish off the look with a line up along the temples and forehead.
Source: @andyfadepro via Instagram
Dreads And Undercut
Are you thinking about box dreadlocks but want them to look unique and smart at the same time? Look closely at the undercut dreadlocks. They don't look worn out or messy. The buzz cut or skin shaved sides enhance the dreads men can find boring to wear.
Short Hair + Undercut Black Men Haircuts
Another great idea for short black hair is to combine it with an undercut. Doesn`t that look charming? A bit more of length and an illusion of a rounded profile is created. For men who don`t like spending much time on their hair, it is a great solution for the daily routine.
Man Bun Black Men Haircuts
A man bun will be highly appreciated by those who prefer to wear long hair in a casual, breezy yet elegant manner. There are many different kinds of man buns, but this is the most basic way how to do it. Just gather your hair up into a tight ponytail, wrap it around the base and secure the ends with some hairpins. Add a skin-fade with a line-up to give the hairstyle the cutting edge.
Braids With Fade
Dreads are a bit more complex than the regular black braids men as they imply prolonged wearing. At the same time, unlike other black hairstyles for men, they save you a bunch of time and money. However, ensure that you found a true professional; otherwise, your funds will be completely wasted. After you have had the job done, it's time to think about some trusty hair styling stuff. Regard a dreadlock wax as a go-to product, and also check up on the PH balance and the amount of sulfate in your shampoo.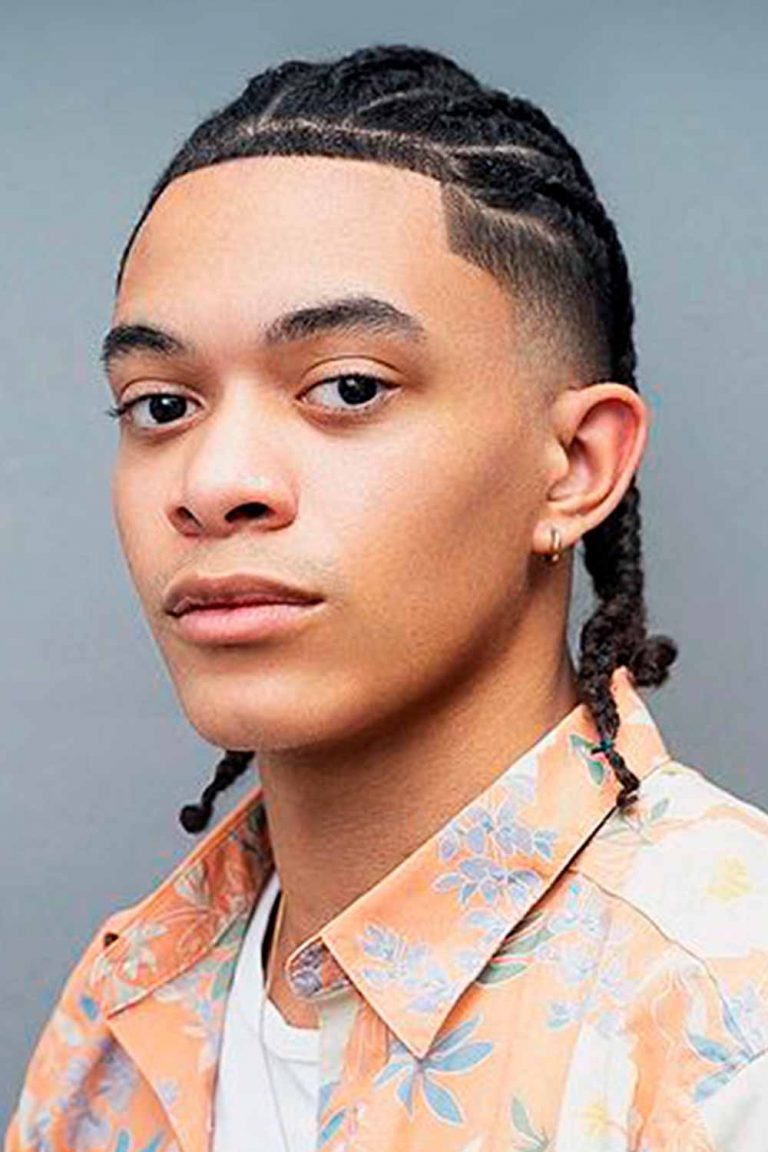 Source: @andyfadepro via Instagram
Undercut Fade Long Curls
Do you really struggle to find some perfect black men hairstyles to pull off the afro hair that Mother Nature awarded you with? Even though it is visually attractive, it gives you much trouble to manage? Don't worry. We have collected the most flattering ideas to give your hair the ultimate look. No matter whether it is kinky, curly or coily, you will come up with the style that will make every day yours.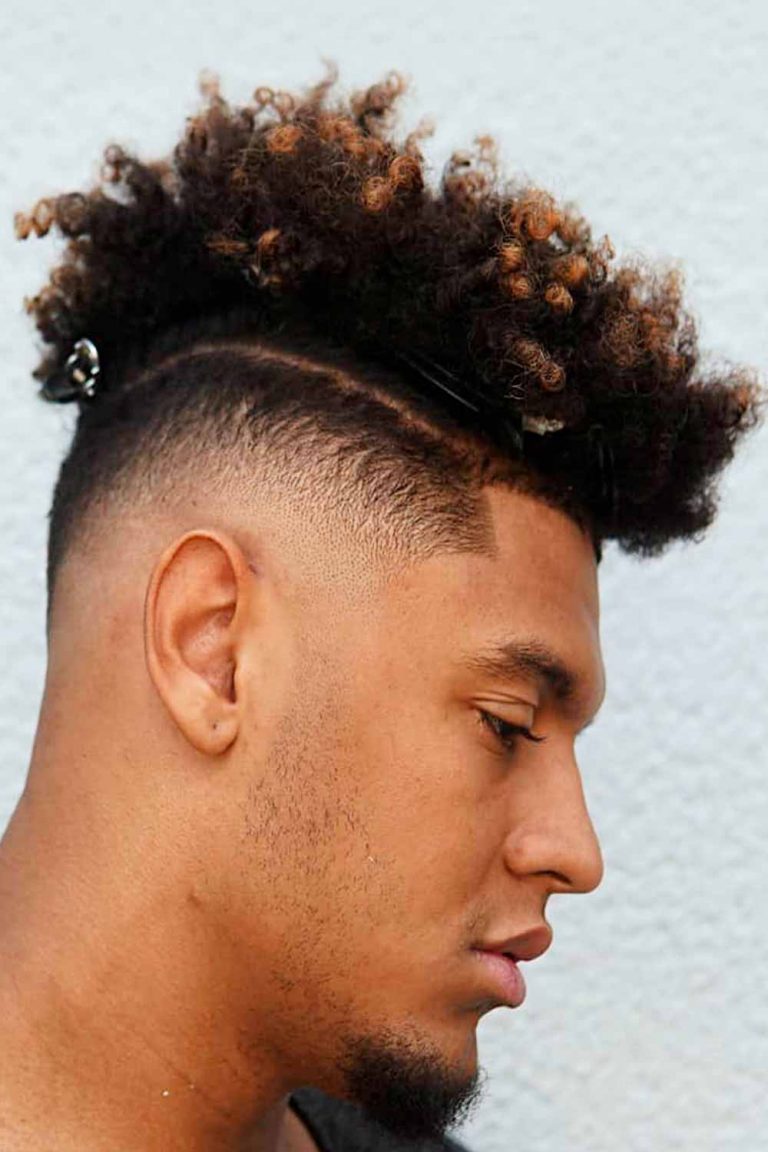 Source: @keller_konturenvia Instagram
Box Braids And Undercut
By all means, braids are the timeless example of hairstyles for natural hair, dating back as far as 3000 BC. They not only make the look refined and sophisticated but also keep the natural moisture of the hair. A man braid has this ultimate edge that catches the eye immediately. You can bring the braids to the whole new level with the help of cornrows. They will give your hairstyle geometrical definition and startling intensity. To make the effect even stronger, use a special styling product that will help your braids look sleek and your hair stay healthy.
High Top Dreads Black Men Haircuts
High top dreads are very popular among all the black hair styles. There is no wonder why. The thing is that you can easily play around with various styles if you opt for dreads. In this case, while keeping the sides short – you leave all the fun to the top.
Twist + Undercut +Highlights
There`s no doubt that such a hairstyle will make you stand out from the crowd. Twists that go so well with neat haircut fade at the sides. Love creativity and style it brings to the appearance.
Cornrows Black Men Hairstyles
Here's a cornrow braids idea that makes natural hairstyles pop. To get the most of this look, your hair should be no shorter than one inch longso that the barber can braid your hair. Also, you will need some moisturizer with styling properties, such as pomade or holding spray, and a sponge itself, of course. To keep the focus on top, go with an undercut fade on the sides and back of your head.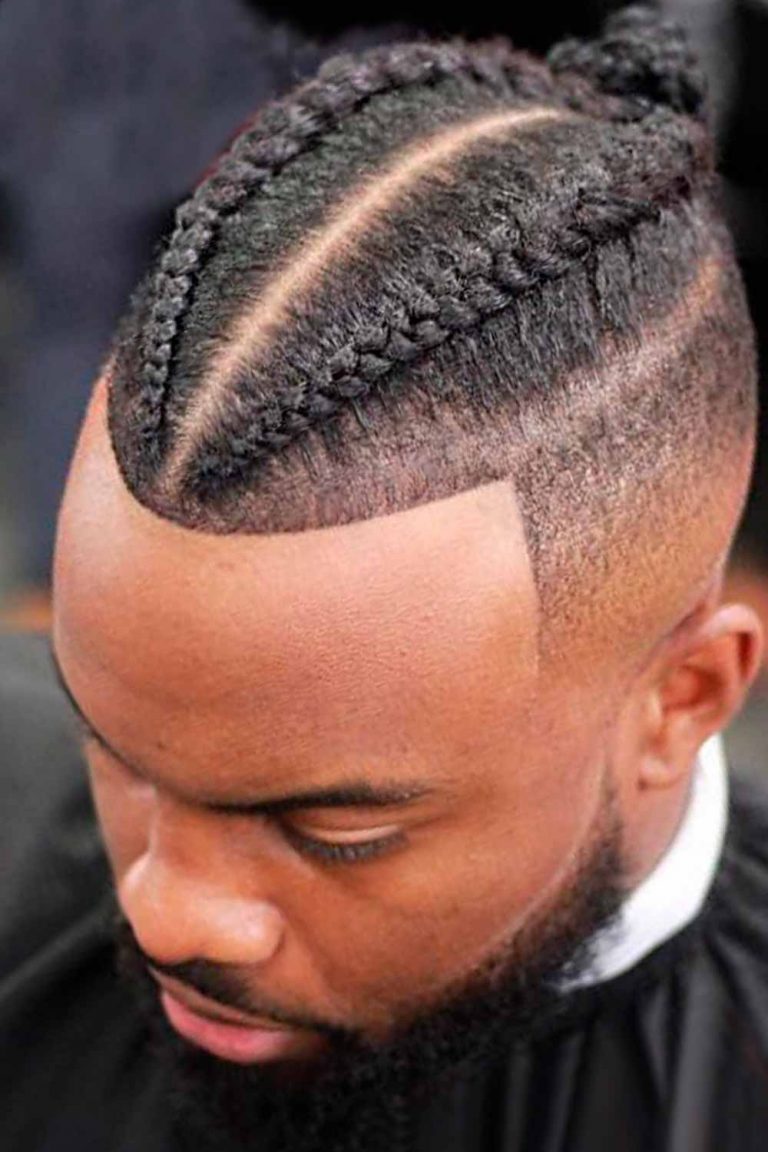 Source: @dynasty_barbers via Instagram
Line Up Black Men Haircuts
A line up is arguably a must for most if not all black men hairstyles. It adds definition and clean lines to the look in a blink of an eye no matter how you are going to have the rest of your hair cut. Another great thing about a line up is that it can not only go along your hairline but also outline your facial hair.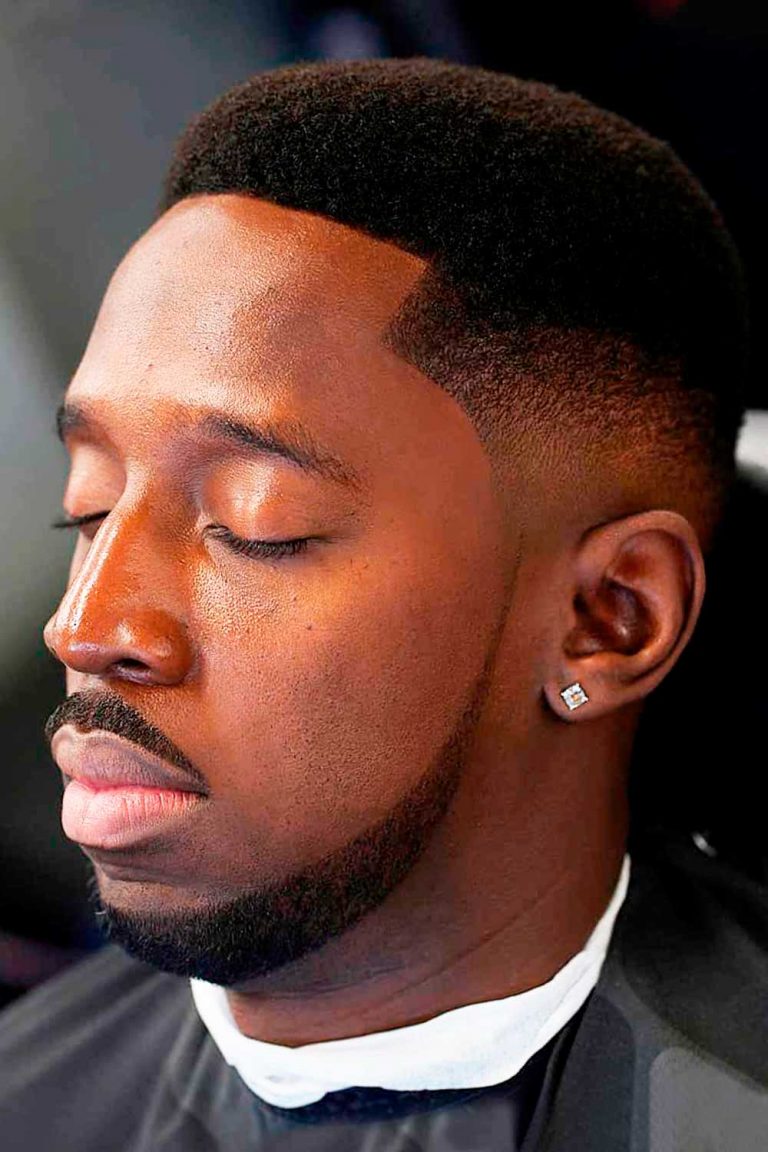 Source: @f4fade via Instagram
Short Hair With Hard Part
For those guys who prefer short black men hairstyles, there is a trendy option too. Chop off the hair all over the head first and then complement it with a hard part. Note though that it should not necessarily follow a traditional way. You can show off your creative side by directing the parting across your head starting from the bend of the hairline and landing somewhere at the nape.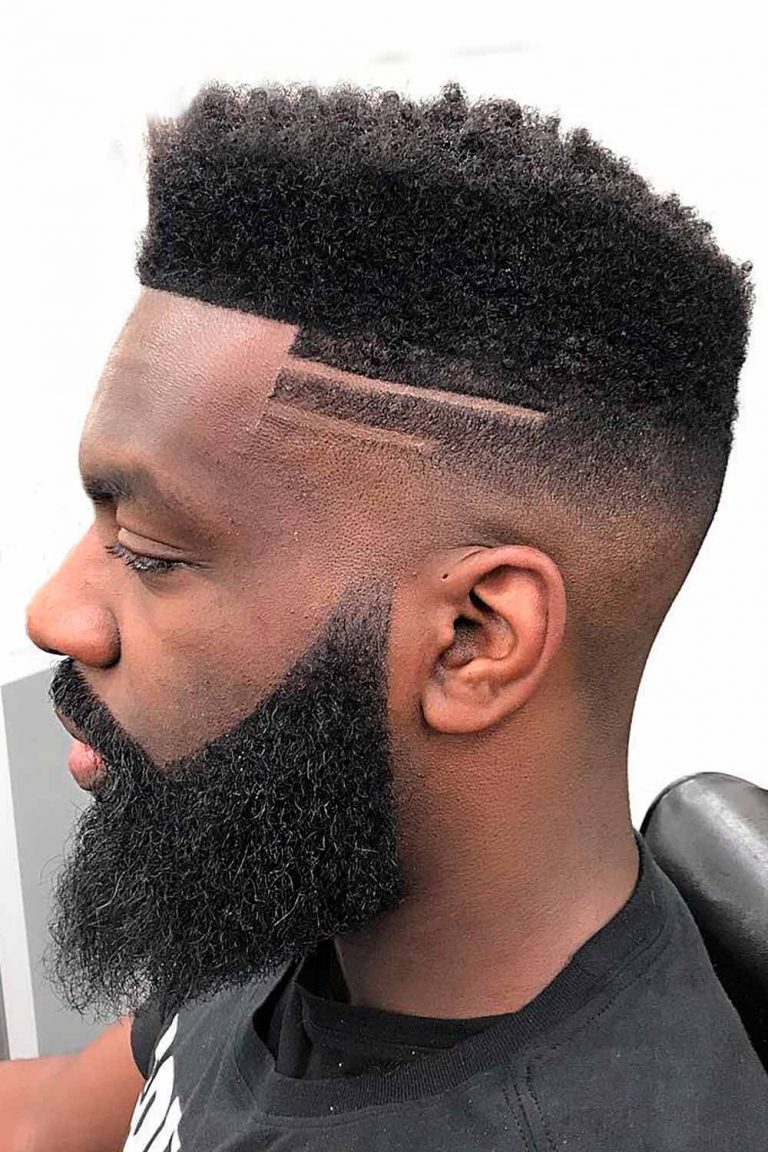 Source: @adrianfanus via Instagram
Medium Afro With Low Fade
If your hair is coily enough to hold the shape when being of medium length, then we don't see any reasons for you to go shorter. Medium Afro curls look flattering and intricate, especially when paired with any type of fade. Should you prefer to leave more hair on the head, opt for a low skin fade with a line up.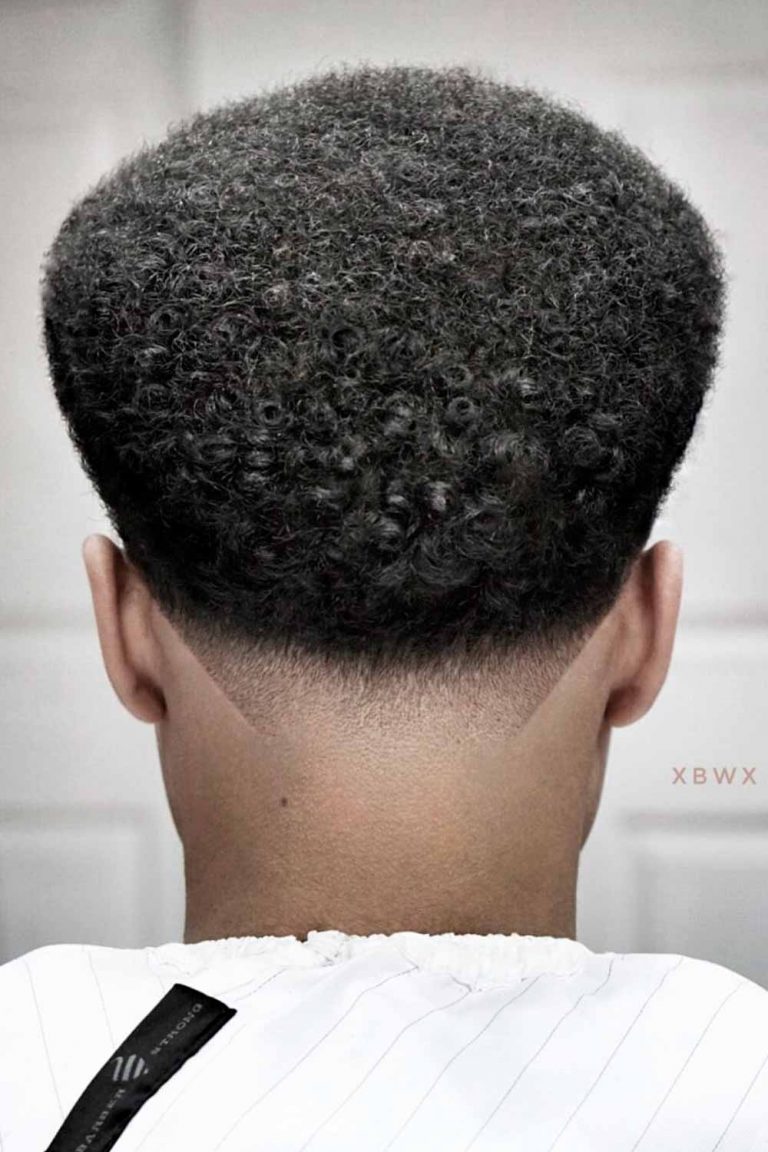 Source: @xbigwesx via Instagram
Ponytail Dreadlocks Black Men Haircuts
Although dreads already appear quite eye-catching, there are a few win-win ways how to make them stand out even more. One of such ways is dyeing your dreadlocks in blonde. With this color solution, your hair pops against your skin, creating a high contrast look. Thus, even if you decide to pull your hair into a ponytail, it will not take away from the boldness of your look.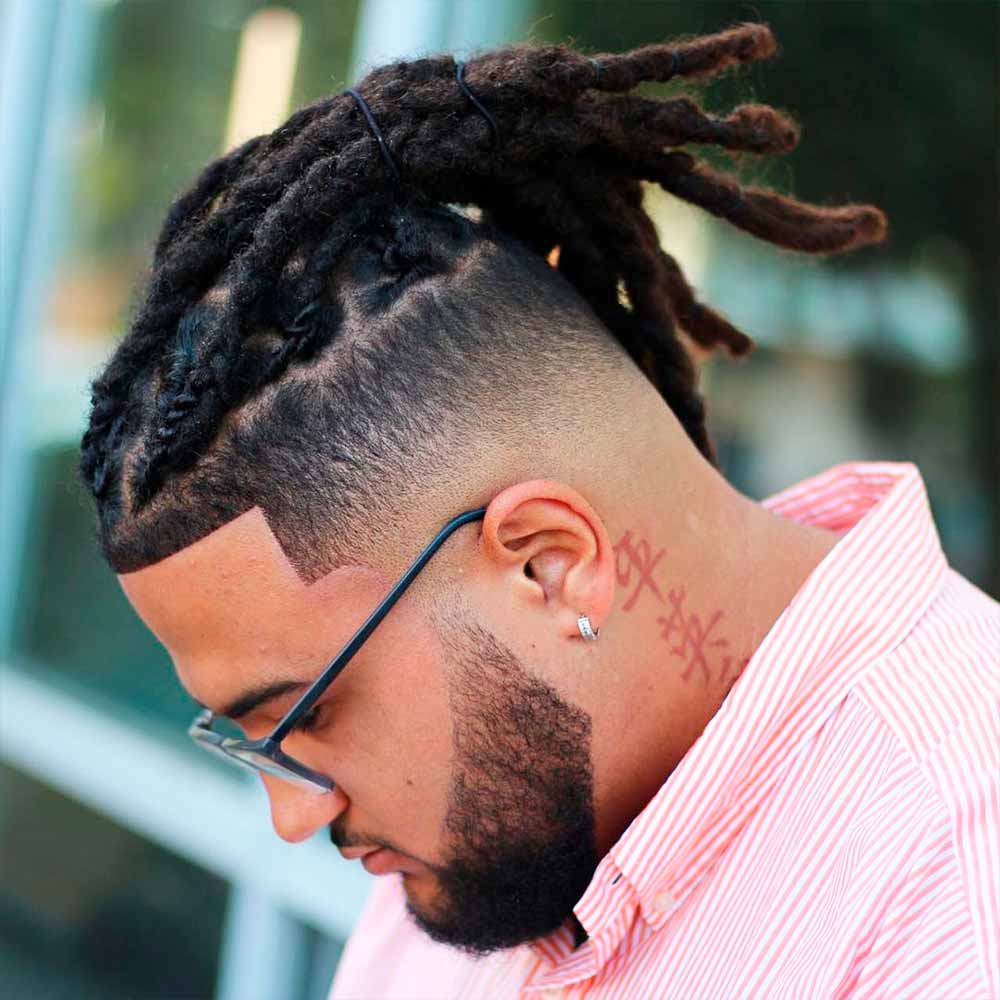 Source: @cool_cutz via Instagram
Mohawk Style With Hair Tattoo
With such a coily hair texture, a mohawk hairstyle gains a new turn. However, you don't have to limit yourself to it only. Let something else, such as a hair tattoo, add boldness to your hairstyle. What design to choose is fully up to you. However, make sure it reflects your personality accurately.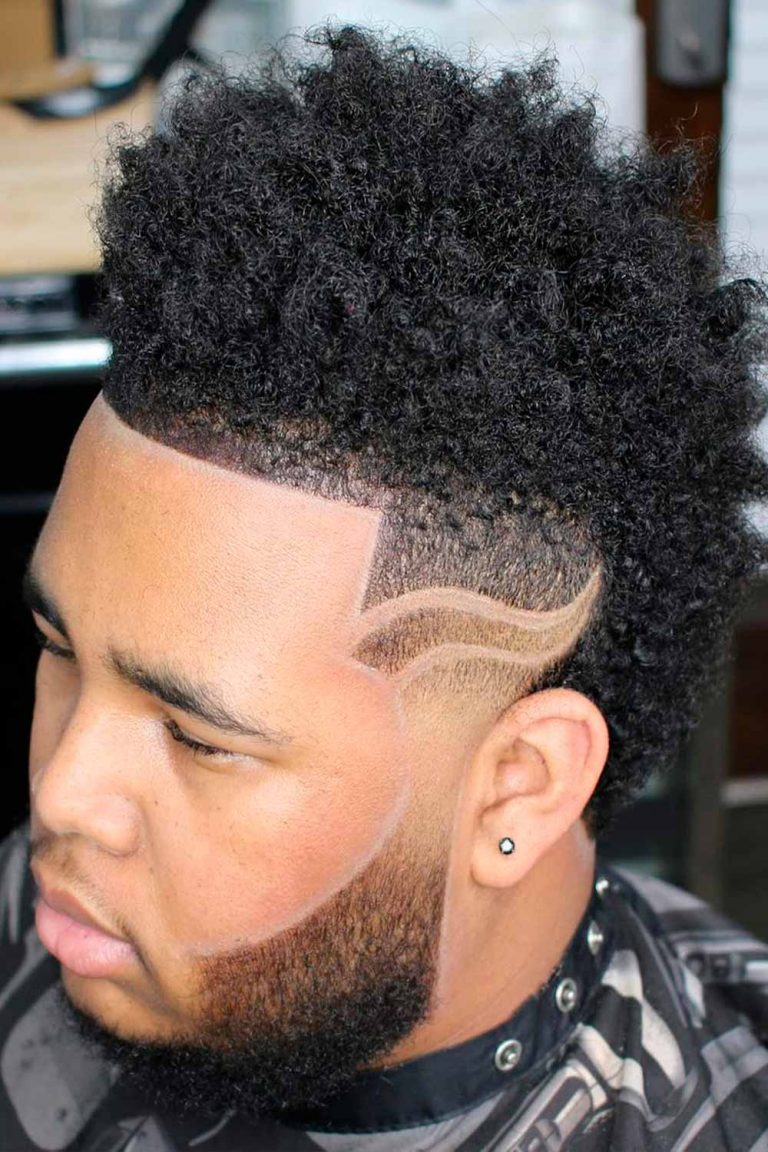 Source: @cool_cutz via Instagram
Dreaded Man Bun Undercut
Continuing the topic of the black man bun, this fun hairstyle is apparently worth mentioning. If you would like to add a little structure to it, shave the hair from the sides and back, creating a visible border along the hairline. This is the type of Afro hair styles that do not suggest having a lot of skills or practice.
Source: @ninothenice via Instagram
Mid Length Afro Curls
With Jewfro hairstyles, almost everything is up to nature. Your task here is just not to stand in its way and maintain your curly hair properly. For the proper maintenance, it's important to choose the right product. If your hair isn't too wild, coconut oil will do. For more whimsical hair, you'll need to consider something like a wax or pomade.
Undercut +Fade + Texture
It has been already mentioned that messy textures are the most popular among afro hairstyles. The fact is that they suit the texture of your hair perfectly. All you need is to grow out your hair and then fade sides. Besides, such a hairstyle will go well with a beard so with a clean shaved face.
Source: @los_cut_it via Instagram
i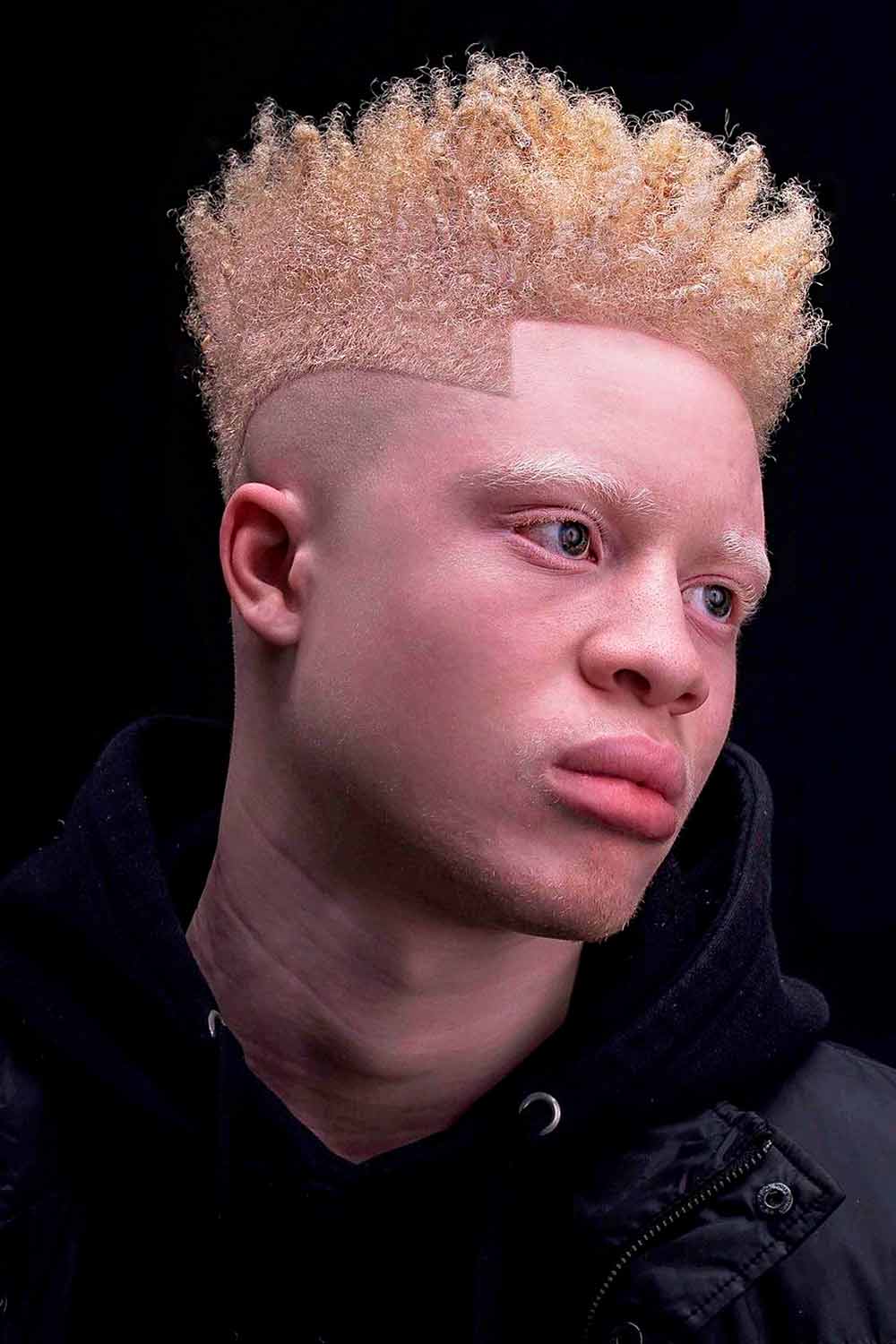 Source: @los_cut_it via Instagram
i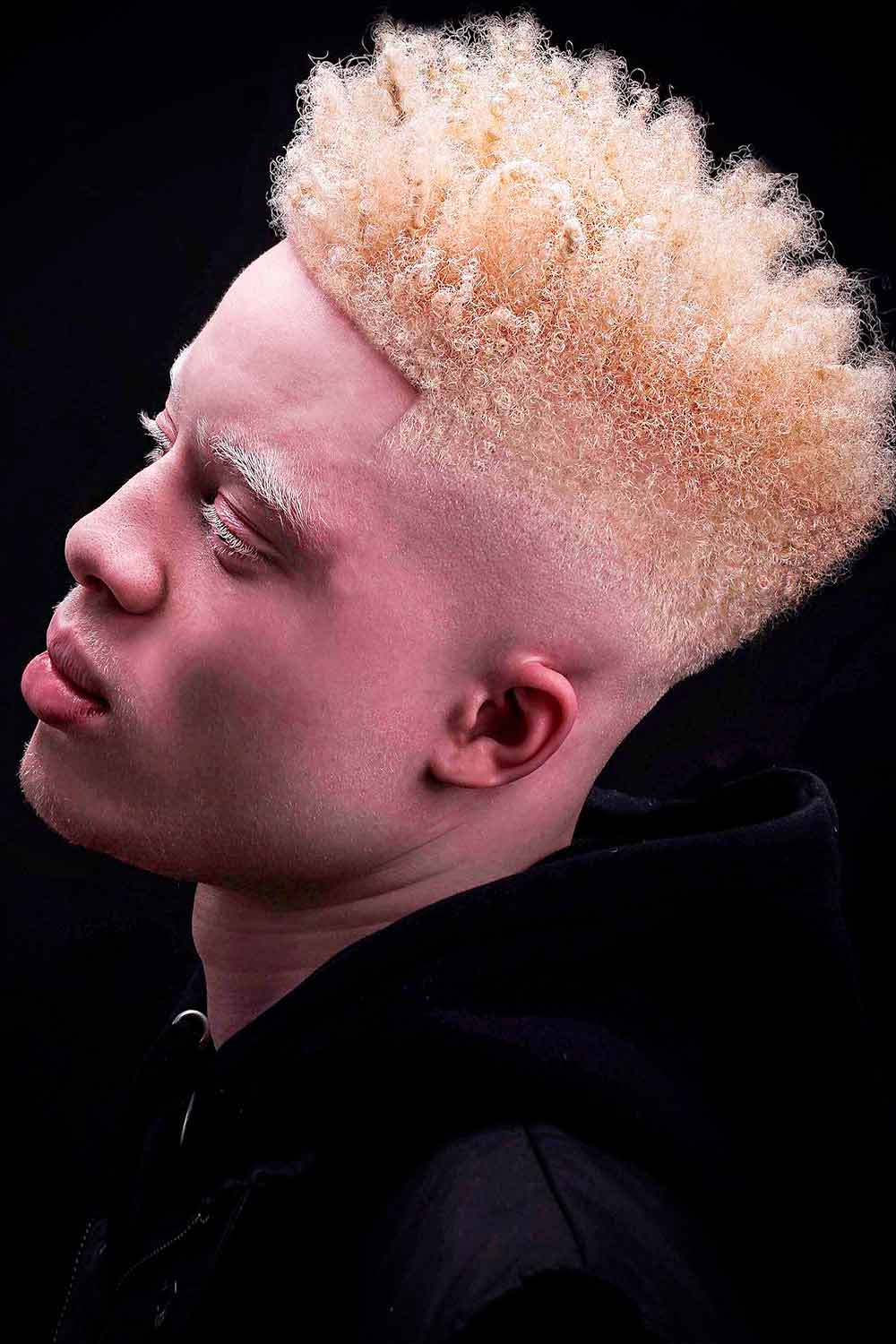 /
Short & Messy
Short messy cut all the rage these days. That is why if you are the lucky owner of a short mane and you are in need of perfect textured hairstyles men can sport – help yourself!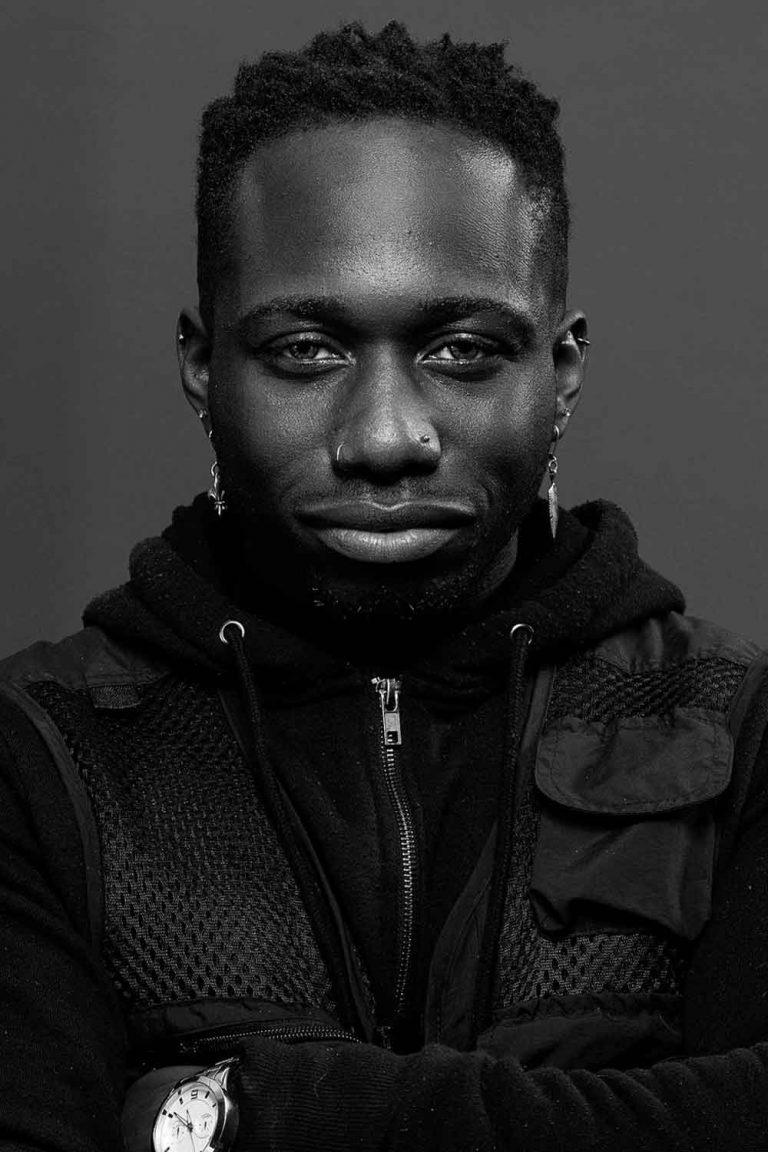 Source: @

dexterdapper

via Instagram
Dreads And Undercut
Dreads have existed since time immemorial. The undercut is among the short haircuts black men wear that goes well with many styles and dreads are one of them. You get to trim the sides and back of your head while having short or long dreads on top.
Black men on full dreads that want to switch their haircut up a bit can opt for the dreads and undercuts. The haircut gives black men the "new age rasta" look.
Source: @hayden_cassidy via Instagram
i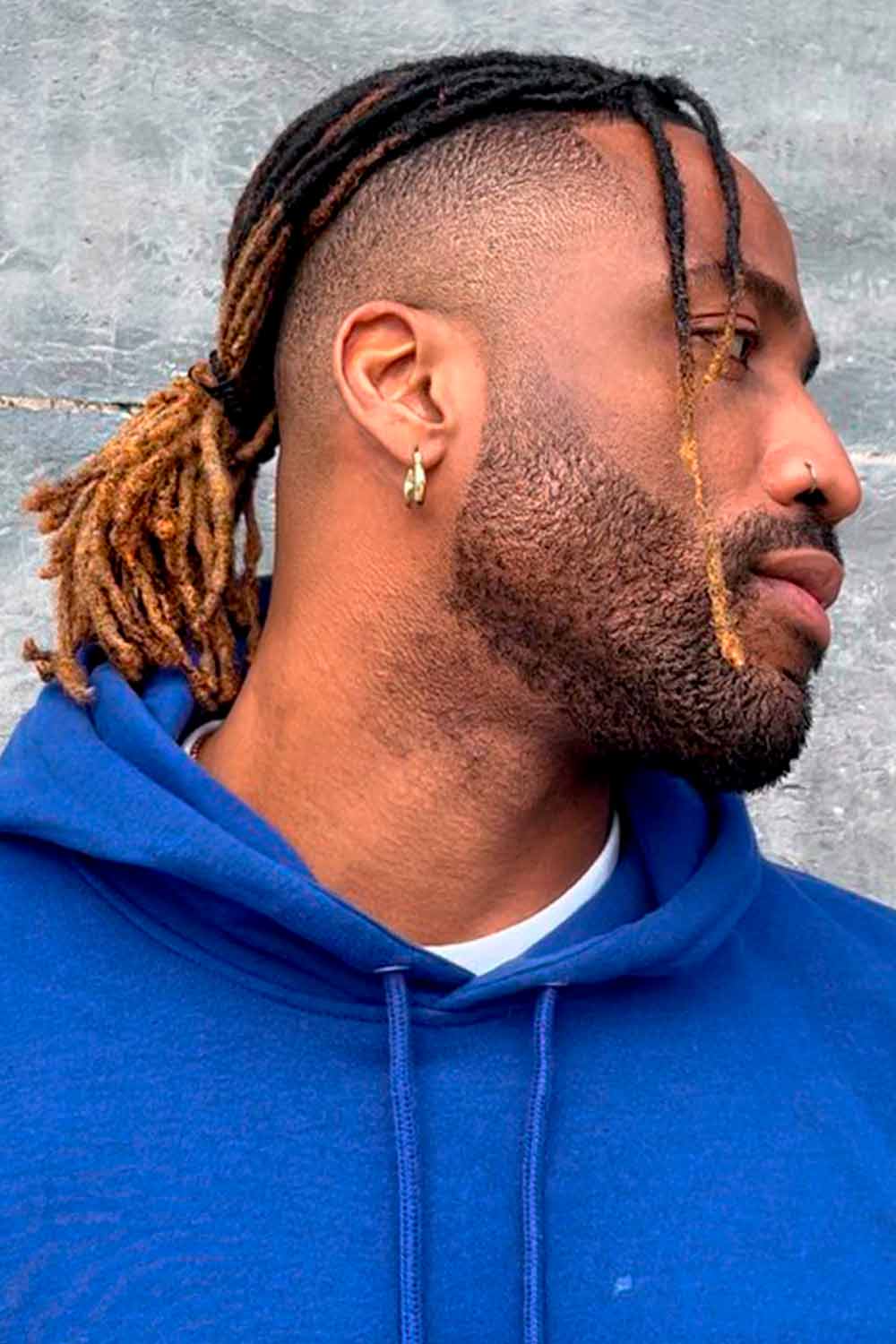 Source: @hayden_cassidy via Instagram
i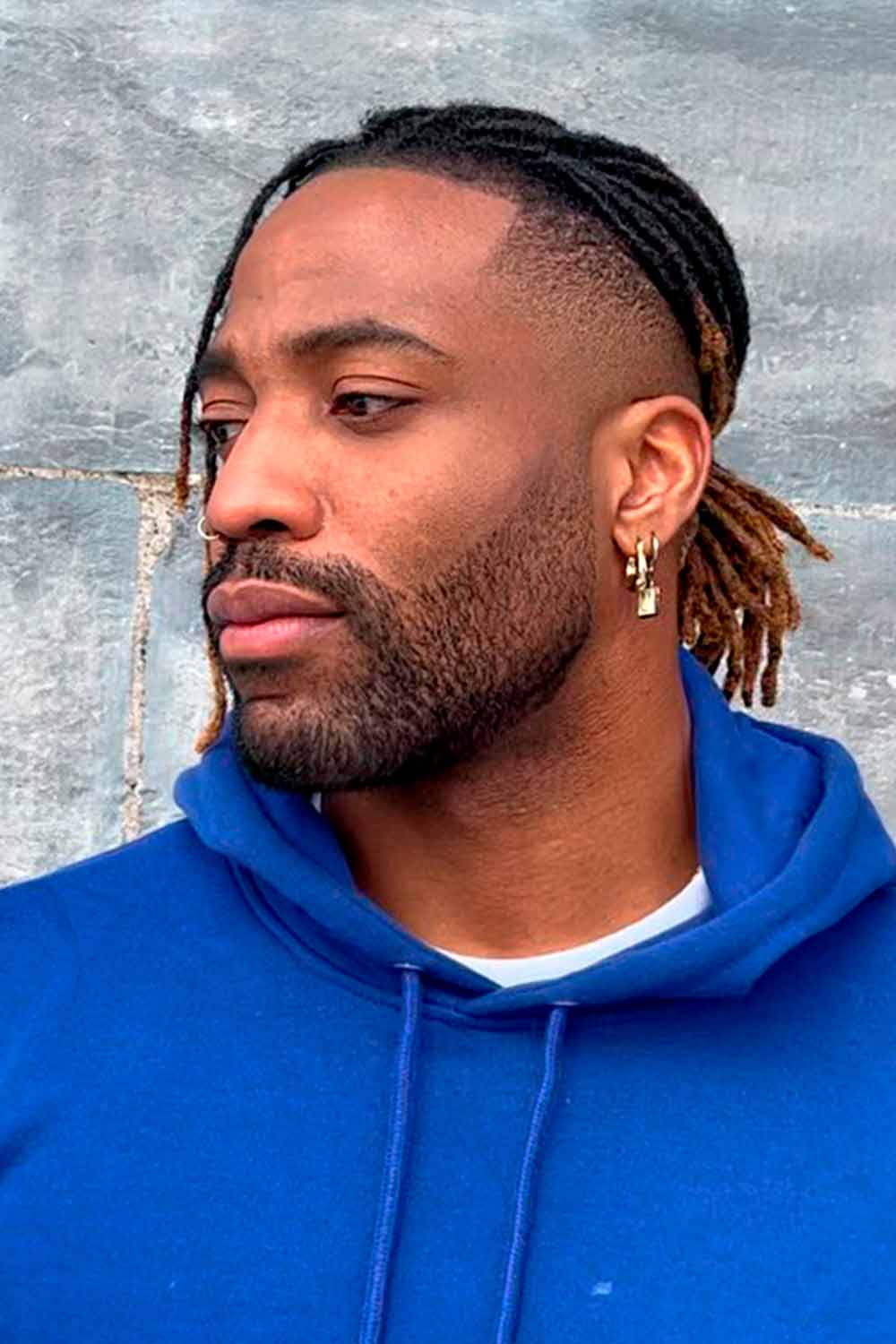 Source: @hayden_cassidy via Instagram
i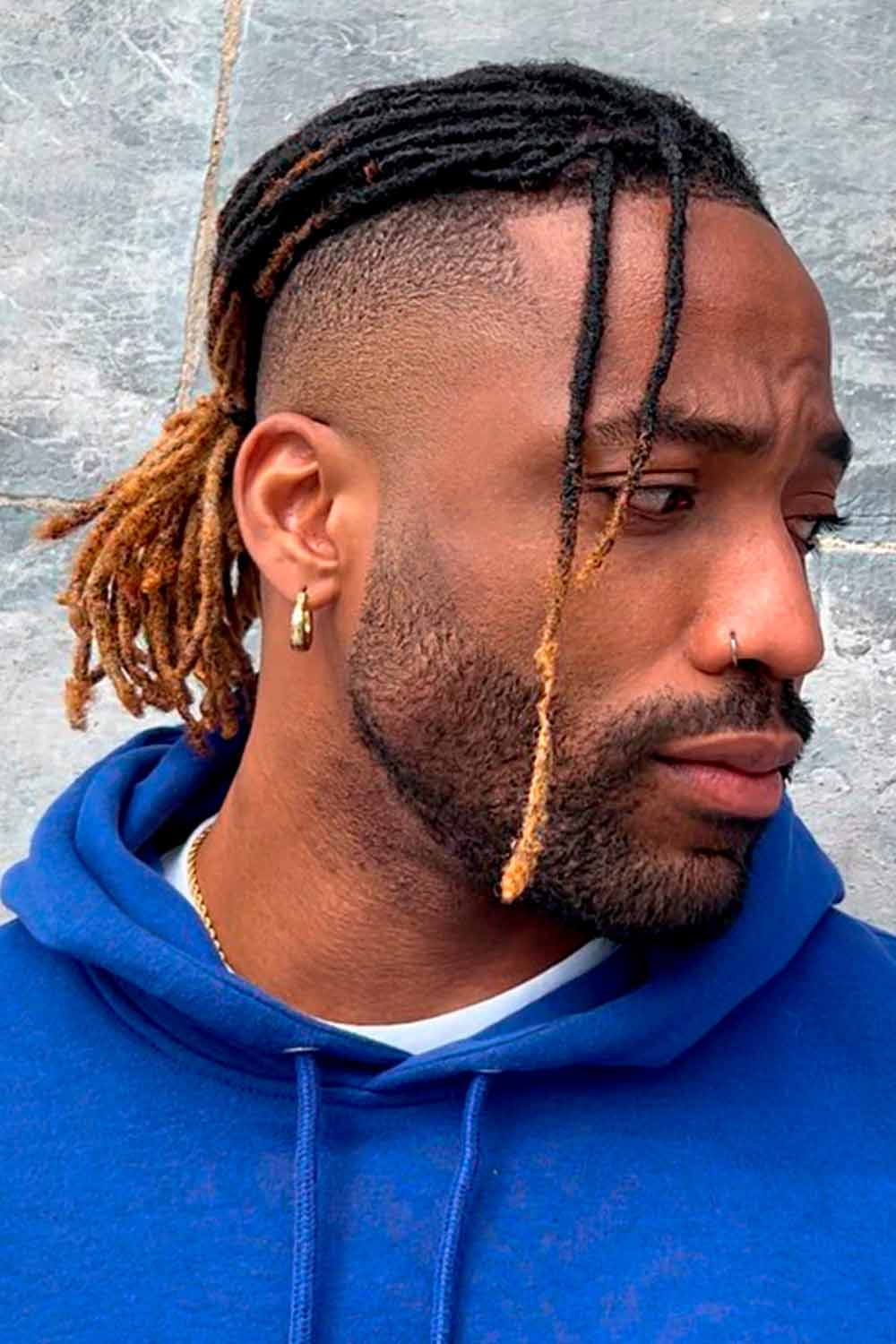 /
Messy Buns Black Men Hairstyles
When you have a full head of curly black hair you may not need a cut, all you need is a proper style option. The messy bun is precisely what we have in mind. Just gather your hair up, and a messy bun is ready!
Long Top Short Sides
It is always safe to go for a long top short sides hairstyle when you have such an elaborate hair texture. In this way, you will effortlessly make your hair look dapper and neat without sacrificing on the style. You can get the sides faded or tapered or both for a more stylish appearance while leaving enough hair on top to show off the texture.
Source: @nickthebarber via Instagram
Skin Fade High Top
Originally, this was a highly popular marine haircut. But being adjusted to today's realities, it evolved from the most praised American haircuts to the most worn black haircuts. It mixes the past and the present together by combining the bald fade and a bunch of curls on the top.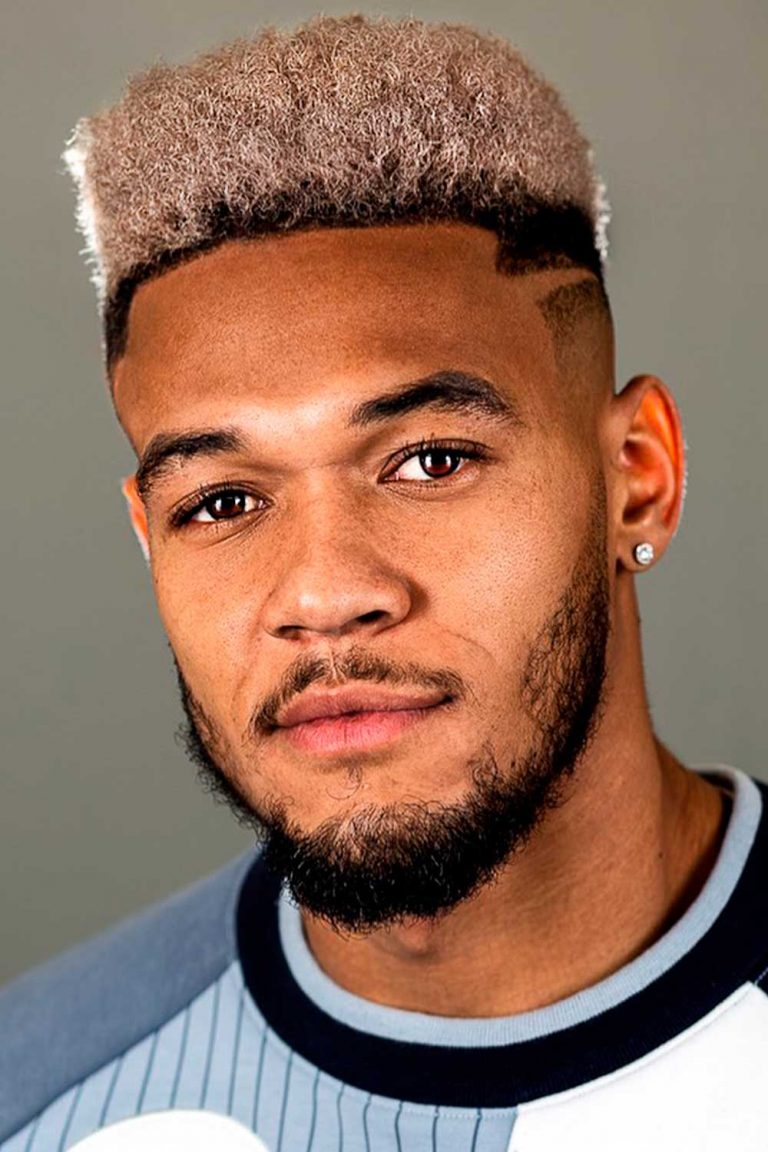 Source: @tombaxter_hair via Instagram
Mid Sponge Twist Black Men Haircuts
You may ask how to get curly hair men to look fresh with the help of a hairstyle. We have an answer to that. Keep the hair short at the sides and a bit longer at the top. Then wrap little curls into the mid sponge twists.
Source: @dexterdapper via Instagram
i
/
High Fade With Wavy Top
Are you eager to resemble a celebrity? Then try this variation of black male hairstyles. The wavy top and very high fade make it one of the most stellar Afro hairstyles.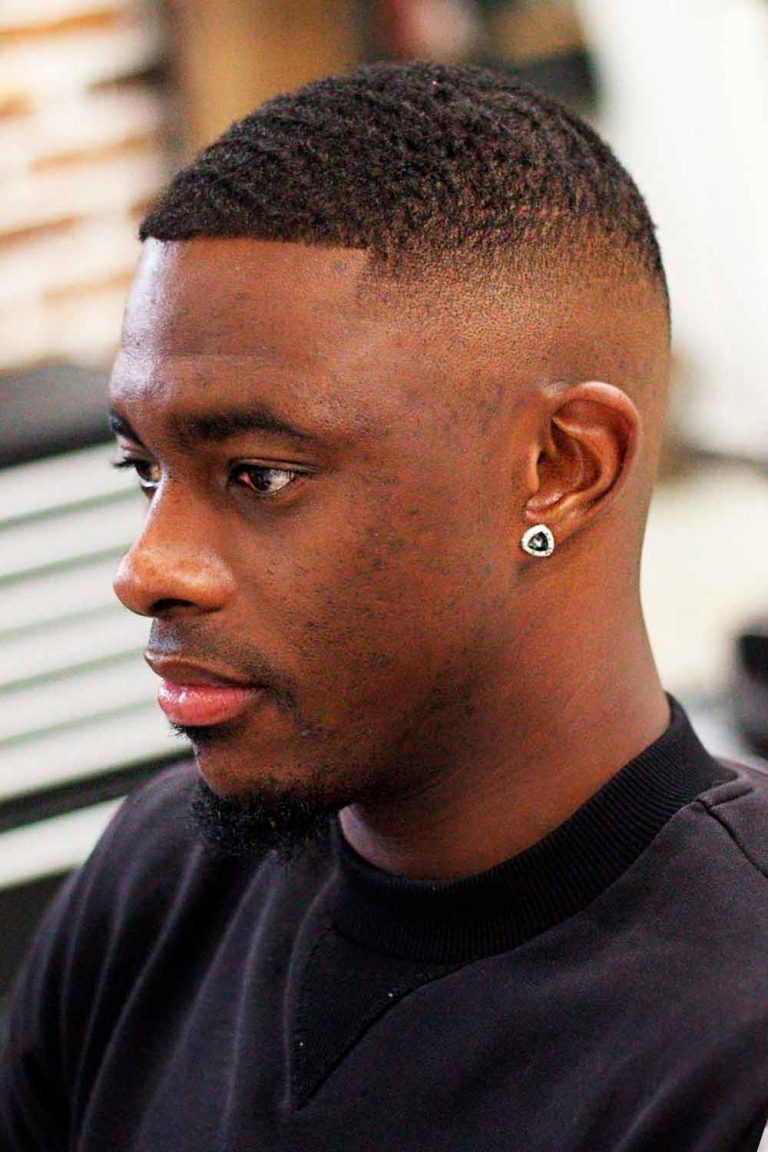 Source: @horatiuthebarber via Instagram
High Top Fade + Line Up
This is one of the commonest black men haircuts, especially the younger generation. High top fade with line up is a haircut that requires lowering or removing the hairs on the sides and back leaving the hair on the top of your head.
Source: @hayden_cassidy via Instagram
Frohawk Black Men Haircuts
We love how this particular hairstyle stands out from other men's hair cuts. Look how bold and interesting the color looks on the curly structure of the hair. Especially, look at the haircut that makes it stand out. We love such creative ideas as they bring men the way to show their creativity and character!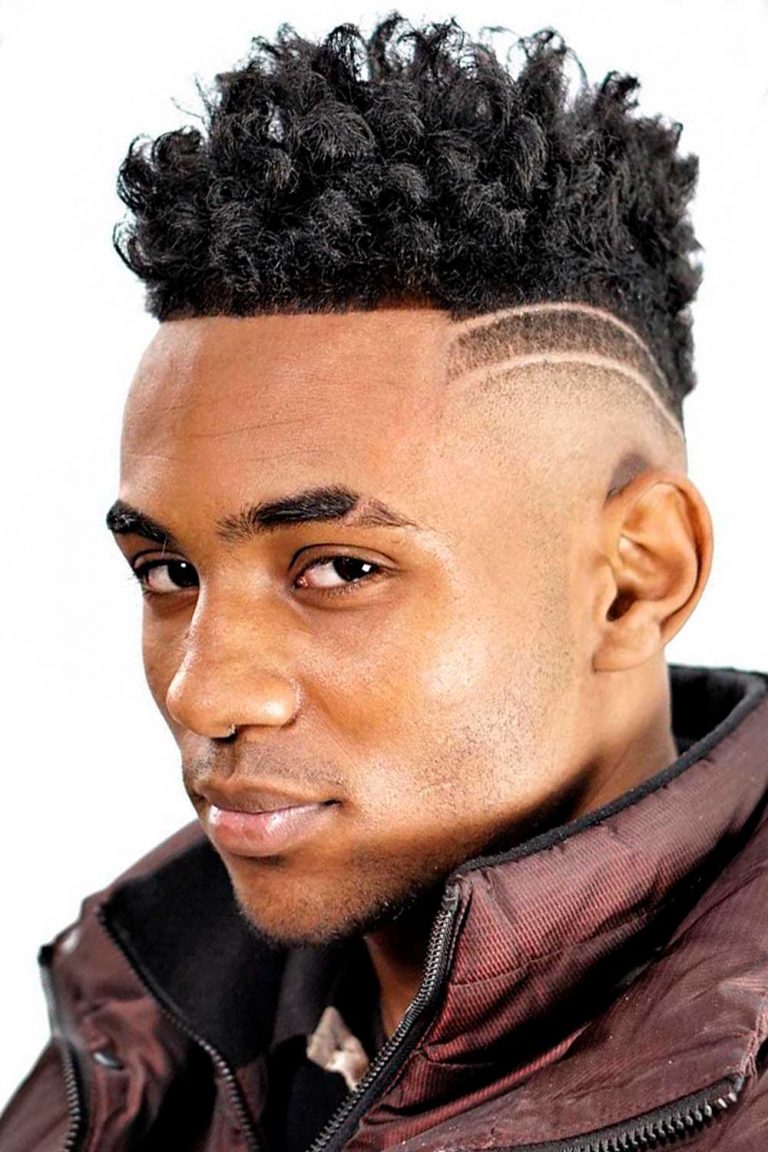 Source: @z_ramsey via Instagram
Structured Shape-Up Black Men Haircuts
The structured shape-up black men haircuts involve a low skin fade on the sides and at the back of the head. However, to achieve a really sharp look, this short military haircut should have defined lines around the face.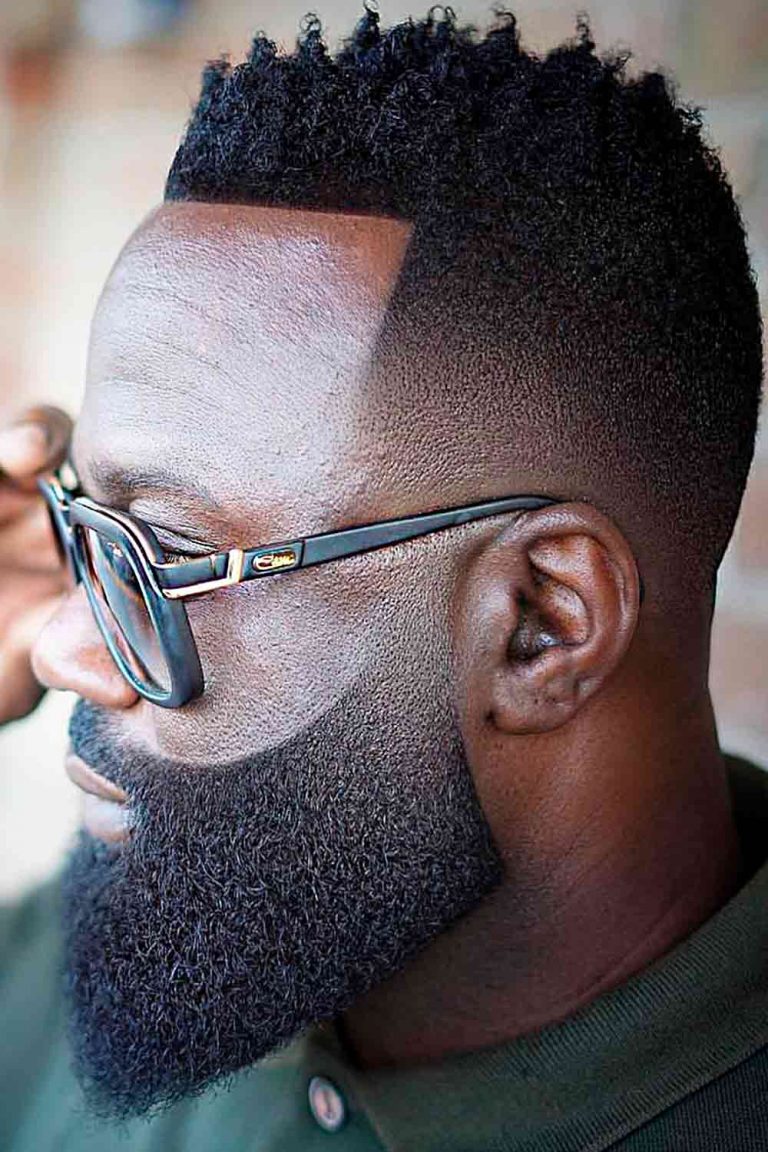 Source: @dynasty_barbers via Instagram
Dyed Buzz Cut
Do you prefer super short hair but still would like it to look different and super fresh? Well, try a bleached haircut. It is a great way to bring some changes into your hairstyle.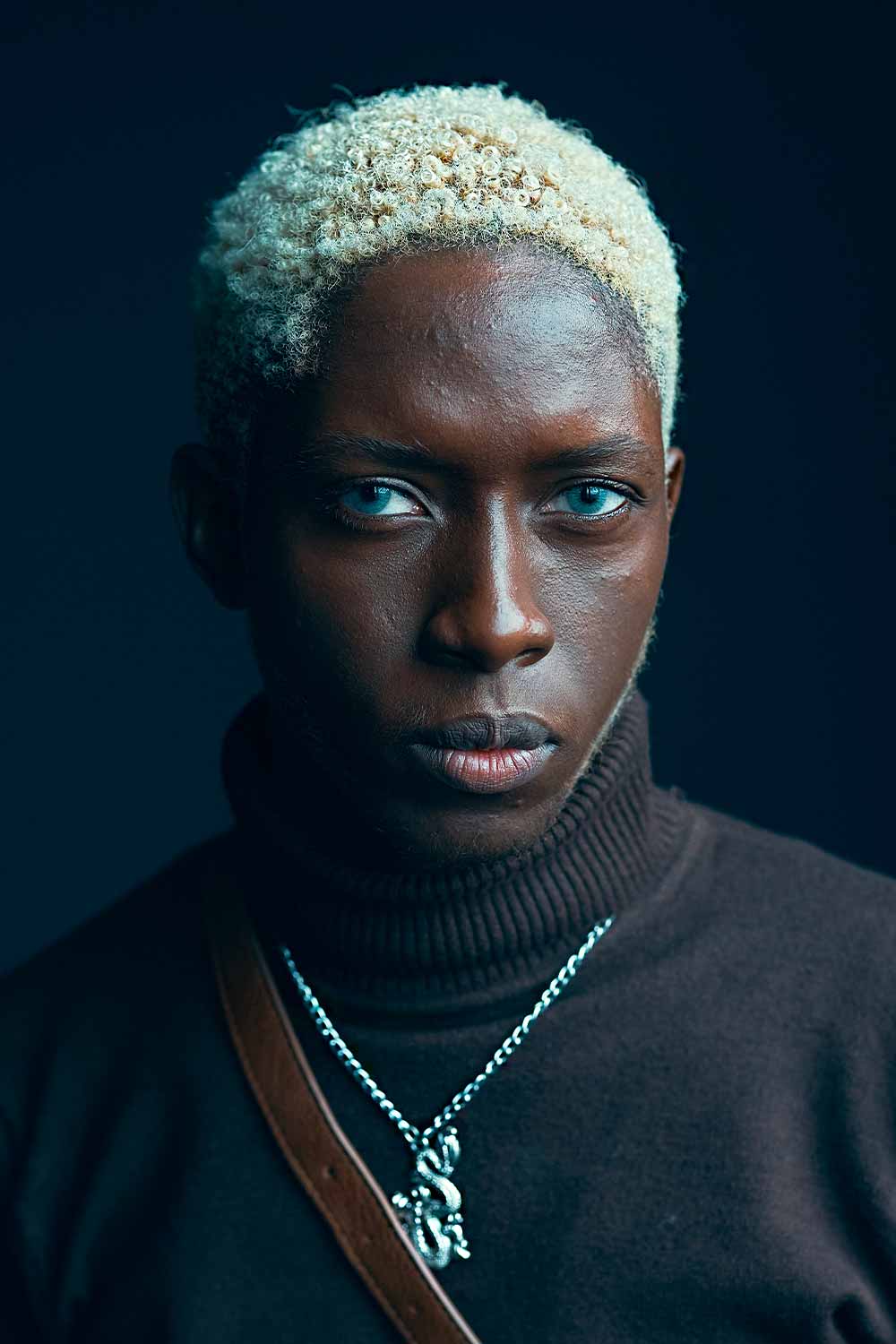 Source: @the_bloody_butcher via Instagram
i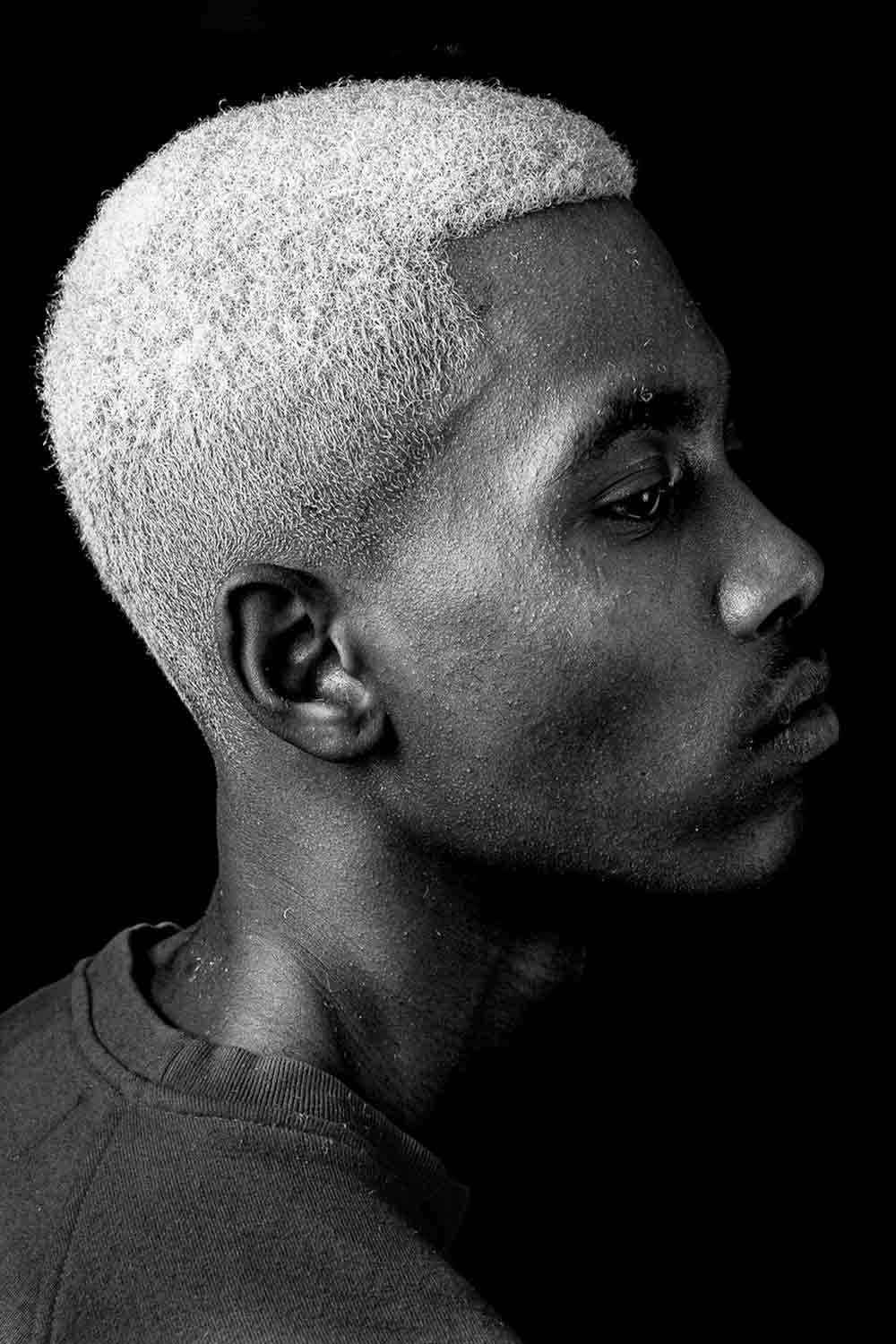 Source: @the_bloody_butcher via Instagram
i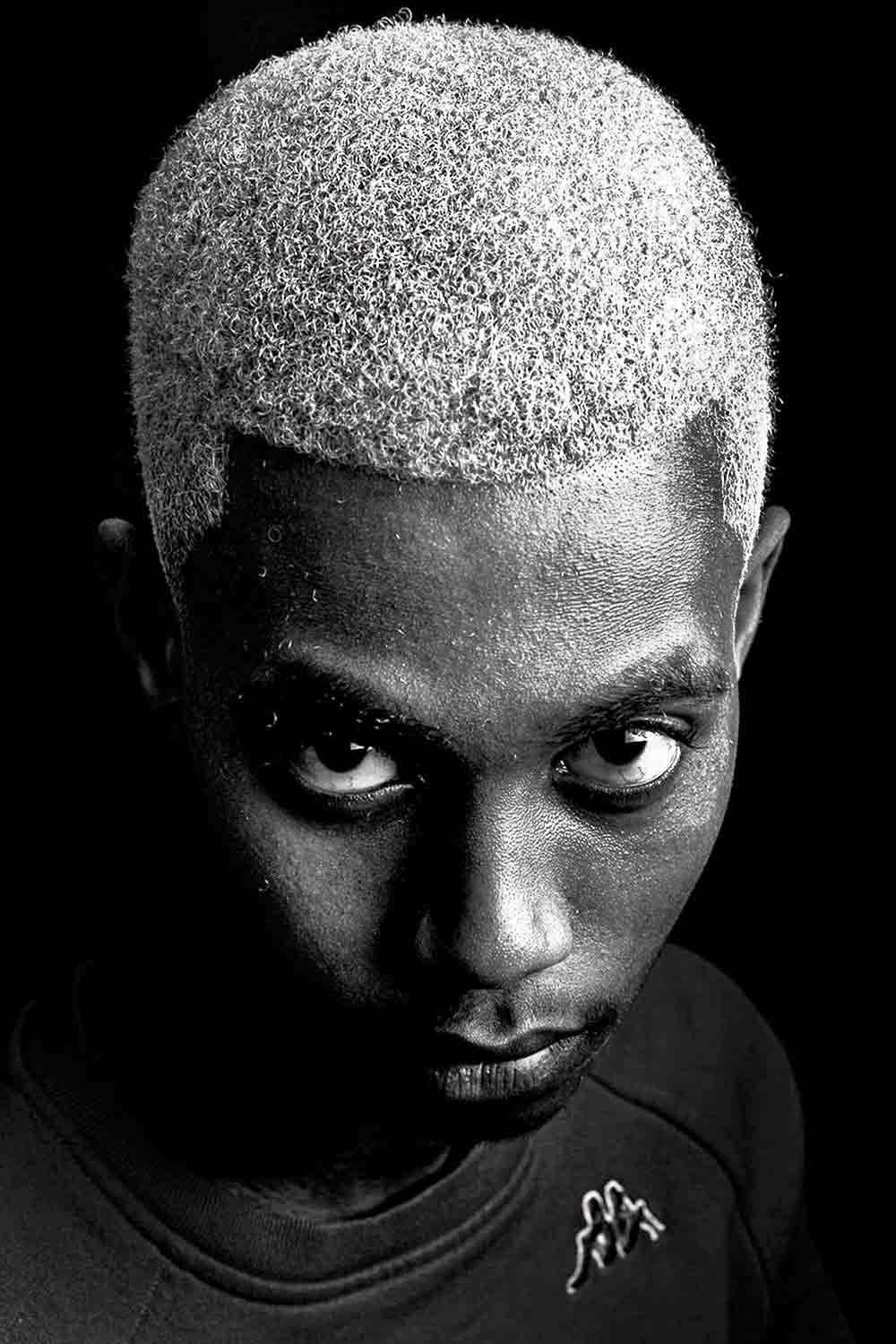 /
Long Textured Afro Black Men Haircuts
If you love to maintain and showcase your fine African textured hair, the long textured afro is a great option. The haircut entails lowering the back of your head a little bit.
The hair on the sides and top of your hair will be of the same length to give you that perfect afro shape. It also requires regular maintenance and a strong combing game to slay this black man haircut.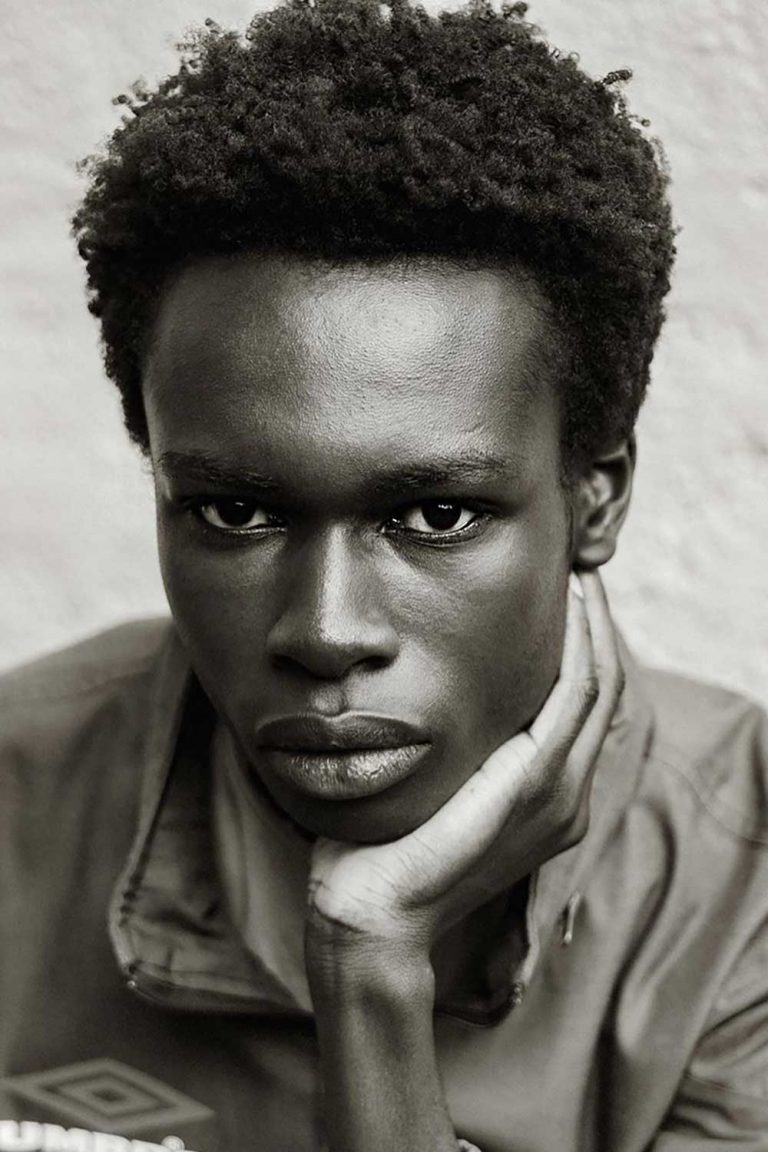 Source: @hayden_cassidy via Instagram
Depending on the hair type, your mood, and the desired outcome, you can create a completely stunning look with the black men haircuts taper fade, which accentuates your hairstyle with a mild transition. Or you can create Afro hairstyles with box dreadlocks. Whatever your choice is, it will undoubtedly be the prime haircut to look for black men.
Black Men With Straight Hair
Black men hairstyle with straight hair refer to individuals who identify as male and have hair that is naturally straight in texture or has been straightened using hair products or heat styling tools.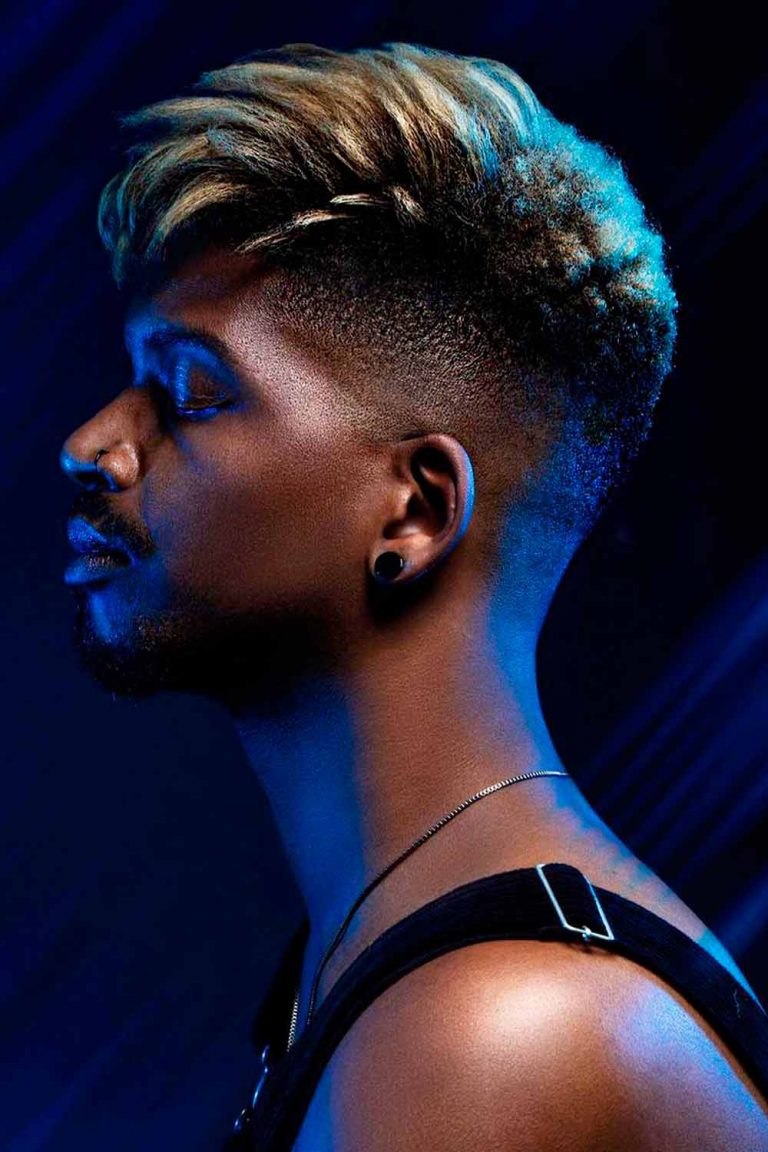 Source: @los_cut_it via Instagram
Black Men Hair Styles With High Fade And Ragged Hair On Top
A popular trend in hair styles for black men is the high fade with ragged hair on top. The style features closely cropped sides that gradually taper up to longer hair on top, which is styled in a messy, textured way. This look is versatile and can be customized to suit different face shapes and hair types, making it a popular choice among men of all ages.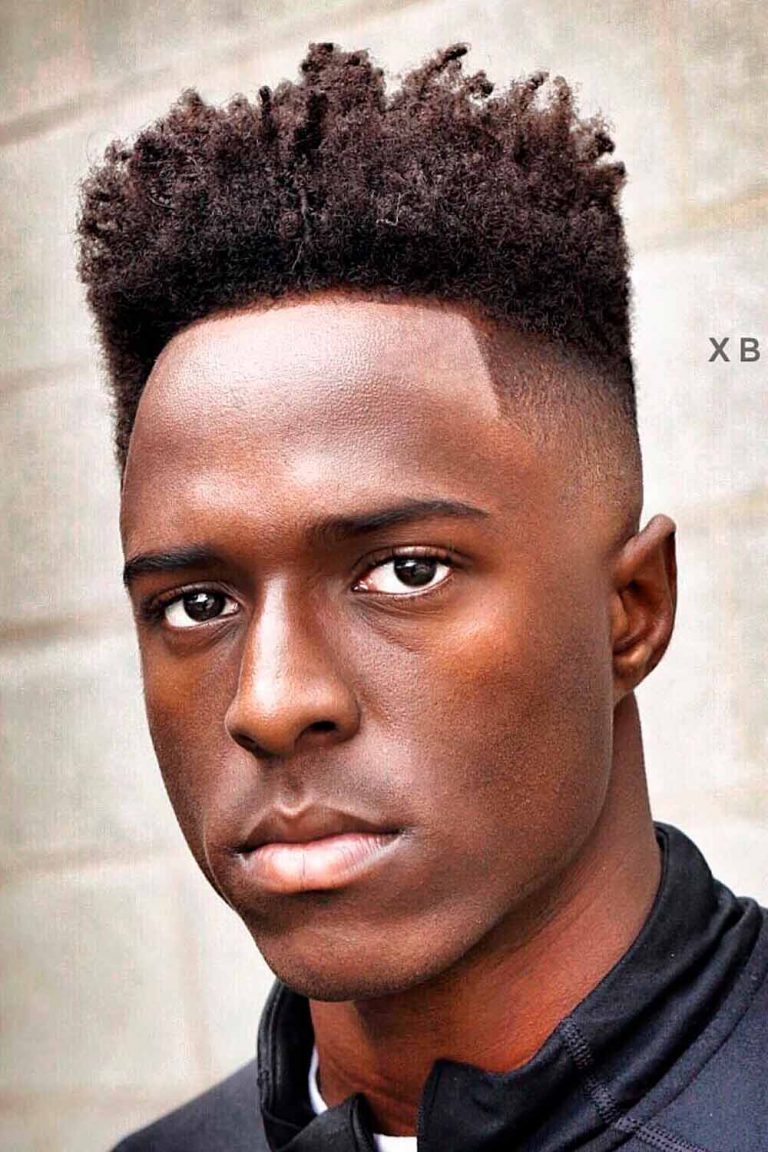 Source: @xbigwesx via Instagram
Undercut Black Man Hair Style With Twist
The undercut black guy hairstyles with twist is a trendy haircut that involves shaving the sides and back of the head while leaving the hair on top longer. The longer hair is then twisted into small sections, creating a unique and textured look. This hairstyle is popular among black men and can be worn in various ways, such as with a fade or with a more defined undercut. The twist adds a touch of individuality and style to the classic undercut, making it a versatile and eye-catching choice.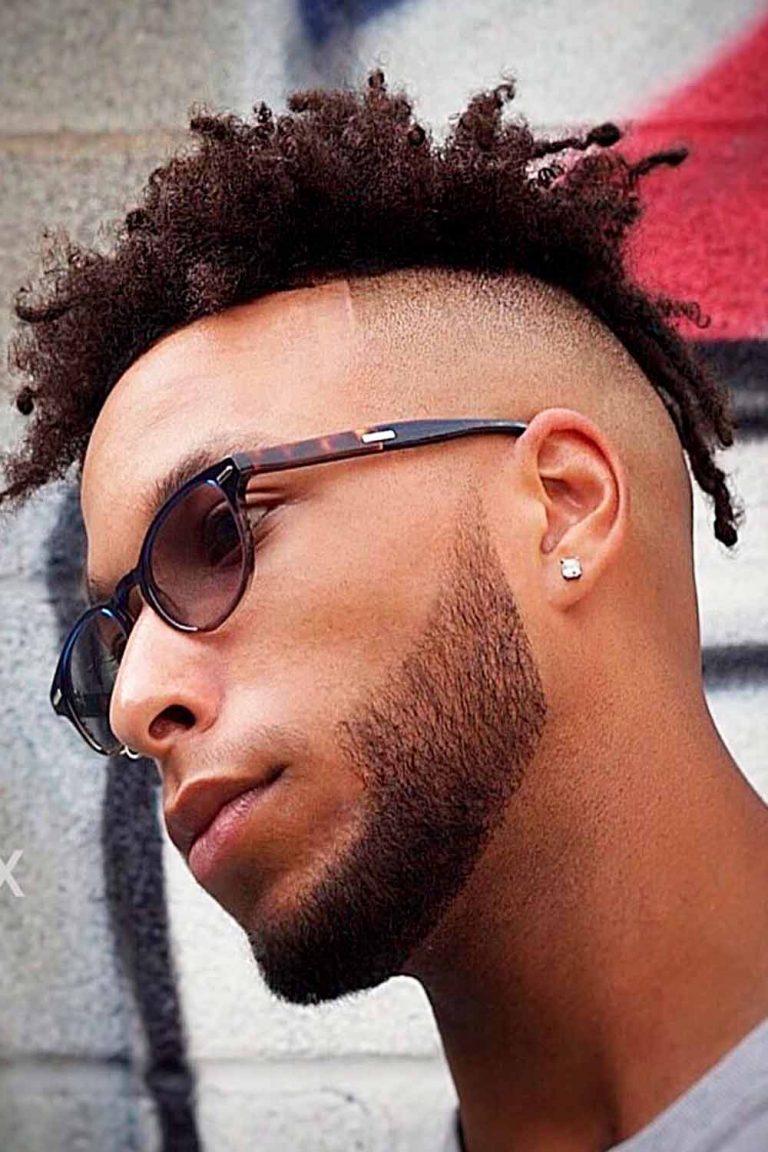 Source: @xbigwesx via Instagram
Asymmetrical Black Men Hair And Goatee Beard
Asymmetrical haircut styles for black men and goatee beard is a rare hairstyle and facial hair combination. The hairstyle involves a combination of buzzed sides and longer hair on top, creating a unique and edgy look. The goatee beard, which is typically trimmed and shaped to perfection, adds to the overall bold and sharp appearance of this hairstyle.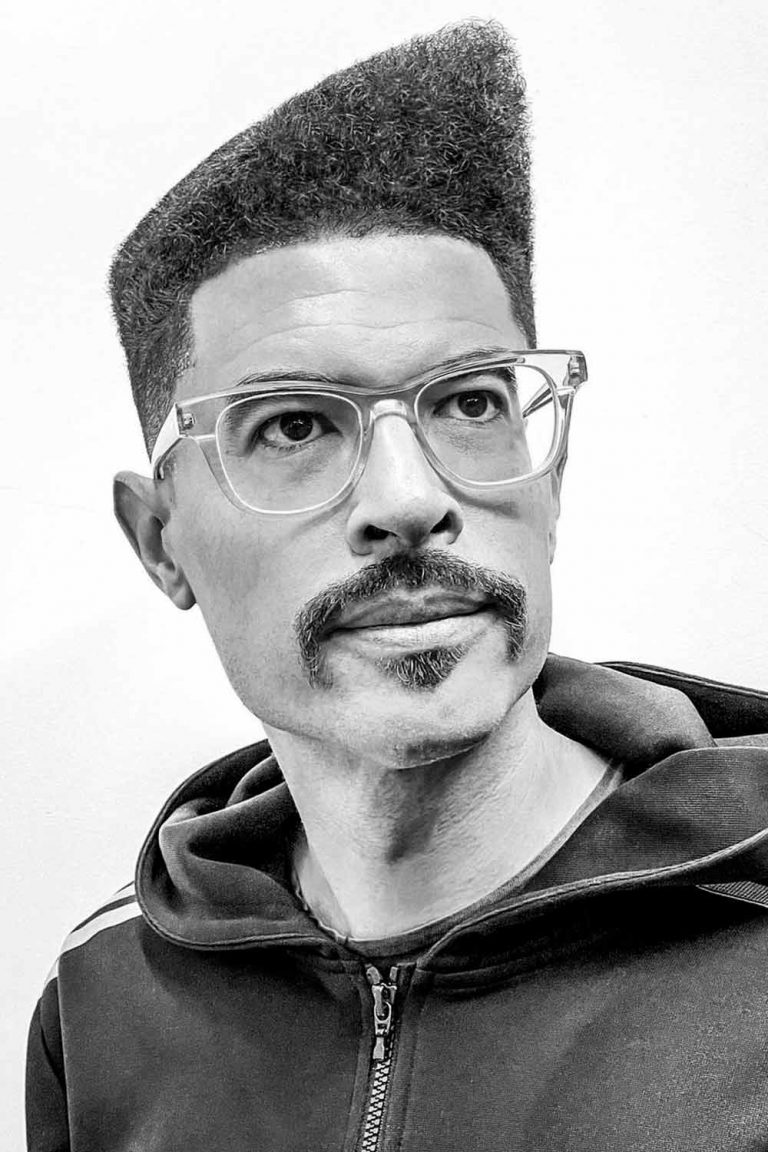 Source: @mattyconrad via Instagram
We strongly believe that with our top-list of black men's hairstyles you won't have any doubts regarding the number of hair look options the afro hair offers. Give every hairstyle a try and embrace the one that you'll find the most alluring. From now on, you'll be able to make your haircuts extremely versatile and fancy, won't you?
FAQs: Black Men Haircuts
What is the best haircut for a black man?
There are so many cool haircuts for black men that it is hard to only name one. But if we had to, it would undoubtedly be a fade and all its variations.
How can black men look better?
Here are 9 steps black men can take to improve their overall appearance:
1. Wash your hair regularly and thoroughly at least twice a week.
2. Pick out the shampoo that is made for your hair type and avoid those containing SLS.
3. Opt for hair care products created for black locks, such as a moisturizing leave in conditioner or cream.
4. Invest in high quality hair products with natural ingredients, avoiding harsh chemicals like polyethylene glycol, isopropyl alcohol, isopropylidene glycol and sodium lauryl sulfate.
5. Determine the type of your skin and adjust your skin care routine to it.
6. Do not forget to clean your skin daily to remove oil and dirt that accumulate on your face during the day.
7. Exfoliate the face on a regular basis to avoid the build up of dead cells on your skin surface.
8. Moisturize the face every day to keep the skin healthy and soft.
9. Do not neglect to apply sunscreen no matter the weather outside, as it will not let your skin get overly dry.
What is a fade haircut black?
A fade haircut black men like so much is the haircut type that implies gradually taking your hair on the sides from longer near the top to shorter toward the hairline.
What do black men do with long hair?
Black men who have a long mane are offered a wide range of styling options – a man bun, a top knot, a ponytail, all sorts of braids and dreadlocks to name a few. Finally, you can simply wear your tresses loose to show off all their glory.
How can I make my hair grow faster black male?
To boost the growth of their hair, black men should follow the next tips:
1. Moisturize your locks sufficiently not to let them become crusty, brittle and tousled.
2. Trim the ends regularly to get rid of split ends but do not be reckless with hair clippers.
3. Put on a durag or any other head cover to protect your hair from falling out during sleep.
4. Apply deep conditioner every week to soften your kinks and make them easier to manage.
5. Detangle your hair with fingers, as it is less damaging to your locks.
6. Resort to protective hairstyles, such as twists or braids and leave your hair alone for a couple of days.
7. Use hair shampoo that does not contain sulfates because they strip natural oils.