Once you think about a comb over haircut, you may remember it as a boldness-covering helping hand that men used to go for to hide the lack of hair on the top and thus to look presentable. But everything tends to change with the time, and this cut is not an exception.
Nowadays, it's not just a cut to disguise a bald spot; it's a great trend that barbers are asked for every day. The idea of sweeping hair to the side is present, yet now it's full of versatility that man of any age, style, and with any hair type can sport it with dignity. Boldness doesn't matter anymore; your style does!
What Is The Comb Over Haircut?
Getting back to the history of the combover, it's hard not no notice how the cut has changed. First, it was a swept look that was meant to hide flaws. And now it's a cut that can accentuate the best features of a wearer, giving him a wide choice of styling options if you have a short haircut or medium-length hair. Modern combovers are infinitely versatile: they can be paired with many other trendy cuts. As for the length, there are no restrictions.
Source: @r.braid via Instagram
i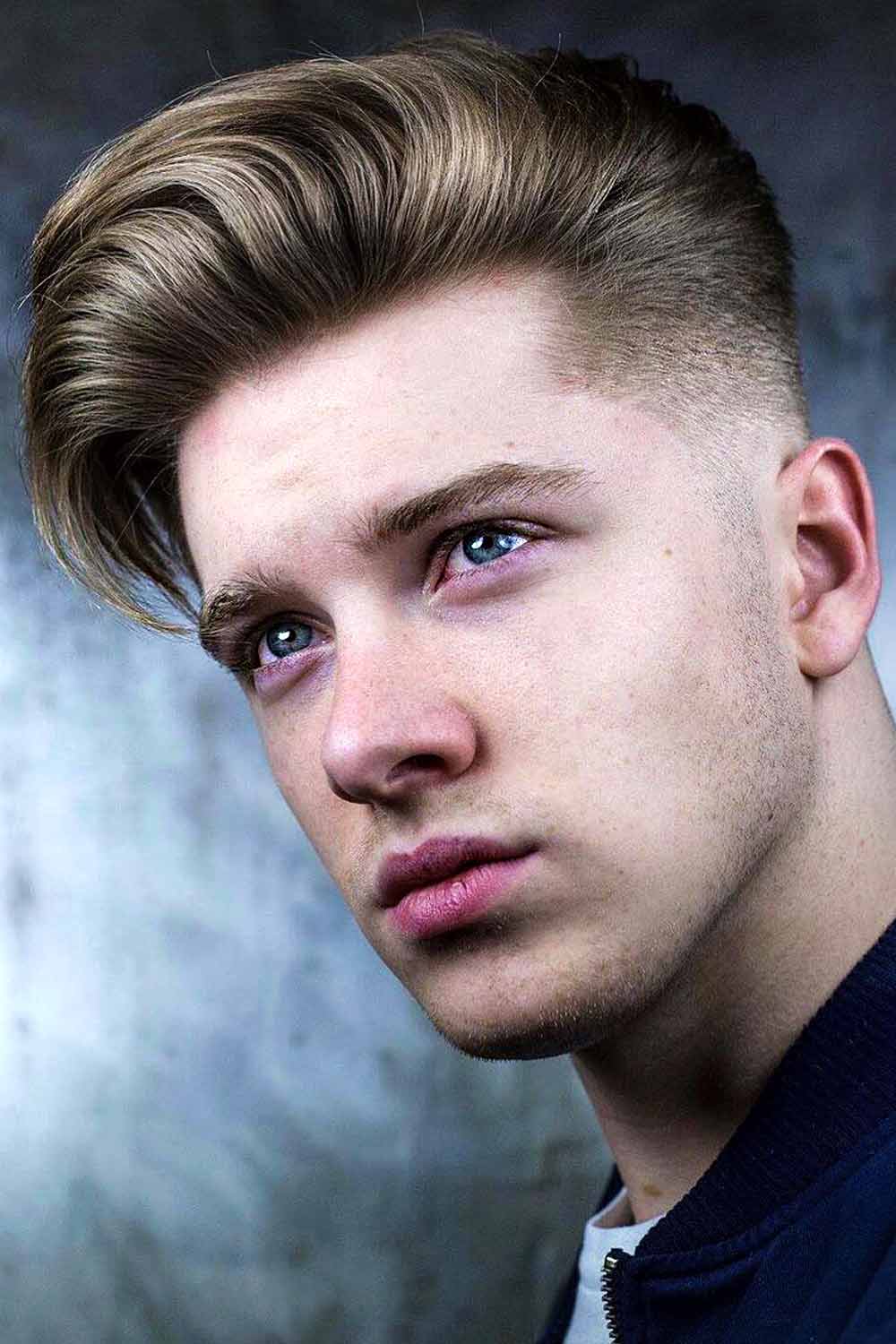 Source: @alan_beak via Instagram
i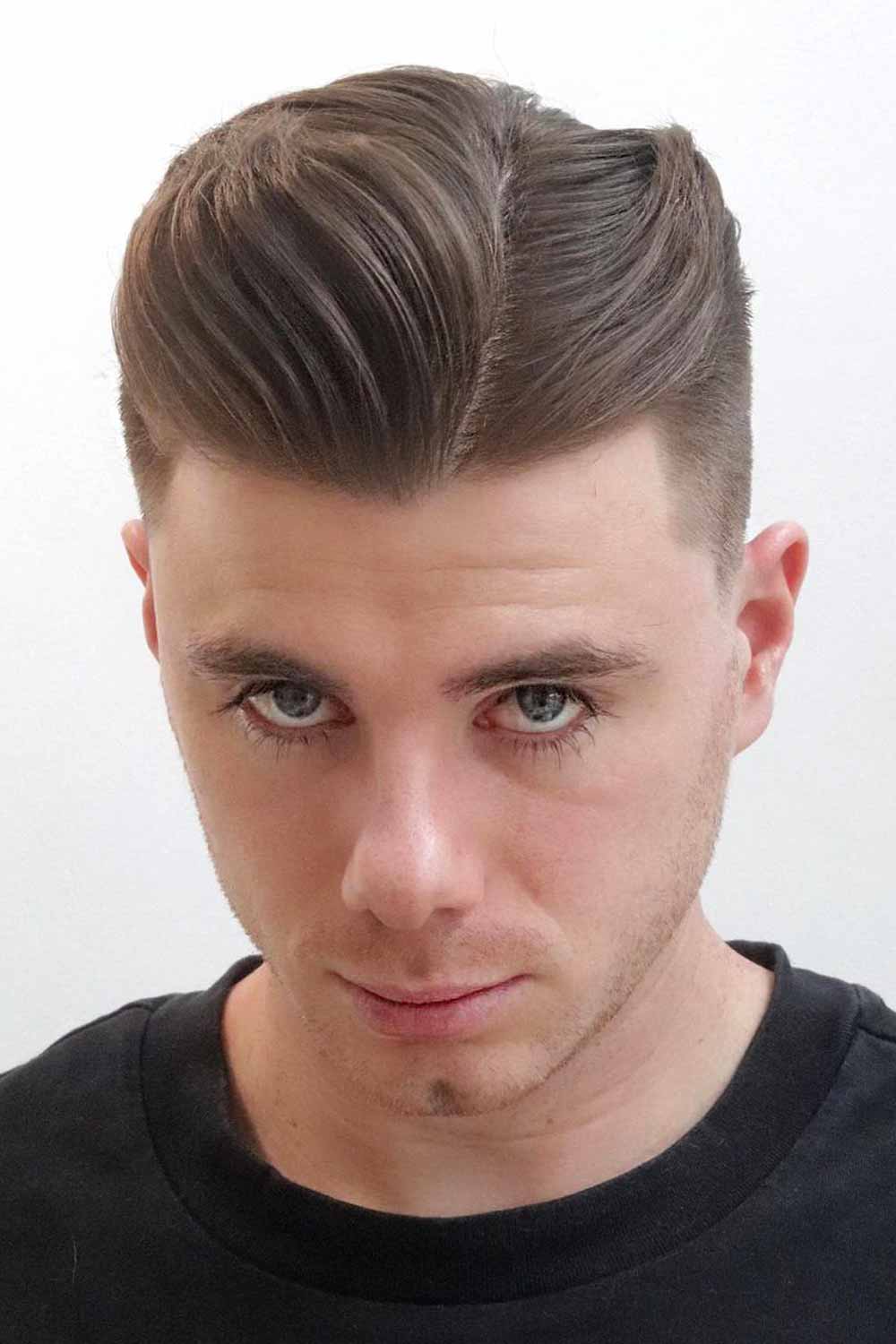 Source: @the_bloody_butcher via Instagram
i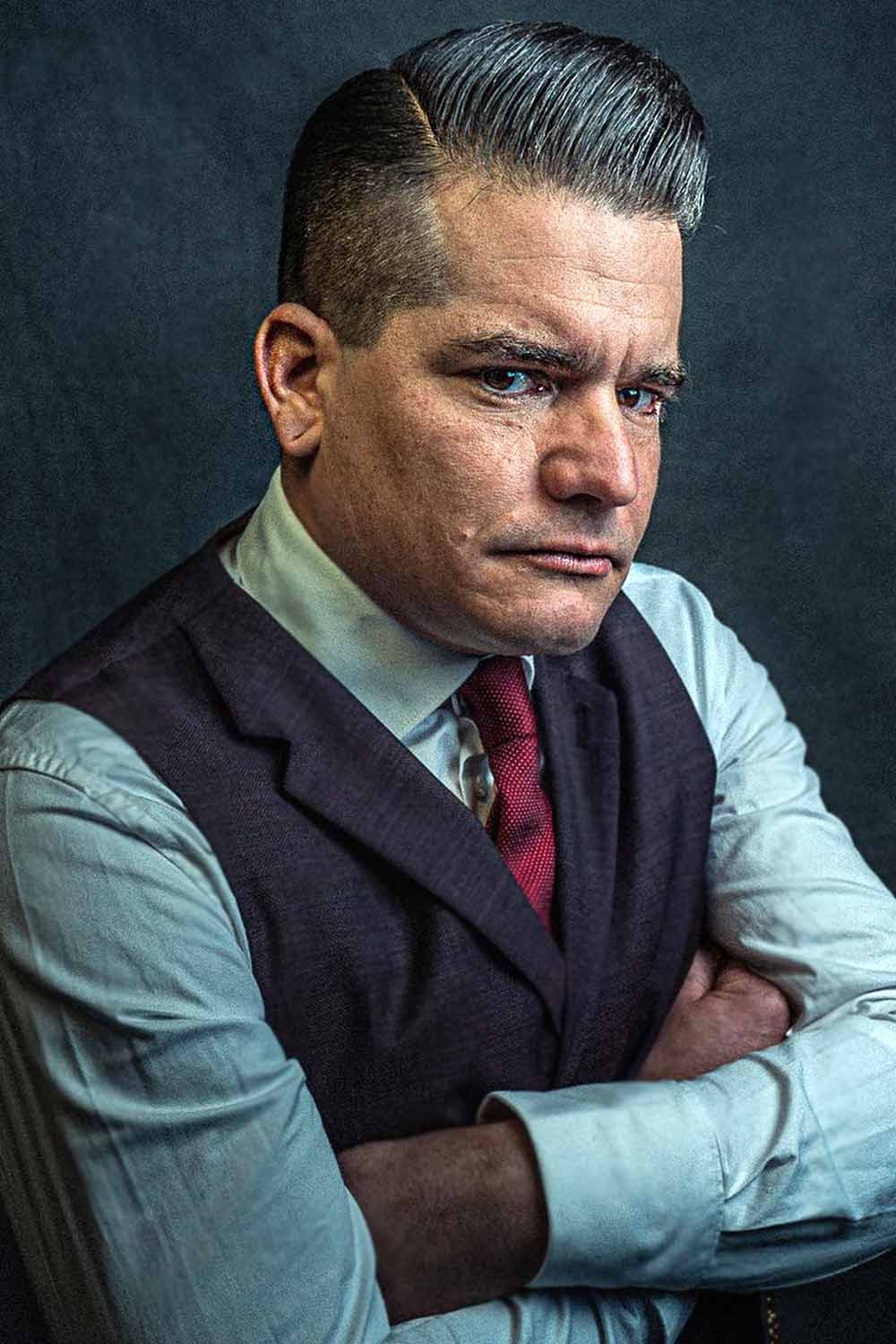 /
How To Get The Comb Over Haircut
So that you would be able to pull off a comb over haircut, your hair should be at least 2-4 inches long. The length you are going to leave on top depends on the desired amount of volume you are willing to get. For the sides, you are welcome to choose any size of the guard. However, for the best result, we recommend opting for a guard size between #4 and #6. It is also possible to complement the voluminous top with a fade haircut or undercut and a hard part for a more contrasty and defined look.
How Do You Comb Your Hair Back?
In order for your combed back hair to stay in place all day, you need to take the following steps:
Wash your hair with a shampoo and a conditioner, combing it back each time after you have applied the product.
Dry the hair with a towel using gentle pulling back motions.
Rub a scoop of a strong hold hair wax or pomade between palms and apply to the hair by raking your fingers through it.
No matter whether you go to bed or outside, style your hair with the help of a hair dryer and a comb with wide teeth or a brush with boar bristles.
Train your hair regularly so that it adapts to holding the shape.
What To Tell Your Barber To Get A Comb Over
As you can see, the diversity of possible comb over haircuts is pretty huge, which means that you should be clear when you ask your barber for it. Since this cut can be customized based on your needs and preferences, it's crucial to mention all of them. Here are the essentials on how to ask for a comb over haircut and get exactly what you need:
Tell your barber that you want to create a side part. It's the main component of the comb over, after all. Decide whether you want a hard part line and show where you want it to be.
Ask yourself if you want a fade or taper haircut. Decide how high or intense you want it to be. Let your barber know if you'd like to combine your new cut with an undercut so he can consult you and help find a suitable idea.
Keeping in mind the individual needs and features of your hair type, ask your barber for a length and structure that will get the most out of your texture and allow you to style your hair in the way you want.
DFree/Shutterstock
How To Style A Comb Over
The styling routine of comb over haircuts is another reason to go for them. Getting a comb over hairstyle requires little effort and time, the only thing you need is to part your hair properly. With nice wax or pomade and a fine comb, you can create easy and sophisticated comb over styles.
Basic Tips On How To Style A Comb Over:
When setting the pomade, wax or gel, run your fingers through your hair to make sure that the product you apply is distributed evenly all over the length.
Once you select your part line, comb your hair to the side, going forward, and parting it away from the line.
Direct the comb right to the side to comb the product through the top section.
For a sleek look, brush your hair closely to the scalp; for a messy look, tousle up your hair a bit, separating strands slightly.
Kathy Hutchins/Shutterstock
Men's Comb Over Haircuts
Keep in mind that comb over haircuts can be as different as you want. They may come as combinations of a couple of modern cuts, where one stylishly complements the other. The cuts can adapt to any image, whether you are a hard part lover or a man with shaved sides and a funky beard. Just get one that fits your style and preferences!
Classic Comb Over
The classic comb over is restrained and ageless at the same time. Being the most well-balanced variation, the top and the sides are almost of the same length. To keep the immaculate transition that enhances the side part, the classic cut involves slight tapering on the sides and back.
Source: @rhysgreen via Instagram
Comb Over Fade
The comb over fade combines in itself the classic features of the combover cut and neatness of a fade. It mixes the side-swept style with very short sides and a cleanly taper towards the neck area. A fade comb over, whatever it is, gives a very enhanced and fresh, contrastive look that can range from low fade comb over with smooth graduation to high fade comb over or skin fade comb over which are extremely edgy and distinctive.
Source: @lena_piccininni via Instagram
High Fade Comb Over
As a comb over in its essence is a classic hairstyle, you may want to turn it up a notch with something more contemporary. A high fade is always a great option in this case, as it adds contrast and boldness to the low-key top. To make your hairstyle even more defined, get a side hard part that disconnects the fade from the combed over top.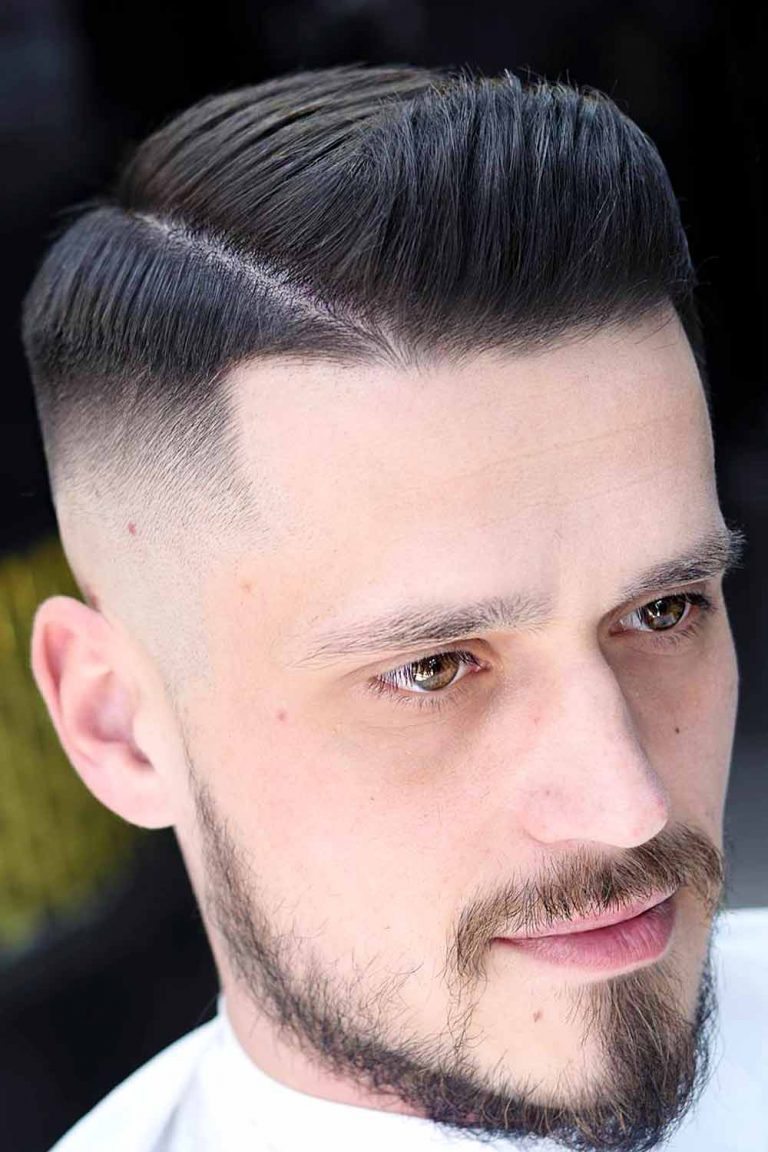 Source: @spukthebarber via Instagram
Low Fade Comb Over
If you prefer more reserved hairdos or have a strict dress code at work but nevertheless want to look trendy, enhance your comb over hairstyle with a low fade cut. In such a way, you'll get a look that suits basically any ambiance, from casual to formal, and still remains stylish. Besides, a low fade comb over doesn't require frequent upkeep, so you won't need to pay your barber visits too often.
Source: @hayden_cassidy via Instagram
i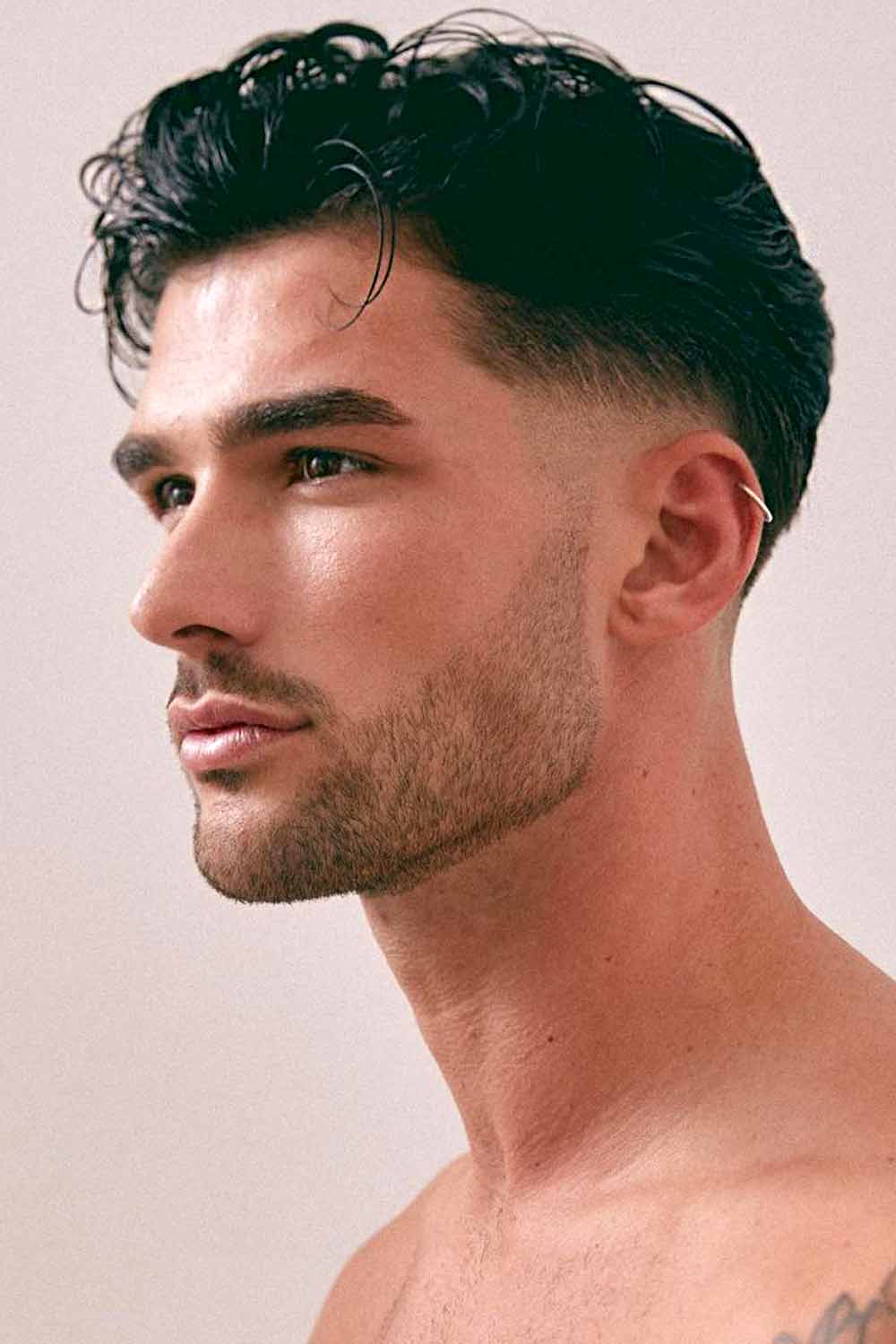 Source: @keller_konturen via Instagram
i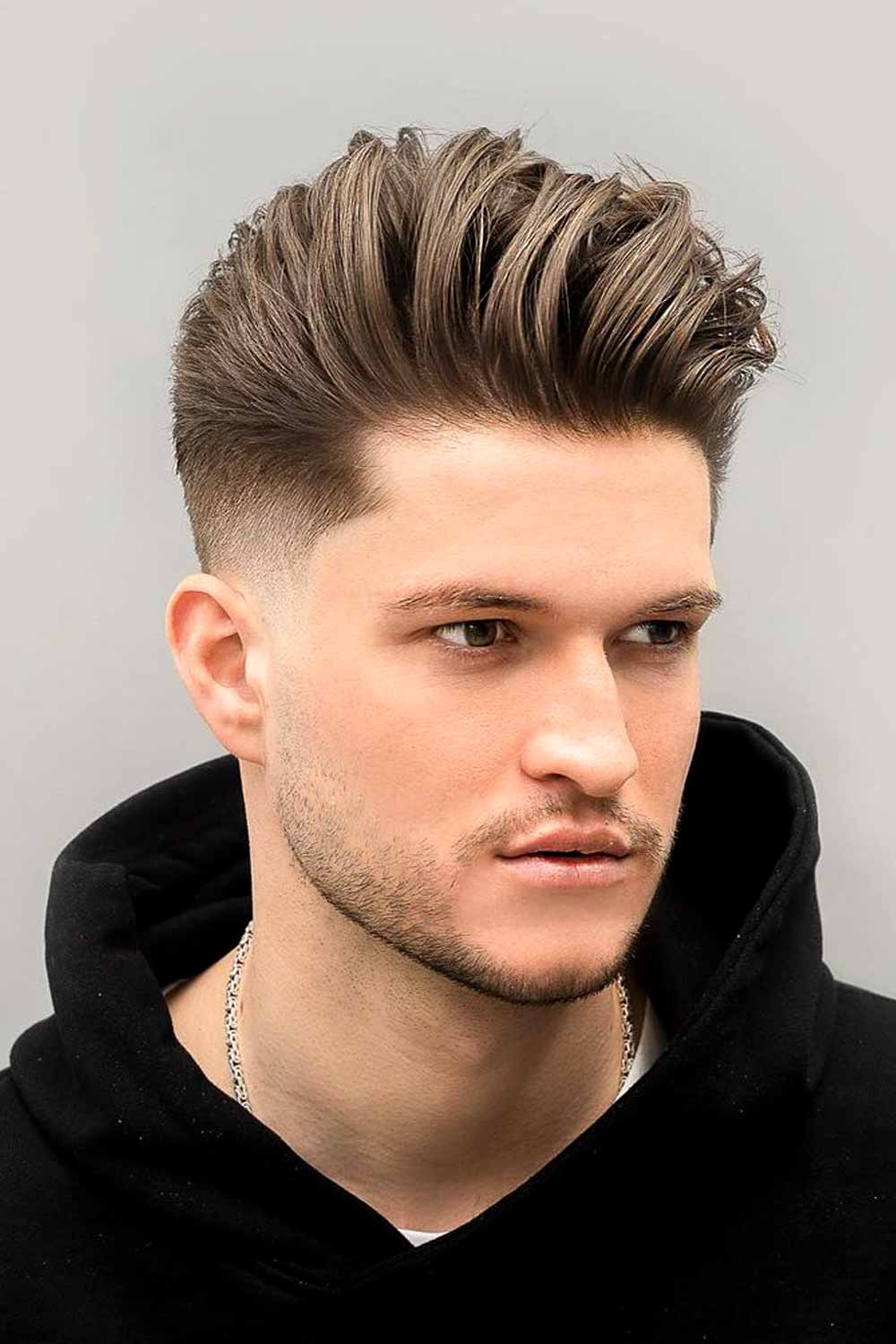 /
Skin Fade Comb Over
This hairstyle is for really daring and trendy guys who choose to live on the edge. A skin fade comb over comes out bold and contrasty, so get ready to have all eyes on you. It's not very low maintenance though, as you'll need to refresh it once your hair on the sides has grown. However, it fully pays off with tons of compliments you get.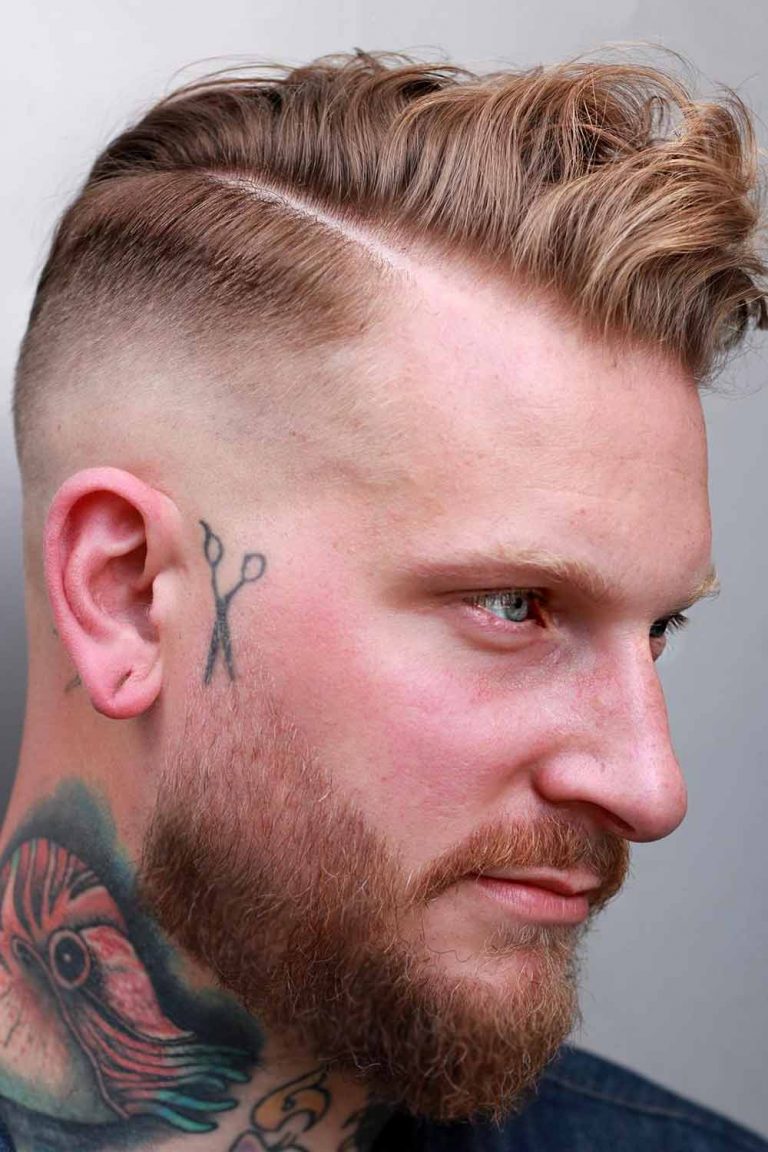 Source: @hayden_cassidy via Instagram
Mid Fade Comb Over
One of the best things about men comb over hairstyles is their versatility. There is a myriad of ways to pull off this look. If you are looking for low key yet pronounced hairstyle, give a go to a mid fade comb over.
Source: @hayden_cassidy via Instagram
Comb Over Taper
Tapered comb over cuts set the focus to the side-swept top, keeping the sides pretty clean and smoothly transitive. Though tapering involves longer length than that of faded sides, there are many taper fade comb over variations for men who always seek the happy medium between stylishness and practicality.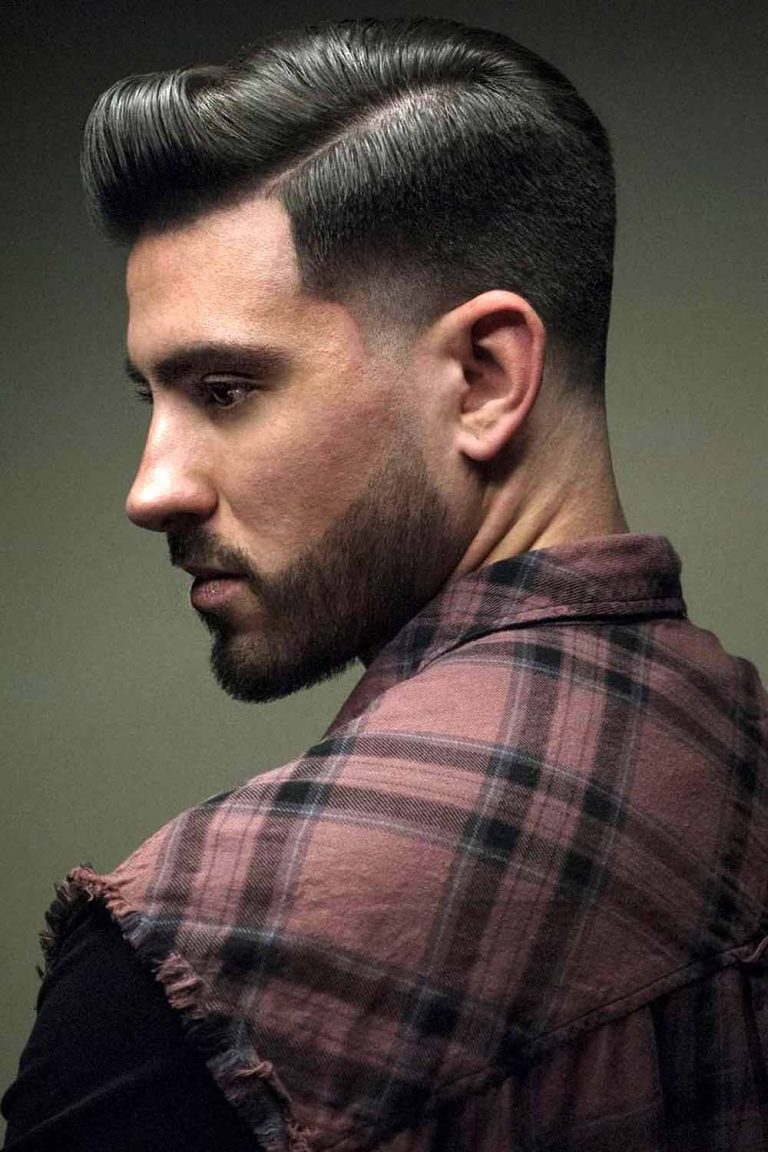 Source: @r.braid via Instagram
Gentleman's Mens Comb Over Haircut
There is a situation in every man's life when he needs to look his absolute best and that is when this immaculate comb over hairstyle comes into play. Polished and refined, it gives your appearance an ultimate gentleman vibe.
Modern Combover Side Part
Although comb over hairstyles are not brand new, they have always adjusted to the ongoing trends. Thus, if you want to give your classic comb over a modern aesthetic, take a closer look at its upgraded version.
Featureflash Photo Agency/Shutterstock
Undercut Comb Over
Undercut combover haircut takes two modern trends to the whole new level. The look that features short sides, deep and visible part line, and the prominent longer top is simply iconic. Most comb over undercut haircuts are achieved with clippers, but those who are into closer cuts like a disconnected undercut combover, the back and sides can be neatly shaved as well.
Source: @hairraribarber via Instagram
Short Comb Over
Short comb over is the lightest version possible. With such a cut, you won't be left without a chic hipster look and will be able to shorten the morning styling time. Just like in the classic variant, the lengths on the sides and back are similar, and it can also be spiced up with a fade, which is totally up to you.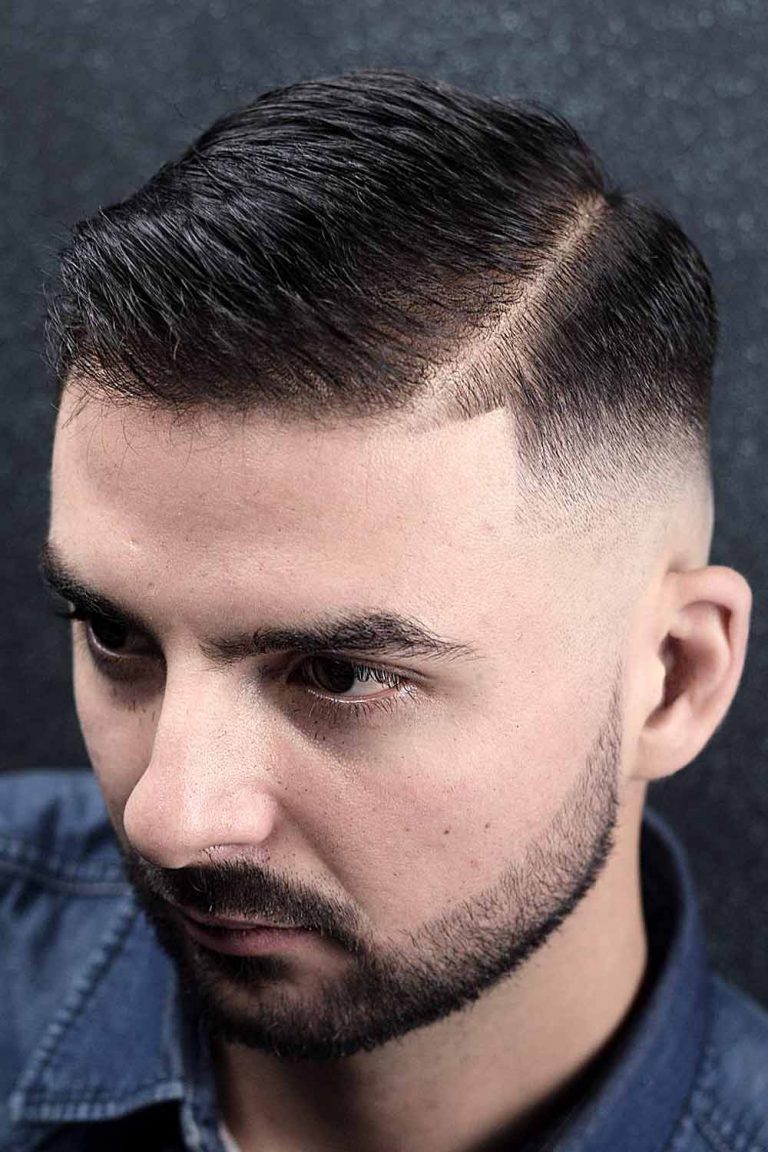 Source: @spukthebarber via Instagram
Long Comb Over
Long comb over is less sharp, visible, and clean-looking. But it still follows the tradition of outstanding side parting and gives you more styling flexibility. The sides and the top may differ in length and can be individualized with additional texturizing or tapering details.
Jaguar PS/Shutterstock
Bradley Cooper Comb Over
It seems everything that Bradley Cooper does or wears becomes a trend and his iconic comb over is no exception. With rather long sides and enhanced hair texture, this mind-blowing hairstyle instantly makes you look camera ready.
Kathy Hutchins/Shutterstock
Long Sweep With Widow's Peak
Even if you have a widow's peak, you should not shy away from men comb over haircuts. Instead, when styled a little relaxed and loose, this sophisticated hairstyle allows you to draw attention away from your hairline.
Denis Makarenko/Shutterstock
Undercut Combed Over Long Top
A comb over hairstyle knows no limits in terms of length and hair texture. So, if you prefer longer locks, you can still style them combed over. To give your hair look a neat and contrasty appearance though, you can complement it with an undercut.
Source: @thomasdavenport via Instagram
Wavy Comb Over
Those who have wavy or curly hair should not deprive themselves of such a cool hairstyle as a comb over. On the contrasty, thanks to your defined hair structure, you can achieve a really bold and textured comb over hairstyle.
Featureflash Photo Agency/Shutterstock
Hard Part Comb Over Short Hair
A hard part adds a touch of modernity to the classic style. It creates a sharp line that enhances the parting, making the whole look more refined and tasteful. To make your comb over more accentuating, you can sport your hard part haircut with a soft taper fade.
Source: @spukthebarber via Instagram
i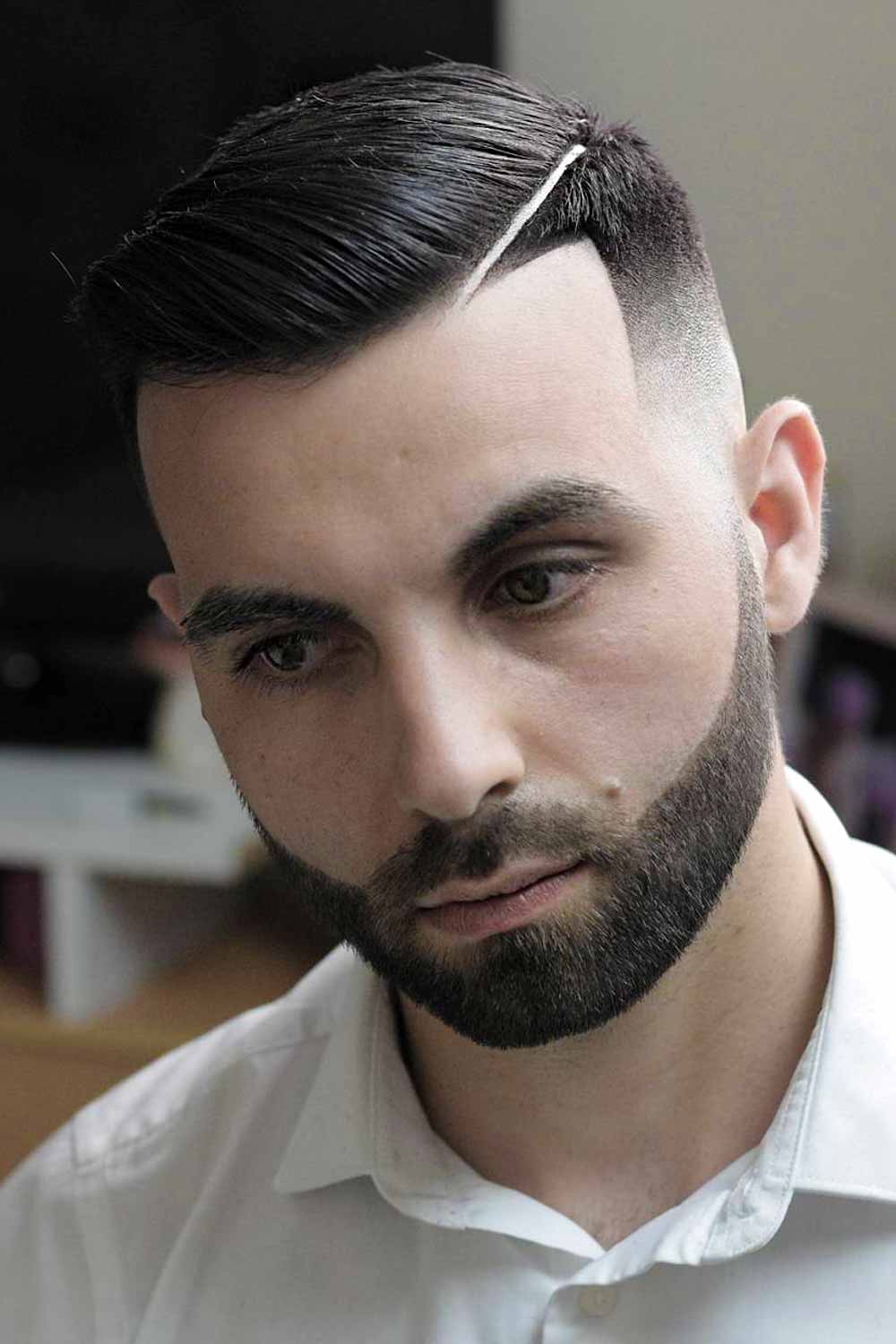 Source: @spukthebarber via Instagram
i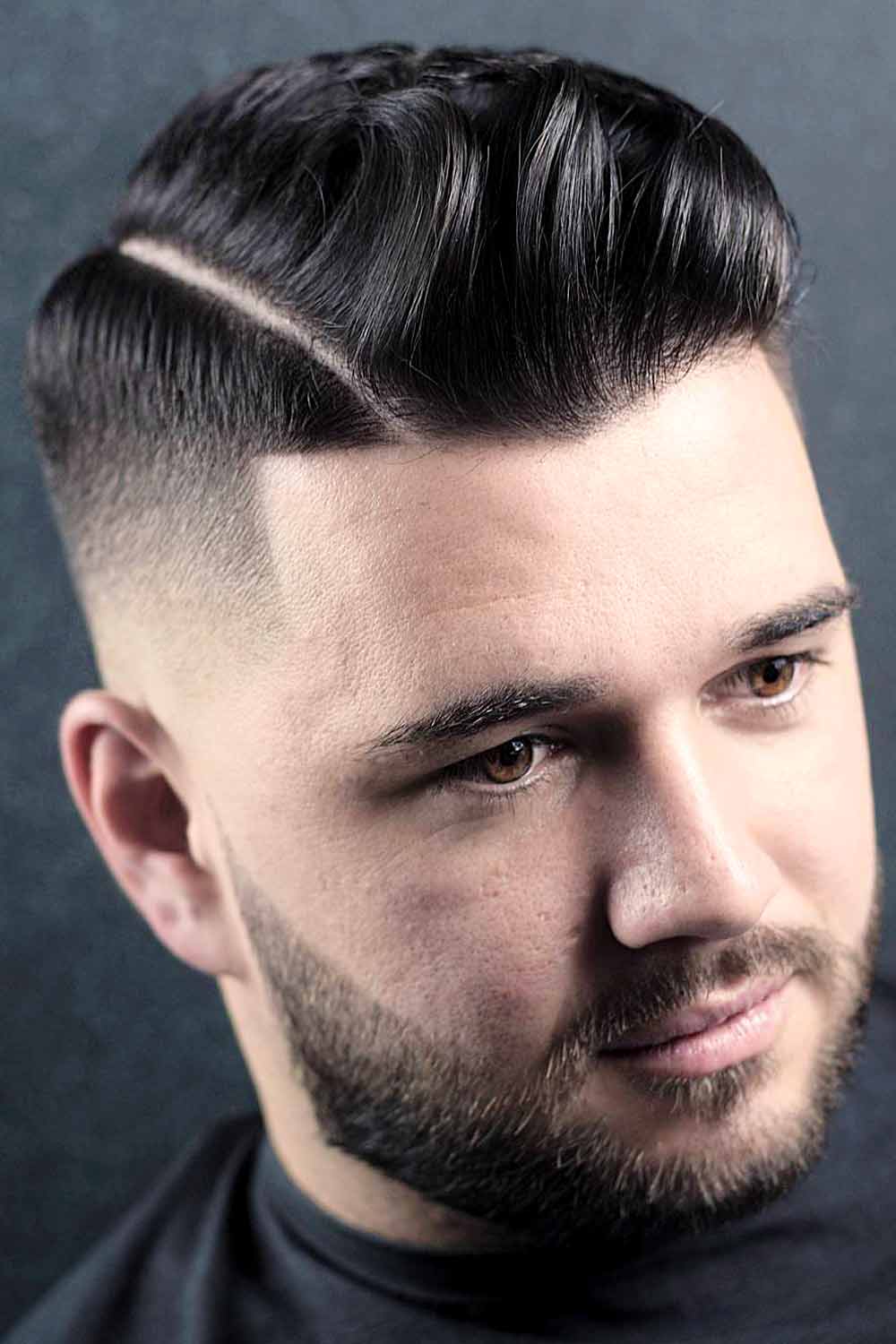 Source: @blackfishbry
via Instagram
i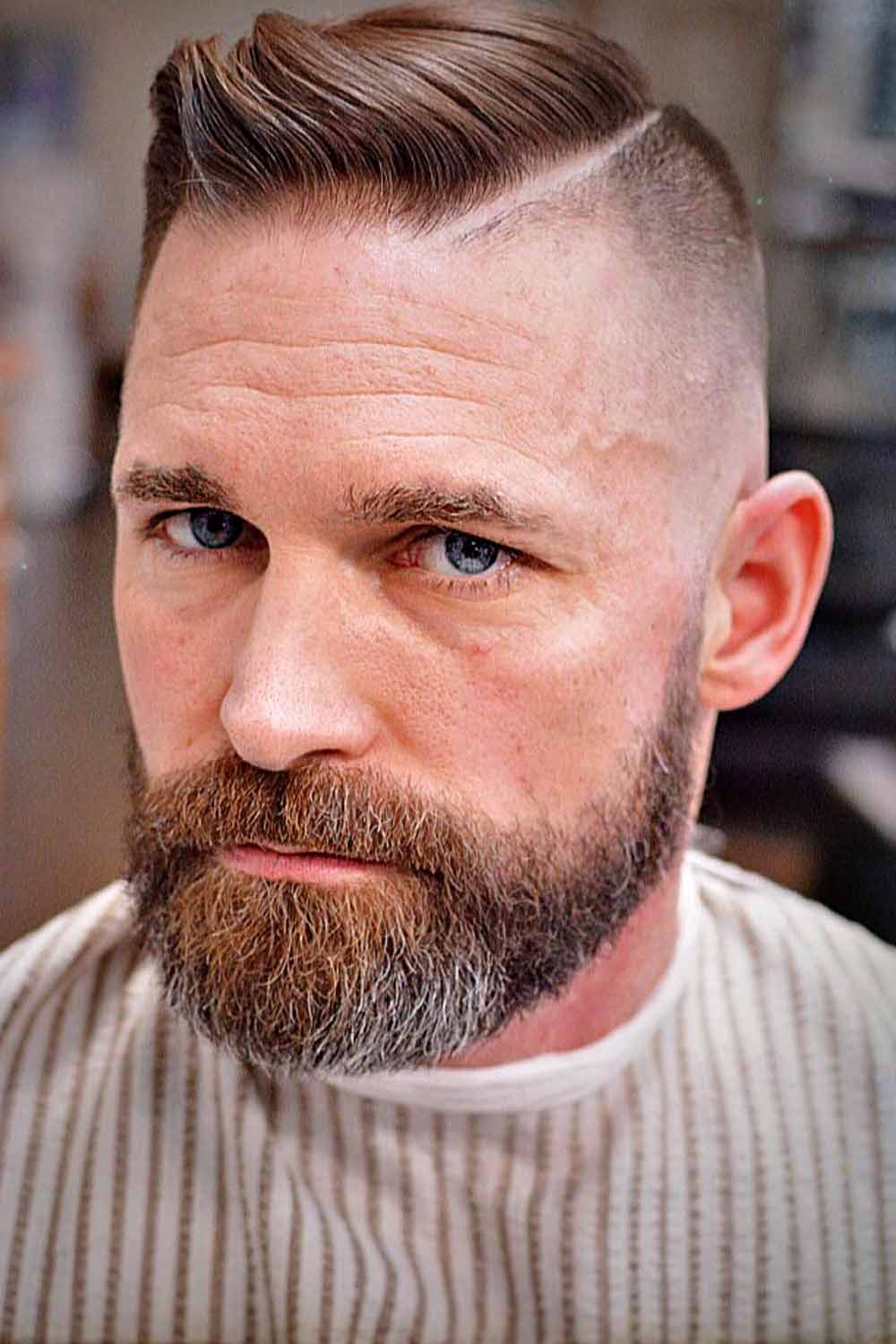 /
Ivy League Comb Over Fade No Line
It's no surprise that an Ivy League haircut is on our list, as it was made to be combed over. Elegant and neat, it looks most flattering with a low fade and a fine stubble of facial hair. With such a hairstyle, you can be sure that your hair always looks appropriate no matter where you go or what you do.
Source: @spukthebarber via Instagram
i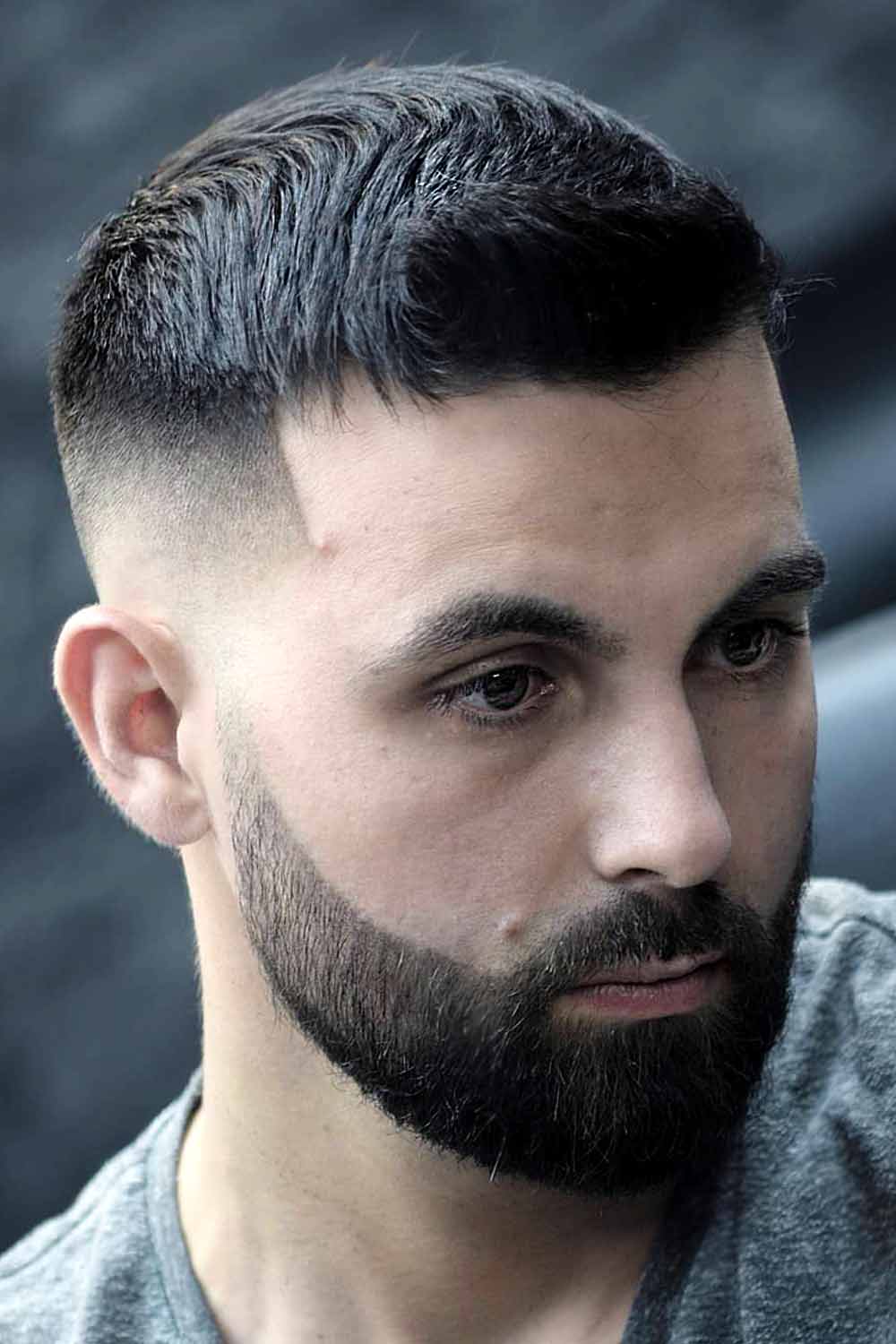 Source: @spukthebarber via Instagram
i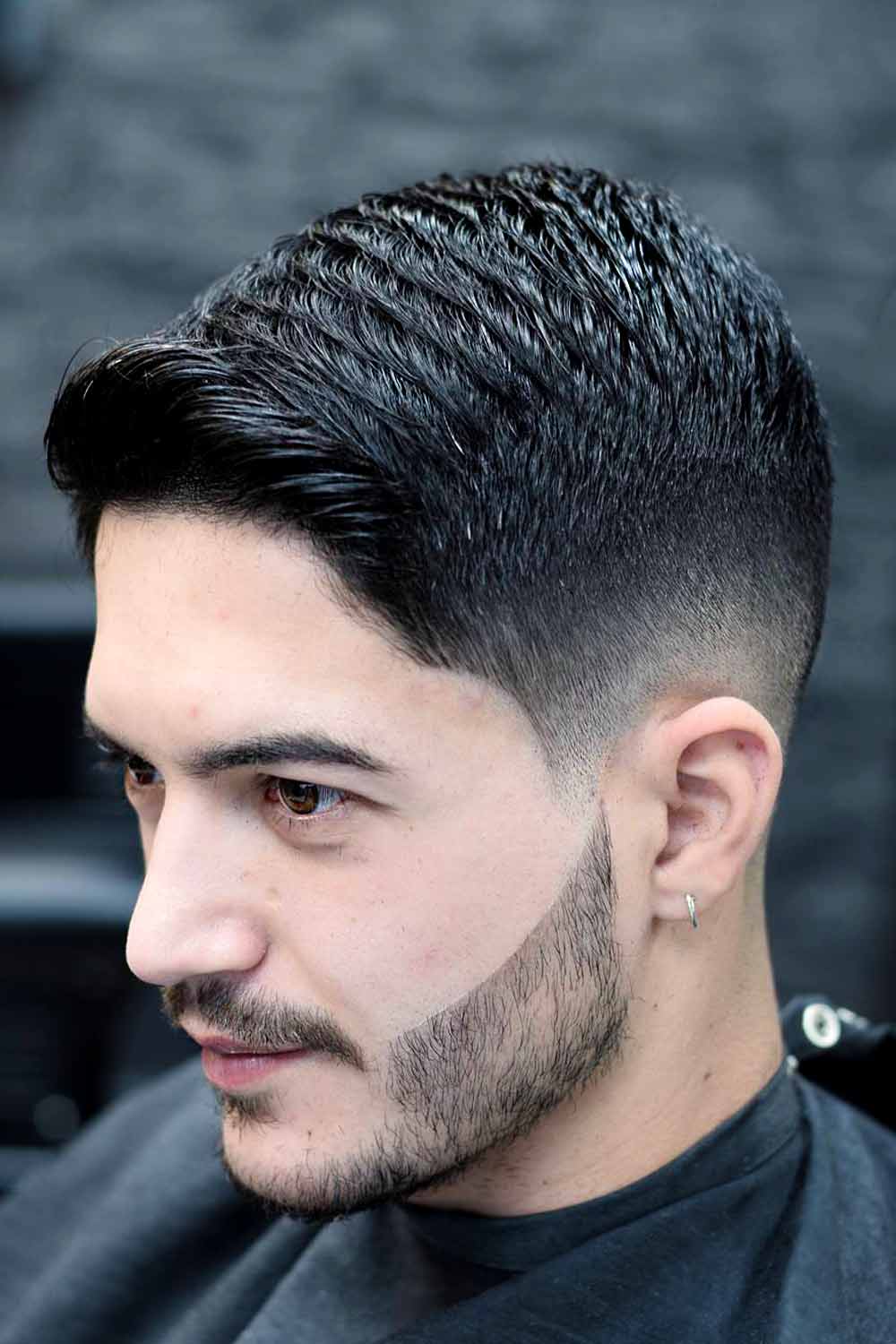 /
Pompadour Taper Fade Comb Over No Line
The so much popular and desired pompadour hairstyle can be easily done on your new cut! Men who prefer voluminous and bold looks to flat and sleek ones will appreciate the burst of volume in their hair. Also, you can go for a pompadour fade, where the top is super lifted, and the sides are sharp and clean.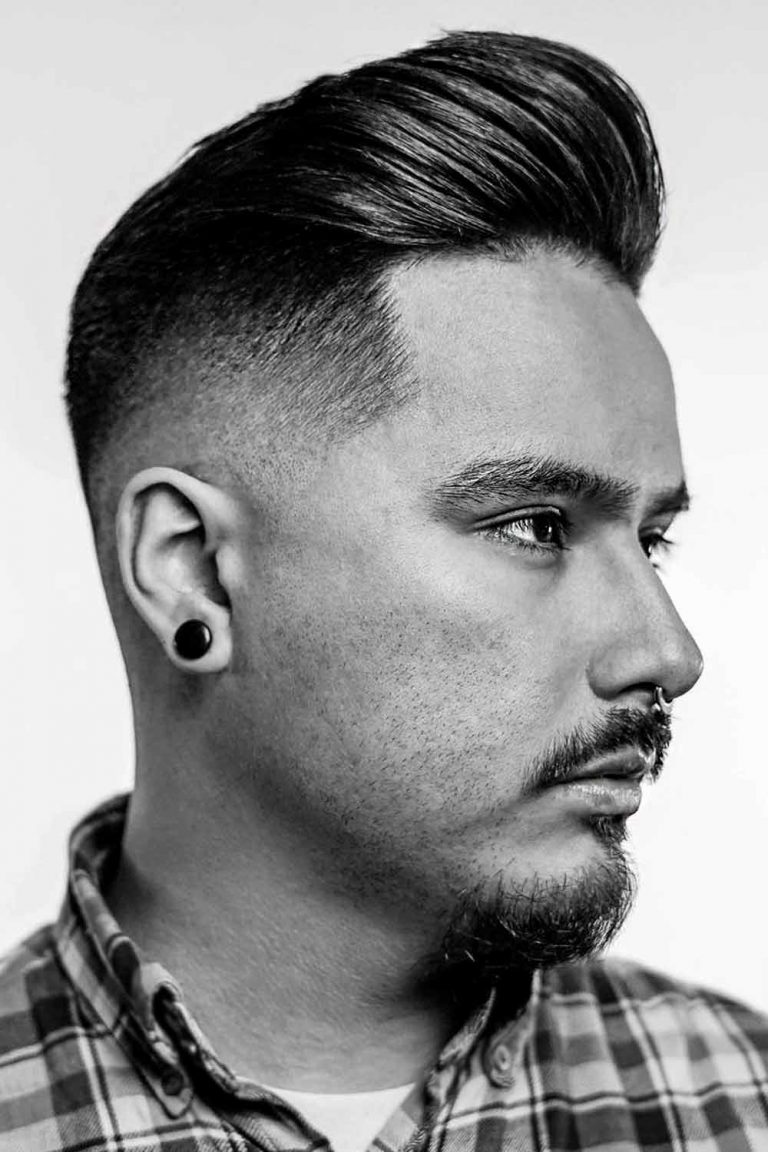 Source: @mattyconrad via Instagram
Curly Top
Taming short curly hair men find to be unmanageable is easy if its cut to comb over. In this case, a fade or taper is essential to stick to the proportions of the cut. The maintenance of the sides may take some time, yet this combination can calm down curly hair men tend to style for hours.
Slick Back Hair
Slick back hair is another styling idea that has been and will always be around. It's gained its ageless popularity due to the various ways of pulling it off. A comb over slick back hairstyle with graduated sides and a subtle length is an excellent way to diversify your casual style.
Source: @the_bloody_butcher via Instagram
i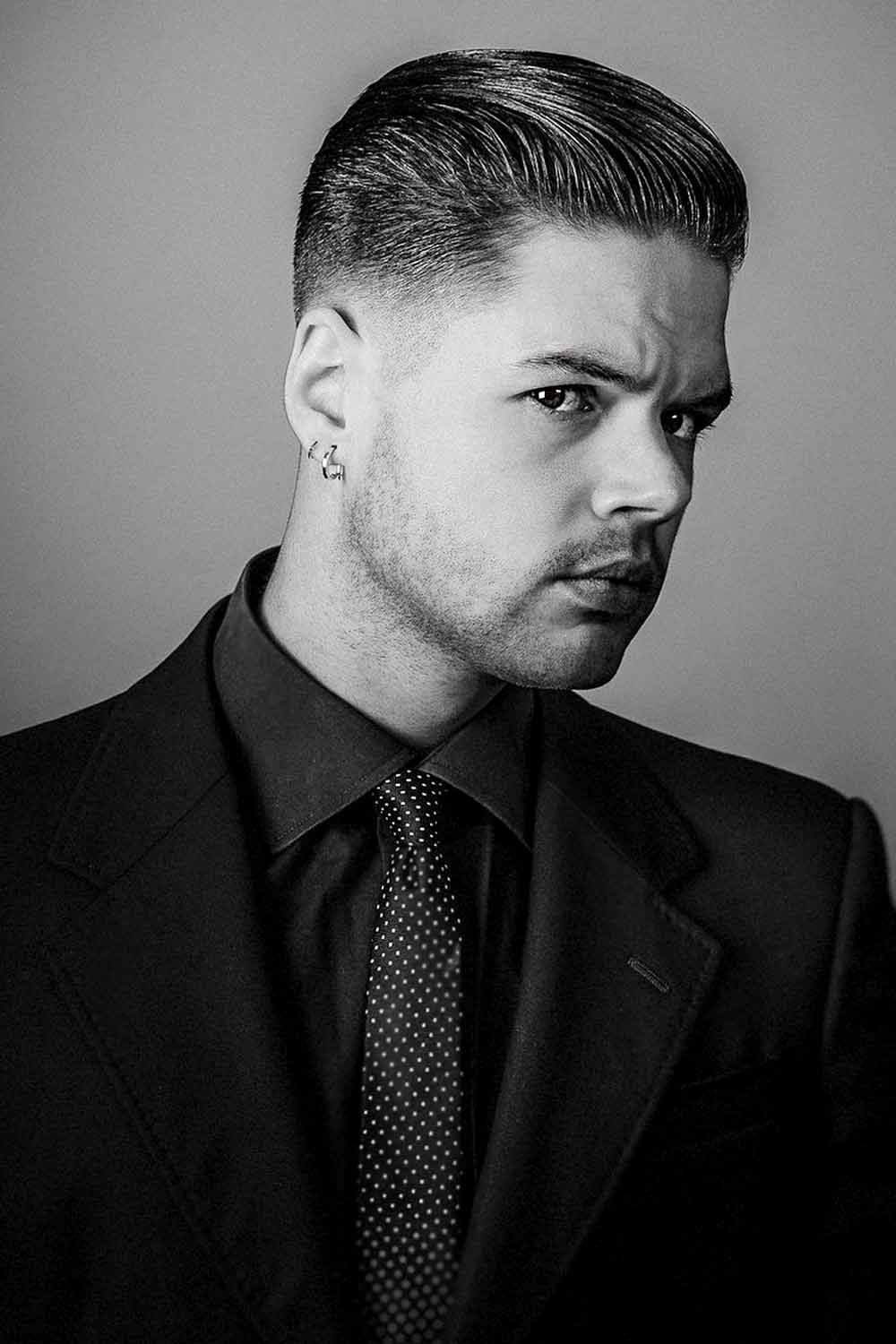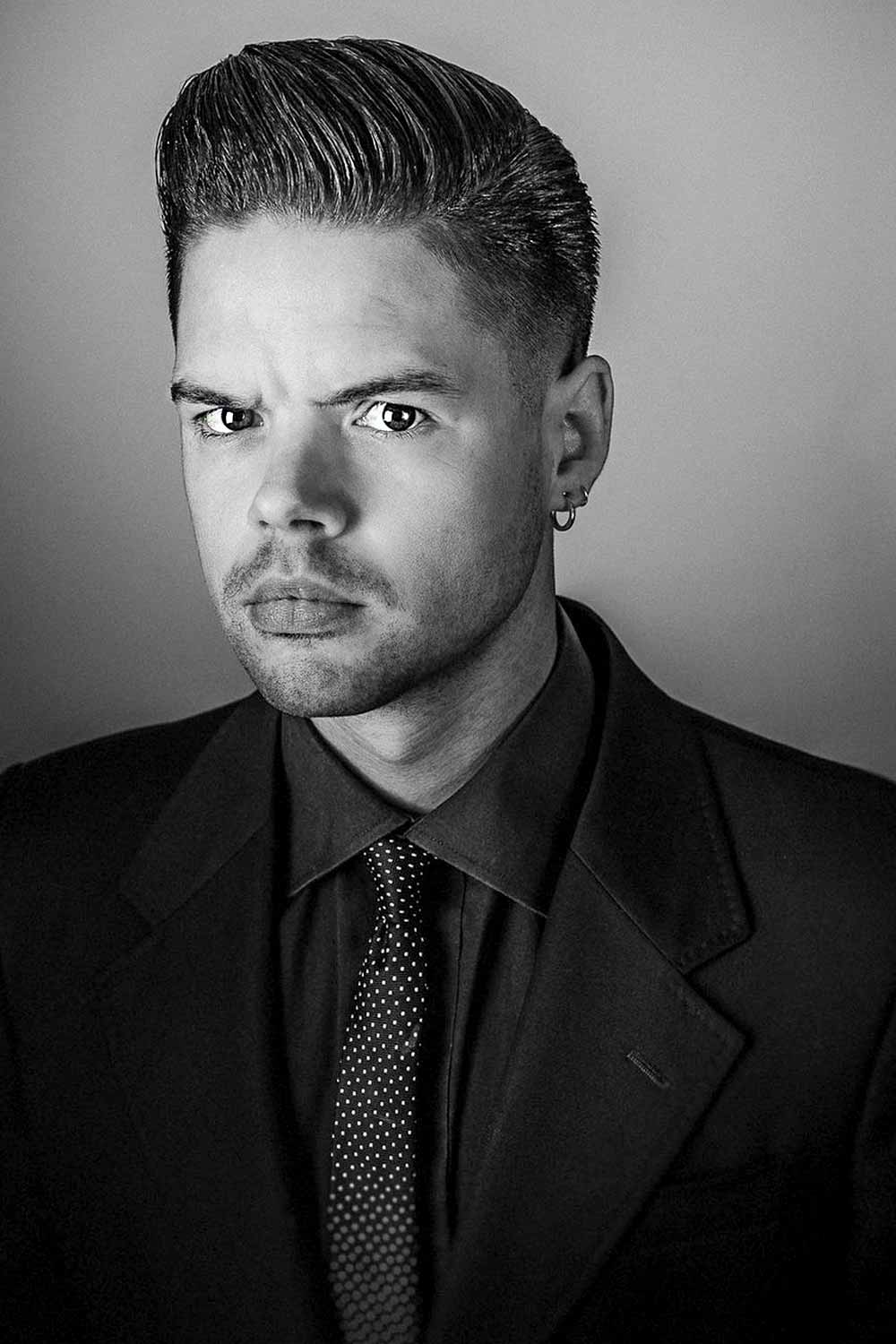 /
Spiky Very Short Comb Over
Comb over cuts with spiky hair are another proof for their flexibility. Yes, not all combovers should be sleek and clean; it all depends on your lifestyle, so if you'd like to wear short spiky hair men with bold nature sport these days, don't hesitate to try it out. Short spiky hair look will give you a more textured and fashionable appearance to your style, which looks awesome with a beard.
Kathy Hutchins/Shutterstock
Brushed Up Messy Comb Over Fade
If you naturally have quite thin hair, a brushed up comb over is a great way to disguise it. This hairstyle is quite easy to get. Just keep all the volume on top and brush the sides back. Another obvious benefit of such an ample hairstyle is that it can make your face visually longer. So, guys with round and square faces should find it extremely flattering.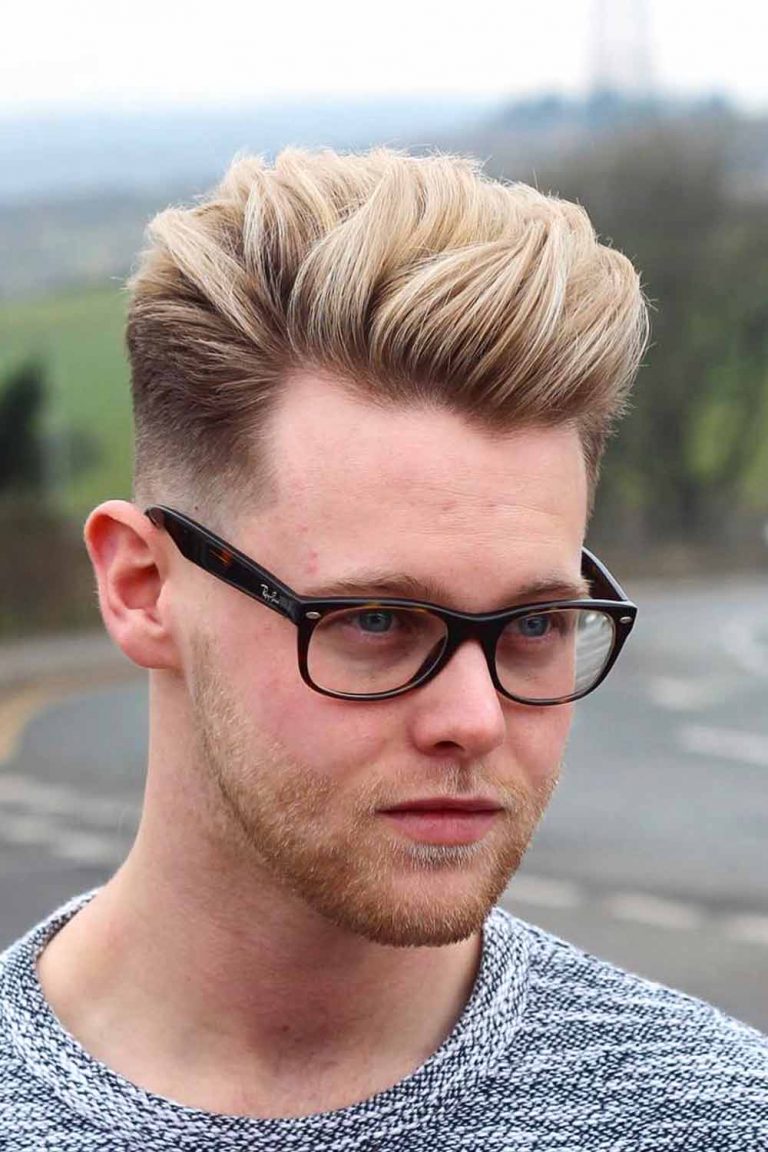 Source: @alan_beak via Instagram
Side Combed Hair With Parting
It looks like a side part and comb over are meant for each other. When sported together, they make up a very defined and clean cut look. For added emphasis, get the sides faded and the temples lined up. To balance out the sharpness of the look, team your haircut with a blurry full beard connected to the hair through sideburns.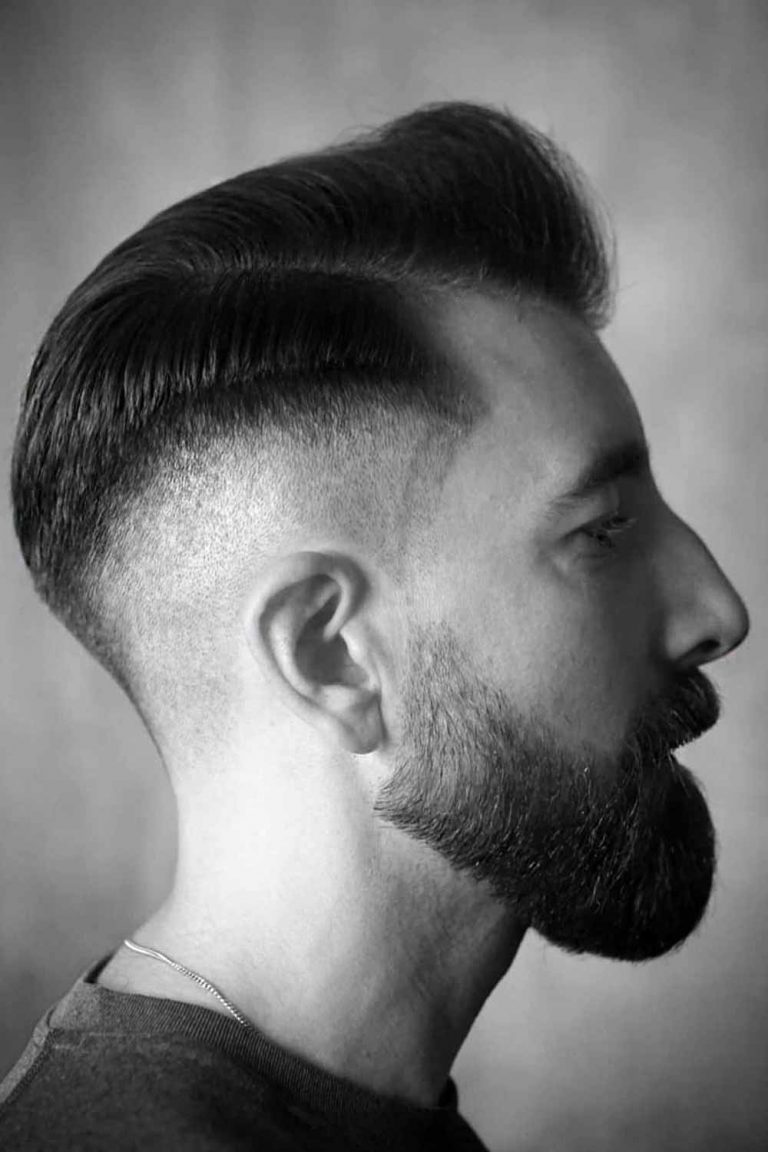 Source: @phoneypony_barber via Instagram
Elegant Comb Over
When the occasion calls for it, why not style your hair in an elegant and dapper comb over? It may require a bit more time, effort and hair styling product. Though, it's surely worth all the hassle. Such a sophisticated 'do will instantly upgrade your whole look. Pair it with trimmed sides, and your hair will become the talk of the town.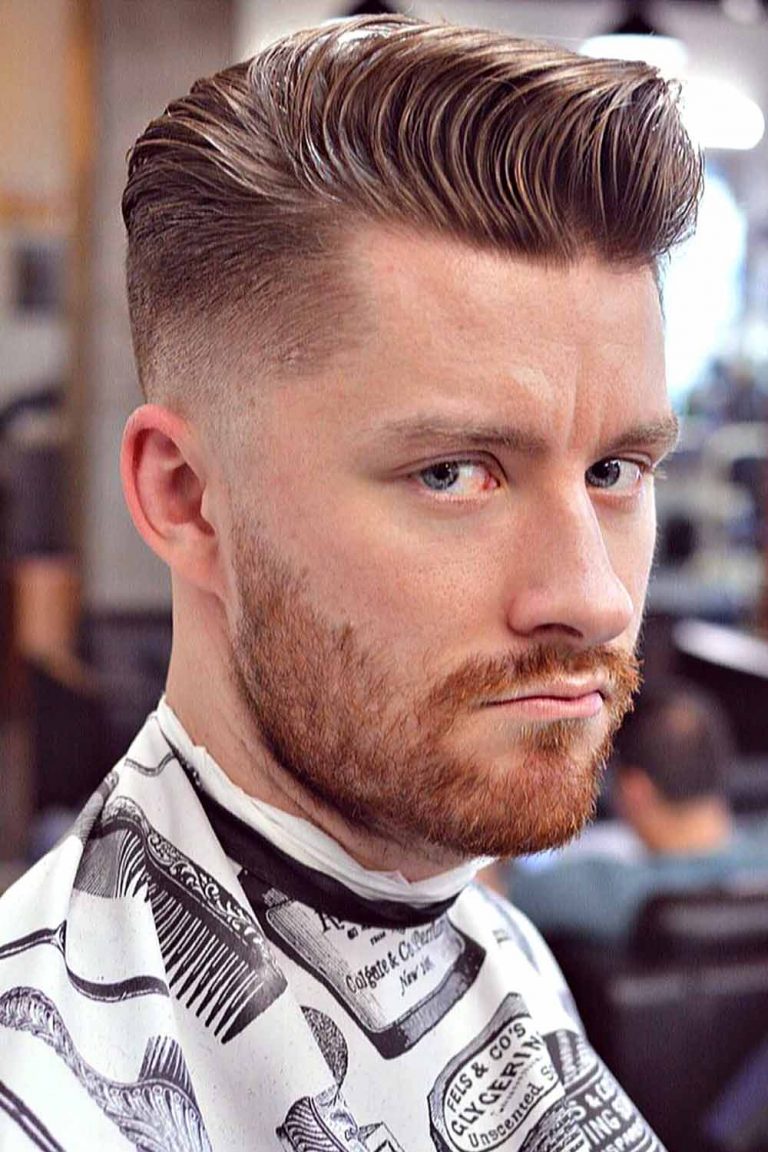 Source: @blackfishbry via Instagram
Combed Hair With Beard
Sometimes, a combed over haircut can look a bit too preppy depending on the style you're channeling. To avoid this, pair your hairstyle with a full beard, which will add some breeze to your appearance. If you're afraid to look too casual, complement your haircut with a high fade and a hard part for more defined and edgy look.
Comb Over With Buzzed Sides
A wet comb over comes out sleek and smooth, thus making the whole look appear elegant and neat. To enhance this dapper flair, complement the comb over with buzzed sides. In this way, you will achieve a high contrast hairstyle. Hence, nothing will be able to draw attention away from your hair.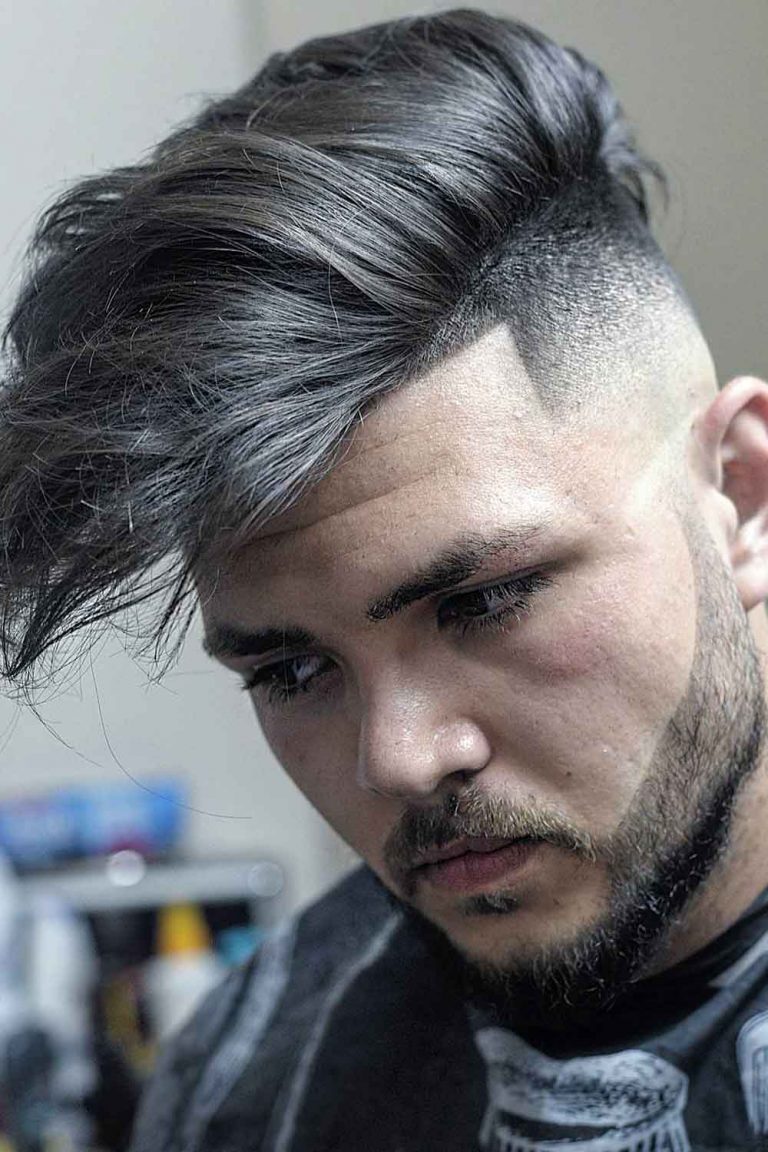 Source: @spukthebarber via Instagram
Line-Up
No matter whether you are going for a short comb over fade or long comb over undercut, a line up is that subtle detail that will make your hairstyle look complete and the silhouette outlined.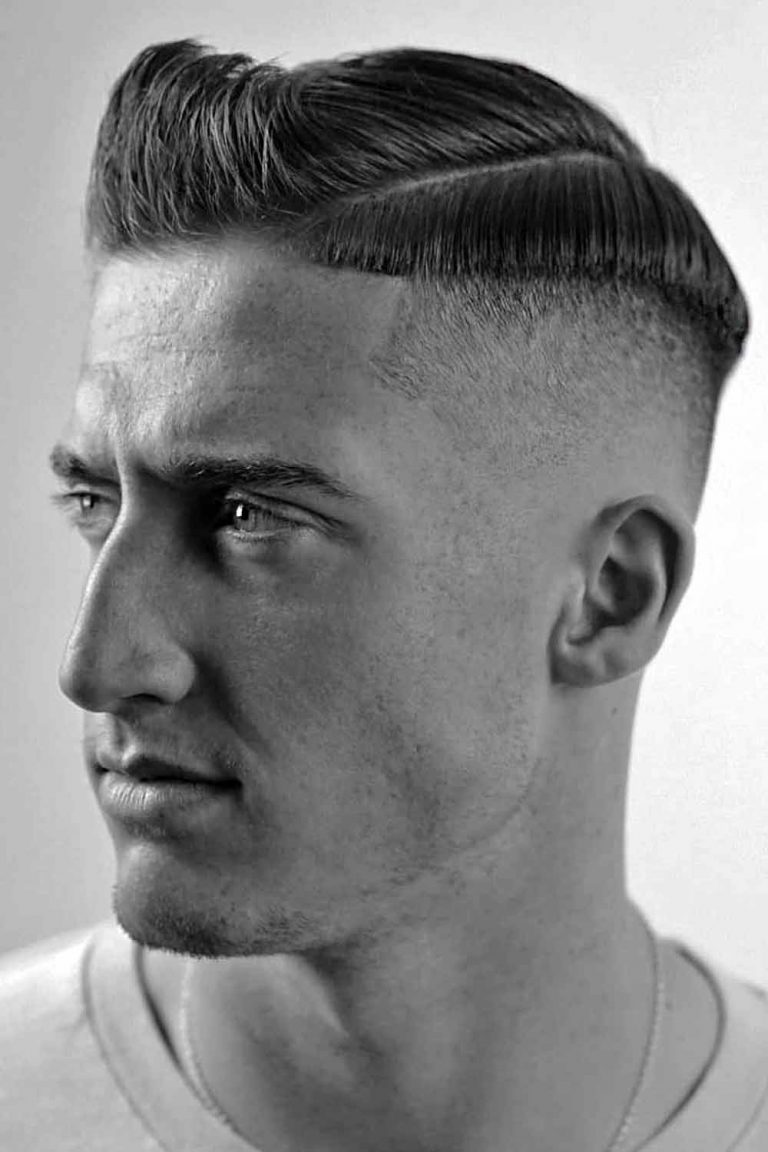 Source: @phoneypony_barber via Instagram
Wet & Wavy Combover
A comb over always pairs nicely with tapered sides. Yet, you can give it a more intricate and unique appearance by adding elaborate hair design. This hairstyle is a clear demonstration of your good taste, as it combines both classic and modern trends. If you still feel that something is missing, finish off the look with a coarse beard.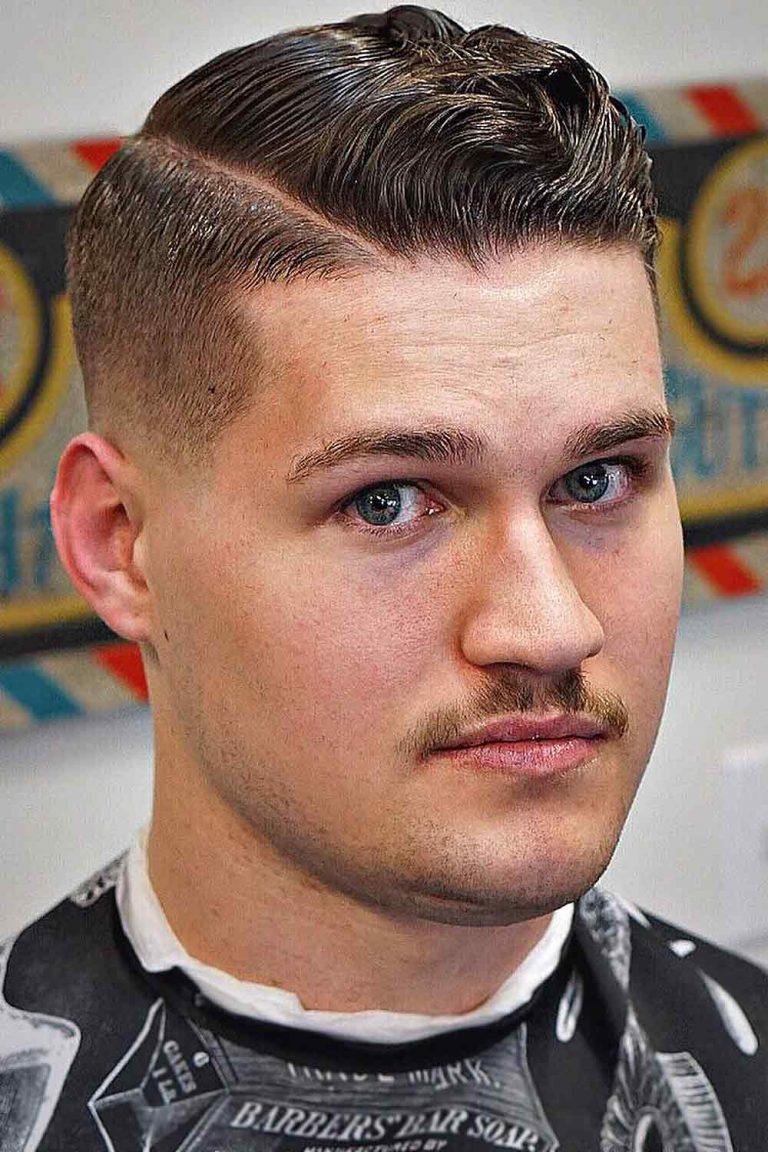 Source: @blackfishbry via Instagram
Messy Comb Over
Such a hairstyle as a comb over does not always have to be slicked. To give it an ample and defined appearance, dishevel the locks on the top of your head using a blob of a hair styling product and push them to the side a bit. This will make your style trendy and fashionable without looking unkempt.
Now you know that comb over is so popular these days not for nothing: it gives a lot of room for imagination and allows you to customize your cut based on your needs. Decide what you want your cut to be and call your barber: it's time for a style upgrade.
FAQs: Comb Over Haircut
What is a comb over haircut?
A mens comb over is a hairstyle that implies brushing your hair from the side to the opposite side over your head.
How do you ask for a comb over haircut?
First, you need to tell the barber where you want the side part and how long the hair on the top of your head should be. Also, decide whether you would like to have the sides tapered, faded or scissor cut. However, the most failsafe way to get the right mens comb over hairstyle is by bringing a bunch of photos with you.
How to Do a Comb Over?
1. Wash your hair and soak excess water with a towel.
2. For an added volume, dry the hair with a hair dryer.
3. Apply a tad of hair pomade to the roots and spread it toward the ends.
4. With the help of a comb, divide your hair into two sections with a side part that goes from back to front.
5. Comb the remaining hair in the opposite directions toward each other.
Can a comb over look good?
You may be sure of that. When you comb hair over, it adds to your masculinity and elegance. Besides, it works for any hair type and may come in many lengths. Finally, you can complement it with a fade, taper, undercut and a lot of other trendy mens haircuts.
Are comb overs in style?
Mens combover hairstyles are one of those hair looks that are timeless and classy. So, you can never go wrong with it, especially now when more and more celebs, such as Justin Timberlake, George Clooney and John Hamm, opt for it as their go-to look.
REFERENCES:
A combover is a hairstyle commonly worn by balding men in which the hair is grown long and combed over the bald area to minimize the appearance of baldness. Source
The "comb over" often gets a bad rap as a 1970s hairstyle for hiding a bald spot on top. Source
Get the facial hair grooming tips, hair advice, and product recommendations from the editors of Esquire. Source