A crew cut, also known as an Ivy League haircut style, is a retro yet modern look for guys. Unlike a buzz cut which is super short everywhere, a crew cut has additional length in the front which is often styled up to create a cool vibe. (Think James Dean.) This sexy men's cut works on a variety of hair types and textures, and it's ideal if you want to keep your hair short, but crave a little variety.
What Is A Crew Cut?
A crew cut became popular in the 1950s as many military men were required to trim their hair to shorter lengths and get short haircuts for men. Hollywood embraced the fashionable look and soon crewcuts swept the nation in style.
Today crewcuts are as popular as ever. They're a classic, sophisticated and a clean-cut look that has remained modern through the years. If you seek a style that looks effortlessly cool, a mens crewcut might be the perfect style for you.
Source: @ryancullenhair via Instagram
i
Source: @xbigwesx via Instagram
i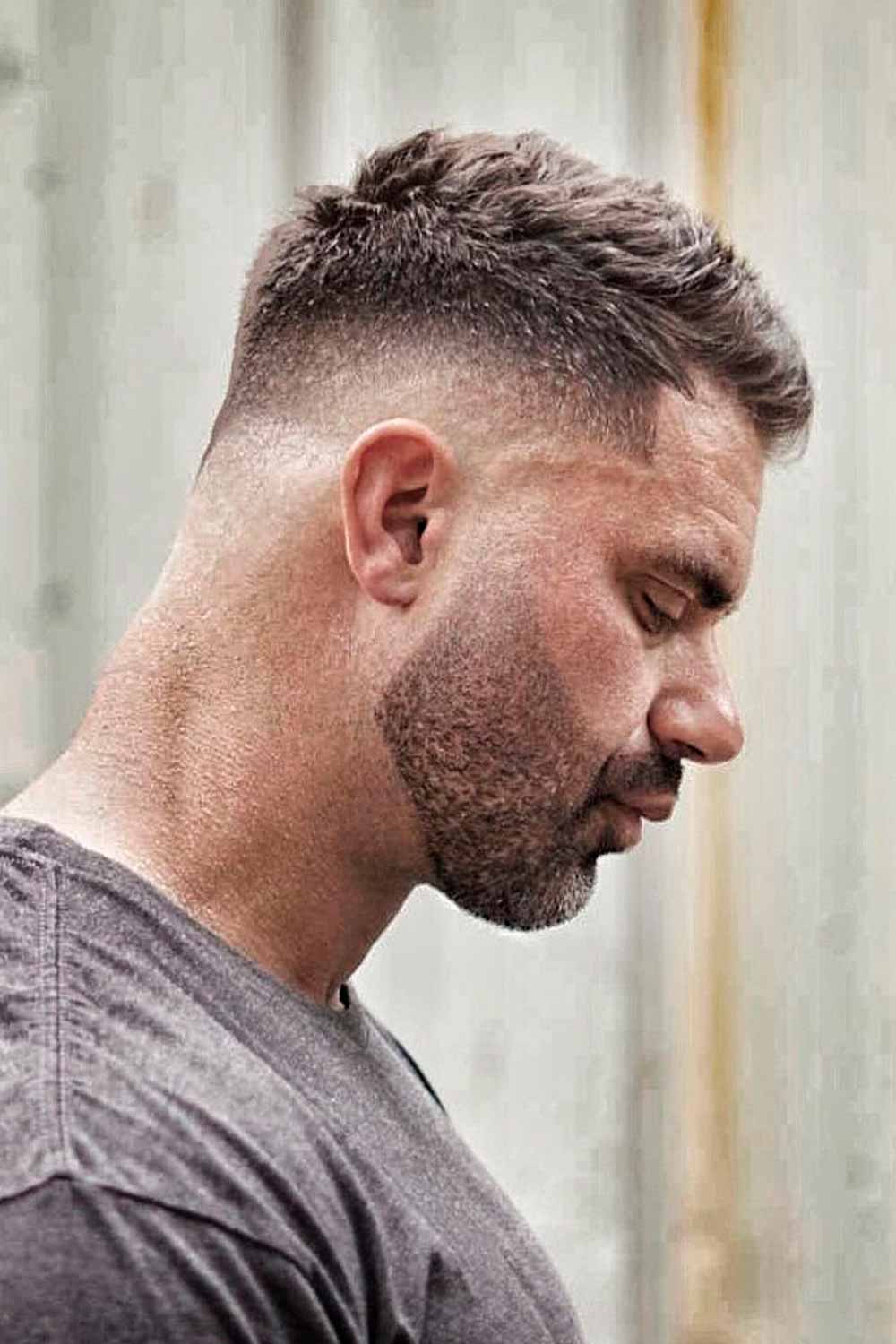 Source: @hayden_cassidy via Instagram
i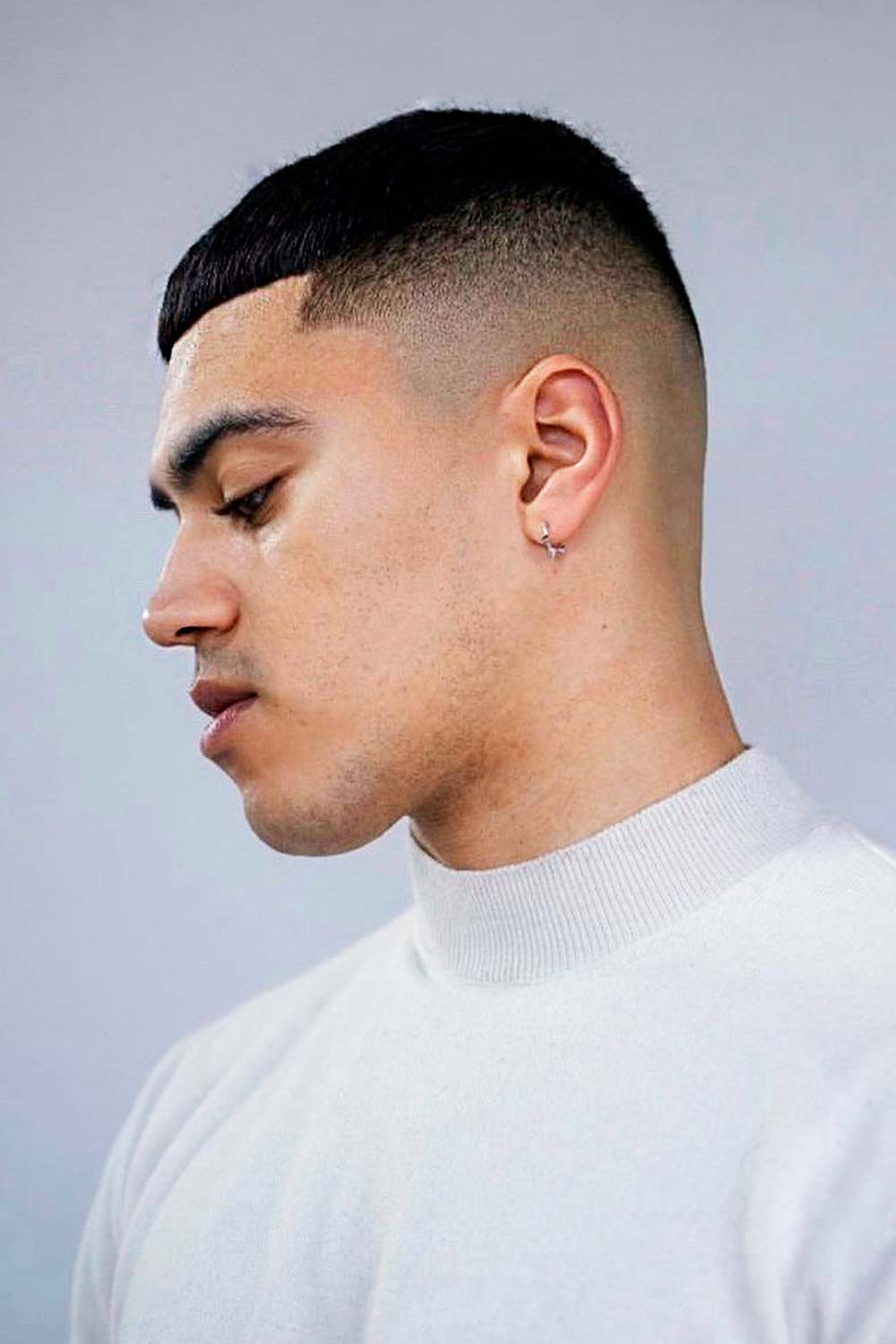 Source: @alan_beak via Instagram
i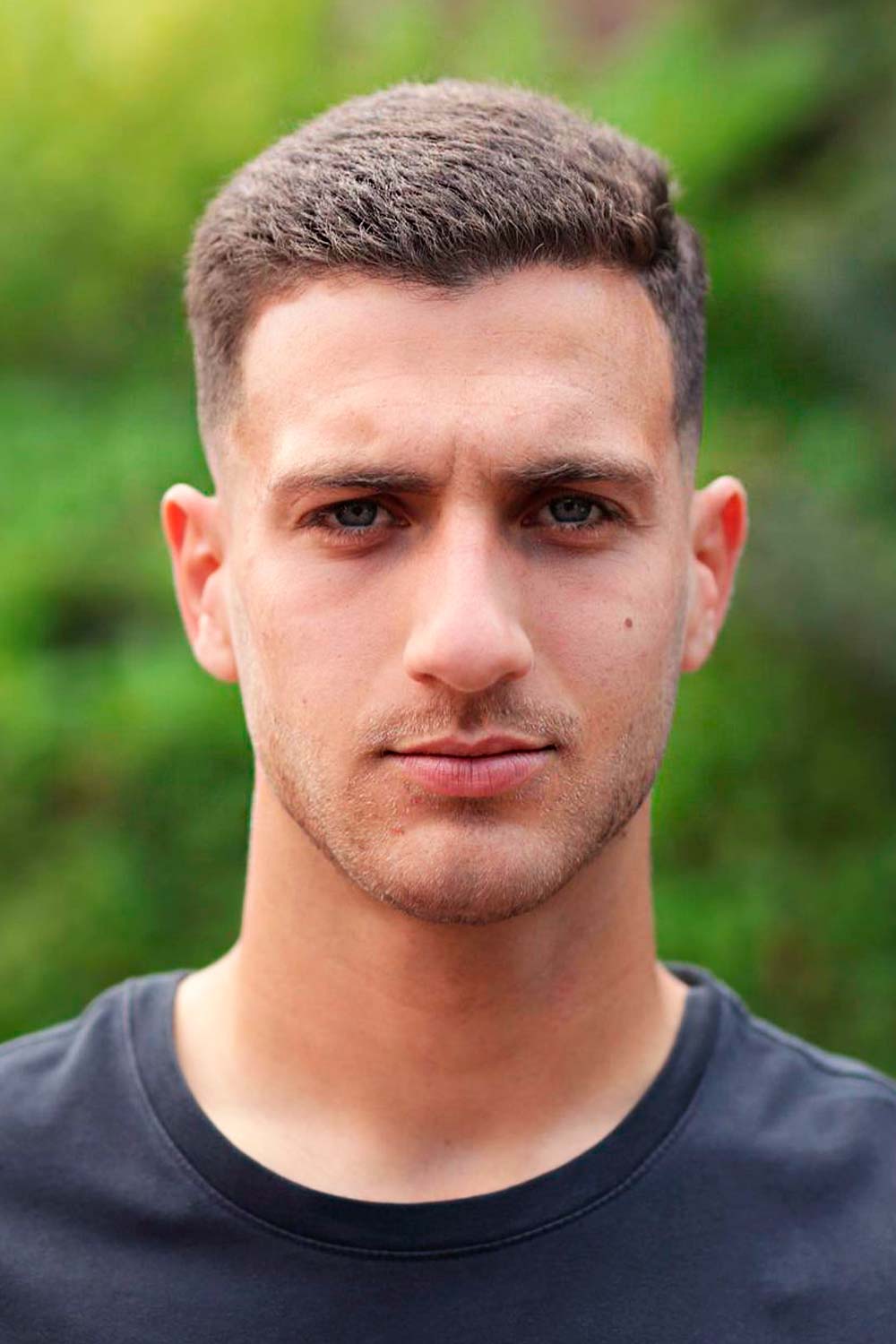 /
Best Crew Cut Hairstyles
Talking about styling, the crucial thing you need to take care of is a nice hair styling product. We highly recommend opting for some wax or pomade. For a neat, glossy and polished look, take shiny pomade with a medium or stronghold. To accentuate the natural texture of your hair, employ the product with low or without any sheen; this will give your crew cut hairstyles a matte look. If you don't want your hair to look clumpy, it's better not to use gel. And if your hair is thin or thinning, just forget about gelling it! Actually, you can easily give up on the hair styling products at all because your haircut is so short that it basically looks coiffured by default. Simply, apply some hair wax to your hair and leave it tousled as it is.
Traditional Crew Cut
And now, when you are aware of all the pitfalls, it's time to choose your go-to haircut.
If you are looking for something simple, elegant, classy and, what's more important, low-maintained, the traditional crew cut is just what you need. This short haircut for men would be highly praised among business people as it saves a huge amount of time and, let's not cut corners, money. You save on styling it in the morning, on styling products themselves, on visits to the barbershop; it's a real savior! In case you want to add some accent to it, opt for the Ivy League crew cut. It requires the hair long enough to style it with a side part.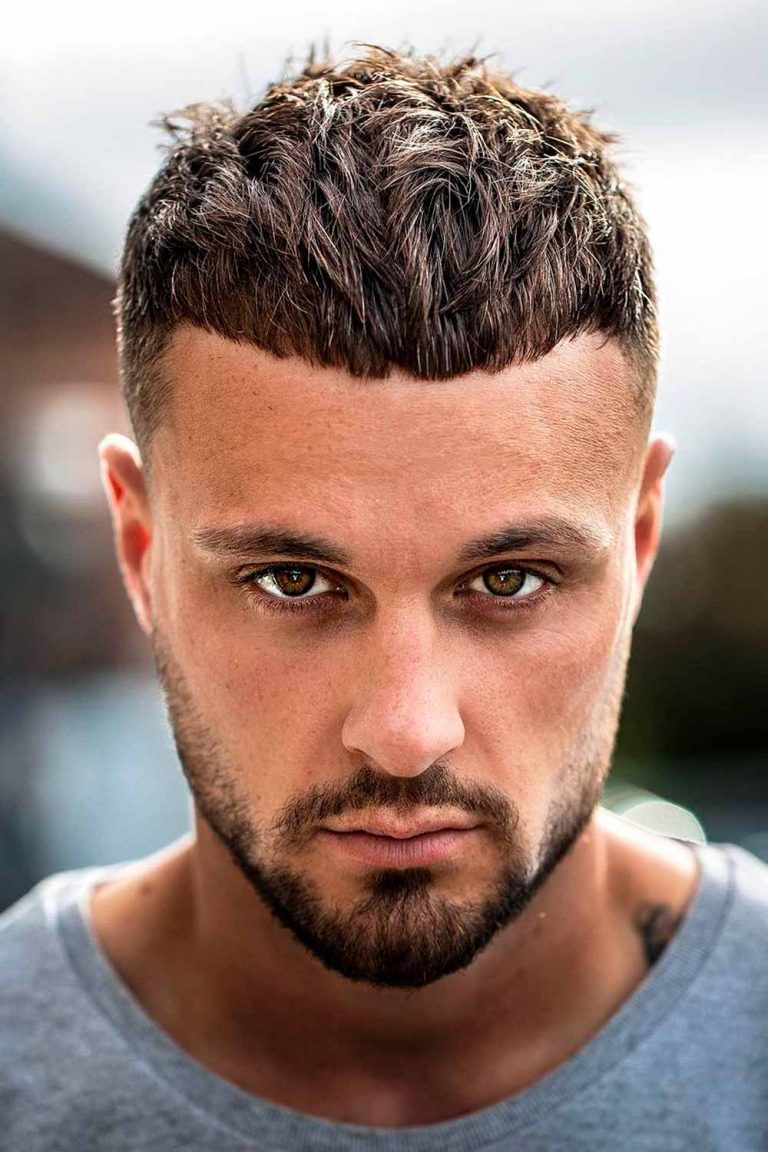 Source: @tombaxter_hair via Instagram
Short Crew Cut
Those guys who are leaning toward extremely short haircuts can get a mens crew cut too. Just make sure your hair is noticeably shorter on the sides and back while the top is textured and defined. The look turns out bold and edgy, so you can never go wrong with it.
Source: @xbigwesx via Instagram
i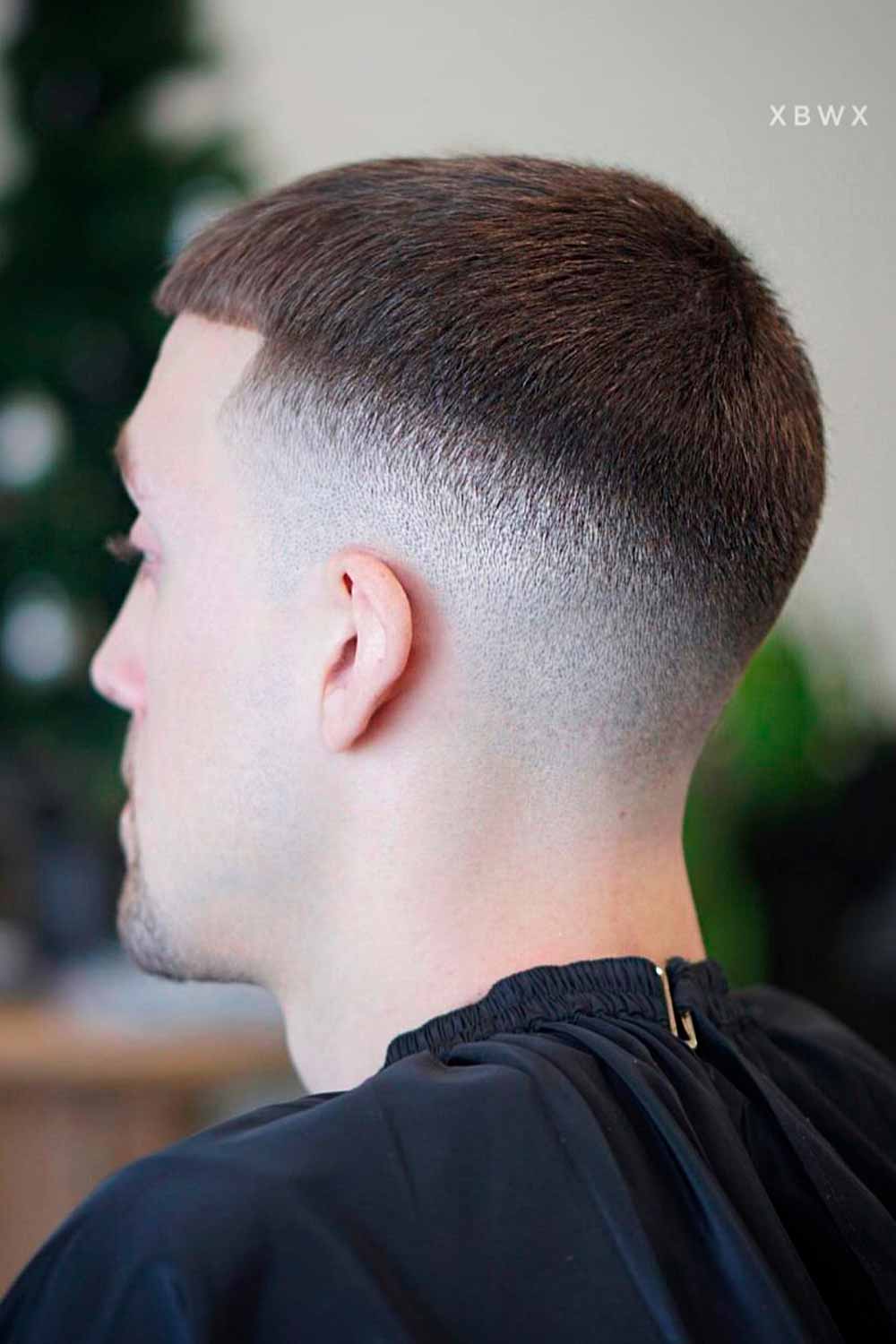 Source: @iisakkinummi via Instagram
i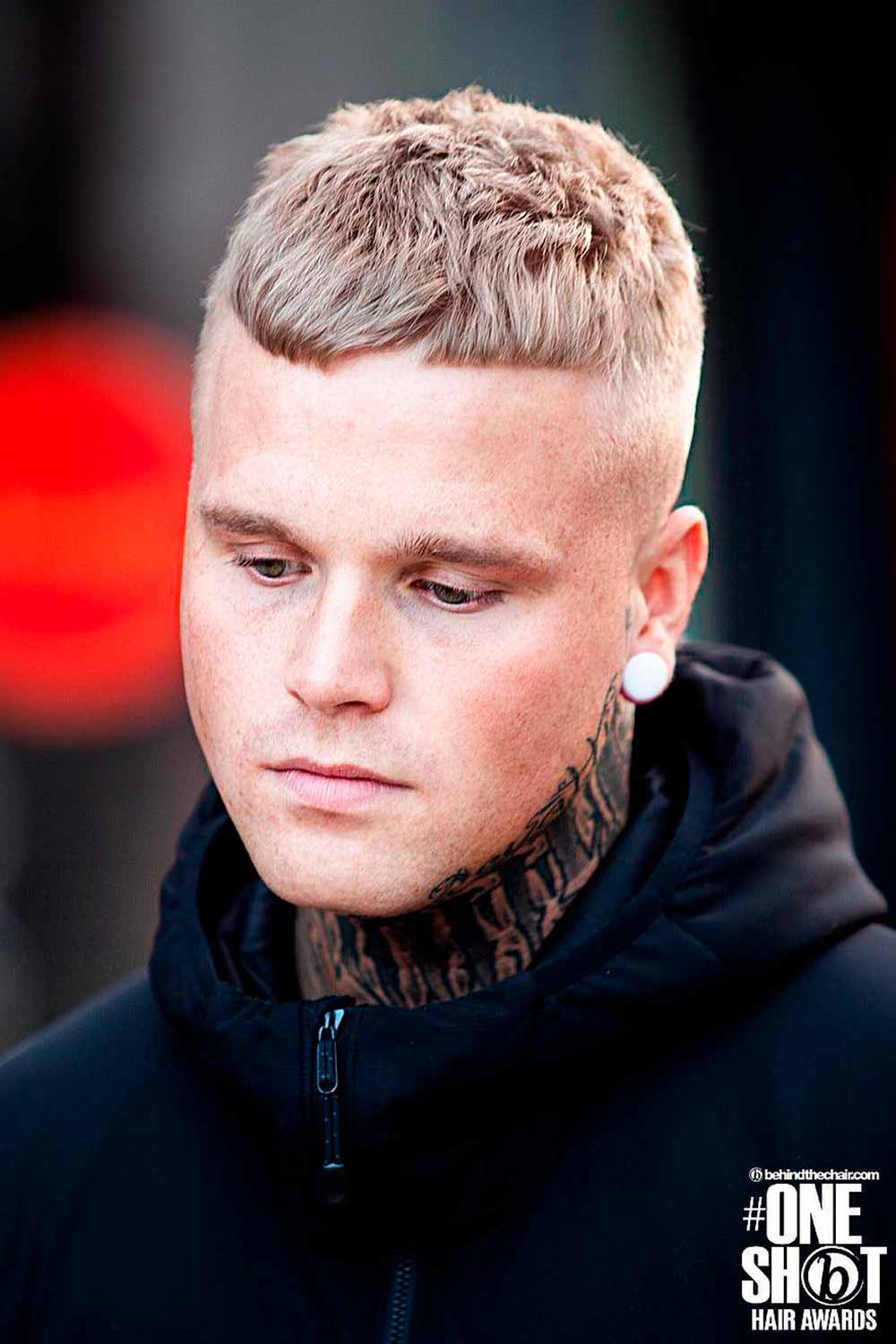 /
Long Crew Cut
Need an elegant and sophisticated hair look? A long crew cut is your surefire way to go. You can then style the top brushed to the side, pushed back or side parted, depending on your preference and the ambiance your hairstyle should fit. Plus, you can always turn it into a more casual look.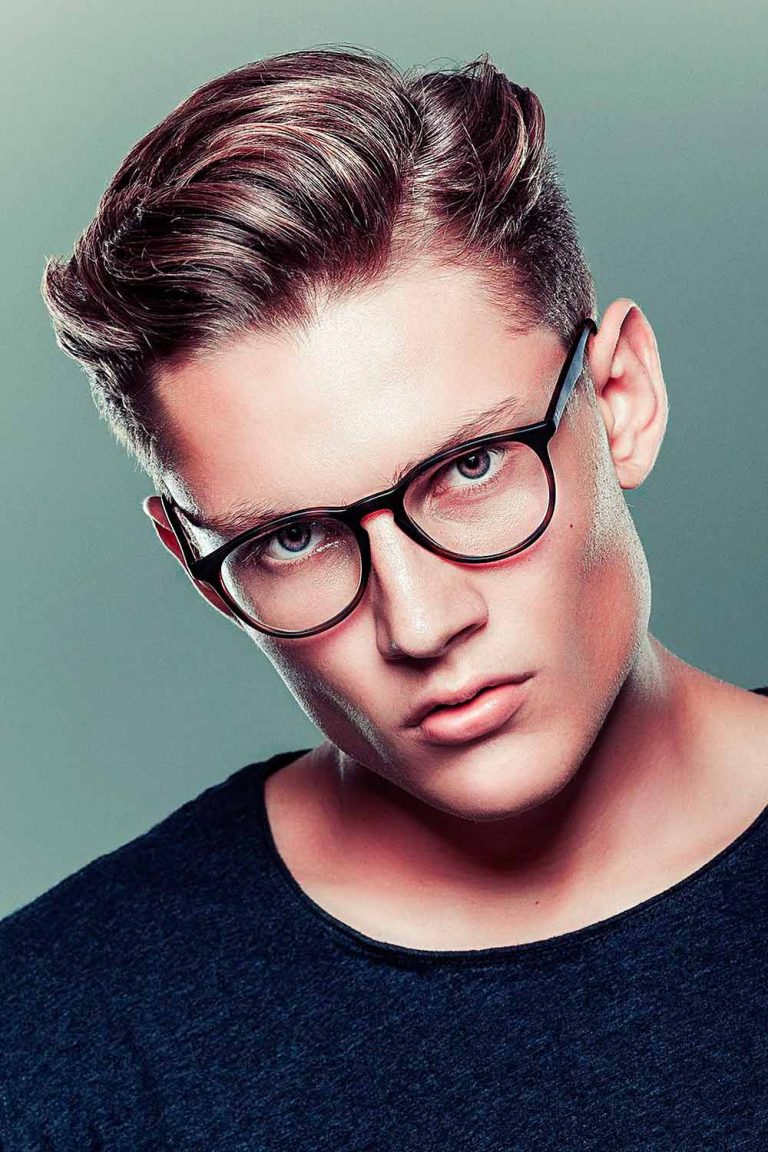 Source: @alan_beak via Instagram
Crew Cut No Fade
While a fade is a common attribute of a crew cut, it is not necessary. You can always get a taper instead for a softer look or even trim your hair a uniform length if you are into rather low key crew cut haircuts. This option suits a work environment just fine, so feel free to sport it at the office.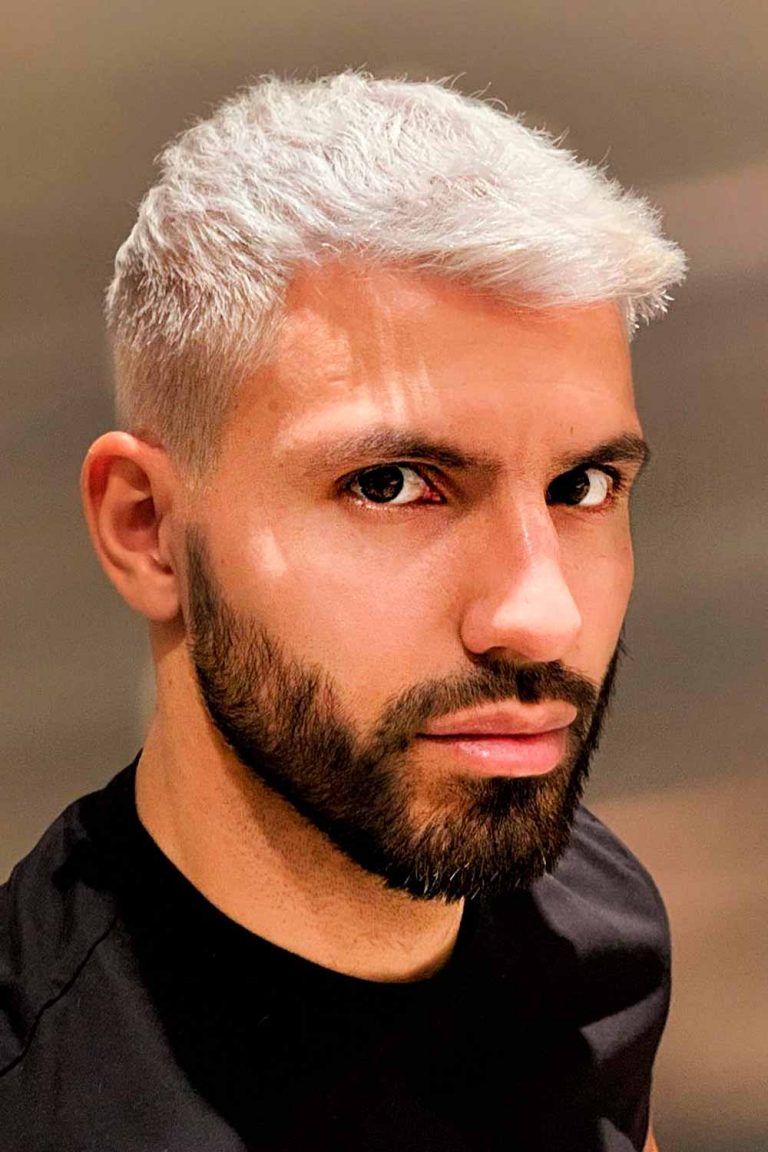 Source: @alan_beak via Instagram
High Fade Crew Cut
A fade crew cut is pretty versatile. As such, you can easily choose a suitable look depending on the impact you want your haircut to make. A high fade crew cut offers you much contrast and boldness, which will take your mane to the spotlight and make you stand out in the crowd.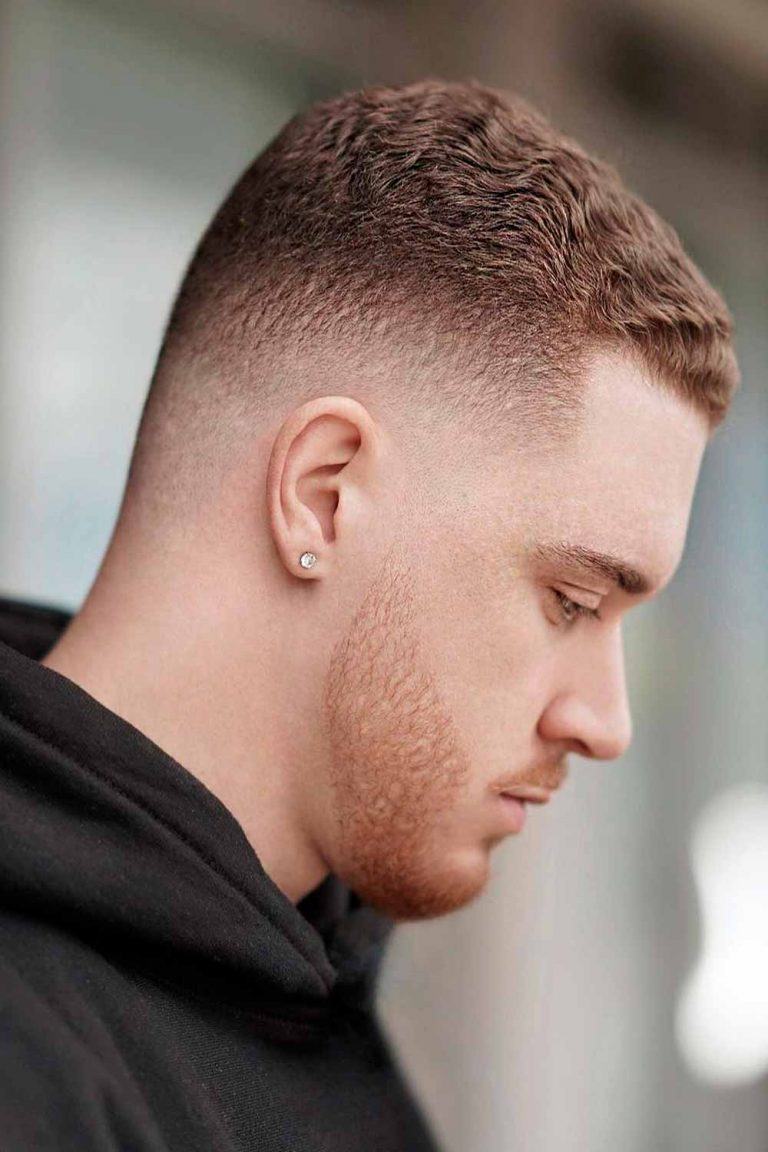 Source: @xbigwesx via Instagram
Mid Fade Crew Cut
A faded medium crew cut is the golden mean between a high and low crew cut fades. It is universally flattering and practical. Also, it is a timeless hair look, so you will always be in fashion with it. For some emphasis and definition, you can enhance your textured crew cut with a hair product.
Source: @iisakkinummi via Instagram
i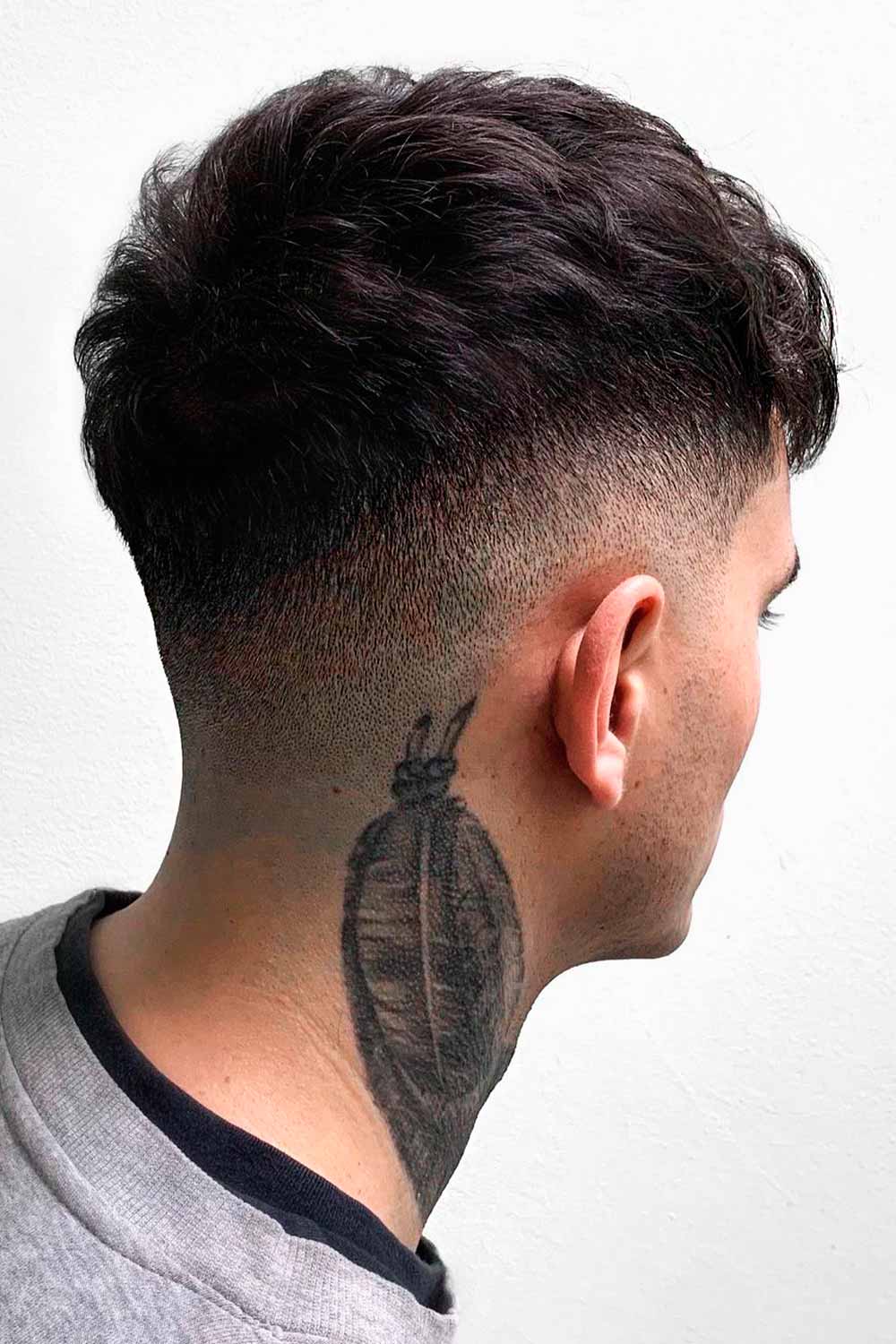 Source: @iisakkinummi via Instagram
i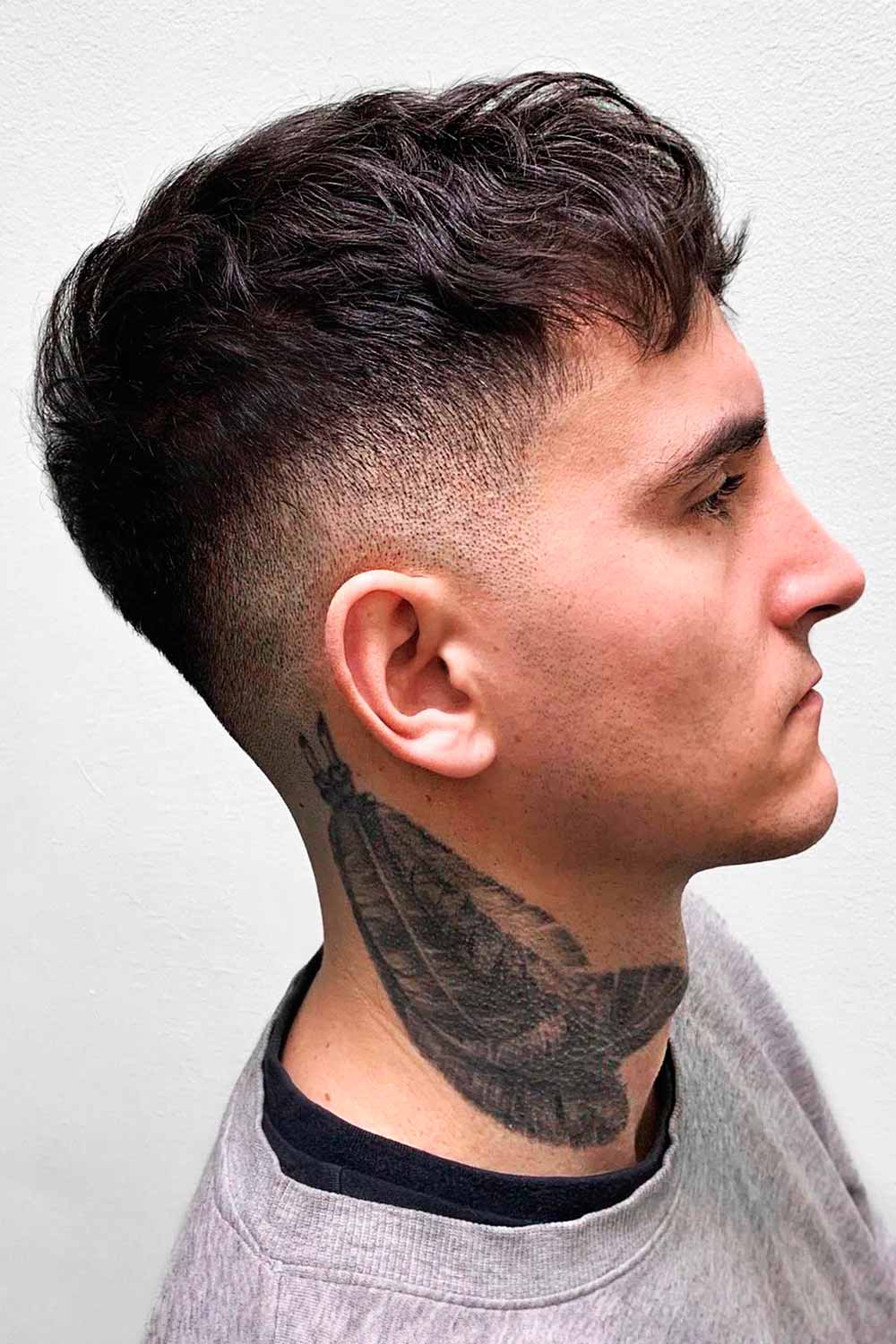 /
Low Fade Crew Cut
When getting a crew cut short fade haircut is an essential accompaniment to it. It helps you to make your haircut more pronounced. But, if you do not want to make the difference in length too striking, consider going for a low fade cut. It also works perfectly as a military crew cut fade.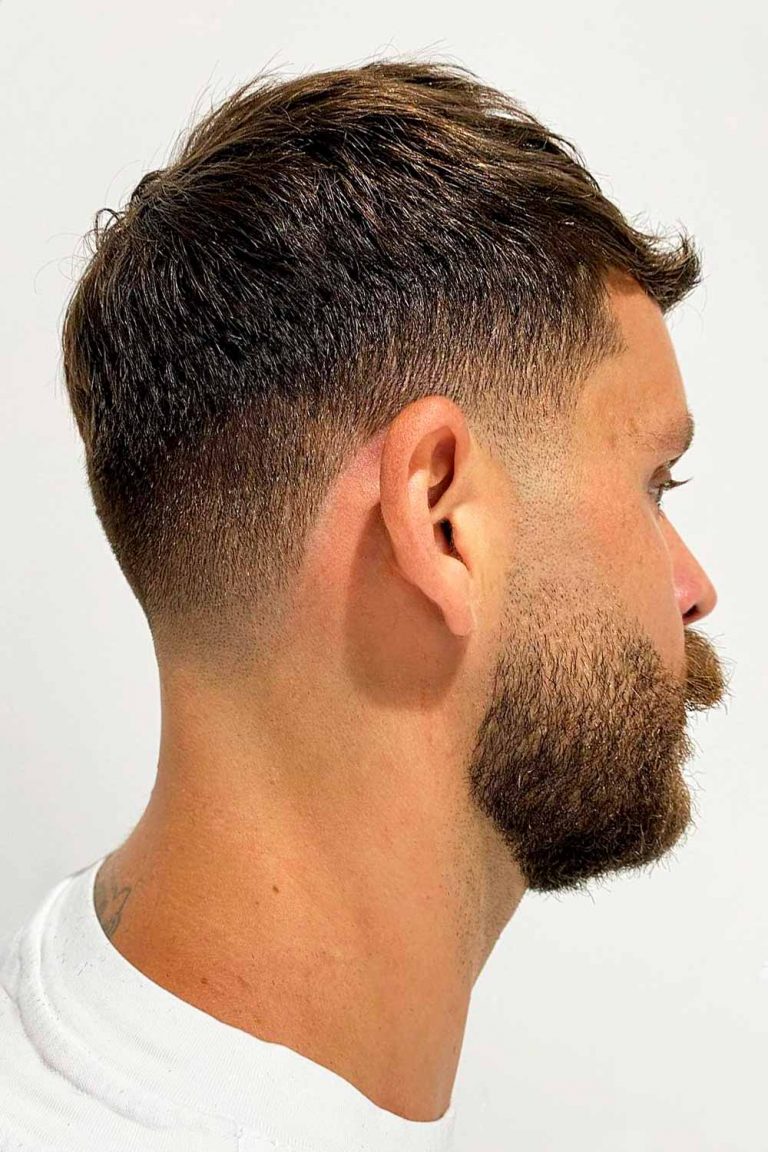 Source: @alan_beak via Instagram
High And Tight Inspired
For fashion-savvy men, there are no boundaries in terms of mixing various hairstyles. Take a classic High and Tight Cut and get it in a crew cut manner. We have no doubts that the result will come to your exquisite taste.
Source: @iisakkinummi via Instagram
i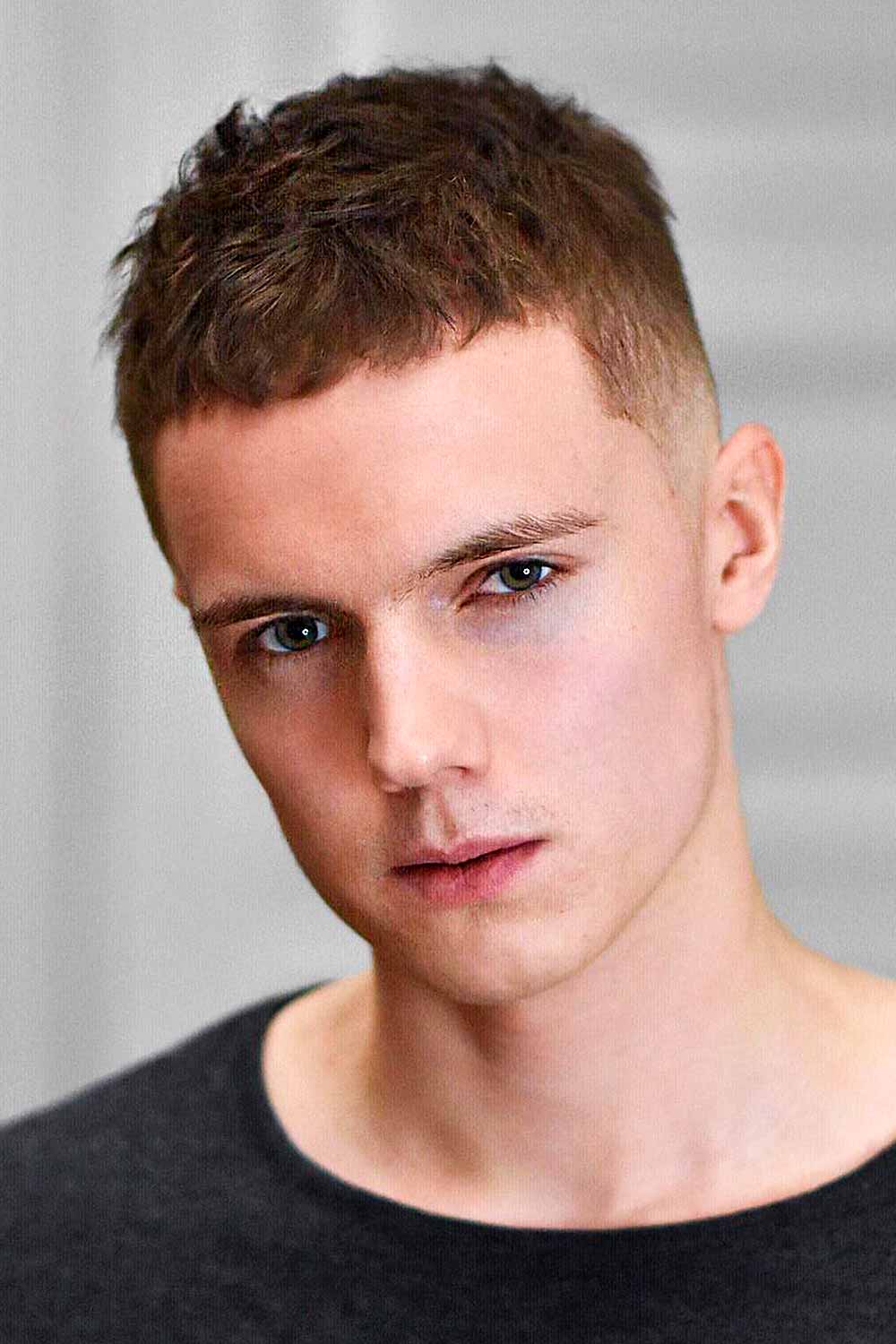 Source: @iisakkinummi via Instagram
i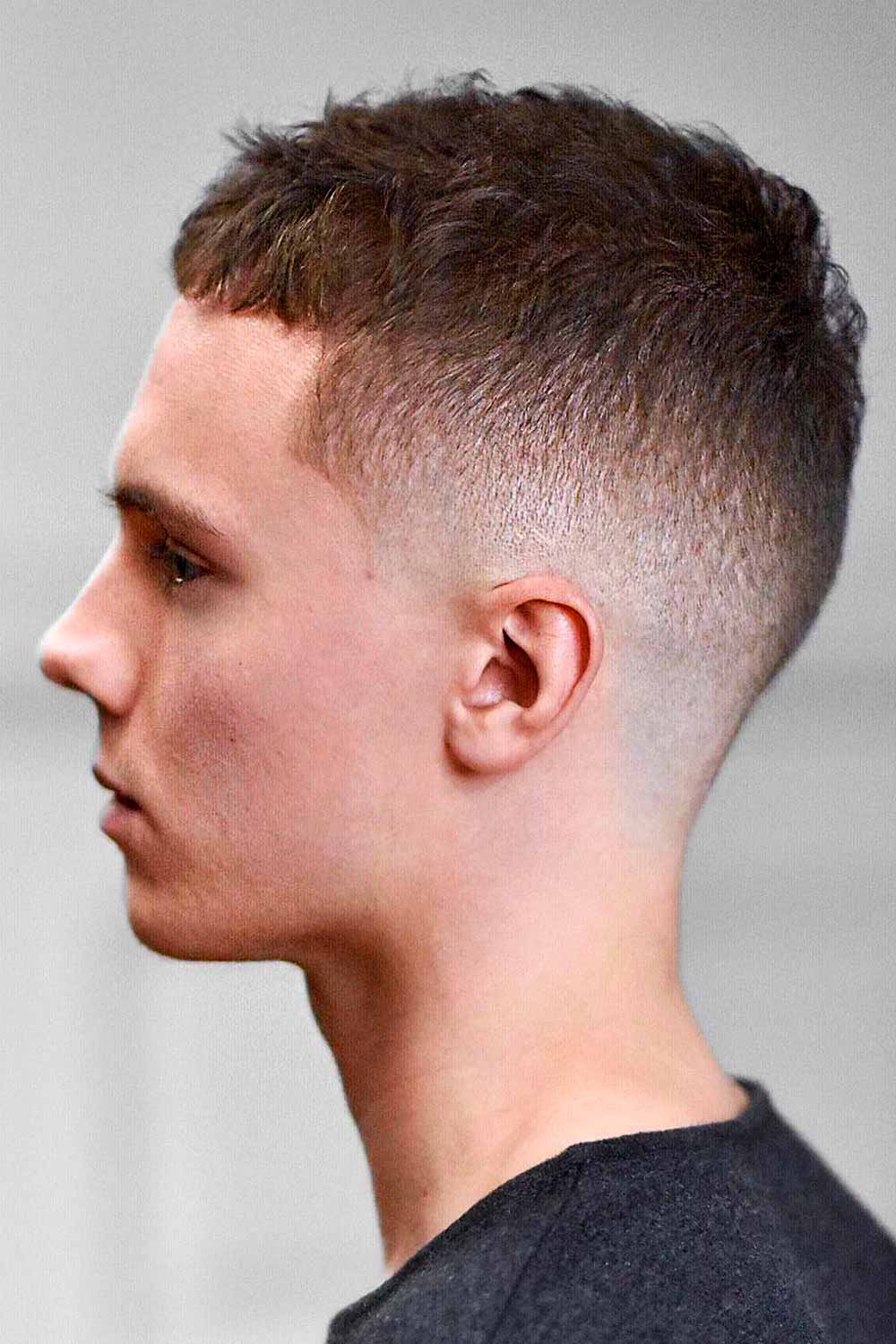 /
Fresh Waves
You choose to look sweet and gentle instead of brutal and rough? Then add some waves to your crew cut hairstyle. Leave the sides buzzed short and shift the entire accent to the top hair. This is the kind of wavy hair men choose very rarely, which is too bad though as it looks exceptionally touching!
Source: @hayden_cassidy via Instagram
Slicked Back Crew Cut
If you want to bring a dose of elegance to your crew cut hairstyle, ask the barber for a longer cut on top so that you could wear it slicked back. This is also a cool way to take your locks away from your face in case you generally prefer to sport them falling over your forehead. A nicely trimmed beard is a great addition to such a hairstyle.
Brushed Up Top
Crew cuts with brushed up top look amazingly breezy and sexy. Yet, they always manage to stay within sensible bounds. Quiff hairstyle is what will help you to achieve this appealing look. It is also a great solution for guys with a sparse or thinning mane. Thanks to the disheveled appearance, this crew cut allows you to create an impression of an abundance of locks and disguise a receding hairline. To pull it off, just grab your favorite blow drier and apply a dollop of a hair styling product beforehand.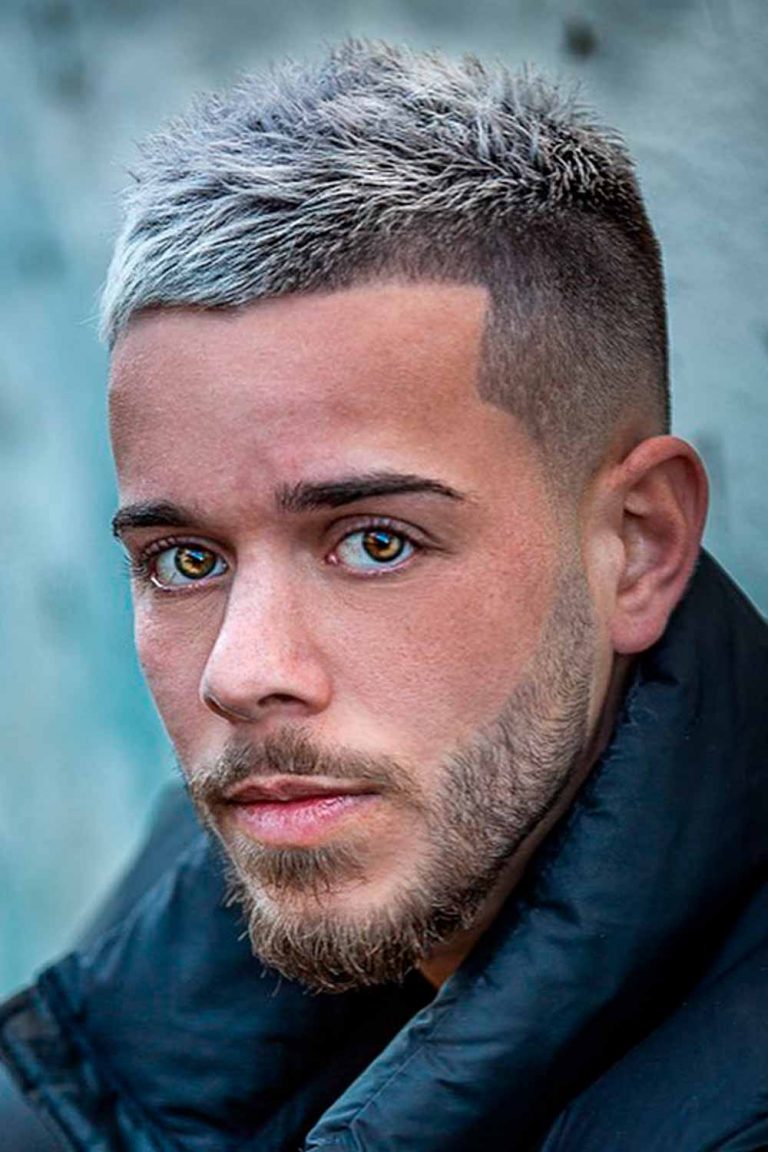 Source: @tombaxter_hair via Instagram
Crew Cut With A Surgical Line
This is the sort of a complex haircut as it combines surgical lines, a skin fade, and a thick texture. The hard part fade starts with makes a strong and dramatic accent on the long top hair, which is also accentuated by the buzzed hairline between the pomp and the surgical line. Remember to use some trusty pomade or wax for this hard part haircut, because you will want everything to stay in place.
Source: @ryancullenhair via Instagram
Side Swept Crew Cut
Grow the hair on the top of your head long so that it will be possible to create the side swept crew cut. Brush your top hair to one side and secure it with a strong hold styling product. As you focus the whole attention on your pomp, a crew cut fade on the sides will be more than enough.
Source: @tombaxter_hair via Instagram
Spiked Crew
Do you strive for a neat and smart hairstyle? Regard the short spiky hair men adore wearing after Chris Evans popularized it. To get the most of your short spiky hair, use a fine-tooth comb and a strong pomade. You can have your sides either faded or undercut; the spiky hair suits any framing.
Featureflash Photo Agency/Shutterstock
Flat Top
The flat top, also known as the flatbed head style, is a very smooth and brushed haircut. Its main feature is voluminous pomp combed in a very thorough and sleek way. To make your flat top hair geometrically defined, add a part to your most appealing side.
Source: @meha_barber via Instagram
True Military
As Leonardo da Vinci once said, "Simplicity is the ultimate sophistication." This phrase perfectly defines the classic military crew cut. To get it right, employ the clipper with two different guard sizes and buzz cut the top of your head longer and the sides and the back shorter. The traditional military haircut is the refined specimen of the stylish, canny and comfy hair look.
Military haircuts are no longer inherent only in the army. Today, they reside successfully in civil society. If you are eager to look athletic, dynamic, and masculine, this crew cut is right what you need.
Textured Crew
So you've decided to pick the long crew cut, what else can you consider? How about adding some texture to it? Chop the layers on the top evenly, which will add some density and action to the hairstyle. As in regard to the sides, a low fade will be just perfect. And don't forget not to use anything shiny on the top, it will ruin the texture hair has. Just add some matte pomade or wax and that's it.
Source: @hayden_cassidy via Instagram
Curly Crew Cut
A crew cut is an extremely versatile hairstyle. It literally doesn't have any exceptions in terms of hair type or face shape. If you have curly locks and want to turn them into a trendy yet neat hairstyle, a crewcut is a way to go. Pair it with a bald fade on the sides to keep the focus on the textured top.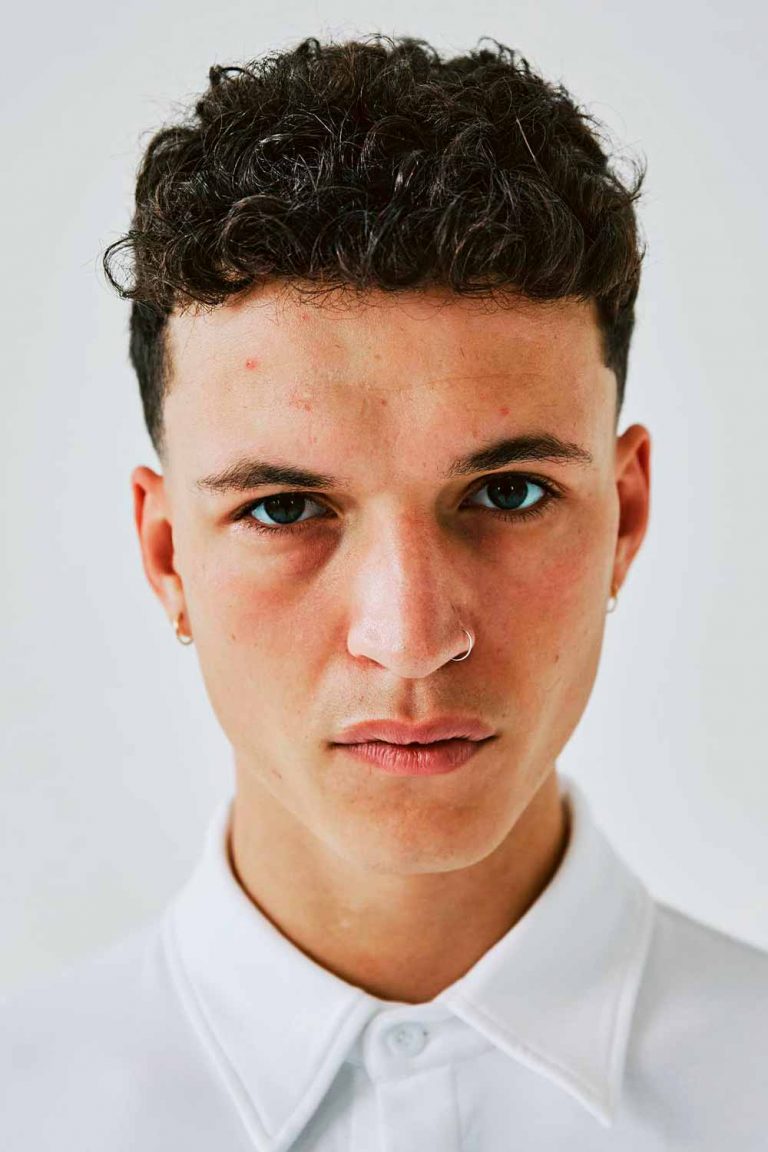 Source: @alan_beak via Instagram
Fuzzy Crew Cut
For guys who don't like to spend much time on styling and prefer more textured and messy hairstyles, a fuzzy crew cut is a perfect option. Besides, you can go for it if you have thinning or inherently thin hair. When styled in such a way, your locks gain more volume and fullness.
Source: @hayden_cassidyvia Instagram
Clean Crew Cut
A blunt fringe is a very nice accompaniment to a crew cut. Add a feathered top and a high skin fade and you'll get a very clean and dapper hairstyle that perfectly works both for a night out with your fellas and a business meeting with your boss.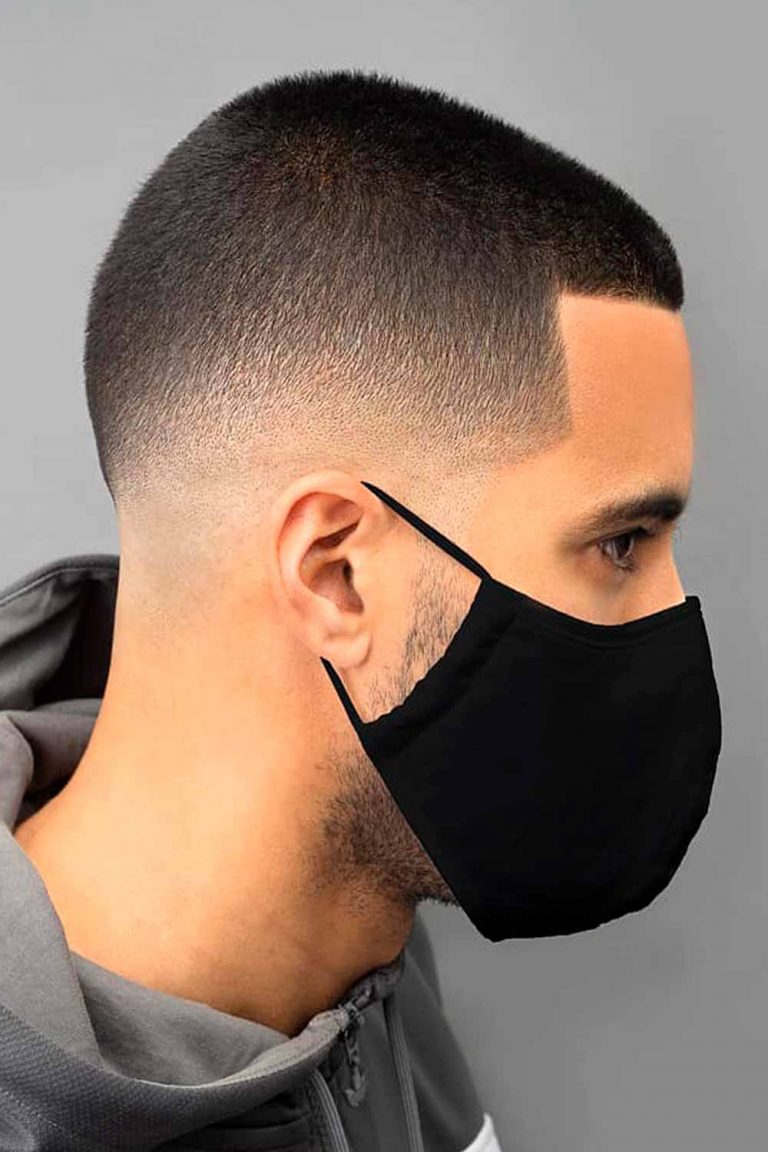 Source: @keller_konturen via Instagram
Simple Crew Cut
Simplicity is always on trend. If you don't want to be overly creative or aren't just into intricate hairstyles, turn to a utilitarian crew cut. Get the hair on top evenly trimmed all around your head. Couple it with a high fade, and it won't look that plain anymore.
Source: @hayden_cassidy via Instagram
Tousled Crew
You can style your crew cut in many ways and make it as trendy and modern as you want. To get such a hairstyle, first, you'll need to grow out your hair on top of the head a bit. Then, you can push it up and tousle for a daring and ruffian look. The sides though can be faded or tapered, which will add more contrast to the style.
Source: @hayden_cassidy via Instagram
Disconnected Haircut
When it comes to trendy hairstyles, you can't go wrong with boldness. Disconnect the tapered sides from the longish top with a shaved in line that goes along your head. This clean-cut hairstyle comes out amazing with a clean-shaved face.
Source: @hayden_cassidy via Instagram
Crew Cut Fade
It's a known fact that a fade is an awesome addition to basically any hairstyle, and a crew cut is no exception. The type of a fade doesn't really matter, as they all work great for such a cut. Get the one that you fall for or ask your barber for the expert advice.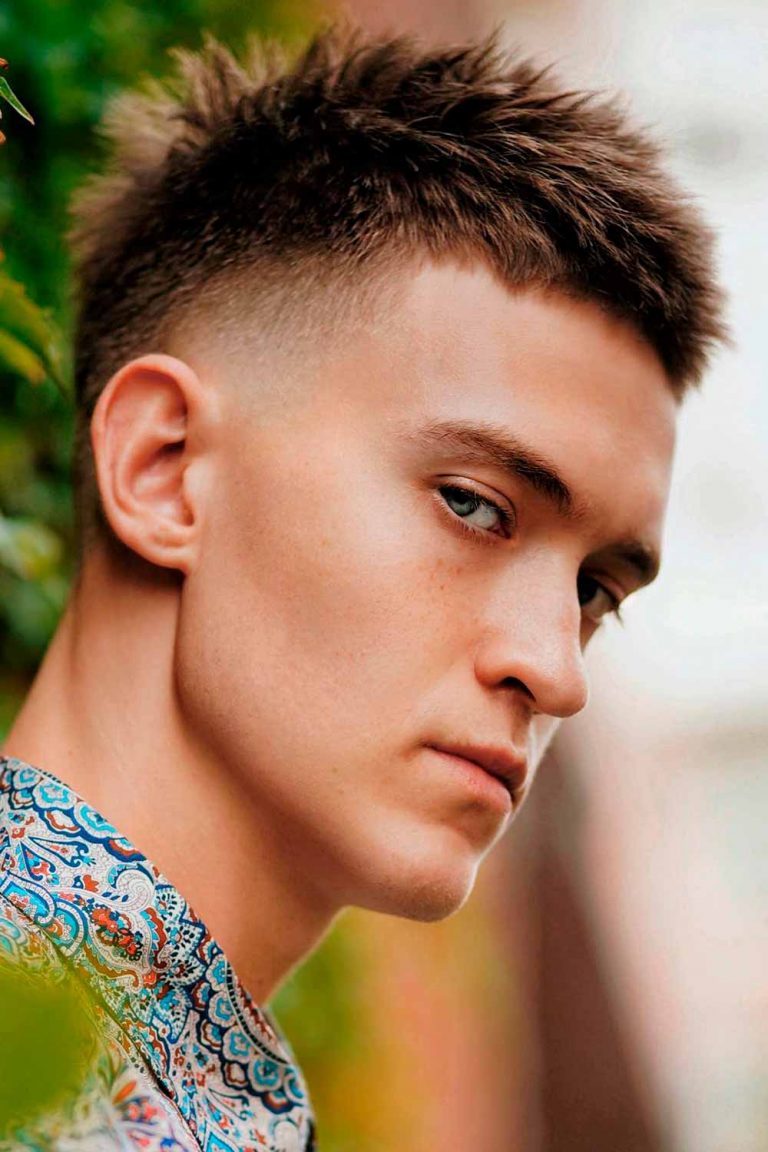 Source: @z_ramsey via Instagram
Silver Crew Cut
A crew cut is a hairstyle that perfectly fits not only into any ambiance but also to any age and social status. Thus, when your locks gain a silver touch, it's not the reason to refrain from this popular hairstyle. You can still add some elegance to it by going for a greater length and sweeping the top to the side.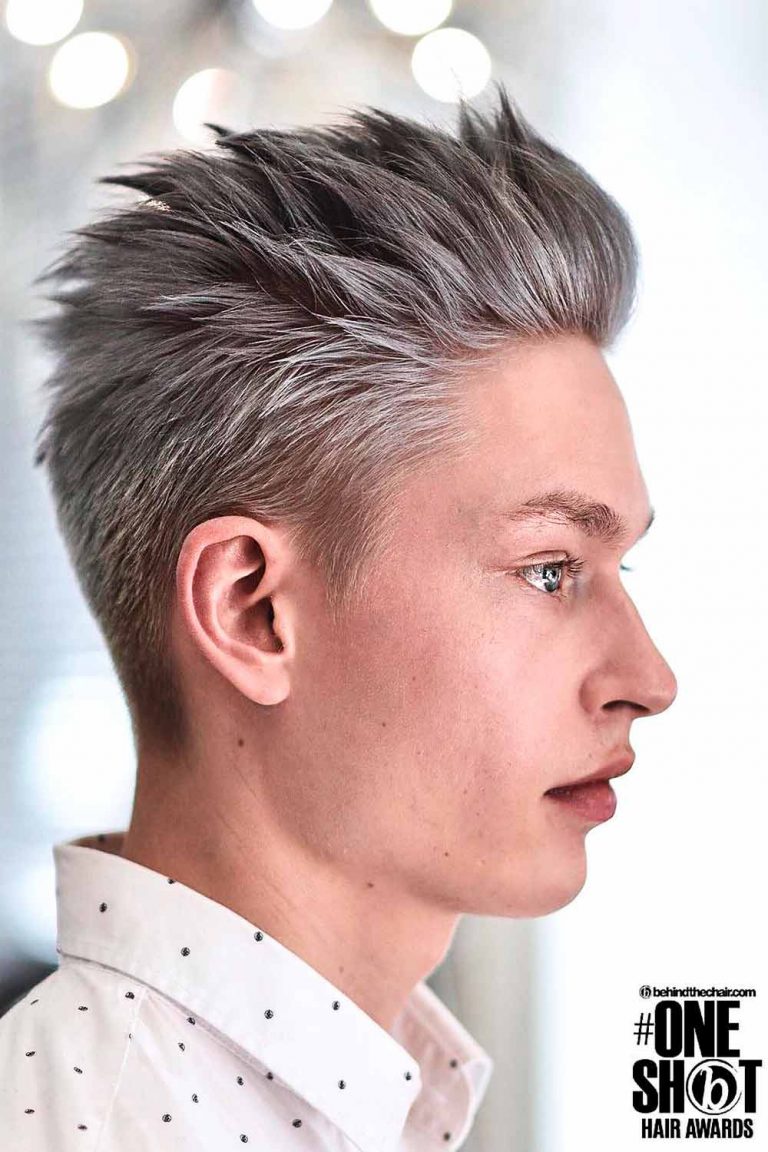 Source: @iisakkinummi via Instagram
Short Ivy League
If you want to sport a crew cut but would like to make it less daring, then this short variation of an Ivy League haircut is your way to go. With its short sides and relatively long top, it still creates enough contrast to look edgy. Yet, the perfect length allows you to visit both casual and formal events.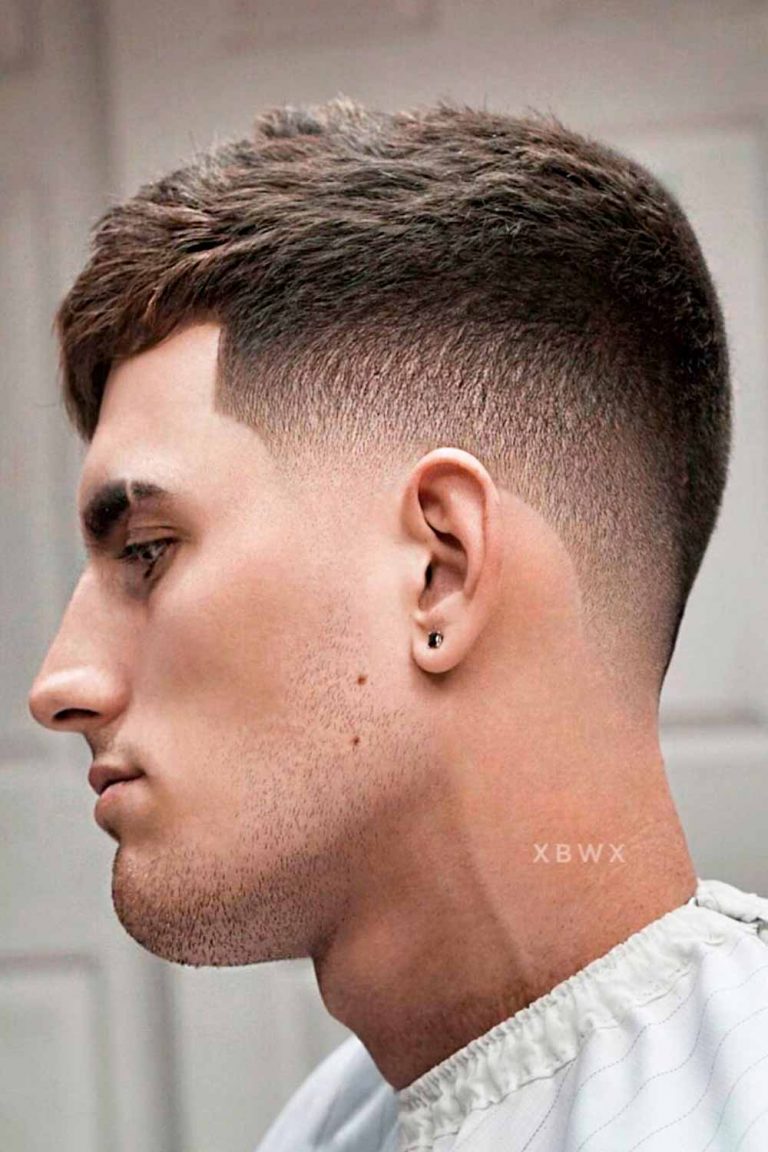 Source: @xbigwesx via Instagram
Faux Hawk
This take on a faux hawk looks moderate yet trendy. It can be pulled off to fit any situation. To recreate the style, the hair on the sides should be trimmed. For a sleeker appearance, you may fade it. The top locks should be pushed up and secured with a spritz of a hair spray.
Source: @iisakkinummi via Instagram
i
Source: @iisakkinummi via Instagram
i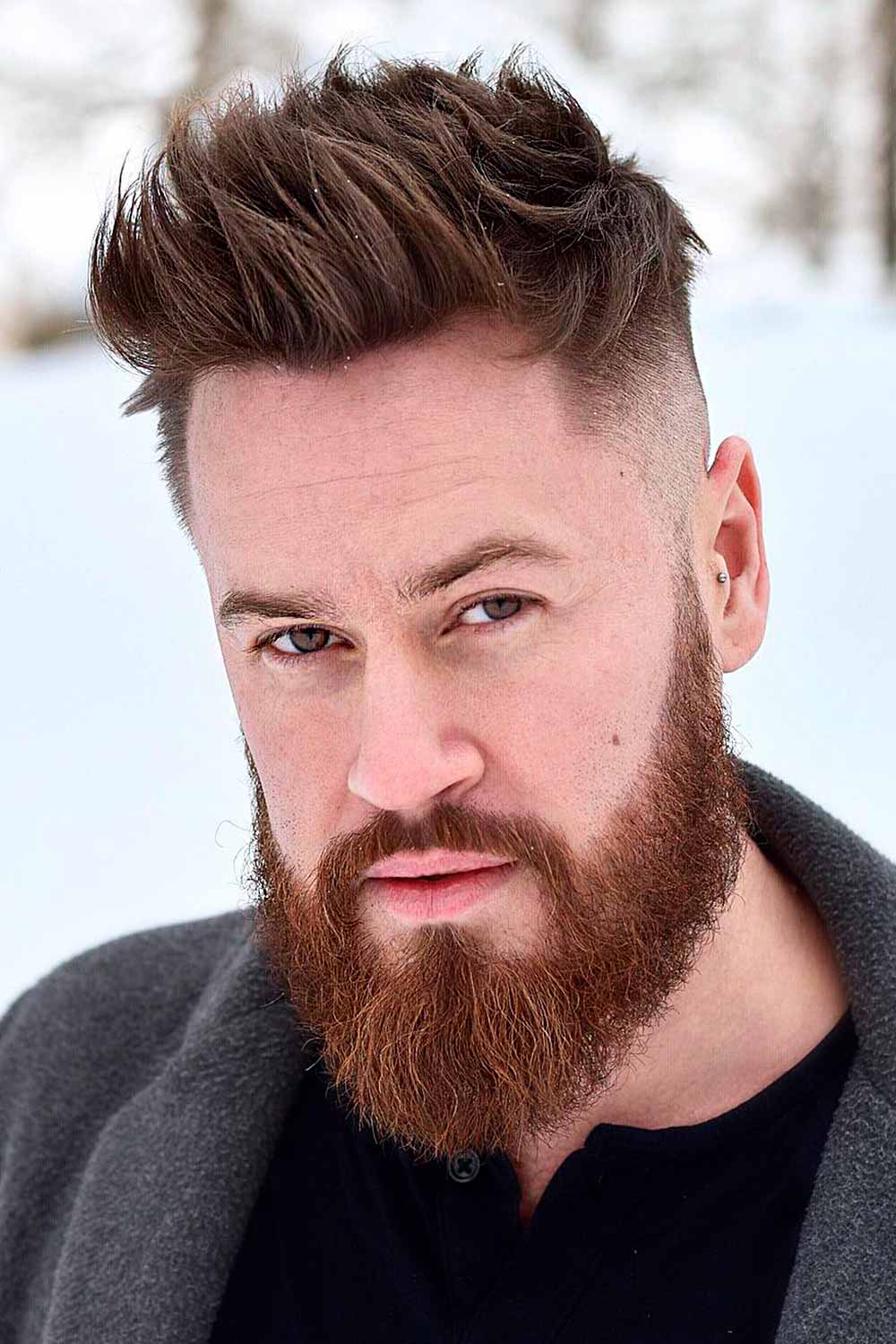 Source: @iisakkinummi via Instagram
i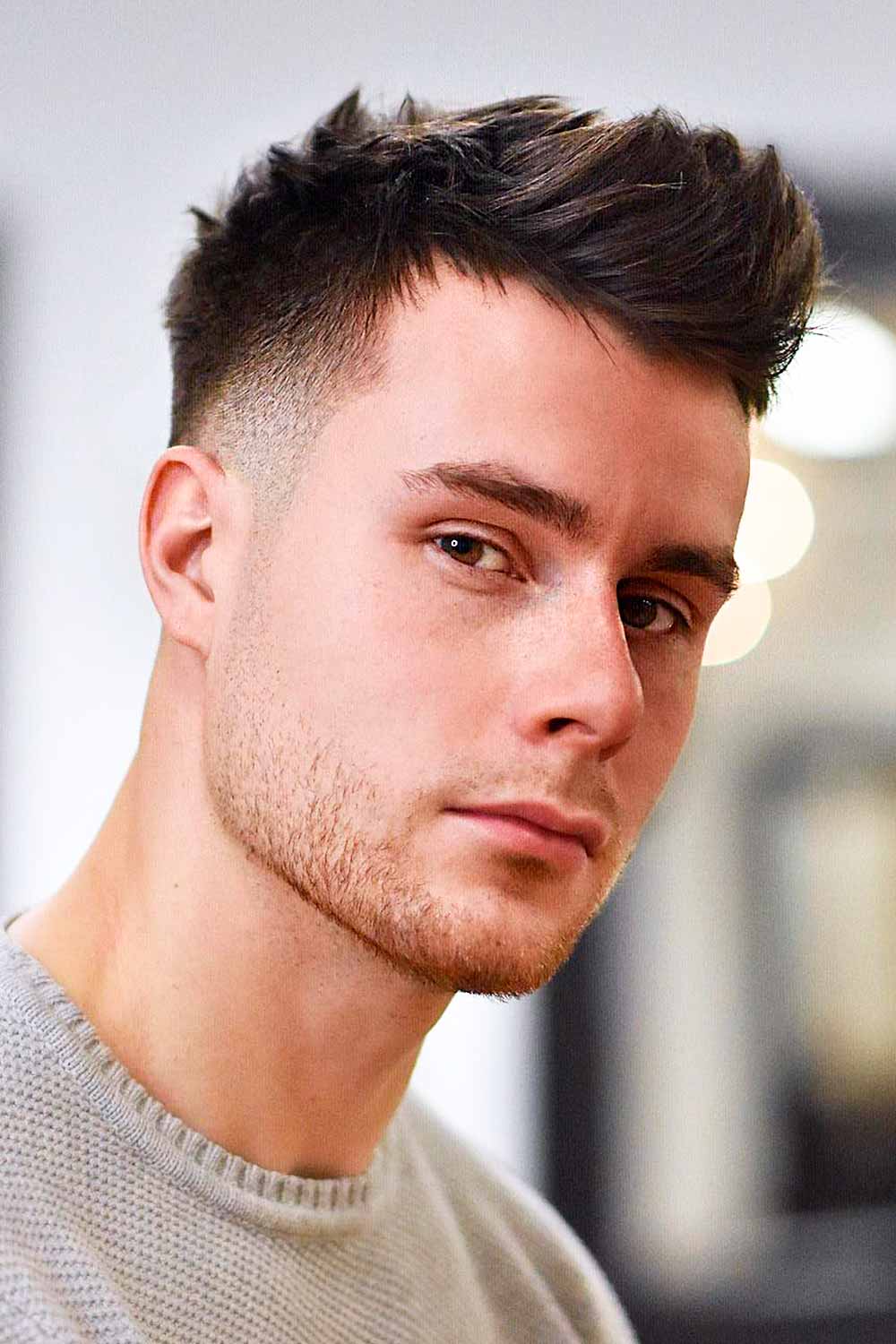 /
Faded Line Up
The popular crew cut low fade look has never been so edgy! The smooth faded touch nicely accentuates the moderately shaped and texturized top, finishing the classic look with a modern twist at the temples.
Source: @hayden_cassidy via Instagram
Skin Fade
There are whole lotta ways to visually accentuate and define crew cuts. Why not go simple and striking at once, then? The tight skin fade will push your top to the spotlight, creating an awesome contrast and making your simple cut speak loud.
Source: @hayden_cassidy via Instagram
Messy Waves + Disconnected Undercut
The men's crew cut can adapt to any lifestyle, hair type, and image. Want to embrace your natural wave while keeping the look neat and tidy? This is where the disconnected undercut comes in to join your crew and add a great modern feel to the dapper wavy look.
Source: @meha_barber via Instagram
Haircut Design
The crew cut men from all around the globe sport like one is so popular for one simple reason: it allows for customizations. And here's one of the endless ways how you can create your unique signature crew cut hair look with a shaved design over the fade.
Source: @catchafade via Instagram
Uniform Crew Haircut
The all-time crew cut no-fade is the universal soldier that will keep your look clean, professional, and stylish enough wherever you are, be it a business meeting, a casual party or a beer night with your fellas.
Source: @hayden_cassidy via Instagram
Slicked Crew Cut
For an added oomph and sophistication, choose growing out over cutting crew cuts. The sides can be buzzed or faded, while a couple of inches on the top will allow for the iconic swept-back look. In fact, that's your guy for special occasions!
Source: @sirpaulcharles via Instagram
Blonde Messy Spikes
What makes short male haircuts stand out is the burst of color that men go for today! If you're not into bright hues but want to make a statement, a whitish or pale blonde hue with messy spikes on your crew cut will do the trick.
Source: @meha_barber via Instagram
Pink Hair Men
Speaking of colors, more and more gents are taking a plunge into dramatic palettes! Here, besides a bold pink hue, the cut is individualized with buzzed sides that put the top in the spotlight and enhance the dramatic color play.
Source: @hayden_cassidy via Instagram
Scissor Cut With Beard
The beauty of military hairstyles lies in its power to reveal the pure masculinity of a man with a simple structure. Pair the buzz-inspired crew cut with your full beard to balance out the look and breathe new character into it.
Source: @hayden_cassidy via Instagram
Crew Cut Fade With Beardstache
When done right, the freshly invented beardstache look can enhance the masculinity bursting inside you. Make sure to keep the balance between the fullness of your stache and the density of your stubble. Of course, a simple cut with soft graduation on the sides is a must here!
Source: @meha_barber via Instagram
Messy Crew Cut
Even though a crew cut haircut is quite short, it does not mean that you cannot style it messy. If you want to give off a carefree and effortless vibe with your hair look, then feel free to tousle your locks on top with a tad of a hair styling product.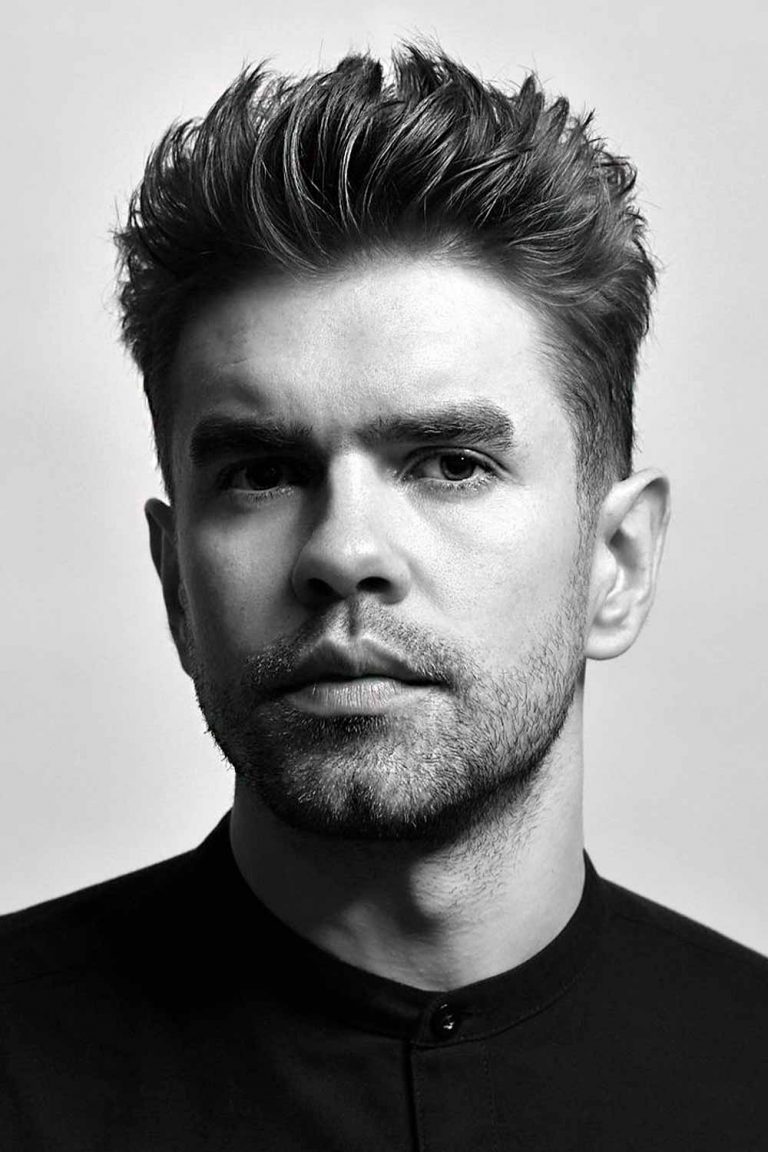 Source: @iisakkinummi via Instagram
Basic Cutting Technique For A Crew Cut
Despite the convenience of at-home cuts, a crew cut requires skill and knowledge of taper haircut and fade haircut techniques. Before you start clipping away, determine the overall shape and length of the finished style. This will help you plan what clipper guards you'll use, and where to start fading the style.
Begin cutting the sides with clippers and stop no higher than the temples. If you've decided you want a faded cut, you'll want to gradually increase the clipper guard size as you work.
Once the sides are finished you'll begin cutting the top of the style. Leave the bang area longer and gradually shorten the length as you move to the back of the head.
After the top of the crew cut and the sides are complete, use a blending come and snip any longer pieces to ensure an even style throughout.
Use hair wax or pomade to lift up the top and sweep it back.
Get The Right Crew Cut
Ready for some change? A crew cut is a clean men's hairstyles that are easy to work with and requires minimal effort to maintain and look great.
A crew cut is always going to be longer in the front. This means if you have any natural wave or cowlicks in this area, they'll work right in to the look. How long you keep the front is entirely up to you, but to get a classic crew cut, ideally, you'll want at least 1/1/2 to 2 inches to work with. The cut will graduate to a much shorter length at the back which helps push the front up into its signature pomp shape.
Pictures speak volumes when you're meeting with your stylist or barber. Be sure to browse our site for crew cut pics and you'll be able to sit in the chair with confidence.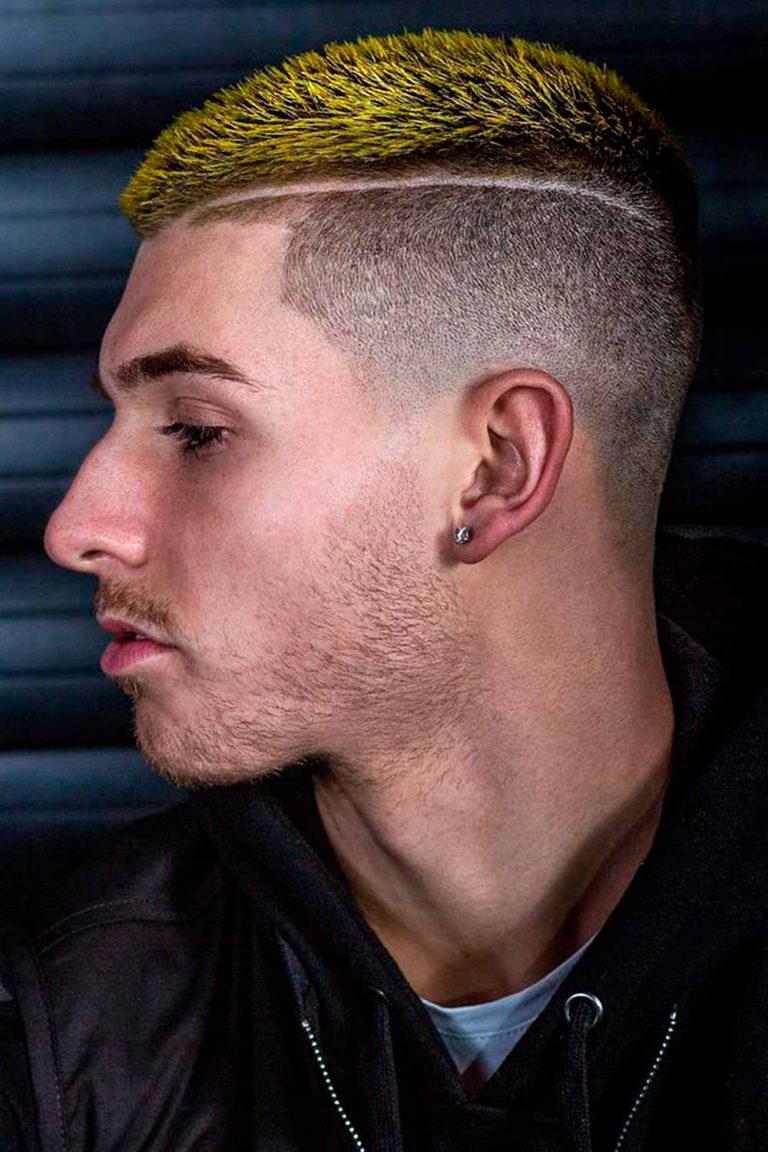 Source: @tombaxter_hair via Instagram
Crew Cut Tips
Do you want some ploys to create the crew cuts that make the heads turn? Here you go:
Get your neckline tapered off. This will make your look much neater and fresher.
If you want your crew haircut to appear less rigid, leave your hair on top a little longer and give it a disheveled look.
Keep in mind that the length of the hair is directly proportional to the ease of styling as well as the complexity of maintenance.
Source: @hayden_cassidy via Instagram
FAQs: Crew Cut
Are Crew Cuts attractive?
You can rest assured that a crew cut looks extremely attractive. At it is short on the sides and back as well as long on top, it creates a bold and high-contrast appearance, taking your masculine facial features to the center stage.
How long is a crew cut on top?
To pull off a crew cut, it is enough to leave hair on top long enough to create a short pompadour.
What do I tell my barber for a crew cut?
Ideally, your barber should understand what haircut you mean when referring to a crew cut. However, just in case, specify how long you want your hair to be on the top and the sides. Also, tell them if you want a faded, tapered or regular cut on the sides.
Can I pull off a crew cut?
Arguably, it is possible to pull off any haircut when you have the right attitude and a crew cut is no exception.
Is crew cut good for thinning hair?
Indeed, crew cuts are a great way to disguise a receding hairline or thinning hair, as they shift attention from your mane to your face.
REFERENCES:
A crew cut is a type of haircut in which the upright hair on the top of the head is cut relatively short… Source
A crew cut is a short men's hairstyle, with shorter sides and longer top. Source