Have you ever noticed how tightly the haircut you have is connected to the impression you make? You may be the greatest guy in the world or the employee of the year, but with the wrong cut, nobody will notice it. The situation might remind you of the one with clothes, you know, clothes speak for men. However, things with hair are much more serious than with clothes, you can't take it off whenever you like. Before you start to panic and google hectically, "What kind of hairstyle suits me male?", take a look at our guide. As we don't want you to get into a hobble, it will shed light on the perfect way of matching the haircut to your face shape.
What Haircut Should I Get Men?
So, there are several standard face types: oval, square, round, diamond, triangle and oblong. If you want to know what each of these different face shapes means, just keep on reading.
So how do you decide what hairstyle is best for my face? First, you need to ask yourself, "What face shape do I have?" To answer this question, you'll need a soap, a mirror and a comb. Got them? Now, follow these steps:
Comb your hair back to see your face clearly.
Examine your face outline in the mirror reflection.
Run the contour of your face on the mirror using the soap.
Use the trace on the mirror to help you address the question "What's my face shape?" by comparing it to the different shapes of head.
If you still can't answer this question because you don't know what types of face shapes there are, we suggest you familiarize yourself with the most common ones.
Now how do you know if short hair will suit you? And does it really depend on your face shape? According to John Frieda, a notorious hair stylist and a founder of a popular hair care brand, it is actually not. Whether or not short hair will look good on you depends on your jawbone angle. To determine it, you need to stand next to a mirror with your side facing it and place a pencil parallel to the chin beneath it. Take the measurement between the earlobe and the tip of the pencil with a ruler. In case it exceeds 2.25", then long haircuts will flatter you more than short ones. If it does not, then short cuts are made for you.
Haircuts For Oval Faces
The oval face can be considered a lengthened variation on the round face. The features of the cheeks, forehead and chin are soft without any noticeable sharp edges. The face exceeds the cheekbones in length, and the forehead, in turn, exceeds the jaw in width. Sounds familiar to you? Want to know then how can I choose my hairstyle? If you don't want to put emphasis on your curves, avoid cropped haircuts with bangs and fringes. Because you want to give your top hair some volume and length. Although it sometimes seems like the oval face shape lacks masculinity, it gives you tons of opportunities for conducting experiments. Because what faces look good with short hair? Oval, of course! And which ones do long hairstyles suit? Oval too! Thus, no matter what hair length you are going to choose, you can rest assured that it will flatter you regardless.
Side Part
As an oval is considered the perfect face shape, you are welcome to pick out from all of the men's hairstyles available. The choice depends on your personal preferences and the occasion you are headed for. Thus, a side part is an ideal option for most situations, including formal and dressy events.
Source: @r.braid via Instagram
Pushed Back Long
One of the most flattering hair options for an oval face is a pushed back long style. Thanks to the abundant volume it creates on top, you can achieve the balance between your prominent cheekbones and relatively narrow forehead. To balance out the jawline as well, you can complement the look with a full beard.
Source: @a.nizhnick via Instagram
Fringe Up
Among all existing male face shapes, oval is considered the most versatile. Almost any hairstyle works perfectly for it and a fringe is no exception. If you want to elongate your face a little and draw attention away from the forehead, you can style your fringe upward.
Source: @ryancullenhair via Instagram
Long Hair Undercut
With an oval face shape, you do not have to worry that any of your hairstyles, such as an undercut, for instance, will come out unflattering. Instead, an undercut look appears bold and contrasty, which works perfectly for an oval type of face. As you keep the focus on the top of your head, you can style it however you want.
For the oval shaped face, opt for the long on top and short on the sides haircuts, because they will make your face look longer and more balanced. To even out the round lines your face has, go with a slick back, undercut or the comb over with a fade. Also, you can try out the pomp, quiff, faux hawk or any voluminous hairstyle that's short or medium in length. A beard will also add to the style, although it isn't the most essential element.
Source: @r.braid via Instagram
Hairstyles For Square Faces
Now, this is manly face shape. Guys with the square face shape have wide edgy jaws and high cheekbones. To make your symmetrical face features even more appealing, cut your sideburns short and make your fade high. To get the most out of your square face, choose the hairstyles that will make it a bit longer and narrower, like an undercut or a high skin fade. Avoid adding more thickness to your sides. As for the length, choose short to medium one.
Undercut Short Hair
To draw attention away from your heavy jawline, resort to cuts that make your hair on the top of the head the focal point of the whole look. Thus, undercut styles are a perfect option for guys with the square face shape. It helps you not only to make your facial features softer but also gives you a plethora of styling options.
Source: @ryancullenhair via Instagram
Side Part
Side parted hairstyles look extremely flattering for square faces, as they accentuate your sharp masculine features while shifting the focus to the hair on top. You are free to choose any type of styling, from messy and casual to elegant and sophisticated. To soften your strong jawline a little bit, adorn it with a short stubble or full beard.
Source: @keller_konturen via Instagram
To give you some ideas on the haircuts for the square-shaped face, we came up with the following options. The pomp will make the sharp lines of the face softer thanks to its natural textured look. The traditional side part will, on the contrary, enhance the strength of your jaw and cheekbones while keeping the look neat and clean with a vintage air. Also, you can try out rather short, like the buzz or crew cut, or a little longer, like a comb-over, a quiff or a slick back, haircuts. Ensure though that you pair them with a side undercut or fade. As a fun accessory, you can consider growing out a long beard.
Slicked Back Long
Because your square face has so pronounced and edgy facial features, it would be a real crime not to show them off. To do this, it is hard to think of a better hairstyle than a slicked back. As it takes your hair completely away from your face, nothing obstructs the view of your sharp jawline, strong cheekbones and expansive forehead.
Source: @keller_konturen via Instagram
Faux Hawk
Not sure what haircut should I get for guys with a square face shape? Why not try a faux hawk? It allows you to visually soften sharp angles and make the face narrower and longer. A beard is a great accompaniment to such a style.
Source: @a.nizhnick via Instagram
Hairstyles For Round Faces
The round face shape has a lot of things in common with the square face shape, except for the edgy lines and angles. The round face has an equal dimension in length and width, thus you'll want to make it look slightly longer for added masculinity and sharpness. Wondering how can I make my face look thinner men? This can be achieved with short sides and back and voluminous top. In addition, regard asymmetrical hairstyles, like a comb over or a fringe swept to the side. Also, layering is key to visually narrowing your round face, as it makes the curved cheeks look sharper and more angled. There are two kinds of layers you can incorporate: regular layers cut all over your head and face-framing ones.
Quiff With Low fade
A surefire way to elongate your round face is to go for a hairstyle with a quiff. It balances out the dimensions of your head and adds a stylish touch to the whole look. To draw attention to the quiff, complement the sides and back with a bald fade of any kind.
Source: @egobarbers via Instagram
Spiky Short Hair
In contrast to a square face shape, a round one lacks sharpness. So, what kind of haircut should I get men with curved facial features often wonder. To restore balance and add edginess to your face, style your locks spiked up. A great thing about this cut is that it can be pulled off on hair of any length, even pretty short.
Source: @r.braid via Instagram
Undercut Fade
When you undercut fade your hair, it allows you to bring attention to the hair atop of your head. Also, it makes your face visually longer. Thus, all undercut hairstyles are an ideal accompaniment for a round face. Besides, an undercut is so versatile that you can customize it depending on your personal style or preferences.
To give your round face a more masculine look, go with spikes or a faux hawk on top while keeping your sides and back short. This will put more emphasis on the cheekbones and jawline. Besides, you can opt for the French crop, slick back undercut, pomp, quiff or comb over. Basically, any hairstyle with a side part or fringe will work great on you.
Source: @alan_beak via Instagram
Faux Hawk With Shorter Sides
As a round face generally has rather soft and curvy features, especially around the cheeks, you will want to make it look longer and more chiseled. A faux hawk that features a long top and shortly trimmed sides is your way to go. For styling, you will just need to push your locks on top up and secure them with a spritz of a hair spray.
Source: @ryancullenhair via Instagram
Hairstyles For Diamond Faces
The diamond face shape is characterized by wide high cheekbones and a spiky chin. It's quite sharp and long. This face shape can be complemented with hairstyles of different lengths, from short to long. If you want to soften up your edgy jawline, you're welcome to harness a beard. Actually, you can grow out both, your head and facial hair, it won't hurt at all.
Mid Length Quiff
A diamond face shape and a quiff are literally made for each other. As your chin is pointy, a quiff creates a perfect balance for it. Disheveled or sleek is up to you to decide. However, if you want to accentuate the top, make it messy. To emphasize your prominent cheekbones, opt for a sleeker look.
Source: @r.braid via Instagram
Faux Hawk
A faux hawk can help you to compensate for the narrow appearance of your forehead and chin compared to the cheekbones. Get the hair on the sides chopped off while leaving the abundance of locks on the top of the head. For more contrast, enhance the sides with a high bald fade.
For the diamond shaped face, it's best to sport hairstyles with a lot of volume and fullness. You can make your jawline look softer while cheekbones stand out with a disheveled fringe. Moreover, comb over fade, brush up, faux hawk and long slicked back will look as good on you as any other hairstyle that has some texture. However, note that visually slimming your hair is undesirable, thus don't go with a skin fade or undercut. Instead, choose a scissor cut or taper fade.
Source: @tombaxter_hair via Instagram
Long Pushed Back
Men who have diamond faces need to keep the focus on their hair up top while drawing it away from the sides. Thus, consider something like a long pushed back hairstyle. Although it does not add weight to your already quite heavy facial features, it opens up your forehead and visually elongates the face, thus making it more proportioned.
Source: @r.braid via Instagram
Side Fringe
Guys with diamond faces have quite prominent foreheads. Thus, when it comes to what kind of haircut should I get for them, those covering the top part of the head will be the best way to go. A side fringe will make the forehead less noticeable, creating a very balanced look.
Source: @ryancullenhair via Instagram
Hairstyles For Triangle Faces
Another gem of geometrically defined men face shapes is the triangle face. The jawline exceeding the temple area and cheekbones in width is inherent in this face shape, which makes your appearance look edgy and angular. With this shape, you want to even out the massive chin and make the forehead seem thicker.
Side Parted
If you have a triangle face, then there is no need for you to enhance the top. Thus, you can choose simple yet defined hairstyles, such as a side part, for example. The rest of the hair can be either tousled or neatly brushed. The style of it depends on the situation and your personal choice.
Source: @travbeachboy via Instagram
Fringe Up
As you have a prominent chin, you want to balance it out with the help of your hairstyle. Brushing the fringe up will fully give you what you are looking for. Do not forget to trim the sides and back shorter than the top to create more contrast and definition.
The triangle man's face will benefit from the hairstyles that are short on the sides and long on top. To widen the temple area, choose tapered and low fade cuts. The perfect hairstyles for such a face shape are comb over, quiff, short pomp and the ones that include an angular fringe and side part.
Source: @a.nizhnick via Instagram
Side Fringe
Guys with triangle faces are interested in adding volume atop, as this will help to restore balance to their comparatively weak top proportions. A side fringe is a great hairstyle to do the job, as it builds volume higher and conceals it lower.
Source: @r.braid via Instagram
Short Pomp
What hairstyle suits me men with triangle face shapes frequently ask. As your forehead is broad and the chin is pointy, you want to make the upper part a little sharper. A short pompadour will create a peak on the top of your head, which will balance out your features.
Source: @keller_konturen via Instagram
Hairstyles For Oblong Faces
The oblong face shape is often referred to as rectangular because it looks like a lengthened variation of the square face. The fun fact about the oblong shape is that you don't need to balance it out as it's already balanced by its even proportions. What's remarkable about it is that its length exceeds its width greatly.
Blunt Fringe With Fade
You can never go wrong with a classic hairstyle no matter what face shape you have. Yet, for an oblong face, haircuts with defined lines are always a perfect choice. Thus, opt for a blunt fringe style if you want to make your oblong face look more balanced and proportioned.
Source: @r.braid via Instagram
Fringe Up
To point out that you are totally okay with your oblong face shape, you can go for a hairstyle that will make it even longer. Thus, a brushed up fringe can visually elongate your face and make you generally seem taller. For an added emphasis, the sides can be trimmed much shorter than the top.
If you have an oblong face, don't get the hairstyles that make it even longer. And avoid much volume on top and long beards. In case you want to shorten your long face a bit, think about getting a textured French crop or any hairstyle with a comb-over, slicked back or side part. If you're after a really easy-to-maintain haircut, a buzz or crew cut will be the best choice. The same applies to your facial hair. Stick to a short beard or dense stubble, not more.
Source: @alan_beak via Instagram
Side Fringe
As an owner of an oblong face, you might know that you should avoid hairstyles that elongate it and add bulk up top. Instead, you need to opt for haircuts that create an illusion of a wider face. Entrust this task to a side fringe. Thanks to its asymmetrical appearance, your face gains broadness and ferocity.
Source: @alan_beak via Instagram
Buzz Cut
What haircut should I get men who have oblong faces may ponder. While there are many options, a buzz cut is one of the most popular. Low maintenance and zero styling, it will not accentuate your elongated face, while still making it look more masculine.
Source: @keller_konturen via Instagram
Haircuts For Heart Faces
If you have a heart shaped face and are wondering which hairstyle suits me male options include those drawing attention away from your forehead. The thing is the face that has a heart shape is wider at the temple and hairline area and narrower toward the chin, which is usually pointy. As it looks a bit disproportioned, you may need to balance it out.
Try to steer clear of tight haircuts since they take your narrow chin to the center of attention. The best hairstyle for face shape male heart is mid length and long side swept hair. As it ends below the cheekbones or lower, it allows you to shift the focus from your prominent forehead. Besides, it is light and thin, which gives your sharp face shape some softness. And if you want to add more weight to the chin, you can grow a beard.
Medium Length Brushed Back
The best haircut for face shape men round and square is the one that will make your face visually longer. So, consider a brushed back mid length hair look, which adds volume to the top of the head, thus elongating the face. Your hair texture does not make a big difference in this case.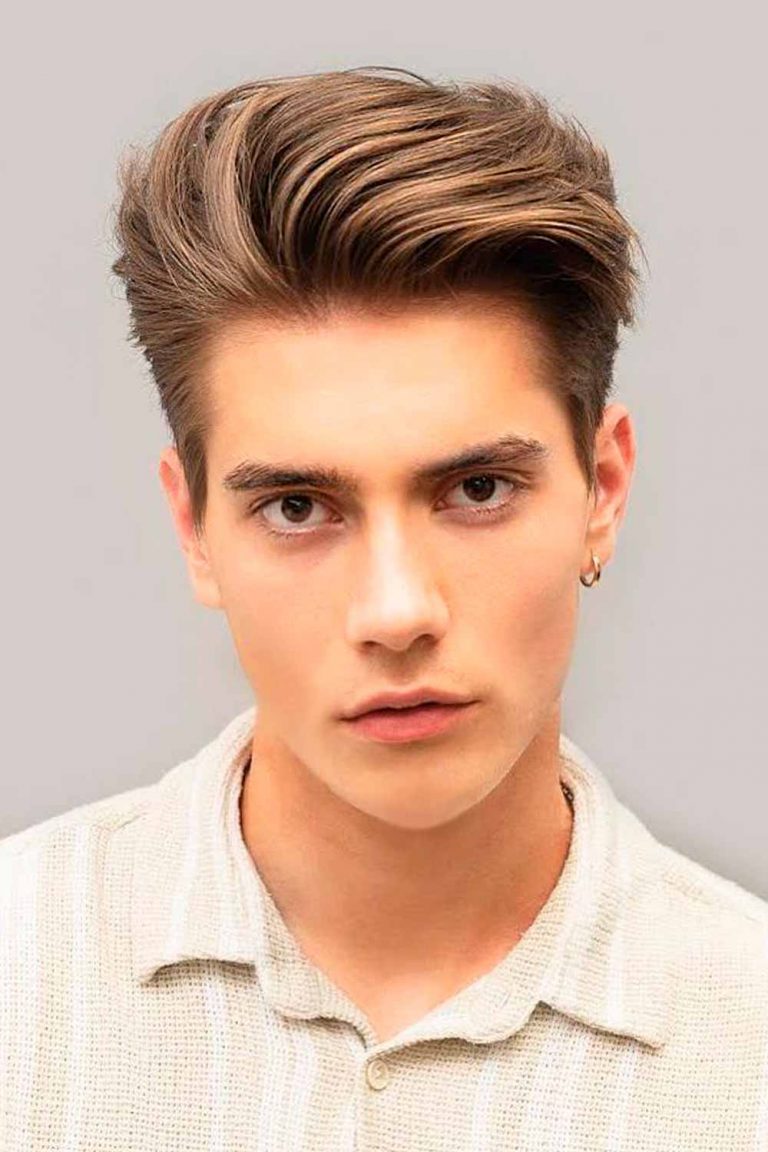 Source: @keller_konturen via Instagram
Short To Medium With Beard
To complement mens hairstyles for face shape with a weaker lower part, opt for various facial hair styles. As such, if you have a short or medium haircut, make sure to pair it with a beard. It will add bulk to your jawline and chin, making it heavier and wider.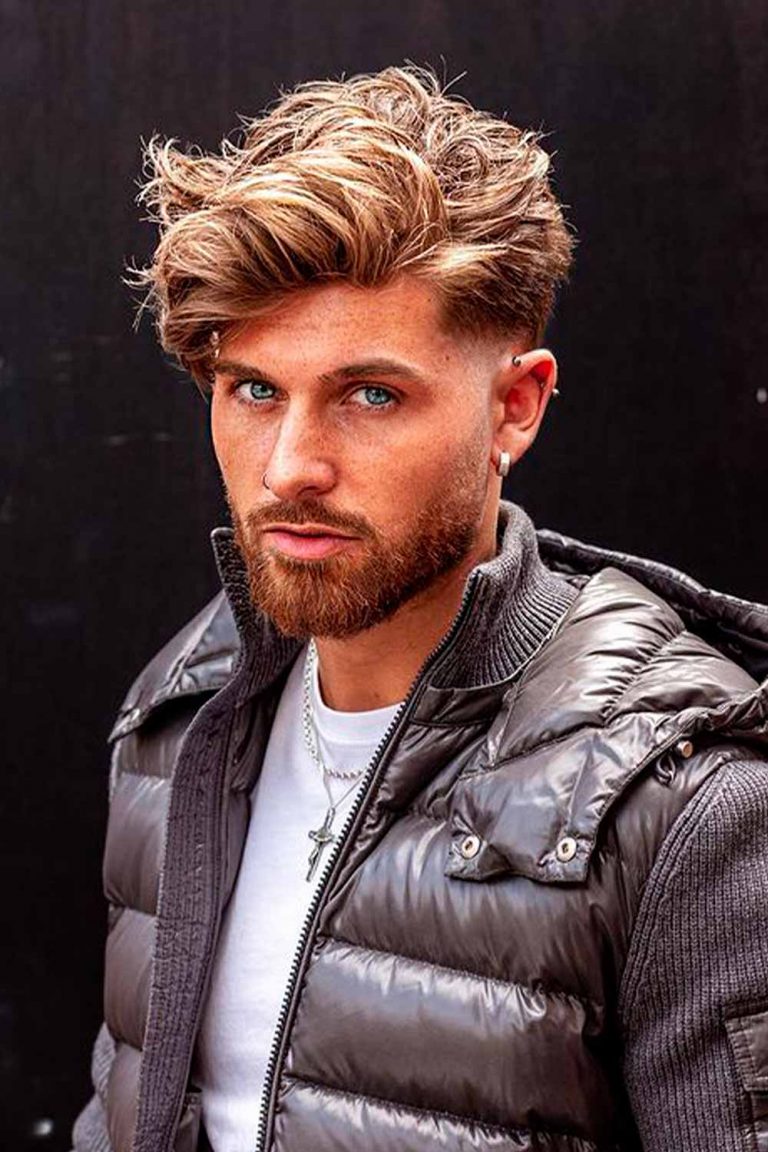 Source: @tombaxter_hair via Instagram
Middle Part
A middle parting is among the most flattering haircuts for face shapes men that have a wide forehead area. It helps you to make your facial features more proportioned. Besides, it is extremely easy to get. Though, your hair should be medium length or longer for the look.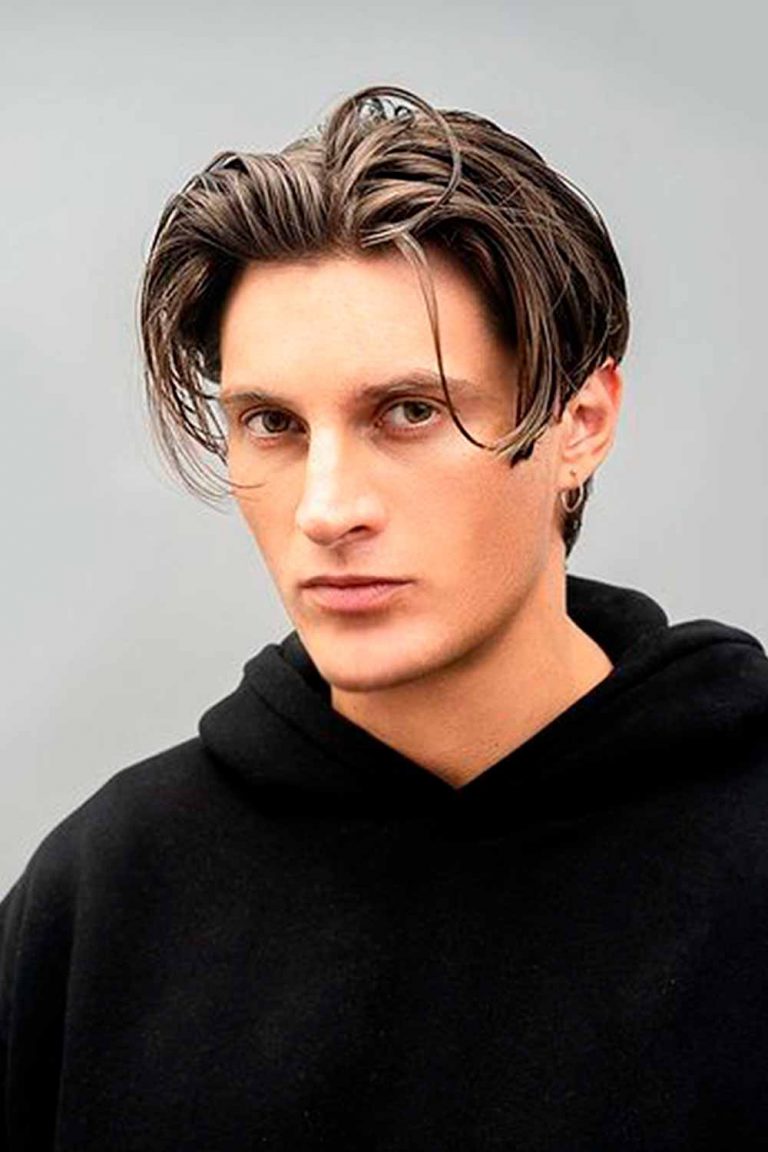 Source: @keller_konturen via Instagram
Medium Length Faded Sides
Looking for mens haircuts for face shape that needs more length? Try something high on top with the sides being faded. This is actually a modern variation of a long on top short on the sides haircut, which looks good on anyone, especially those with round and square face shapes.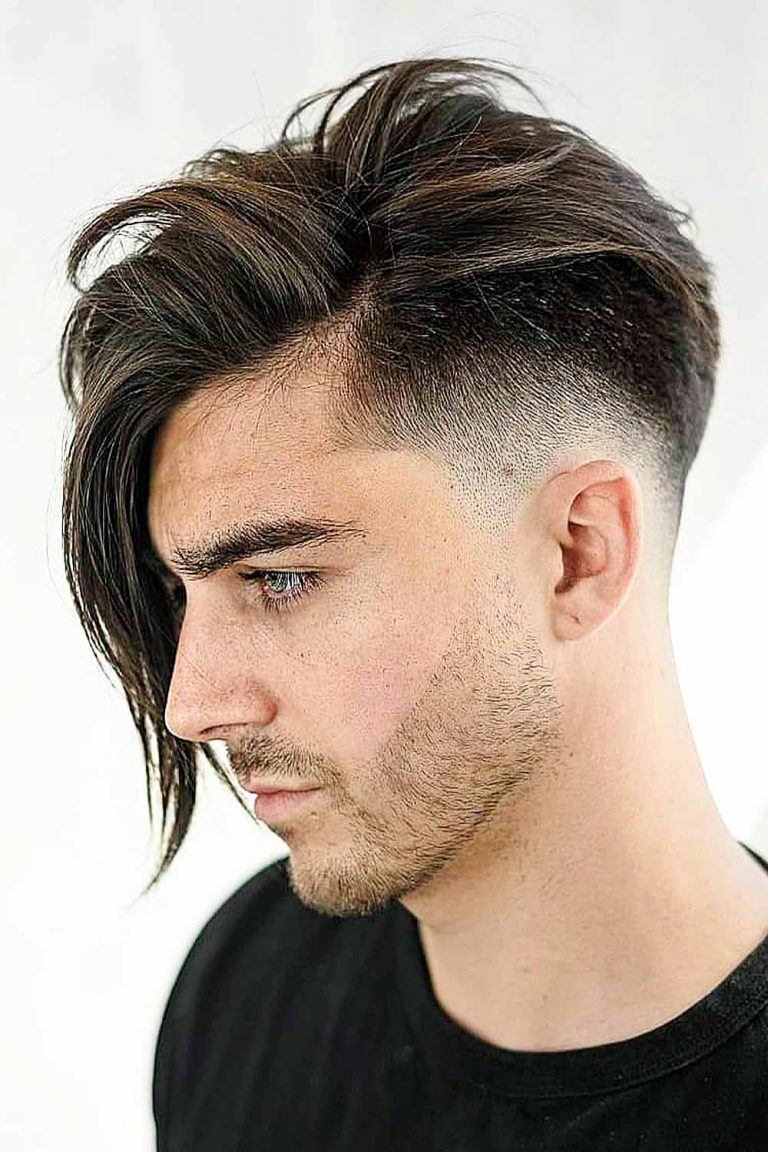 Source: @spukthebarber via Instagram
At the end of the day, all face shapes men have are unique, thus you're welcome to experiment with your hairstyle as much as you like. Though, keeping in mind our recommendations will help you to get the most out of your face shape. And, of course, if you're in doubt, you can always ask your barber for professional advice.
FAQs
How do I know what haircut is best for my face?
So that the haircut flatters your face shape, it should accentuate your most attractive facial features as well as restore balance to your face.
How do I choose a hairstyle for my face men?
First, you need to determine what face shape you have and then to choose the haircut that suits it.
What hairstyle suits which face shape?
If you have a rectangular face shape, you want the haircut to make your angular facial features look softer. So, opt for haircuts with layers. Those who have oval faces are considered the luckiest, as basically, any haircut comes out great on them. Men with a round face should consider hair looks that have a lot of volume and pointy angles. Oblong faces look good with most hairstyles too. Though, to balance out your face shape, try to leave more hair on the sides. Triangle and diamond shaped faces benefit from long on top short on the sides haircuts.
Which face shape is most attractive male?
All face shapes are attractive in their own way. However, oval face shapes are generally thought to be the most attractive, especially those with the curved jawline and proportioned features.
REFERENCES:
Men s hairstyles to suit every kind of face shape, no matter what type of hair you have plus how to work out your face shape. Source
Makeover your look with the makeup tips and hairstyle ideas from the Editors of Cosmo. Get inspriation from the latest celebrity hairstyles, expert tips from makeup artists, and more! Source
Here at London School of Barbering we ve looked at the perfect hairstyles for all face shapes to make sure you look great at all times! Source