You've seen them everywhere from coffee shops to the hipster on the street or the chef in the kitchen. Man buns are trendy long hairstyles for men that provide versatility in long hair options for men. Men of all types and ages have bravely ditched the old school ponytail and have instead borrowed a beloved look from the ladies with their own unique take on the bun.
You don't need fancy hair styling tools or accessories to rock a hair bun. If you're tired of pushing back your tresses but are nowhere ready to make a cut, the following man bun looks are for you.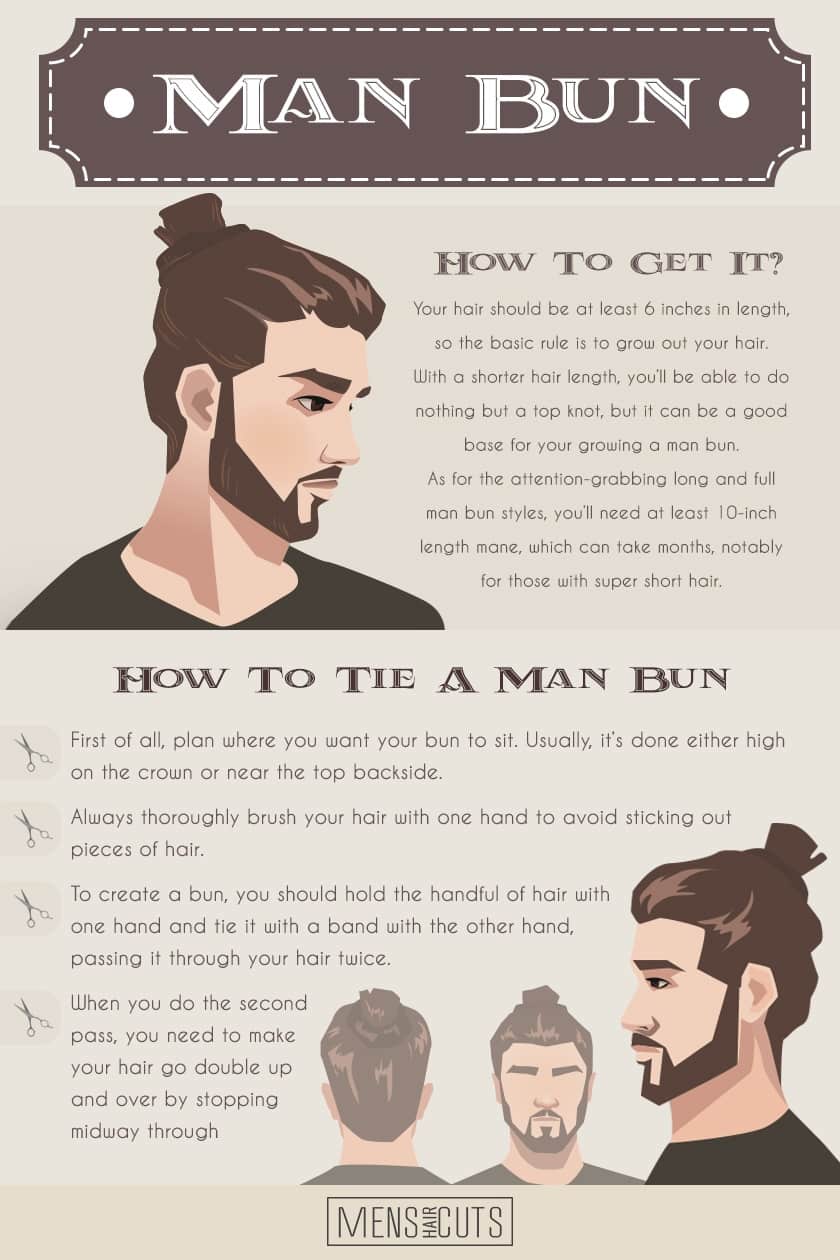 What Is A Man Bun?
If you've familiar with a women's hair bun, you may just think that a man bun is the exact same thing. While the concept of twisting the hair up and out of the way remains the same, this hairstyle also has many variations that are suitable for a variety of hair types, lengths, and personal styles. The hair bun can be extremely masculine and bring focus to chiseled manly features. Here's how to get the look.
Source: @lasselom via Instagram
How To Get It?
Before you can begin rocking a manbun you're going to need that extra length. This means growing out your hair if you currently have short hair. As you know this can take some time. The good news is once you have at least six extra inches of tresses, you can begin twisting and tying your style on top of your head. The longer your hair, the more manly buns you can create.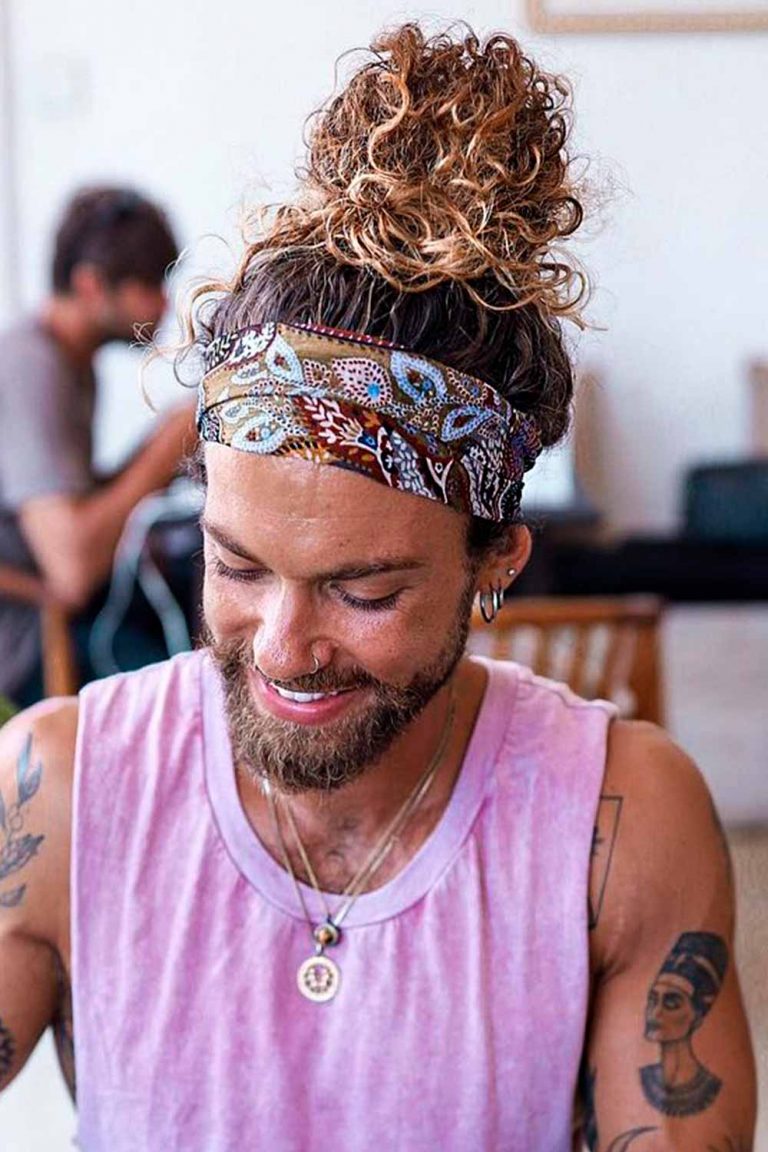 Source: @hank_ge via Instagram
How To Tie A Buns For Men?
To avoid the appearance of a feminine lady's bun, many men create their man bun in a more simplistic fashion. For starters, there's no fancy twisting you'll need to master or any sore of bobby pins to fuss with. Instead, your man bun can be created by following these easy steps.
Decide the placement of your bun first. This will largely be based on how long your hair is. The longer your hair, the more options you'll have. Grab your hair and practice placement so you have an exact spot to secure the bun.
Brush hair thoroughly and part it if you choose to. Some men prefer middle partings, other simple brush tresses straight back.
With an elastic in one hand, gather the hair. Once you have a secure grip and an ideal placement, pull the hair through the elastic and wrap the elastic several times, the last rotation, do not pull the ends through. Instead, leave them tucked at the base. Voila! The man bun is done.
How To Maintain A Men Bun?
While the man bun is simple to wear and create, you'll want to take extra care of your hair to maintain its condition as it grows.
Invest in a conditioner and use it each time you shampoo. This will help detangle the hair while maintaining the shine and health of the shaft.
Brush hair daily. You don't want knots or tangles to cause frizz in your bun, so be sure to brush your hair daily.
Last, give your bun a break. Daily wear can cause breakage from hair elastics. Feel free to let your hair down every once in a while.
Creative Men Buns Hairstyles
There are plenty of man bun variations for every taste: some of them may appear outrageous, and some are just meant to captivate attention. They can be full and tight, high and low; it all depends on your style preferences. Also, as we've mentioned before, this style, whether it's a bun or knot-like variation, can be accompanied by many types of undercut. Let us show you how the variety works!
Man Bun Fade
It's no secret that a fade haircut is an awesome accompaniment to basically any hairstyle, especially if it's an undercut fade. A man bun fade clearly demonstrates how true it is. For a more striking effect, get a two-level cut on the sides – the top level is a man bun with fade and the bottom is an undercut.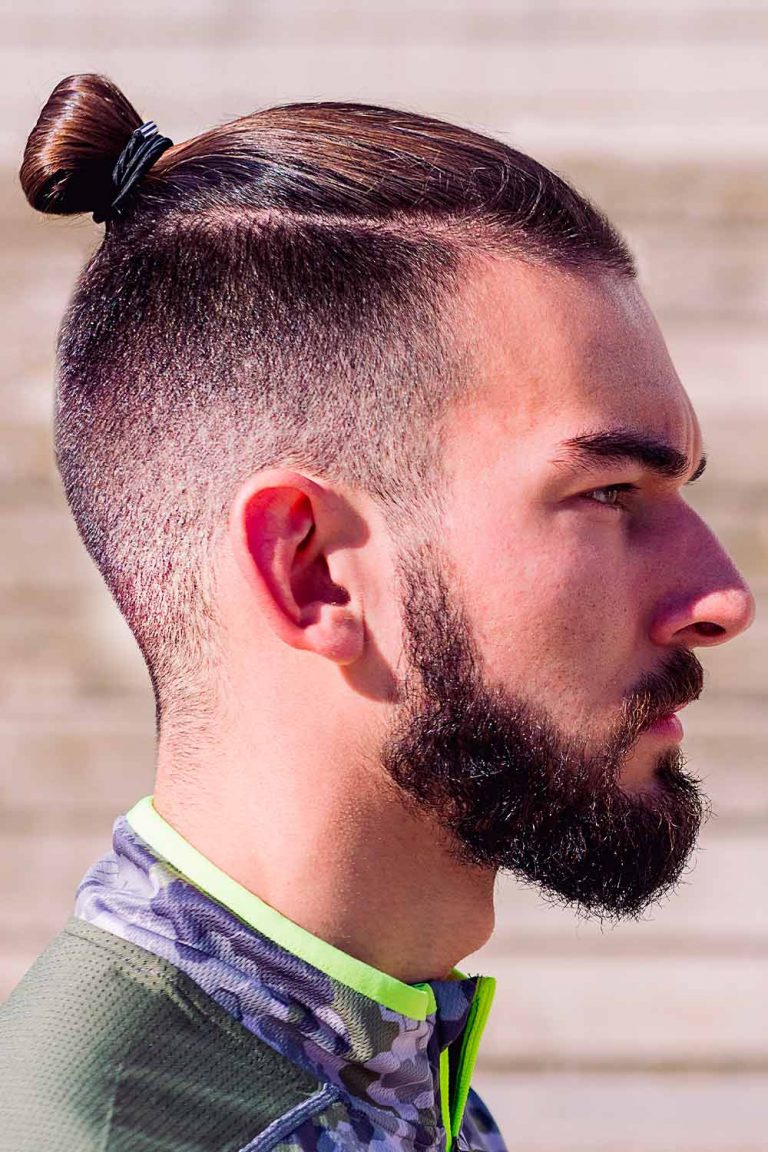 Curly Man Bun
There are no limits in terms of hair length or texture when it comes to male buns. As such, if you have curly hair man bun can also look great on you. Instead, thanks to your defined hair structure, it comes out more prominent and edgy. This is one of the reasons that make a man bun Black hairstyle so popular.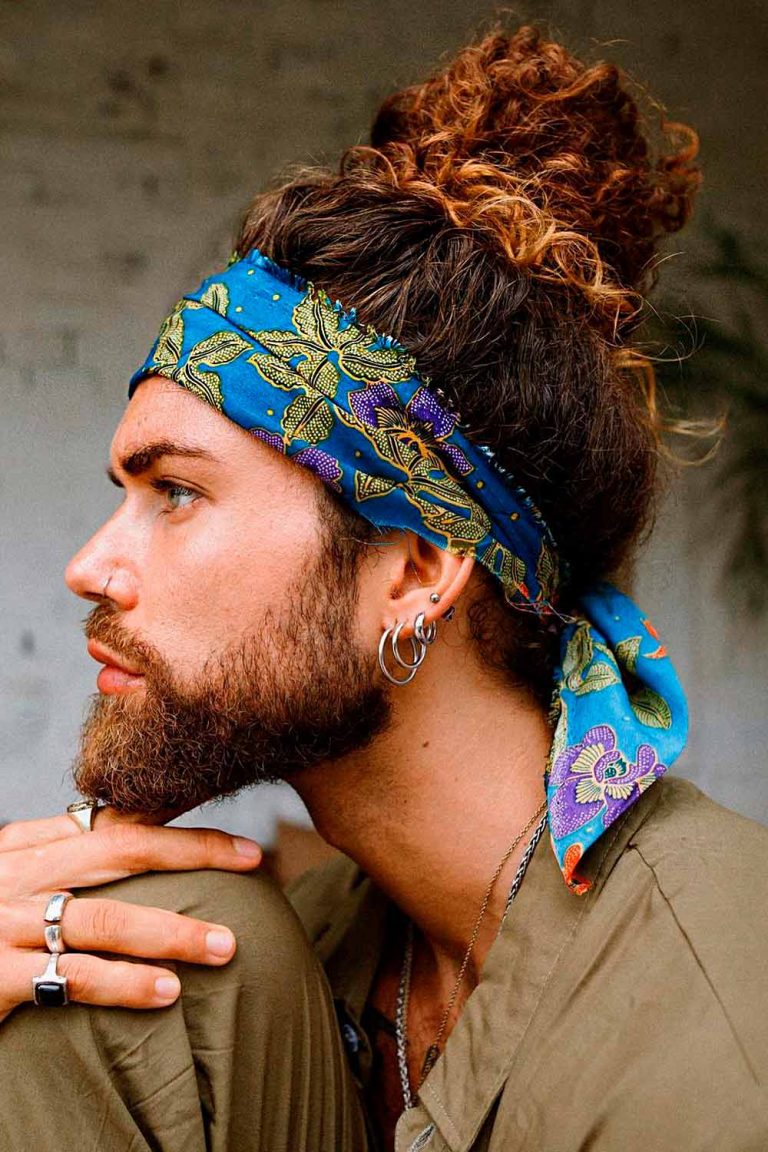 Source: @ hank_ge via Instagram
Man Bun Braids
If you are wearing a man bun, this means that you love breaking stereotypes. So, why not combine it with another popular male hairstyle that still causes pretty much controversy, which is a braid. Man bun braid styles are not very common. So, opting for them, you a guaranteed the title of the most fashion forward guy in the area.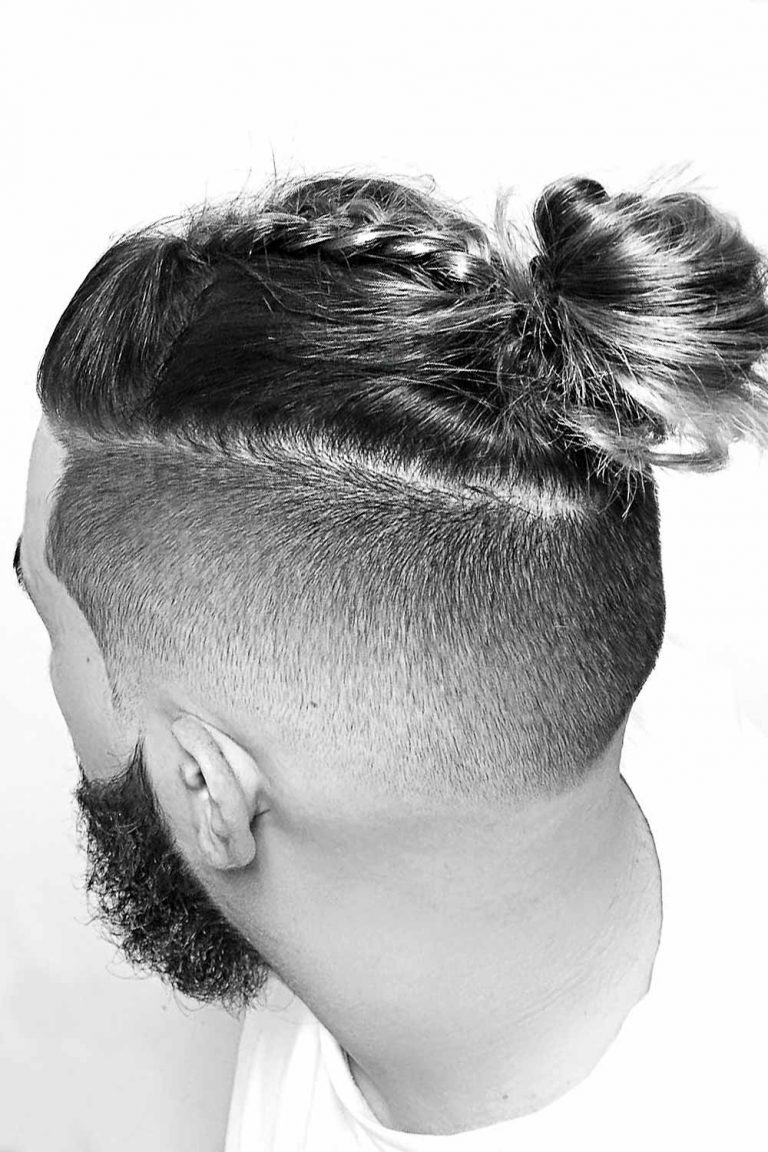 Source: @mikeyyyyyyy_ via Instagram
Messy Man Bun
You don't have to be a skilled barber to get yourself a messy bun; it's just so straightforward, and that's the point. Simplicity is genius, and modern gentlemen know that. And when the simple tousled bun comes with a beard, is moves the style to a whole new, sophisticated level. Wearing man buns with beards is a win-win decision, no doubts.
Undercut Man Bun Taper Fade
To keep the focus of your hairstyle on the man bun hair on the back and sides can be faded and undercut. Though, if you do not want an extremely contrasty and bold look, opt for an undercut low fade.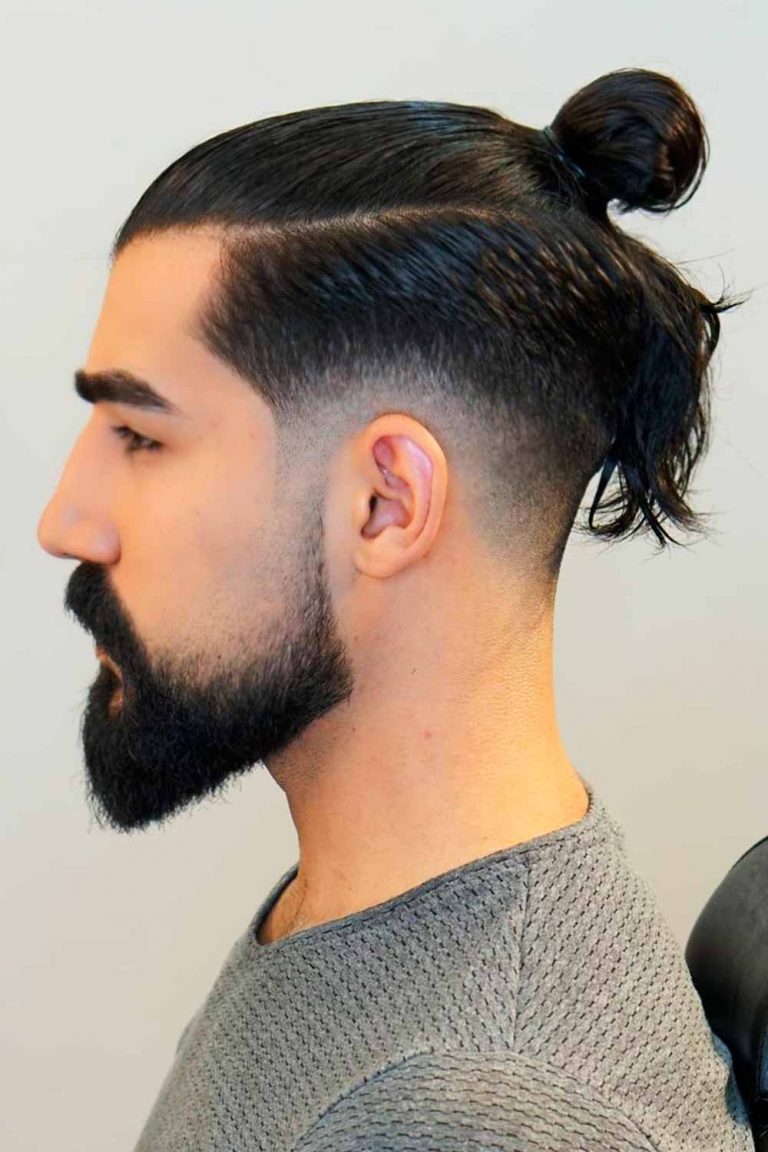 Source: @ahmetaslanhairsalon via Instagram
Undercut Design
Looking for a way to upgrade your men bun? Complement it with an undercut haircut, a fade, or both. An undercut man bun fade is high contrast and stylish, especially when it also features a hair design. Yes, it is not low maintenance. Yet, it is totally worth it.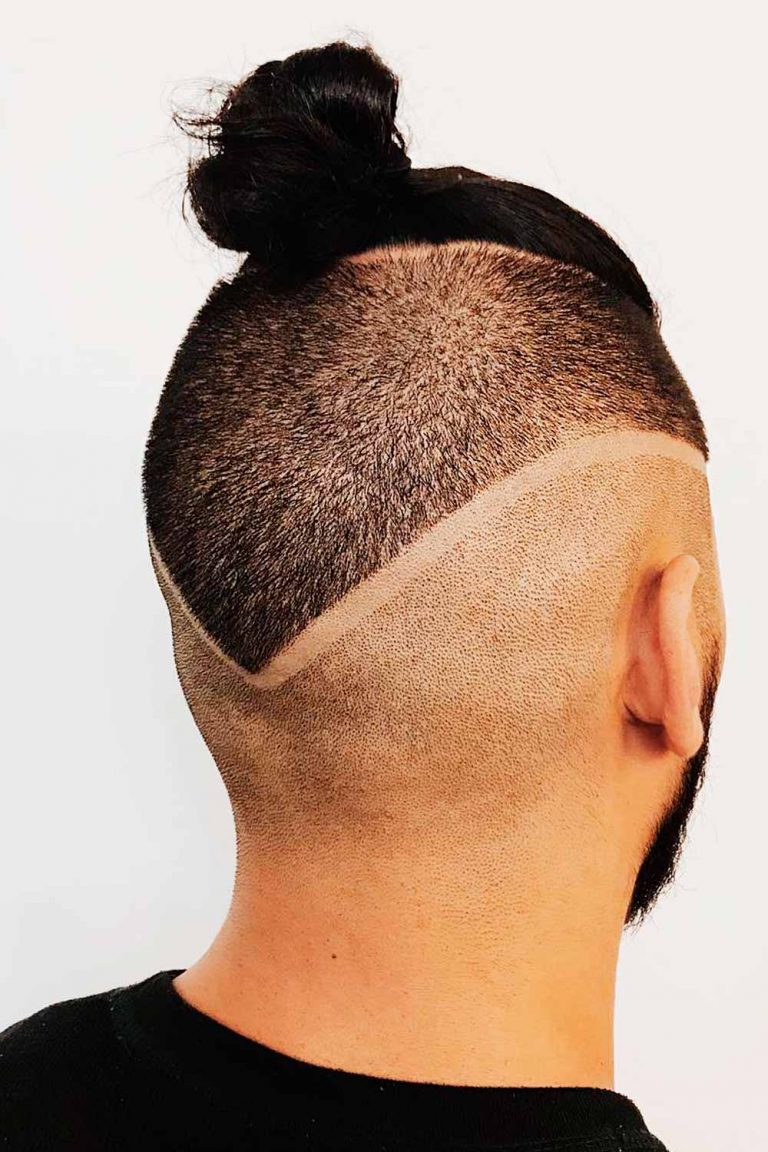 Source: @hairraribarber via Instagram
Undercut Man Bun
The man bun undercut is probably the men's hairstyles that stylish men couldn't even dream of. Combining trends has always been a fantastic idea, but this time it's hard to describe how beneficial it is. The sides can be faded or closely shaved, and the longer, textured top can turn into a high bun. All these trends will highlight your facial features, thus making you look super attractive.
Half Up Hairstyle
When you want to keep your hair away from your face, why don't you make it stylishly? A half up half down bun will both show off your long locks and make you feel comfortable with them. Also, it can be a braided man bun on the top: if you want to individualize the style, try rocking your days with the variety of texture on your head.
Men's Braids And Bun
A simple bun can transform into a truly refined look: just add some man braid to it and see the difference! Whatever braiding technique you like the most can take part, and your task is to create as many braids as possible and simply twist hairstyles where you please or ask your barber make you some amazing look. A man bun with braids is something that every guy with a long mane should try in his life!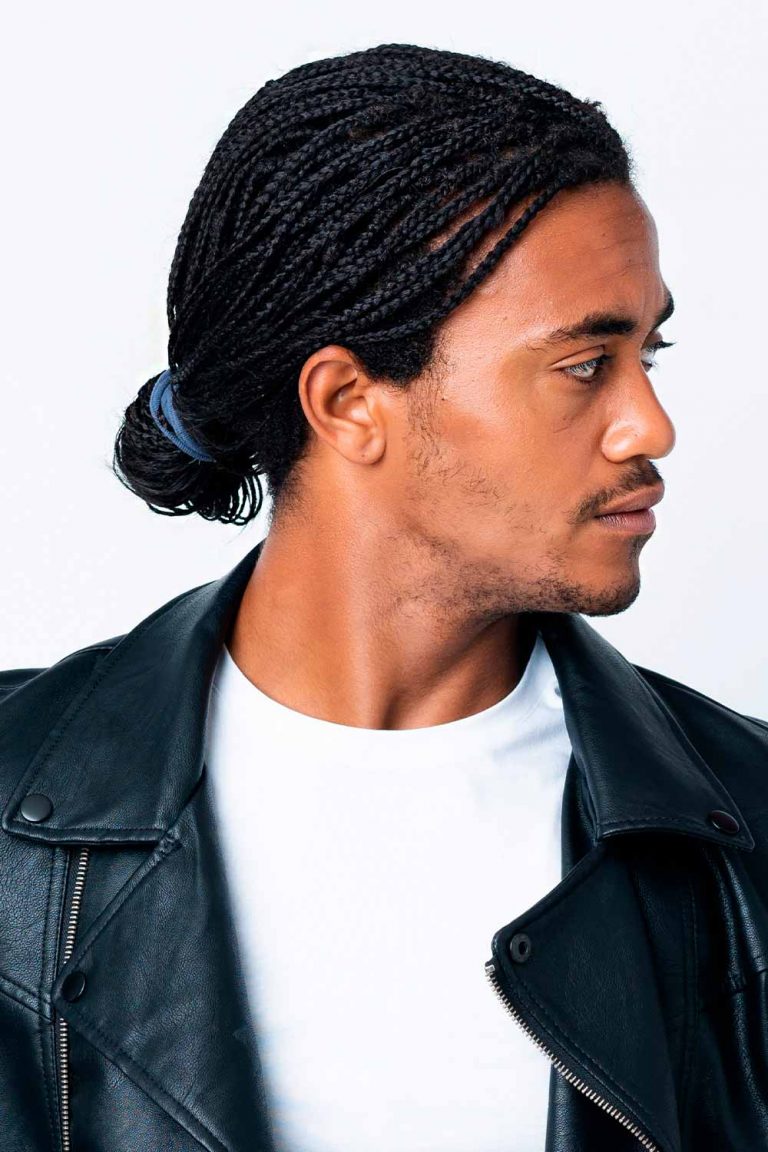 Half Curls
Guys with particularly curly locks may find their man bun haircuts overly voluminous and bulky. If you do not want it to be the same size as your head, then simply do not put all of your hair into a bun. Pull only half of your curls up and tie them in a bundle, while leaving the rest of them loose.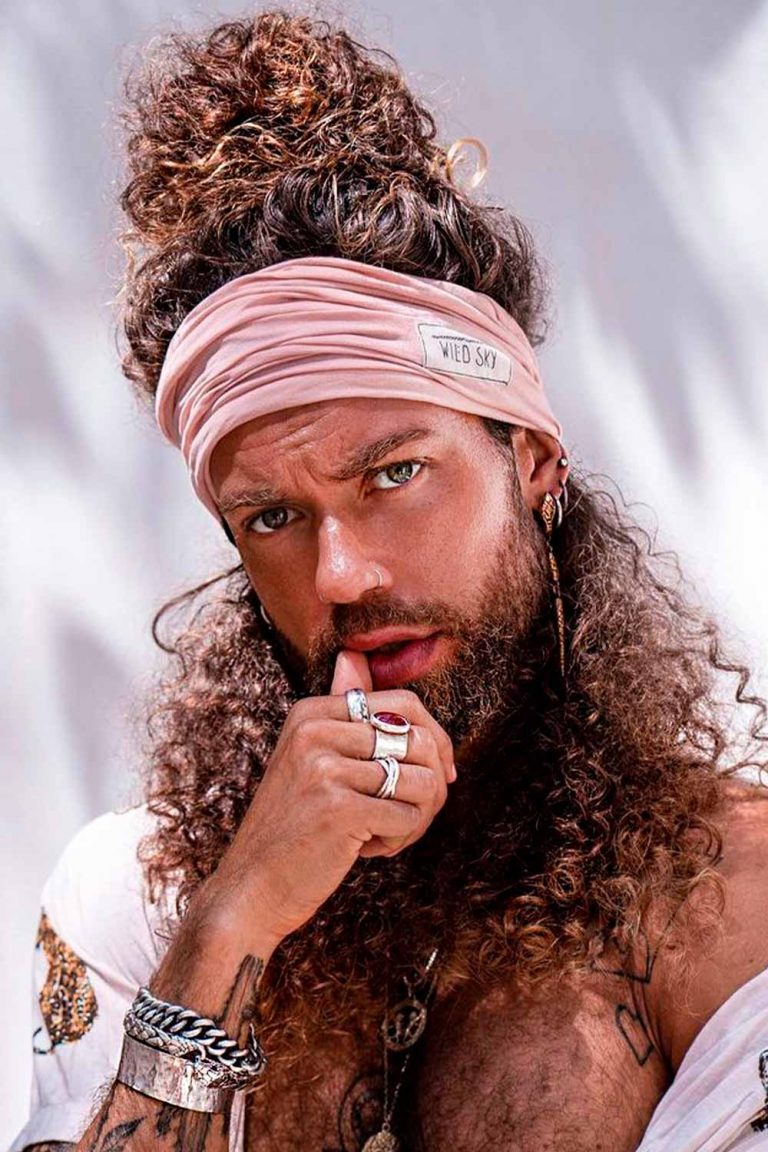 Source: @hank_ge via Instagram
Low Man Bun For Long Hair
Guys who have really long locks may find high man buns a bit too heavy and bulky. So how to do a man bun when you have a long mane? Just keep it low in the back. As simple as that. This hairstyle also looks fashionable and bold, yet removes weight from your head.
Two Strand Twist In A Bun
If you normally wear two strand twists hairstyles for men on your head but feel a bit tired of them, you can always put your hair into a men bun. In this way, you will kill two birds with one stone – get your kinks sorted out while keeping pace with fashion. Add fancy hair ties for men to make extra emphasis on the cool style.
Source: @hairraribarber via Instagram
Cornrows Bun
Do you prefer more intricate man bun styles? In this case, take a closer look at the cornrows bun. While this is one of those long hair man bun styles that require some time to grow and effort to create, it will fully pay you off with tons of admiring gazes and dropped jaws.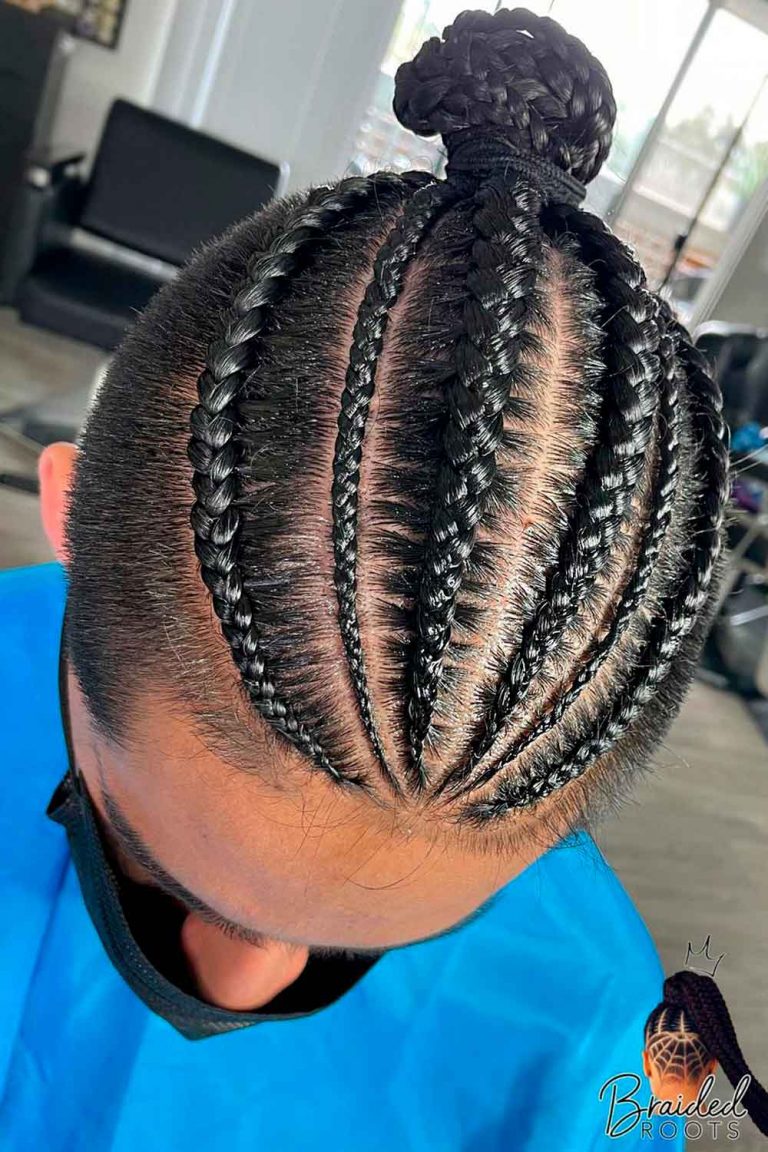 Source: @braidedroots via Instagram
High Bun With Bandana
Who said men cannot adorn their hairstyles with hair accessories? Do not listen to those people! Accentuate your man bun hairstyle with a bandana. You can go for a solid color or patterned, bright or muted, contrasting or matching – the range of options is endless.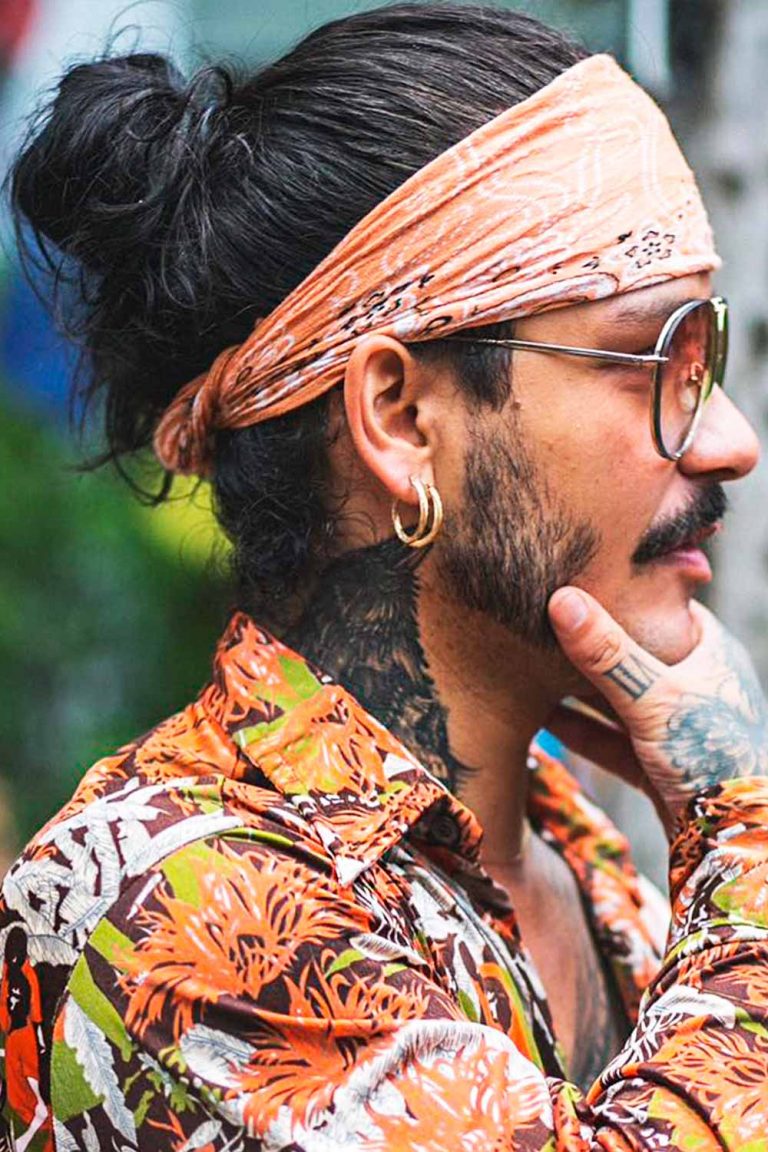 Source: @mikeyyyyyyy_ via Instagram
Black Curly Hair
There are basically no limits for such a cool hairstyle as a man bun. And kinky afro locks are no exception. Instead, they're bound to be tied in a black men bun. With such a bold hair type, your manbun will appear very voluminous and textured even without the need to grow out you ringlets long.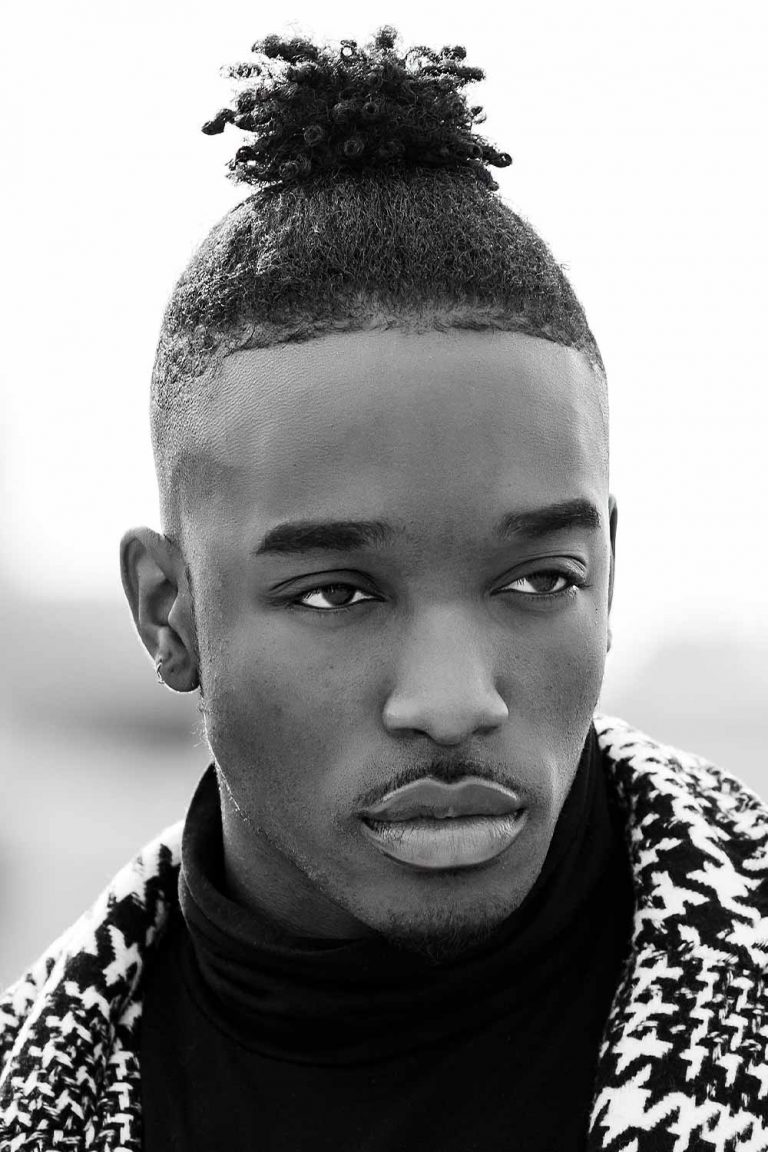 Full Curls
The full man bun is the basic version of the hairstyle. It has many variations, from low to high and from polished to messy. Obviously, it's up to you to decide how you want to flaunt your hair bun. Though, if you want to turn it up a notch, get a man bun undercut on the sides with a line-up along the forehead and temples.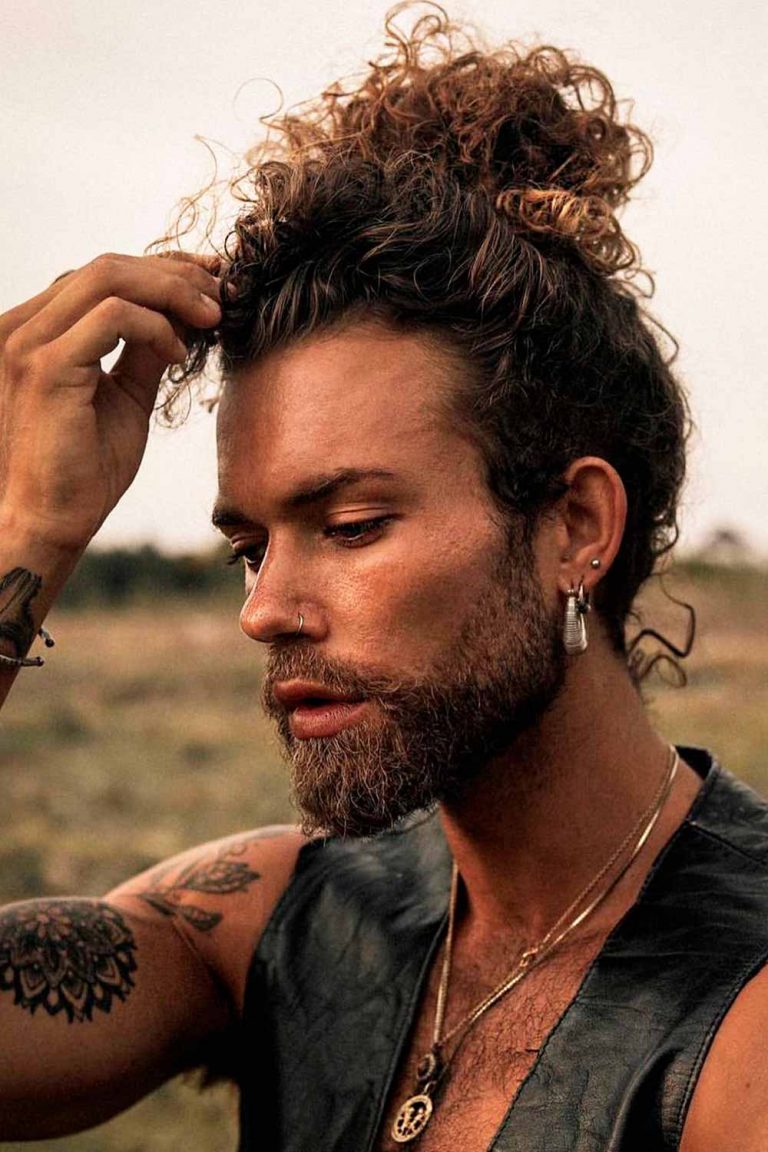 Source: @hank_ge via Instagram
Bun And Beard
To prove that a man bun and beard is really a hairstyle for men, partner it with an apparent sign of masculinity – facial hair. Besides, it does not really matter what kind of facial hair style you are going to team it with. A thin and thick mustache, a full beard or a short stubble, sideburns or all of them at once – everything complements a man bun nicely. What's more, the bun style can also vary. Surprisingly or not, but a half men bun looks unbelievably hot with a full beard that connects with your hair by means of the sideburns.
Source: @ shawn_barbz via Instagram
Dreaded Bun
Another great way to show off your afro hair is through man bun braids. If normally you prefer to rock dreadlocks, pulling them in a bun will bring a welcome change without scarifying on the style. A braided man bun not only looks stylish and intricate, but it also allows you to tame your unruly locks.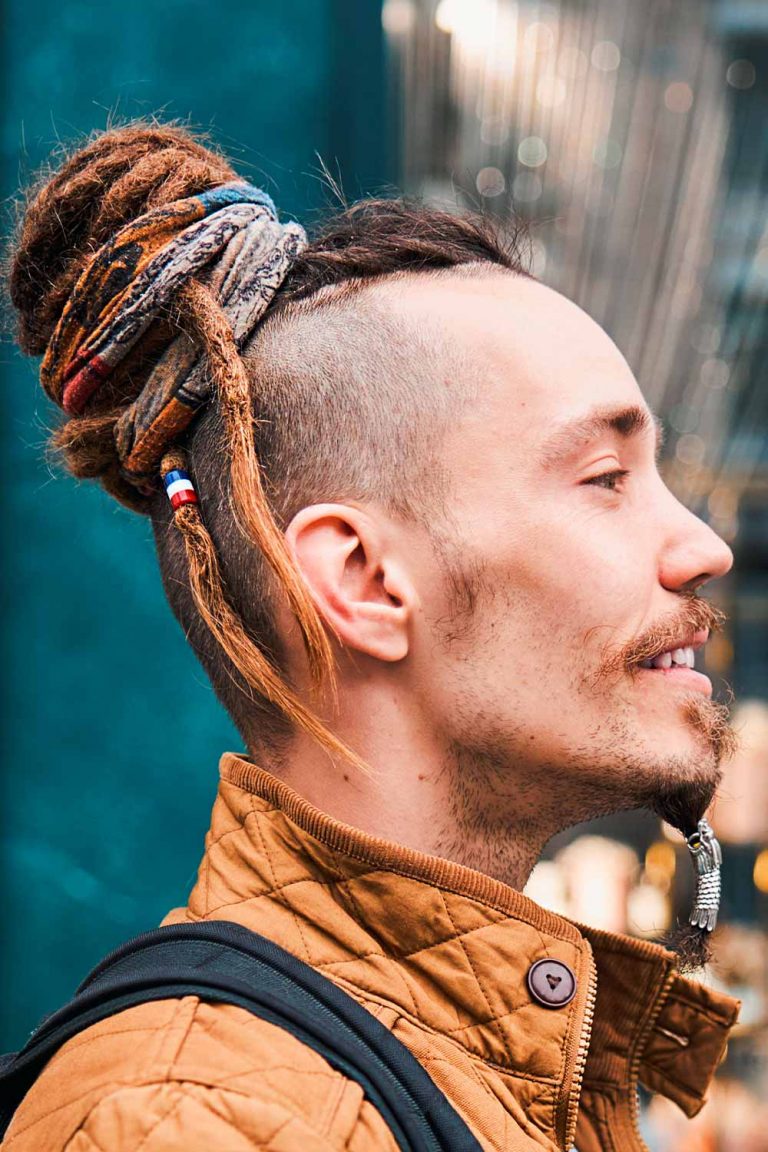 Long Wavy Hair
As we said before, man buns can be pulled off on any hair type and length. For guys who choose to sport men long hairstyles, there's also a man bun option. You can tie the top section of your hair into a half bun and leave the remaining hair loose. This hairstyle becomes especially flattering for men with wavy locks.
Mohawk Man Bun
If you want to combine two quite opposed hairstyles in one, you're so welcome to do so. A mix of mohawk and a hair up looks daring and extremely head-turning. This is also one more take on an undercut man bun, which is all the rage now.
atiger/Shutterstock
Twisty Top Bun
Ideas for wearing long hair for men are countless, yet a men bun will always be the most natural and relaxed one. A contemporary tousled look, where all of your hair is styled loosely in a carefree top knot bun, is a nice way to embrace an effortless image. Just twist your hair loosely, and the look is ready!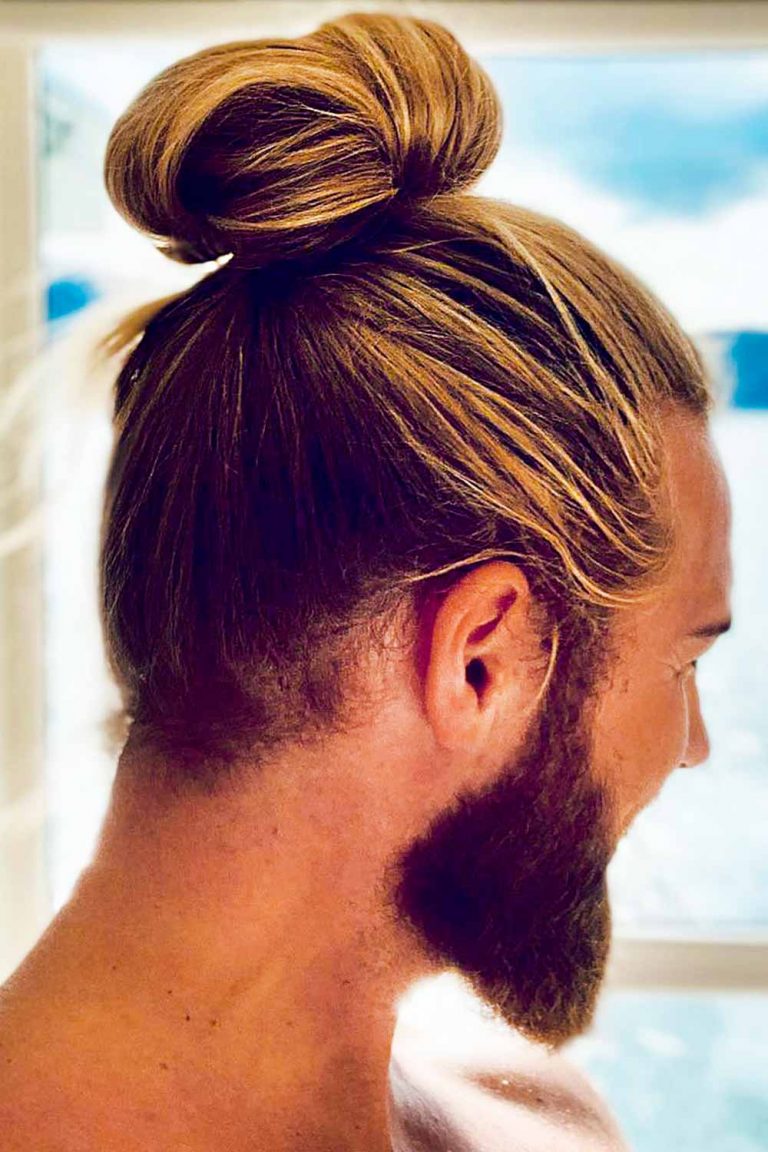 Source: @lasselom via Instagram
Elegant Low Bun
If a man wants his bun hairstyle to be presentable, well-balanced, and polished, nothing can stop him from getting such a neat style, as long hairstyles for men are all about flexibility. You can play around with the styles and textures, changing messy top knots to elegant and neat low bun hairstyles. To make your hipster hair look smooth and chic, tie your locks neatly at the back.
Small Man Buns
To nail down man bun hairstyles, your hair should be long enough to be pulled together. How high it's going to be tied doesn't really matter. You don't always have to get some special man bun haircut too. You can easily convert your old one to a bun. Even if you have a short pompadour, a top knot men hairstyle is your way to go.
Source: @fernthebarber via Instagram
Asian Inspired Hairstyle
Does Asian martial art carry you away? How about trying out a Samurai bun? Such bun hairstyles aren't for everybody, of course. Though, they definitely won't leave you unnoticed. This Asian man bun incorporates a top knot on top of the head and some loose pieces on the back while the sides are trimmed short.
Source: @shrunknheads via Instagram
High Bun
Want a useful insight into men bun styles? A high bun can help you not only look taller but also elongate your face shape. So, take good note of it. For added emphasis, get men undercut on the sides and back and pair everything with a coarse beard.
Space Buns
No, they're not the space buns that girls like to pull off for Coachella holiday. It's a way for you to be creative and different. Sometimes to look unique you need to break some stereotypes, and the double top knot style is a good start. It looks fun, and, actually pretty masculine, especially if you pair up a men bun and beard together; facial hair will always be in demand!
Hair Bun Shaved Sides
To shift focus to your bun, you can add more contrast to your look. As your hair on top is quite long, the sides should be noticeably short. Thus, you can either shave them or at least trim very short. Thanks to the clean-cut look this style creates, you can complement it with a coarse beard.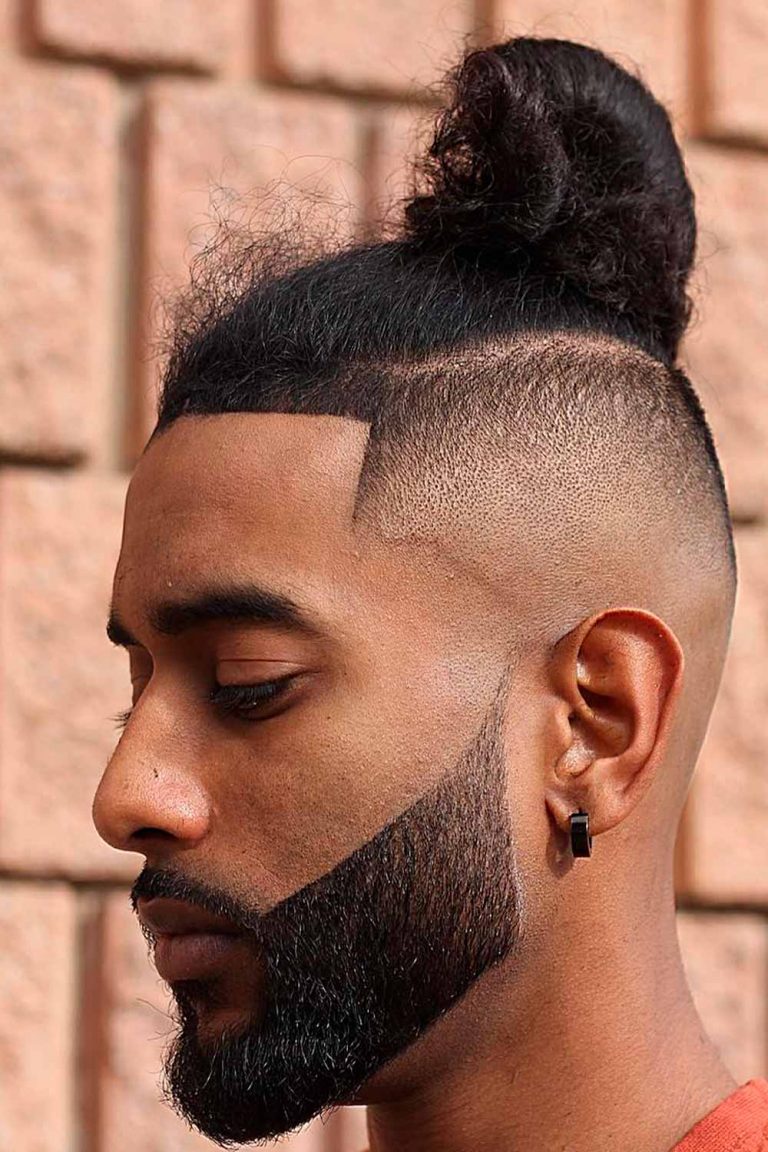 Source: @shawn_barbz via Instagram
Slick Back Bun
In those days when you need to look buttoned up, your hairstyle should also suit the formal ambiance. Yet, this is not the reason to give up on an hair bun. So that it would be appropriate for the occasion, slick all the hair back and tie it in a polished bun at the back of your head.
Halay Alex/Shutterstock
Twists Into Bun
Tight High Bun
Messy High Bun
Messy Medium Hair High Bun
Wavy Thick Hair
Messy Half-Up Bun For Shoulder Length Hair
Low Slicked Back Bun
We hope that now it's clear why the trendy hair bun is so popular among gents of different ages and images: it's very versatile, simple, and masculine. With the huge choice of styling options, there's no way you won't find the perfect bun style for you! And since you know how to get, style, and maintain the headdress, why don't you give it a try right now.
FAQs
Who wears a man bun?
Western men who have long locks often choose to wear them styled in a top knot, which is known as a man bun. Also, it is a signature hairstyle of hipsters from Brooklyn.
What does a man bun represent?
A man bun symbolizes a turning point in the world of hairstyling. It is bold, daring and allows you to stand out in the crowd when it seems that nothing can impress us these days. Another meaning it is endowed with is paying tribute to gender equality, as a bun can be worn by both men and women.
Are man buns in style in 2020?
Ever since its rise in popularity, a man bun has never gone out of style and 2020 is no exception.
Who started the Man Bun?
The man bun as we know it today appeared in 2013-2014. It was popularized by hipsters as well as British and American celebrity men, such as Joaquin Phoenix, Zayn Malik, Jared Leto and Harry Styles. However, the hairstyle itself originated in the Roman Empire and Scandinavia in the 8th–11th centuries.
Are man buns Manly?
You can rest assured that a man bun looks very masculine. No wonder this trendy and sexy hairstyle attracts women like a magnet. Yet, to ensure that you have an ultimately manly look, you can complement it with a full coarse beard.
REFERENCES:
Man buns are an awesome way to style long hair. Source