The goatee has been a highly popular beard style among businessmen, collegians and men on the whole. It helps to frame the face and accentuate your masculinity. No matter what variant you pick, it always looks stunning. However, it's vital to know how exactly you should shave and maintain your beard style to make the most out of it. Our guide will tell you everything you need to know about goatees and their styling options.
What Is A Goatee Beard
Of course, you need to know how to trim a goatee in the right way. Though, the first question to address is "What is a goatee?" Basically, this is the beard style that points out. It reminds of the one that goats have, which gave the name to this beard style. Nowadays, the term is used to talk about any hair that grows from your chin and above the upper lip, which makes the goatees highly adjustable.
How To Grow A Goatee
No matter whether you go for a long beard or short, your plan of action will be the same. First and foremost, you just need to leave your facial hair alone for a week or so. After this time, it will be long enough to allow you to achieve the desired shape. Though, it's not necessary to grow out all of your hair on the face. You can get away with the areas lower your nose and chin as well as around the mouth.
However, the more hair on your face you have, the more options you get when it comes to choosing goatee styles. Never mind if your skin beneath the beard starts itching during the growth period. In case you can't bear it, incorporate a moisturizer into your non-shaving routine, which is aimed at soothing your skin.
Jaguar PS/Shutterstock
How To Trim A Goatee
Now that you have the abundance of facial hair, it's time to shape your goatee beard. Start with collecting all of the necessary tools. In your beard trimming kit, you'll need to have a blade, a comb, a pair of scissors and a beard trimmer. Besides, you may want to employ some additional products for a beard, such as oil, for instance.
When you're equipped, follow these simple steps that will lead you to the perfect beard:
Comb your facial hair to remove any tangles and curls.
Pick out the style and length you're aiming at.
Outline the contour of your desired beard style.
Trim along the contour to shape the goatee.
Monitoring the process in a mirror, run the trimmer all over your facial hair to achieve the aspired length.
Wash the face with room temperature water to remove any debris and towel dry it.
Finish up by combing your goatee.
How To Trim A Long Goatee
Before mastering how to trim a goatee, it is important to stock up on the right tools. Thus, make sure to arm yourself with a pair of special scissors for beard trimming and follow these steps:
Using a comb for facial hair, comb your goatee in the opposite direction of its growth.
Trim any hairs that are sticking out to even out your goatee facial hair.
Focusing on the bottom, clip the hair to the length you are looking for. Use your chin shape as a guide.
For a natural appearance of your goatee underside, point cut it with scissors.
Finish off by working in a blob of beard balm or oil to condition and moisturize your hair.
Why Should You Grow A Goatee
Men grow out goatees due to several reasons. In the first place, there is the ease at which it can be grown no matter what the style is. Also, if the facial hair growth is a real challenge for you, this beard type can help you out a lot. In case you want to disguise some flaws on your face, like a protruding or feeble chin and thin lips, try pairing a mustache and goatee.
Tinseltown/Shutterstock
How To Choose The Best Goatee Style
Although we said that the goatee looks great on everyone, it's important to choose the types of beard styles that suit you most. The process of selecting how to style your beard reminds of deciding on the haircut. With a variance of beard designs, you can accidentally pick up the one that makes you look ridiculous instead of saucy. Luckily, as the beard style is really versatile, it doesn't have any strict rules regarding the face shapes to match it to.
However, it doesn't mean that you should ignore this factor. Actually, the first thing to consider when choosing your perfect facial hair style is whether it works for your face shape or not depending on the aim you're pursuing.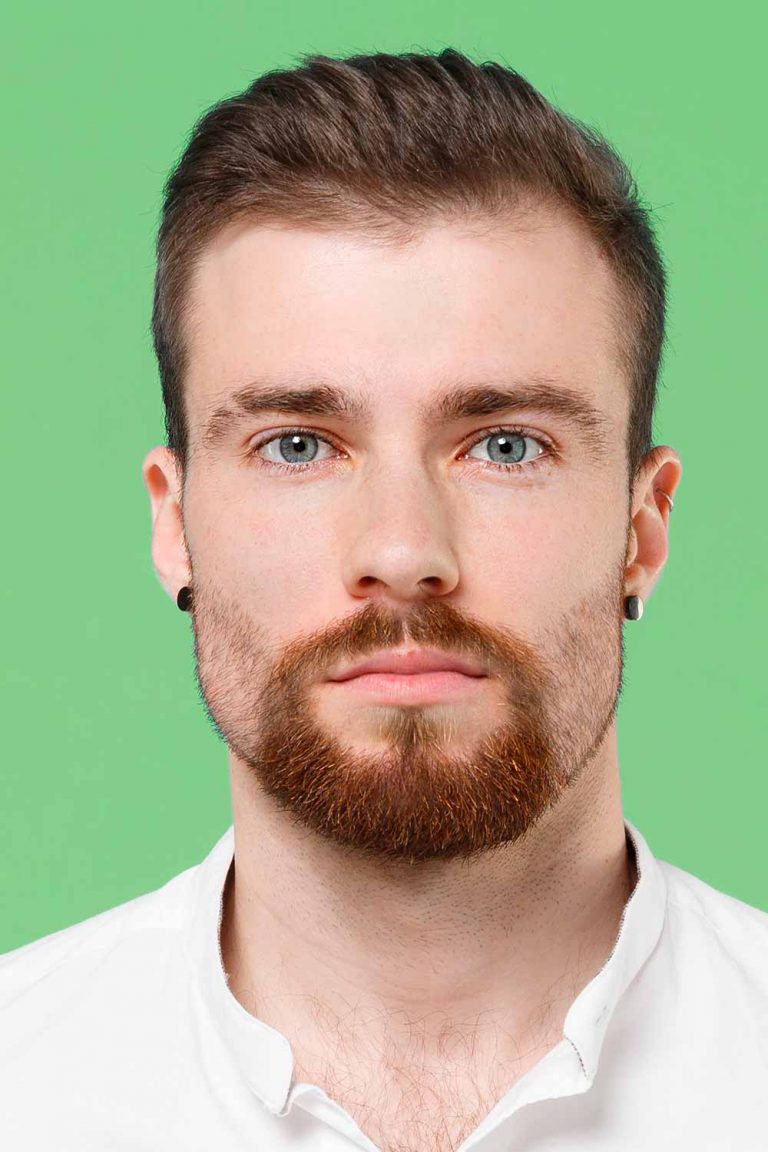 How To Maintain A Goatee
Sure thing, you can't leave your goatee without the proper maintenance. Being initially a short beard style, it will increase in length greatly in a short time, thus becoming to look untidy and shapeless. So, when reflecting on the ways how to shape a beard, start with trimming and styling it after it has fully dried. Also, your beard washing routine should include shampooing, conditioning and moisturizing your facial hair. And, of course, it's essential to apply beard oil after showering if you want your goatee to be soft and yielding.
Goatee Styles And Face Shape
So, here's the list of goatee styles paired with the most suitable face shapes:
Pure: round.
Full: diamond, square.
Anchor: round, triangular.
Norse Skipper: round.
Soul Patch: round.
Rap Industry Standard: round.
Chin Puff: diamond, square.
Balbo: diamond, square.
Goat Patch: diamond, triangular.
Petite Goatee: square.
Extended: oblong.
Van Dyke: oblong.
As for the mustache style, you can harness the handlebar with the diamond, square and oblong face shapes.
The Most Popular Goatee Types
Now, let's look a little closer at the most popular goatee men's beard styles, which contain not only short beards but medium and long as well.
DFree/Shutterstock
Original Goatee
The original goatee, also known as pure, is basically a beard without mustache. The small amount of hair on the chin that grows lower the bottom lip without a mustache and with a shaved jawline is what the pure goatee is. If your mustache is all grown out and the sides are connected with the goatee, you're sporting another beard style, which is a full goatee.
BAKOUNINE/Shutterstock
Full Goate
What picture comes to your mind when you hear the term goatee? We're almost sure that it's the classic, or as it's also called the full, goatee that pops up in your head. In this hairstyle, the facial hair forms a circle beard around your mouth with the help of the handlebar mustache shape and the line of beard that doesn't exceed the outer edges of your mouth.
To keep your facial hair in place, apply a fair amount of the styling product to it, such as the hair wax or pomade. The full beard is the most popular style among men of different ages.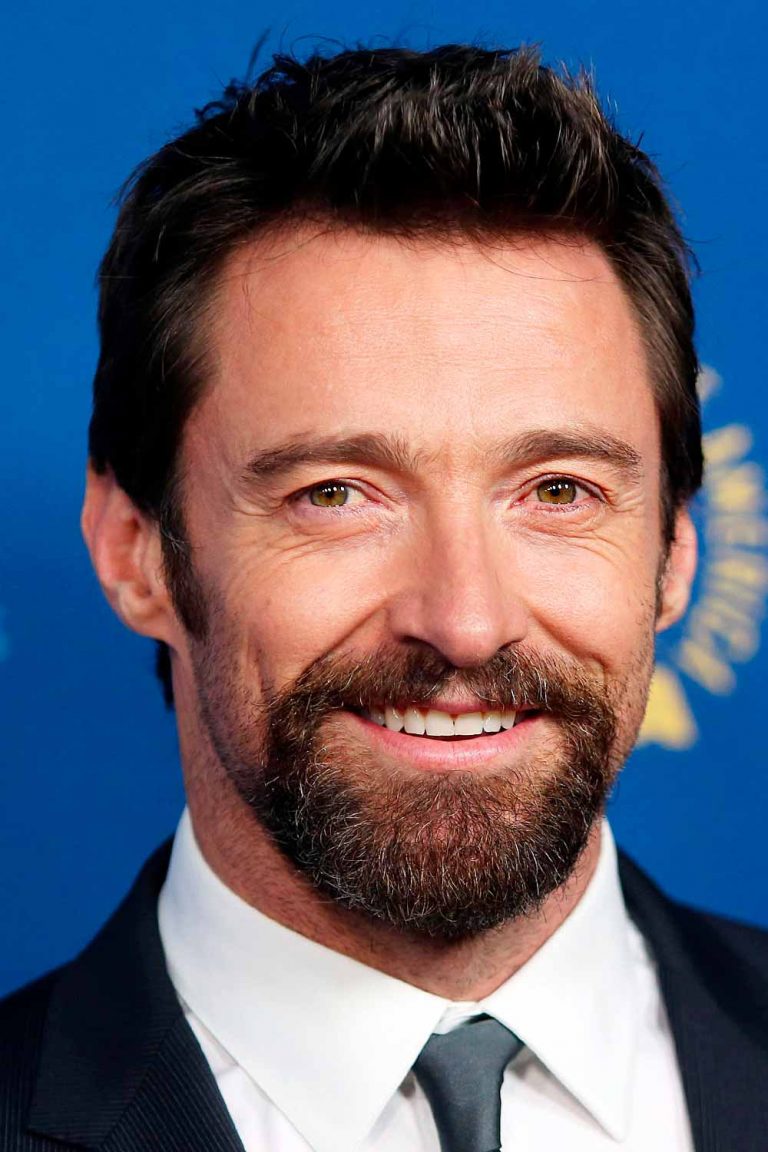 s_bukley/Shutterstock
Extended Goatee
Practically, the extended goatee is almost the same as a goatee, though without some restrictions. With this beard style, you're allowed to wear a mustache while the facial hair can go up to the sides. Sideburns don't take part in the beard shaping because they would transform the goatee into the regular beard. In case you're considering sporting this style, make sure you use enough of the beard oils.
Tinseltown/Shutterstock
Anchor Beard
The anchor beard owes its name to the old seafaring ship tool, which it resembles. Actually, it's not as easy as it seems to copy this look correctly. However, if you do succeed in pulling off this style, you understand that it's worth the effort because the anchor appears incredibly classy and elaborated.
To achieve the look, you need to pair a handlebar that extends to the lower part of the bottom lip with a chinstrap tapered beard. The upper part of your anchor can be styled with a perfectly shaped pencil mustache.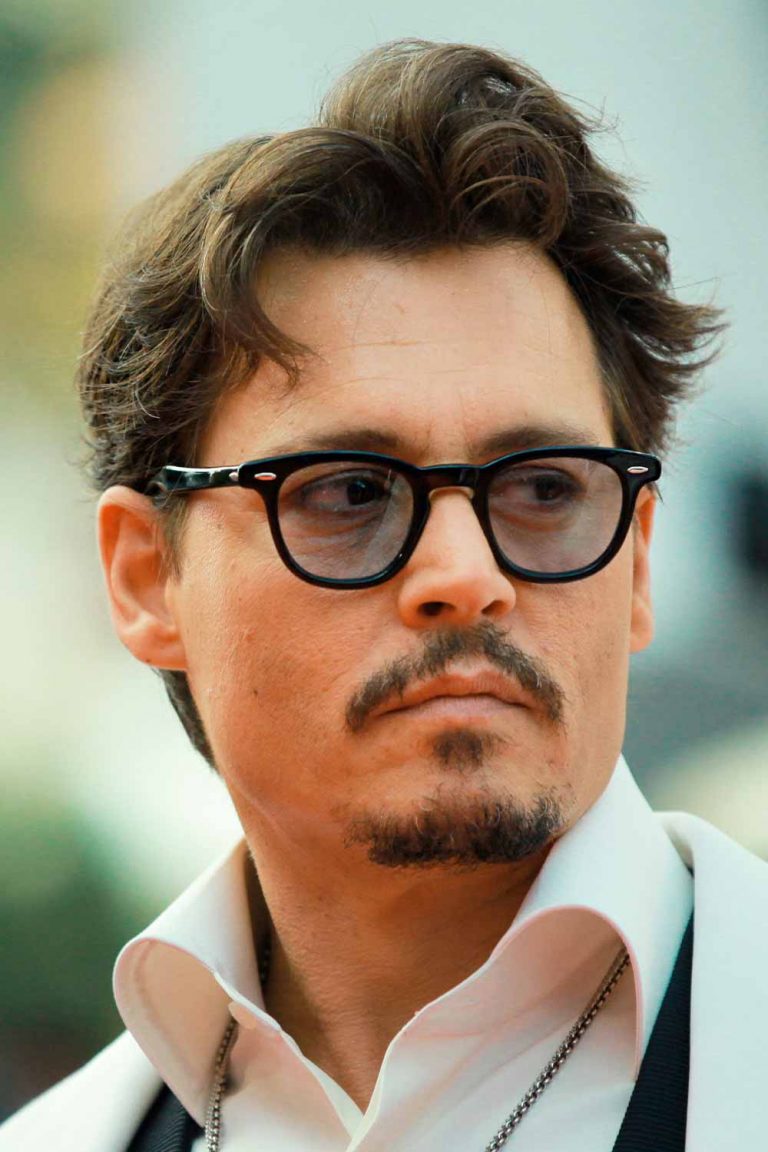 PAN Photo Agency/Shutterstock
Van Dyke Beard
The Van Dyke beard is quite a look-alike of the true goatee, they have many common styling features. Such short beard styles are seen as very beneficial to those guys who really struggle to grow out a full thick beard. Instead of showing off the bold patches, this beard style combines a soul patch, chin goatee and mustache. What's interesting about it though that all three parts aren't joined together. This technique helps to conceal the gaps in the facial hair.
Soul Patch
We bet there's no need to tell you what this beard style is. However, we'll take the liberty of summarizing your knowledge. This chin beard patch, which is placed under the lower lip, is arguably one of the most adjustable goatees we know. You can pair it with a plethora of beard and mustache styles to add versatility to your look. Whether you're going to harness it separately or mixing with a soul patch beard and mustache, you'll always be on point.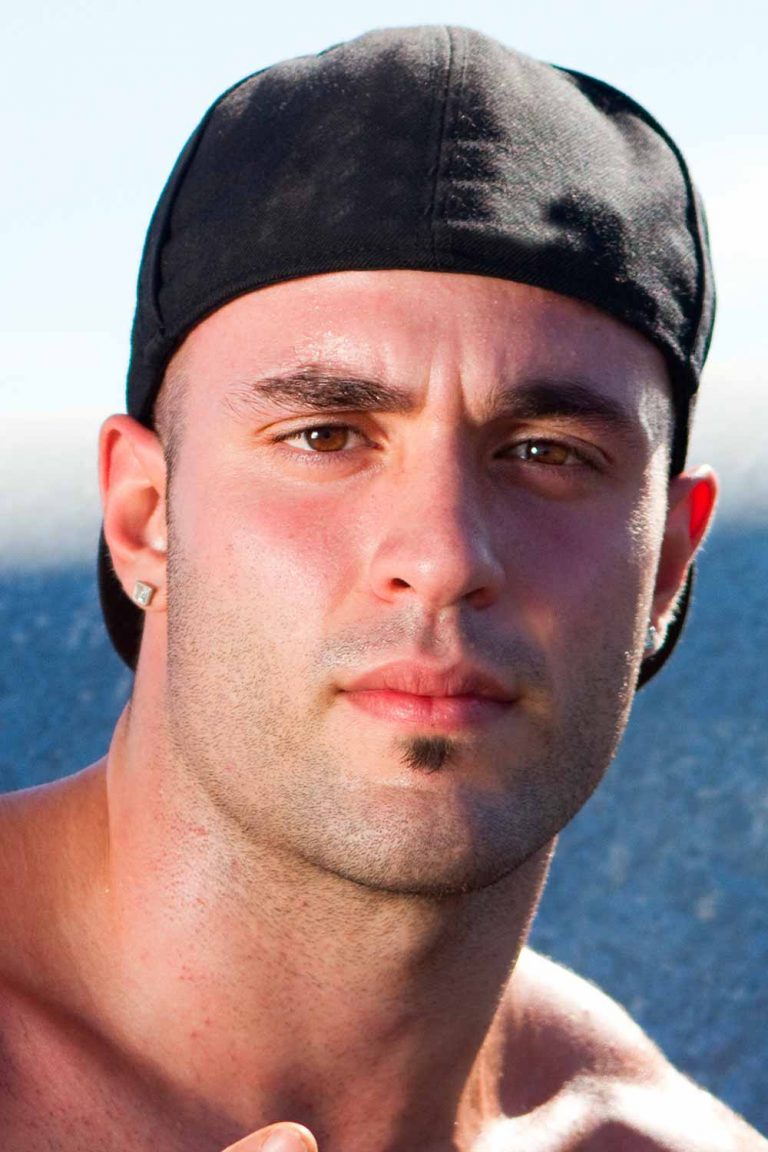 Landing Strip Beard
In case you need some assistance in choosing the beard styles, we're here to help you out. If you're looking for an easy maintenance yet trendy goatee beard style, then the landing strip is your way to go. It doesn't incorporate a mustache, and the hair all around your chin should be shaved off, leaving a narrow section right under your lower lip. Although the top line of the landing strip is quite fixed – it should start from your mouth corners, the level of the bottom line is up to you.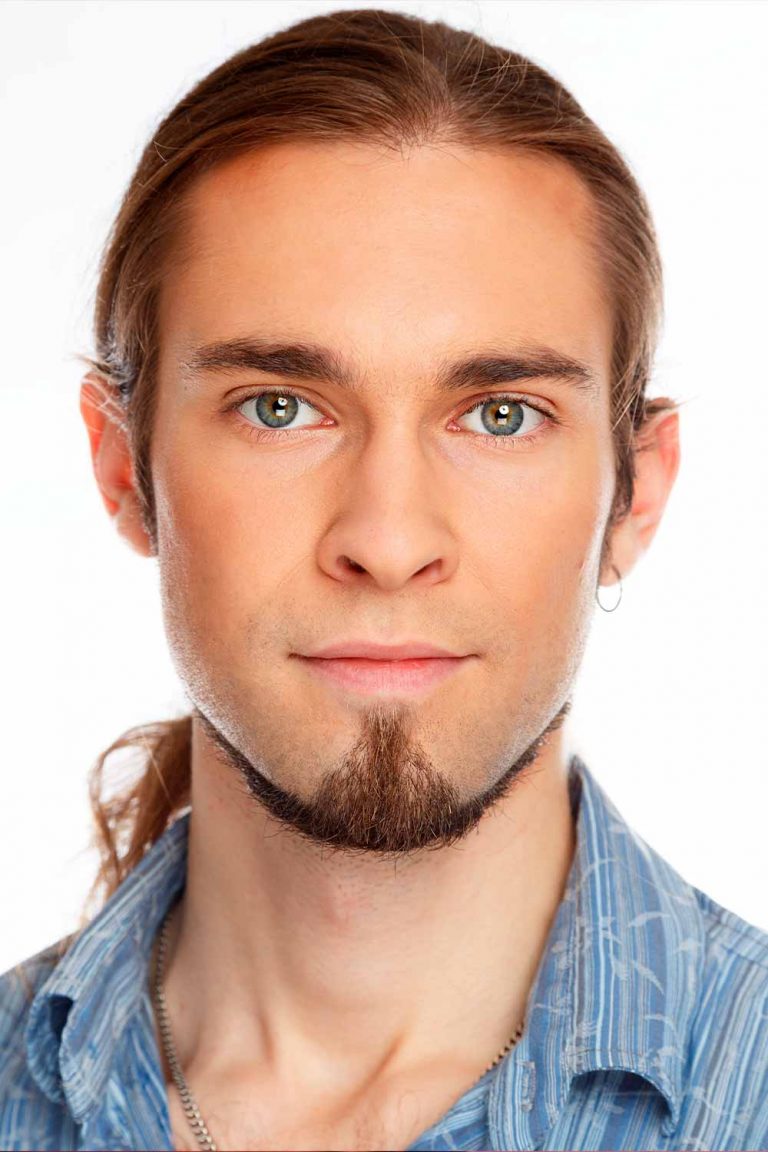 Goatee Without Mustache
Here's another beard without mustache style. To achieve it, you need to leave the section of facial hair that fully covers your chin below your mouth. Even though it's quite a versatile goatee style, guys with a round face shape will find it most flattering. What's more, it can be easily transformed into one of the coolest long goatee styles by simply trimming the hair on the chin a couple of inches longer.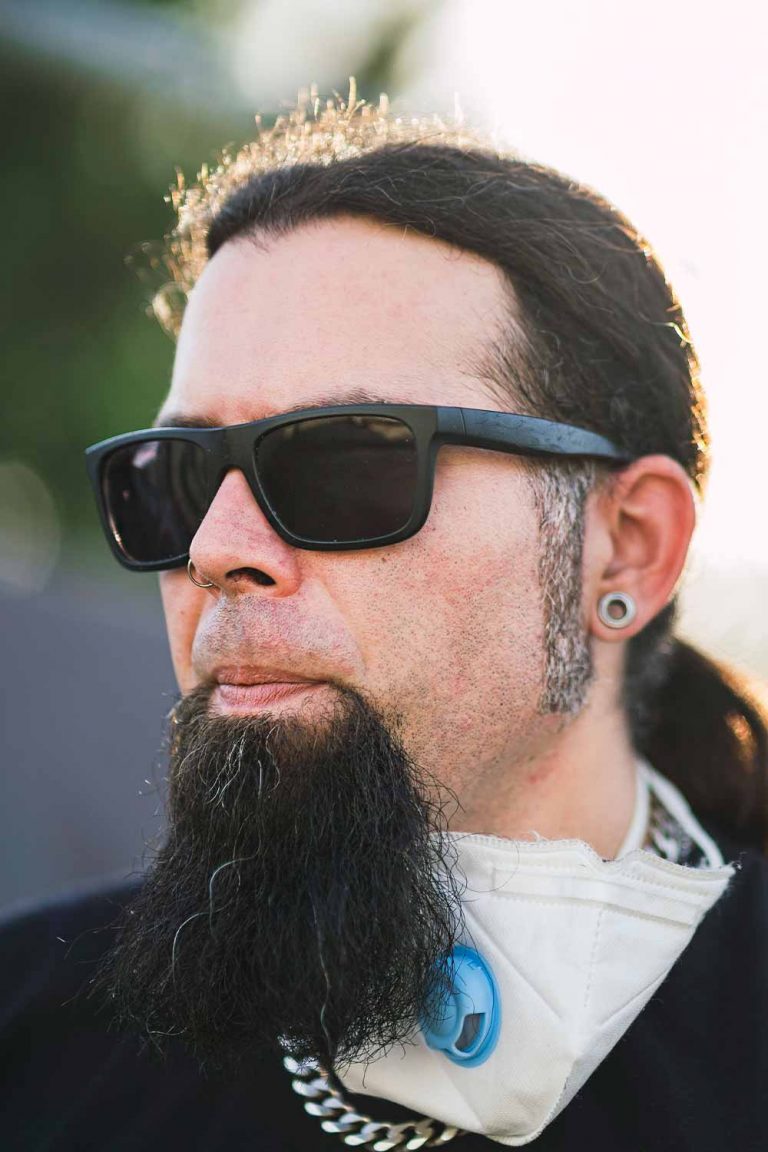 Thin Goatee
But, if you think that a mustache and goatee go together like peanut butter and jelly, then there are also an extensive variety of goatees for you to choose from. Take, for example, a thin goatee, which features a narrow line of facial hair that goes around your mouth along the chin and above the upper lip. For those whose face shape is triangular, this beard style is a winning option.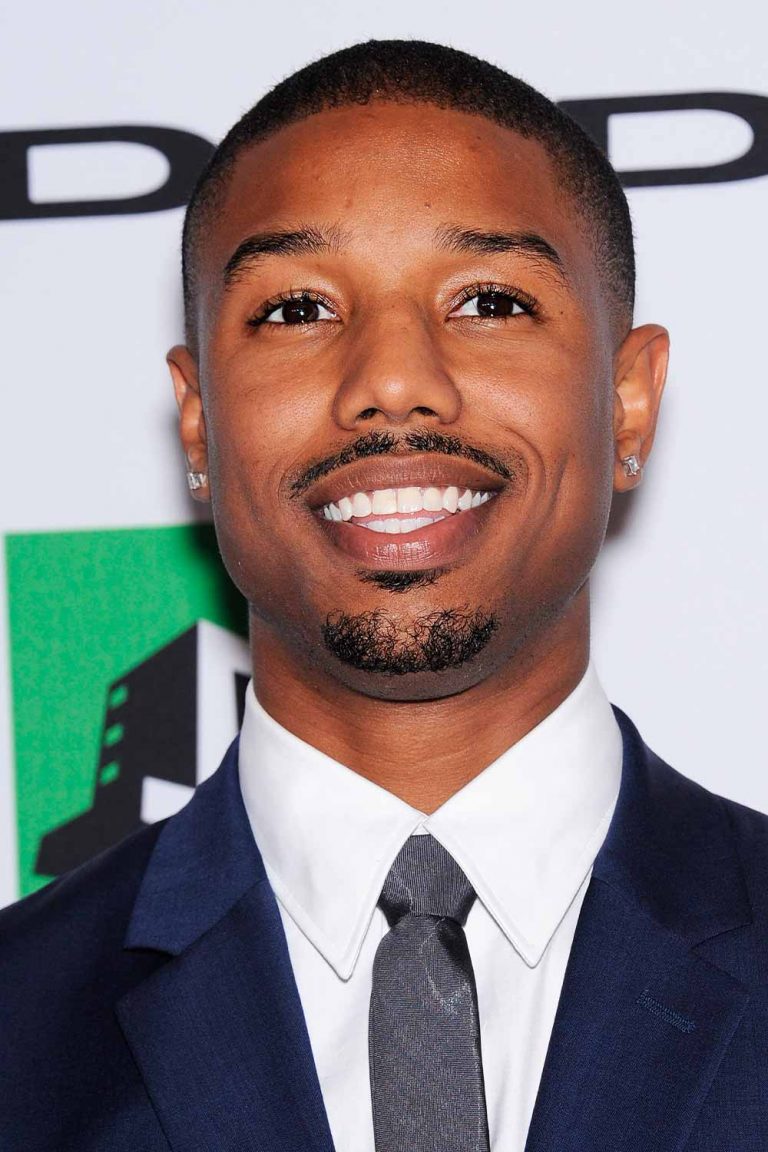 DFree/Shutterstock
Long Goatee
Now that you know how to shave a goatee, it is time to learn how to wear it. There are many types of goatees with a tailback beard, also known as a long goatee, being one of the most popular and not for nothing. In addition to looking stylish and elegant, it is quite easy to maintain compared to other goatee beard styles.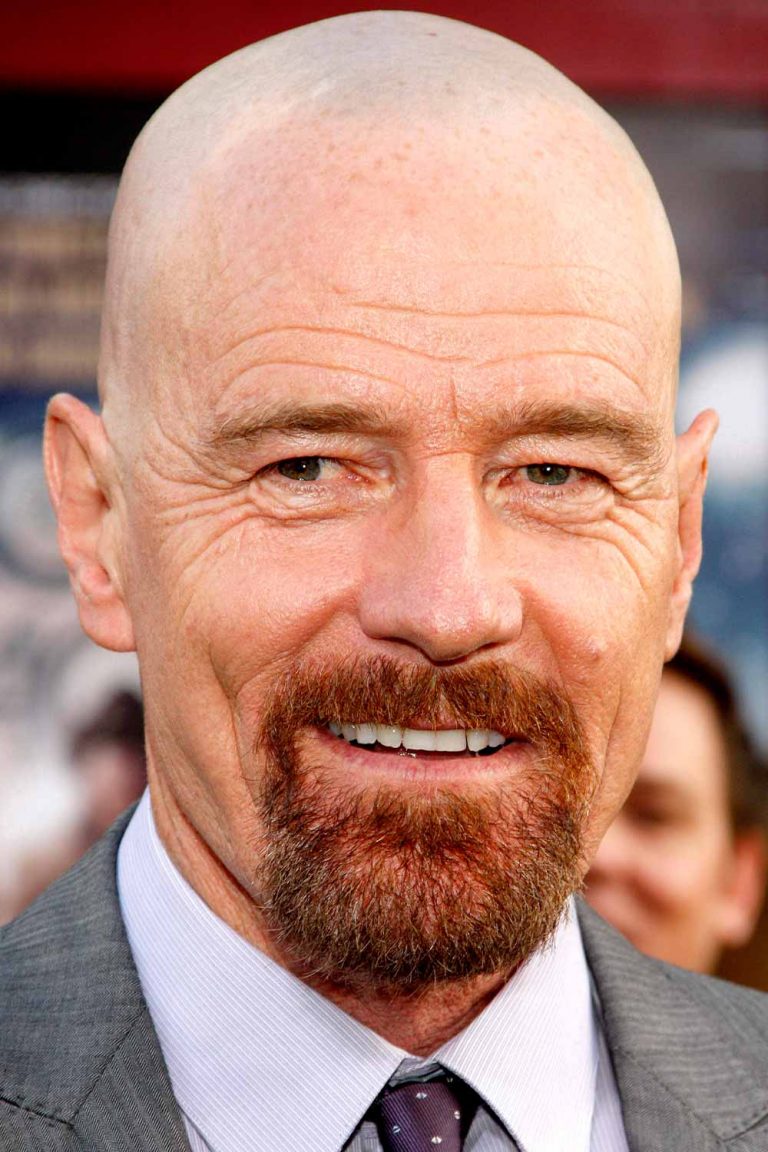 Tinseltown/Shutterstock
Disconnected Goatee
Believe it or not, a goatee is a pretty versatile beard style. As such, you can play around with trimming your facial hair according to your preference. Want something unusual yet classy? Try out a disconnected goatee then. While it retains the aesthetics of the traditional version of the style, it is much edgier and bolder.
Chin Puff
If you struggle to grow a full bushy beard, then a chin puff may be your way out. It works for absolutely anyone even if you have a patchy and thin facial hair pattern. Besides, you do not have to grow it particularly long. An inch or two will be more than enough.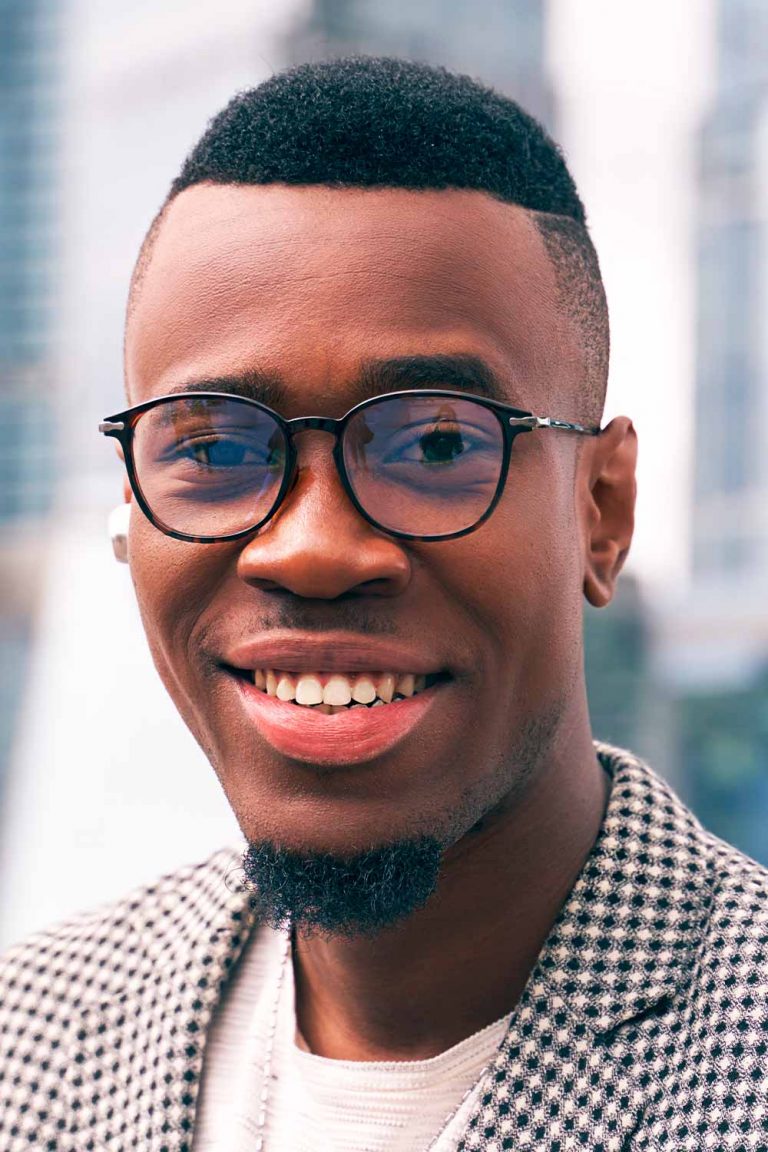 Balbo Beard
Balbo beards are among the most well-known styles in men's fashion. The name comes from Italian aviator and military leader Italo Balbo, who first sported this look back when nobody knew what kind of beard would work for them!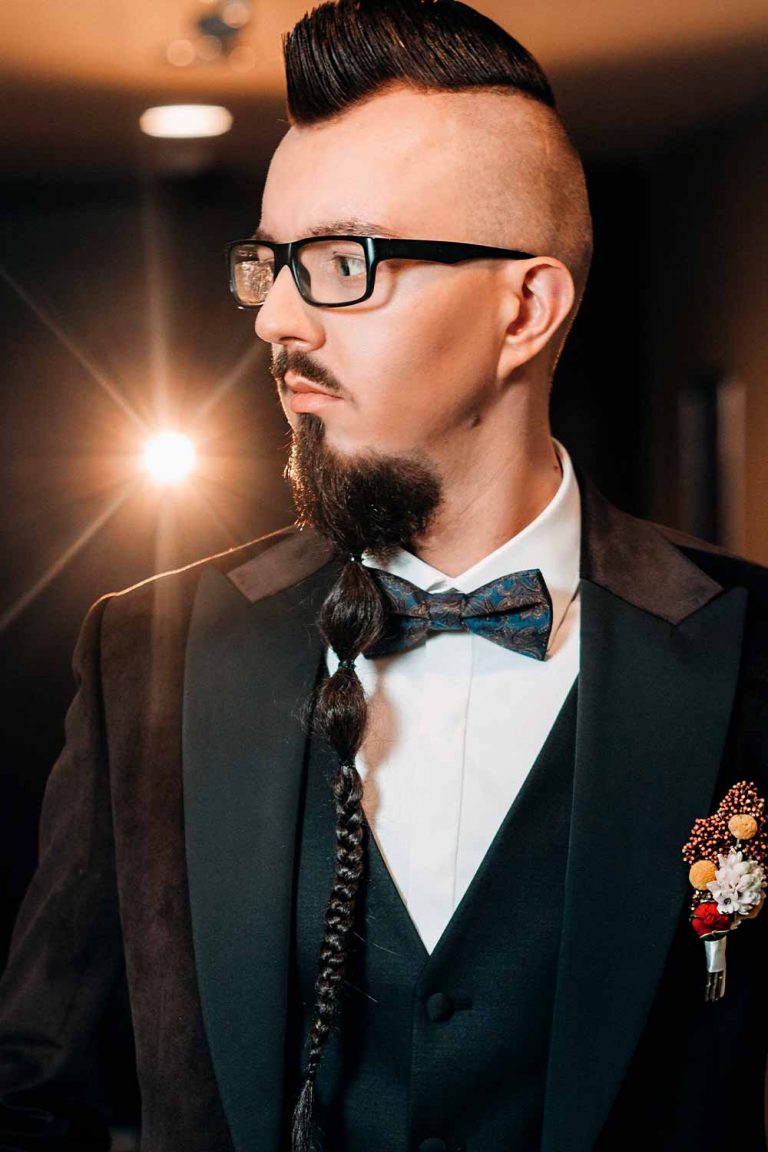 Goatee + Chin Strap Beard
As goatees have such a clean and neat look, they can be successfully combined with other popular beard styles. So, to get a solid and trendy facial hair look, extend your goat with a chin strap beard, which you can then blend into your faded hair on the sides.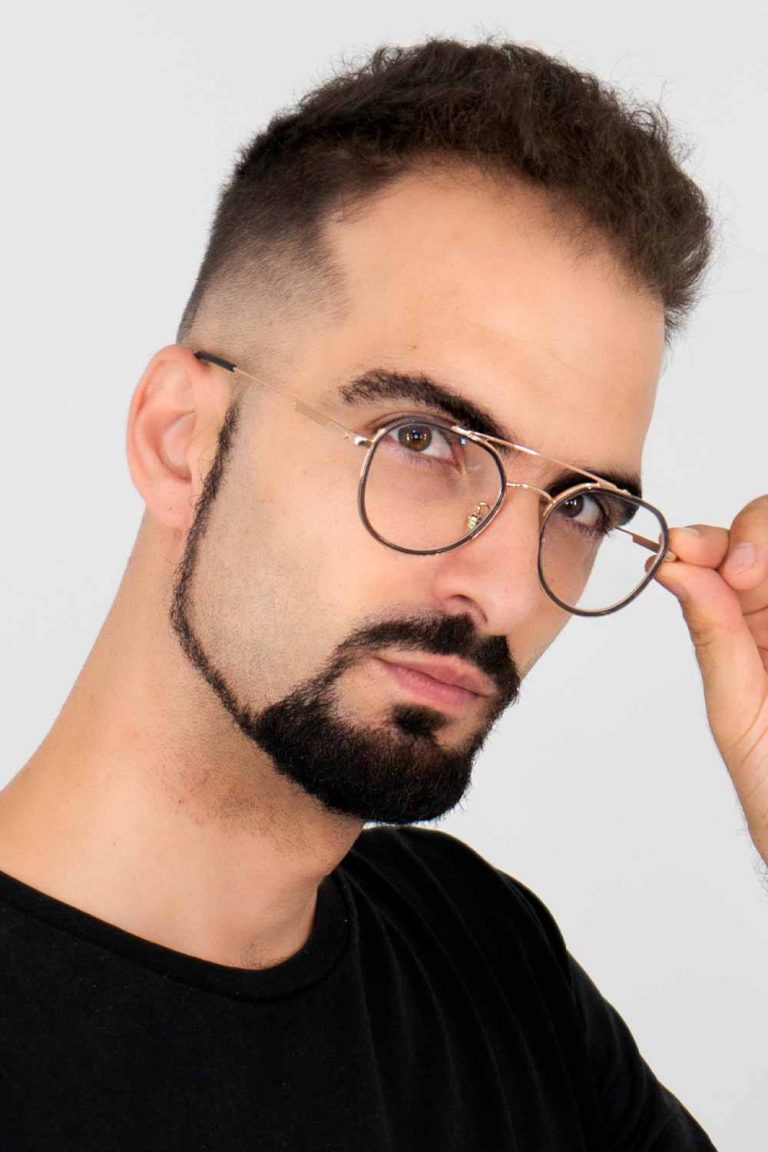 Goat Beard
A goatee is a facial hair type that features only chin hair with cheeks and the area above the upper lip being clean shaven. The goatee images have changed over the course of time, adjusting to ongoing trends and cultural values.
Featureflash Photo Agency/Shutterstock
Circle Beard
A low key take on a goatee is a circle beard. As it features facial hair that surrounds your mouth, it instantly draws attention to it. So, if you are a public speaker and it is important for you to keep the focus on your mouth, then it is hard to think of a better option. Besides, it is quite beneficial for those who struggle to grow a full beard since it comes out uneven. A circle beard allows you to disguise this imperfection. To nail the look, you need to shave your beard so that the mustache blends into the hair on the chin seamlessly, while the cheeks should be clean shaven.
Denis Makarenko/Shutterstock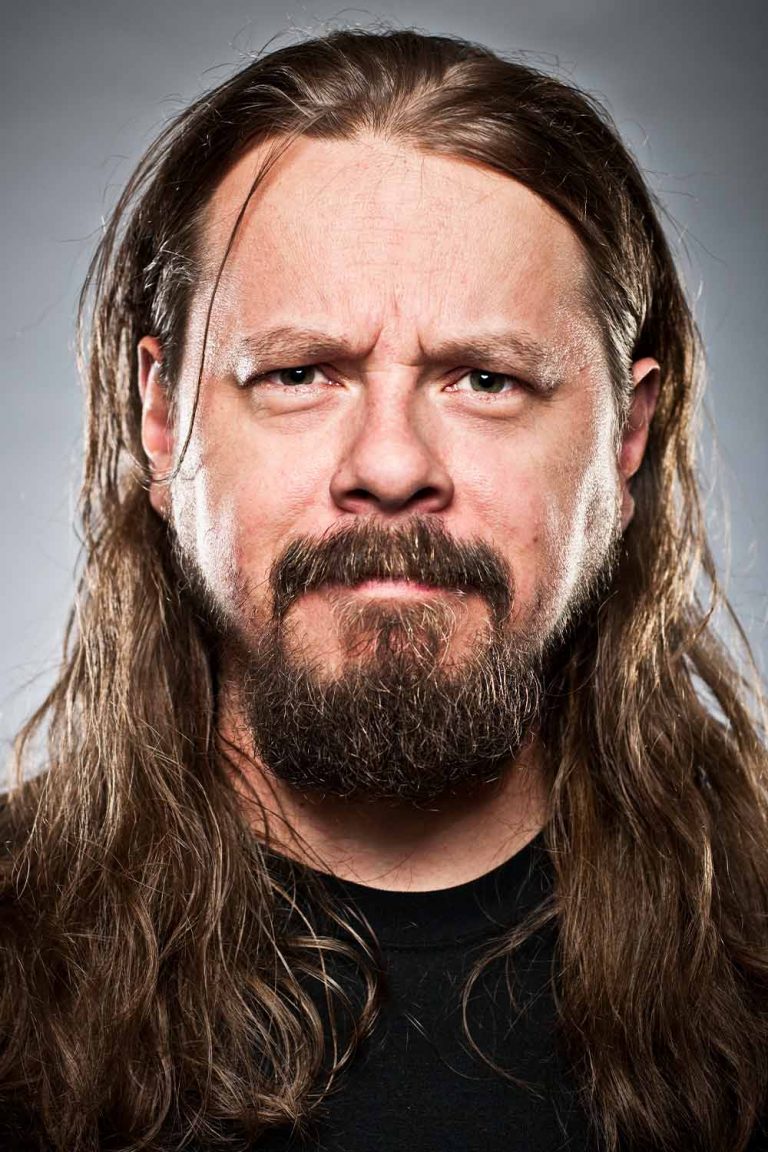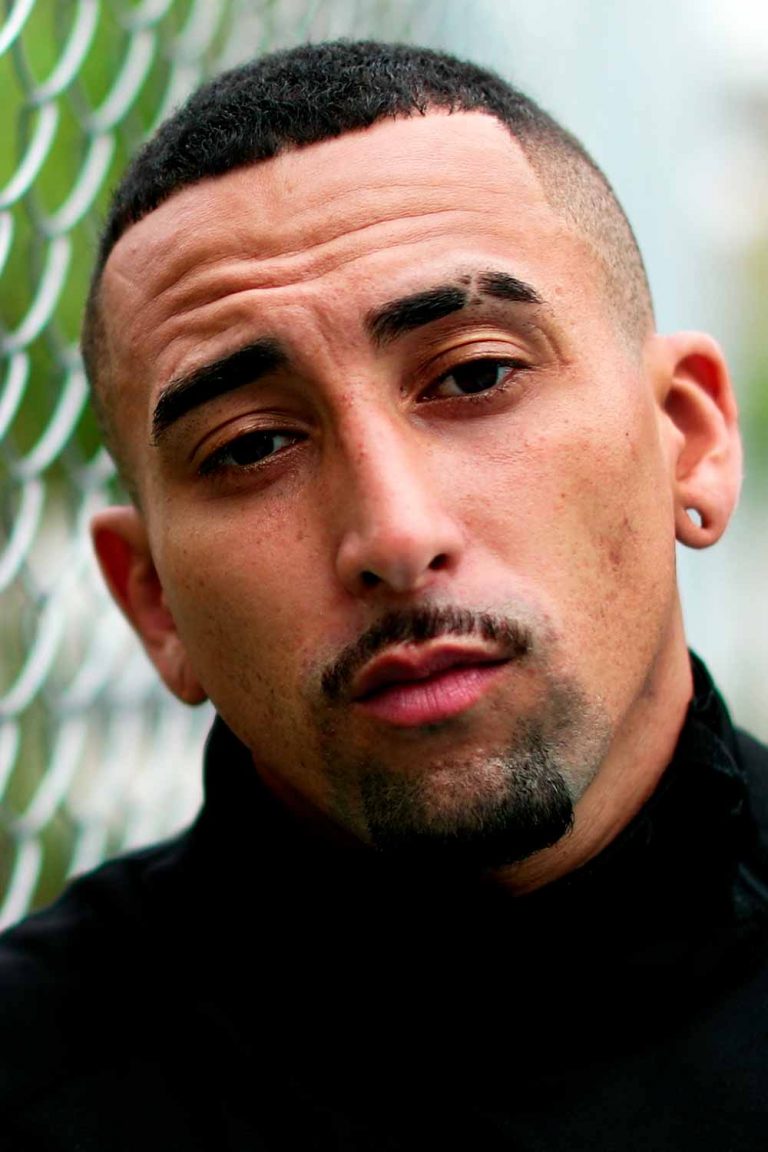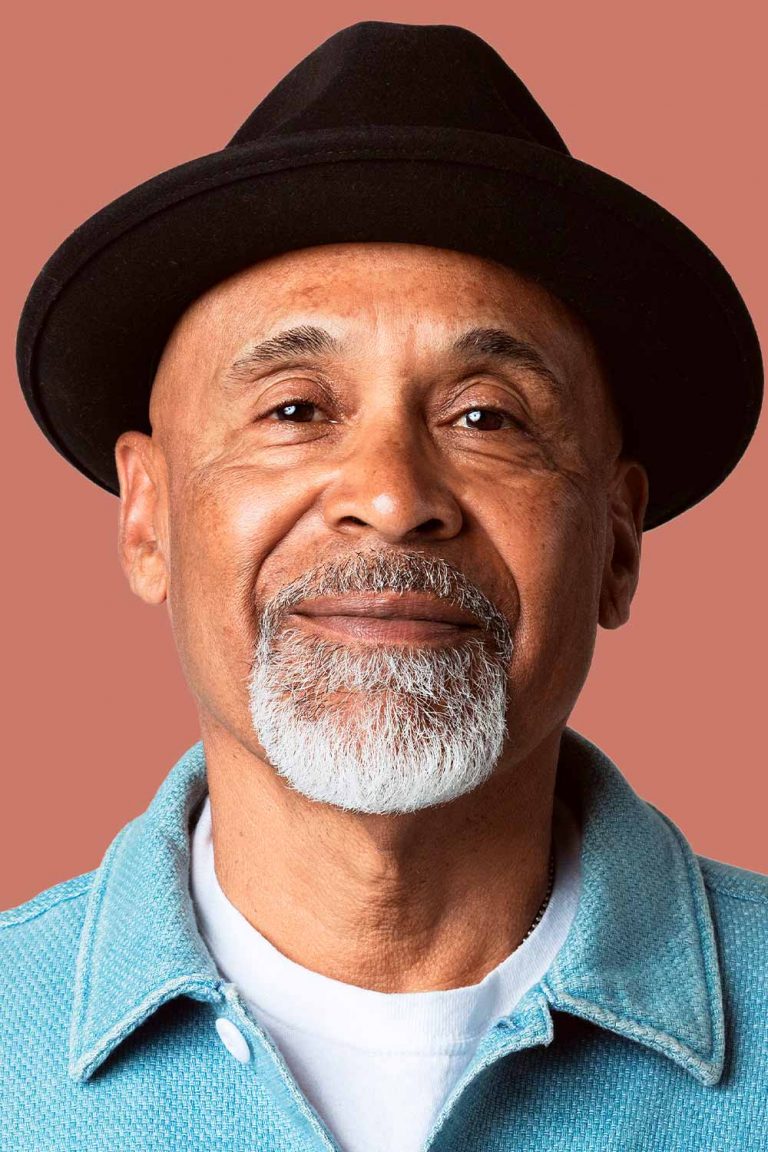 Source: DFree/Shutterstock
Source: Tinseltown/Shutterstock
Source: s_bukley/Shutterstock
Source: Featureflash Photo Agency/Shutterstock
When choosing the most flattering goatee style for your face shape you need to stick to the following rules. Take into account how full and thick your facial hair is, what job position you hold and how much time you can spend on the maintenance of your beard. Considering these factors will ensure you're making the most out of your goatee while enjoying the process of sporting it.
FAQs
What is the difference between a Van Dyke and a goatee?
Do you know what is the difference between a Van Dyke and a goatee? The latter implies a beard style that features facial hair trimmed so that it grows only in the middle of your chin, meaning the cheeks and the area above the upper lip are clean-shaven. The former refers to a goatee accompanied by a mustache.
How do you get the perfect goatee?
Wondering how do you get the perfect goatee? Here is a quick tutorial for you to follow:
Run a beard trimmer with a guard size between #0 and #3 all over your beard to achieve an even length.
Remove the attachment and trim the neck and cheeks to outline the goatee.
Hold the trimmer upright toward your skin and trim sharp lines on each side of your face, moving from the mouth corners toward the hair.
Run the trimmer down your neck to create a line under the chin.
Rinse the skin with lukewarm water and cover the trimmed areas with shaving gel.
Clean shave the trimmed areas with a razor for extra emphasis.
Is a goatee a beard?
It certainly is! It is just another kind of facial hair style.
How long should a goatee be?
While there are no particular requirements for a goatee length, it is best if your facial hair is around 10 mm long.
Why is a goatee called a goatee?
The answer is on the surface. This beard style resembles a patch of hair that grows on the chin of a goat. As simple as that.
REFERENCES:
A goatee is a style of facial hair incorporating hair on a man's chin but not his cheeks. Source
How to Grow a Goatee. Source
Your ultimate guide to beards, mustaches and goatees from grooming and trimming tips. Source