The burst fade haircut is one of the most dazzling variations of fades. This hairstyle is particularly practical as you can add it to any men's haircuts regardless of its length and texture. A very popular instance of such combinations is the burst faded Mohawk, also known as the fade South of France haircut that owes its popularity to the well-known R&B artist Usher Raymond. So, here are some insights into the best ways to rock the burst faded haircut.
What Is A Burst Fade?
It's impossible to confuse the burst fade haircut with any other fade haircut because of the dramatic feature it involves. To get the burst faded effect, the hairline behind the ear should be tapered, while the hair at the back is left longer. In such a way, the hairline replicates the ear curvature and bursts out at the neck. Notably, the faded cut looks amazingly flattering both on short and on medium length hair. Once you've found the answer to the question "What is a burst fade," it's time to consider what you need to know to get yourself one.
Source: @xbigwesx via Instagram
i
Source: @ahmetaslanhairsalon
via Instagram
i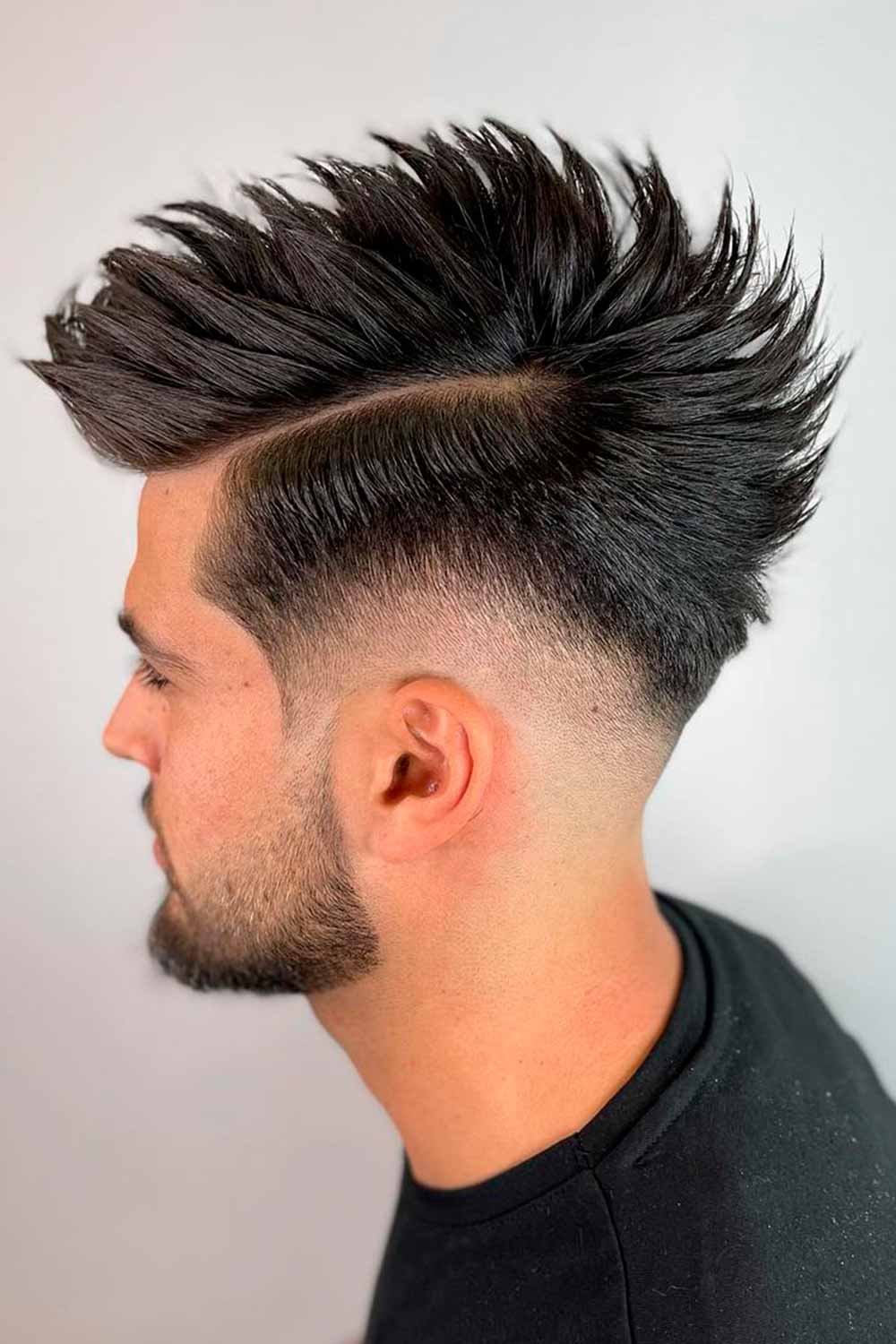 Source: @ryancullenhair via Instagram
i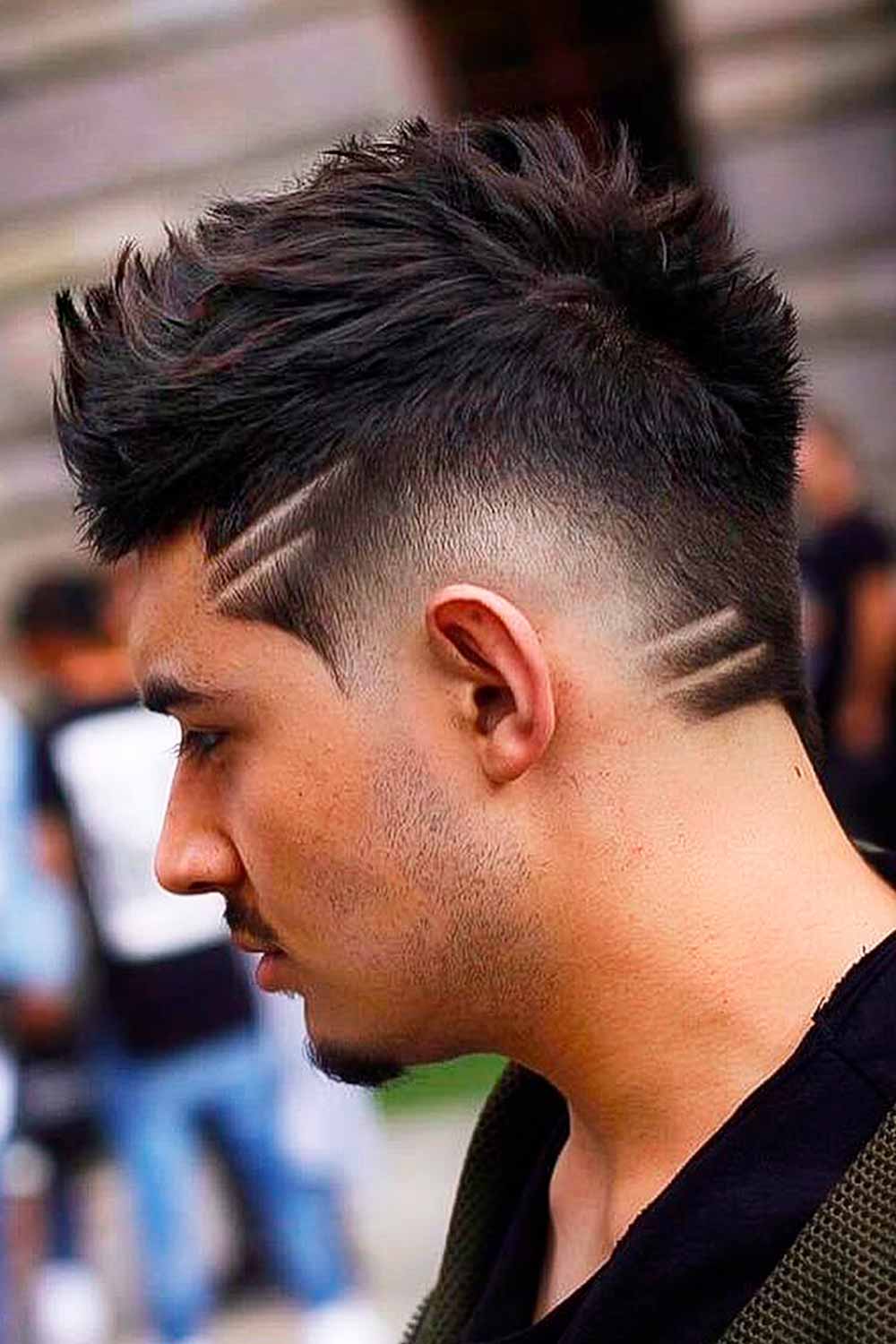 /
Best Modern Burst Fade Hairstyles For Men
Now when you know how to get the perfect burst fade, it's time to pick the individual set of parameters. Hence it can be a bit tricky due to the wide variety of options, here's our list of the most complimenting modern fade hairstyles for men.
Burst Fade Mohawk
A mohawk fade pairs nicely with many top haircut styles. But hardly anything looks as fashionable and classy as a textured burst mohawk.
Source: @andyfadepro via Instagram
i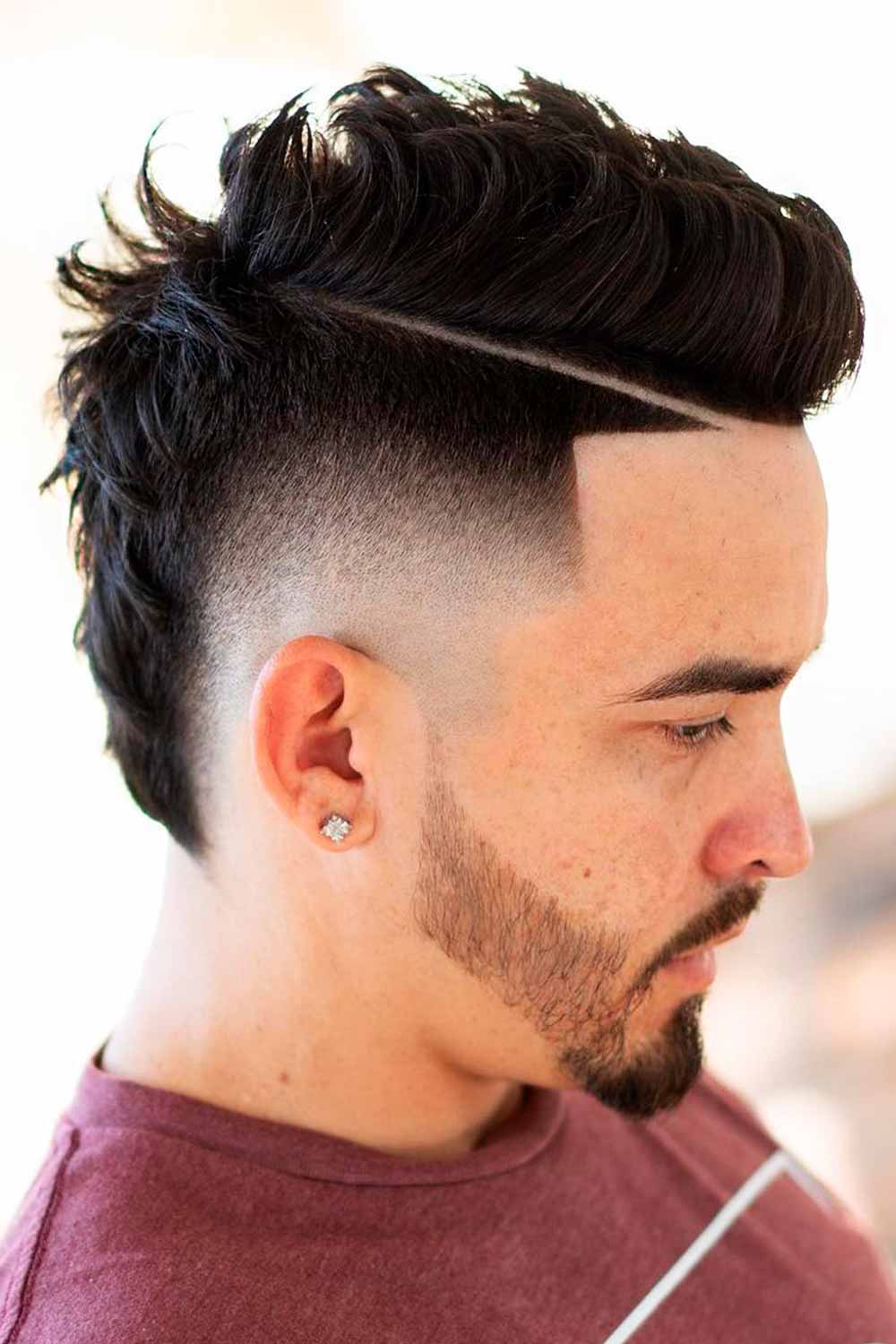 Source: @xbigwesx via Instagram
i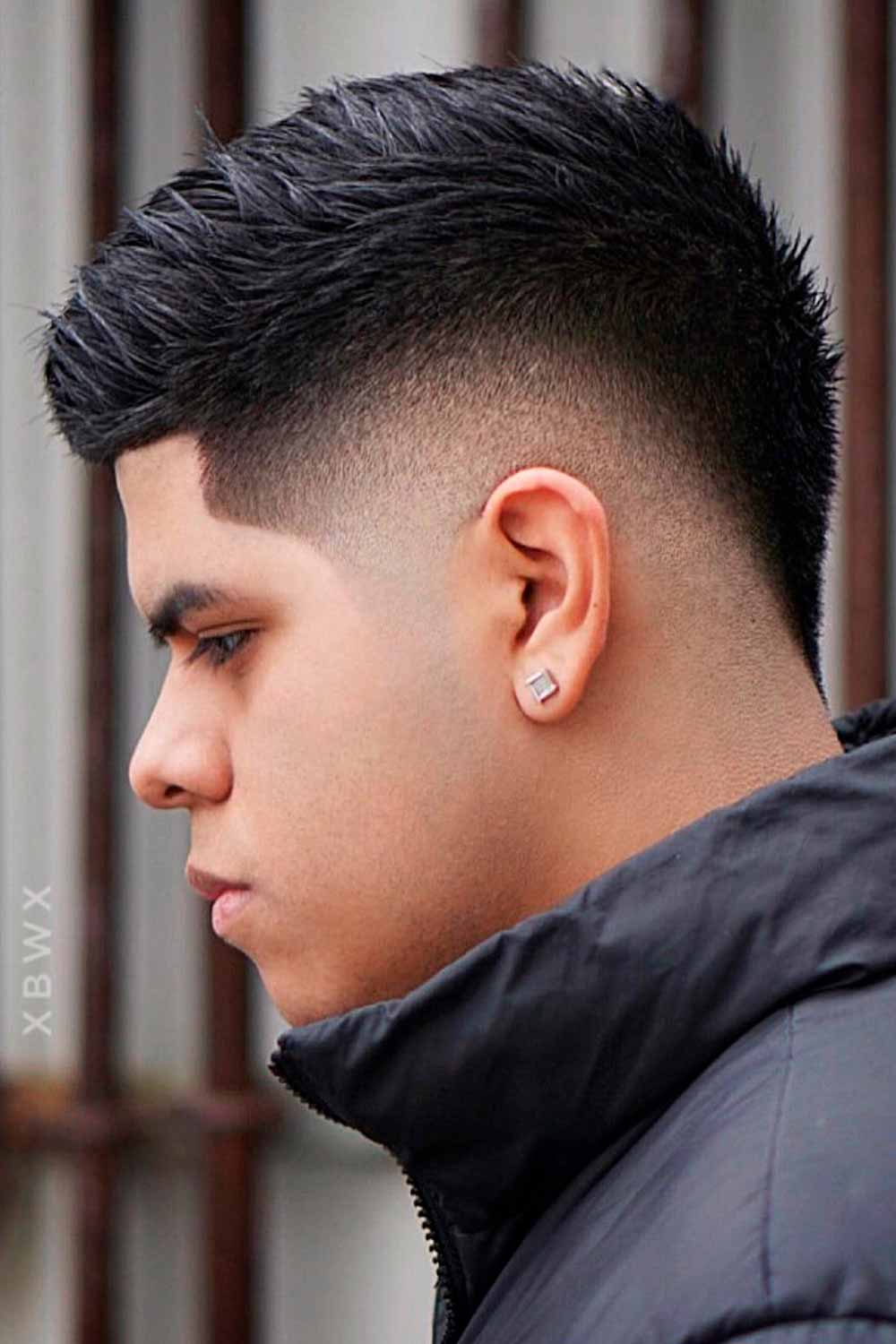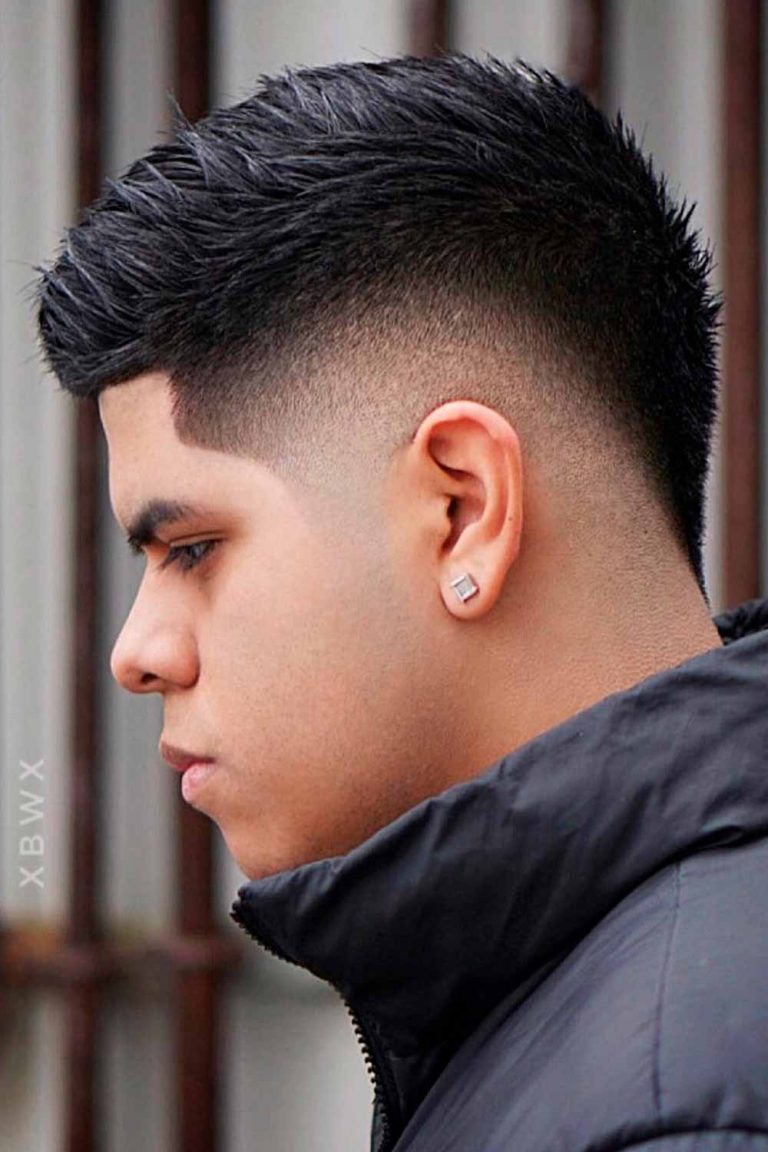 /
Burst Fade Mullet
Similar to a mohawk burst fade does the trick for a mullet too. Modern mullet fade features less hair on the sides, focusing more on the back and top. So, complementing it with a burst fade guarantees that your hairstyle will look modern and fashionable.
Source: @xbigwesx via Instagram
i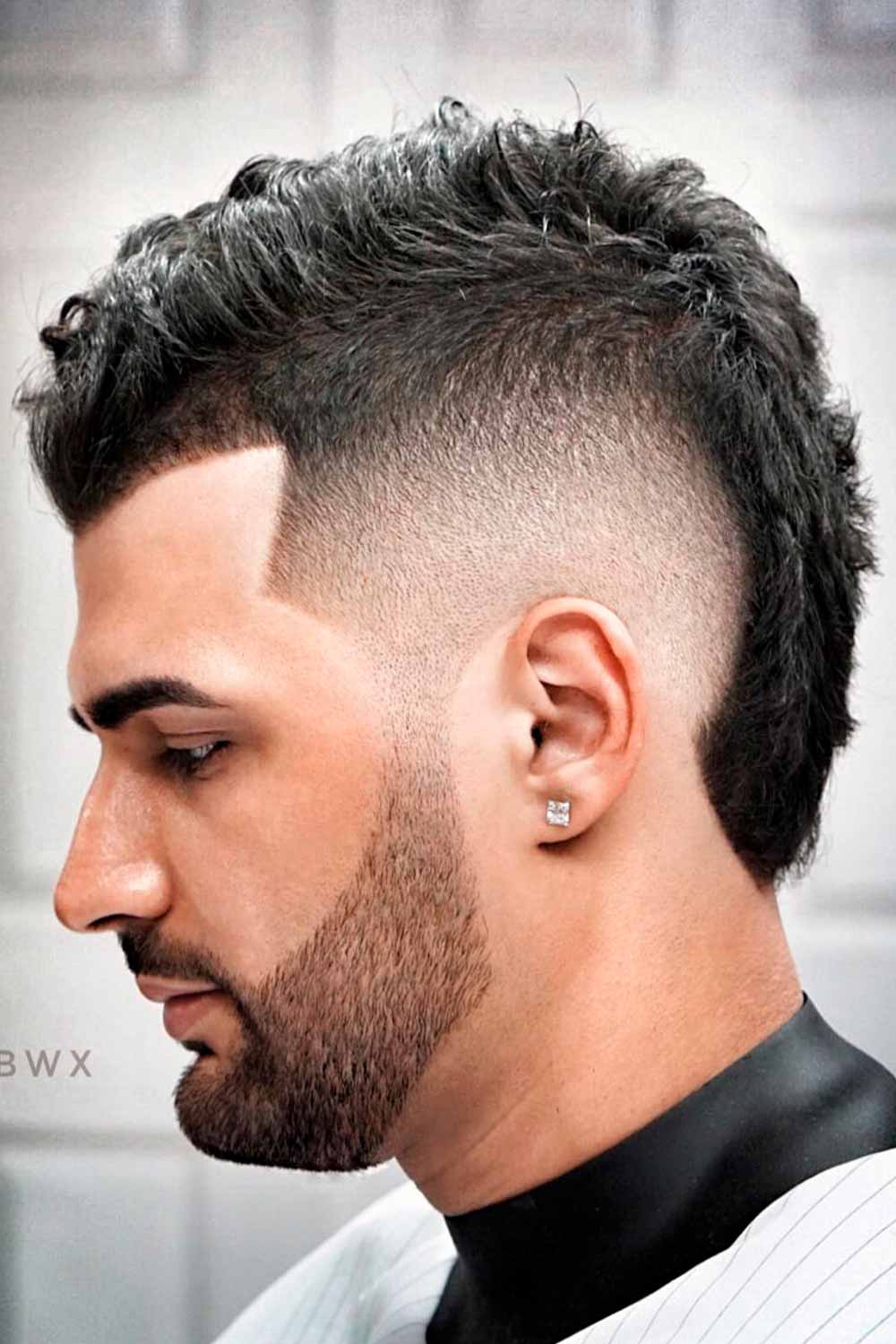 Source: @r.braid via Instagram
i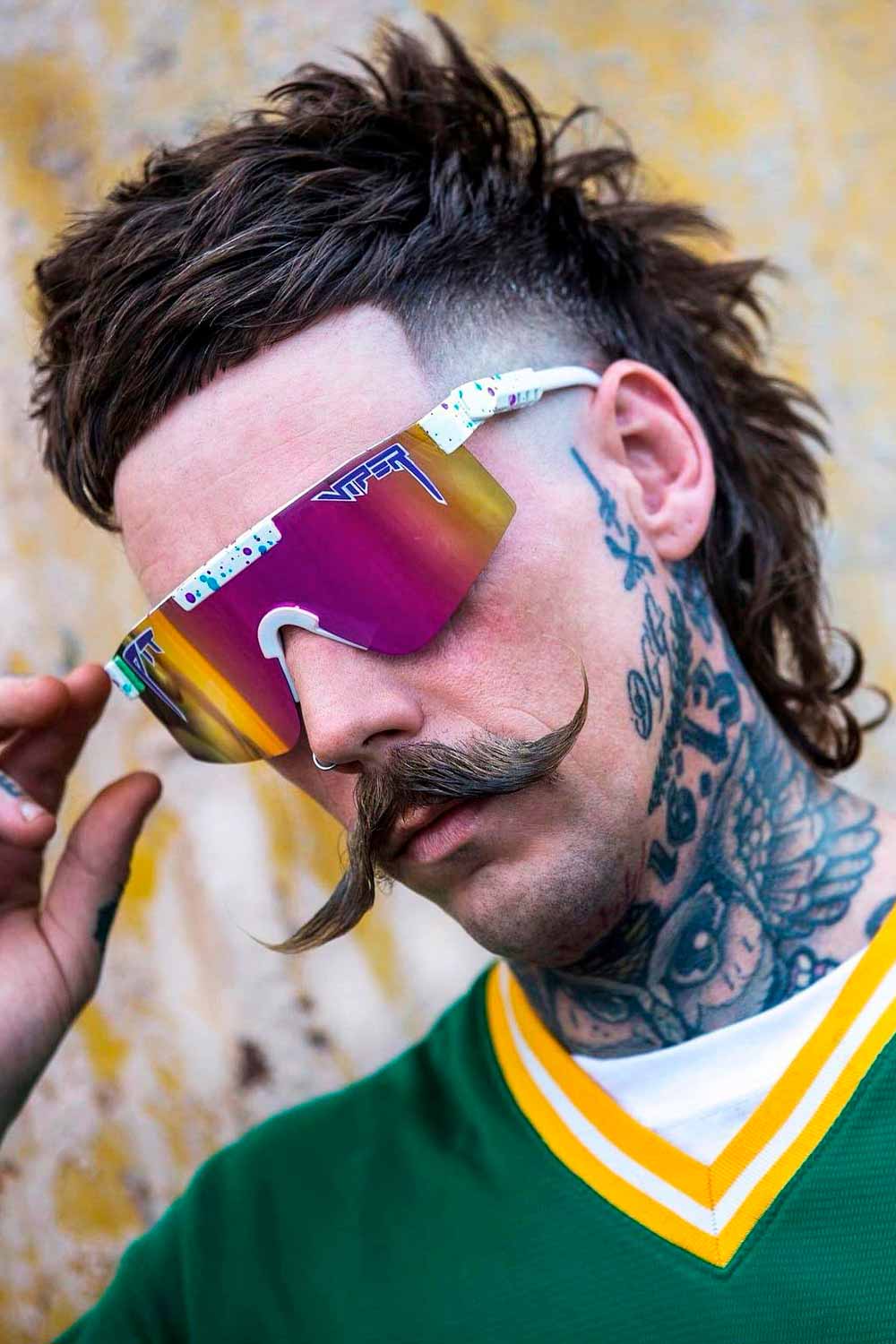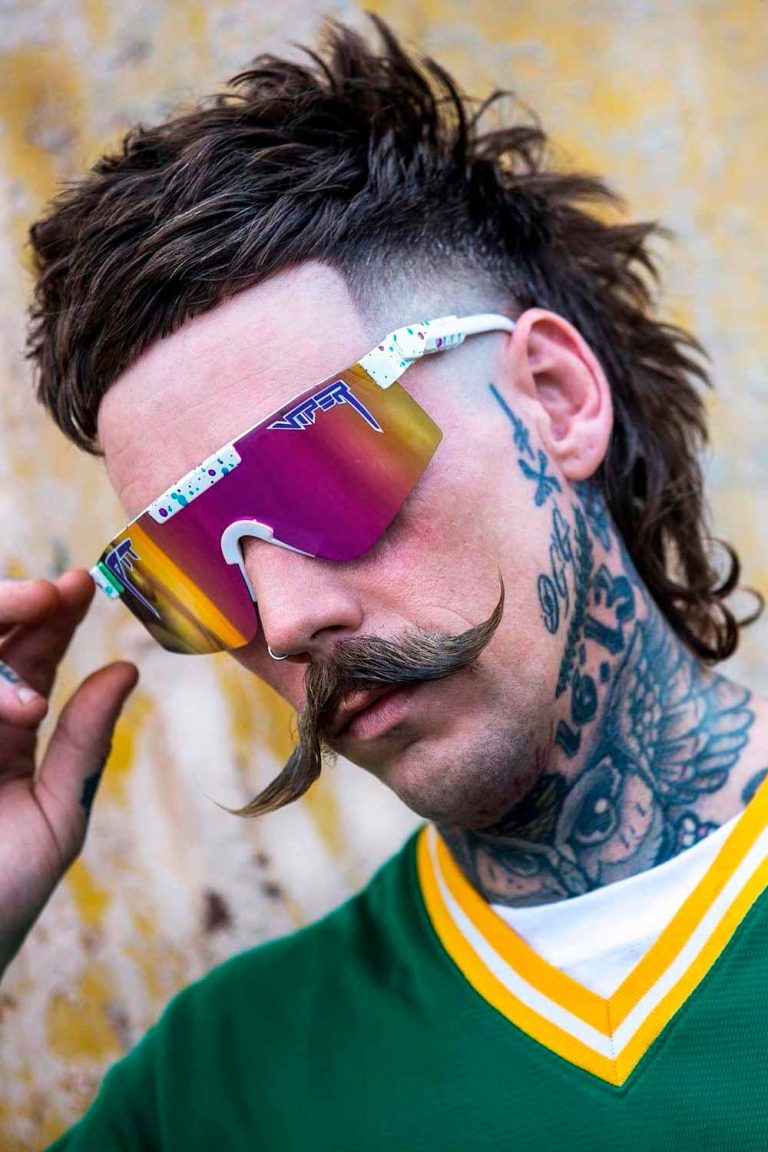 /
Burst Fade Curly Hair
This is another variation of the frohawk fade. Among all of the black men fades, this faded cut with curly hairstyles men has the softest and nicest look.
Source: @keller_konturen via Instagram
Messy & Straight Hair Burst Fade
It may seem sometimes that straight hair lacks definition and boldness. If this is the case for you, try to spice up your haircut with a fade burst. Optionally, you may give your hair on top a textured cut for added volume and movement. Do not forget to enhance it with a tad of a texturizing product.
Source: @r.braid via Instagram
Burst Fade Short Hair
When it comes to burst fade short hair is not the only ones to benefit from it. White men can also pull it off. Just make sure you have the skilled barber at hand and the right attitude.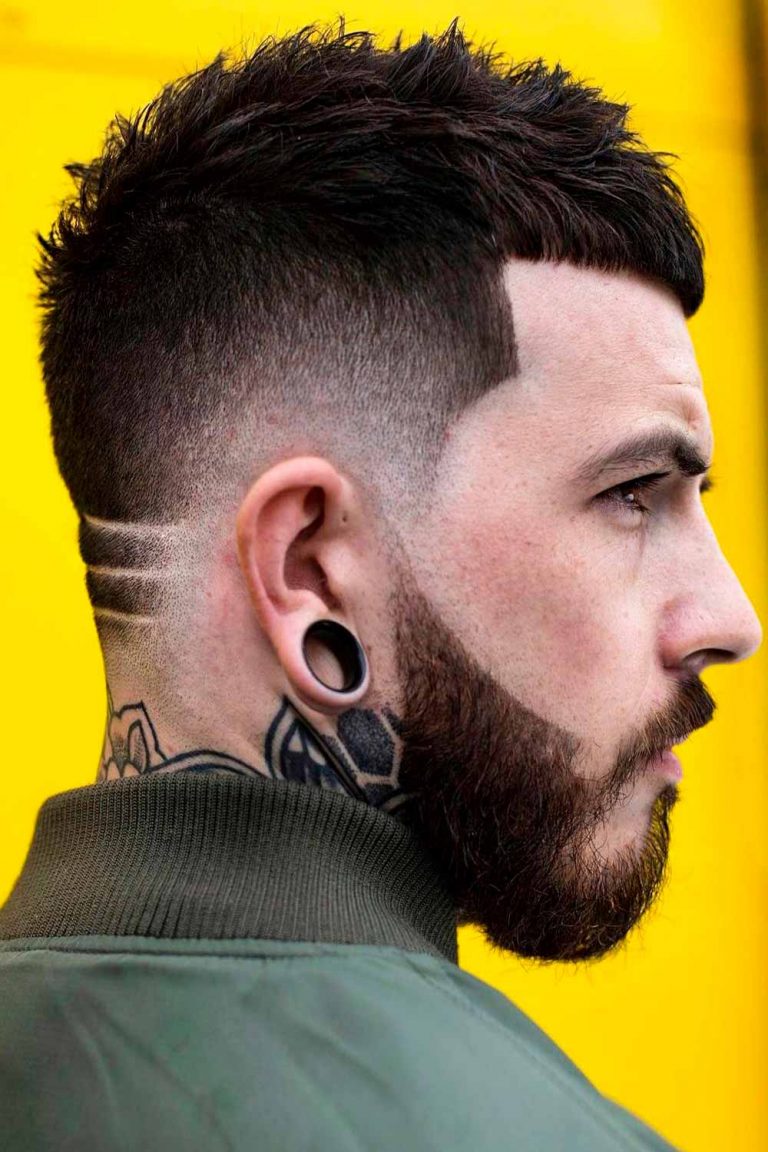 Source: @r.braid via Instagram
Burst Fade Long Hair + Braids
A burst fade low cut is a great option if you have long hair and would like to change something in your hairstyle without sacrificing the length. As it suggests trimming the hair on the sides pretty short, the top becomes the focal point of the look. So, why not style it in an intricate manner, like these cool men braids?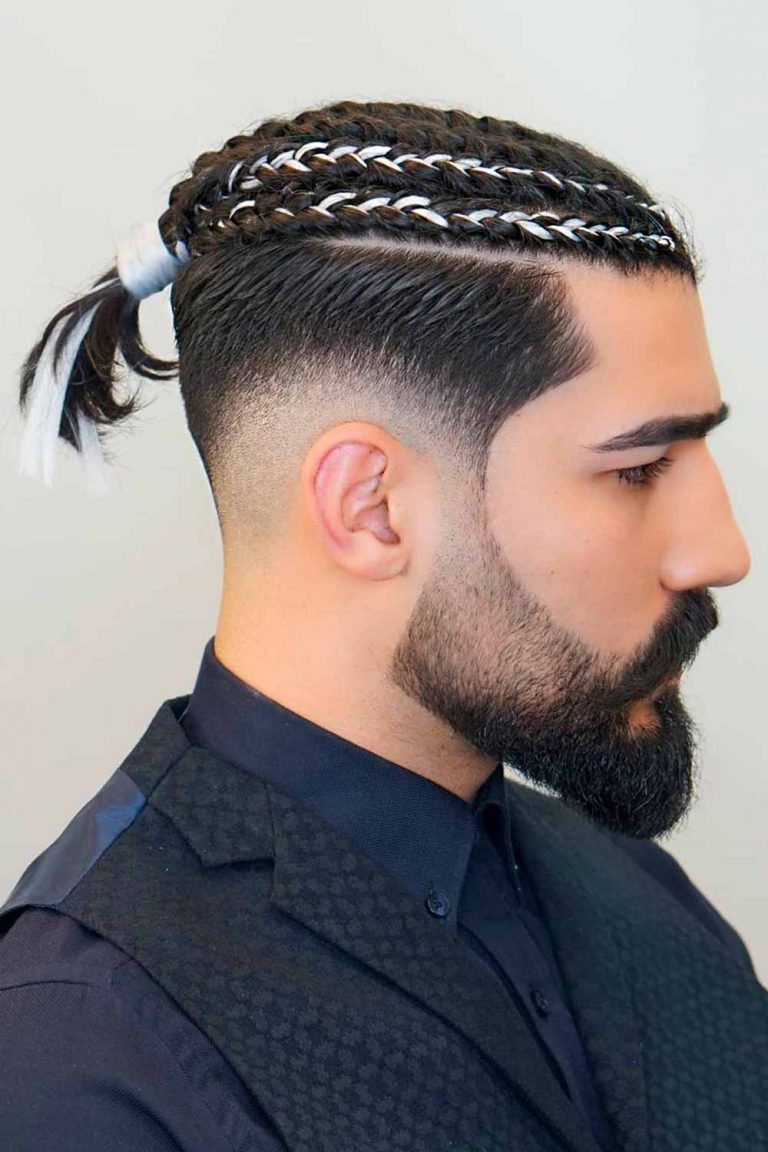 Source: @ahmetaslanhairsalon via Instagram
Mid Burst Fade Short Quiff
For a mid burst taper fade, any haircut on top will work just fine. We like to pair it with a short quiff. The look comes out trendy and neat, so you can wear it anywhere you like. Plus, it is quite easy to maintain, while styling will take just a couple of minutes.
Source: @horatiuthebarber via Instagram
i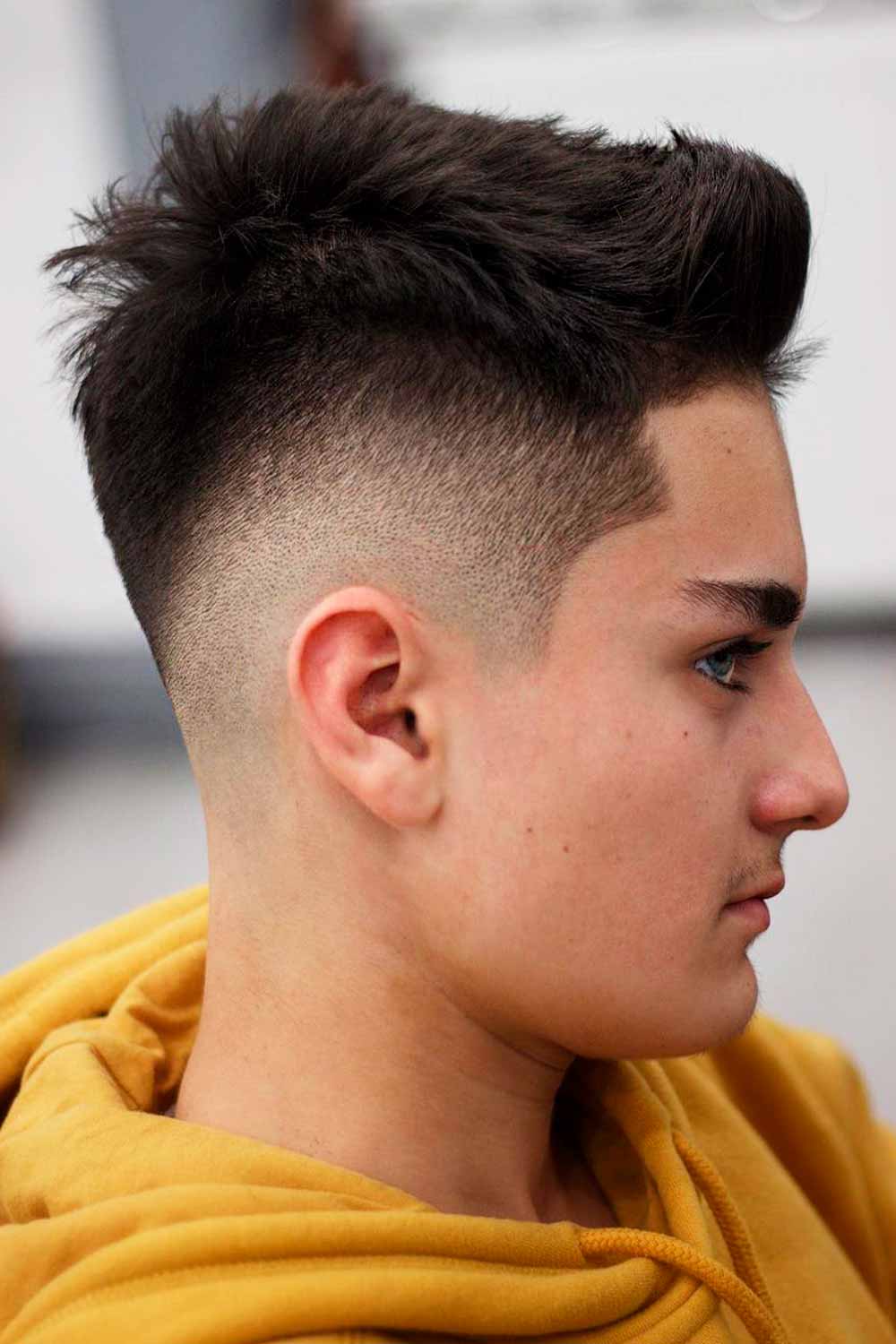 Source: @horatiuthebarber via Instagram
i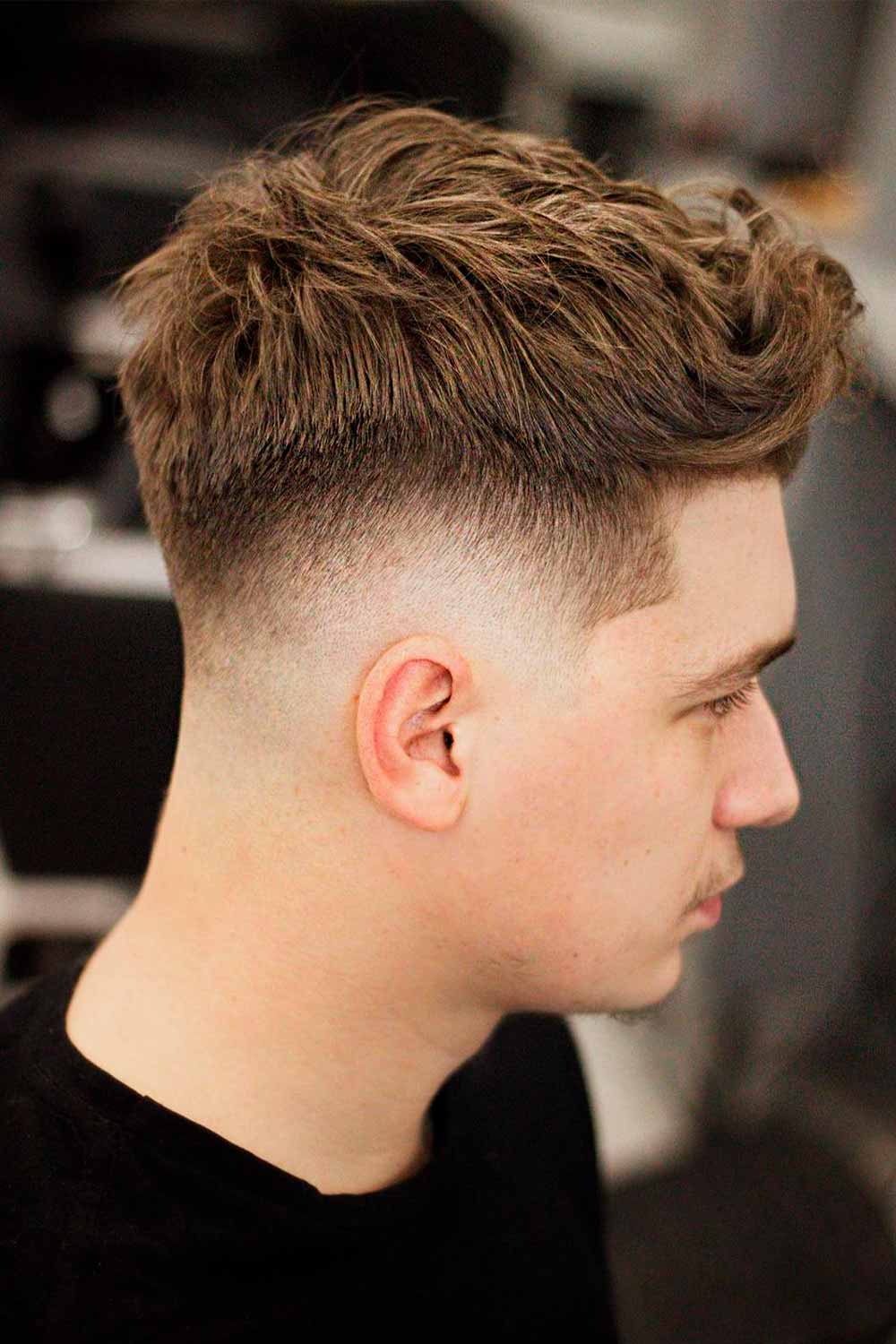 /
Buzz Cut Burst Fades
Although a burst fade is quite short on its own, it can accompany such a short cut as a buzz haircut and still create much contrast. To give your hair look a cool twist, accentuate the burst fade with design. Yes, you will need to pay visits to your barber quite often for upkeep. Yet, it is totally worth it.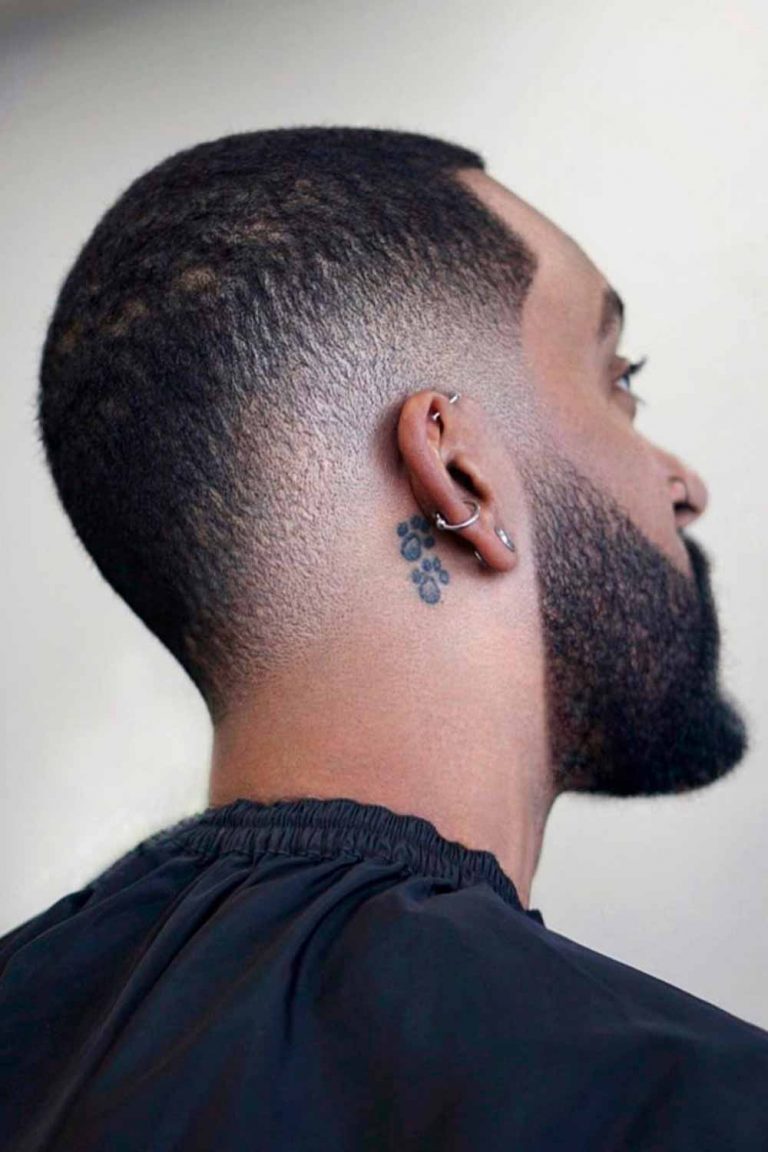 Source: @xbigwesx via Instagram
High Burst Fade Brushed Back
If you get a mullet burst fade, which is all the rage lately, you may rest assured that it will suit any ambiance, as it can be easily transformed into another look. For instance, if you brush the hair back, it will result in an elegant and polished hairstyle that can be sported at pretty formal events.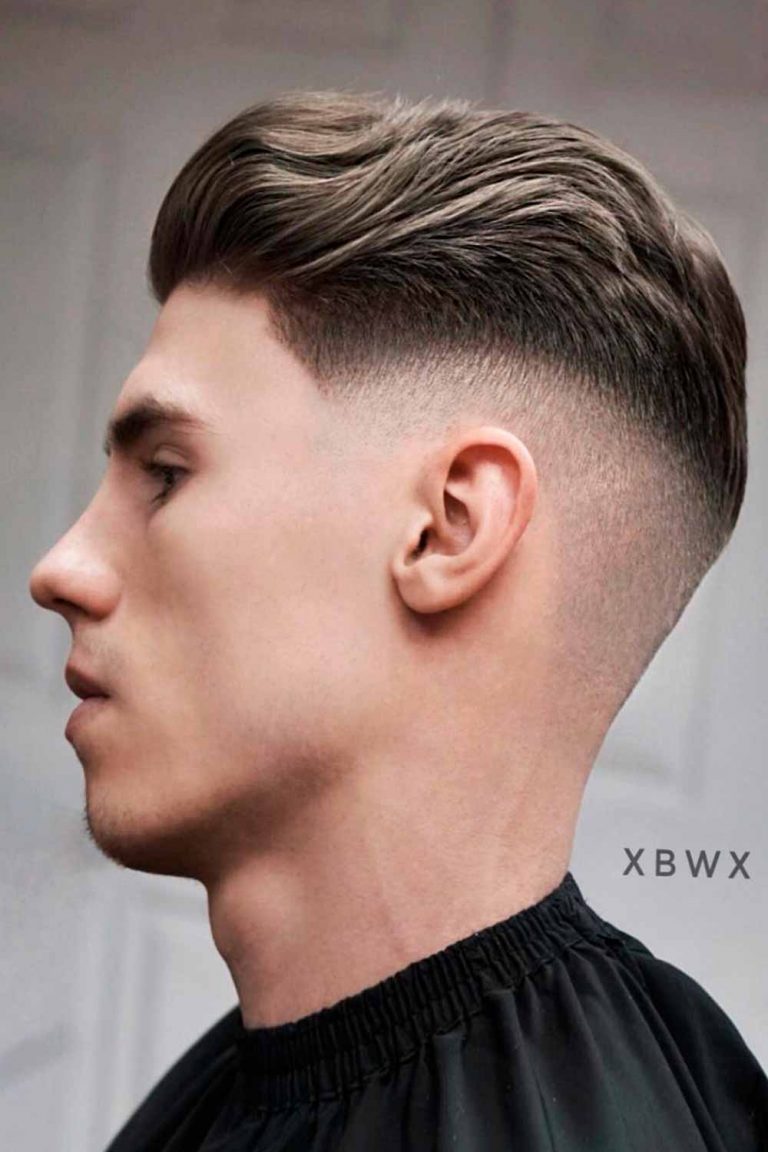 Source: @xbigwesx via Instagram
Coiffed Burst Fade
The burst fade haircut men should definitely try is the coiffed one. It represents simple yet elegant fade hairstyles. The core of this haircut is the arch that is coiffed front to back. The coiffed burst fade is a universal haircut as it works for any hair texture. However, if you want to rock it hard, make sure your hair is at least of medium length.
Source: @xbigwesx via Instagram
Burst Fade Short Pomp
Named after the mistress of the King of France Louis XV and popularized by the King of Rock and Roll Elvis Presley, the pompadour haircut is paired exceptionally well with the burst fade. The voluminous pomp organically blends with the hair at the back of the head, making it one of the trendiest fade hairstyles.
Source: @keller_konturen via Instagram
Cropped Burst Fade
The Afro fade is one of the most recognizable black men haircuts. It gives a chance not only to show the beauty of textured hair but also to create an awesome look for guys with short hair.
Source: @horatiuthebarber via Instagram
i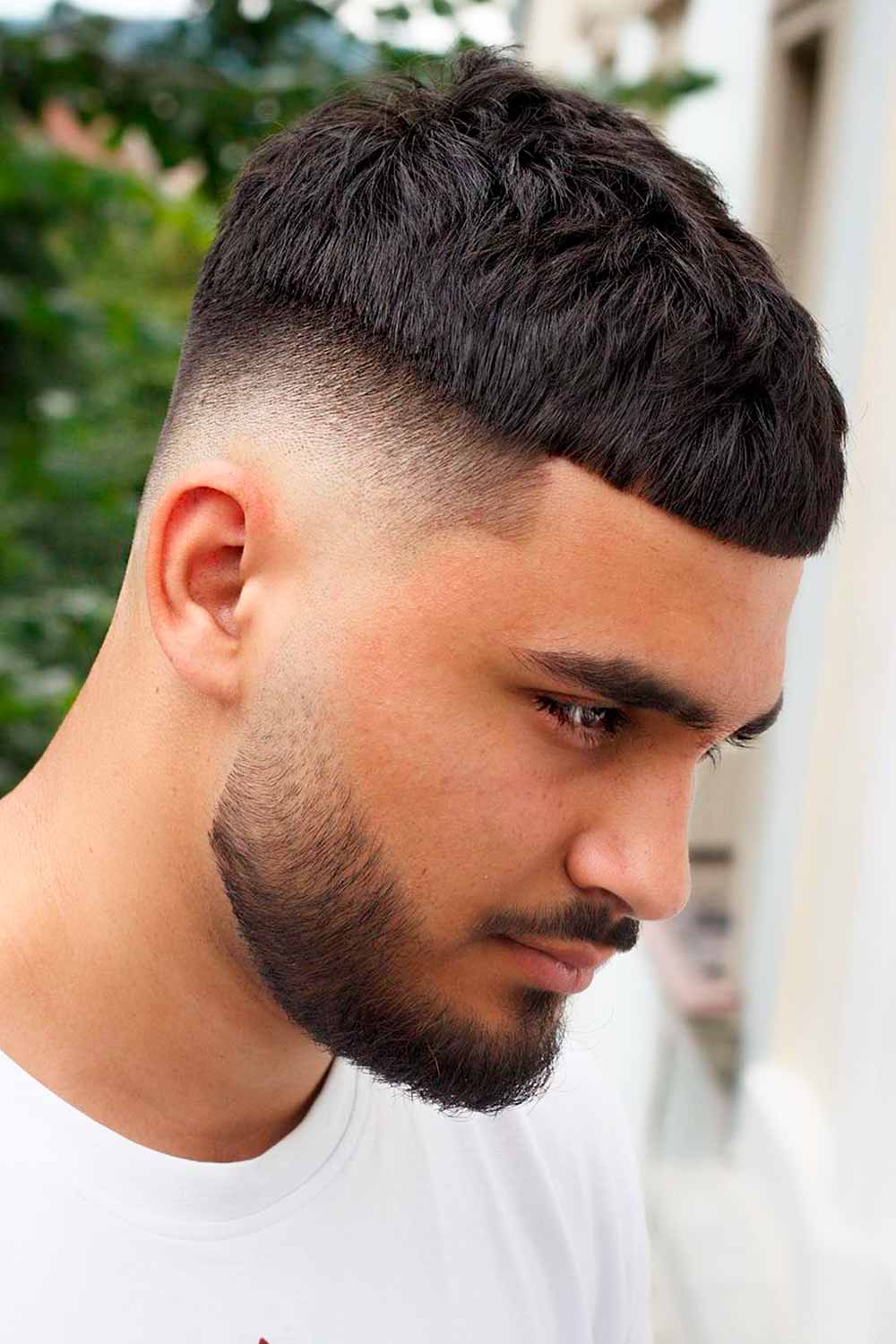 Source: @egobarbers via Instagram
i
/
Undercut Burst Fade Straight Hair
There are no restrictions for burst fades in terms of hair texture. Both straight and curly burst fade haircuts look bold and edgy. For straight hair, you may want to get a layered haircut on top to add emphasis to the hair texture. And do not forget about a texturizing hair product.
Source: @spukthebarber via Instagram
i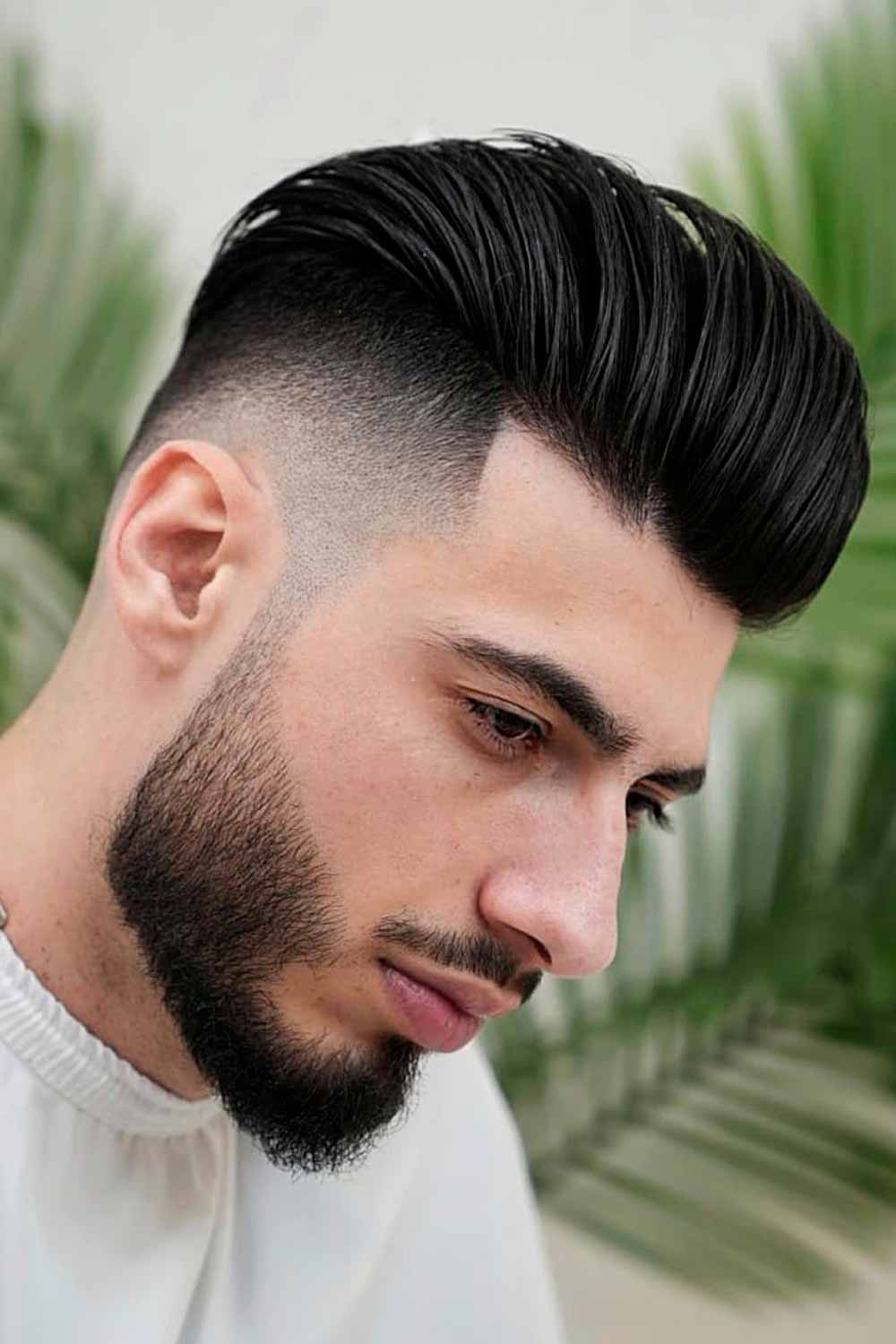 Source: @barbersdream via Instagram
i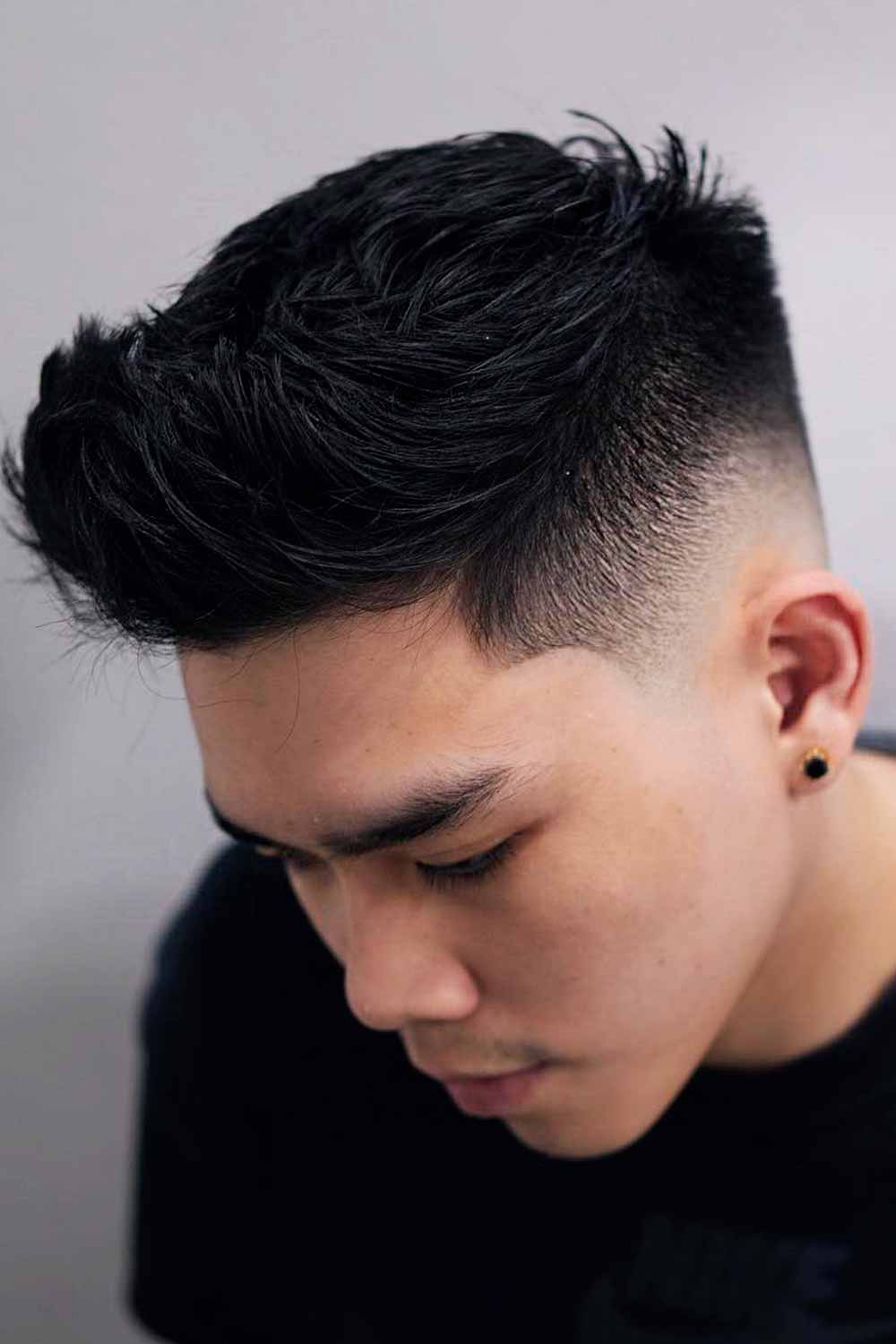 /
Side Design
If you want to have a real piece of art every day, go for a fade haircut with the design. Note that this hairstyle requires a lot of effort, skills and professionalism on the barber's side. Think through every detail of the carved hair design you're eager to receive and leave an Afro Mohawk on the top.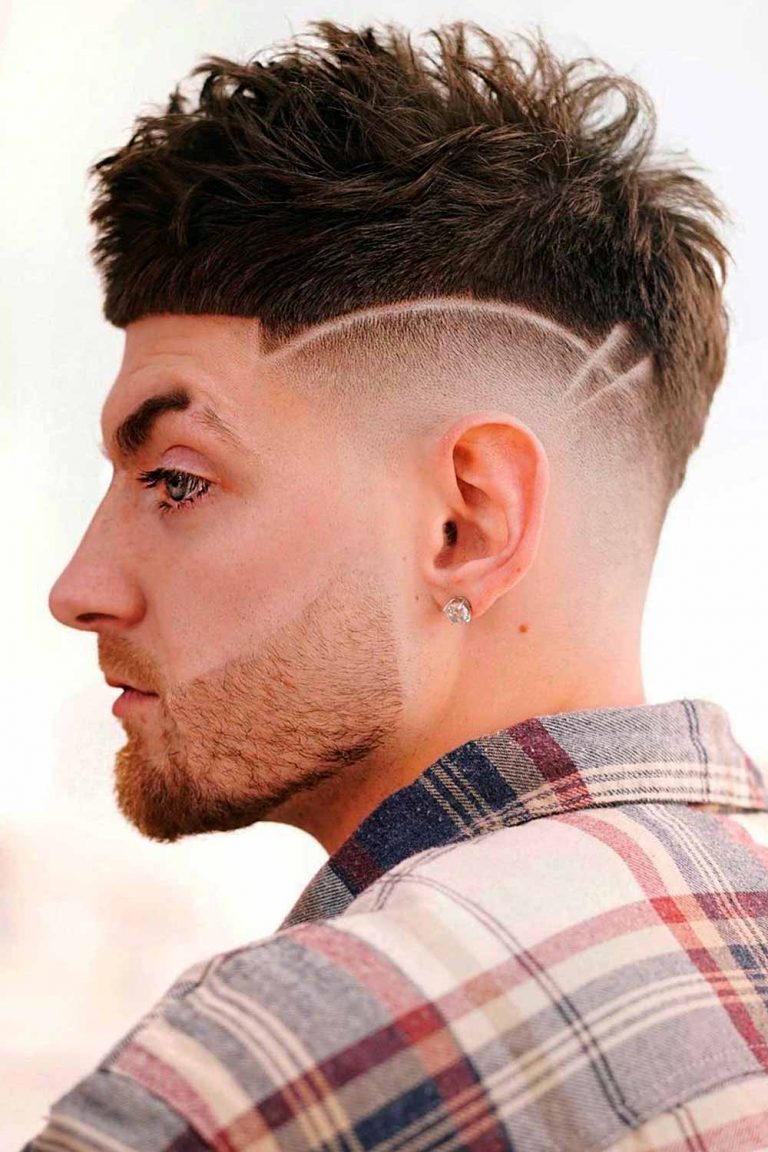 Source: @z_ramsey via Instagram
Ideal Hawk
It seems that a burst fade taper and a mohawk are literally made for each other. The fade gives your sides a clean cut look, while a relatively long top allows for a plethora of styling options. If you gravitate to a ruffian and daring style, then we highly recommend wearing your top spiked up.
Source: @xbigwesx via Instagram
Textured Hair
For guys with straight hair, a burst taper fade is a real savior. As it adds a unique and intricate touch to their look, the top does not appear plain and boring. What is more, you can team such a hairdo with almost any facial hair style, from a light stubble to a full beard.
Source: @xbigwesx via Instagram
Low Burst Fade Spiky Brush Up
Even though you might find this look overly abrupt and uneven, on closer examination, you realize that it is actually quite balanced. A low fade gives your undercut top an elegant and appealing twist while making it suitable for most situations and ambiances.
Source: @horatiuthebarber via Instagram
i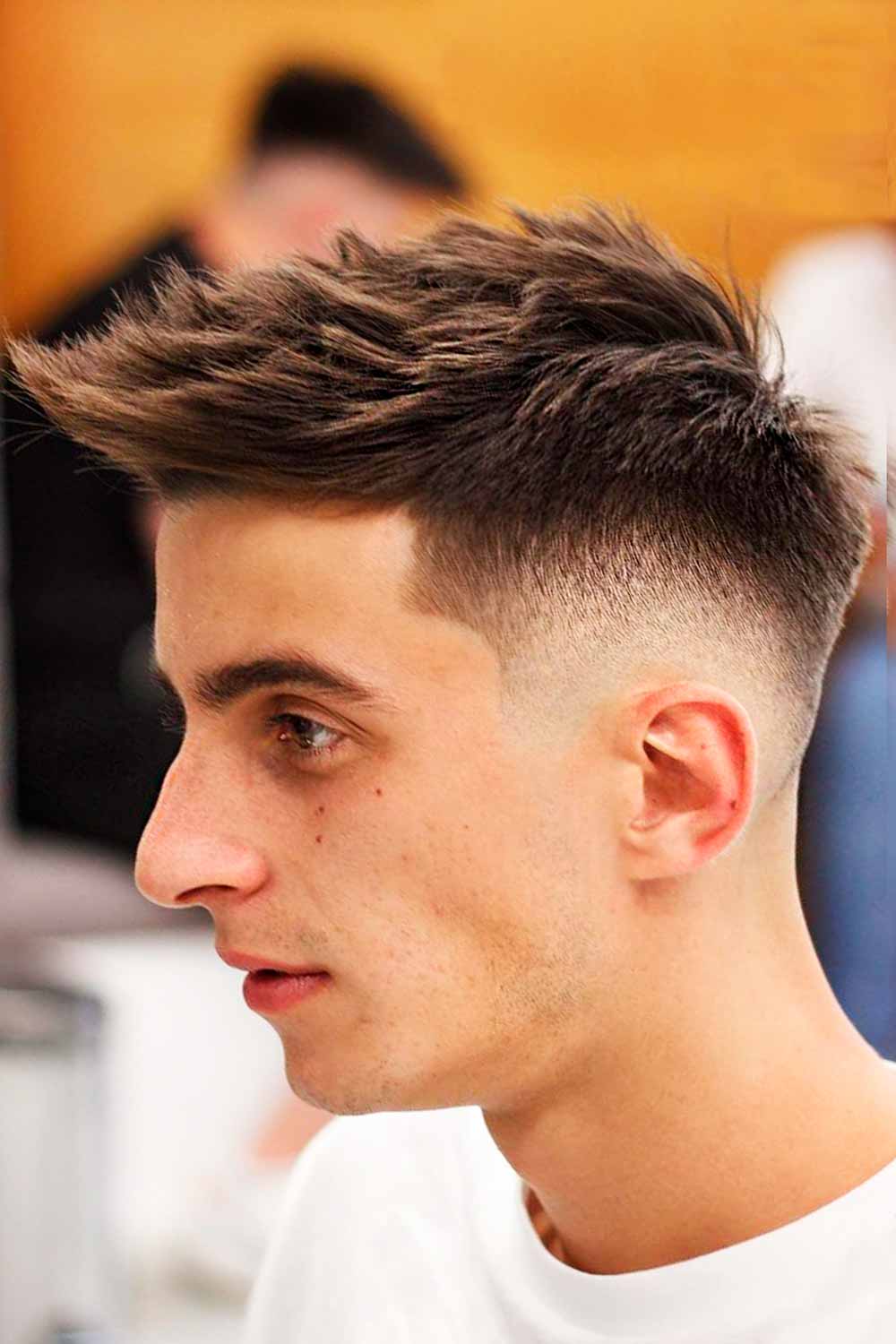 Source: @horatiuthebarber via Instagram
i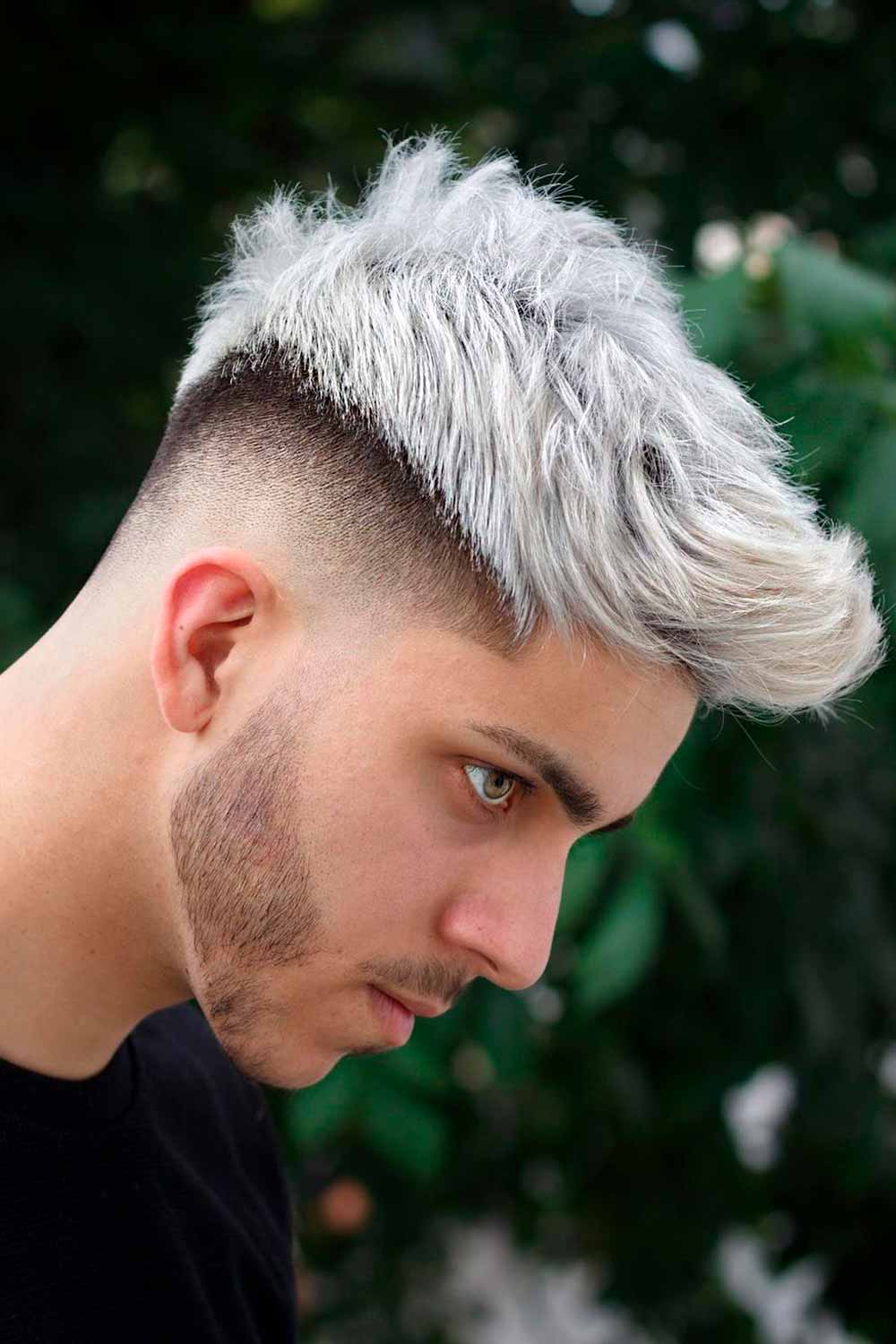 /
Curls + Taper
Looking for the best way to tame your unruly curls? The good news is your search stops here. Complement your curly top with a taper cut on the sides and back to give it the outline and contrast. As the lower section of your head looks so clean, you can style the top in any way your imagination is capable of.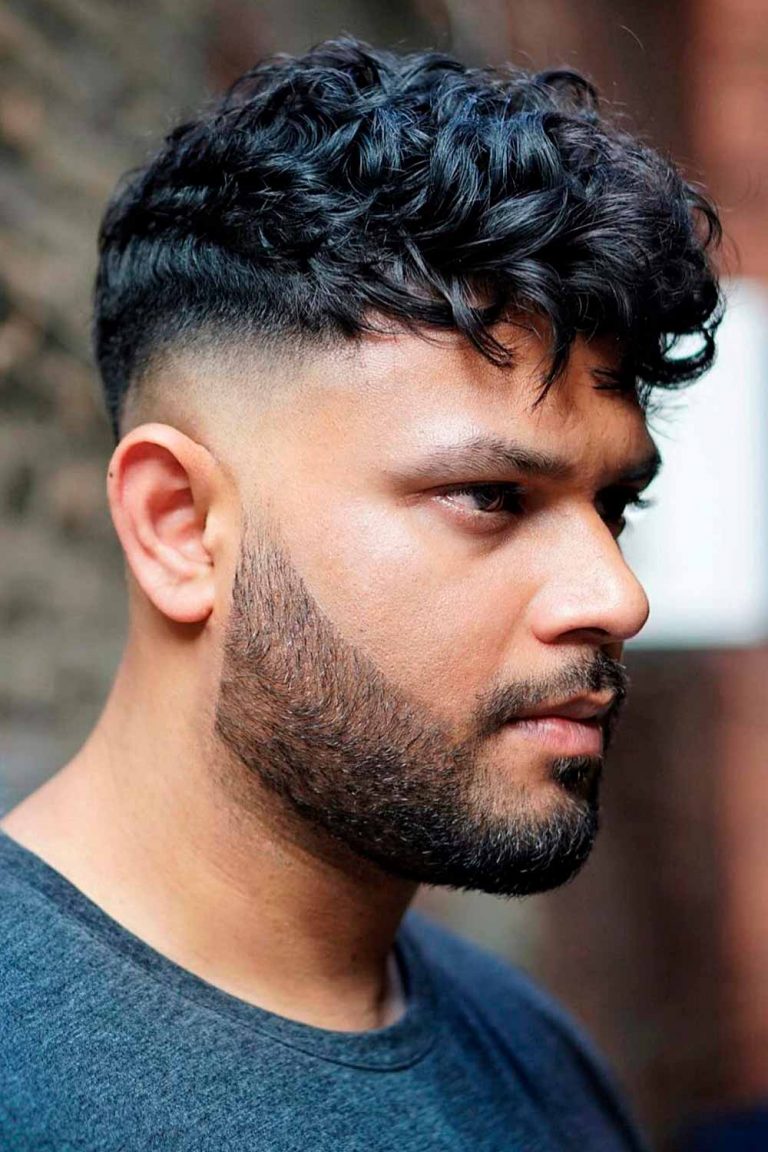 Source: @z_ramsey via Instagram
Low Burst Fade Design
Since a taper burst fade removes so much hair from the sides, thus keeping them clean and tidy, incorporating an elaborate hair design is always welcome. What it is going to be depends on your imagination and the skill level of your barber. Looking for something reserved? Ask the barber to shave in a line on the side. For something more intricate, you check out the most popular hair design ideas.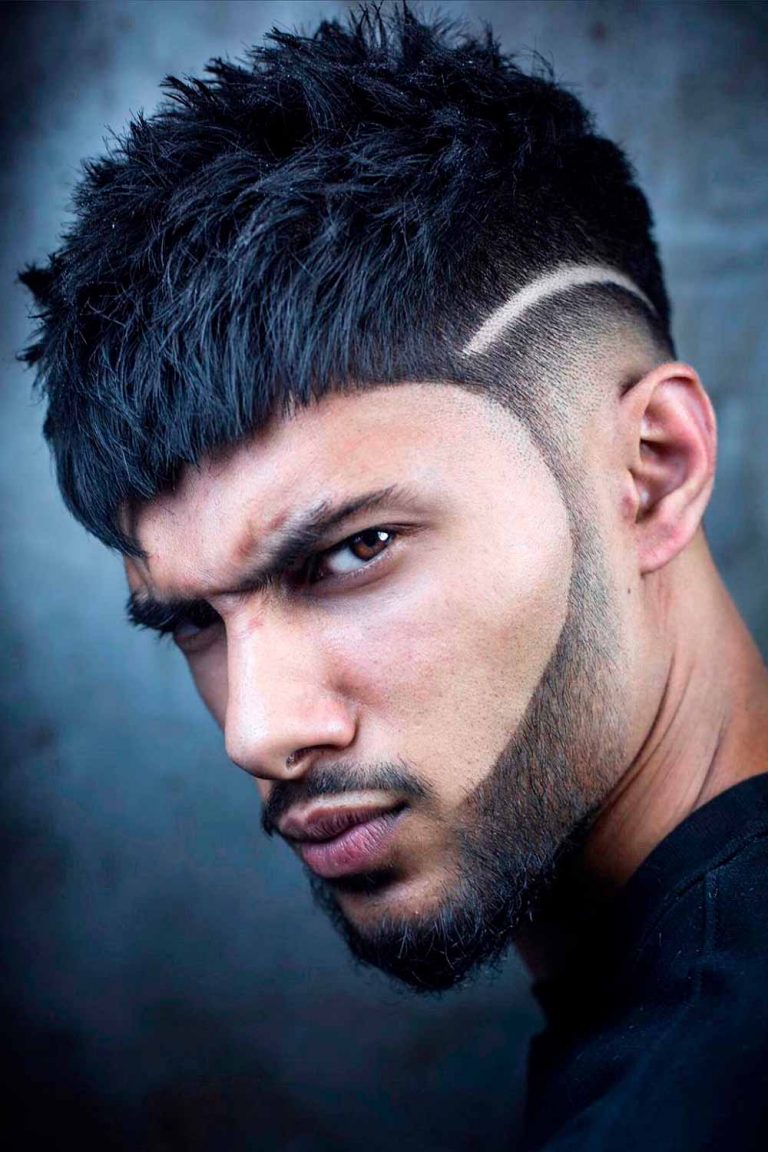 Source: @r.braid via Instagram
Short Fade With Sponges
If you're looking for short hair, you've come to the right place. For this look, the sides of the head should be cut short, which gives a perfectly neat effect. The top of the head doesn't have a spiky look but instead gives an impression of complete softness due to a large number of sponges.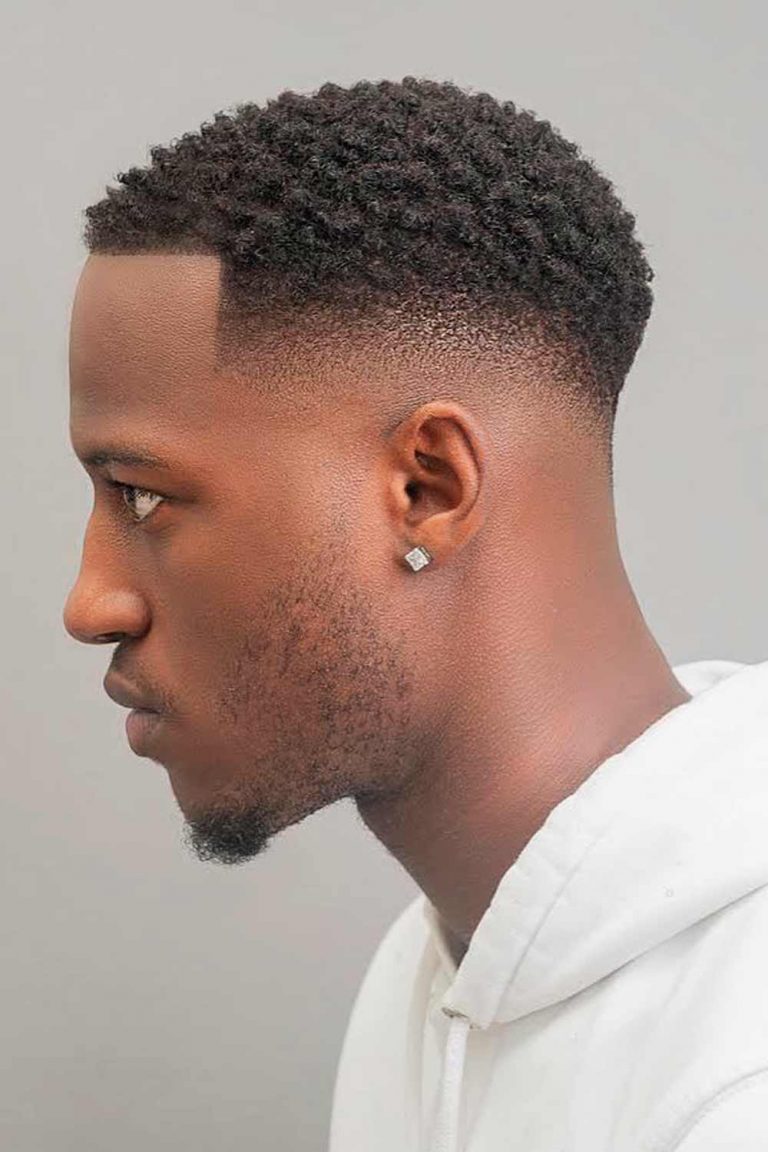 Source: @keller_konturen via Instagram
High Top
The high top burst fade is very similar to the classic version of the high top fade. Still, there is quite a striking difference as the barber who works with the high top burst fade haircut styles usually gives it a much more textured and sharp look. Thus, it adds a modern touch to this fade taper hairstyle.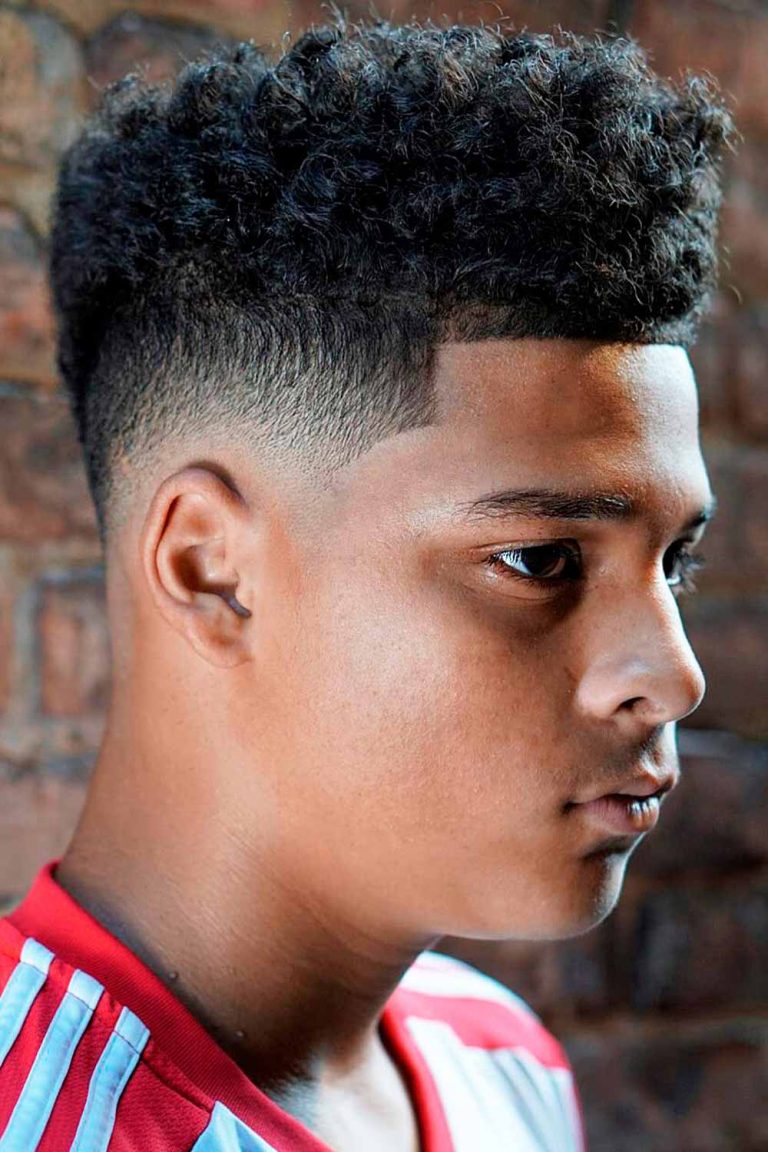 Source: @z_ramsey via Instagram
Bald Burst Fade
If you have naturally thick tresses and you want to emphasize that, then it is hard to think of a better option than a burst bald fade. As it removes quite a lot of hair from the sides, your 'do does not appear unkempt or heavy any more even when you create a burst look.
Source: @egobarbers via Instagram
Burst Fade Comb Over
Although the Usher fade is so bold and intense, it can be easily adjusted to match the formal ambiance. A burst fade comb over looks sophisticated and polished, yet still has a cool vibe.
Source: @sirpaulcharles via Instagram
Burst Taper Fade
There is a wide range of Usher hairstyles nowadays with a burst taper fade being one of the most elegant and refined. Its main difference from the classic version is that the hair on the sides is not shaved down to the skin but trimmed very short instead.
Source: @egobarbers via Instagram
Burst Fade Faux Hawk
If a burst fade mohawk haircut is a little over the board for you, then opt for its low key version, a burst fade faux hawk. While it is still eye-catching and edgy, the contrast between the sides, back and top is not as striking.
Source: @ryancullenhair via Instagram
South of France Burst Fade Mohawk
Of course, you can never go wrong with the classic Usher hair cut, which also goes by the name "South of France or "burst fade mohawk". Stylish and impactful, it flatters any face shape and matches any outfit.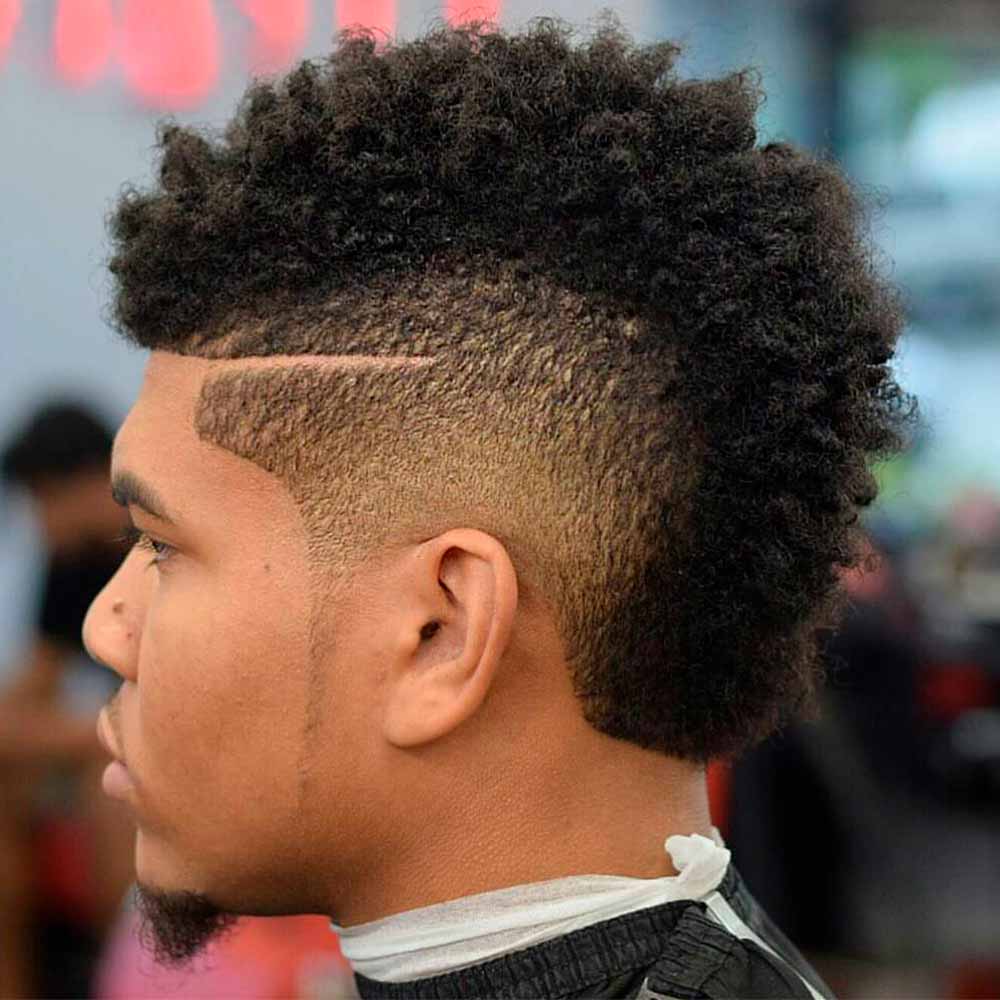 Source: @dynasty_barbers via Instagram
Curly Mohawk With A Shaved Part
For many men's hairstyles fade constitutes the only fun element. Thus, it's always a good idea to add another eye-catching feature. Take, for example, the shaved part that makes the frohawk even more defined.
Source: @shrunknhead via Instagram
Burst Fade With A V Shape
Such an element can't be left unnoticed. Taking a classic fade with high top, we add a V shape fade at the back of the neck and get a truly cool, outstanding burst taper haircut.
Source: @shrunknhead via Instagram
Messy Mohawk Style
However, don't only focus on one type of the burst fade. Try different fade haircuts, like this fade with long hair on the top. You can style your pomp any way you want, whether it's messy or sleek. Though keep the fade dapper and smooth.
Source: @shrunkheads via Instagram
Tools And Tips For A Burst Fade Haircut
There are many ways how to style a burst fade. For medium hair, barbers use twists, finger coils or hair sponges. The latter has enjoyed great success. The hair sponge was created so that short natural hair could be twisted and curled. There are sponges that have two sides. The first, with holes, is aimed at creating coils and curls. The second, with ridges, is able to make hair more voluminous. The biggest advantage of the sponge, in addition to the effect it gives, is its ease of handling. Not only are barbers capable of styling hair with a sponge but so are their clients. You can buy a sponge from your hairstylist and get some advice on how to maintain a haircut at home.
The main rule to remember is that the hair should be damp whether from water, styling gel or hair conditioner. Considering the justified price of the sponge, it' a really good deal.
How To Get A Burst Fade
To know how to do a burst fade in detail, the first thing you need to be aware of is how to cut a fade with clippers. Also take care of the guards, a mirror and a comb. Finally, follow our simple steps towards the perfect burst fade:
Apply the clippers with the guard size #3 to your top hair to get the length you want.
Apply the clippers with the guard size #4 to your side hair to get the length you want.
Use a bald trimmer with no guard to cut the hair around the ears.
Repeat the previous step, using a closed level and no or guard size #1 to duplicate the circles around your ears.
Edge down the haircut with the guard #3 at the point where Step 1 and Step 2 meet. Leave the circle from Step 2 to 11/2 inch wide.
Use a comb to flatten your hair.
Repeat Step 5 with the guard size #2.
Keep the guard size #1 open and blend it with the guard size #2.
Polish the result by blending all the parts together and trim edges where necessary.
And it's done!
Having a stylish and hot haircut is not a surplus but a must nowadays. A burst fade haircut is the perfect highly attractive low-maintenance option. It's quite easy to get it right and keep it in shape. Being extremely versatile and totally adjustable, the only choice you need to make is its variation.
FAQs
What is a burst fade?
A burst haircut fade is a kind of men's haircut that implies tapering the narrow section of hair around your ears, while the hair near the neckline is left longer. In this way, it has a curvy shape.
How do you ask for a burst fade?
A failsafe way to ask your barber for a burst haircut is by showing them a bunch of photos of the desired hair look. However, you can also explain that you want to get your hair behind the ears faded so that it shapes a semicircle and the back should be trimmed longer. As for the top, you are free to choose any hairstyle there, from a sunburst fade to a nappy taper.
What is a South of France haircut?
A South of France haircut, also known as the Usher hairstyle, is a mix of a burst fade and a fauxhawk or mohawk haircut.