Which is the best hairstyle for boys? There is a common myth that the range of boys haircuts is limited. This could not be any further from the truth and we are here to prove it. Haircuts for boys are often very similar to mens haircuts with some adjustments to look age appropriate. They come in a myriad of styles, shapes, lengths, and textures to ensure that every little fashionist can find a matching look. Do not want to take our word for granted? See for yourself in our guide.
*We may earn money from affiliate links on this page. Please check out our disclosure policy for more details.
The following are the thoughts of expert Olga Markuse on stylish haircuts for boys in 2023:
Long and textured fringe combined with shorter sides and back is one of the most popular Gen Z and Gen Alpha haircuts now. Boys with naturally curly hair are absolutely smashing it thanks to heaps of texture and volume. Shorter, school-appropriate quiff is still trending among those who don't mind sparing a moment to style their hair. Another popular trend is a middle part that gives us an instant '90s vibe. Also, longer, outgrown haircuts are growing back in popularity.
Medium & Layered Messy Boys Haircuts
If long hair is too big of a commitment for you, then you can get away with a mid-length haircut. Though, you may want to add layers, as they make the hair appear more defined and ample. Optionally, you can accentuate the hair texture with a tad of a hair styling product.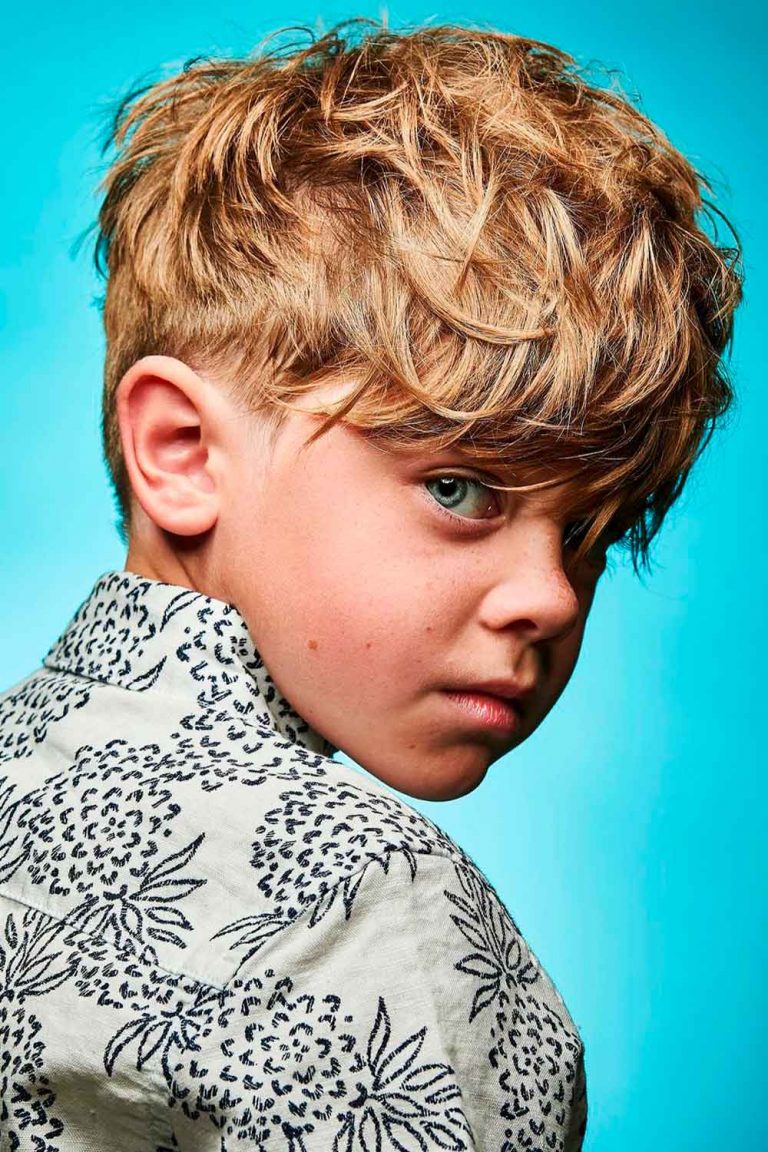 Source: @r.braid via Instagram
Hair Designs For Boys On Crew Cut
A crew cut is one of those cool hairstyles for boys that can be accompanied by a hair design without looking too much. Plus, it does not require a lot of styling, as the hair is kept quite short. The design depends on your imagination and how much creativity his school dress code rules allow.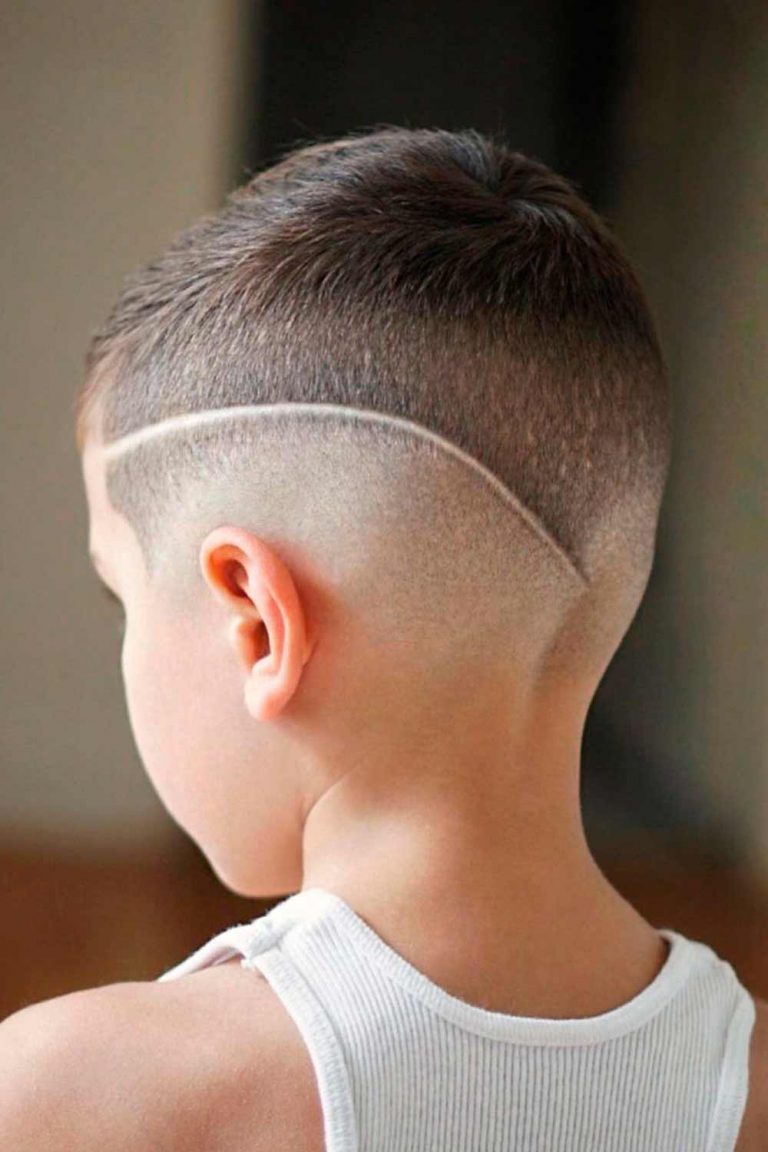 Source: @xbigwesx via Instagram
Almost Middle Part
To give a lil kids haircut definition, you can complement it with a parting. If you cannot decide between a side and middle part, go for the golden mean. Separate the hair almost in the middle of the head but indent half an inch from it. In this way, the hairstyle for boy kids will get an unusual end eye catching turn.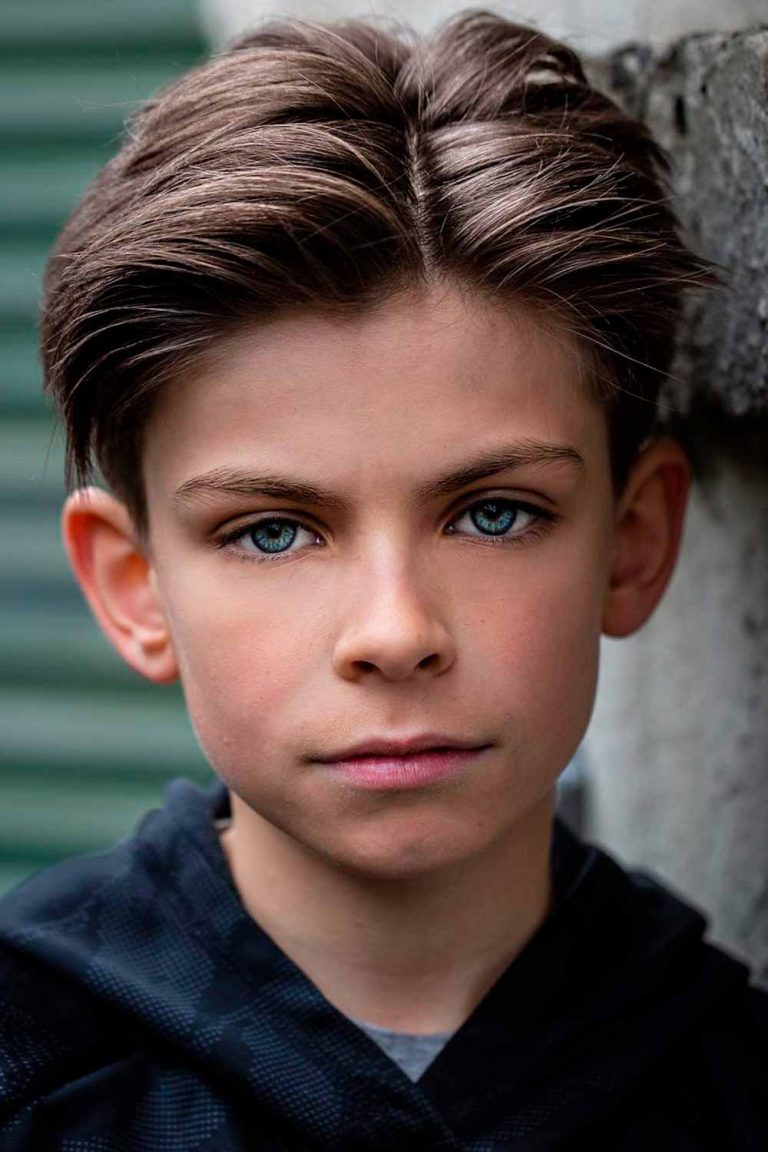 Source: @tombaxter_hair via Instagram
Wavy Taper Fade Boys Haircuts
Boy hair cuts with a taper fade allow for multiple styling options. However, we are pretty sure that you will not want your kid to sport something classic and boring while he can rock a really stylish look.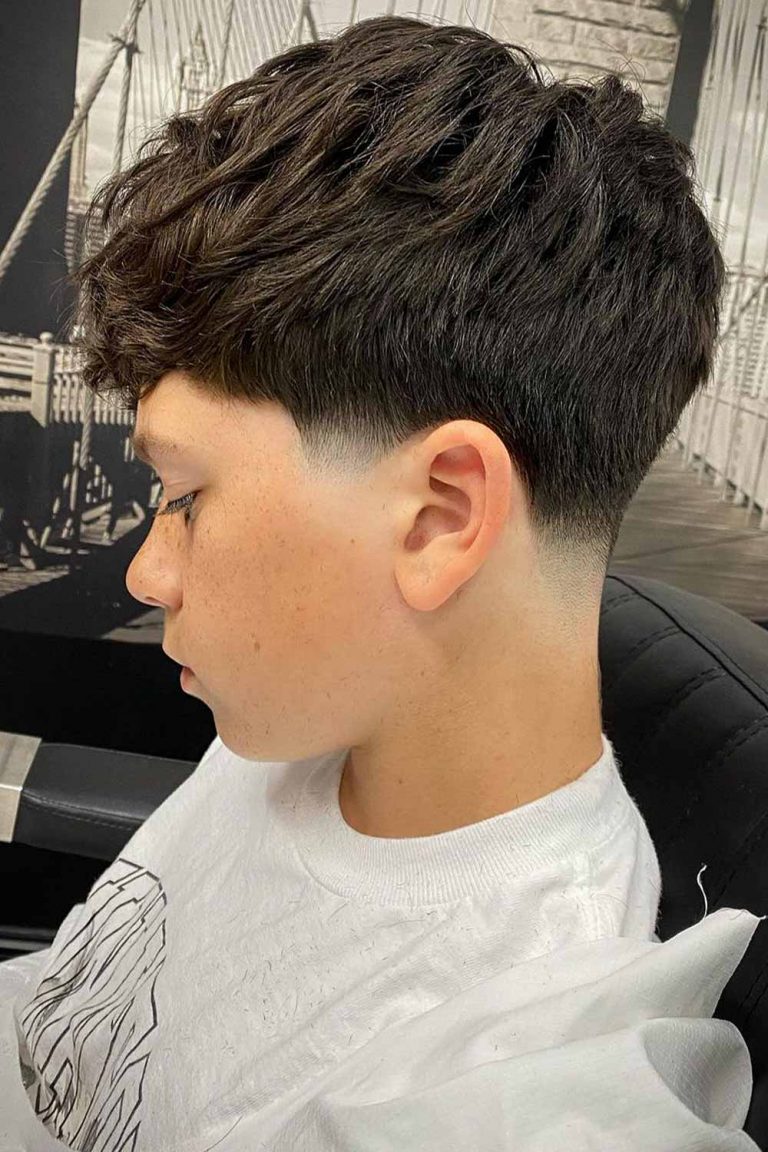 Source: @mikes_custom_kuts via Instagram
Quiffed Top Boys Haircuts
If your school doesn't have harsh restrictions about little boys hairstyles and cuts, you can go for something more statement-making and carefree. The key to quiff styling is a good, strong hold matte wax that you'll need to work throughout your hair, creating quiff wherever you please. Luckily, such styling can work for any hair cuts for boys.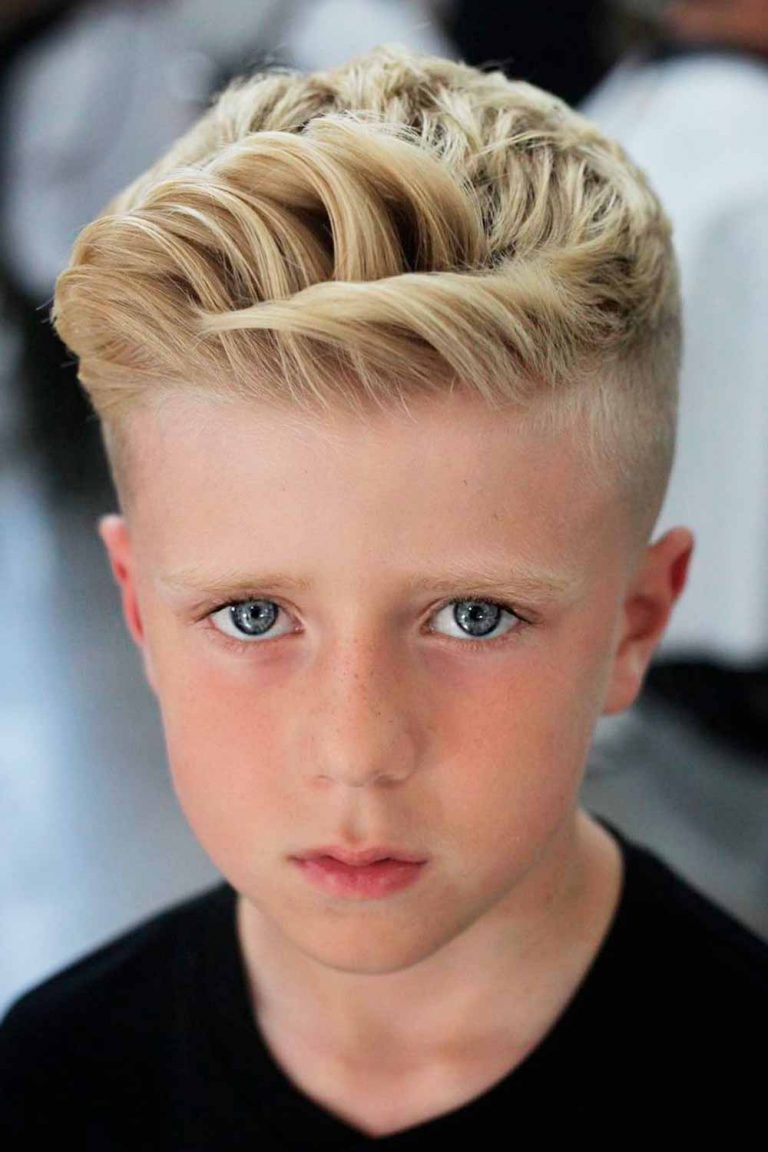 Source: @alan_beak via Instagram
Long Hairstyles For Boys With Bangs And Parting
It goes without saying that long hair boys are very popular at school. So, if your kid wants to stand out in the crowd, he will also need to have some patience and persistence to grow his hair long. Help him style it parted with the side-swept bangs and you can rest assured that he is going to be the center of attention.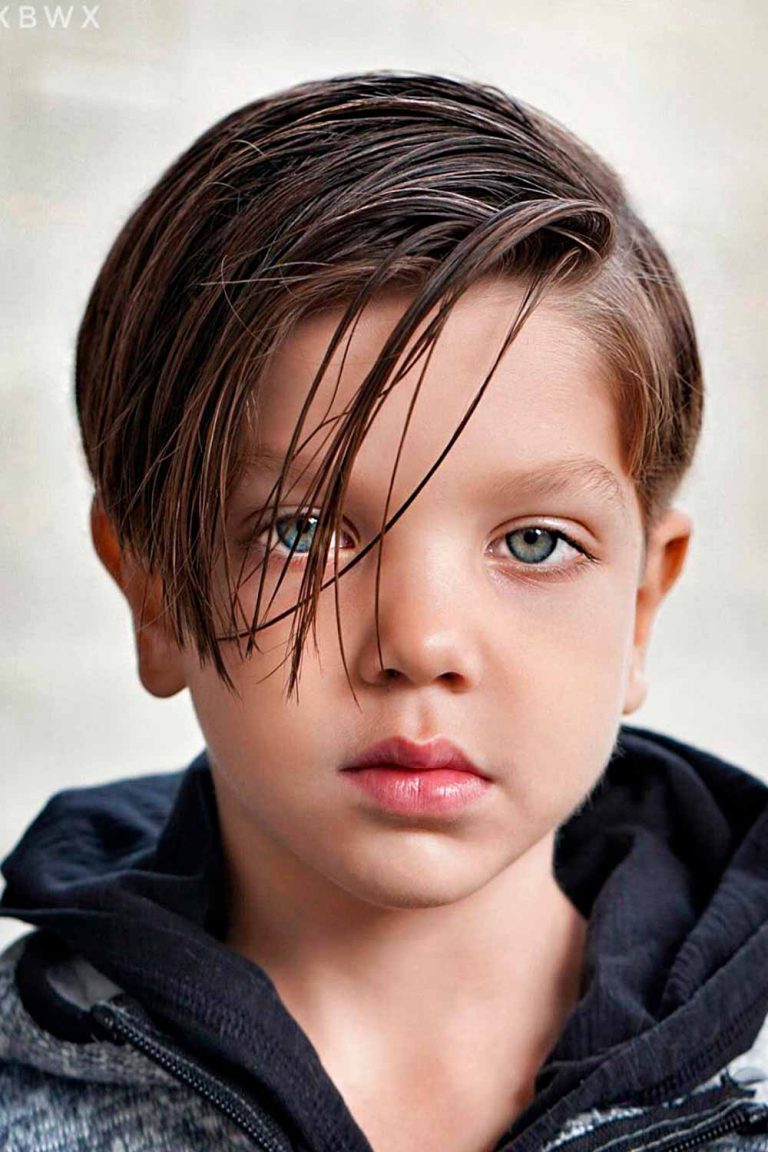 Source: @xbigwesx via Instagram
Finger Brushed Up Short Hair High Fade
Apparently, you are looking for boy hairstyles that are easy to get and maintain. How about a look that can be achieved with the help of fingers only? Get one of those short on the sides and long on the top little boys' haircuts and brush up the lock atop by raking the fingers through them.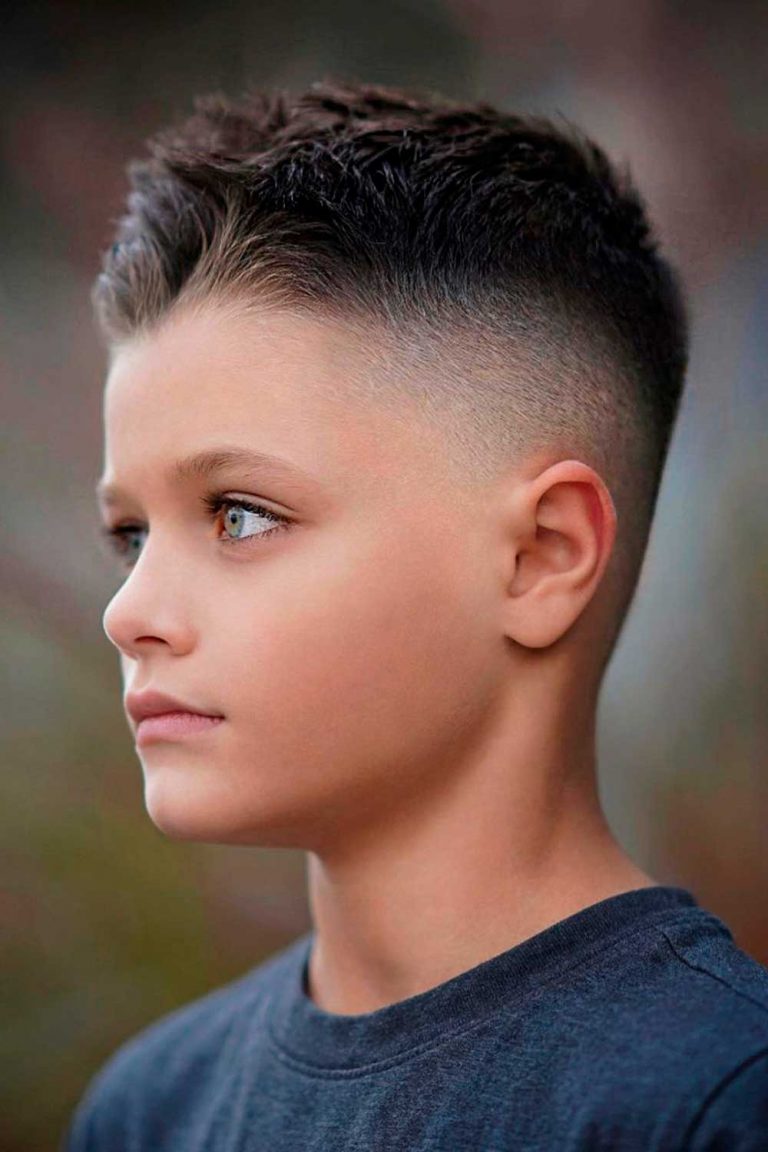 Source: @xbigwesx via Instagram
Cool Spikes Boys Haircuts
Do you want your little mod to sport one of those really cool hair cuts for boys? Then we can barely think of anything else but spikes. To pull them off, you will need to trim the sides short while keeping the hair on top relatively long. Such boys hair cuts are ideal for creating different textured styles, including sharp spikes.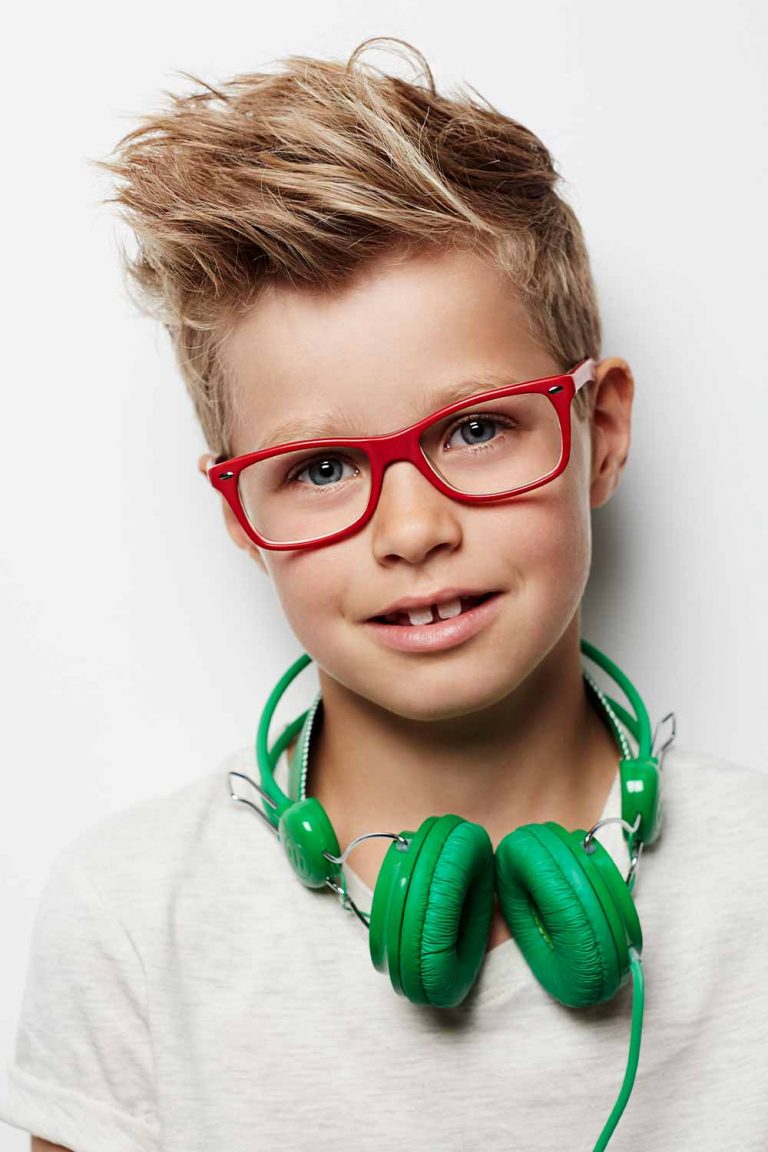 Short Sides Long Textured Bang
When you want to go for an edgy and yet super stylish hairstyle, you opt for a longer cropped bang haircut for your kid. With shorter sides, and pointy layers on the top, it gives a very grungey and trendy look, and your boy is going to be thrilled about it. You can try different variations in the styling and see what you like. There's a reason this hairstyle is so popular!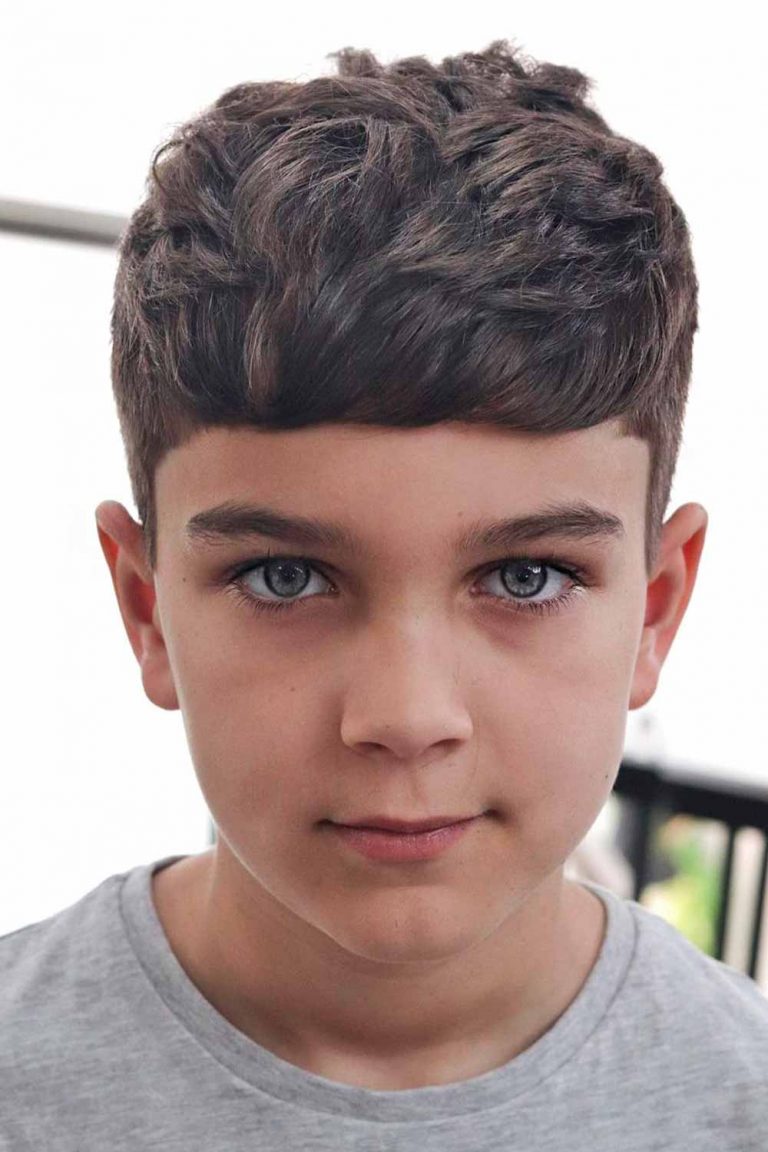 Source: @alan_beak via Instagram
Mullet Boy's Haircuts 2023
It is no secret that kids often emulate adults, especially when it comes to boy haircut styles. And since the kids mullet haircut is back, it is a good idea to get your kid this trendy cut. Of course, the modern 2023 version is not as awkward – the back is much shorter and the top is enhanced with a texturized cut.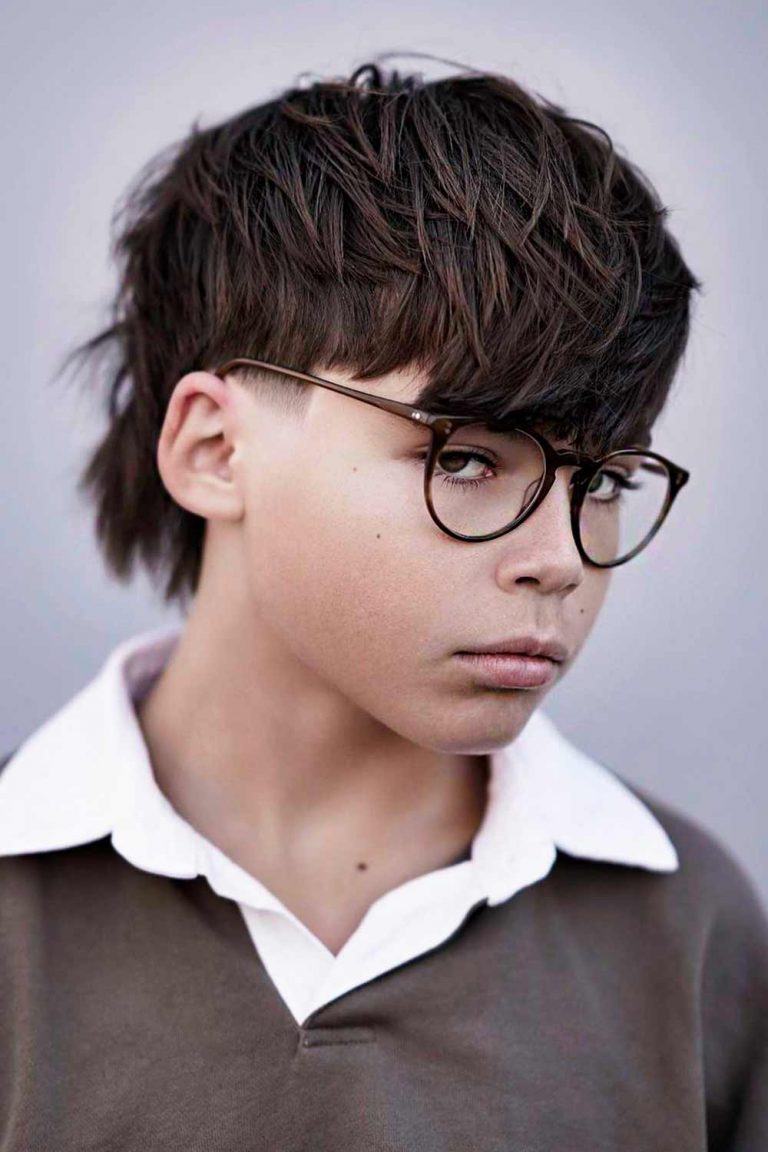 Source: @xbigwesx via Instagram
Boys Haircut Long On Top With Undercut
Not sure what to do with a long top hair cut for boys? It is hard to think of a better option than complementing it with an undercut. On the one hand, it removes bulk from his hair, making it easy to style and maintain. On the other hand, it makes the hair on top the focal point of the whole look.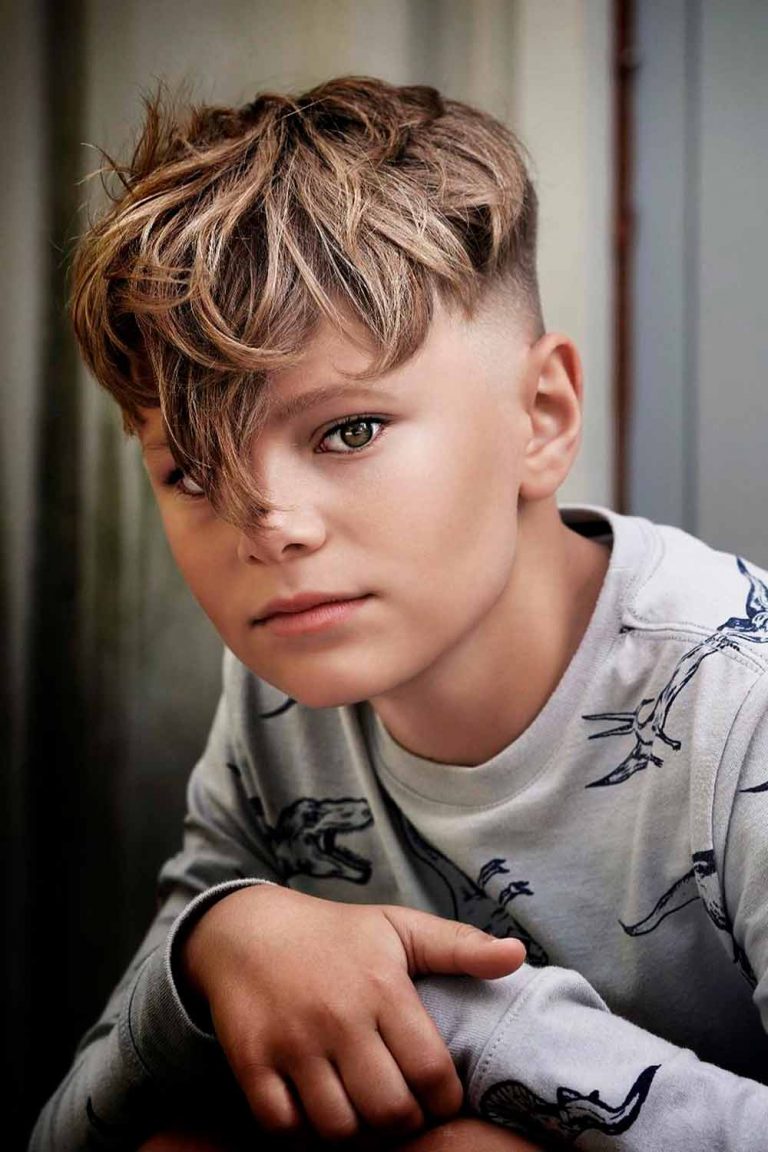 Source: @xbigwesx via Instagram
Clean Side Brush Boys Haircuts
This short hairstyle caters to individuals who prefer traditional, timeless looks rather than adventurous experimentation. The top should be cut in different layers of length with the longest in the front and the shortest in the back. Divide the hair on top with a side part and brush it all up and to the side for a dapper appearance.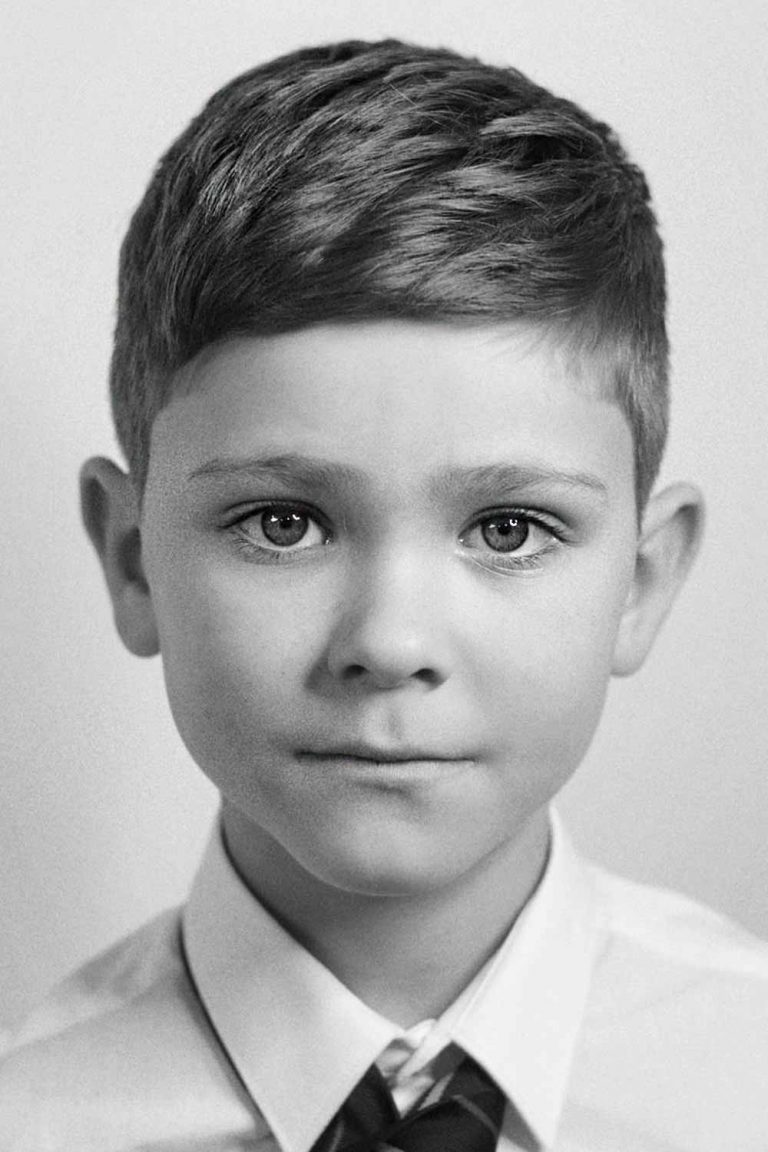 Source: @alan_beak via Instagram
Kids Undercut And Slicked Back
It's never too early to start cultivating your exquisite sense of style, and the haircut is a great way to do it. A classic and stylish slicked back undercut is always the right choice. So that it would give away its modern flair, enhance it with undercut sides.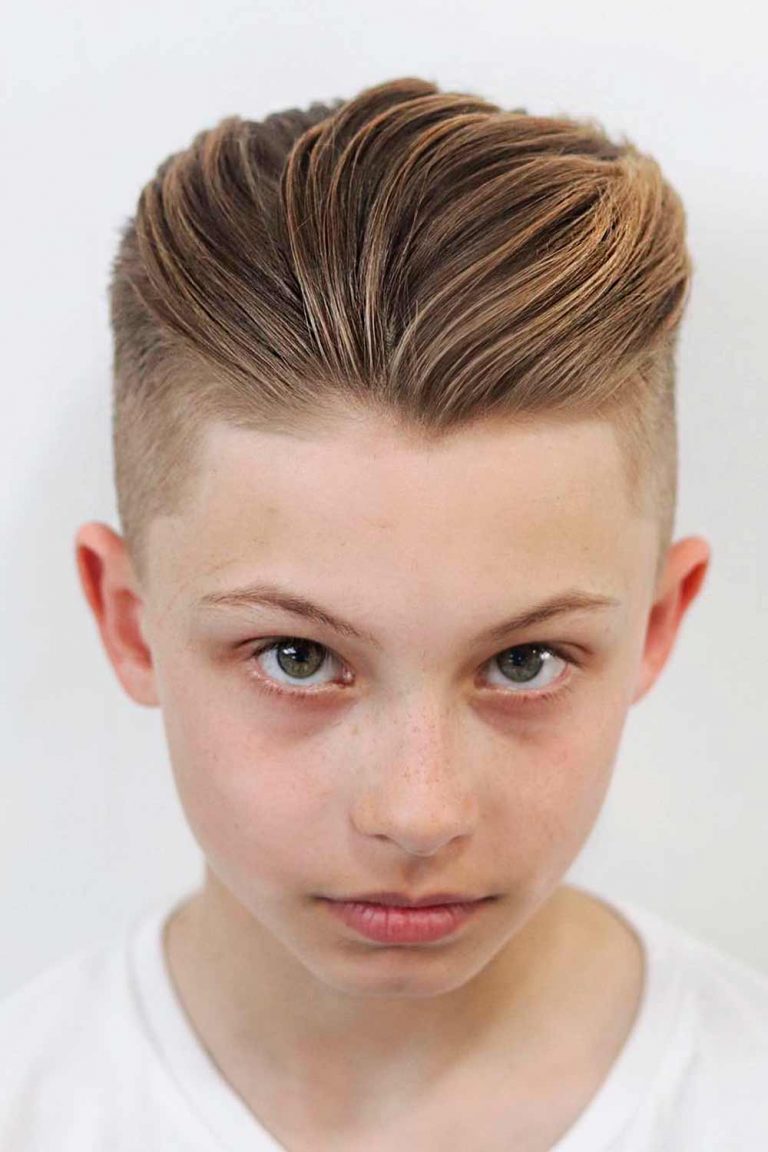 Source: @alan_beak via Instagram
Boys Crop With Angled Fringe
Alternatively, for your French crop, you can go with an angled fringe instead. A slight asymmetry will give your rather blunt haircut an unusual turn. To accentuate the hair on top even more, complement it with a mid skin fade on the sides.
Source: @xbigwesx via Instagram
Medium Length With Undercut And Side Parting
If you want to diversify the familiar side-parted kid's hair styles, a light-shaved design will be there for you. You can ask your barber for a soft shaved line in the place you usually part your hair. In this way, you will master wearing one of the most iconic boy's hair styles. To make the style stay longer, don't forget to secure the top with holding gel or pomade.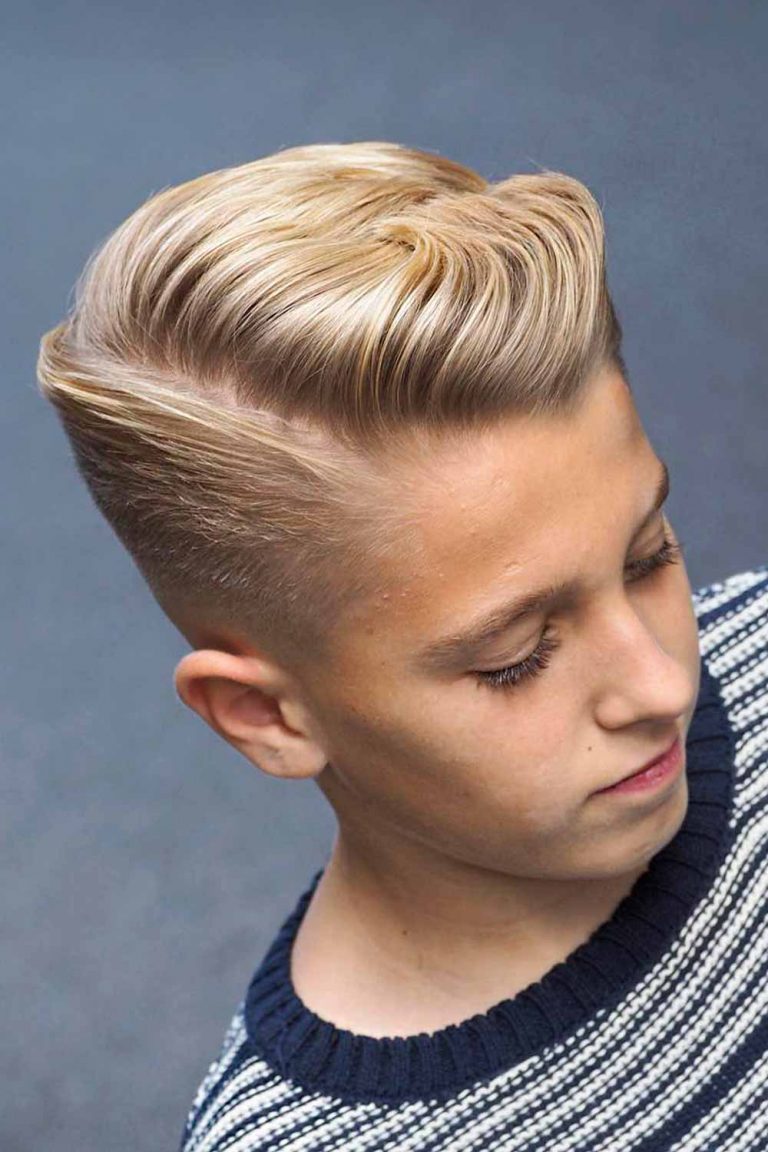 Source: @alan_beak via Instagram
Simple Hair Style Boys With Fade And Design
Is your kid a fashion-forward little fella? Then suggest him adorning the haircut with a hair design. It does not have to be anything complex. A simple line on the faded side will work just fine. But keep in mind that you will need to touch it up regularly so that the line remains sharp.
Source: @xbigwesx via Instagram
i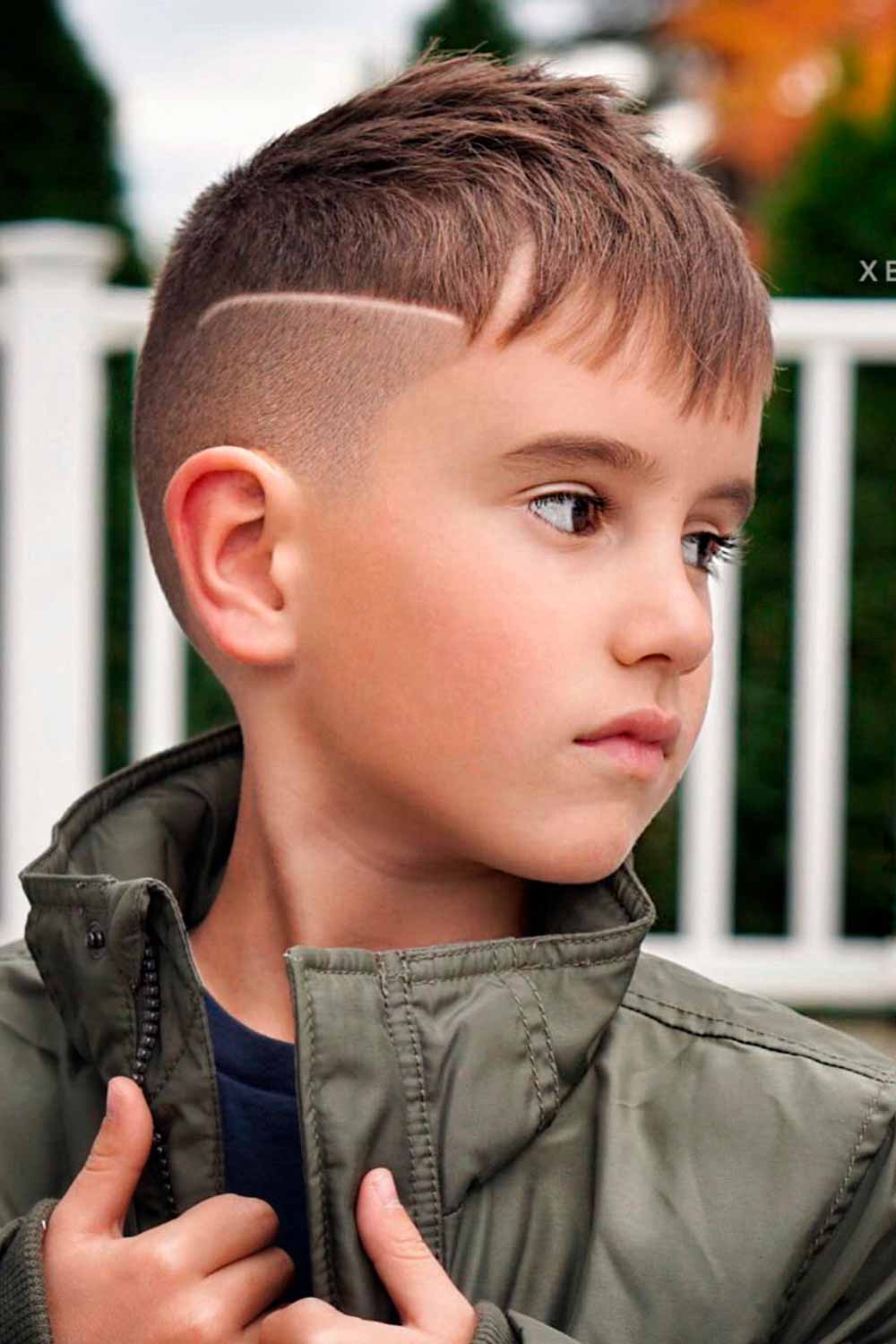 Source: @xbigwesx via Instagram
i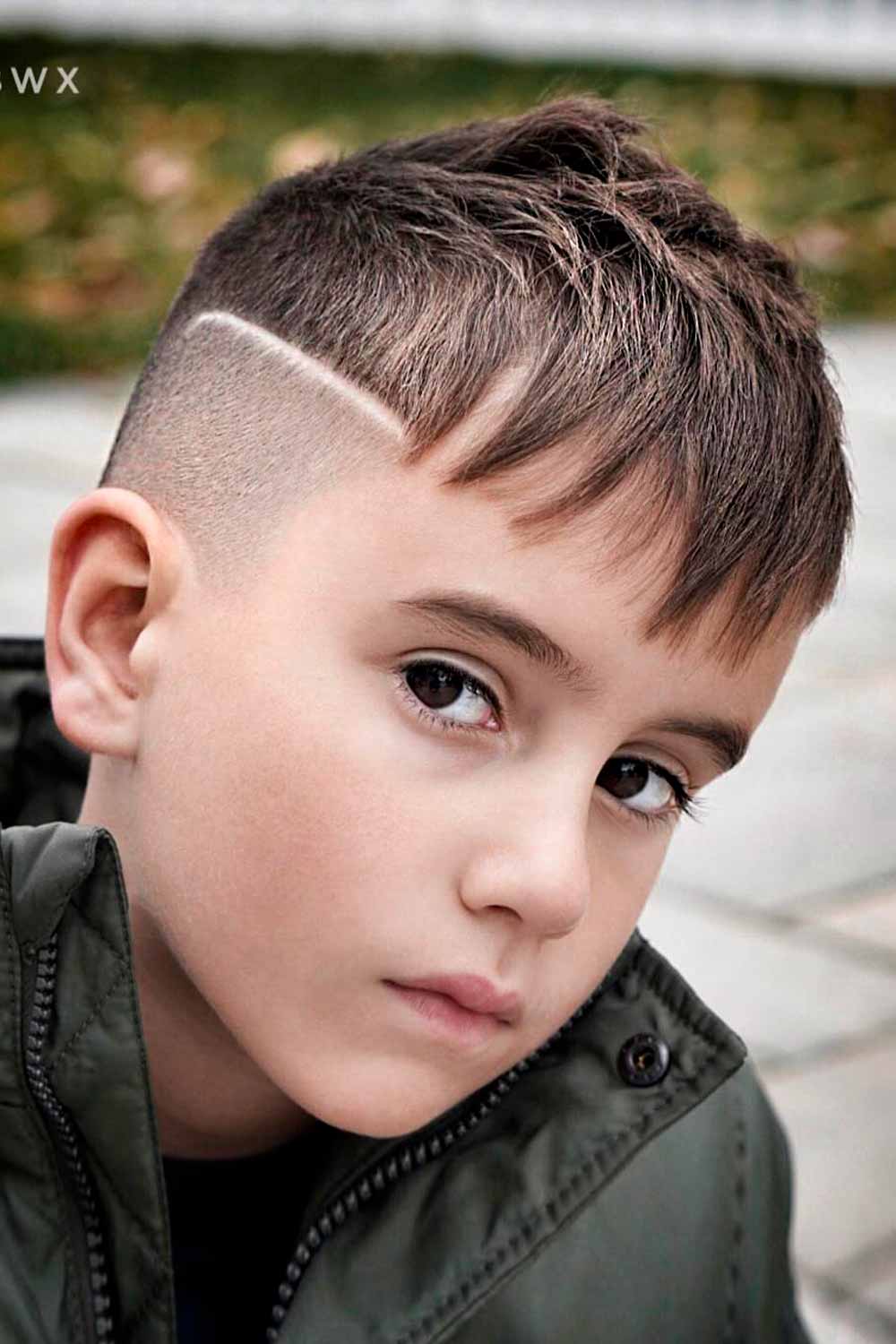 /
Low Fade Taper Toddler Boy Haircuts
Kids haircuts for boys are often paired with a fade or a taper, or both. In this way, styling becomes a breeze and maintenance does not take much time. So that the hair cuts for kids fit the formal school ambiance, go for a low taper fade rather than something more daring.
Source: @horatiuthebarber via Instagram
i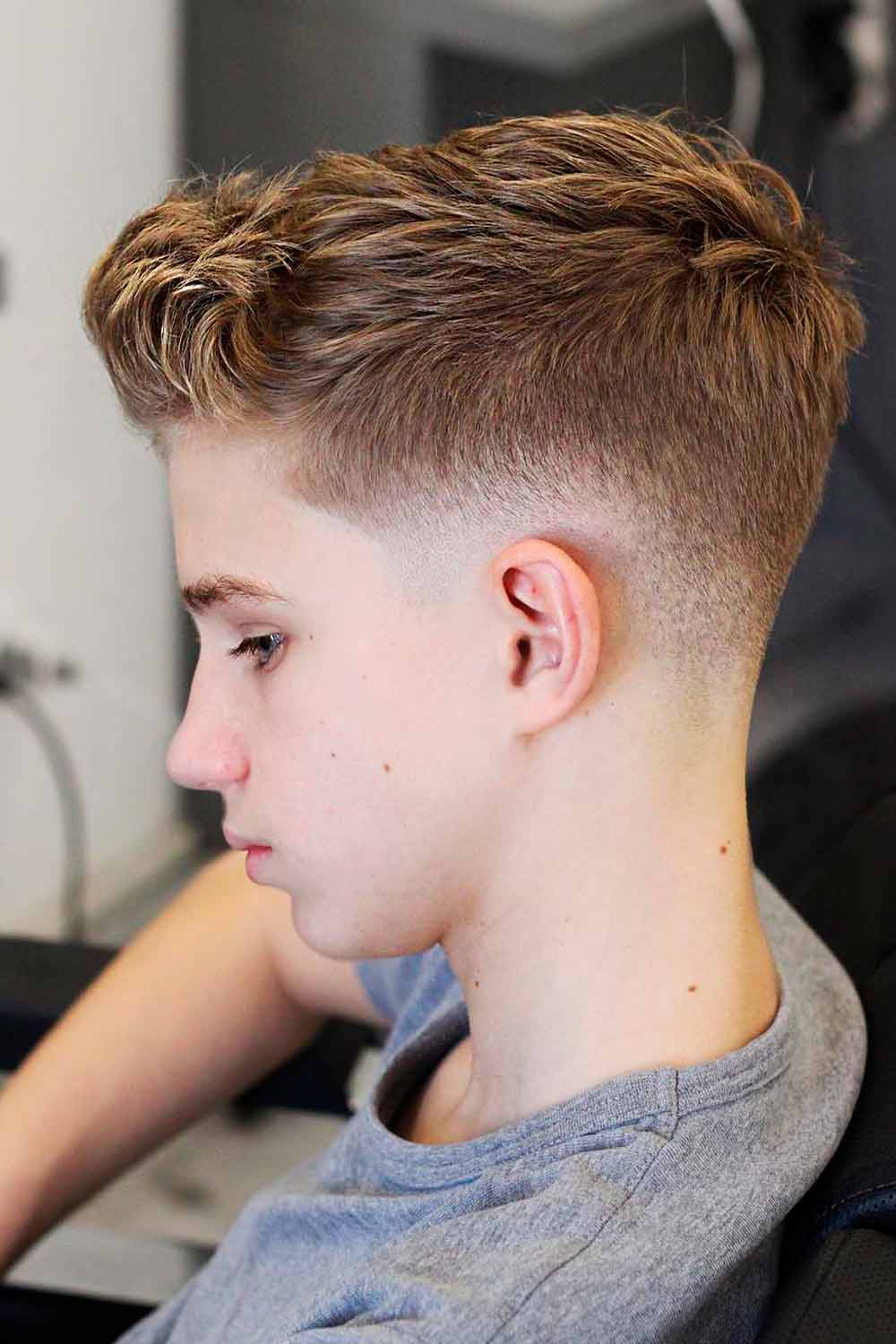 Source: @horatiuthebarber via Instagram
i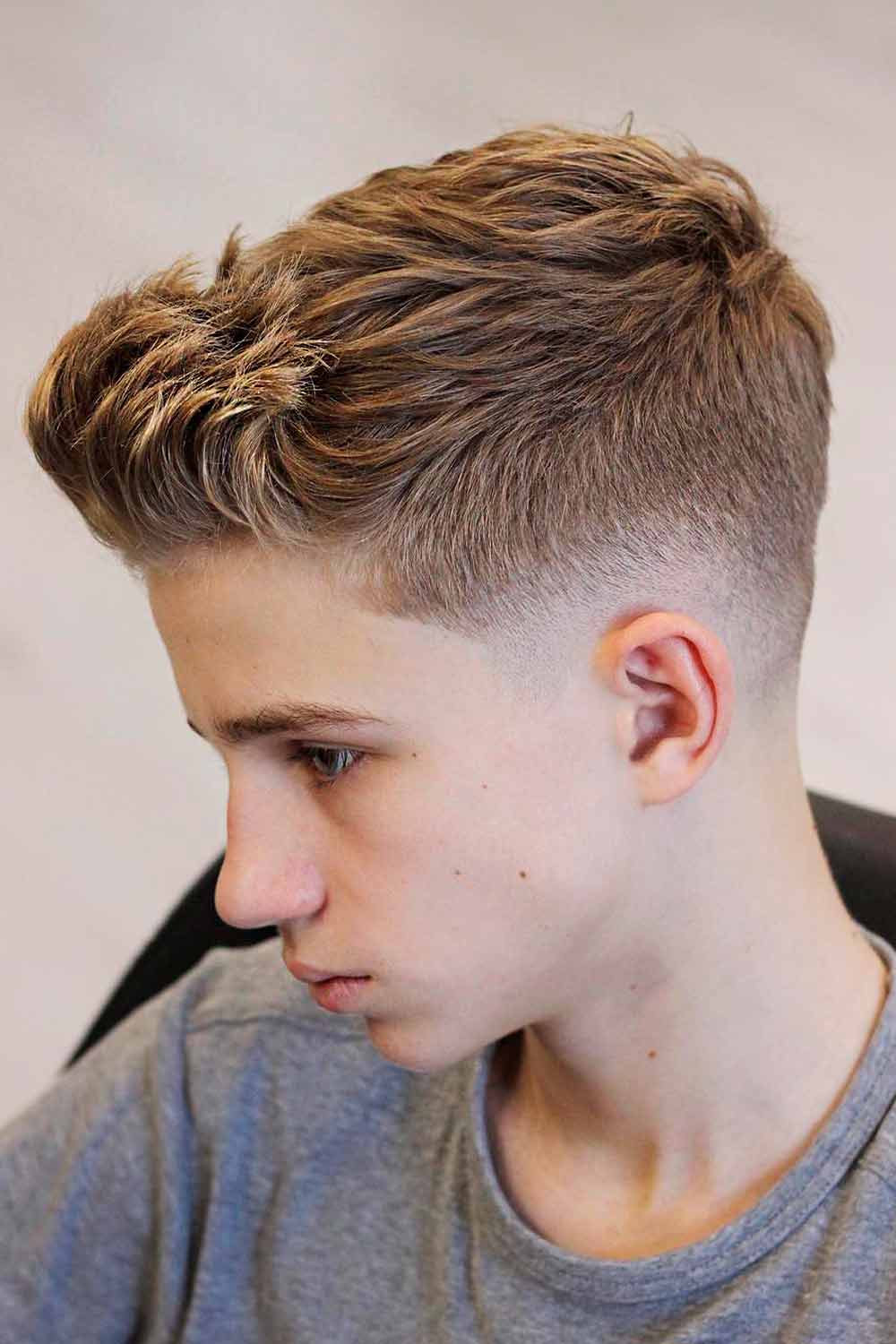 Source: @horatiuthebarber via Instagram
i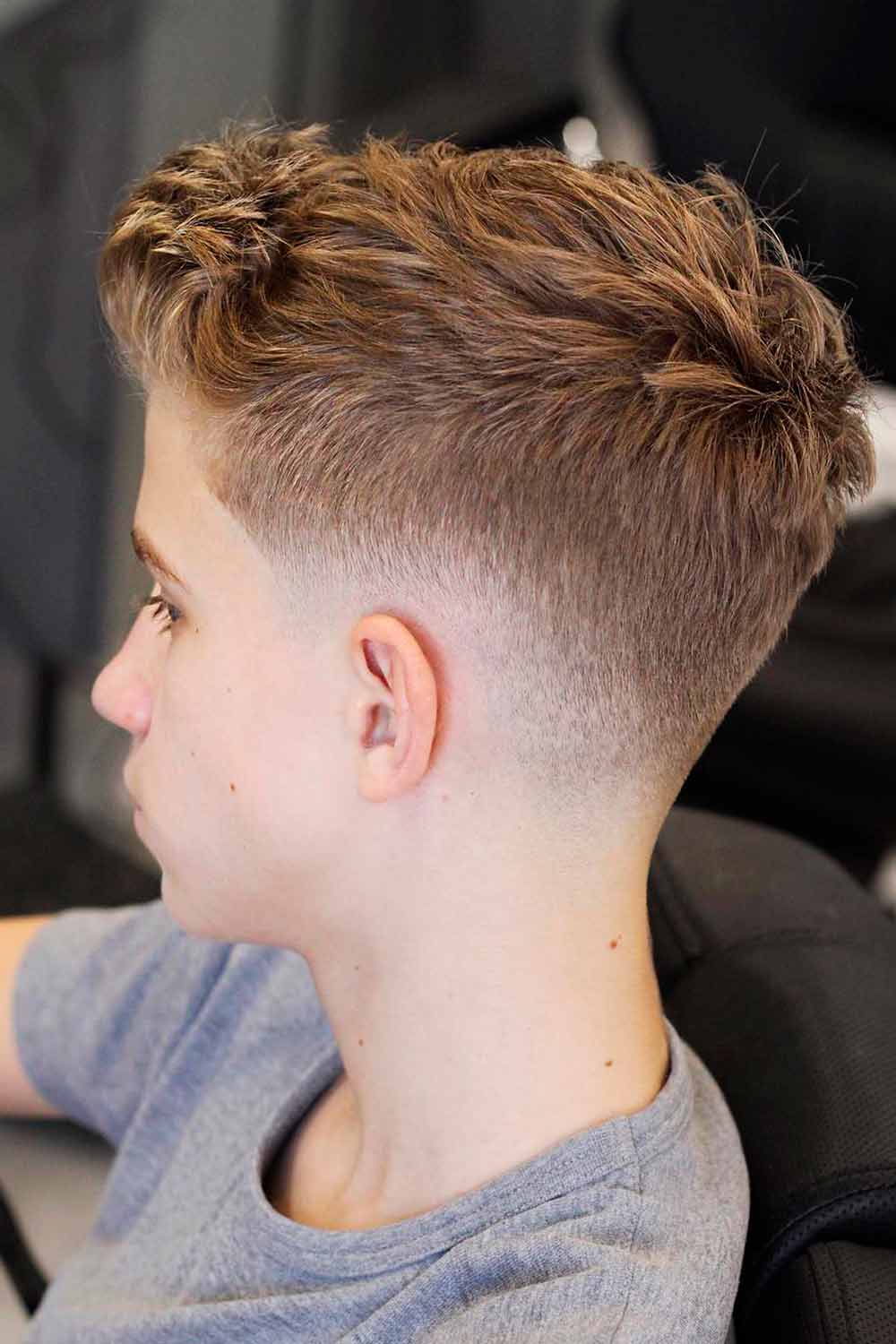 /
Spiky Scissor Cut With Design
A scissor cut hairstyle is a perfect way to accentuate the ruffian character and save some time on styling, which is so precious in the morning. To achieve such a disheveled look, a barber will run the scissors in random directions. This textured hairstyle allows for some trendy design elements. A shaved in lightning is a perfect enhancement for such a daring look.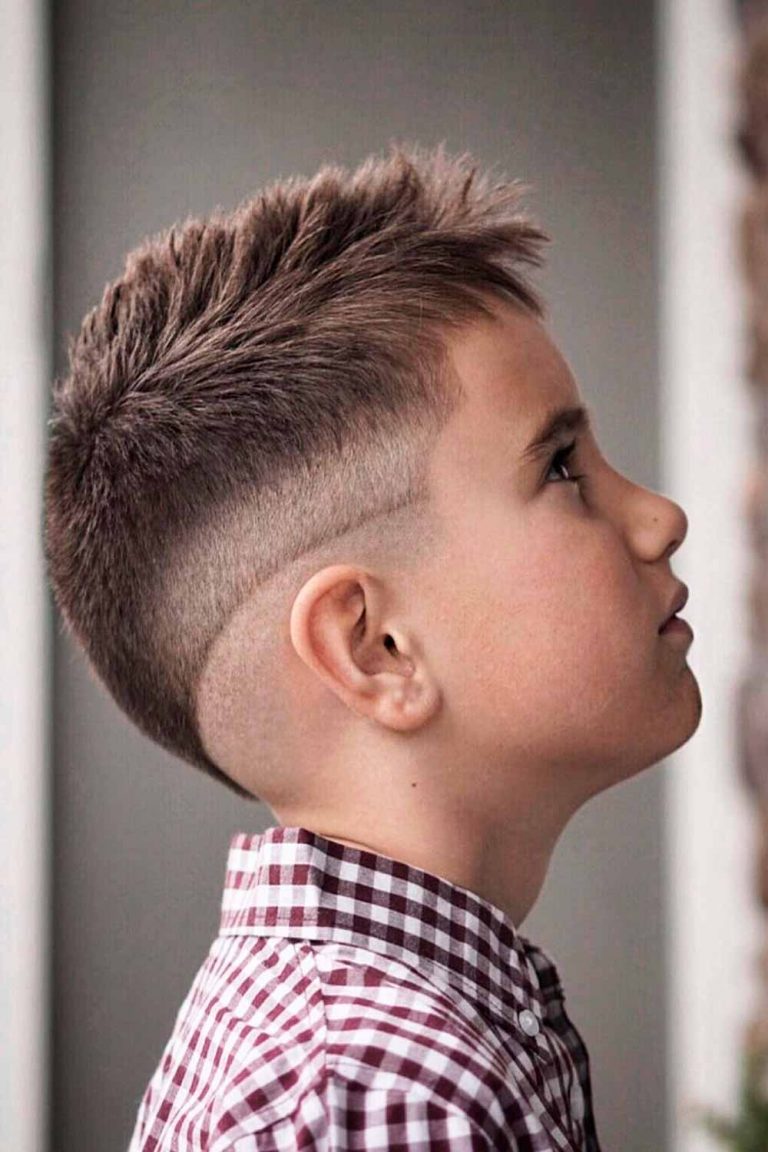 Source: @xbigwesx via Instagram
Fun & Curly High Top Boys Haircuts
Haircuts for boys with curly hair that focus on the texture are the trickiest to maintain. That means they're not really appropriate for school, but in case of some special school event, they are the must-try haircuts for kids. The sides are slightly shorter, and the top shows off the curls: the classic pattern of head-turning hairstyles for boys. To make your curls more distinctive, you can apply some oil or foam to the top.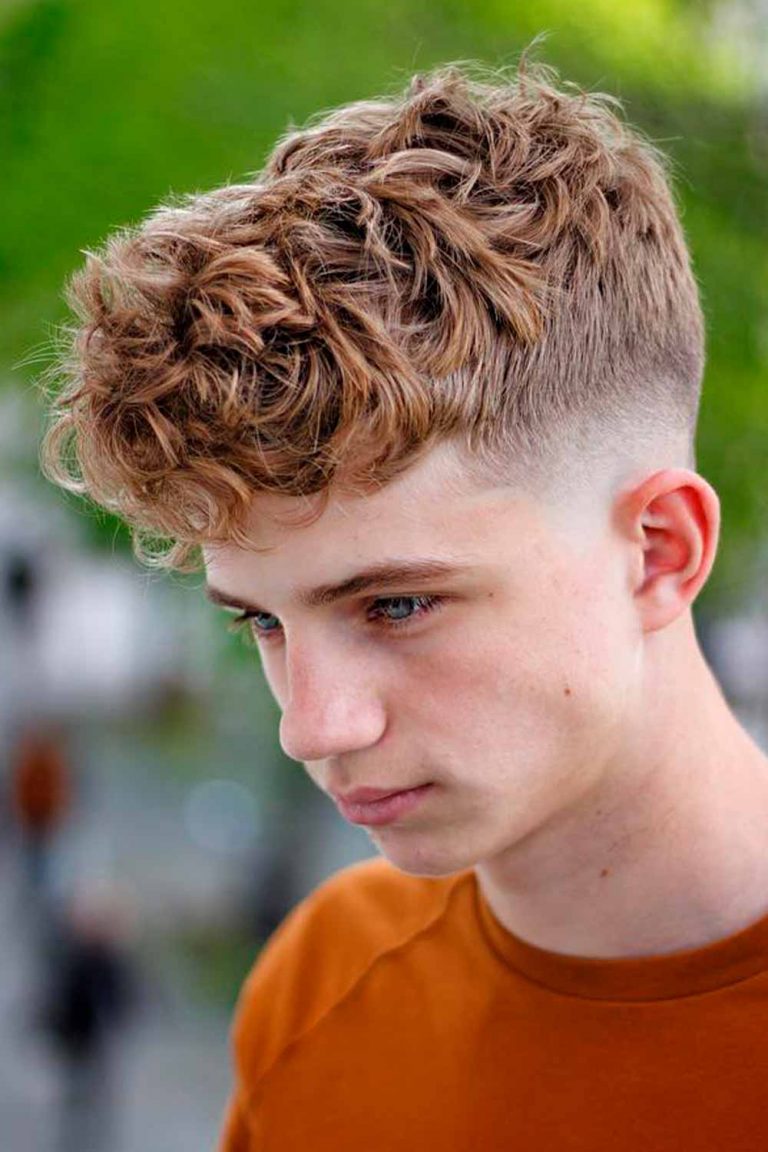 Source: @horatiuthebarber via Instagram
Faux Hawk High Fade Boys Haircuts
Since this faux hawk boy haircut is the slight version of the punky mohawk. You can keep your style unique and modern without breaking school rules. Such hairstyles for boys are absolutely stylish and low-maintenance which is a win-win for those who want to freshen up their uniform.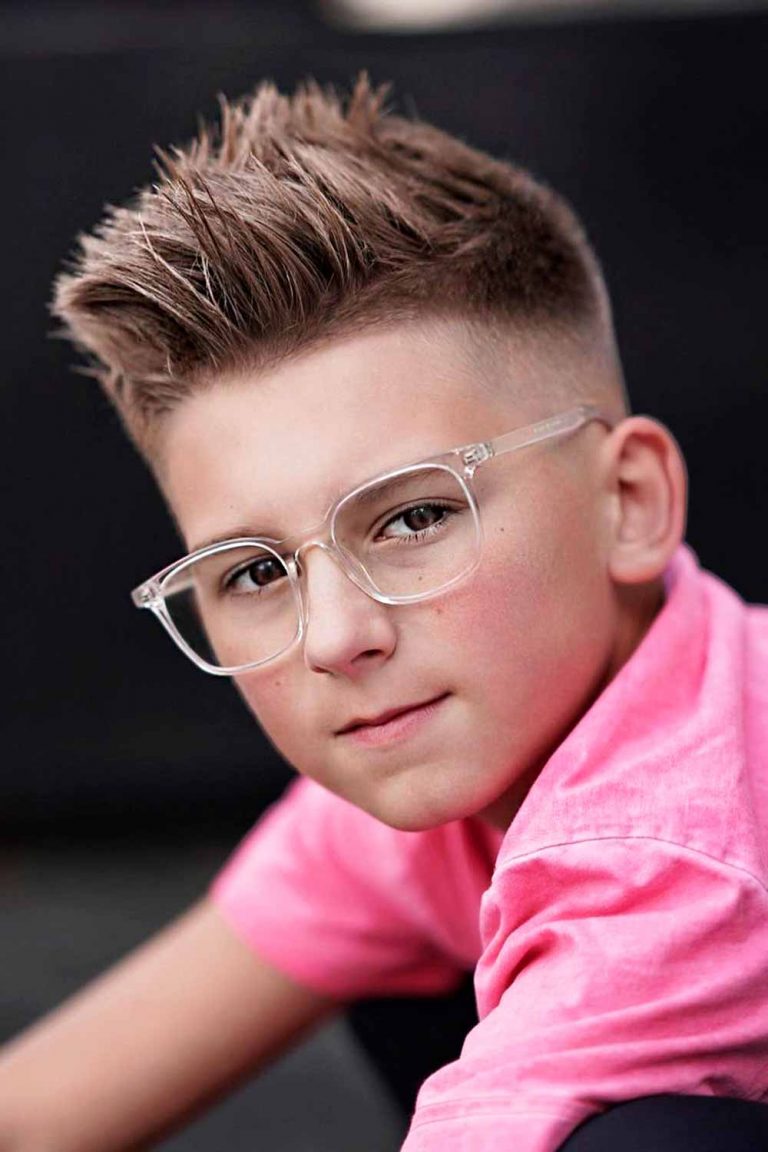 Source: @xbigwesx via Instagram
Pompadour Fade Boys Haircuts
The dramatic pompadour doesn't care how old you are; it aims to give you a versatile and masculine look. You can style it up, down, to the side or to the back: it's all up to your mood. It's one of those boys short haircuts that can let your creativity fly; isn't that cool?
Source: @cheobarberpr via Instagram
i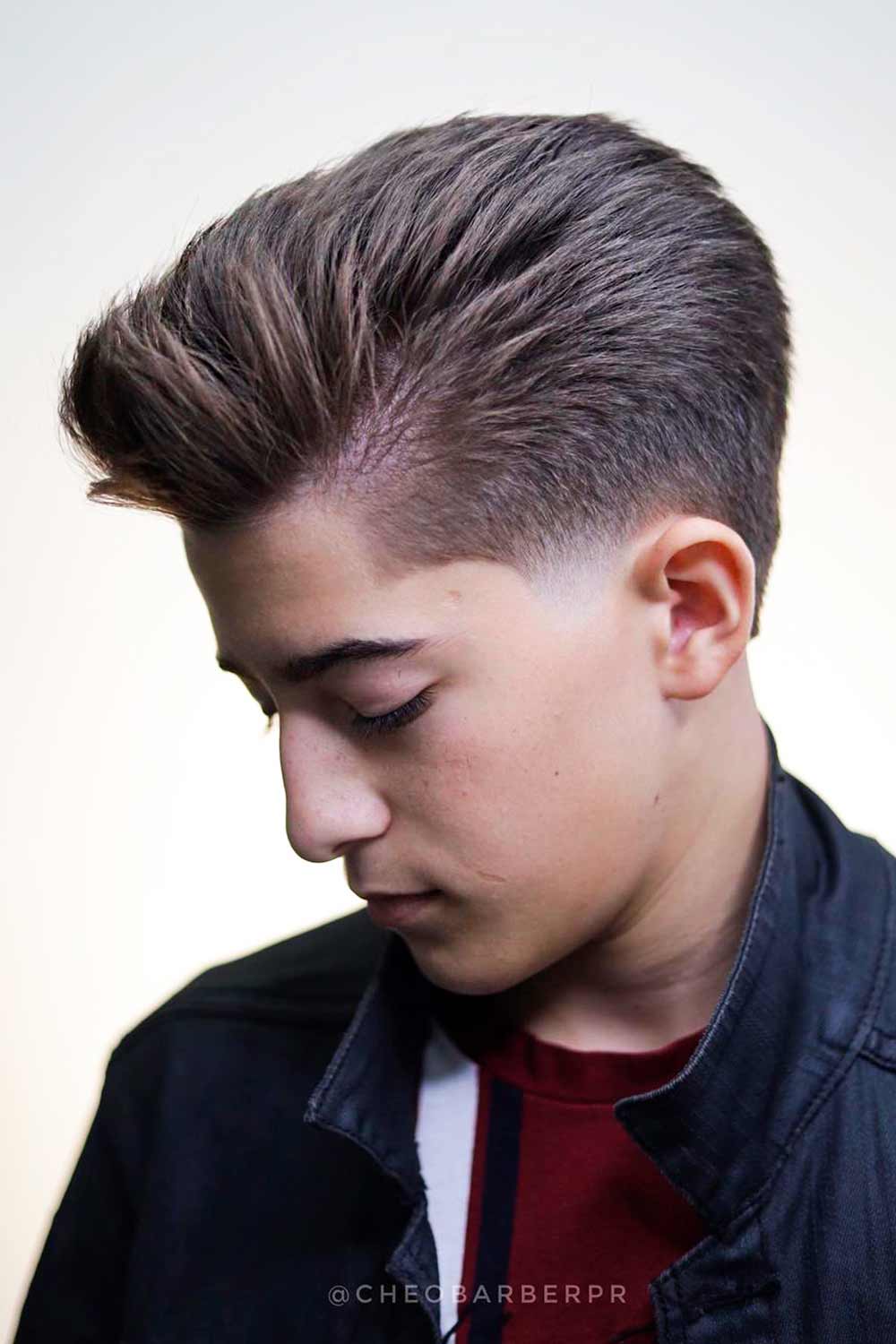 Source: @cheobarberpr via Instagram
i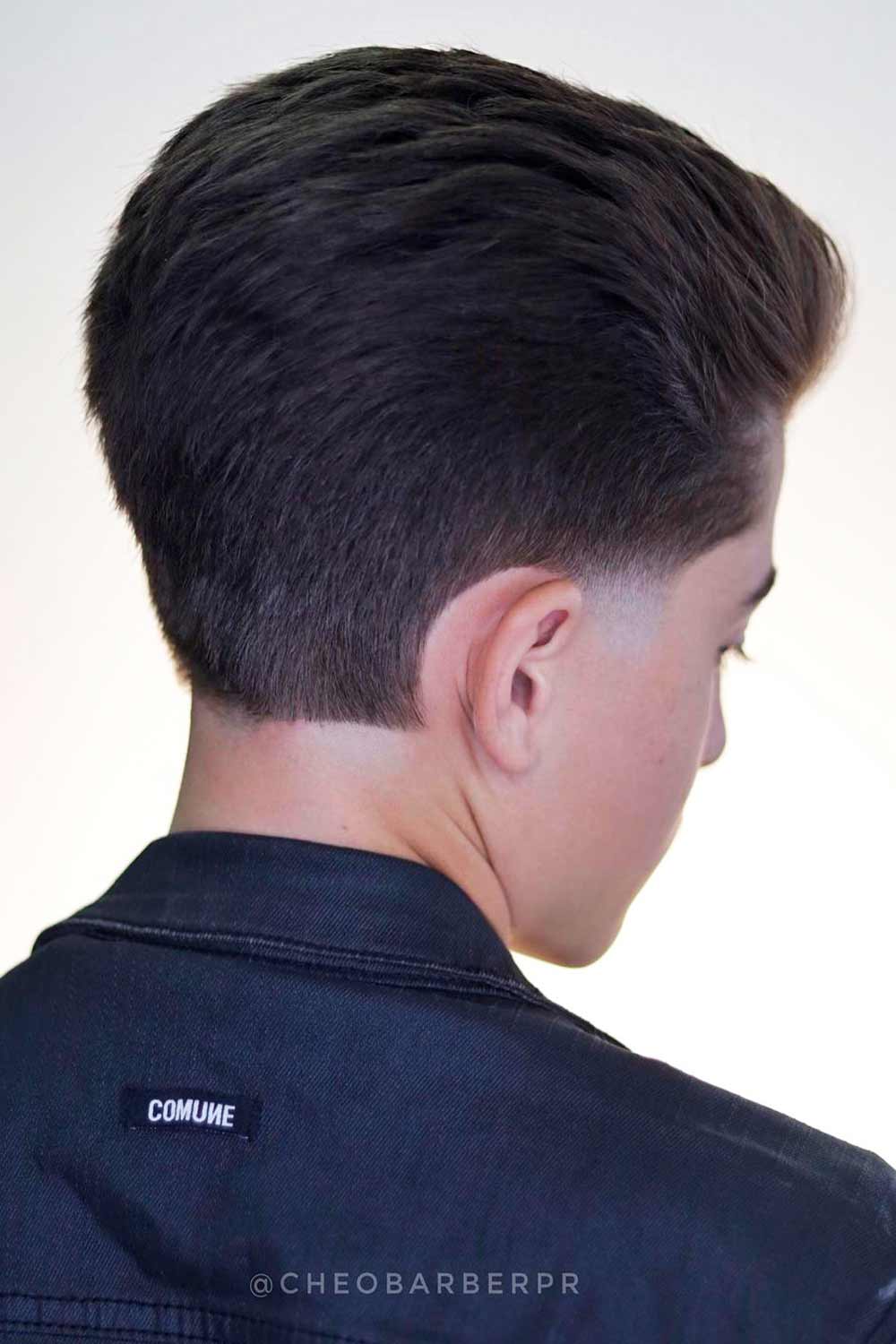 /
Textured Top With A Line-Up
For naturally textured hair, such as coily or wiry, there's arguably no better hairstyle than a textured brushed up top. It's good to get the sides faded for a clean-cut look though. If you want to add a trendy element to your hairstyle, a line up can be your cut of choice.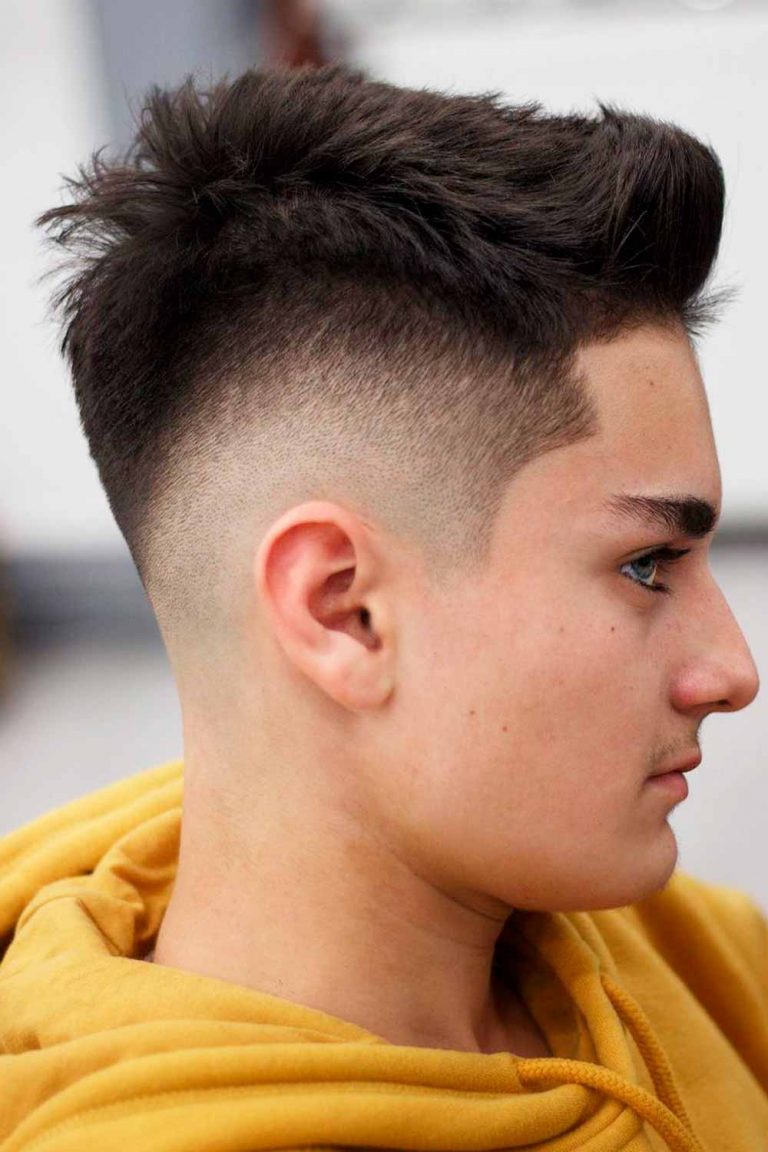 Source: @horatiuthebarber via Instagram
Disconnected & Spiky
For kid hair cut styles, your imagination is the only limit. With that in mind, you are welcome to combine various children hair cuts in one look. For instance, you can team a spiky top with a disconnected haircut on the sides and back. This combo will come out sharp and edgy.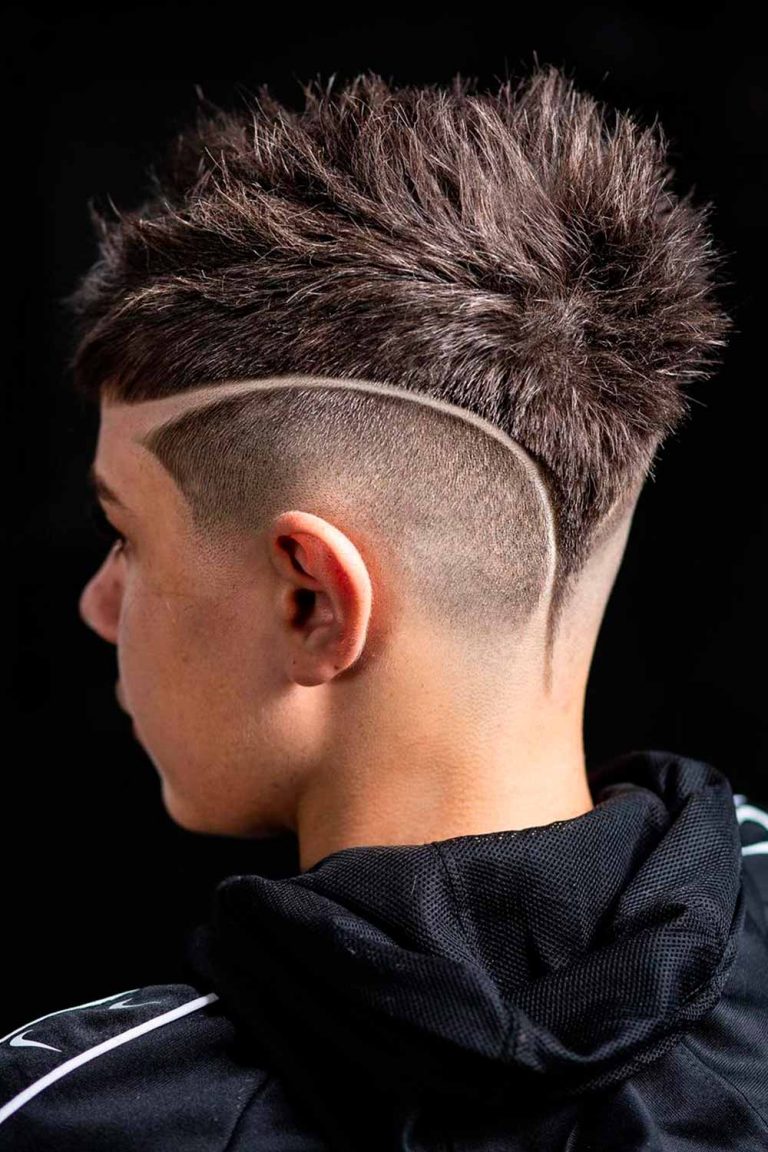 Source: @tombaxter_hair via Instagram
Curly Hair Fade With Line Design
A simple and stylish haircut with the design waning into cool lines. A very cool and understated look for the kids that make them stand out from the crowd and be a topic of show off in front of their friends. And, you can go for several options for the design you want, the possibilities are vast.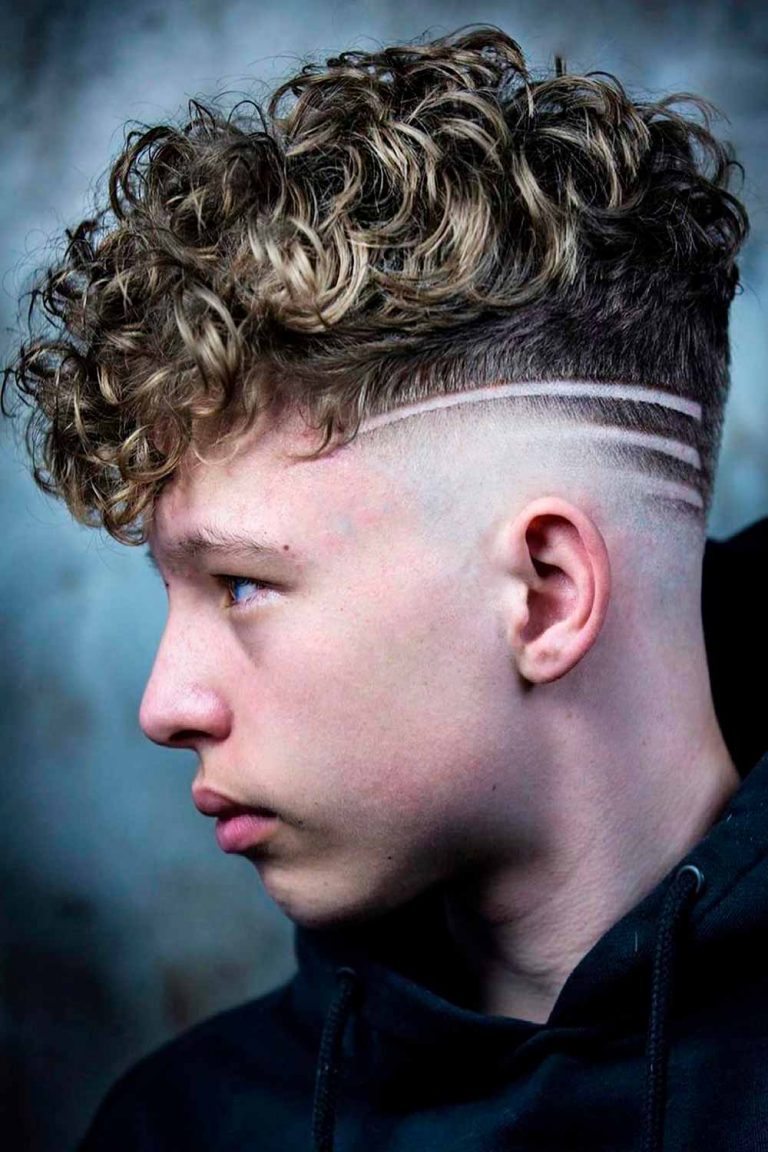 Source: @r.braid via Instagram
Messy Crop Top Fade
Having curly locks means that they are always in the center of attention. So, there is no need for overly elaborate hair cutting and styling. Yet, if you want to subtly put emphasis on the cropped top, consider a fade.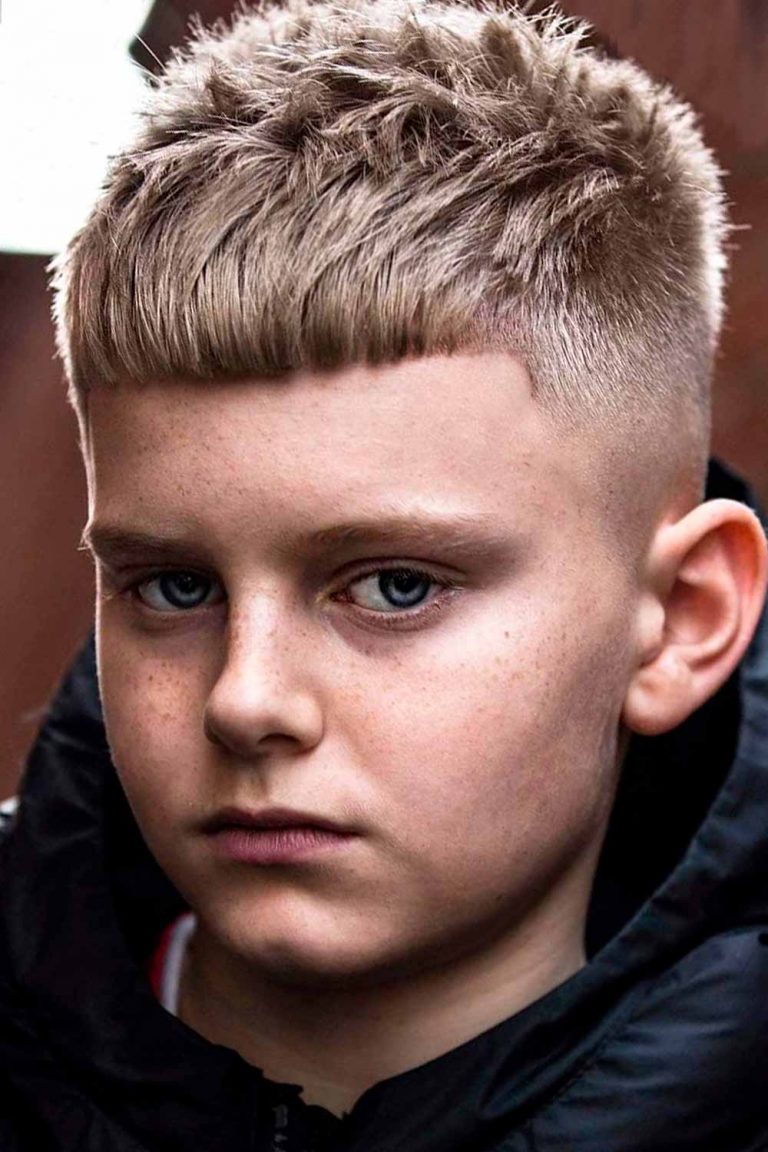 Source: @r.braid via Instagram
Shaggy Boys Long Hair Styles
Trendy boys haircuts often incorporate long hair. So, if you and your kid have enough patience and persistence to grow his locks at least shoulder length, you are guaranteed a fashionable and stylish look. So that it follows modern trends, style the hair shaggy for an effortless feel.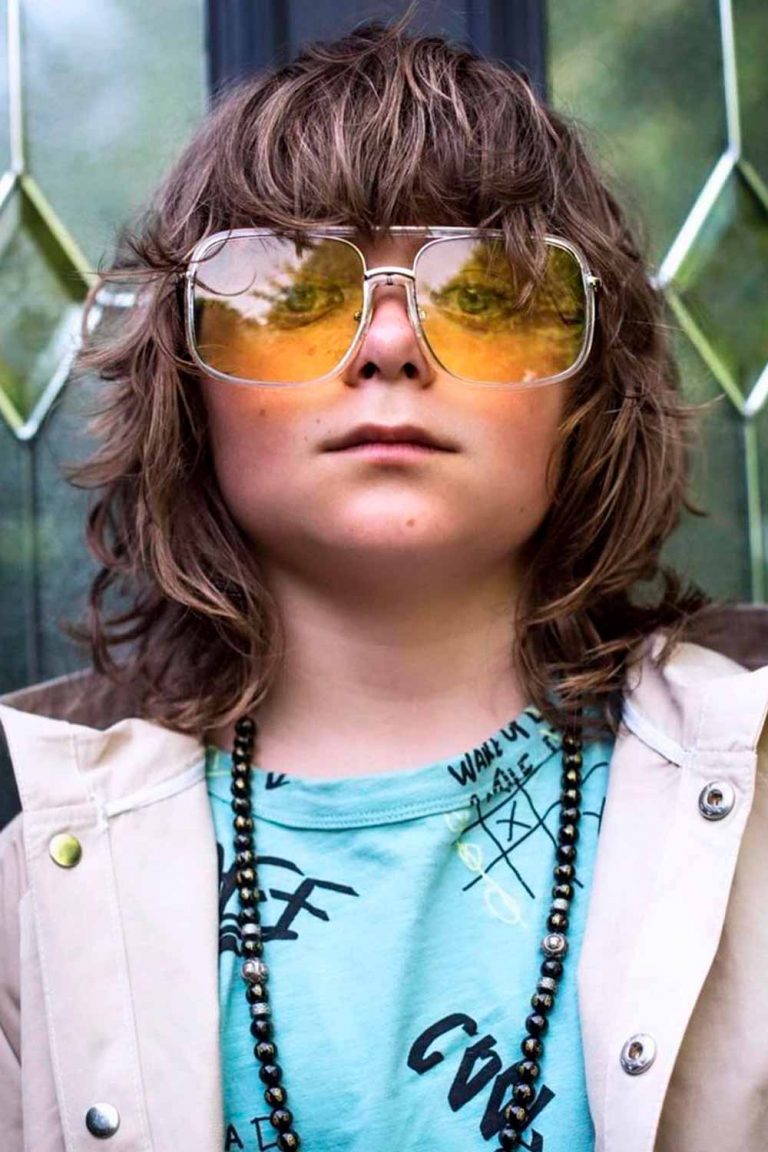 Source: @r.braid via Instagram
Longer Unruly Bang
Nobody wants to look overly preppy and conservative for school. Your kid is obviously no exception. Hence, if you have decided to pull off such popular little boy haircuts as bangs, make them longer than usual. Thus, he will be able to push them to the side, add texture or style in any other way the occasion calls for.
Source: @alan_beak via Instagram
i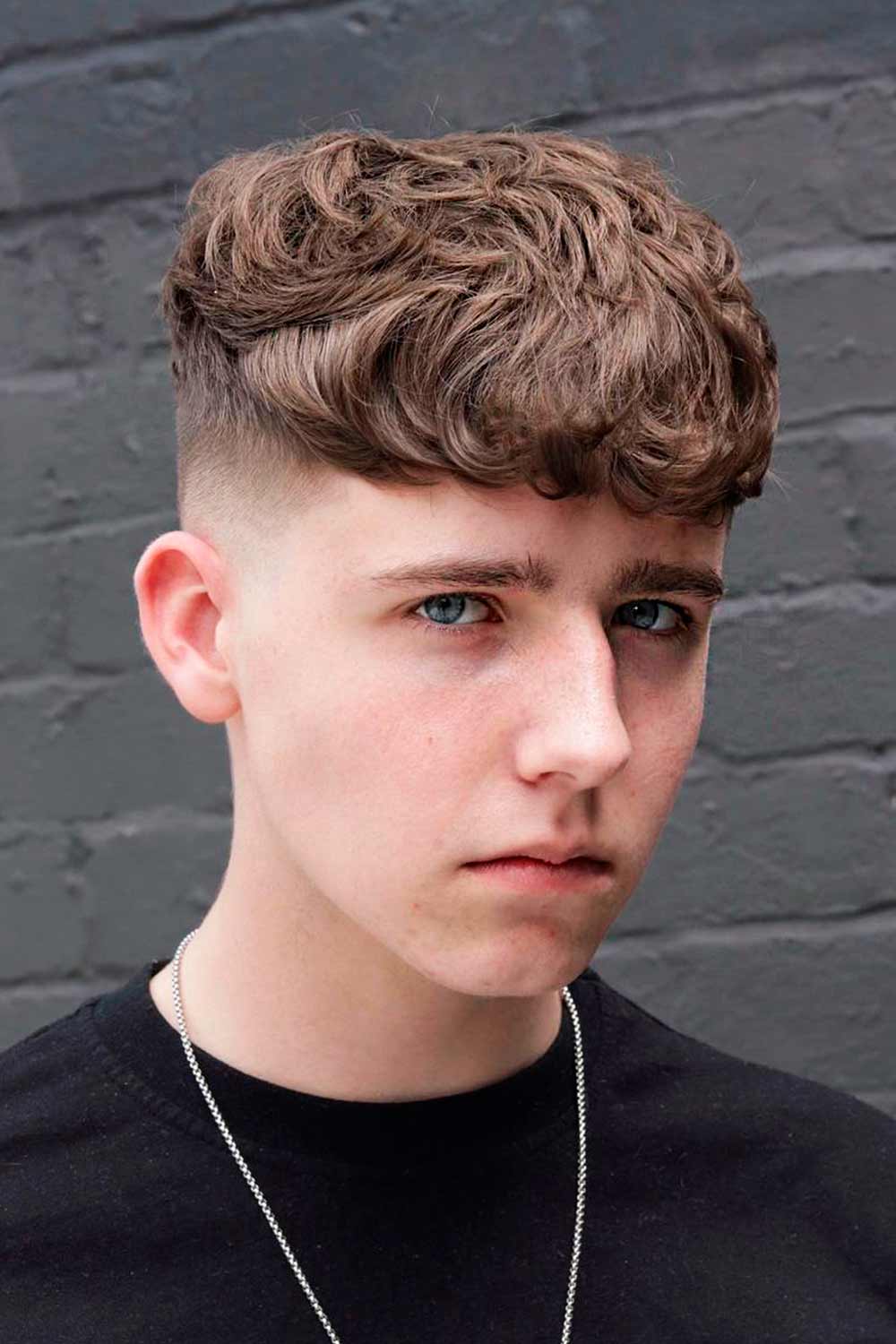 Source: @alan_beak via Instagram
i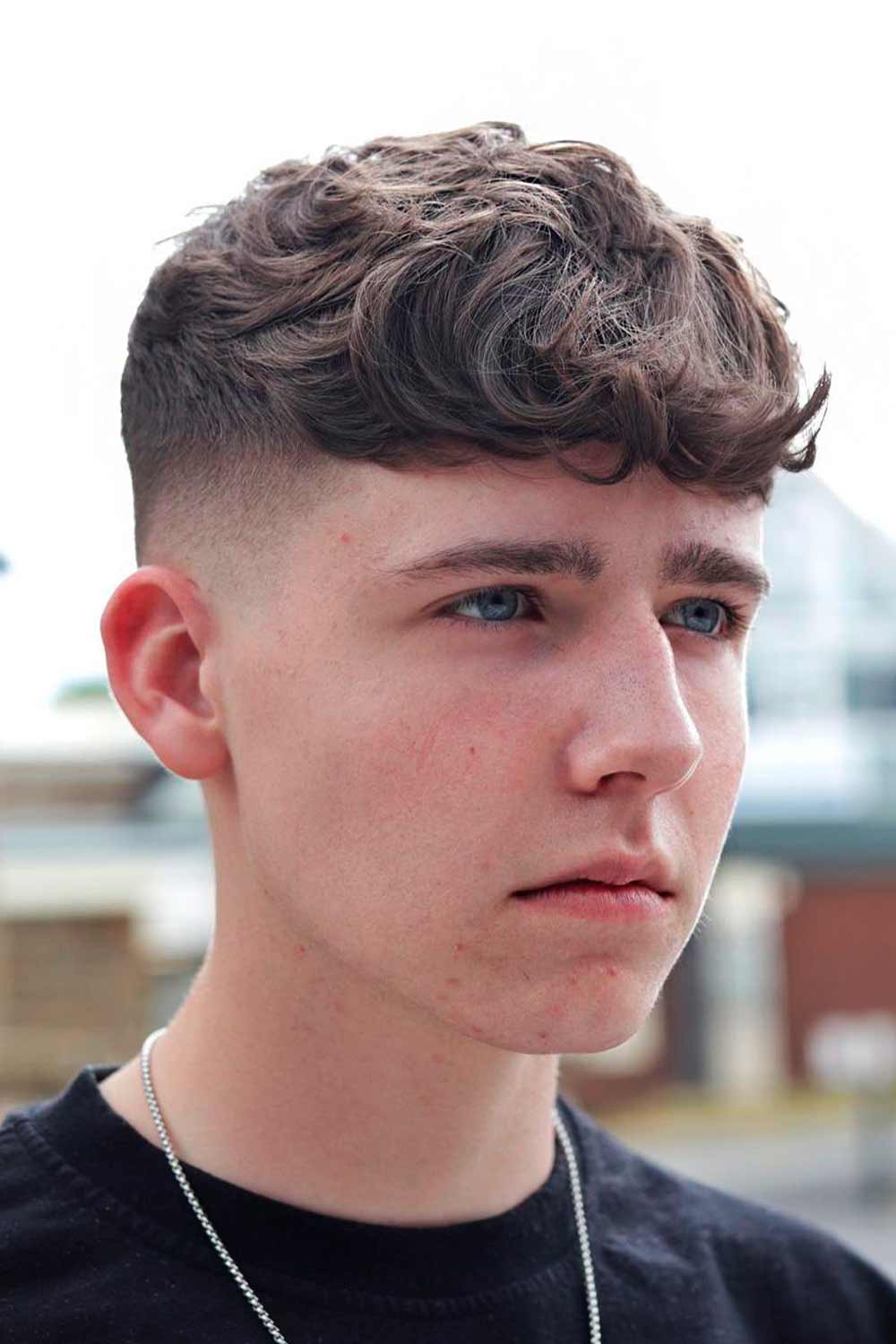 /
Curly Fringe With Faded Sides
If your kid is lucky enough to have curly locks, then you should definitely take advantage of it. Boys hairstyles with a curly fringe are a surefire way to emphasize the defined texture of the hair. To make it even more prominent, go for a fade on the sides and back. Remember, the higher the fade, the bolder the hairstyle looks.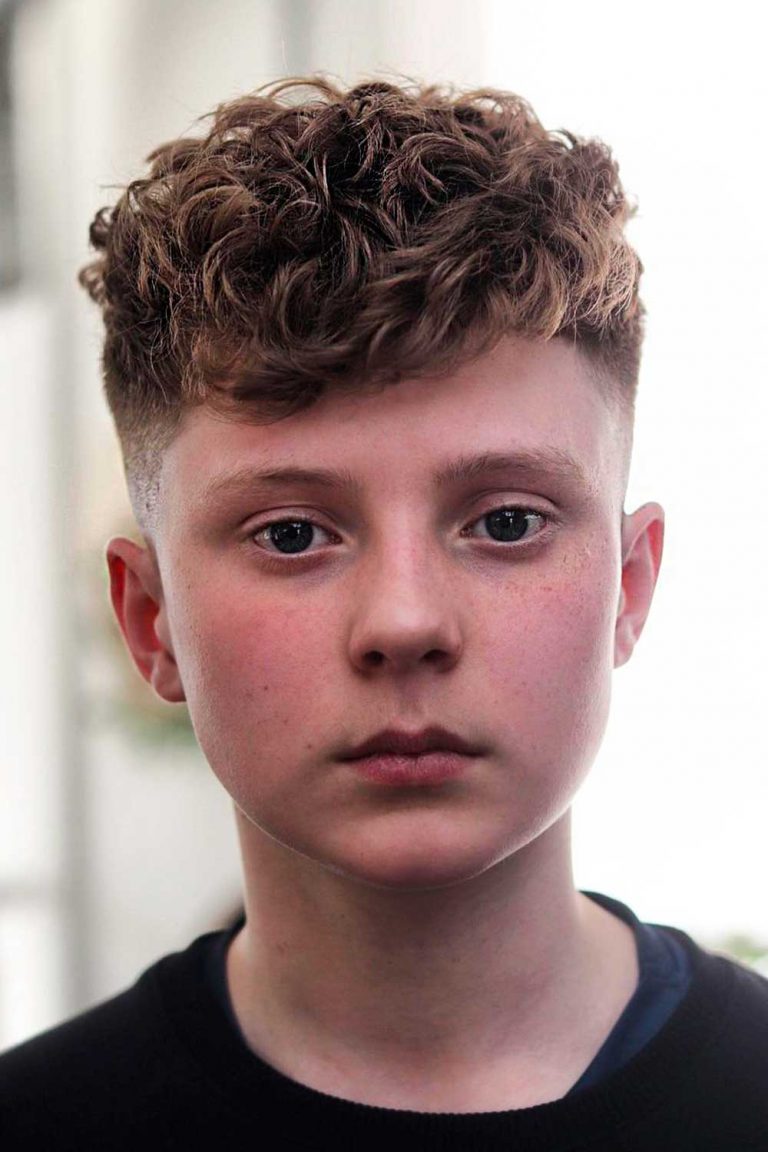 Source: @alan_beak via Instagram
Boys Taper Fade On Short Hair
What is a good hairstyle for boys? A bit of neatness will never hurt, notably if your school stands for accuracy and immaculacy in terms of schoolboy hair. Instead of cutting boy's haircuts short, you can shorten the sides and spice them up with a boys fade haircut, where the longer top gradually blends with neatly tapered sides.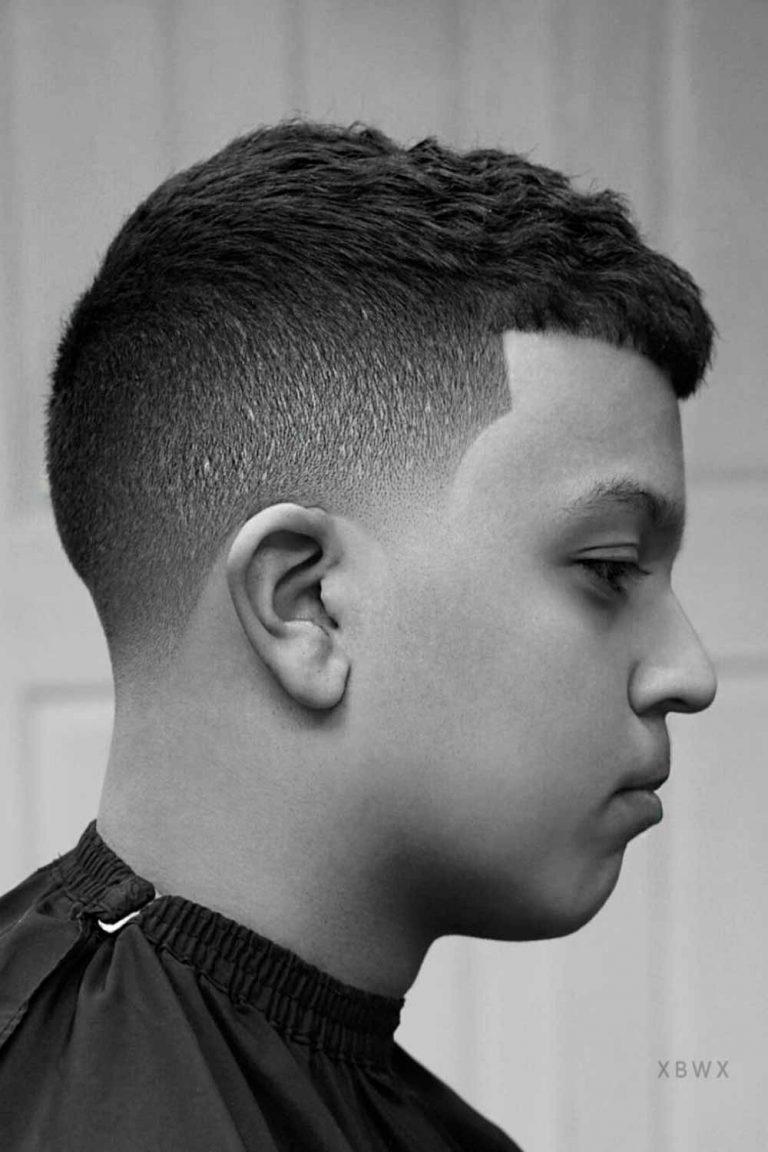 Source: @xbigwesx via Instagram
Faux Hawk Fade Brushed Up
Really cool cuts for kids are those that look stylish and trendy while requiring little effort to maintain. That said, a fade with a short textured top is one of the best options for little mods who do not want to spend much time styling their manes. Also, boys with long hair will find an undercut highly beneficial too, as it allows them to keep their long tresses in order.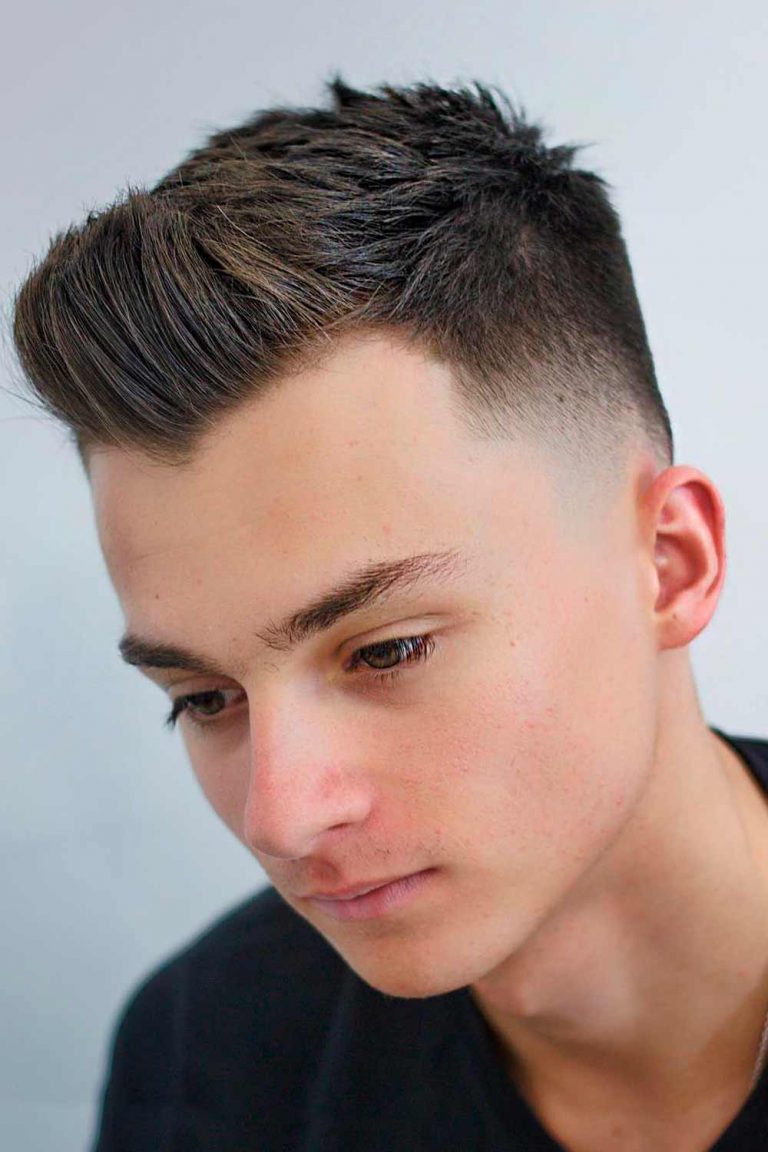 Source: @horatiuthebarber via Instagram
Layered & Spiky Scissor Cut
Are spiky haircuts for boys with an attitude? Sure, they are. If you want your kid to express his unique personality and taste, it is hard to think of a better option than a layered spiky cut. It provides him with everything required for a stylish yet effortless look – a malleable shape and a low-maintenance style.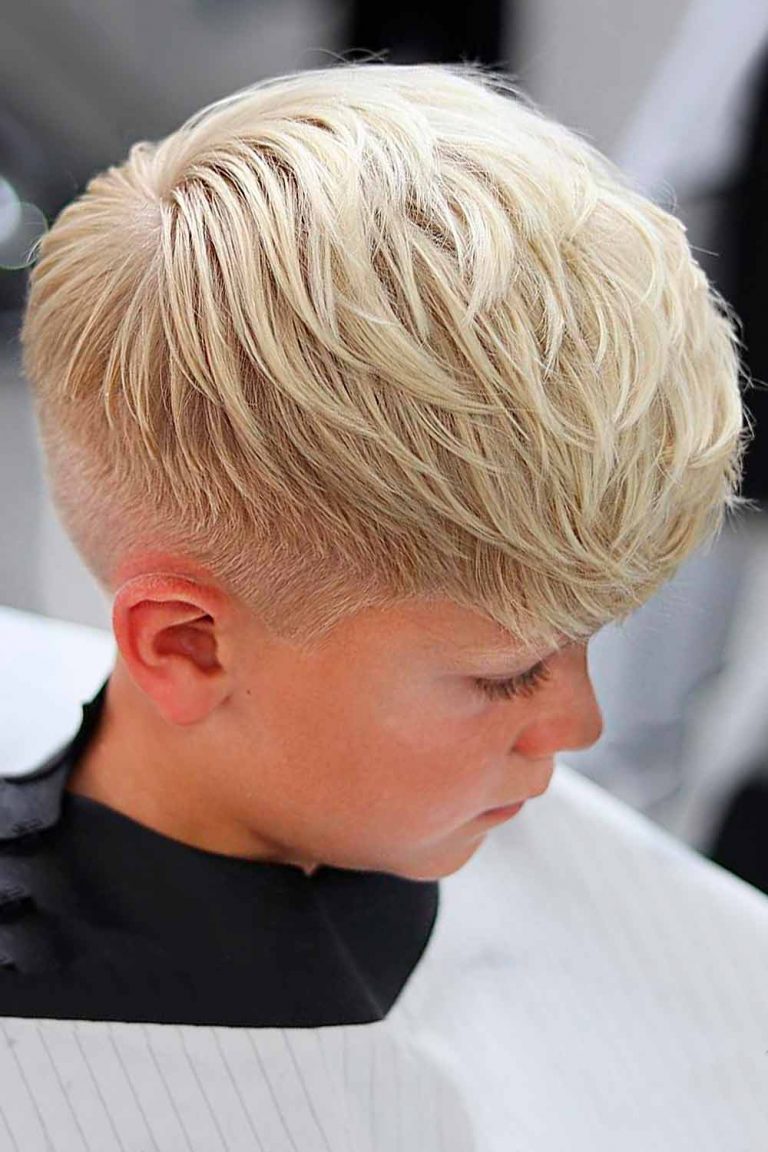 Source: @alan_beak via Instagram
Modern Kids Mohawk On Curly Hair
Boys with modern and carefree lifestyle will love the way this kids mohawk shows off their sense of style. Though it requires regular maintenance, its unbelievable silhouette and play of texture is worth trying, just like many black boys haircuts.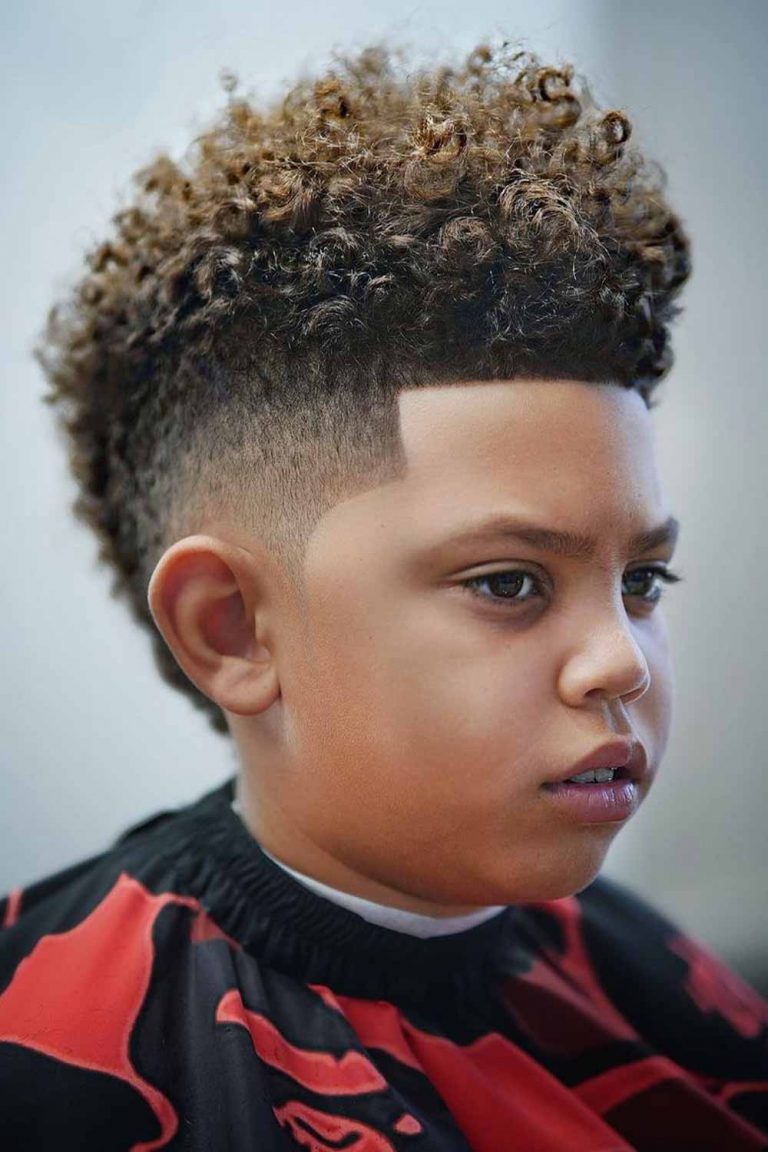 Source: @nickthebarber via Instagram
Long Textured Hair On Top
This hairstyle is all about definition. The longer top is textured and layered. As the look comes out sharp and edgy, you want to balance it out with the help of a soft taper on the sides.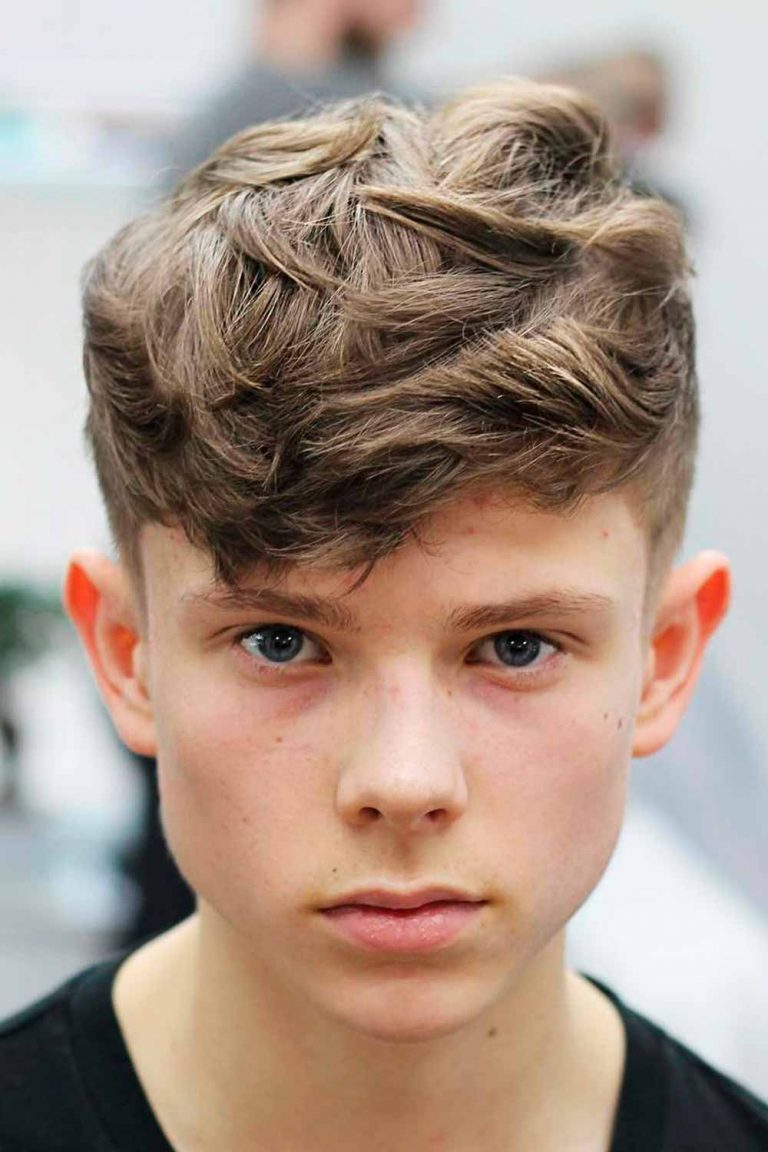 Source: @alan_beak via Instagram
Classic Crop With Fade & Fringe
The modern idea of the classic french crop is here to change your image about the familiar boys hair cut. This time, the one-length haircut gives a great sense of modernity: the sides are accentuated with a fade, and the top is finished with a choppy fringe. Aren't these the must-have features of boys haircuts?
Source: @ryancullenhair via Instagram
Short Textured Comb Over
You may did not expect that, but the famous comb over haircut can actually come as 10 years old boy haircuts. Its restrained and sophisticated swept silhouette is the happy medium between occasional and casual look, which makes it not only a perfect haircut for boys but also for men of all ages. In terms of styling, this cut is very flexible: based on your styling product and the parting you choose, it will give you different and fresh looks.
Source: @alan_beak via Instagram
i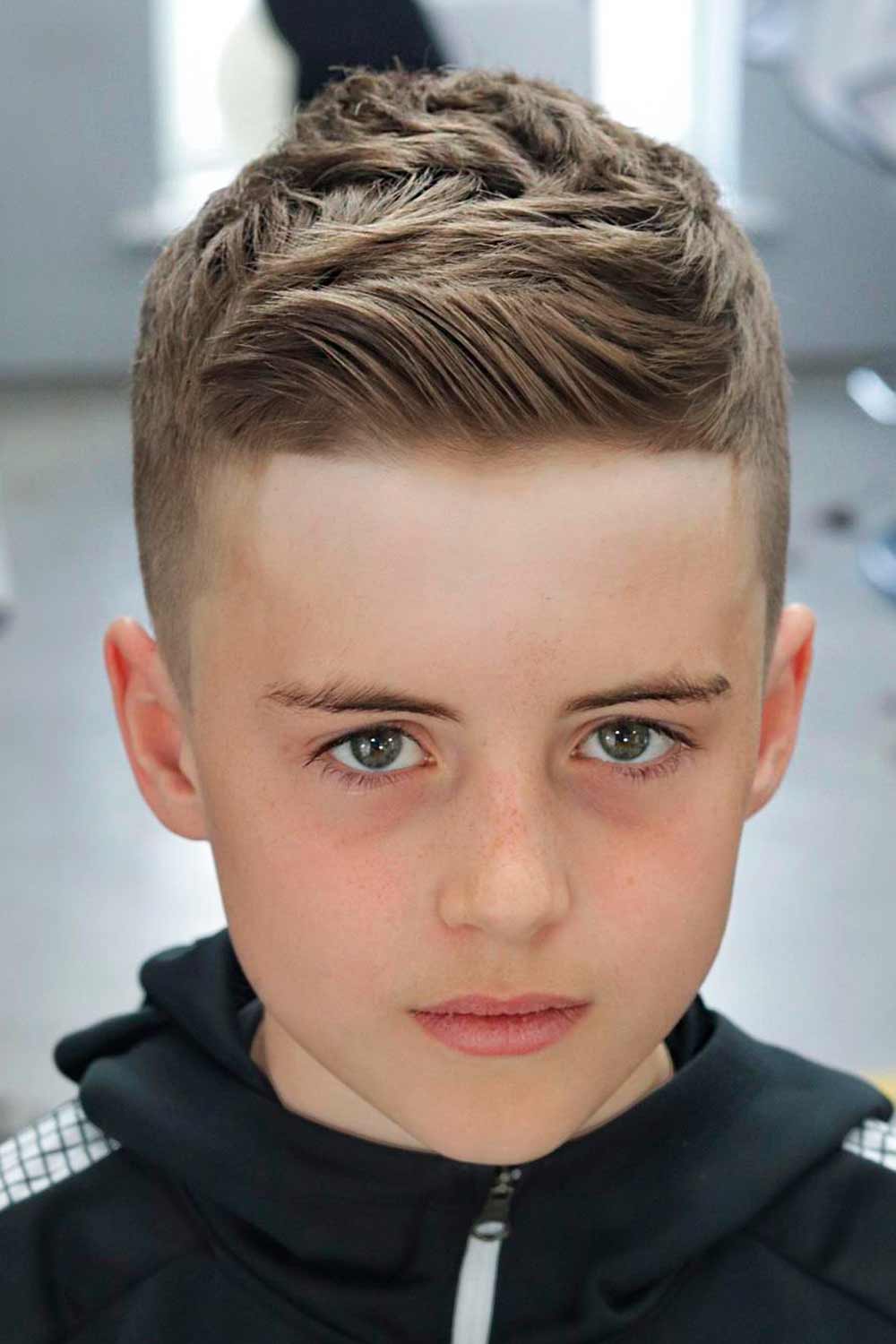 Source: @alan_beak via Instagram
i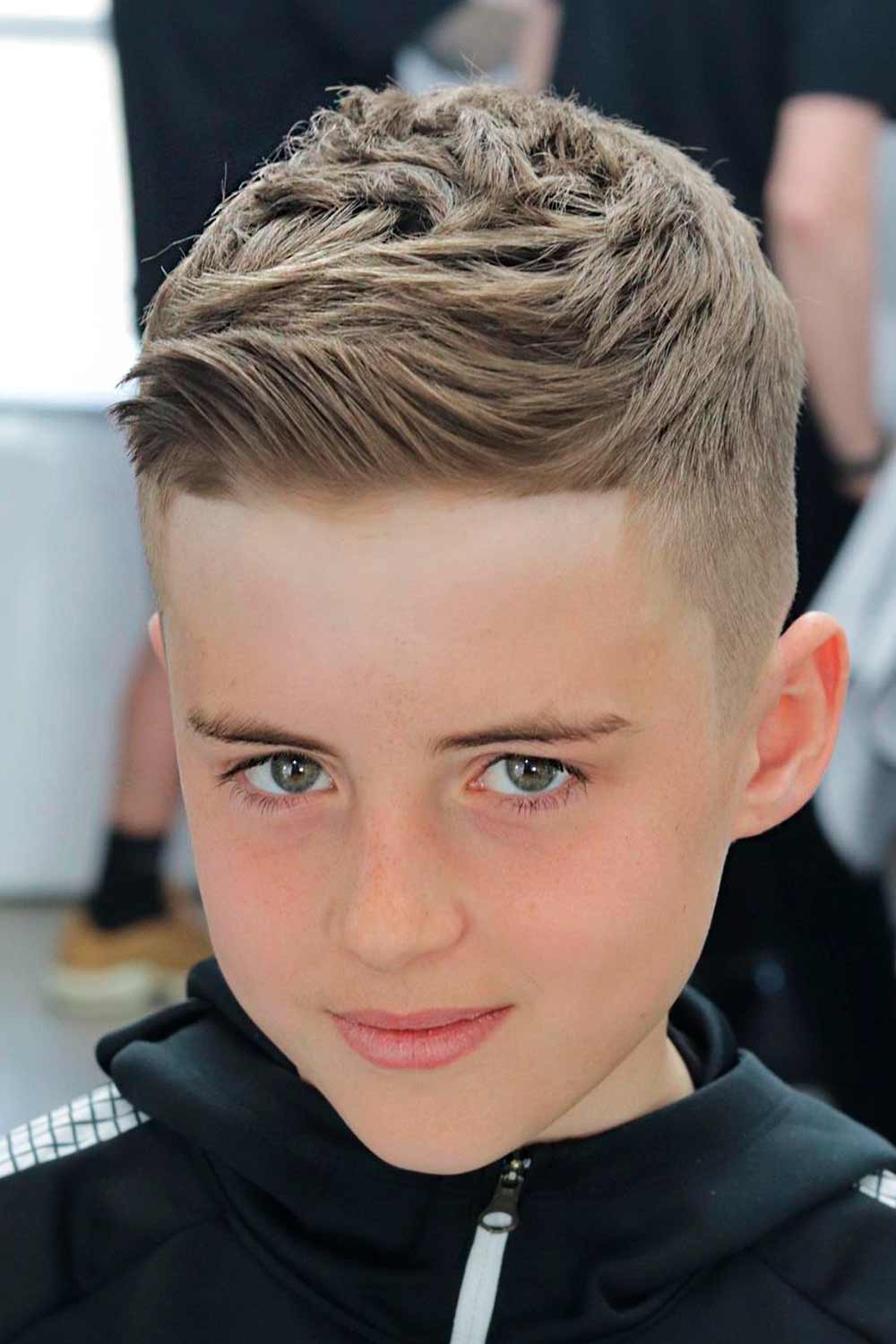 /
Thick Fringe With Faded Sides
Fringe haircuts are back with a bang. With the hair being fairly long on the top, flowing into textured fringes, and the cut blending into neatly cut sides, this hairstyle is a perfect bet for your boy. And to add a little funk to this style, you can choose angular bangs or a french crop, giving it an adorable yet fun look.
Source: @hayden_cassidy via Instagram
Elegant Side Swept Boys Haircuts
Cute boys like elegant and classy hairstyles. If your kid is one of them, then choose a side swept look for him. It does not require much styling while giving a refined and trendy impression. Just remember to go easy on a hair styling product so that the hair retains a relaxed and carefree feel.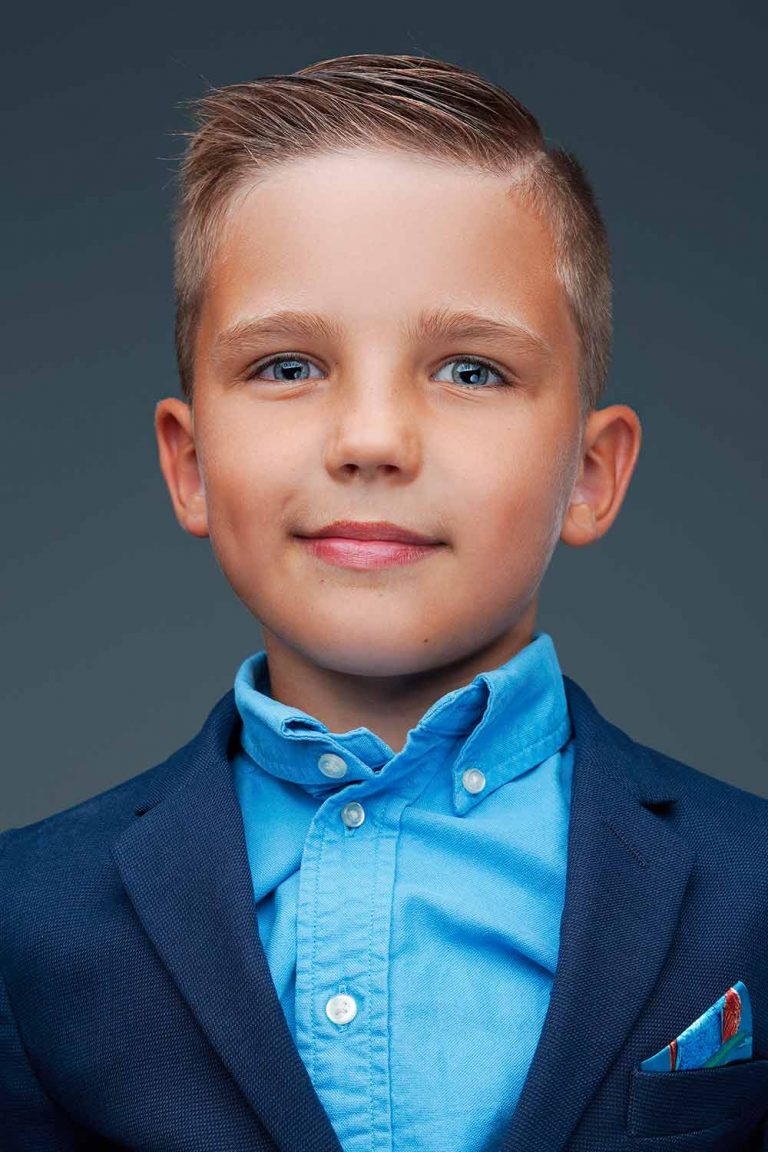 Ragged Fringe With Layers
Looking for a hairstyle that isn't too unconventional and yet makes your boy stand out? The ragged layered hair is a fresh and exciting look. It is a classic cut with textured fringes on the top, using layering all over the head.
Source: @ryancullenhair via Instagram
Mop Top
Boys long haircuts can be a bit difficult to maintain, as a little rebel usually does not want to take care of his locks. However, you can get away with low key long childrens haircuts, such as a mop top. While it does not require much commitment, the result is really cool.
Textured Side Angular Fringe
You can add an intricate twist to your child hair cuts with such a simple yet impactful element as a fringe. For a bolder and trendier look, make it textured and angular. Even though he will need to make some effort to style his hair, it will fully pay off with the title of a trend setter of the school.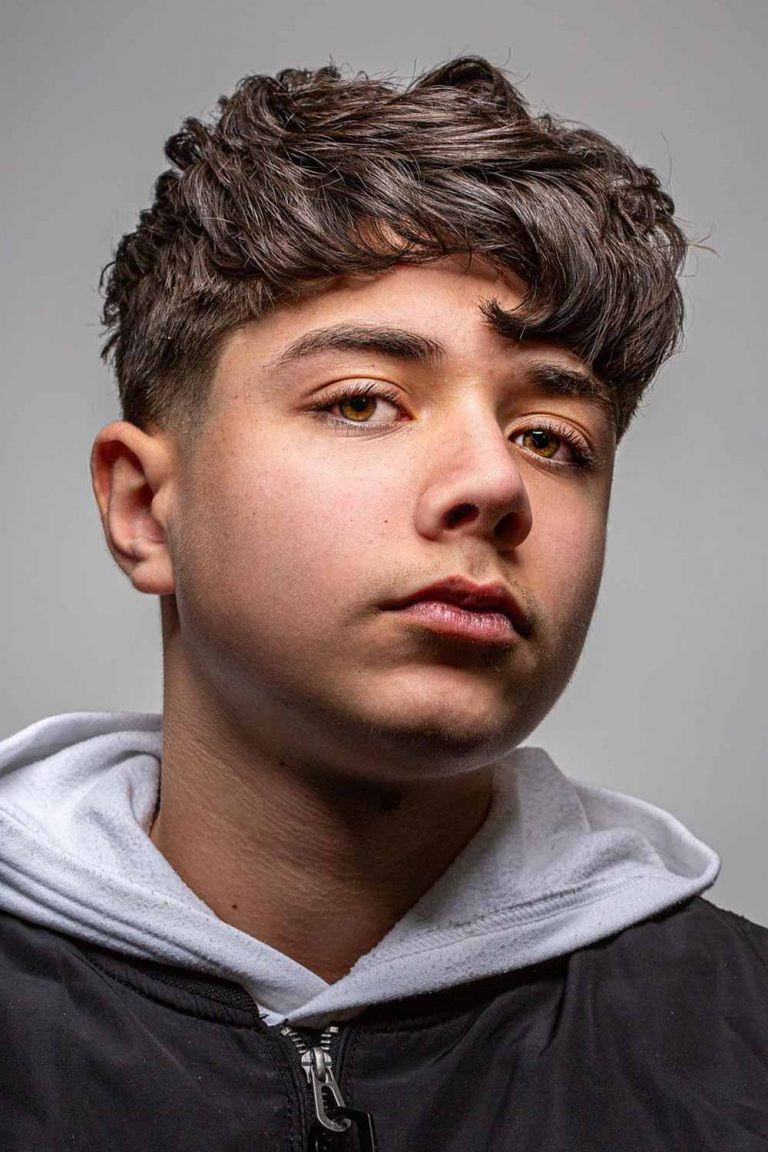 Source: @tombaxter_hair via Instagram
Disheveled Blunt Bang Boys Haircuts
Does your kid really love to be in the spotlight? Then textured bangs with a blunt edge are his way to go. For extra emphasis, you can pair this bold haircut for children with a skin fade on the back and sides.
Source: @alan_beak via Instagram
Slicked Back Undercut Boys Haircuts
Meet the new face of the popular sports cut that stands among the best short haircuts for boys. Yes, the modernized classics never fail: the good-old undercut with slicked back hair on top has become one of the immaculate, and defined kid hairstyles one could ever see.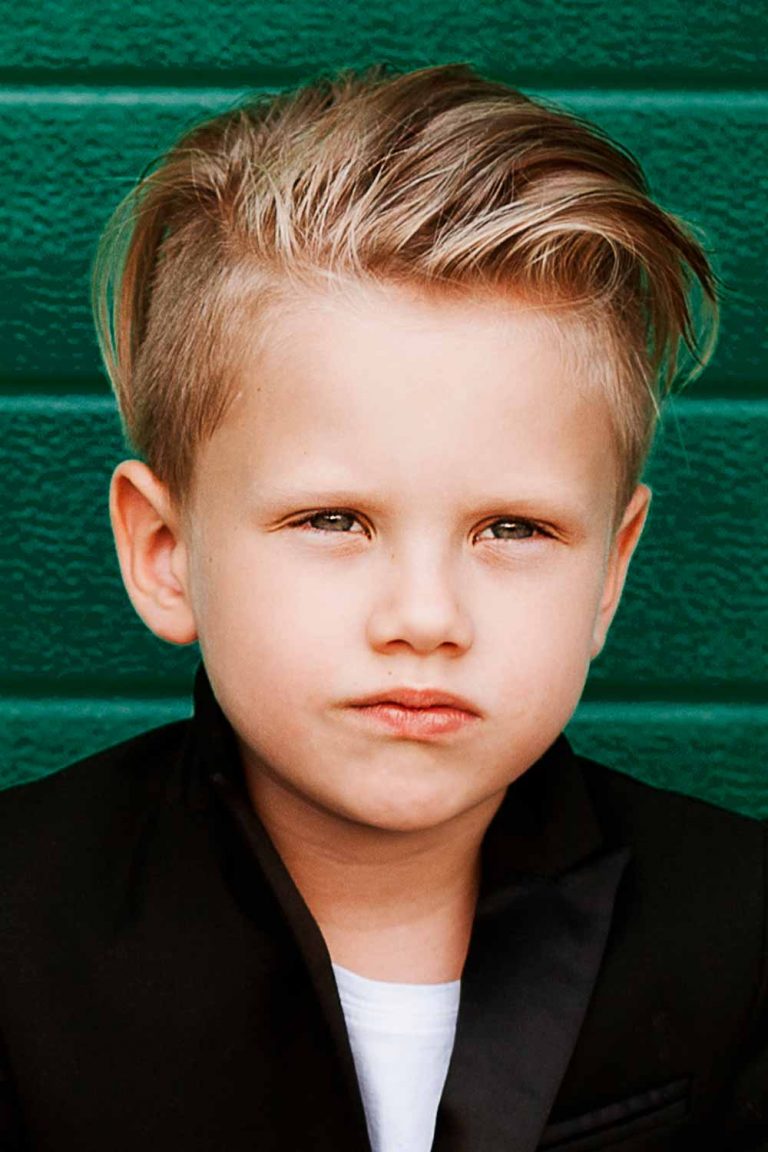 Side Swept Wavy Top Short Sides
Want to combine several trendy cuts in one hairstyle? A high skin fade on the sides and an angular fringe will give you what you're looking for. Although it looks so elaborate, in fact, it's one of those boys haircuts that doesn't require much maintenance.
Source: @alan_beak via Instagram
i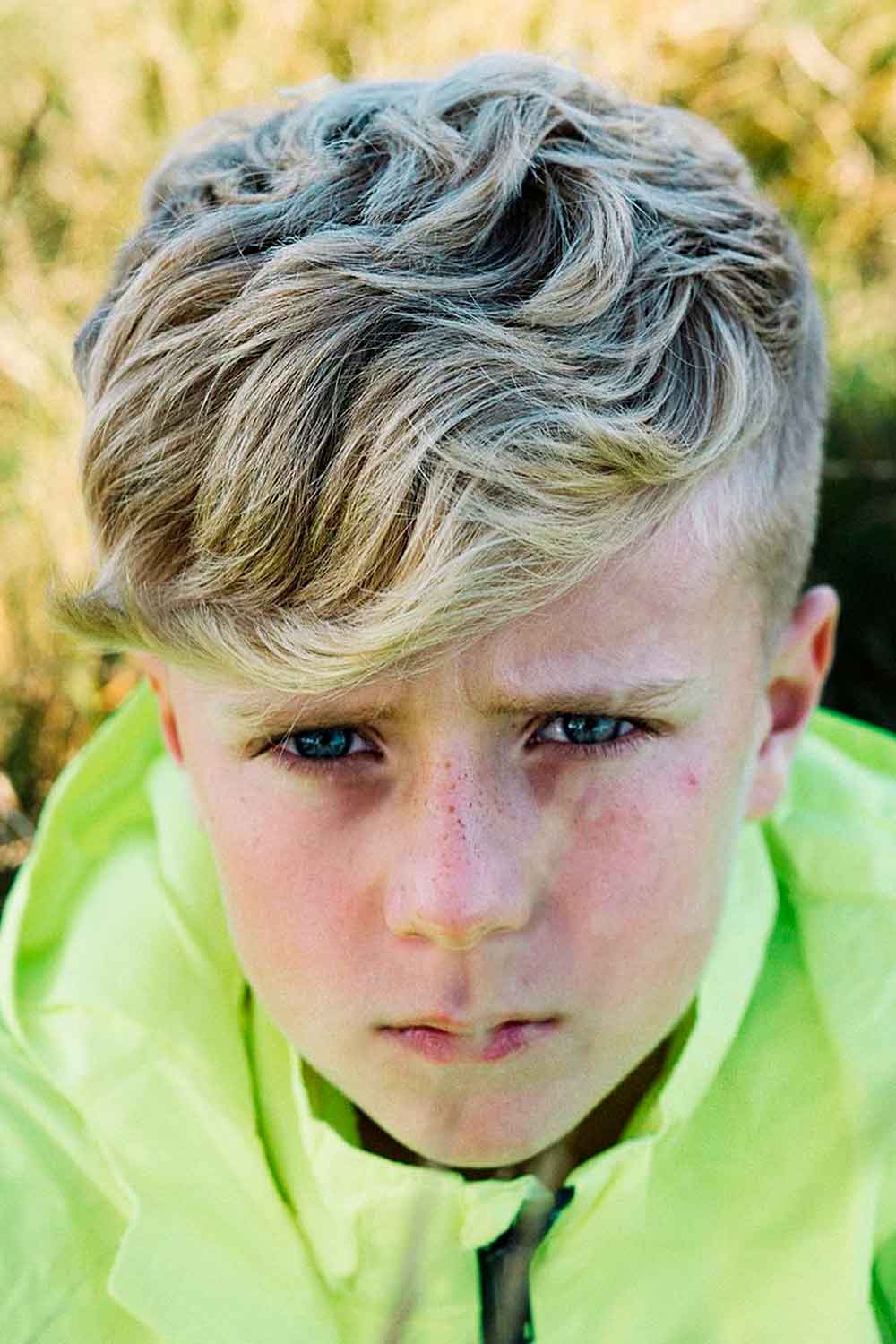 Source: @alan_beak via Instagram
i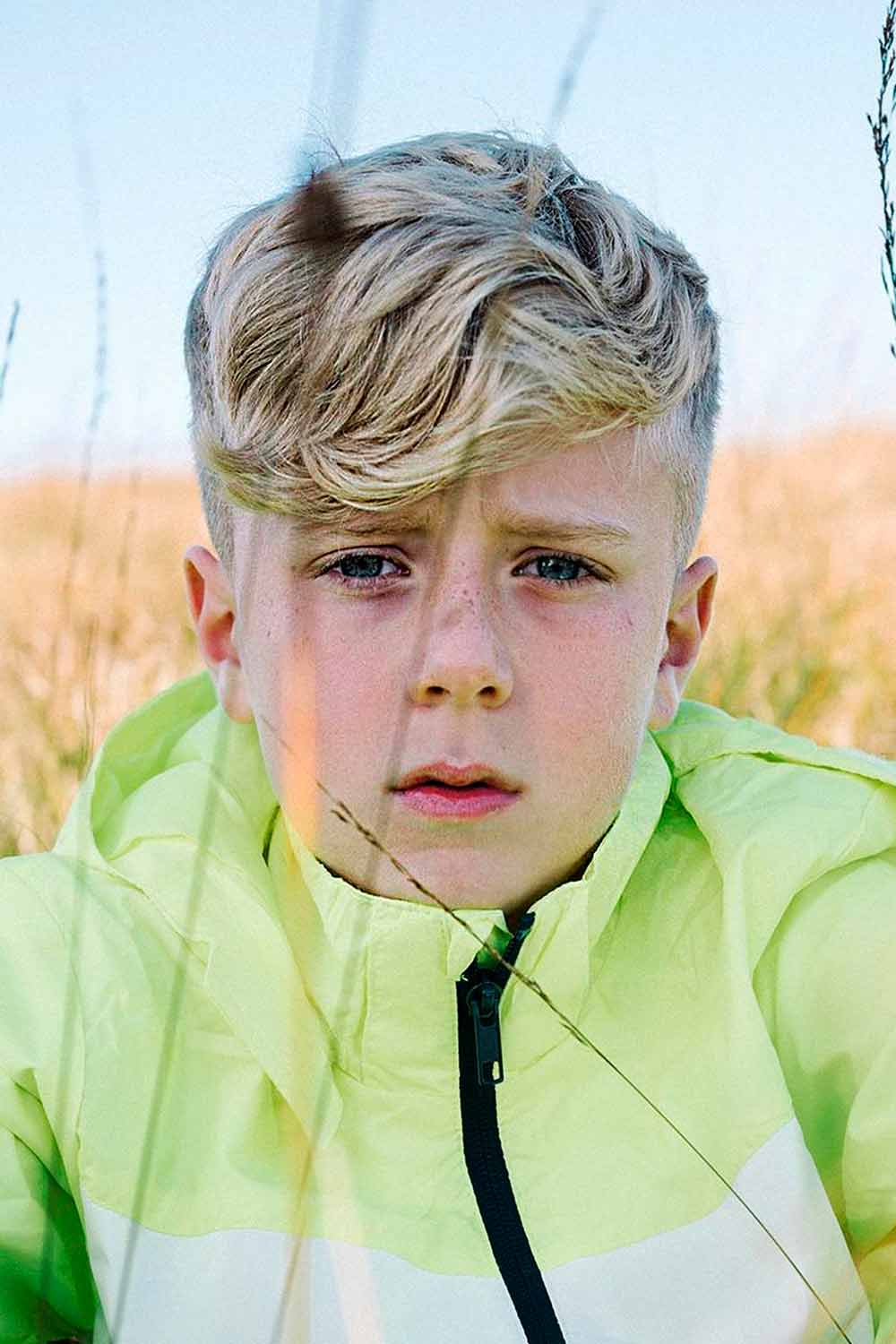 /
Brushed Up Ivy League
At times, an Ivy League haircut can look too preppy on boys. To avoid that impression, try to upgrade the hairdo a little. By simply brushing the hair on top of your head up, you get a cool and trendy hairstyle. For added emphasis, you can go for a mid fade and carved-in hair design.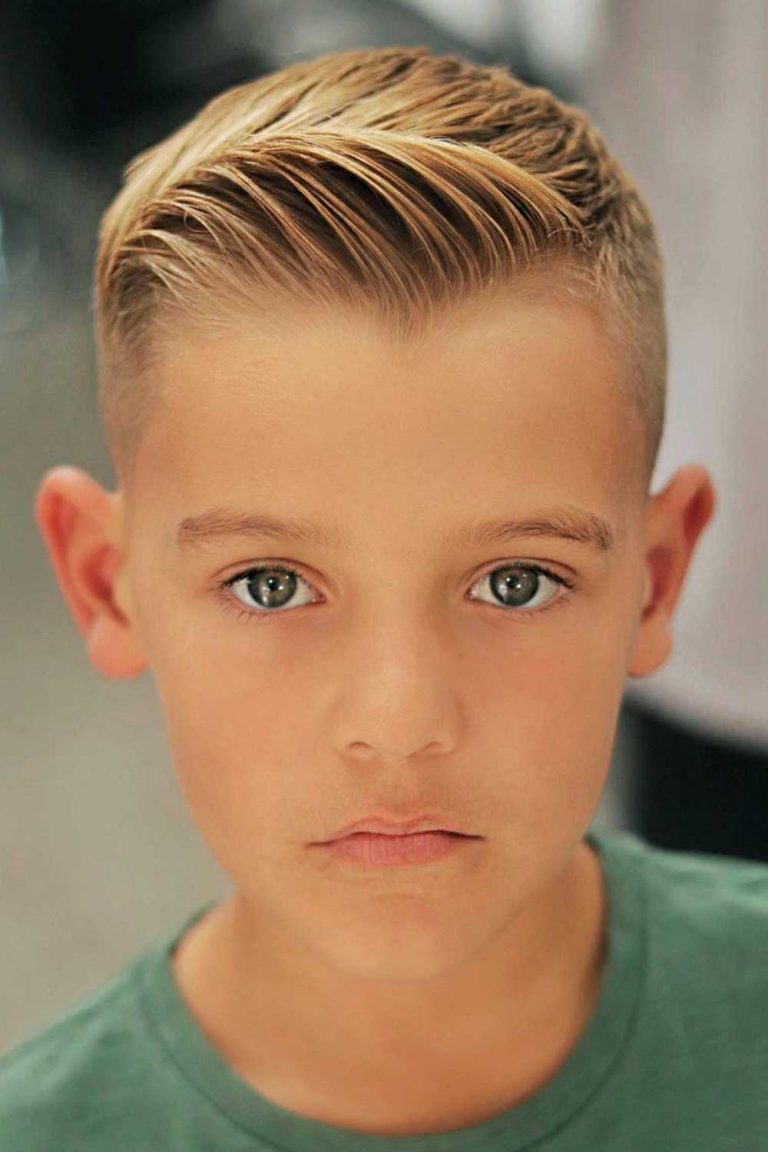 Source: @alan_beak via Instagram
Textured Crop On Straight Hair
French crop boys haircuts are still on a roll, as they have many different variations. For added flair, the fringe can be chopped straight. Even though it doesn't require much effort, the look comes out stylish and unique.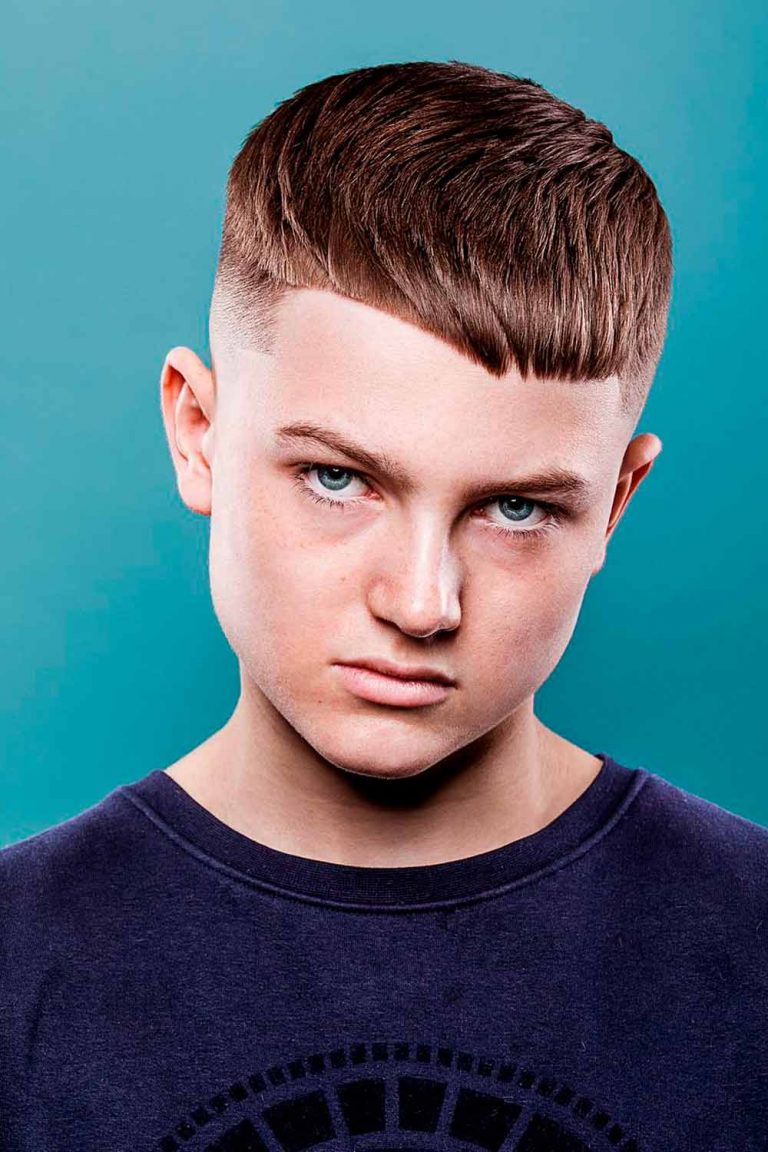 Source: @alan_beak via Instagram
Neat Push Back Boys Haircuts
Perfect boy haircuts for school look both stylish and neat. Besides, it is most likely that you will want a low maintenance cut to save those precious ten or even twenty minutes in the morning. Thus, consider this elegant and trendy look that features a pushed back top and faded sides.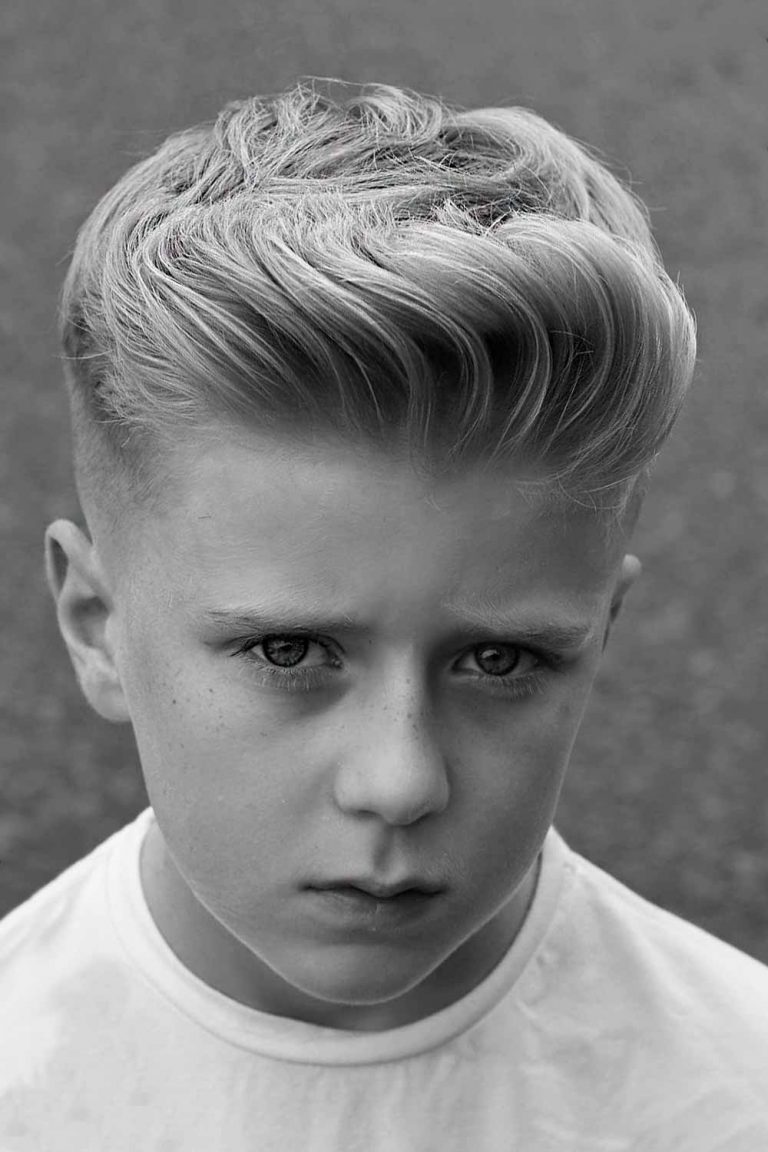 Source: @alan_beak via Instagram
Curly Hair Boys Tapered Sides
For white boys with curly hair, it can be pretty exhausting to take care of their locks. And that is when the right curly boy haircuts come in really handy. If you want to make your kid's hair easier to maintain without sacrificing his hair texture, get him a taper haircut on the sides.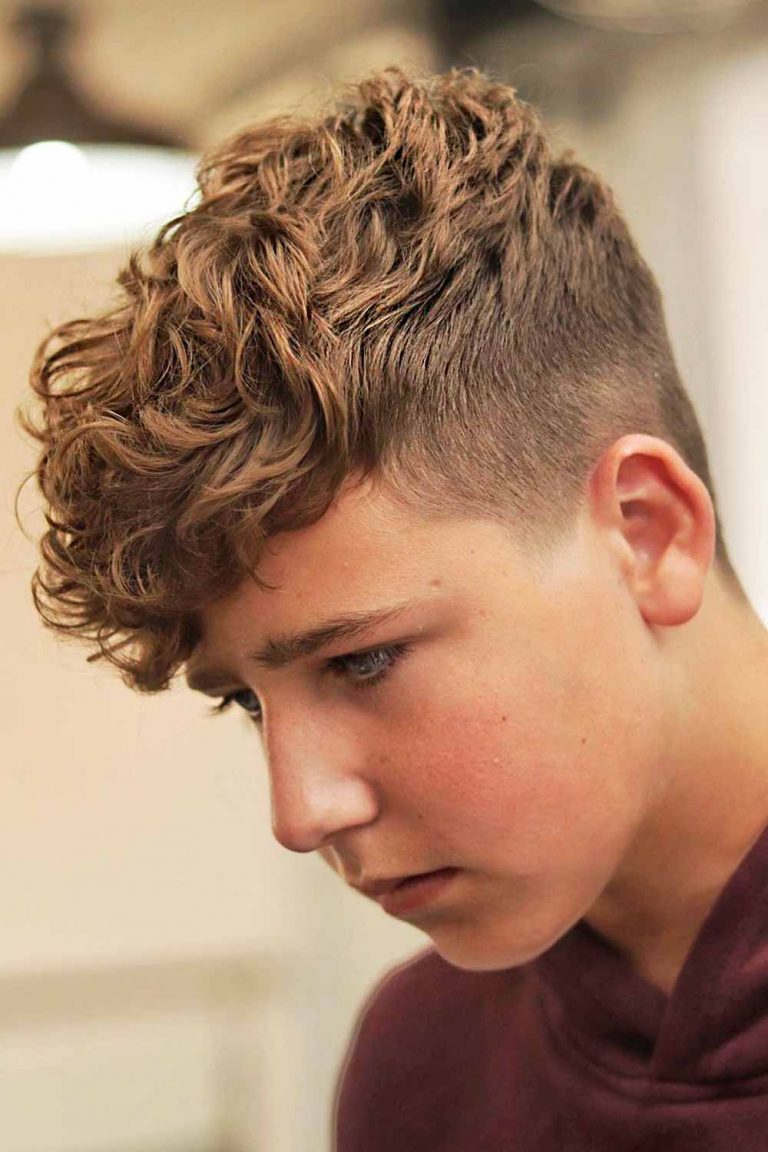 Source: @alan_beak via Instagram
Fresh & Clean 10 Year Old Boy Haircuts
Ten year old boys hair cut styles can already feature the majority of haircut trends adults have. As such, a fade boys haircut on the sides and a layered bang combo guarantees that your kid is going to be the trendiest boy in the whole school. As a rule of thumb, the bolder look you want to get, the higher the fade should start.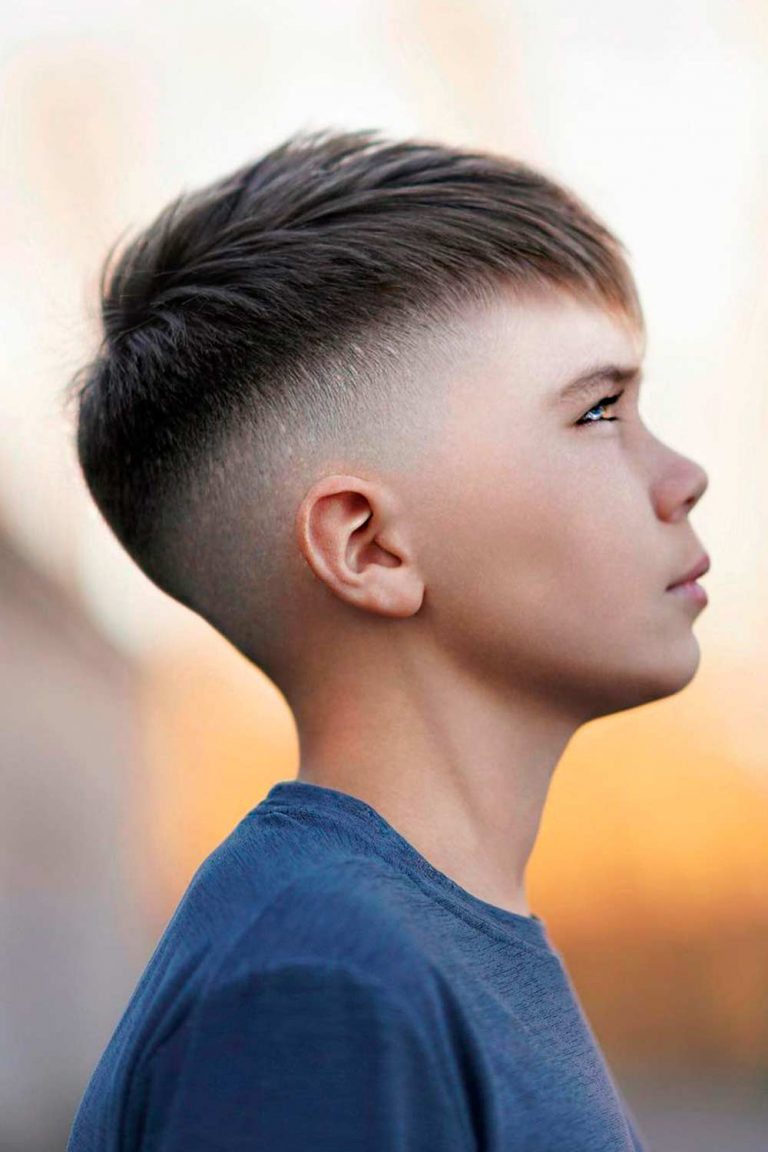 Source: @xbigwesx via Instagram
Boys Short Haircuts With Blunt Bang
If your kid does not like particularly long boy haircuts, it does not mean that his only option is a buzz cut. There are many fashionable short hair styles for boys. For instance, you can complement short sides and back with a blunt bang. First, it does not get in the way when he is studying or playing and second, it opens up his face.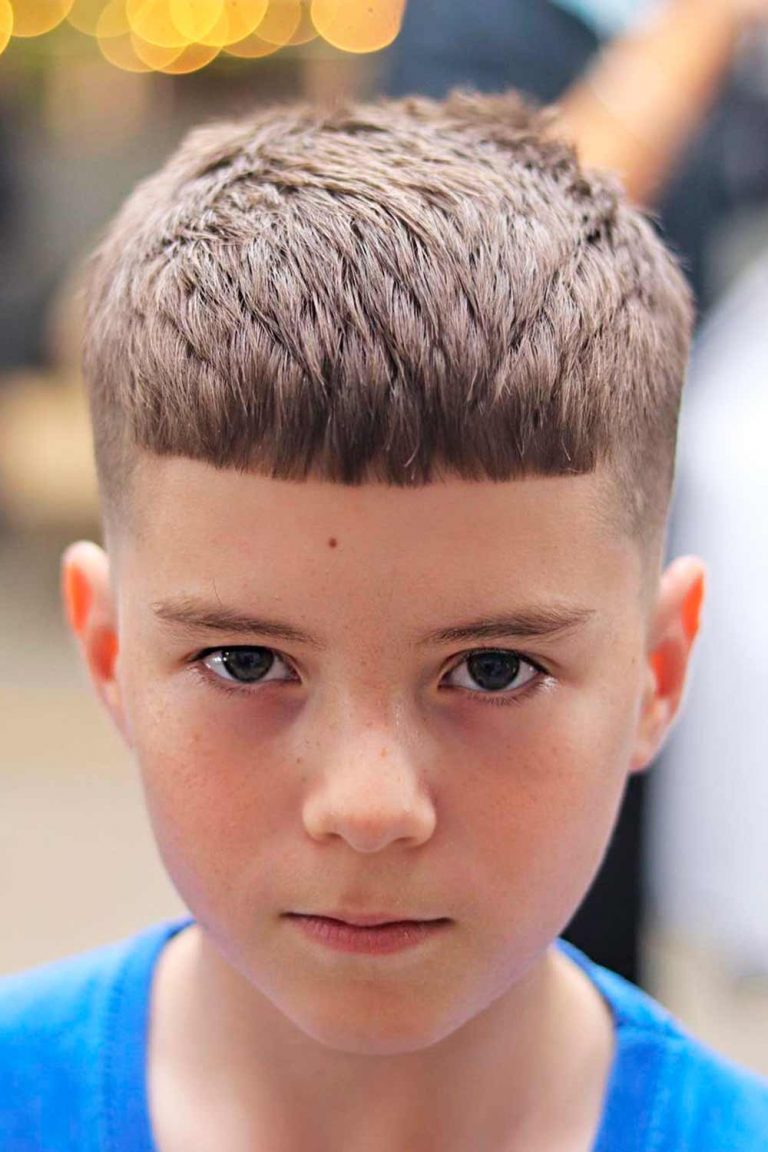 Source: @alan_beak via Instagram
Parted Haircuts For Boys With Straight Hair
Really good hairstyles for boys are those that can be styled in one easy move to save much time in the morning before school while looking fashionable and cool. A side part is actually one of those good haircuts for boys. Although it works pretty well for any type of hair, guys with straight locks will benefit from it the most.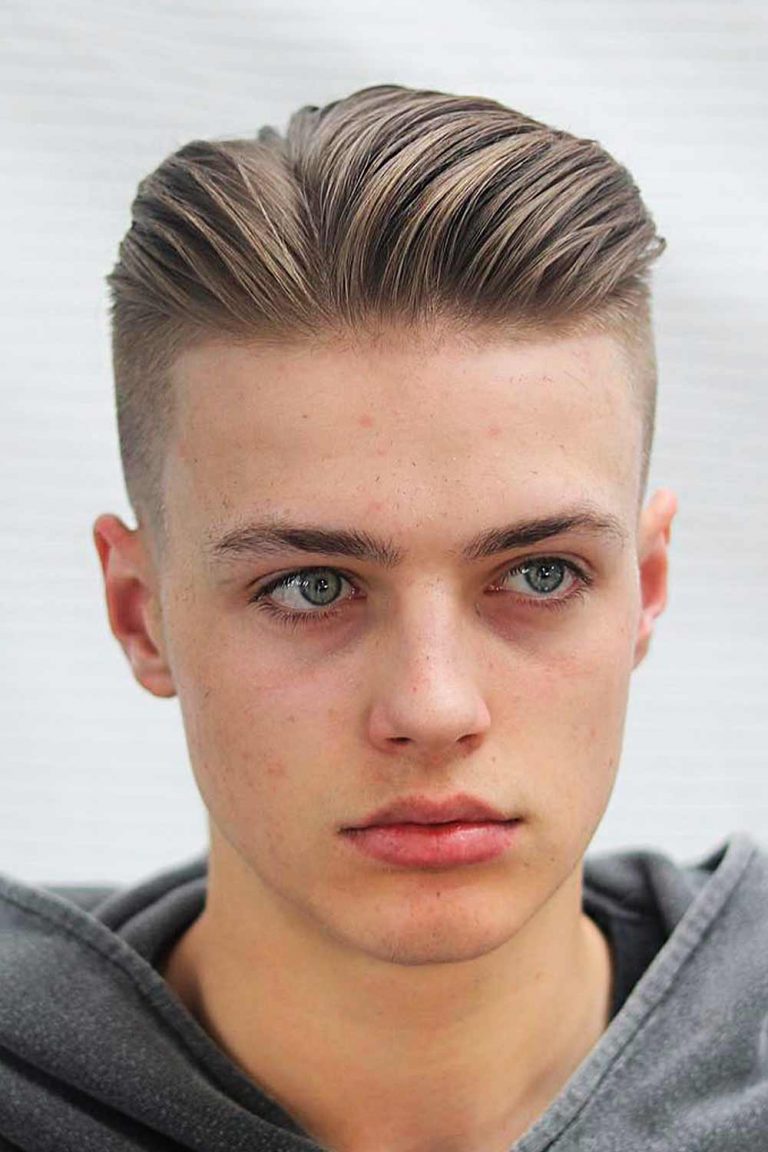 Source: @alan_beak via Instagram
White Boy Fade Textured Waves
If you are looking for white boy haircuts for wavy hair, your search stops here. A textured wavy top teamed with a kids fade haircut is a failsafe combo. In addition to a trendy and modern look, it is also very practical and easy to style. You can be sure that your kid will love it!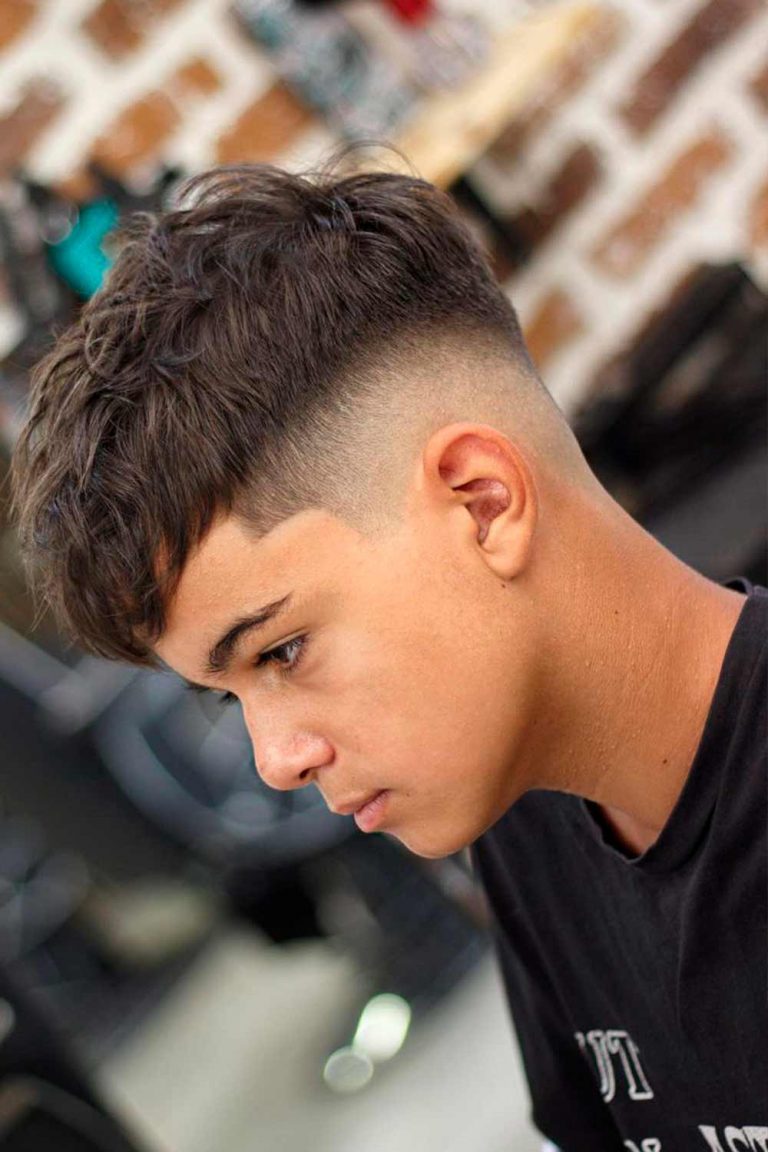 Source: @horatiuthebarber via Instagram
Undercut Hard Part Cool Haircuts For Boys
Among all kids fashion hair style boys often underestimate a hard part. They shy away from it because it seems too difficult to pull off. But in reality, that is not true. Instead, it adds to his confidence and self esteem. And even more so, when it is combined with an undercut, it takes his hairstyle to a new level of boldness.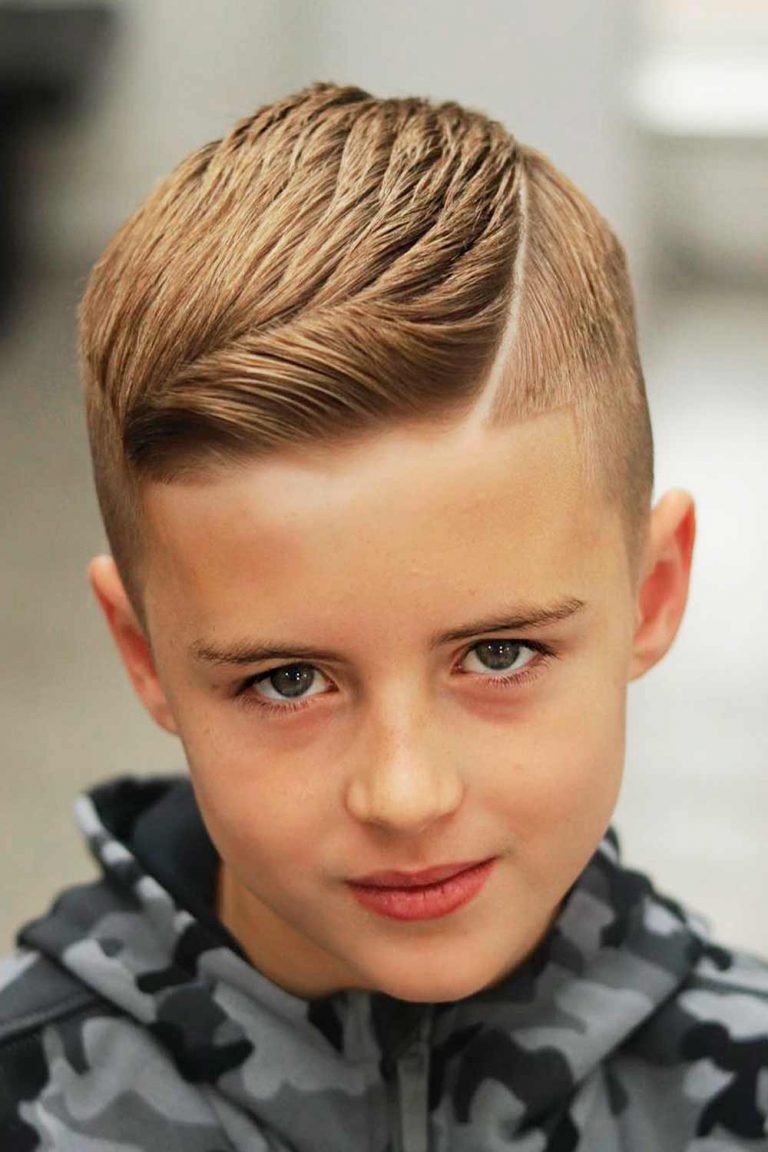 Source: @alan_beak via Instagram
Plain Faded Crop Boys Haircuts
If you want to leave the cropped top as it is, you're welcome to do so. However, you might find a high bold fade a nice accompaniment to such a look, as it helps to create quite a lot of contrast with a neatly chopped and brushed top.
Source: @alan_beak via Instagram
i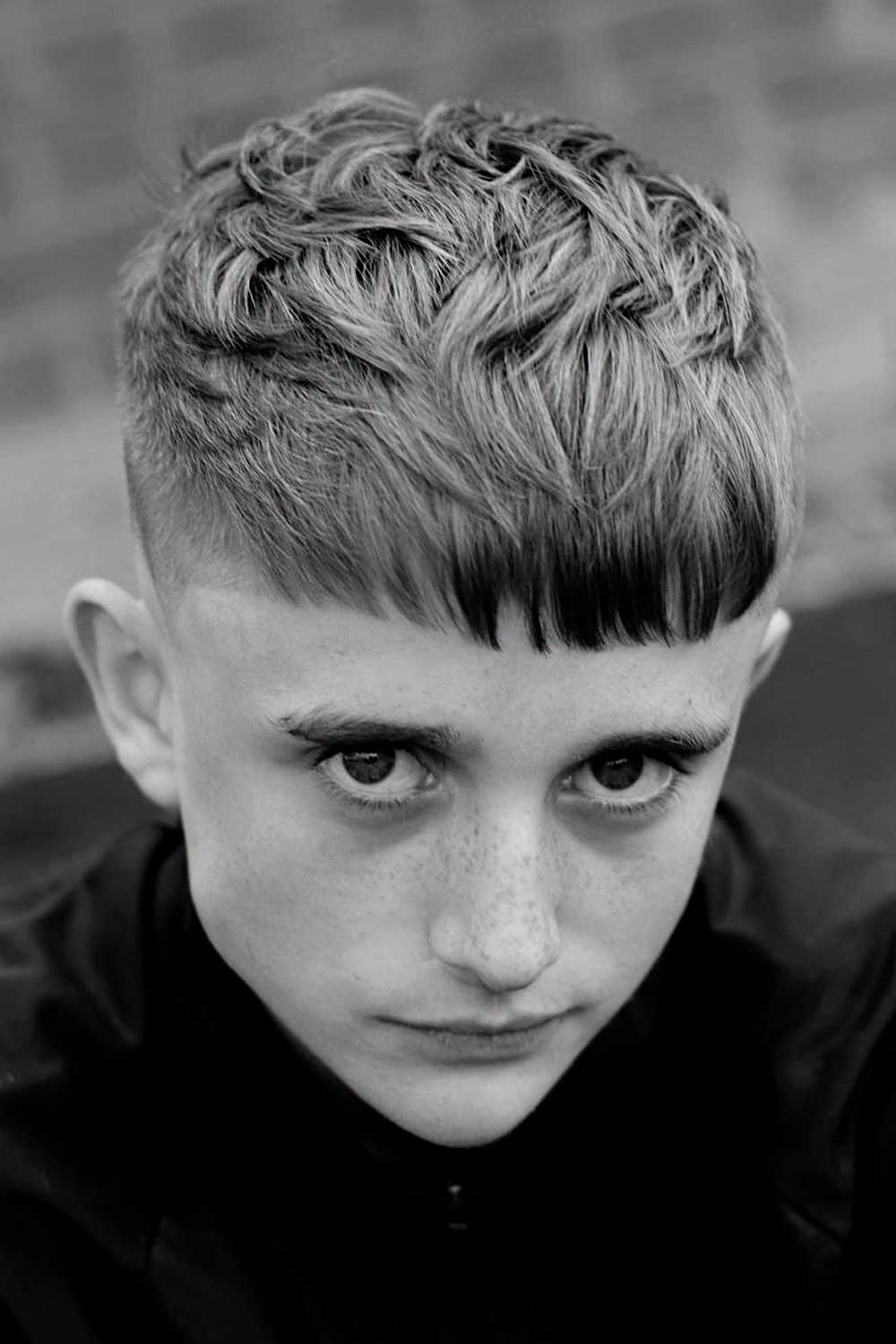 Source: @alan_beak via Instagram
i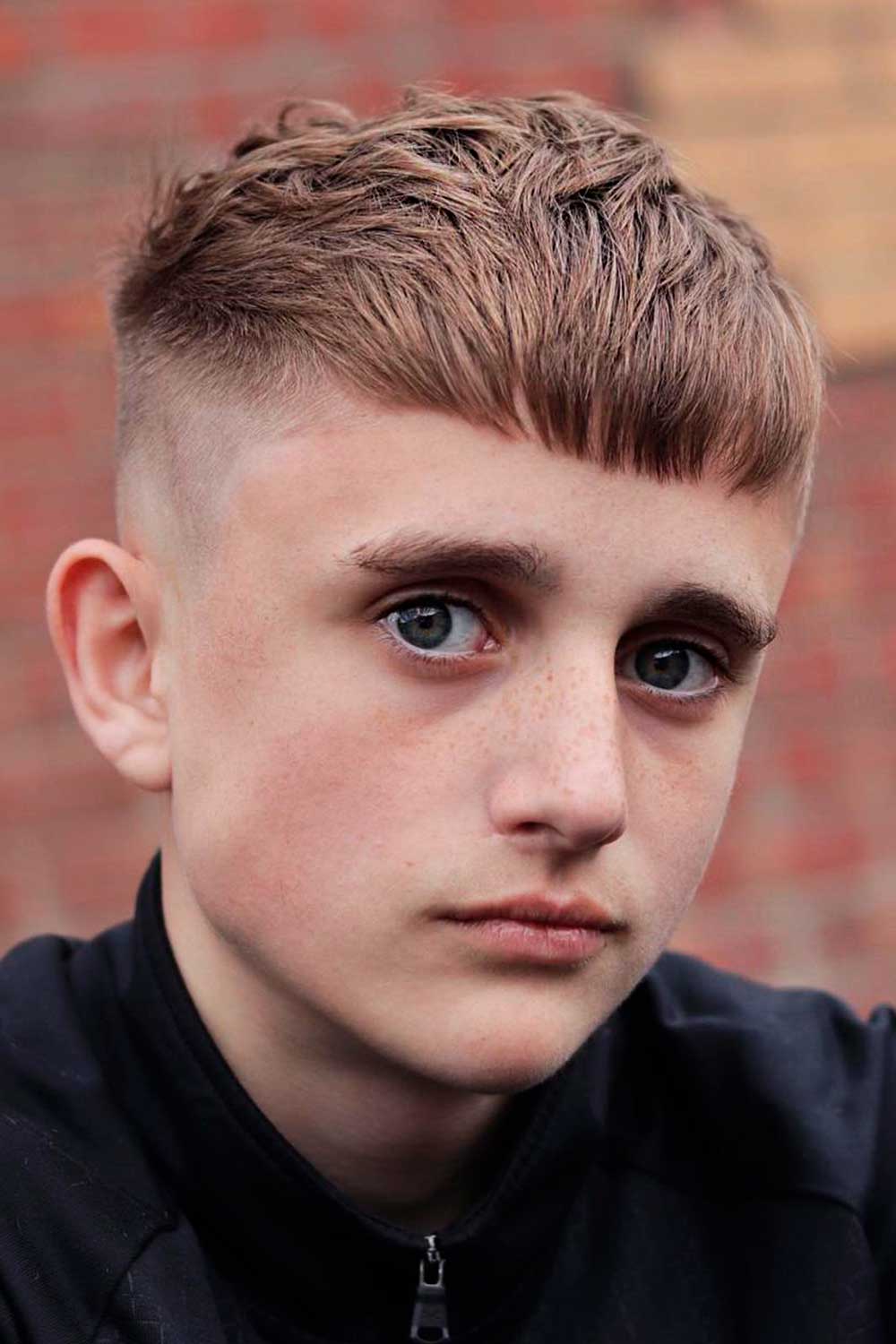 /
Ideal Styling
There are situations when your kid's hair needs to look its best. And that is when perfectly styled cute boy haircuts come into play. They are ultimately polished and refined – strand to strand. And even though they may not last very long, especially if your kid is a little daredevil, his hair is sure to look flawless for a short time.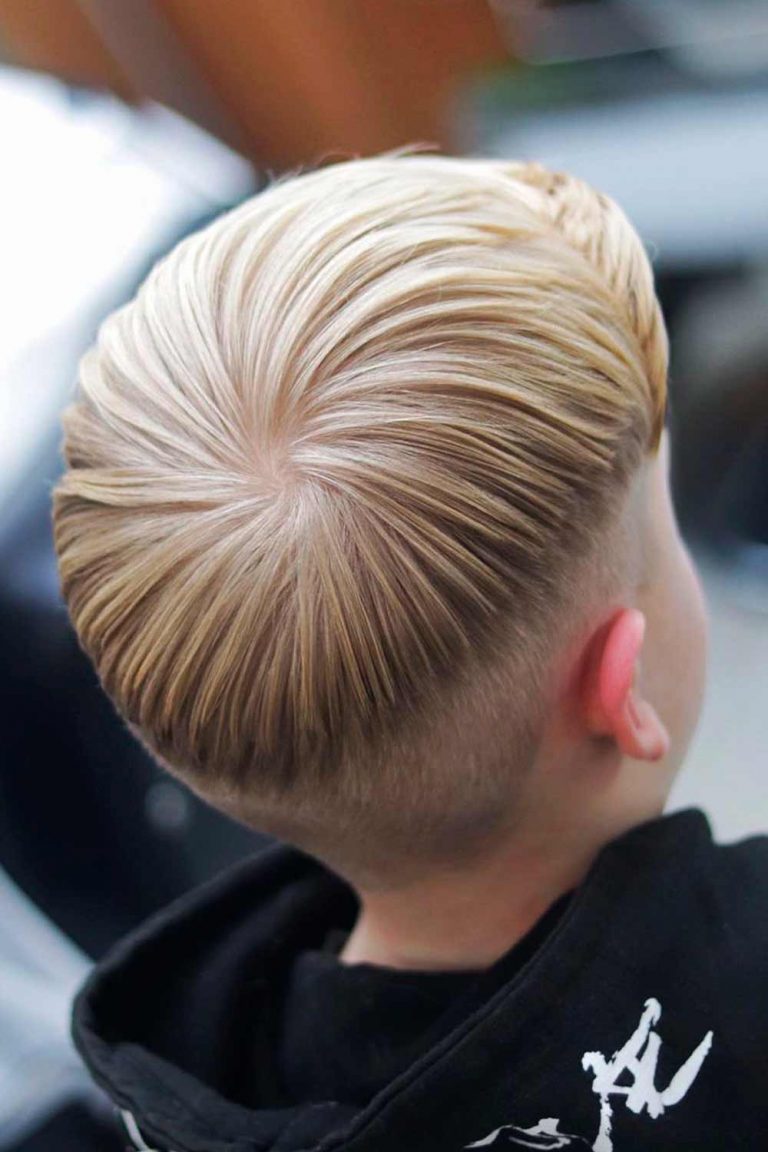 Source: @alan_beak via Instagram
Curly Bowl Cut
A bowl cut is definitely not one of the most popular boys curly haircuts. And that is so unfair. A curly bowl cut is anything but boring. It keeps the bouncy locks in check, drawing all attention to them. Moreover, it helps your kid to tame his curls. Good enough reasons to go for it?
Source: @alan_beak via Instagram
i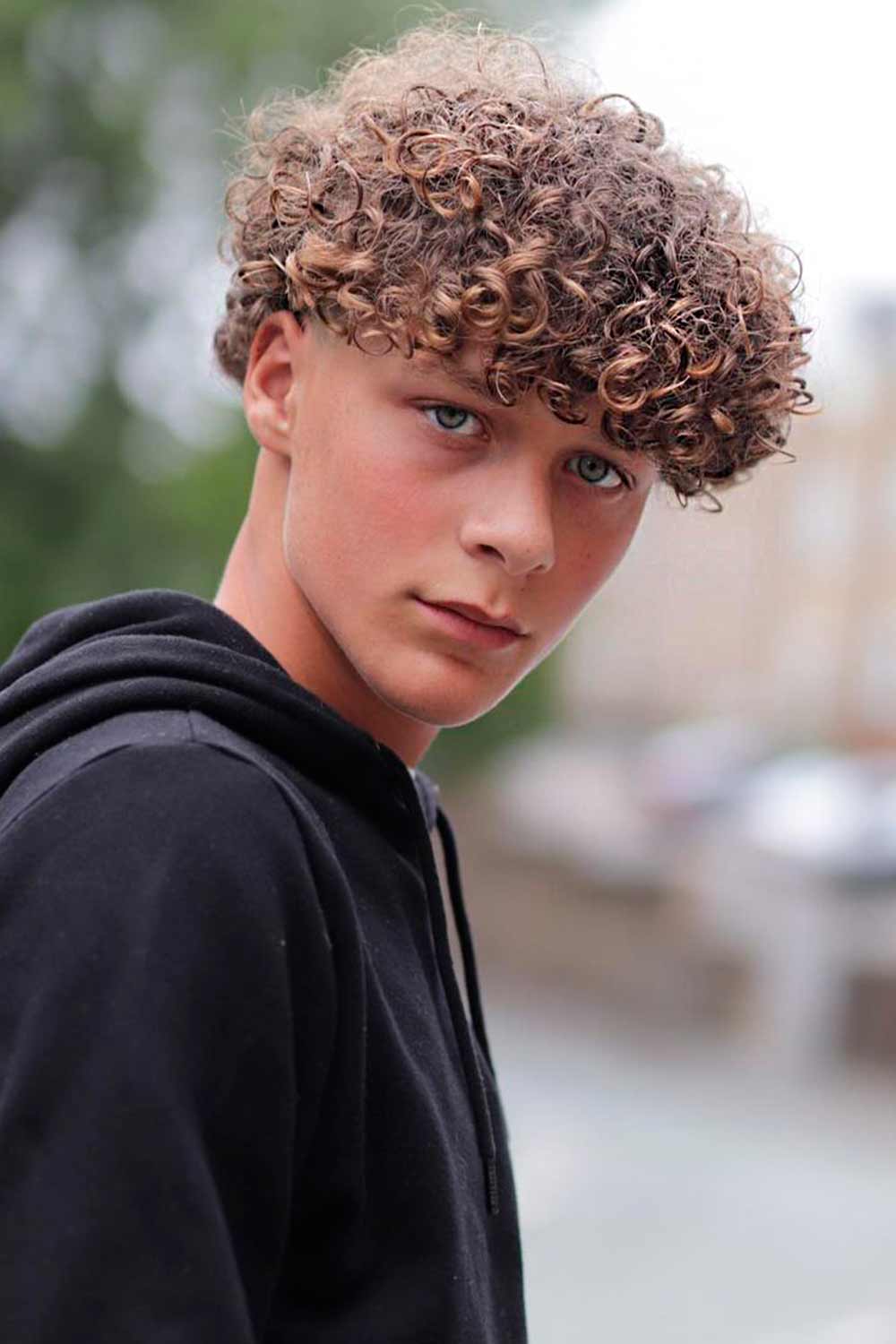 Source: @alan_beak via Instagram
i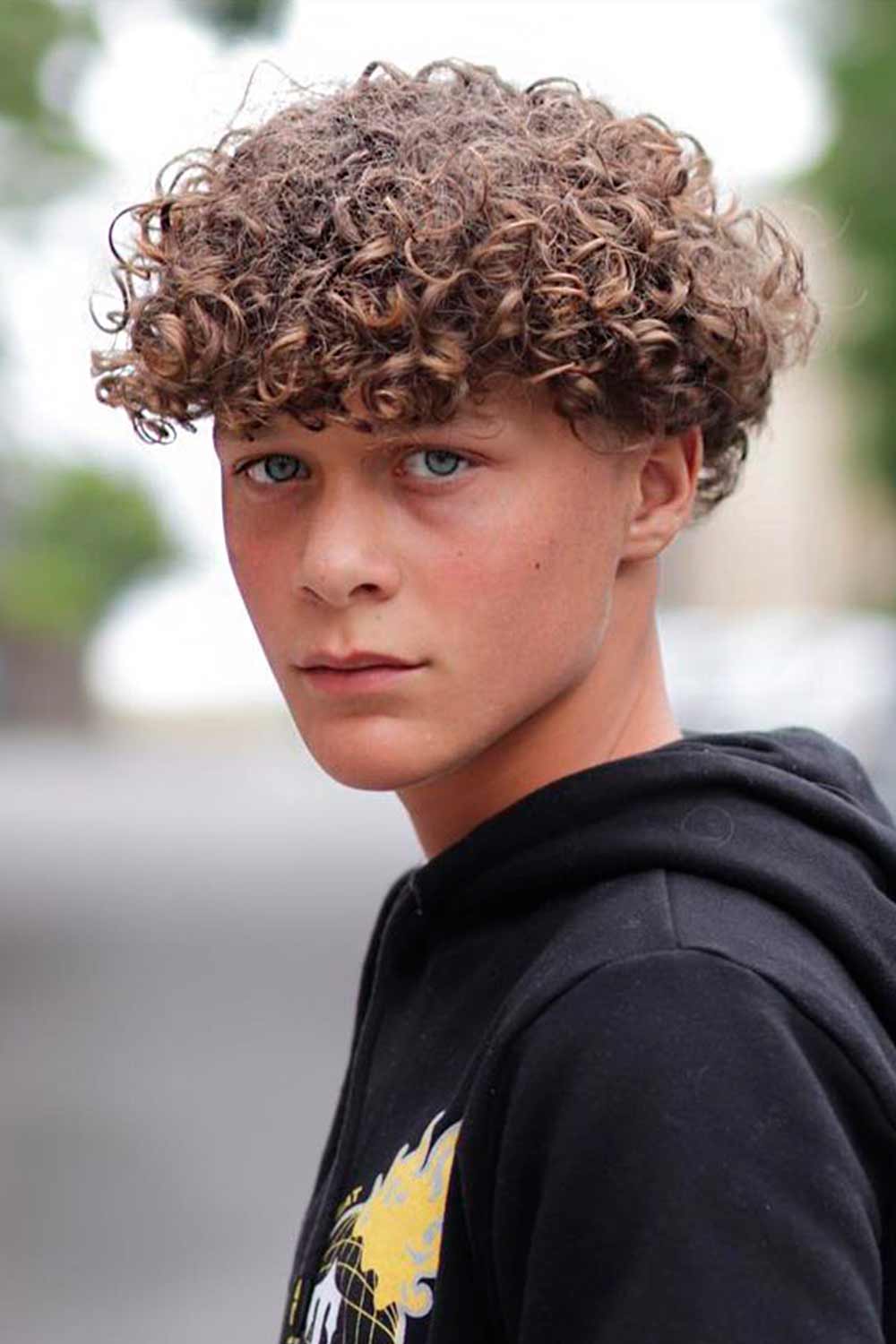 Source: @alan_beak via Instagram
i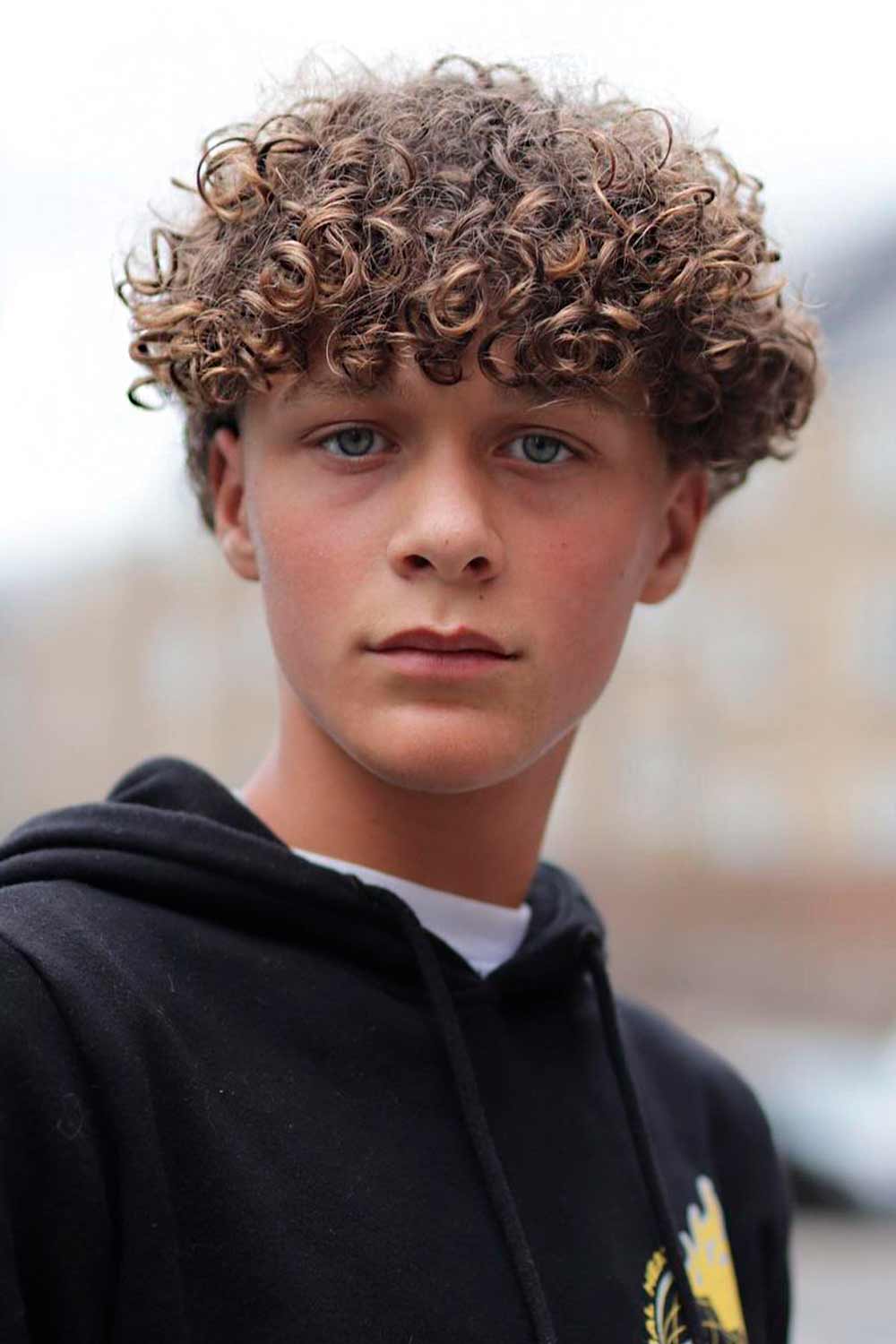 /
Military Haircut Flat Top
Military haircuts are a great source of inspiration for boy hair styles. They have all of the qualities of a perfect kid haircut and even more. Yet, you should not think that they are utilitarian. A flat top is one of those cool boy haircuts that are not only practical but also fashionable.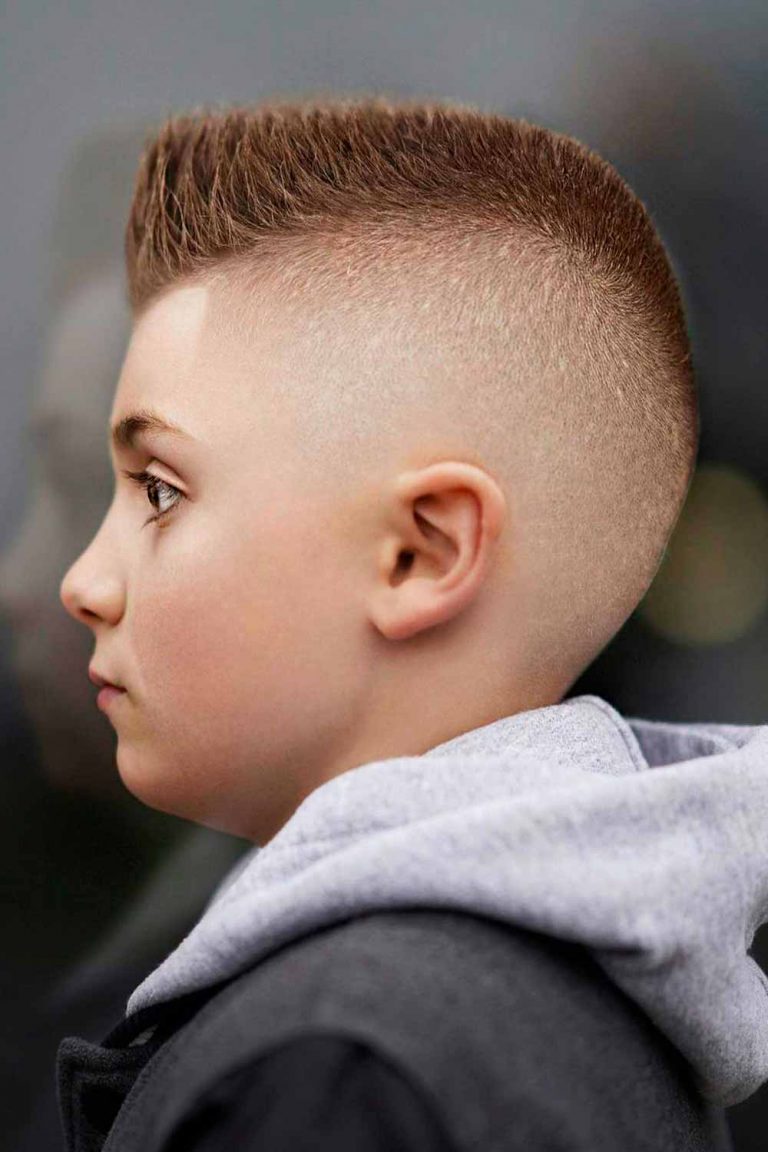 Source: @xbigwesx via Instagram
Classic French With High Fade
A classic French crop is a great option for your cute boy. It looks stylish yet low-key with its shortly trimmed sides and textured top. For added boldness, go for a high fade on the back and sides, which instantly focuses the whole attention on the top. Such kids hairstyles work perfectly for both school days and holidays.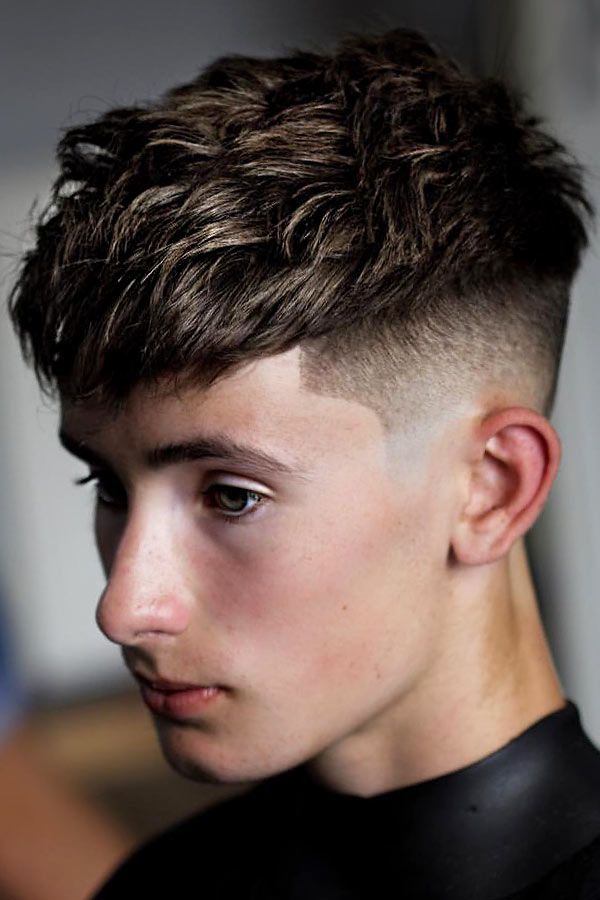 Source: @ryancullenhair via Instagram
Buzz Cut With Shaved Line
Believe it or not, the simple and strict military buzz cut can turn into one of the fresh and cool haircuts for boys! A clean outline that makes your look precise and neat and an outstanding shaved line on the side is the detail that will prove all boys short haircuts can be fun! As for styling, such short boy haircuts will save you some time in the mornings.
Source: @nickthebarber via Instagram
Chic Boys Ivy League Cut
What is the best haircut for kids? The Ivy League cut is a longer version of the crew hair cut for kids that allows a wearer to style the top to the side. Unlike most short haircuts for boys, this idea will keep your hair short enough while giving you a touch of stylishness and place for little experiments. To style such cool boys haircuts for special occasions, a fine comb and mid hold gel are your best buddies.
Source: @meha_barber via Instagram
Medium Length Layered Boy Cut
This idea is probably one of the most popular boys long haircuts. Of course, it's designed for a semi-free dress code as it involves quite a messy look due to layering. The best thing about this boys hairstyle is that it offers great styling versatility. With the help of a comb and styling gel, you can change many awesome boys haircut styles throughout the semester.
Source: @shrunknheads via Instagram
Boys Crew Cut With Shaved Stripes
This style is the classic crew cut that neatly fades into shaved sides with creative stripes. This is another classic haircuts for men that have been around for years. A cute fringe on the top with clean shaved stripes on the sides, it checks off against all the possible style boxes – it is cute, funky, and neat too.
Source: @hayden_cassidy via Instagram
Boys Haircuts For Natural Curls
Curly hair are wild and need courage to tame, as curls have a mind of their own. What you can do to make the messy curls look managed and amazing at the same time is give a taper fade haircut, with faded sides and long curly hair softly caressing the forehead. This is a perfect hairstyle for your curly haired boy.
Source: @nickthebarber via Instagram
Brushed Back Medium Taper
A classic haircut that never goes out of style. No wonder, you would find a lot of celebrities flaunting it too, just like your teen boy haircuts. The top of the hair is left to a medium length, with smooth textures that are pushed to the back or to the side, and gentle fringes landing on the forehead. It is a slick hairstyle that you can never go wrong with.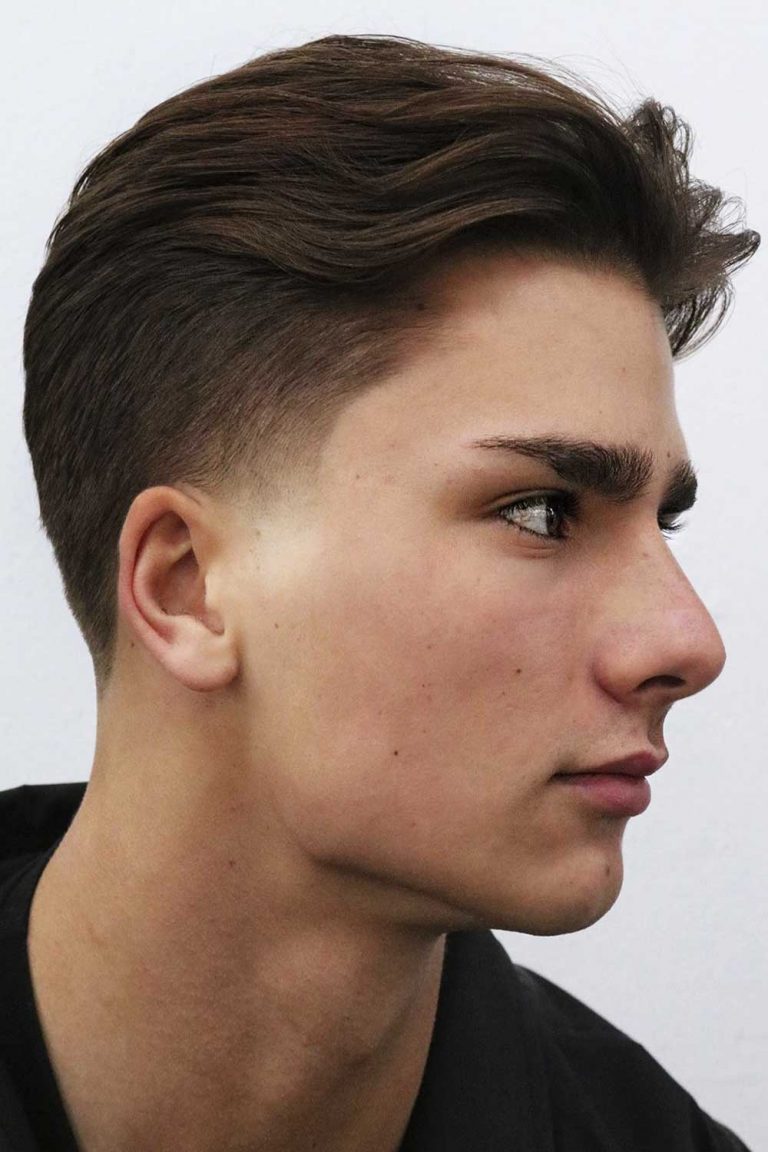 Source: @hayden_cassidy via Instagram
Slick Back Pomp Boys Haircuts
Some boy haircuts can reveal the real men of a kid, showing him a new, smart and mature light. The accurately tapered sides abrupted with a clean shaved line. Cut finished with a voluminous slick back top makes this idea another example of cool haircuts for boys.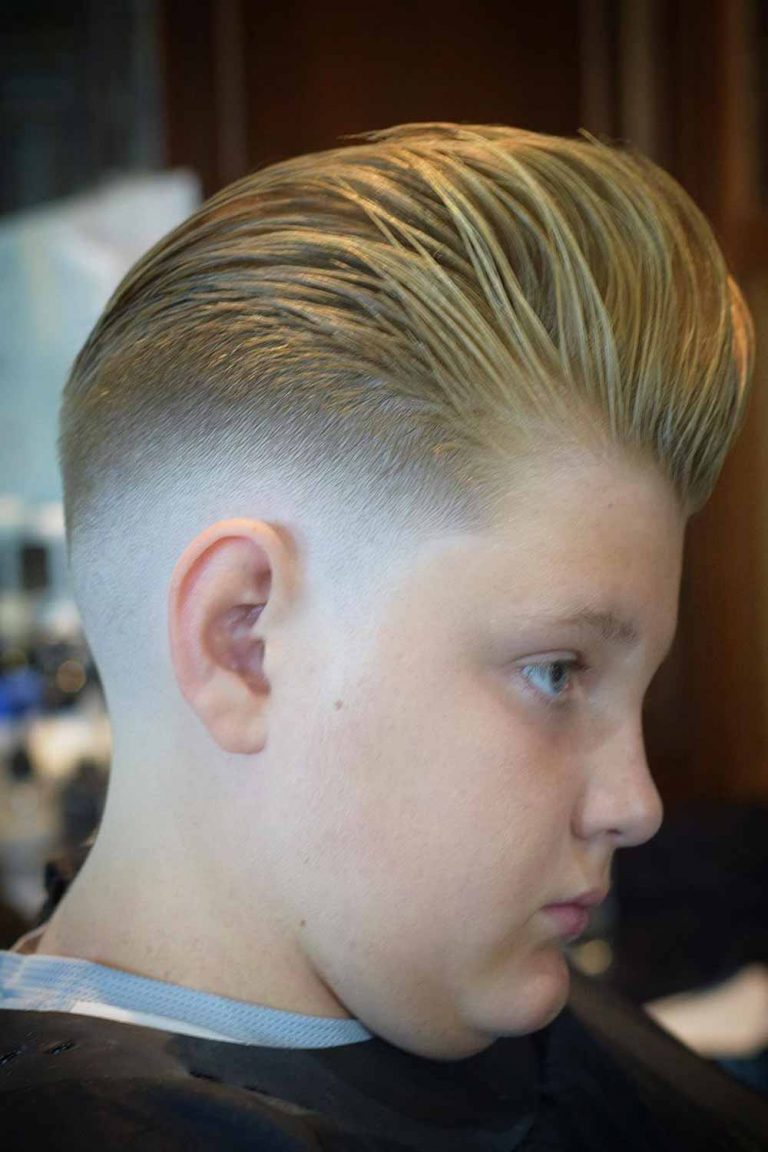 Source: @mikes_custom_kuts via Instagram
Hair Design With Spiky Quiff
This haircut is for the bold you and your bold kid too. With the hair skillfully curving along the sides to the nape of the neck, and textured layers of pointy spikes on the top of the hair, it is a style that will make your boy popular in school. This faux hawk hairstyle gets full marks on creativity.
Source: @mikes_custom_kuts via Instagram
Cool Messy Kids Short Hair
Add a quotient of coolness to your boy's hairstyle with a messy and grungy top that fades into neatly shaved sides. Not only does it look very stylish, it also is low on maintenance. Let those hair be ruffled on the top and let them sway carefree, just like your kid.
Source: @meha_barber via Instagram
Fresh & Neat Quiff
This boys haircut seems to be the opposite for the previous idea. Quiff boy hairstyles are designed to keep a kid comfy with his hair while creating a very tidy look that fits all school dress codes. To give some precision, some non-glossy pomade on top won't hurt.
Source: @hayden_cassidy via Instagram
Short On Sides, Long On Top Boys Haircuts
Short haircuts for men are timeless, but you know what's a trendsetter? When you go for a style that sets the hair to have cool long waves on the top with short faded sides. Amongst your kid's friends, this hairstyle is bound to be a superhit. And, there are various hair twists that you can add to this hairstyle. This will have your boy all excited about his hairstyle.
Source: @mikes_custom_kuts via Instagram
Shaved Sides Design With Faux Hawk
Is your kid a real trendsetter? Then you should definitely consider a haircut with shaved sides design, which is one of the most popular boys haircuts 2023. If your school dress code is not too strict, then the best option would be a faux hawk hairstyle, as it allows for enough room to create even the most intricate hair tattoo.
Source: @ryancullenhair via Instagram
Classic Kids Undercut With Side Part
The everyone's favorite undercut is so popular, not for nothing: it works awesome for many different school and business environments, keeping a wearers style presentable and strict at once. If you're looking for cool boys haircuts that can offer you flexible maintenance and a lot of different boy hairstyles, look no further. You can flip the top to the side or make it spiky if it's very short, as this cut proves there are no boys haircuts short hair can't keep up with.
How To Cut Boys Hair Tutorials & Tips
There are several ways of how to cut boys hair, ranging in difficulty, style and type of tools used. Here is a rundown on the most popular of them.
Using Electric Clippers
To learn how to cut boys hair with clippers, follow the next steps:
No matter how to cut little boys hair, with scissors or clippers, you always need to cover his shoulders with a towel or a hair cutting cloak.
Pick out the guard size depending on the length of the cut.
Choose the area that you are going to cut with clippers.
Run the clippers upward starting at the bottom and stop once you reach the hair on top.
Remove the attachment and define the hairline with a line-up for added emphasis.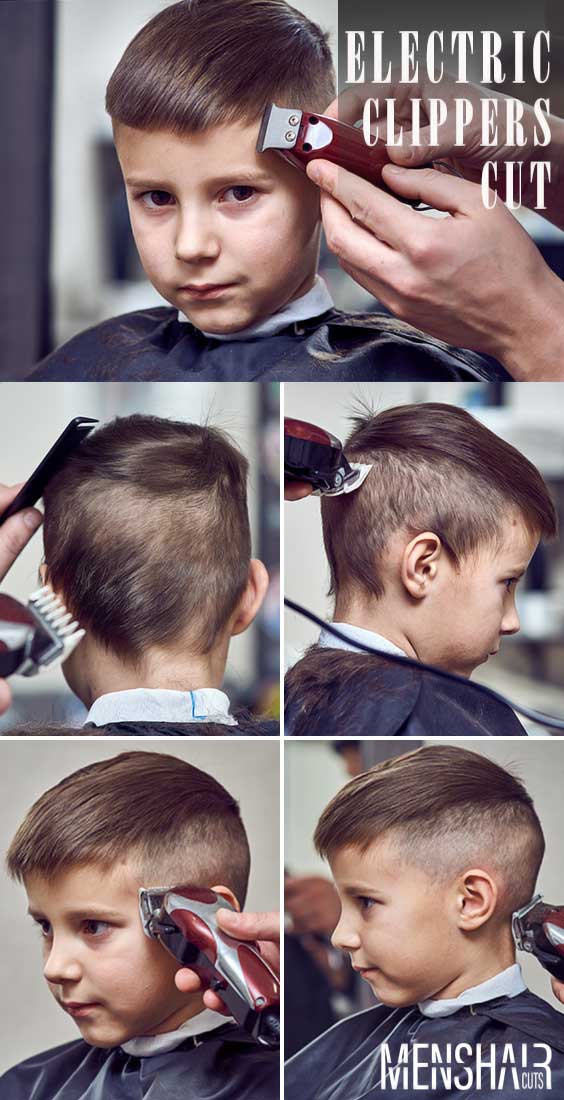 Using Scissors
Now that you have trimmed the sides and back, it is time to find out how to cut boys hair long on top. The best way to do this is to employ scissors. So, here is how to cut boys hair with scissors:
Decide on the amount of the boy's hair you are going to remove from the top.
With the help of your fingers, section off the portion of hair you need to cut off. Hold your hand above the head sideways.
Chop off all the hair above the fingers.
Move on to the other section, leaving a strand of hair from the previous section to make the cut even.
Cut the hair around the boy's ear to create a sharp outline.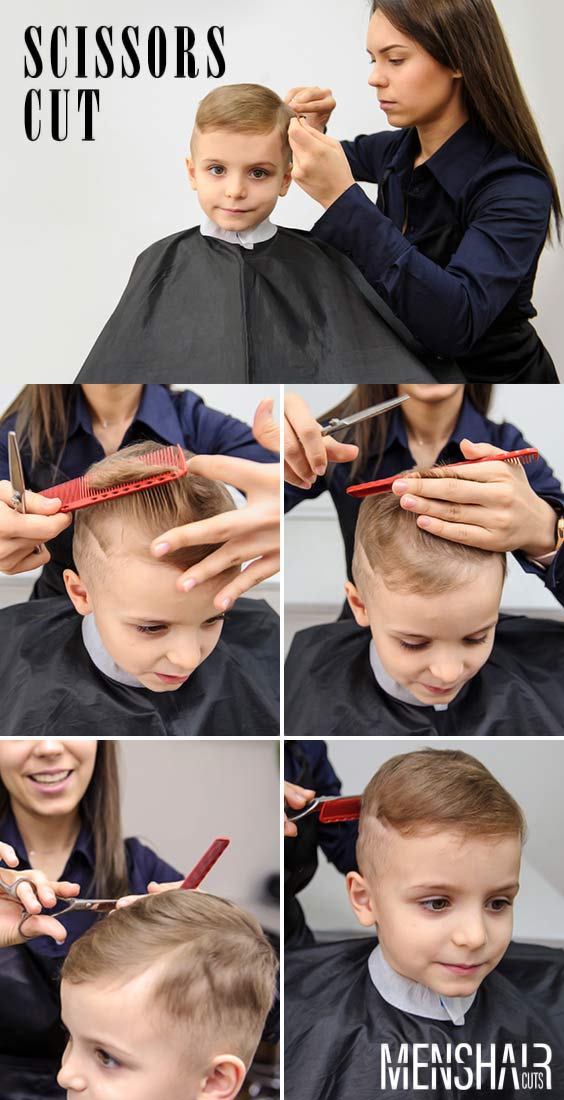 Blending A Clipper Cut With A Scissor Cut
Blending is essential when it comes to mastering how to cut a boys hair. It allows you to join the two cuts, clipper and scissor, together. Here is what you should do:
Holding the comb with the teeth looking down, section off a narrow strand of both scissor and clipper cut hair.
Put the strand between the index and middle fingers of nondominant hand.
Holding the shears upward, remove the hair that is sticking out.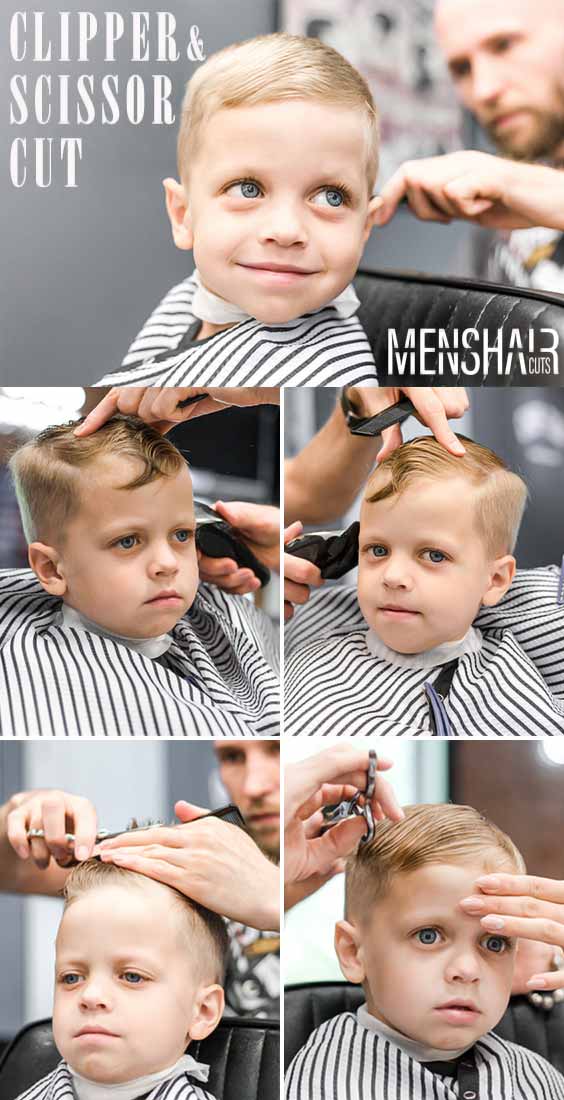 Tips & Warnings
In case you are uncertain how to cut a little boys hair, stick to the rule that it is better to underdo than to overdo. Thus, don't chop off a big chunk of hair at once, cutting little by little instead.
Do not skimp on the tools. High-grade clippers and scissors are worth investment.
To achieve the best result, utilize both clippers and shears to cut boy's hair.
One of the top advice on how to cut a toddler boys hair is to take care not to cut himself or yourself with sharp scissors or clippers.
On that note, brush up your little fella's front hair so that it creates an abundance of volume and a prominent silhouette. You've just seen with your own eyes that looking stylish while sticking to dress codes is possible. All these ideas are here to show you how to wear the classics differently, making modern ideas look appropriate, and simply freshen up your daily style.
FAQs: Boys Haircuts
What are the best haircuts for boys?
The best kids haircuts combine low maintenance with a cool appearance. Thus, you should take a closer look at undercut, side parted as well as side swept boys hair styles. Also. It is a good idea to take advantage of their natural hair texture.
What is the most popular boy haircut?
There are plenty of fashionable and cool boys haircuts that are popular nowadays. A French cropped cut, a low tapered fade, a textured bang, modern mullet, and a comb over are considered the trendiest haircuts for little boys. Those opting for eye catching and bold hair looks can choose from a high faded pompadour, a bald fade, a line up and a hair design.
What types of haircuts are there for boys?
If you think that a crew cut is the only haircut for young boys, we are here to prove you wrong. Kids are offered a wide variety of haircut options to match every hair texture and face shape. All of them can be roughly divided into two main categories – bold and intricate as well as low key and elegant. The choice usually depends on the ambiance the haircut should suit, the age of the kid and his personal style. Among the best haircuts for boys are center parted long locks, the Caesar haircut, a texturized fringe and a short cropped top haircut.
How do you cut a boy's spiky hair?
To get a spiky kids haircut, you should do the following:
1. Separate the top from the rest of the hair and secure it with a hair clip.
2. Attach guard size #4 to the clippers and trim the hair on the sides and back, starting from the bottom and working your way up.
3. Attach the guard one size smaller and trim the hair on the back and sides, indenting a little from the top.
4. Repeat the previous step until you reach the bottom. You should create a smooth transition from shorter to longer hair that blends into the top.
5. Scissor cut the hair on the top of the head, holding the strand between the fingers and chopping the excess length.
6. Scoop a dime-sized amount of hair paste or pomade, rub between your palms and style the hair by twisting the strands between your fingers to create spikes.
REFERENCES:
How to Cut Boys Hair. If you have the right tools, cutting a boy`s hair can be easy and certainly less expensive than going to the salon every month. Source