As the demand for a fade haircut is increasing day after day, you may want to know more about this trendy hair look. Apart from giving your mens haircut a classy and neat appearance, it also makes it much easier to maintain and style. So, its benefits cannot be overlooked. On top of that, a fade is extremely versatile, as you are offered to choose from a wide range of different fade types. To give you full insight into the look, we have prepared this informative guide.
What Is A Fade In A Haircut?
A fade haircut is one of those classic barber styles that are as unique as the individual who wears one. There are many different ways to clipper the head, and a fade is the perfect example of short haircuts for men that are perfectly blended from top to bottom.
Source: @r.braid via Instagram
i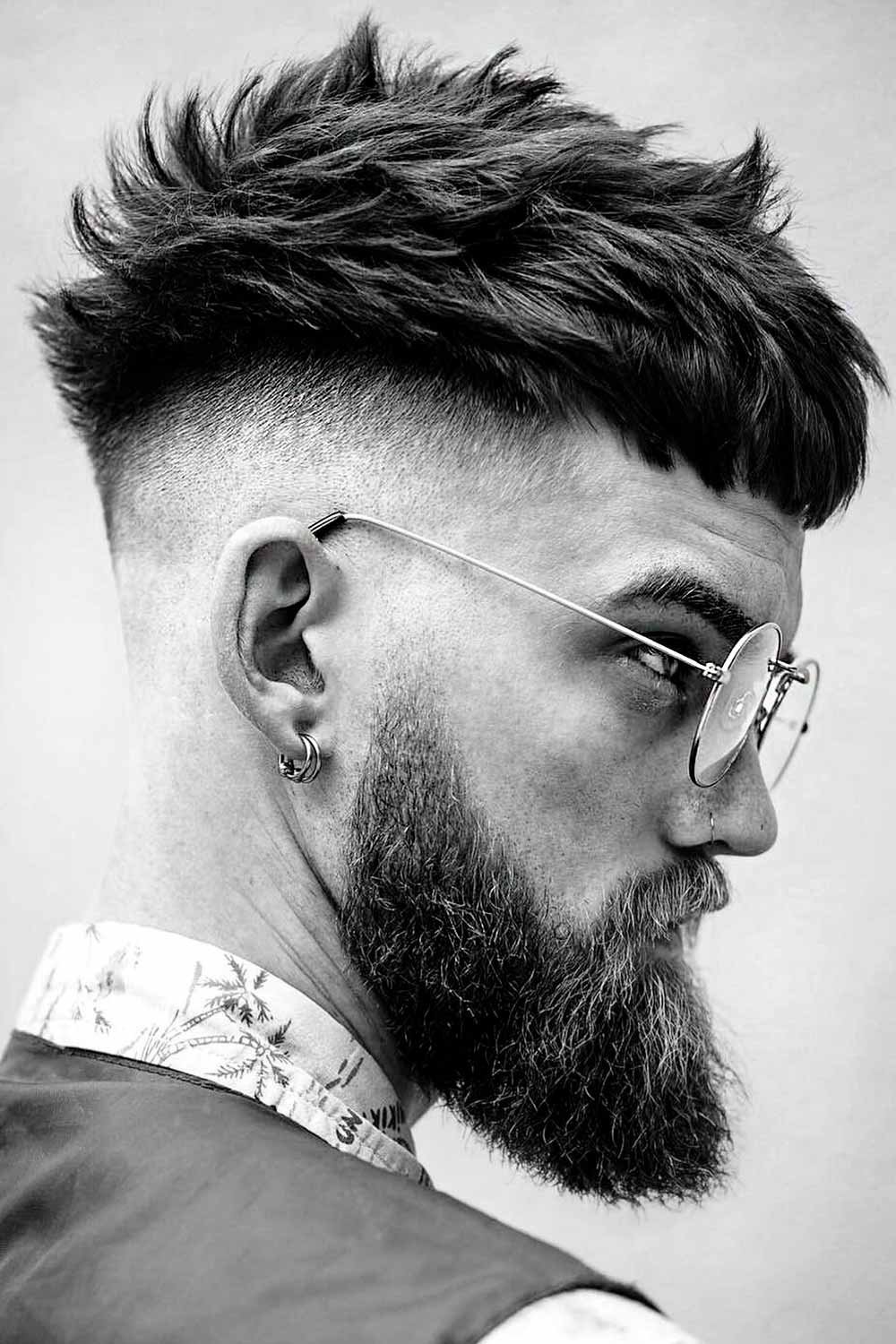 Source: @r.braid via Instagram
i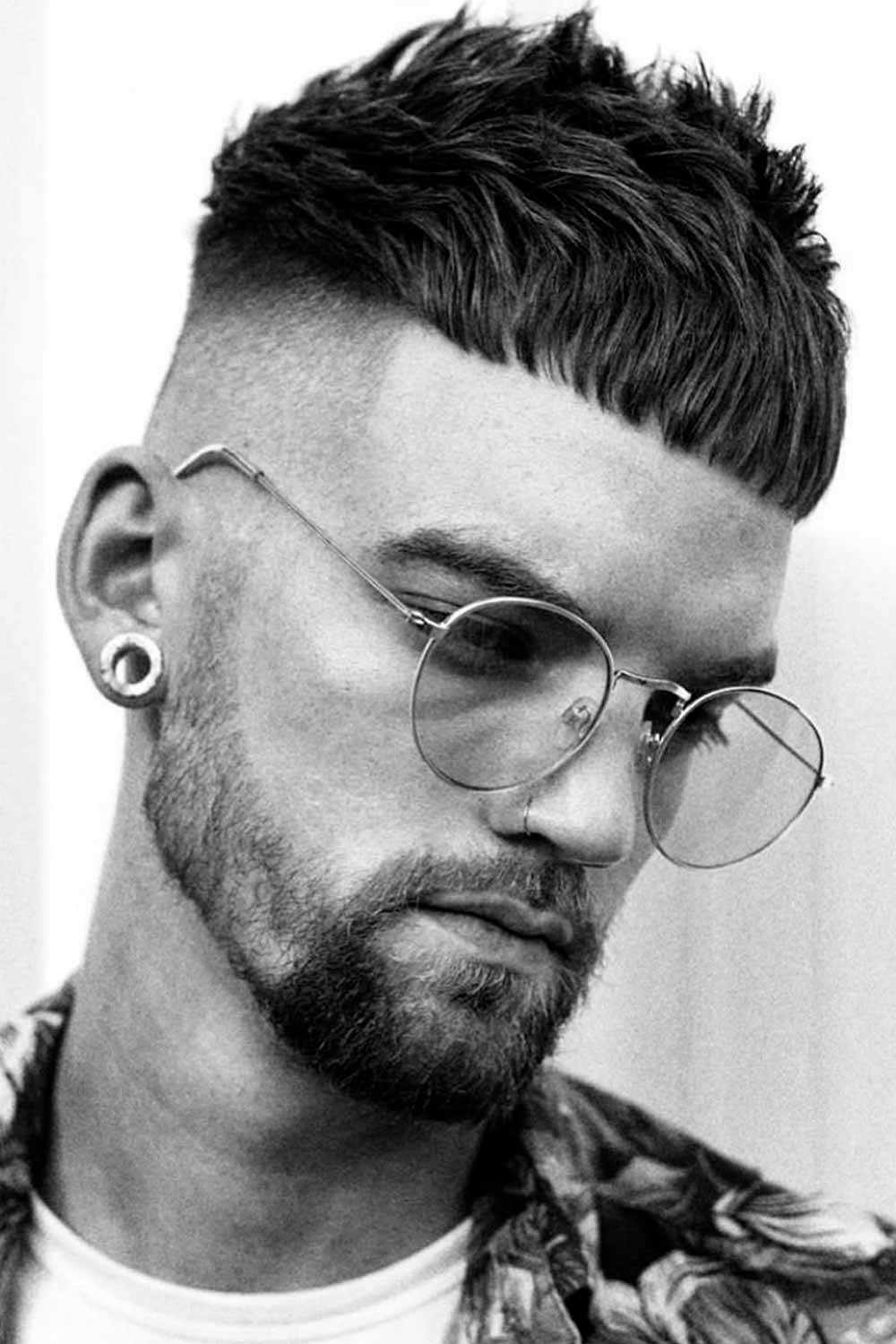 /
Before you venture to the salon or shop, you should know a few general basics about this cut. Pictures speak volumes when it comes to communicating with your barber or stylist. If you just say you want a fade haircut, you may no idea what you'll end up with. Read on to understand how to do this short clipper cut and what it entails.
Fade VS Taper
So, how does a fade hairstyle differ from a taper one? In the modern haircutting and styling world, these terms are often interchangeable. However, they actually have quite a difference. A faded haircut, as well as tapered, implies taking the hair on the back and sides from longer to shorter gradually. Yet, the former fades into the skin, hence the name. The latter, in its turn, does not remove all of the hair near the hairline but leaves short stubble. Because a haircut fade is bolder and more contrasty, it is popular among men who choose to look fashionably and edgy, while a taper haircut is a preferable haircut for those who opt for a professional look.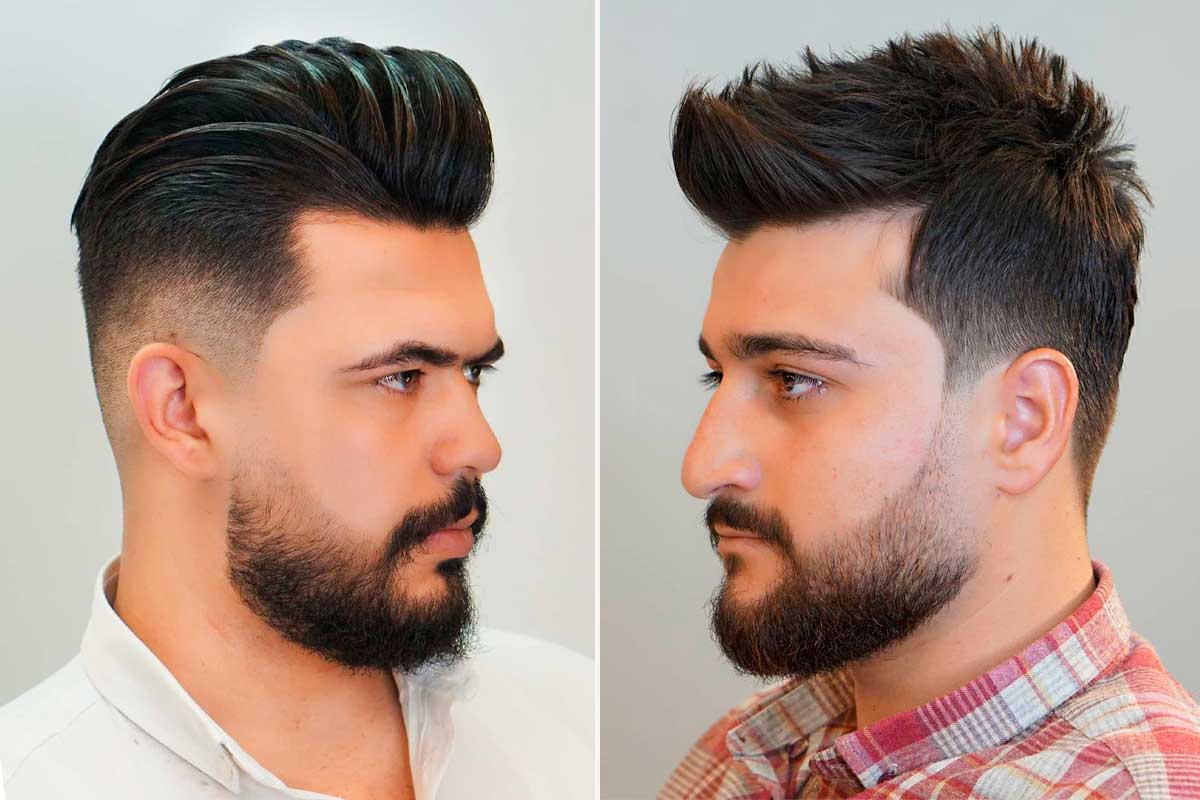 Source: @ahmetaslanhairsalon via Instagram
What Are The Types Of Fades?
From old school barbershop fades to men's hair styles paired with detailing and lines, there are three main types of fades that will help you understand this popular cut. Fades are categorized as a high fade, a medium fade, or a low fade. The higher the fade, the shorter the hair is on the sides near the temple (think of a classic military haircut.) A low fade leaves much more workable length on the sides. A medium fade is ideal for most classic styles. Take a look at the following fades to see which cut suits you, and your comfort level.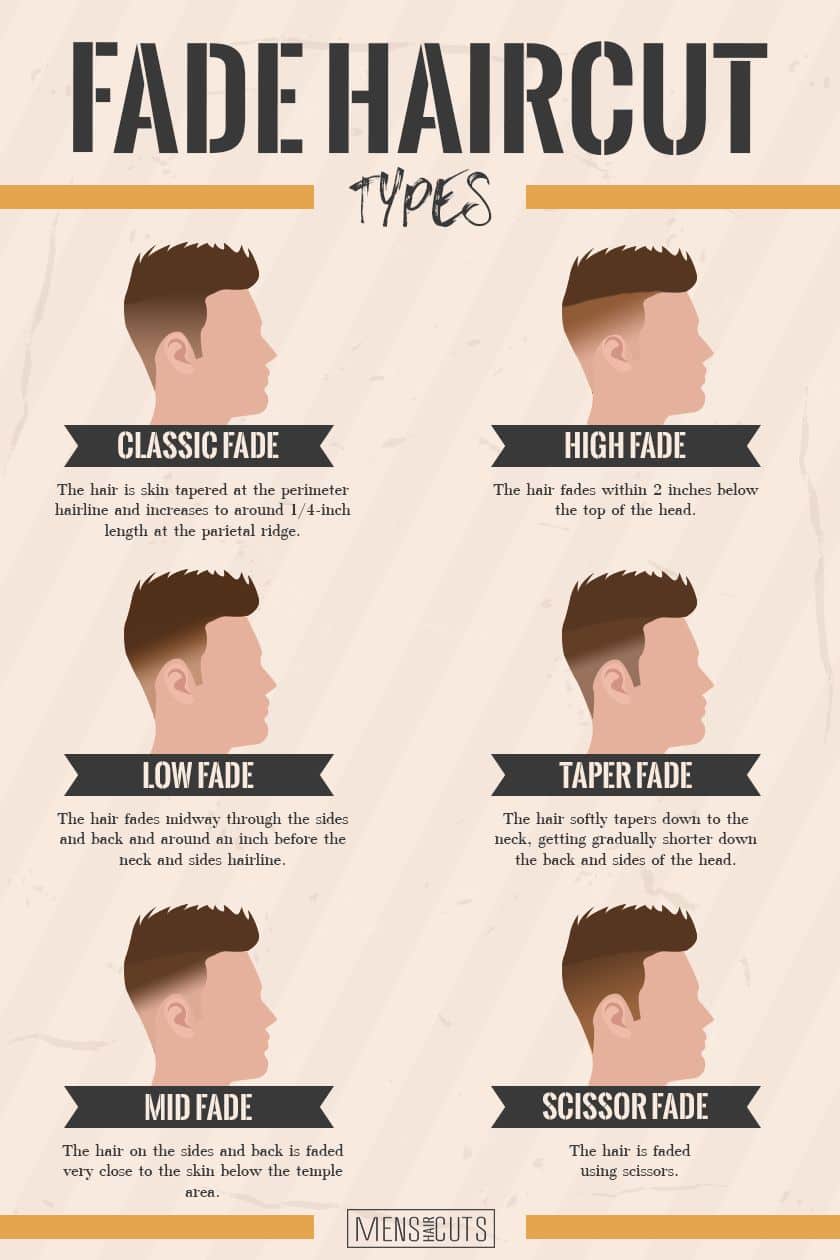 High Fade Haircut
What is a high fade haircut? To tell you the truth, high fade is all about the contrast and most often about the low maintenance since most of your hair is cut closer to the scalp. However, that does not mean that there are no looks to experiment with – they are still plenty, even with a high top fade. Besides, high fade haircut black men like the most!
Source: @corneliucrihan via Instagram
Mid Fade Haircut
When it comes to mid fade, it is safe to say that many men opt for it these days. The reason why a medium fade haircut is so popular is that you can experiment with the variety of longer top cuts, like a pompadour. What is more, it is less reserved than low fade and less dramatic than a high one. Try it out, and you will not regret it!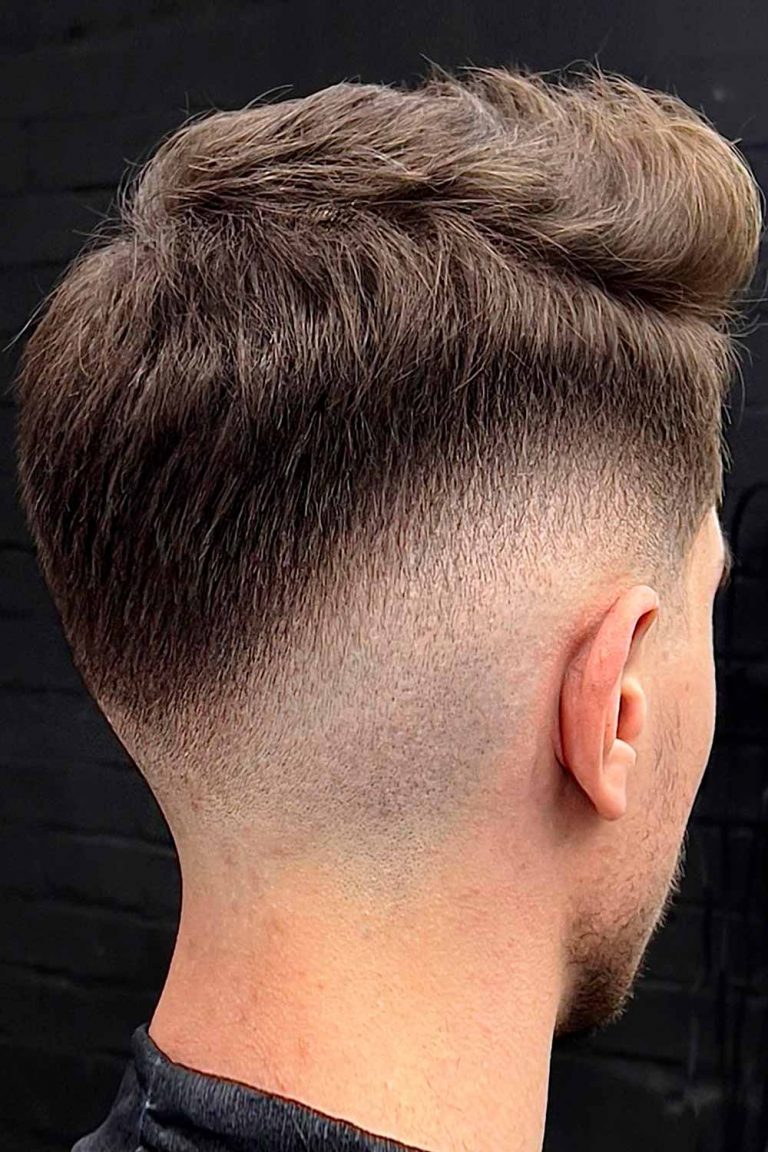 Source: @shefer_andrew via Instagram
Low Fade Haircut
The low fade haircut will suit those of you who are willing to preserve the most natural look there is. Low skin fade touches only the back of your head while the length is increased as the cut moves up. This type of fade cut mostly suits men with diamond or triangular head shape.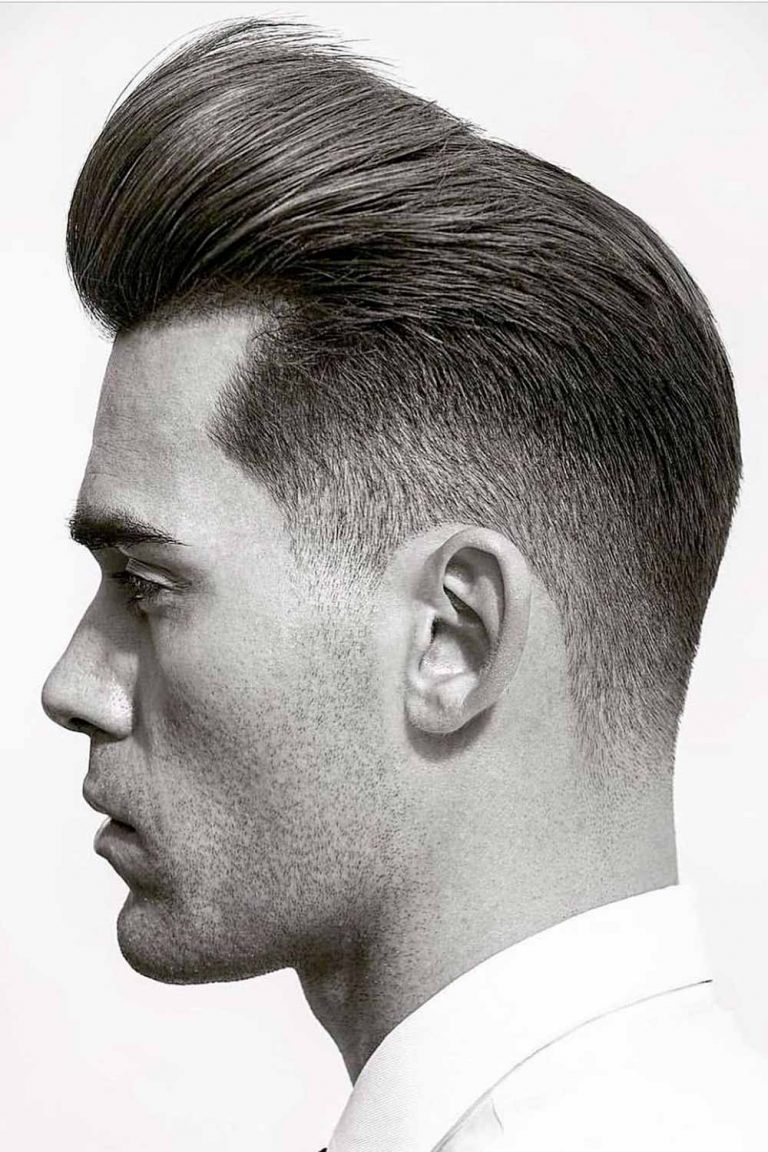 Source: @mattyconrad via Instagram
Bald Fade / Skin Fade Haircut
What is a zero fade haircut? Bald fade cut is different from all the described above in the way the fade is cut itself. The thing is that bald skin fade is cut right at the scalp. Bald fade haircut will suit those of you who would like to accent the border between your beard and haircut.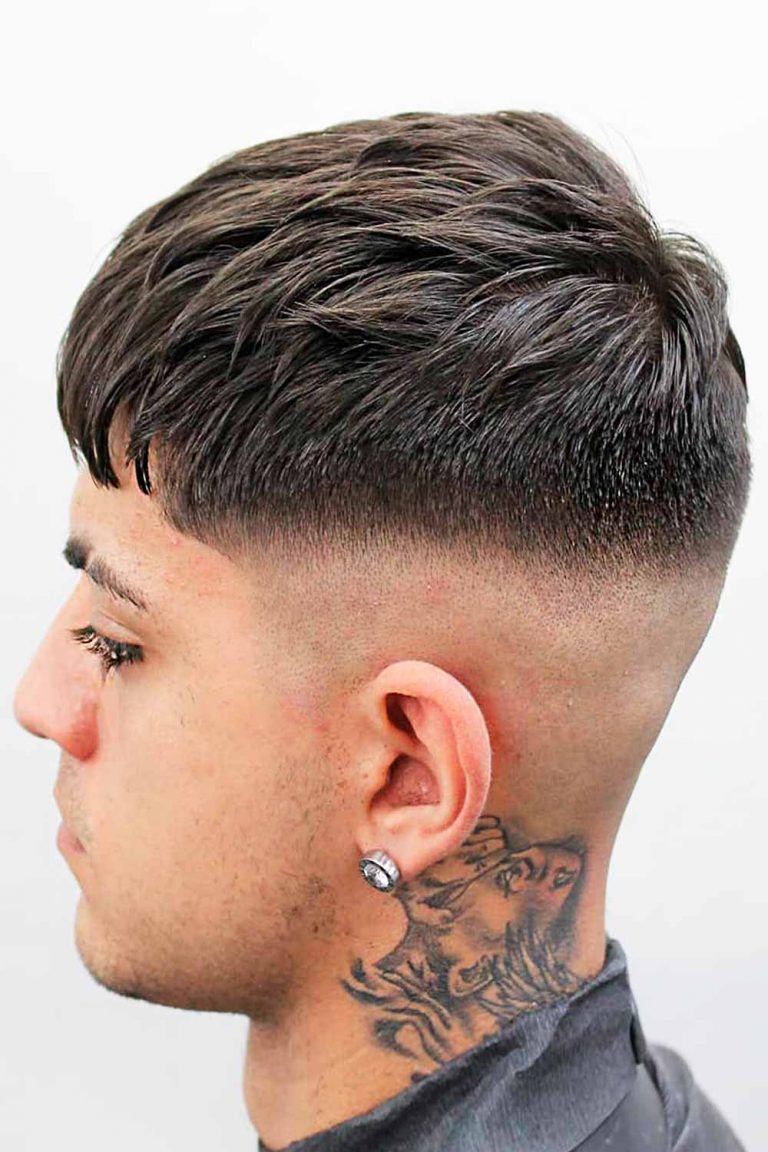 Source: @silvapeluquero via Instagram
Undercut Fade
Fade undercut will suit those of you who are all about the business in the back and party on the top. The thing is that any skin fade undercut requires back and sides to be closely shaved, while you can experiment with the hair on the top the way you like.
Source: @sirpaulcharles via Instagram
i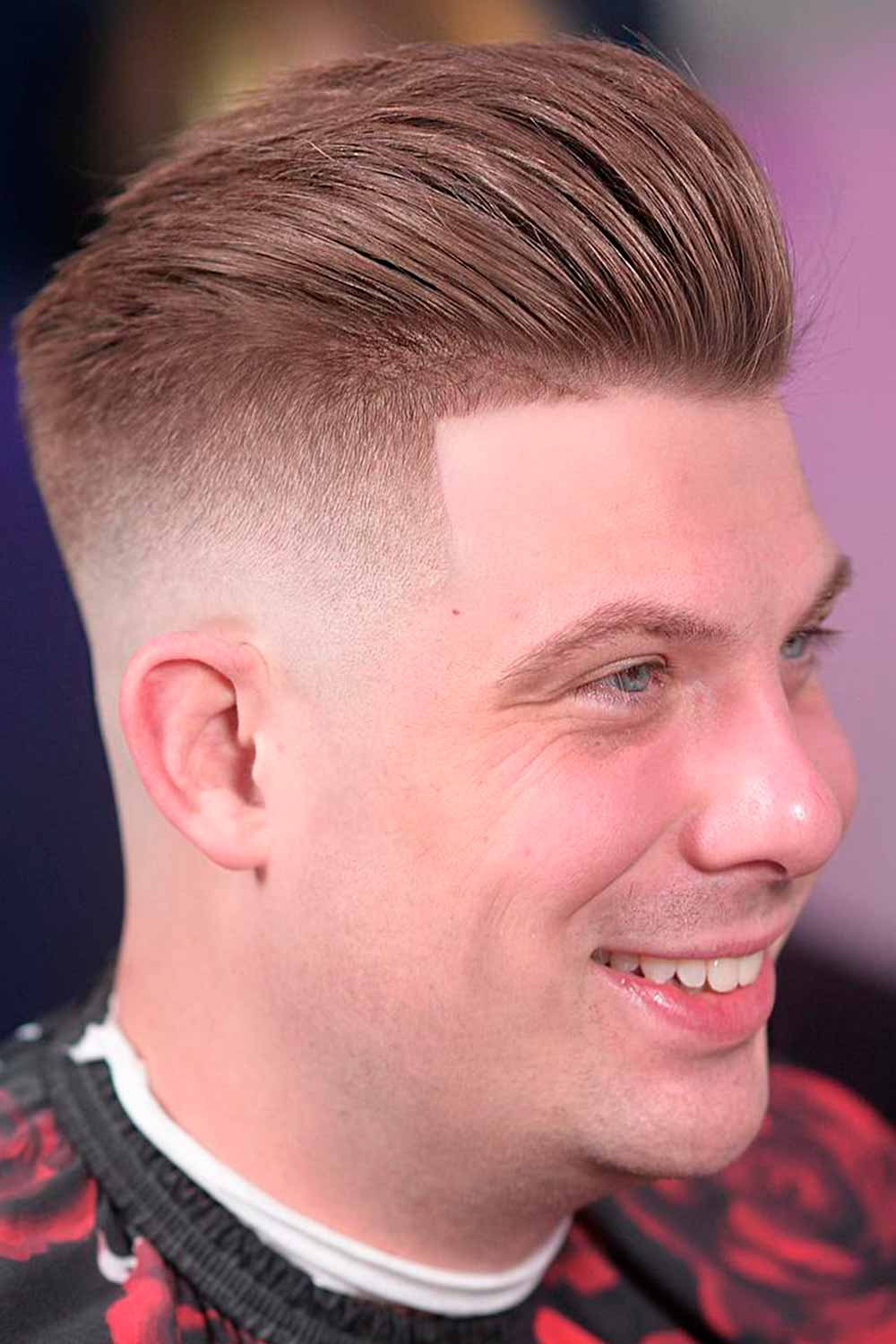 Source: @alan_beak via Instagram
i
/
Drop Fade Haircut
Drop fade is called so because the fade drops right behind the ear. There is a visible arch from the temple to the ear and that is exactly what makes this cut a little different from all the others described. If you are looking for something new to experiment with we suggest you try this one out!
Source: @r.braid via Instagram
i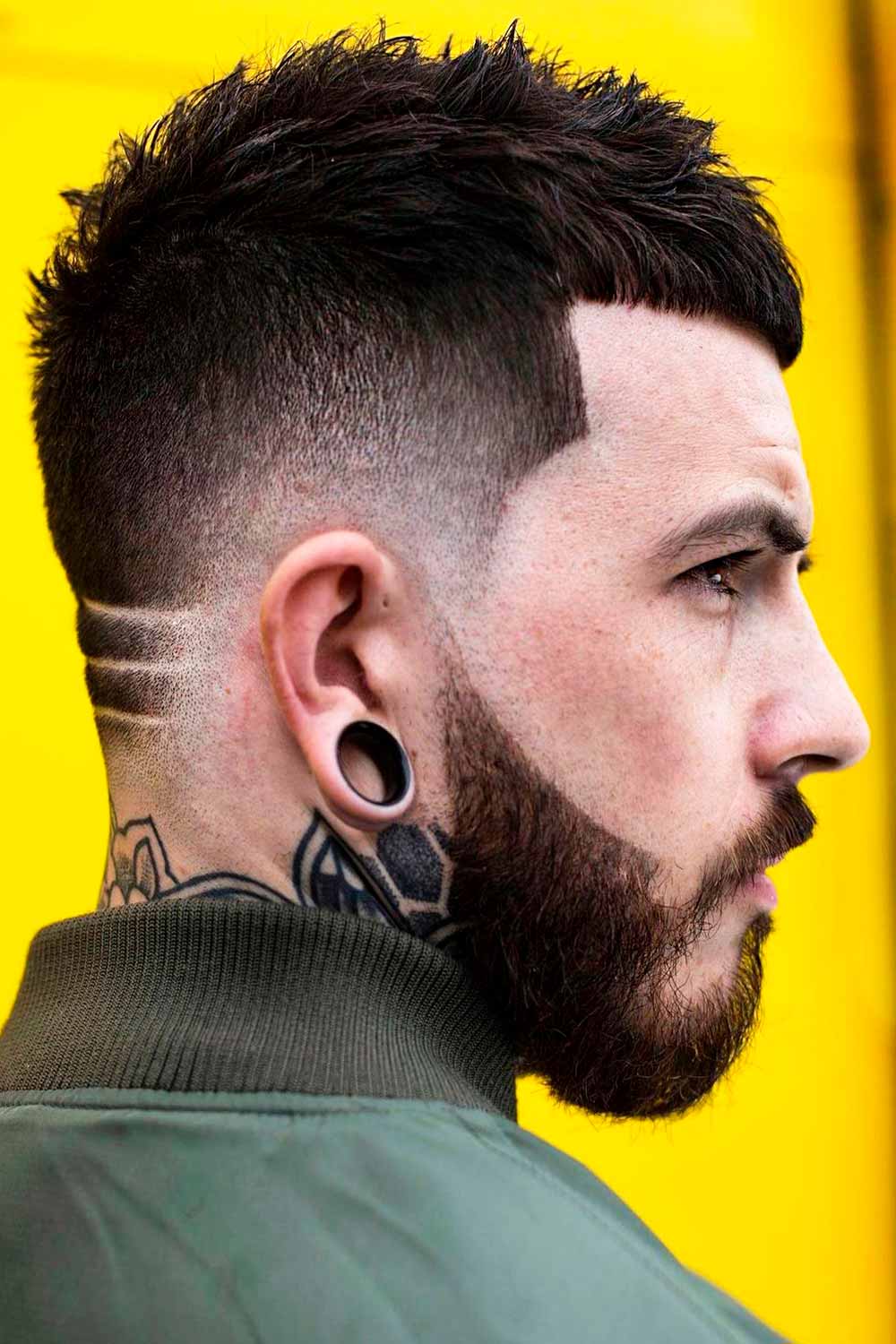 Source: @r.braid via Instagram
i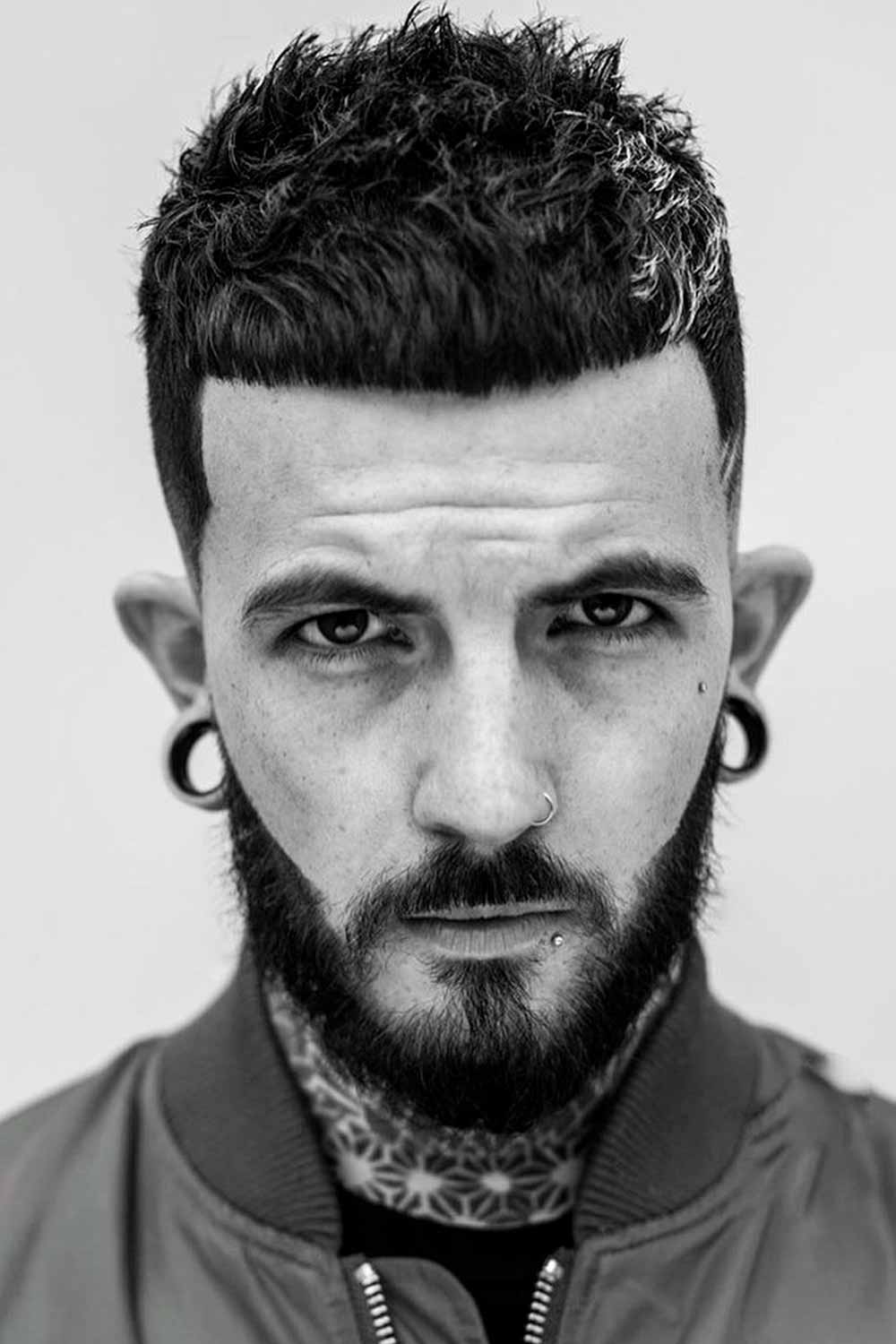 Source: @egobarbers via Instagram
i
/
Burst Fade Haircut
For a bolder and more textured look, go for a burst fade on the sides and back. As it seems unusual and intricate itself, you can style the hair on the top of your head quite modest. Or, if you like to add some definition, you are welcome to make it textured and dimensional.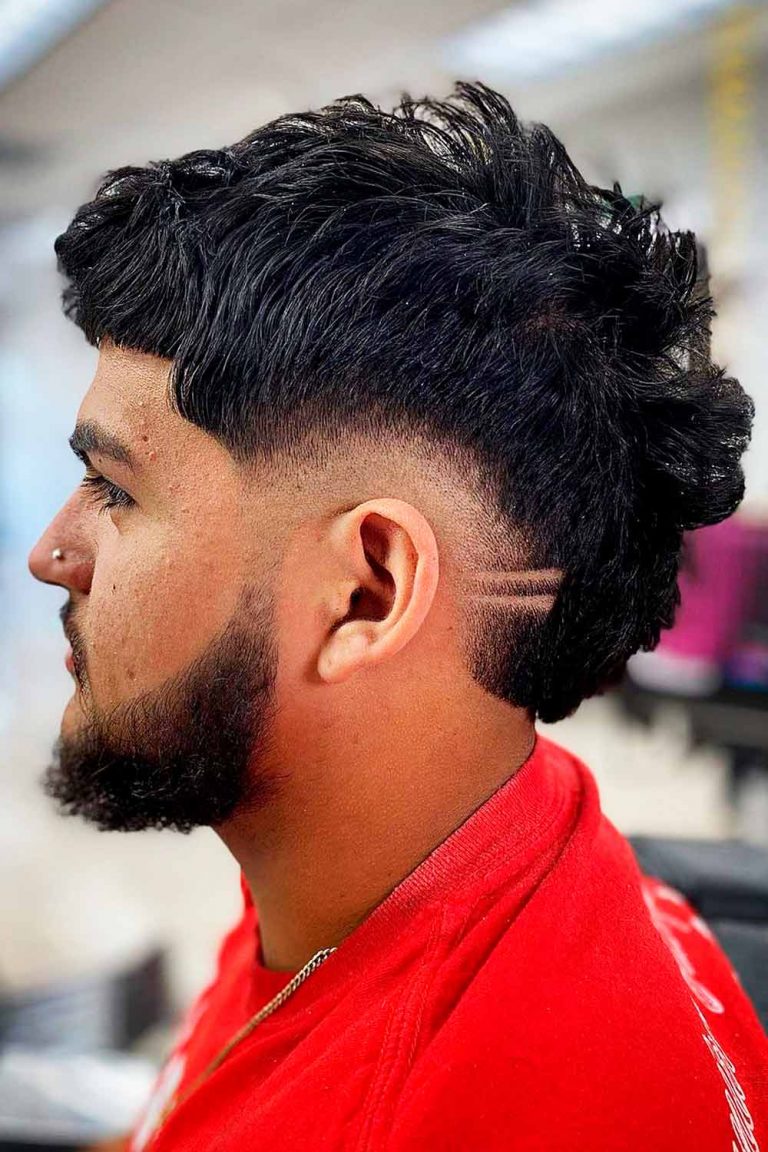 Source: @notorious.edd via Instagram
Taper Fade
Taper fade haircut can be easily called the most classic one when it comes to fades. The thing is that when you compare taper vs fade, there is no dramatic fade at all, there is no skin exposure, just a neatly cut low taper fade. If you are not looking for a dramatic change, then this cut will suit you perfectly.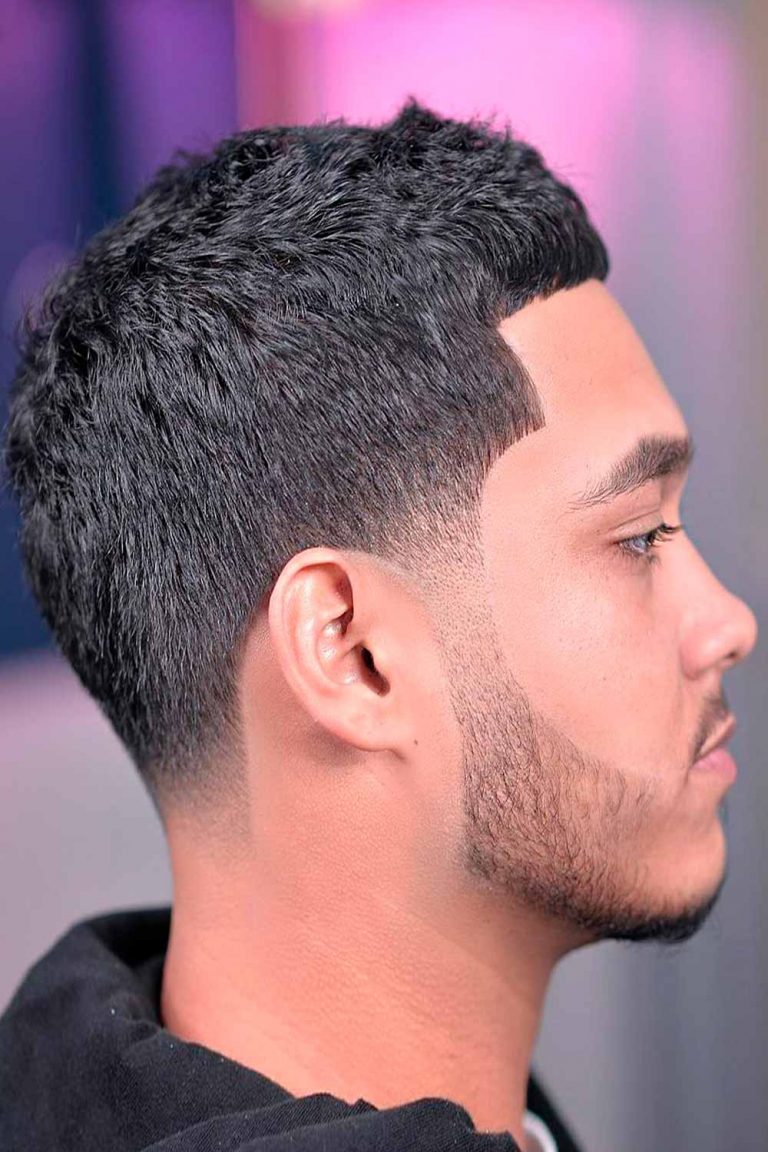 Source: @sirpaulcharles via Instagram
Scissor Fade
It is true that not all the men are equally fond of clippers that is why we suggest to your attention the scissor fade cut. As you may have already guessed, the barbers use scissors instead of clippers to succeed with this cut. What makes it so unique is that it is a little bit softer than all the fades described, if you are not a fan of experimentation then this is the cut you need.
Source: @hayden_cassidy via Instagram
Temple Fade
Temple fade haircut is very popular among men with tight curls or afro hair. The thing is that it is tapered around the temples and sharp lines are created. These lines are what make the cut so special, so you better not try to pull it of on your own but visit an experienced barber instead.
Source: @nickthebarber via Instagram
Top Fade Hairstyles For 2023
Now, when we have it covered what a fade haircut is and what types of it there are it is the time you get to know about all possible styles to pull off with this cut! Enjoy!
Brushed Back Shag + Low Fade
It's no surprise that a fade hair cut is extremely versatile. It can be adjusted not only to different hair types and lengths but also to almost any ambiance. If you're in the mood for more breezy and relaxed hairstyle, tousle your hair on the top for a perfect "bedhead" look.
Source: @z_ramsey via Instagram
High Fade + Texture
Those who love being in the center of attention should take a closer look at a high fade with a textured top combo. While men's fades haircuts are already quite prominent, texturizing will take them to another level of boldness. So, you are guaranteed to be the center of attention.
Source: @horatiuthebarber via Instagram
Shadow Fade
Shadow fades for men offer a middle ground between an edgy skin fade haircut and a reserved long hair fade. This is one of the reasons why a shadow fade haircut for men is considered extremely versatile. Besides, the top can be styled in a myriad of different ways.
Source: @xbigwesx via Instagram
Buzz Cut Skin Fade
Those guys who prefer mens hairstyles 2023 of less length shouldn't waive them only for the sake of a short fade haircut. Say, a buzz cut can be perfectly adorned with a high bold fade on the back and sides. To add definition and integrity to the whole look, you can finish it off with a line-up around the forehead as well as cheek and chin lines.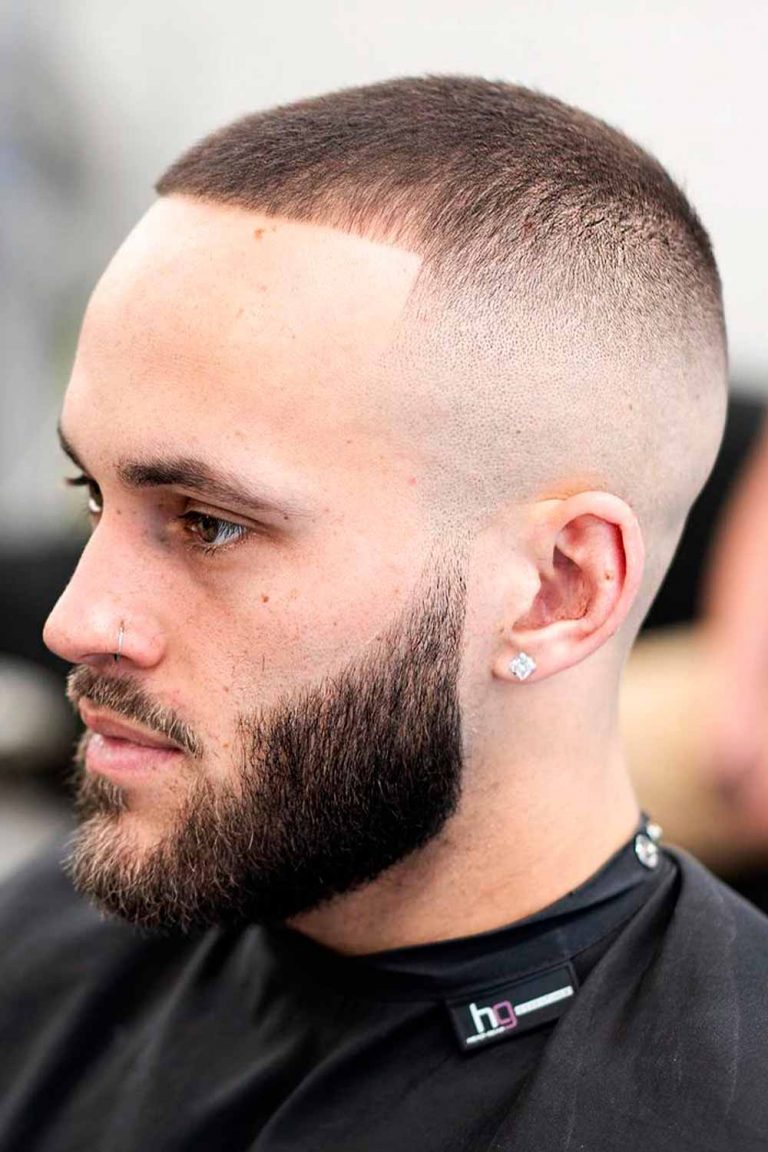 Source: @birdcobarbers via Instagram
Hard Part Fade
The best thing about a hard part haircut is that it brings contrast to the cut so that all the details are noticeable. However, you need to be aware that hard part fade will require some time, effort and means to style it properly.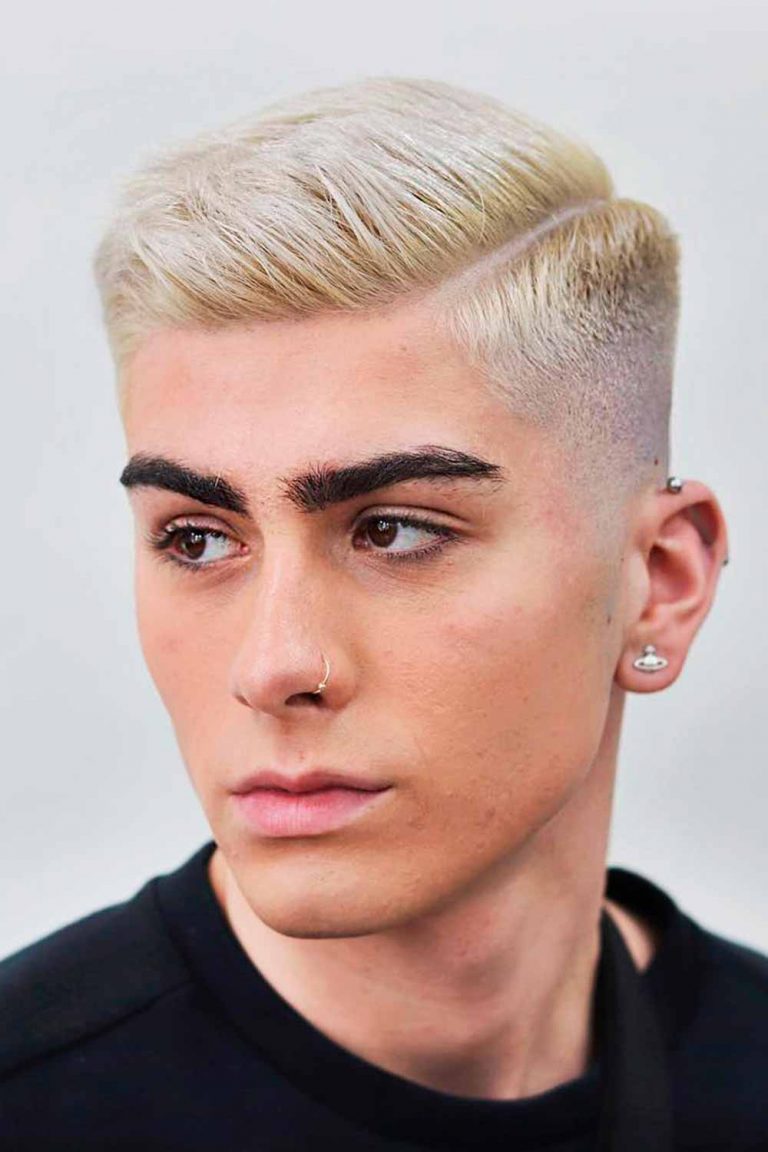 Source: @joshconnollybarber via Instagram
Side Part Fade
Side part haircut is surely the classiest one, what is more, it works with all possible types of fades there are. All you need to do is to pick your fav side part fade and get it professionally done!
Pompadour Mid Fade
The Pompadour hairstyle is one that has been trending for decades now. However, it is time you freshen up your favorite pompadour with a fresh update. The mixture pompadour and fade is the perfect blend of mens 2023 hair styles!
Source: @ahmetaslanhairsalon via Instagram
Faux Hawk Fade
Faux hawk haircut is surely the one that requires courage to pull off. What is more faux hawk fade also begs for some styling skills to be at hand. In case that is something you think you can easily deal with, then this daring and stylish cut is what you have been looking for!
Source: @ahmetaslanhairsalon via Instagram
Crop Top Fade
Opting for a skin fade moves the focus to their amazing hair texture on top while keeping the whole look neat and clean. If you want to make a strong statement with your hairstyle, ask your barber to dye the tips of your top hair in lighter color. In this way, you'll be rocking the crop top fade, which is all the rage now.
Source: @keller_konturen via Instagram
Low Taper Fade
A low taper fade is a great way to go for men who want to add a stylish touch to their haircut while keeping it professional. As the transition is quite gradual, it takes off less hair from the sides and back, which makes longer hair fades a failsafe option to wear at work.
Source: @ahmetaslanhairsalon via Instagram
Comb Over Fade
Fade comb over hairstyles is pretty required men haircuts 2023 too. However, this is a cut that needs some time and effort spent on while styling. In case you are ready to waste your precious time on your hair then a high fade comb over is the perfect option for you!
Source: @dima_naiden via Instagram
i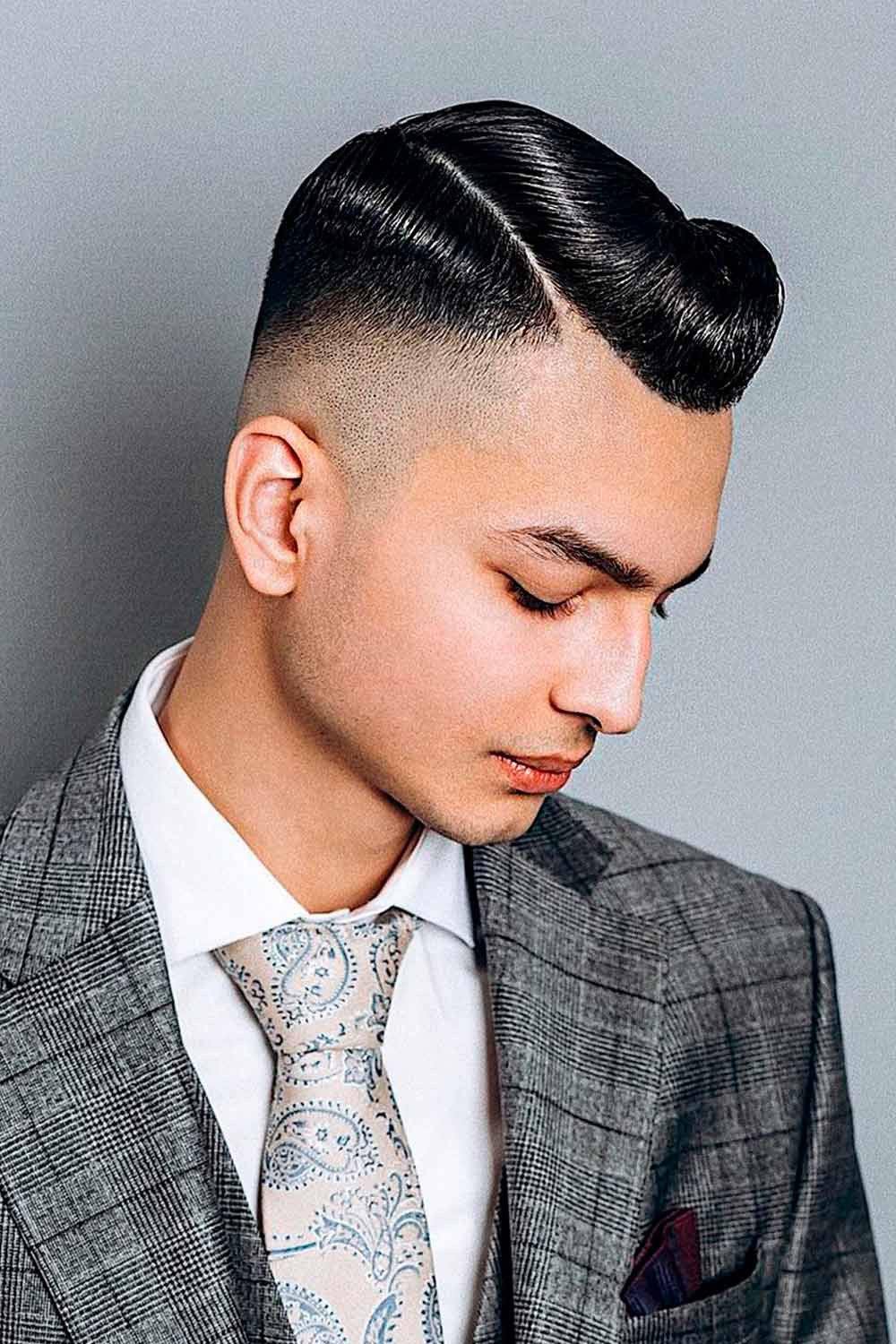 Source: @nickthebarber via Instagram
i
/
Medium Curly Hair
One of the best things about mens fade hair cuts is that they work for any hair texture. Moreover, if your hair is wavy or curly, a fade will allow you not only to keep your hairstyle looking neat and clean but also to give your curls more emphasis.
Source: @r.braid via Instagram
Quiff Bald Fade
A quiff may sometimes look a bit childish and plain. Not to let this happen, complement it with any kind of fade. Remember, the higher the fade, the edgier your hairstyle looks. So, you can adjust it depending on the effect you want to achieve and the ambiance you want your trending mens hairstyles 2023 to suit.
Source: @corneliucrihan via Instagram
Curly Hair Mid Fade
A fade cut is always a great accompaniment for curly hair. Thanks to the clean appearance of the sides and back it helps to create, the look comes out contrasty and edgy. On your side, it requires little to no styling, as you can simply dishevel your locks up top and you are good to go.
Source: @xbigwesx via Instagram
Long Hair Burst Fade
A long fade haircut is gaining popularity nowadays. With more hair on top, you can experiment with a lot of different styles. A top knot, a men bun, various braid types – the range of options is almost endless.
Source: @ahmetaslanhairsalon via Instagram
Spiky High Top
Those of you who are willing to combine high fade with some longer hair on the top may as well opt for this spiked hair on the top option.
Source: @r.braid via Instagram
Middle Part Fade
A middle parting is an extremely popular men hairstyle these days. It is usually worn on medium to long hair, which can be a little tricky to maintain. To make things easier for you, consider complementing your center parted hairstyle with a fade. For a bolder and more contrasty look, go for a short fade, whereas if you prefer something reserved, a taper low fade haircut is your way to go.
Source: @groomed_barber_club via Instagram
i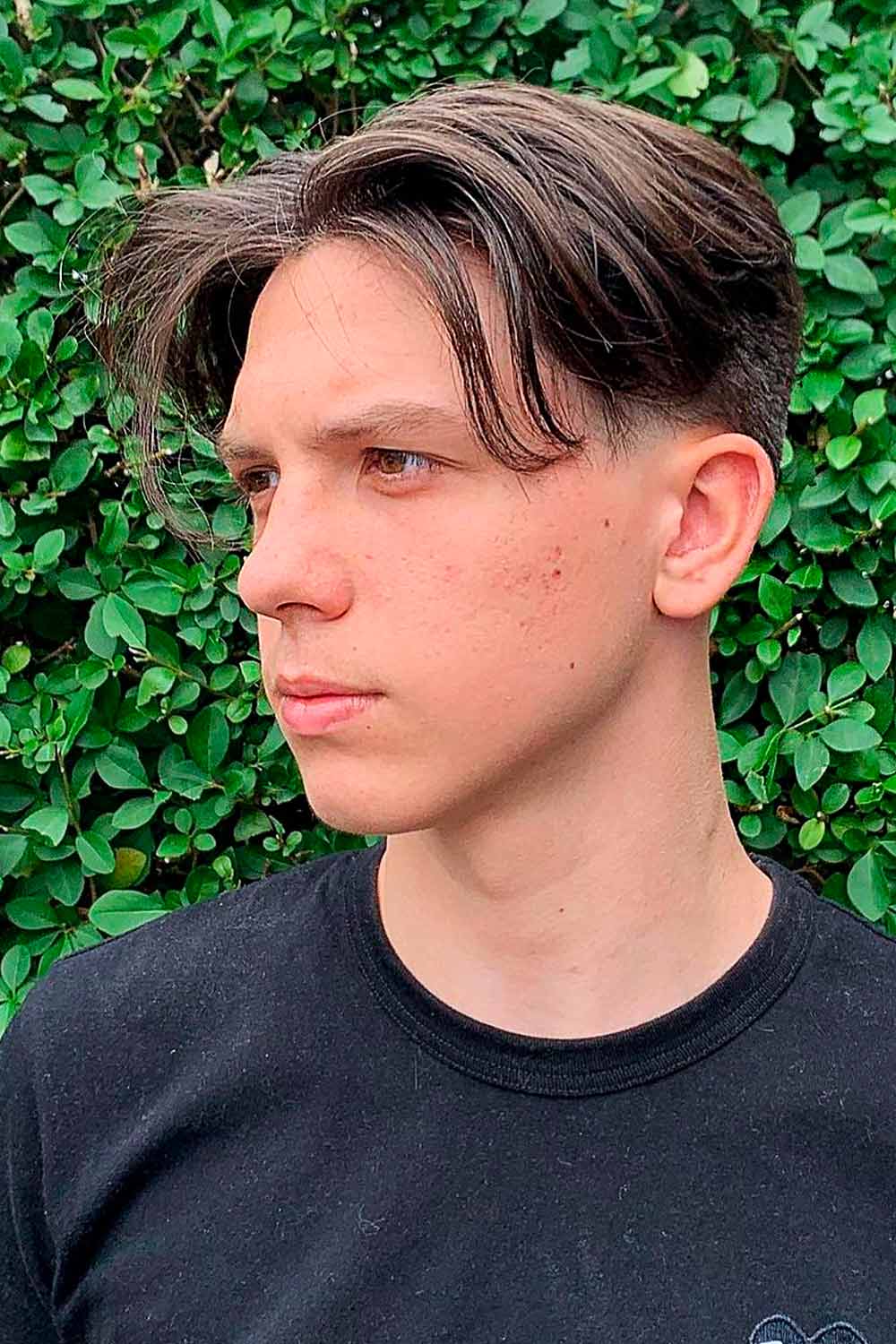 Source: @groomed_barber_club via Instagram
i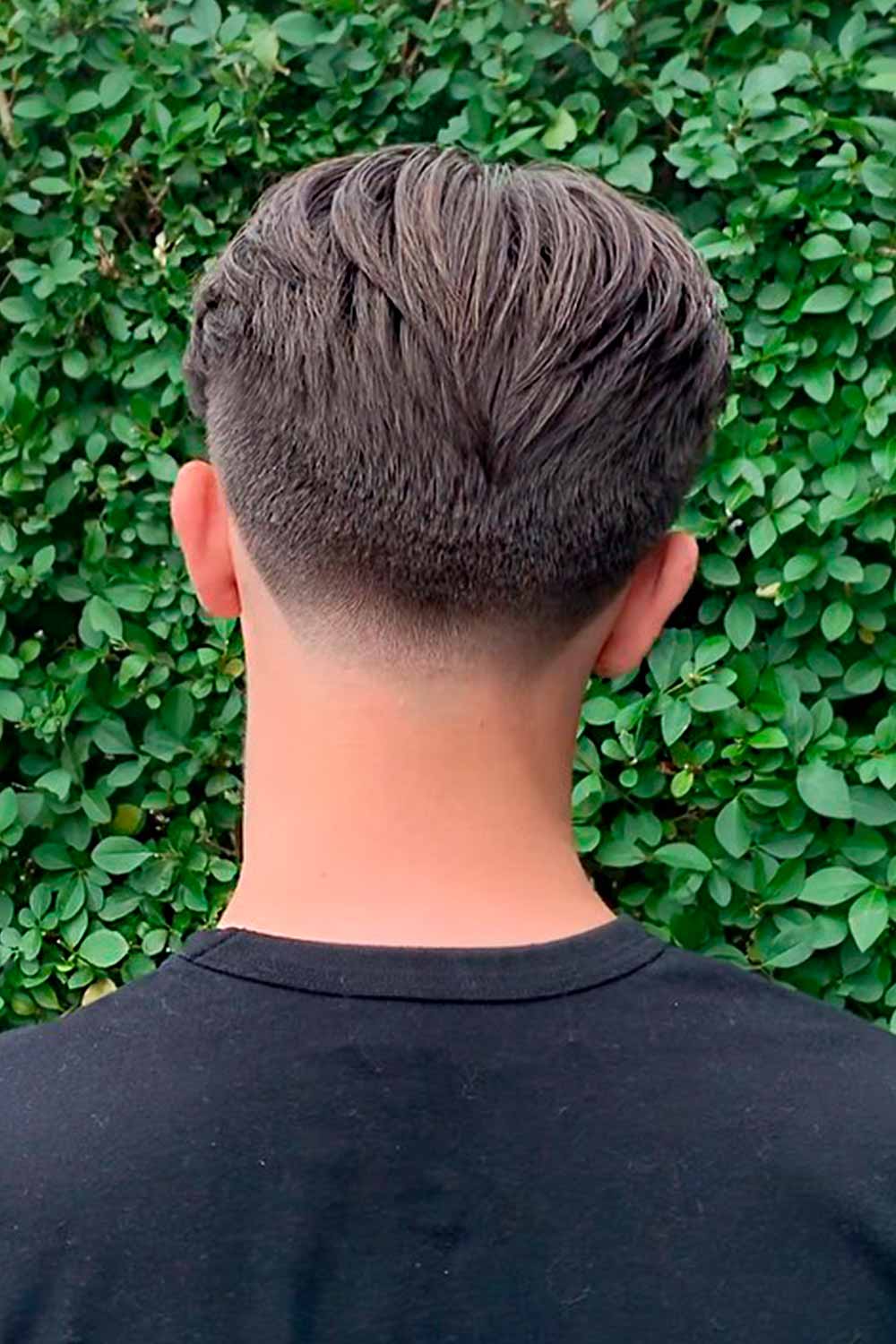 /
Crew Cut Fade
Short men haircuts, such as a crew cut, can be paired with a faded hairstyle to bring more definition to it. Maintenance is absolutely effortless with such haircuts, yet the impact they make cannot be overlooked. Get ready to collect admiring gazes from passersby left, right and the middle.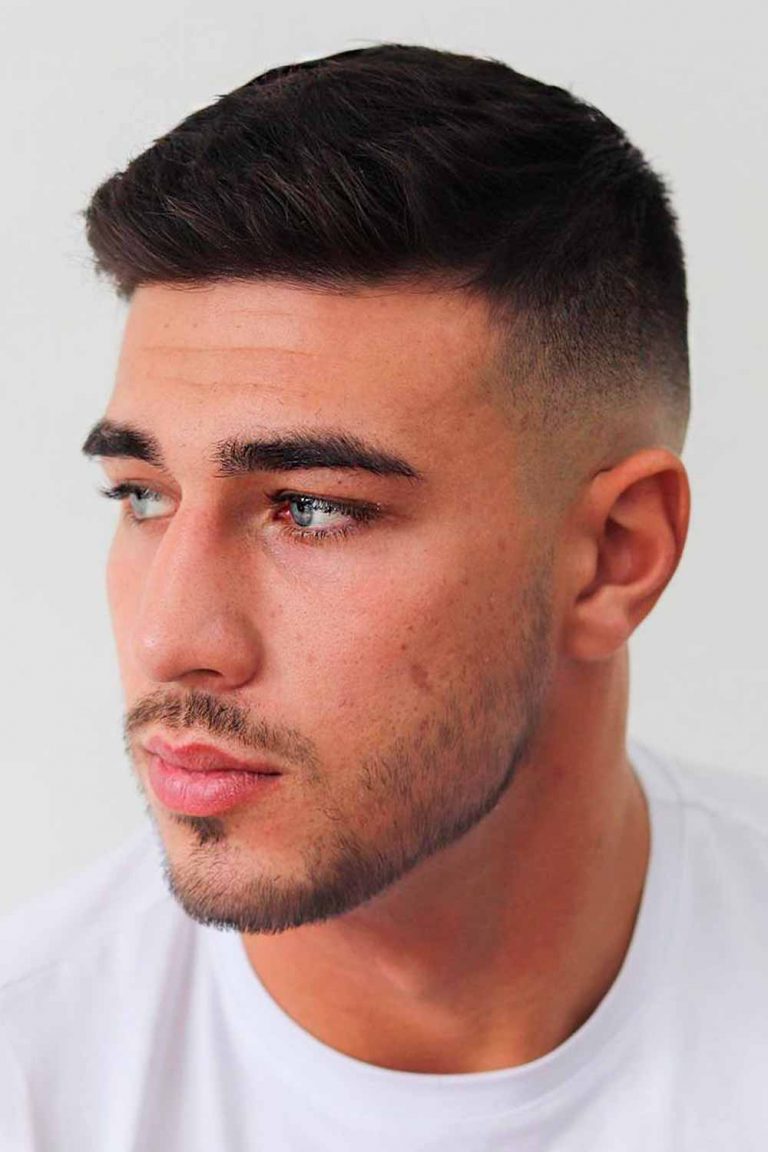 Source: @joshconnollybarber via Instagram
Wavy Short Sides Long Top Haircut
Guys with wave locks should definitely get a high or low burst fade haircut. They allow you to make your textured top the focal point of the whole look. So, do not hesitate to accentuate it with a hair styling product. As a rule of thumb, the higher the fade, the more attention it brings to the top.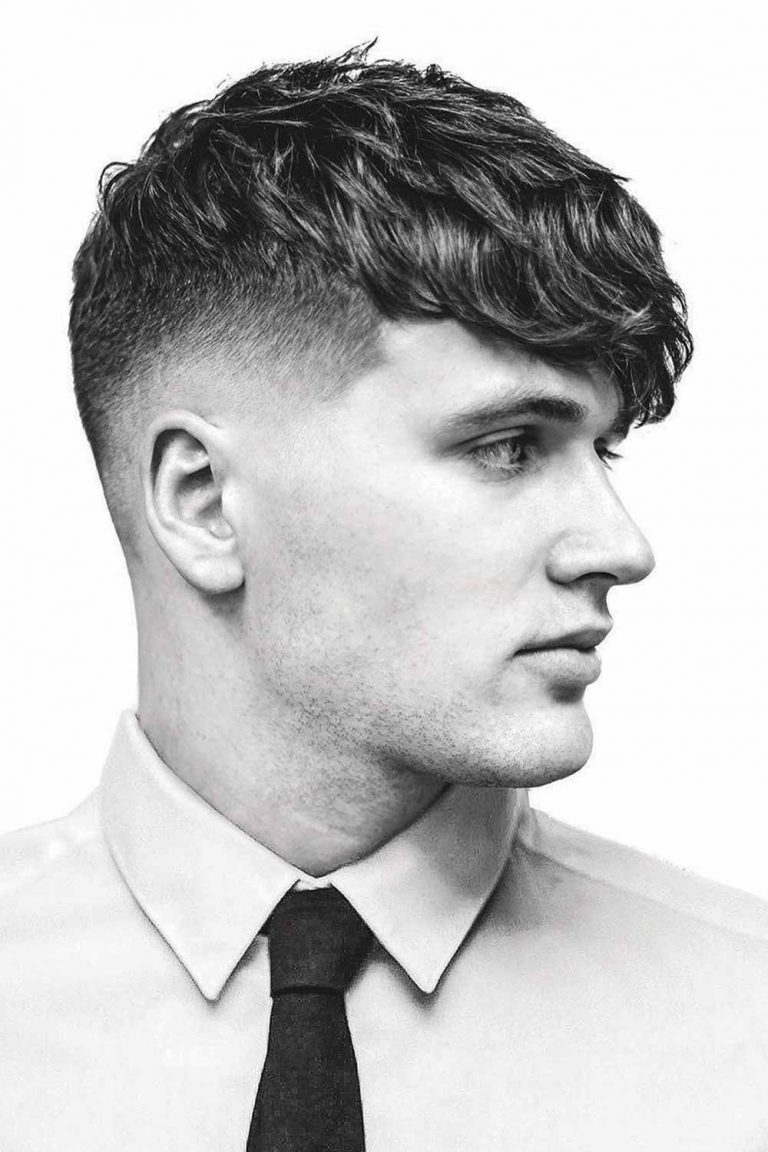 Source: @mattyconrad via Instagram
Faded Neckline
If you are not ready to commit to an all over fade, you can start with something light and delicate, such as a faded neckline. It still makes your hairstyle neater and trendier but with much less effort. Besides, if you do not like it, this kind of fade grows out much faster even than a low bald fade.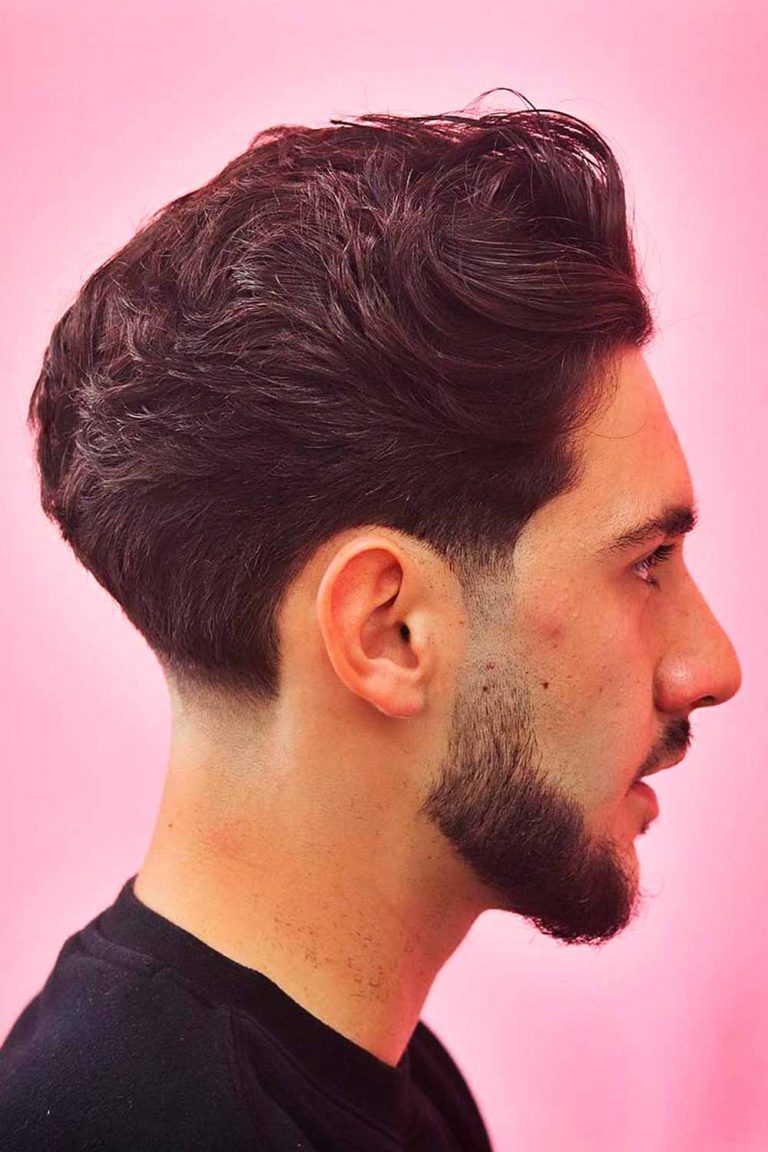 Source: @joshconnollybarber via Instagram
Medium Taper Fade
What can be better than a low fade haircut taper? You got it, a medium taper fade. One of the main advantages of this popular haircut is that it works for any hair type and hairstyle on top. So, no matter what hair look you choose, you can rest assured that it is always going to look appropriate.
Source: @keller_konturen via Instagram
Slick Back Hair + Undercut Fade
Slicked back hair is something that not everyone would appreciate, however, if you have soft and straight hair and you would like to keep it longer but out of your face – slick back fade is undoubtedly the best choice for you!
Source: @corneliucrihan via Instagram
Mullet Fade
The mullet fade is the perfect hairstyle for guys who want to keep it informal but still professional. As hair on both sides decreases gradually, this low-key cut ends up being very business appropriate and easy going!
Source: @frankdabarber via Instagram
French Crop Fade
You'll be surprised but a fade and a French crop haircut have quite a lot in common. When you get a mens fade haircut, your hair length on the sides and back gradually becomes shorter. The same happens when you opt for a French crop: the hair on top is cut in varying layers with the longest at the forehead and the shortest at the crown. For the added boldness, tell your barber to give you a high skin fade that's flush with the fringe.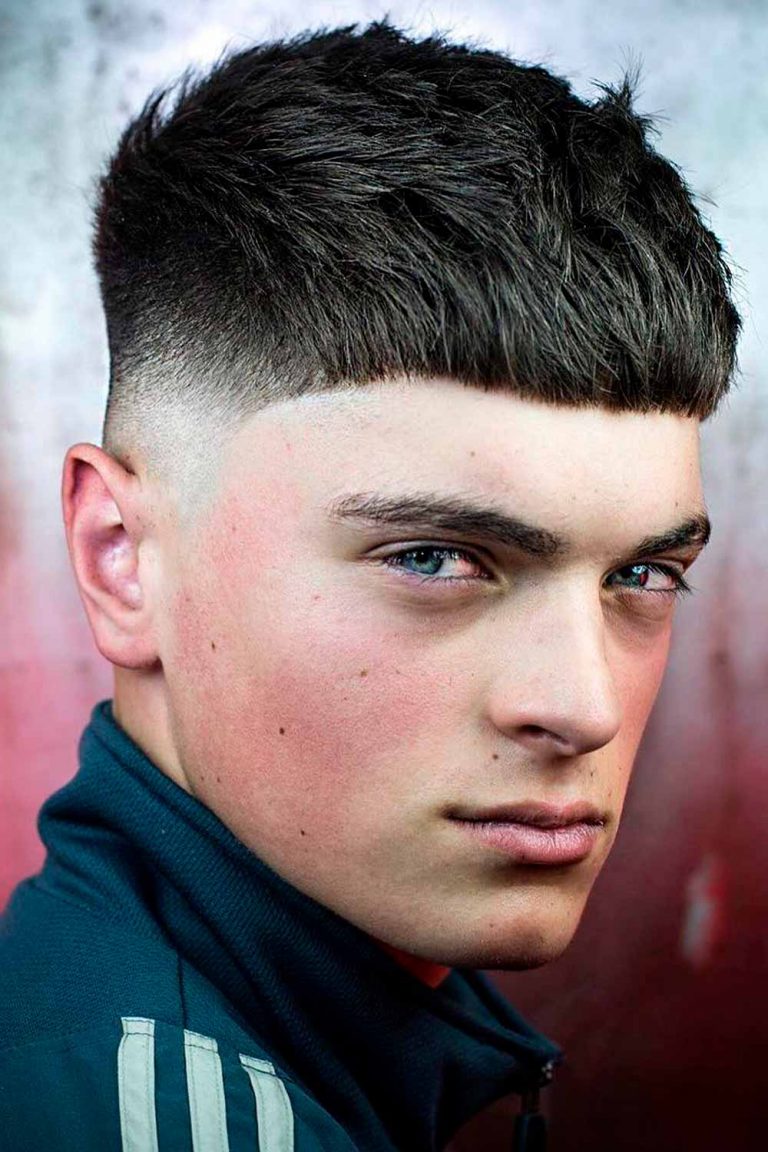 Source: @r.braid via Instagram
Textured Top
As the fade gives your haircut such a neat and clean appearance, the top can be styled in whatever way you like. Pair it, for instance, with textured hair on top, and you'll get a very flashy look.
Source: @z_ramsey via Instagram
Edgy Two-Level Fade
A basic fade haircut doesn't seem enough for you? How about a two-level fade? With such a stylish and daring look, your hairstyle will be the talk of the town. Get your barber to disconnect them from one another with a hard part for added emphasis.
Source: @r.braid via Instagram
Curly Undercut Fade
No matter how you prefer to style your curly locks, a fade is a must if you want to look trendy and groomed. A curly hair fade adds to the appeal of your ringlets and makes them even more vivid. On top of that, with a curly fade, managing your unruly locks won't be an issue anymore.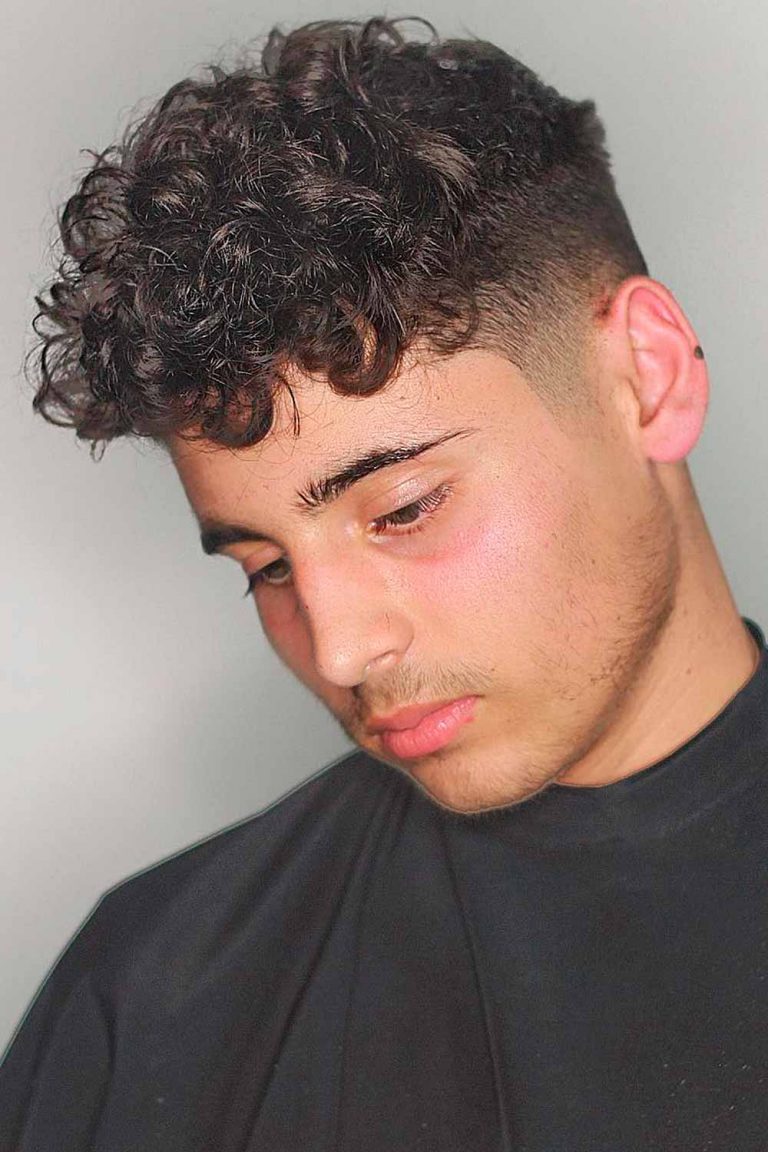 Source: @jcbarber_ via Instagram
High Top Fade
As we said, a fade haircut is a great addition to any style of the top, especially if you prefer longer ones. Although a high top fade will benefit greatly from any type of fade if you want a really edgy look go for a high skin fade.
Source: @keller_konturen via Instagram
Short Texture With Simple Design
A short hair fade has quite a lot of benefits too. First, it doesn't require a lot of maintenance nor will you spend much time on styling. Besides, a skin taper allows embellishing your cut with hair design. For a low-key option, let your barber shave in a couple of lines behind your ear. Braver guys can employ more intricate carvings.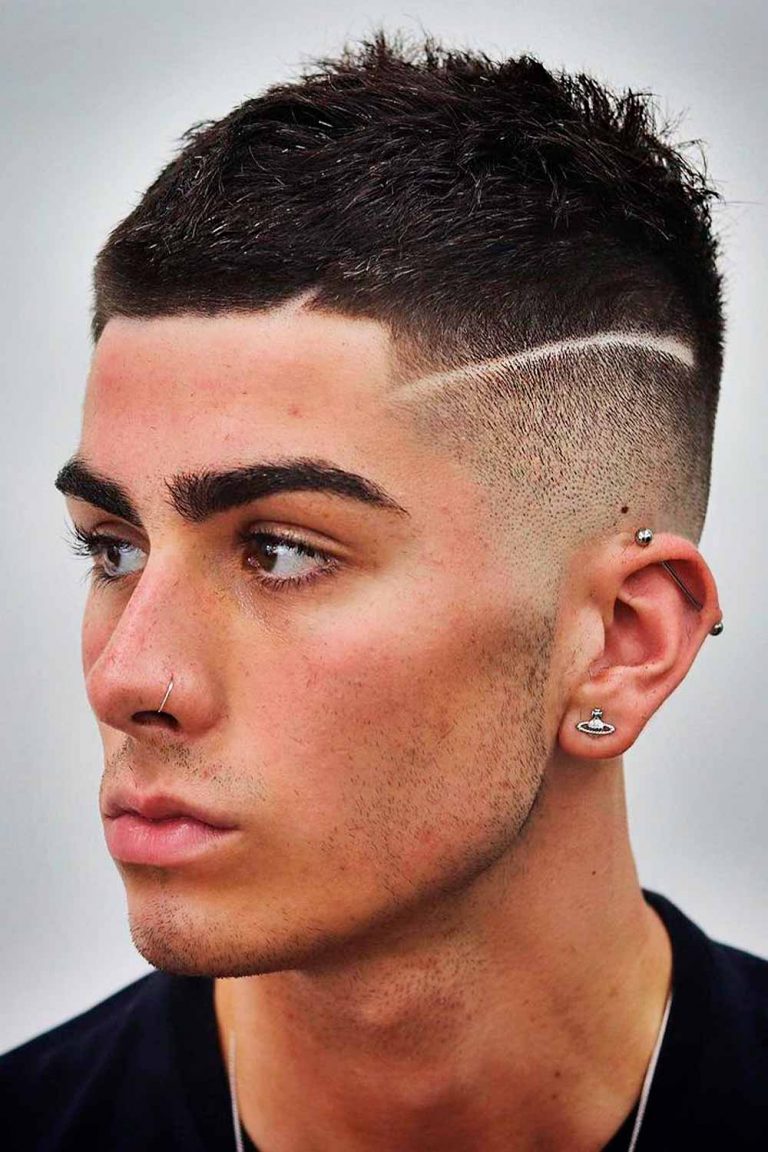 Source: @joshconnollybarber via Instagram
Mohawk Fade
You can hardly imagine a Mohawk fade haircut without a fade. Although you can simply have your top hair undercut, a fade will add a touch of style to it.
Source: @xbigwesx via Instagram
Afro Curls Fade
When it comes to a drop fade haircut black men are the first who should try it. Having such kinky locks, nobody but you knows how hard it is to keep them looking dapper. A fade will not only give you an ultra clean look but also help create additional contrast.
Source: @corneliucrihan via Instagram
Short Hair Fade
One of the best things about the fade is that it can be paired with any hair length on top and still make up a contrasty look. If you generally prefer short hairstyles, then opt for a skin fade. This will allow your hair atop to stand out against the bold sides.
Source: @corneliucrihan via Instagram
Textured Crop With High Fade
To accentuate the bold structure of your hair, you can complement your style with an undercut fade. It will draw the whole attention to the hair on the top of your head, so ensure you get it styled appropriately. One of the most flattering mens fade haircuts is the one paired with a textured crop.
Source: @jcbarber via Instagram
i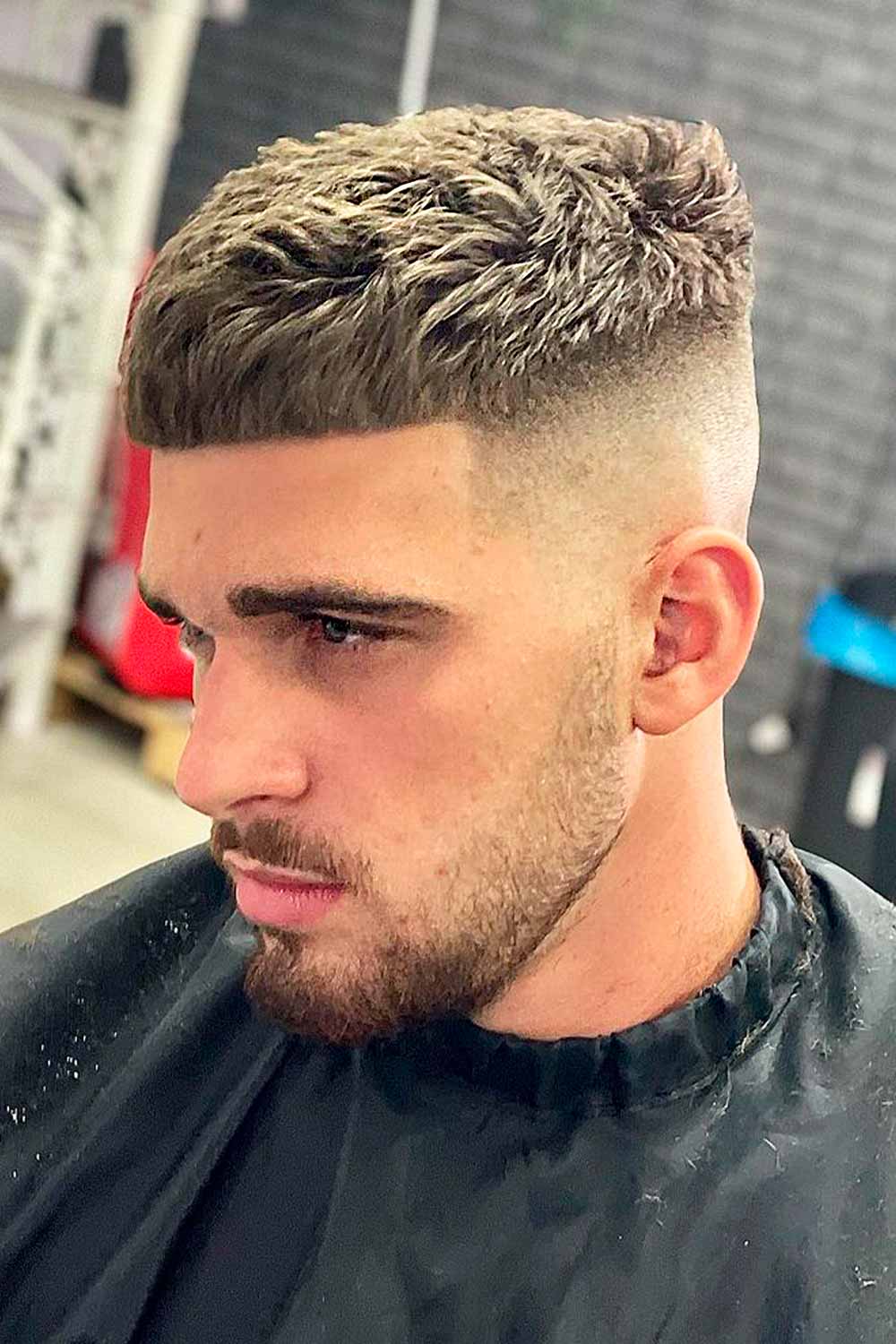 Source: @jcbarber via Instagram
i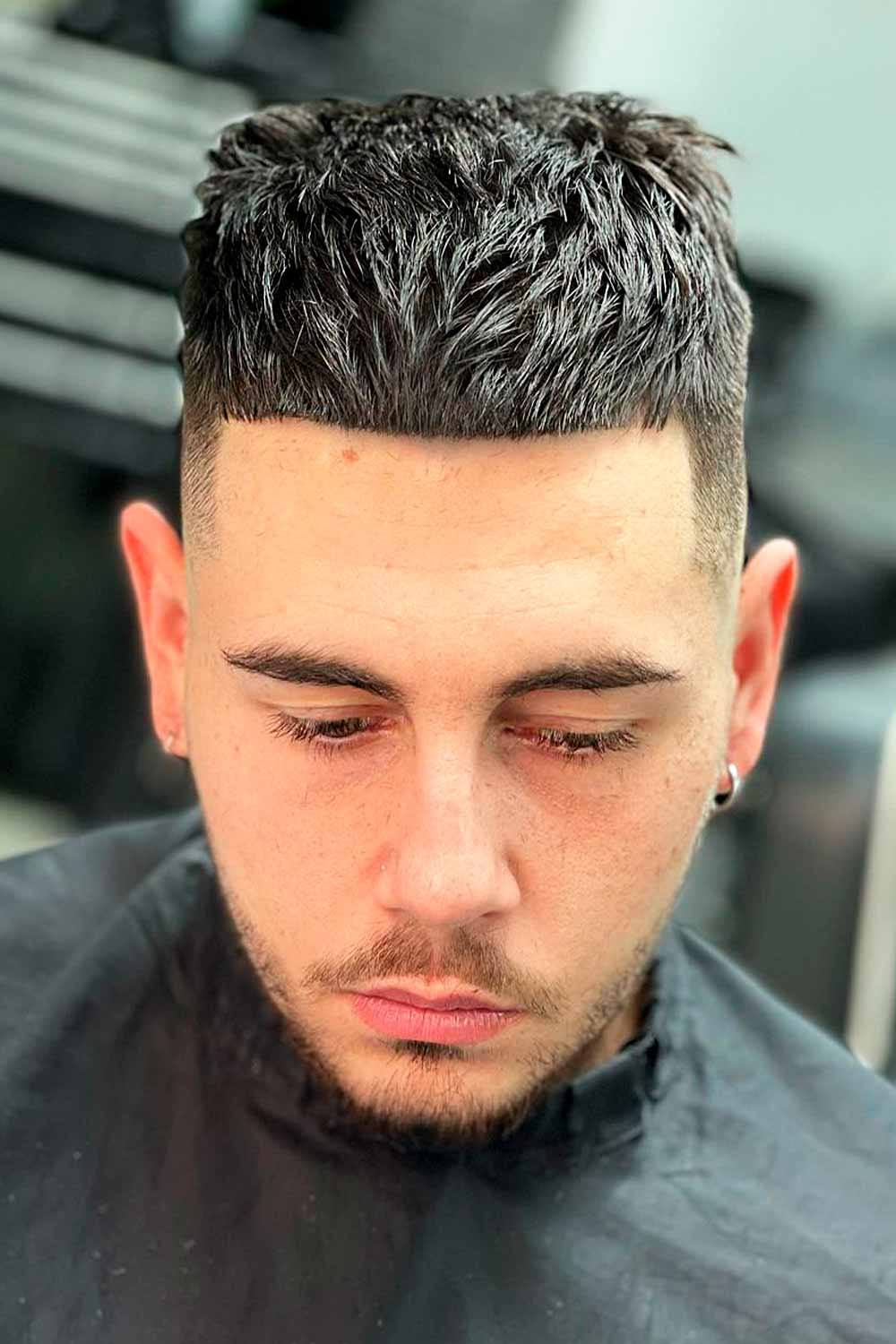 Source: @jcbarber via Instagram
i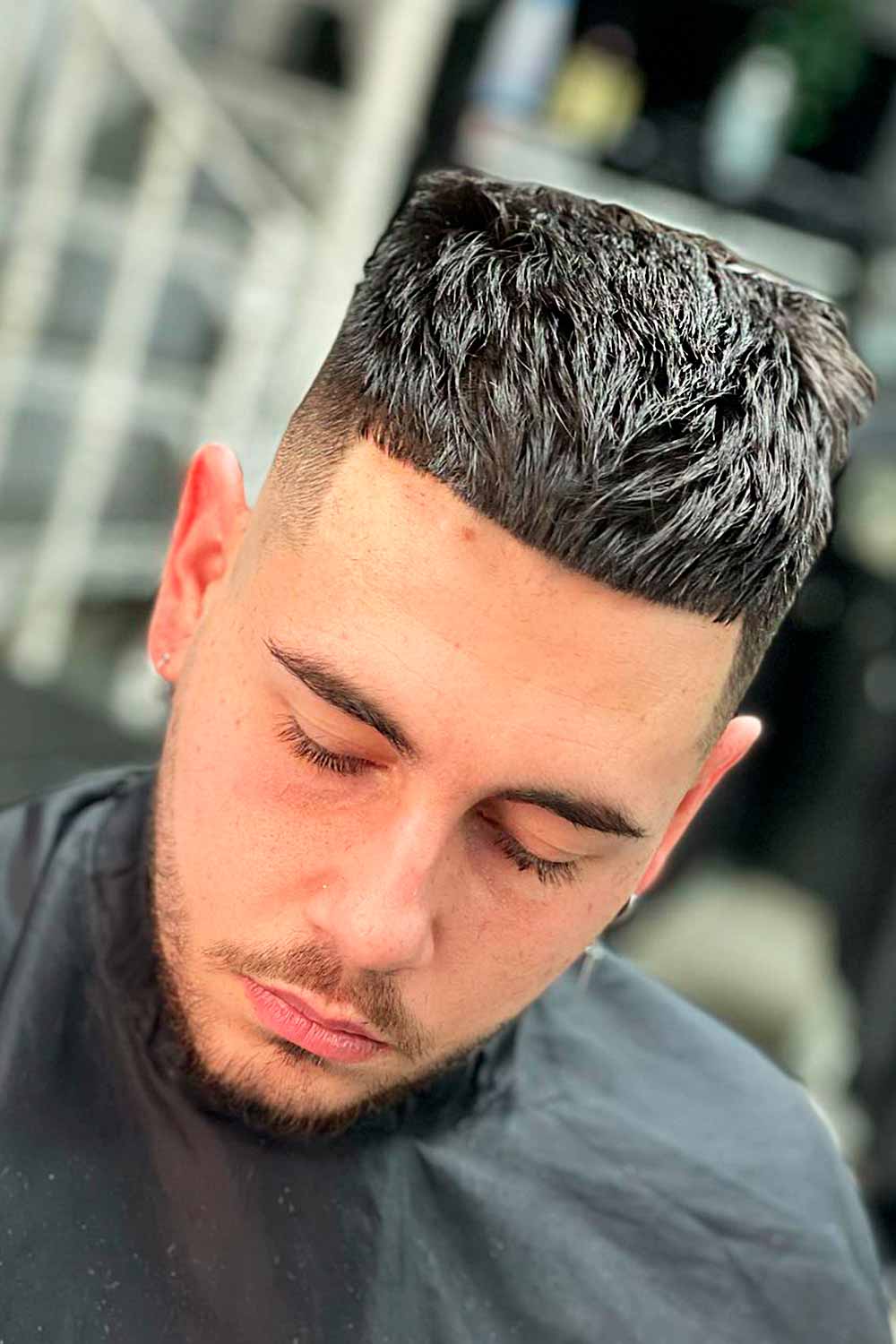 /
Straight Hair Fade
Nevertheless, with straight locks, a fade looks as attractive as with any other hair type. Moreover, it gives you a myriad of styling options, as you can easily create 2023 men's hairstyles that suit any ambiance, from casual to professional. Besides, you can play around with a fade type too. Go for a high bald fade for a sharper look and choose a low taper fade if you prefer something more low-key.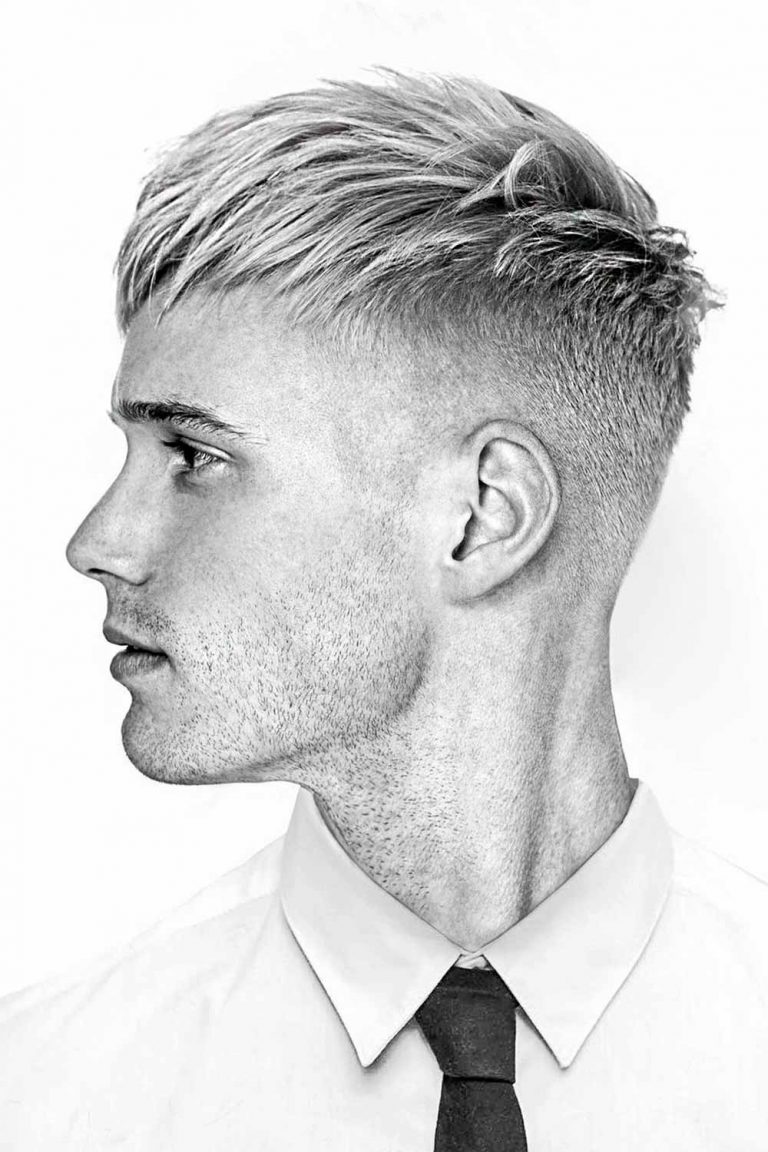 Source: @mattyconrad via Instagram
Hard Part Bald Fade
If you want your hairstyle to have more contrast and boldness, then turn to a disconnected faded cut. The transition between the long hair on top and short on the sides and back is not gradual but abrupt, thanks to which the desired sharpness is achieved.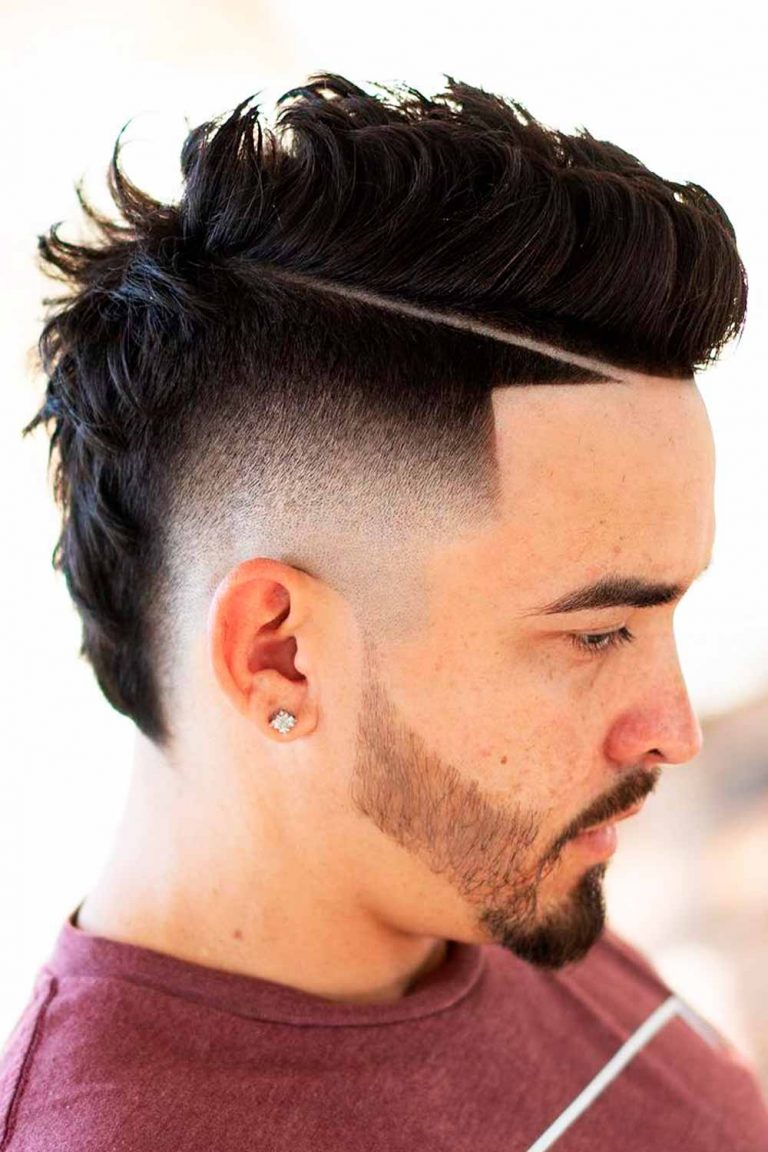 Source: @andyfadepro via Instagram
Line Up Undercut Fade
With a fade haircut designs do not have to be elaborate or sharp. Something really low key, like a line up, will do the perfect job for you. For added emphasis, ask your barber for an undercut fade haircut men combo. The only downside to it is that you will have to visit the barbershop for regular upkeep more often than with, say, a low temp fade.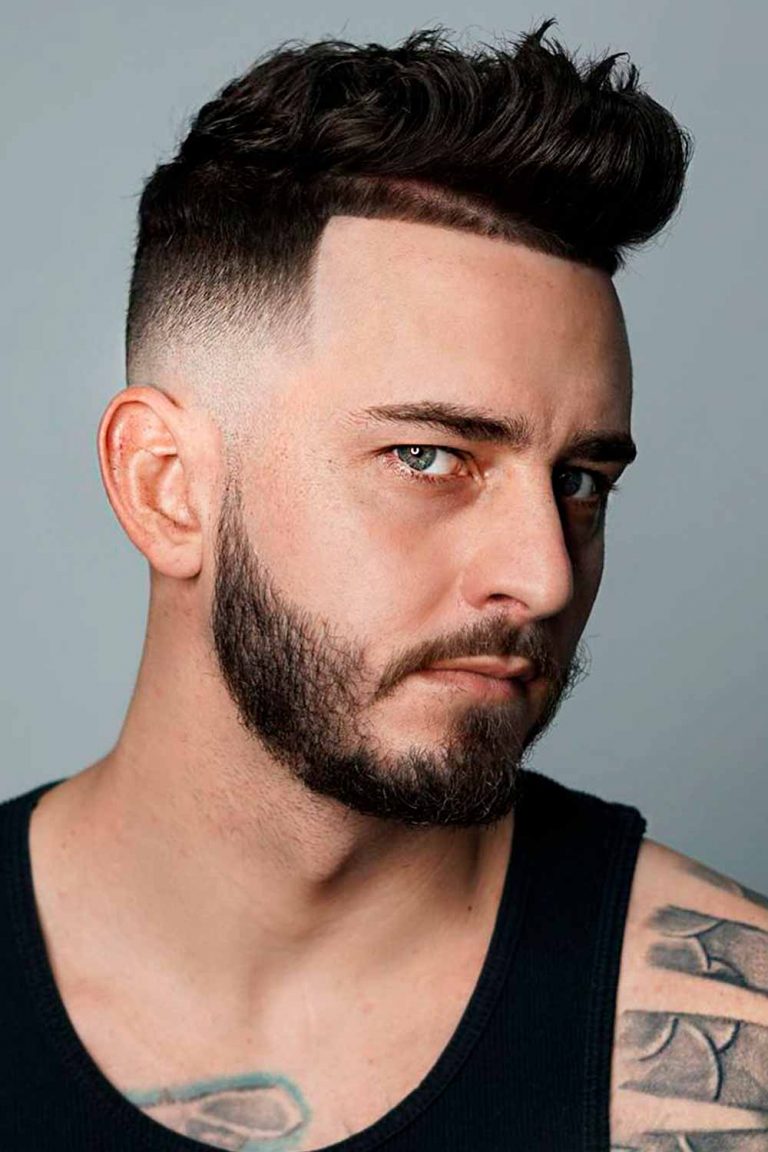 Source: @andyfadepro via Instagram
360 Waves
When you rock such an elaborate hairstyle as 360 waves, it is very easy to overload it. So that it would come out clean and edgy, opt for a fade on the back and sides. You do not want to make it overly bald or high though, as you still want your waves to show off.
Source: @keller_konturen via Instagram
How To Do A Fade Haircut?
While they may look easy enough to master, a fade haircut is fairly difficult for the novice to create. For starters, you'll want the right tools for the job. You'll need a pair of clippers, random guards, a clipper comb, and a blending brush.
After determining the look of the fade, you'll begin cutting the hair at its shortest at the nape of the neck. From there, you will increase the guard size and continue cutting, gradually leaving the longest of the hair at the temples. Using a blending brush you can push the hair down and up to make sure every piece gets blended and cut to the correct length as you work. After you've finished the back and the sides, a clipper comb should be used to blend the top down to the sides effortlessly.
Tips For A First-Rate Fade
A fade haircut is by far an easy cut to create. Because it is heavily blended and gradually gets longer towards the top of the head, you should probably avoid cutting these mens hairstyles at home. A professional barber or stylist knows how to fade hair properly and will ensure the final style looks great.
The darker the hair the harder it is to blend. Be patient with your stylist as they create the perfect fade. If you see lines or patchiness in your cut, you'll need more blending. This is exactly why it pays to get a fade haircut from a pro.
Use photos during your haircut consultation to be certain you get the look you love. There are so many different ways to fade the hair and the last thing you want, is a cut that turns out too short, or not short enough. Browse the internet for endless fade inspiration.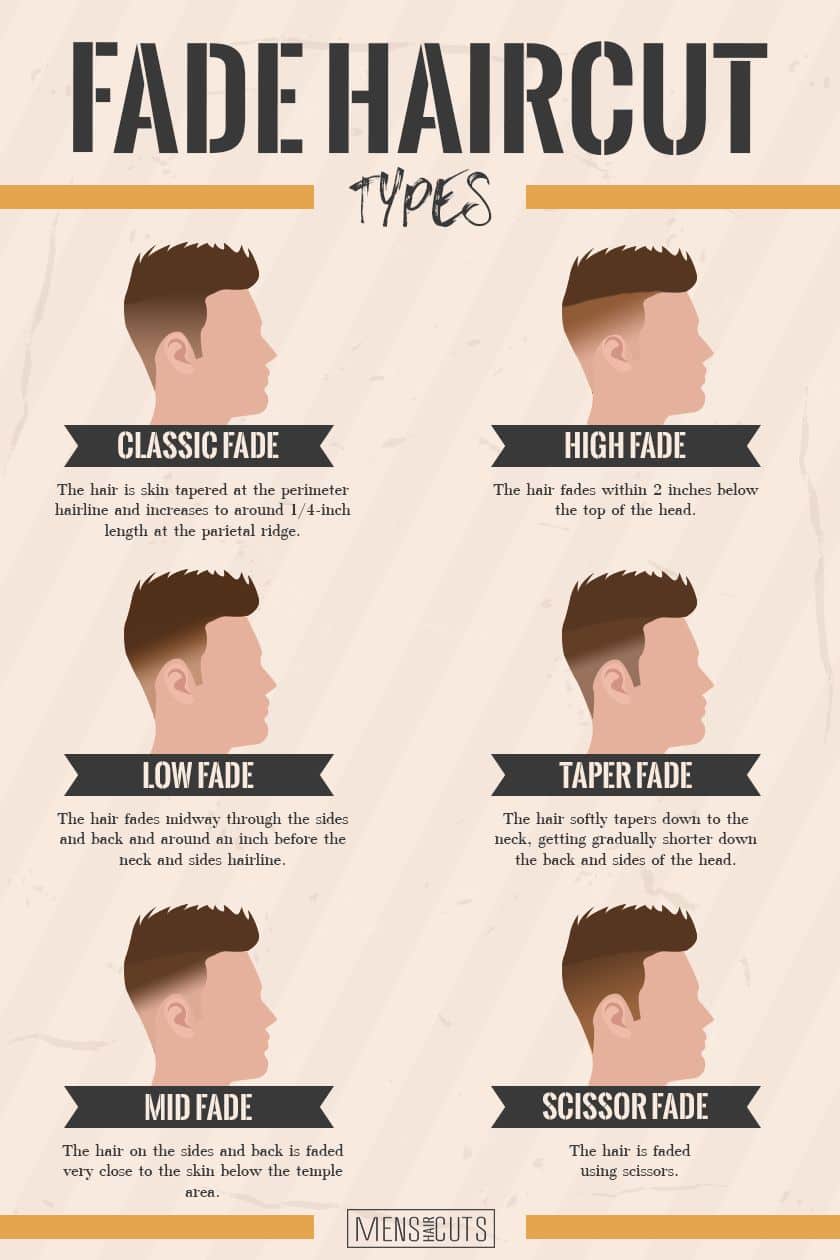 The fade haircut is the most requested for these days. That is why we suggest to your attention the fullest compilation of all possible fade types and styles to experiment with. Enjoy!
FAQs
What is a fade in a haircut?
A fade is a popular male haircut that implies getting the hair on the sides and back trimmed so that it changes in length gradually from the longest around the top to the shortest at the hairline.
What is the best fade haircut?
As there is no such thing as the worst fade haircut, all of them can be considered the best. It all depends on the message you want your haircut to deliver as well as your personal preferences.
What are the types of fades?
Fades vary in the kind of pattern the hair is cut and how harsh the transition from long hair to short is. So, they can be tapered, undercut, temple, scissor cut as well as low, mid and high.
What do I tell my barber for a fade?
A surefire way to get the desired fade haircut is to bring a picture of it with you to show your barber. However, if you insist on describing the cut, tell them what kind of fade you want and how long it should be. Provided, of course, that your barber knows what a fade is. Otherwise, we really suggest you look for another, more qualified hair stylist.
What does a fade haircut look like?
A fade features shortly tapered back and sides as well as relatively longer hair on top. This combination creates a clean silhouette with a strong impact.
How long does a fade haircut last?
This majorly depends on the speed at which your hair grows. However, on average, you will need to visit your hair stylist for upkeep once every 2-3 weeks.
REFERENCES: