Mens long hairstyles cannot leave anyone indifferent. Guys with long manes are usually described as extremely masculine and attractive. So, if you want to win the title of a real heartthrob, you should make good use of our guide. It features the most breathtaking long male hairstyle ideas, from a man bun to braids for men and everything in between. And even if you decide to wear your locks loose, our expert styling tips may come in really handy.
Wondering what length and shape suit you? Here are some tips to help you pick the best long men's hairstyles for every day.
Long Hairstyles For Men With Textured Waves
No matter what the shape of your face is, if you have a bit of wave in your hair, pick this hairstyle. Apply a styling mousse to damp, untangled hair. Leave it to dry or scrunch some portions of your hair liberally. Once the mousse is set, backcomb the front section lightly or make a rough partition.
Those heavily textured long waves hit the right spot and give the best broody face profiles. Try it out!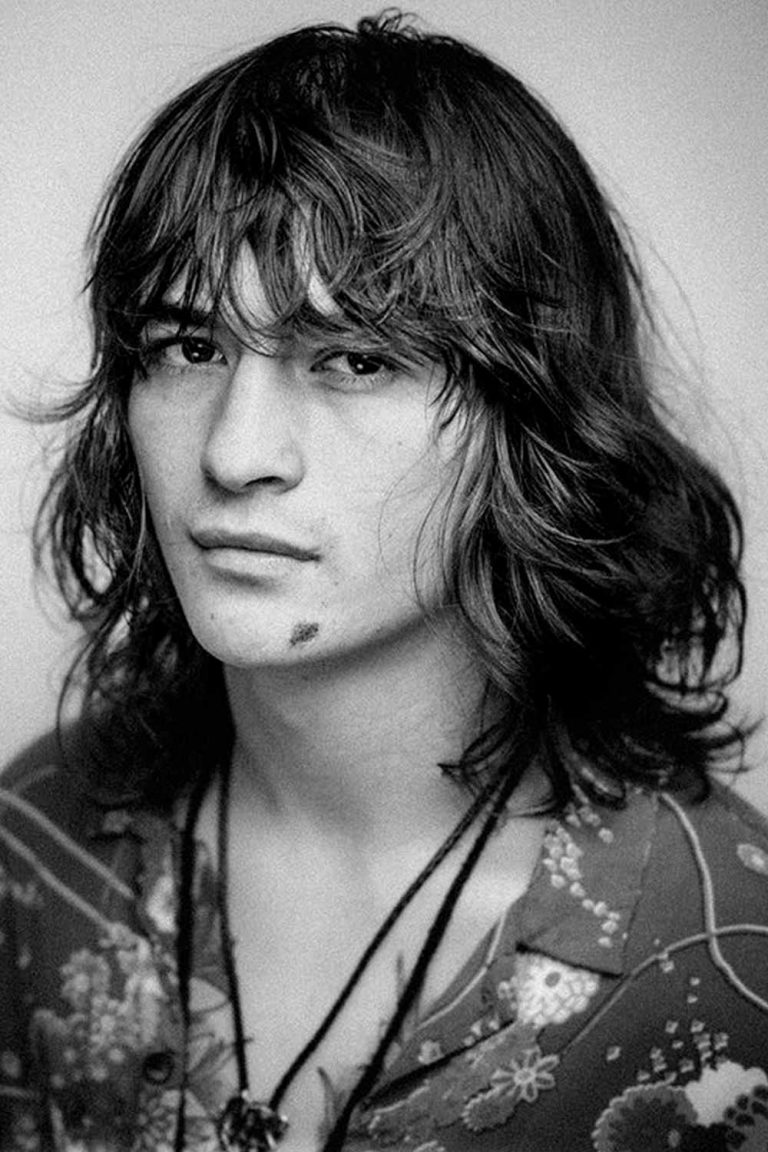 Source: @andrewdoeshair via Instagram
Half Up Half Down Curls Long Hair For Men
Whenever you feel like you are getting tired of your men long hair, do not grab scissors right away. Take a break from your locks by gathering half of them on top of your head. This hairstyle gives you a chance to embrace male long hairstyles once again.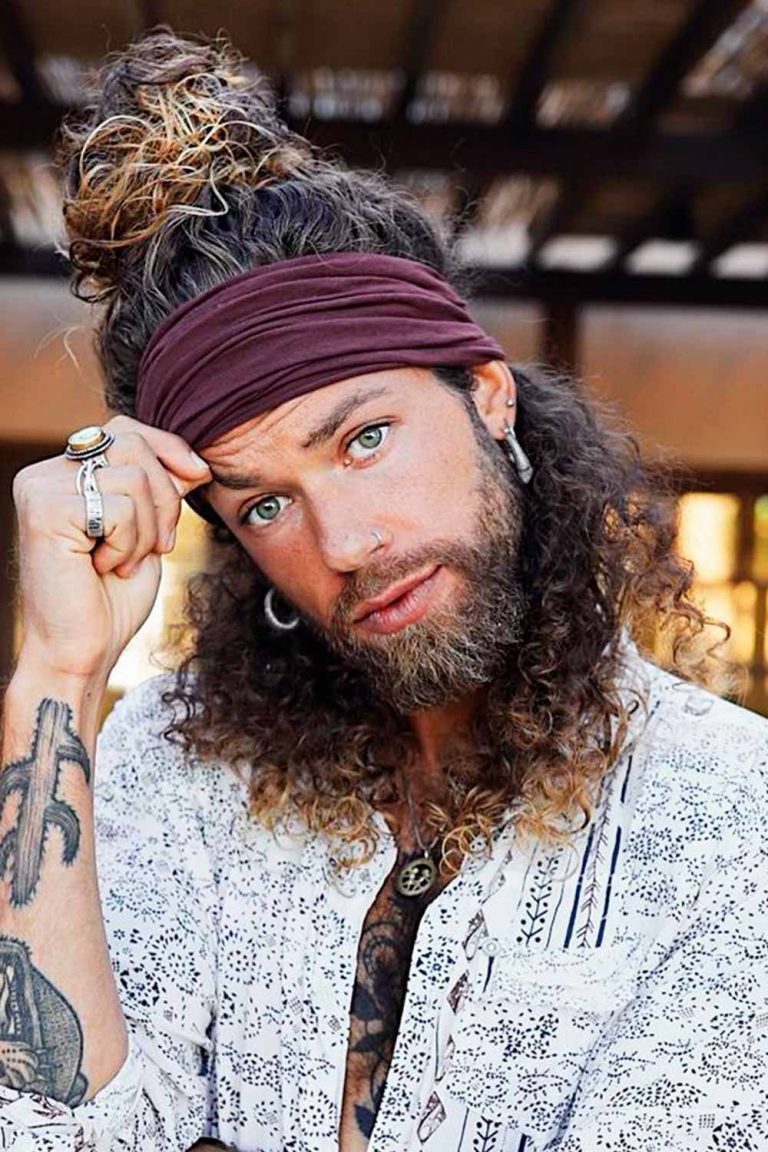 Source: @hank_ge via Instagram
Long Hair Undercut
Truly, this is one of the most elegant long hairstyles for men we have ever seen. Thanks to the undercut sides and back, the focus of the look shifts to your long top. Besides, this cut keeps your long hair undercut neat and clean despite the length. So, for a formal ambiance, you can brush your hair back, while for a casual one, you can dishevel it and push to the side.
Source: @andrewdoeshair via Instagram
Messy Man Bun Long Hair Styles Men
Unlike many predictions, a man bun has not gone into oblivion, keeping its leading position among the trendiest man's hairstyles. On the contrary, it has evolved into many other rockabilly forms.
Source: @jeromathew via Instagram
i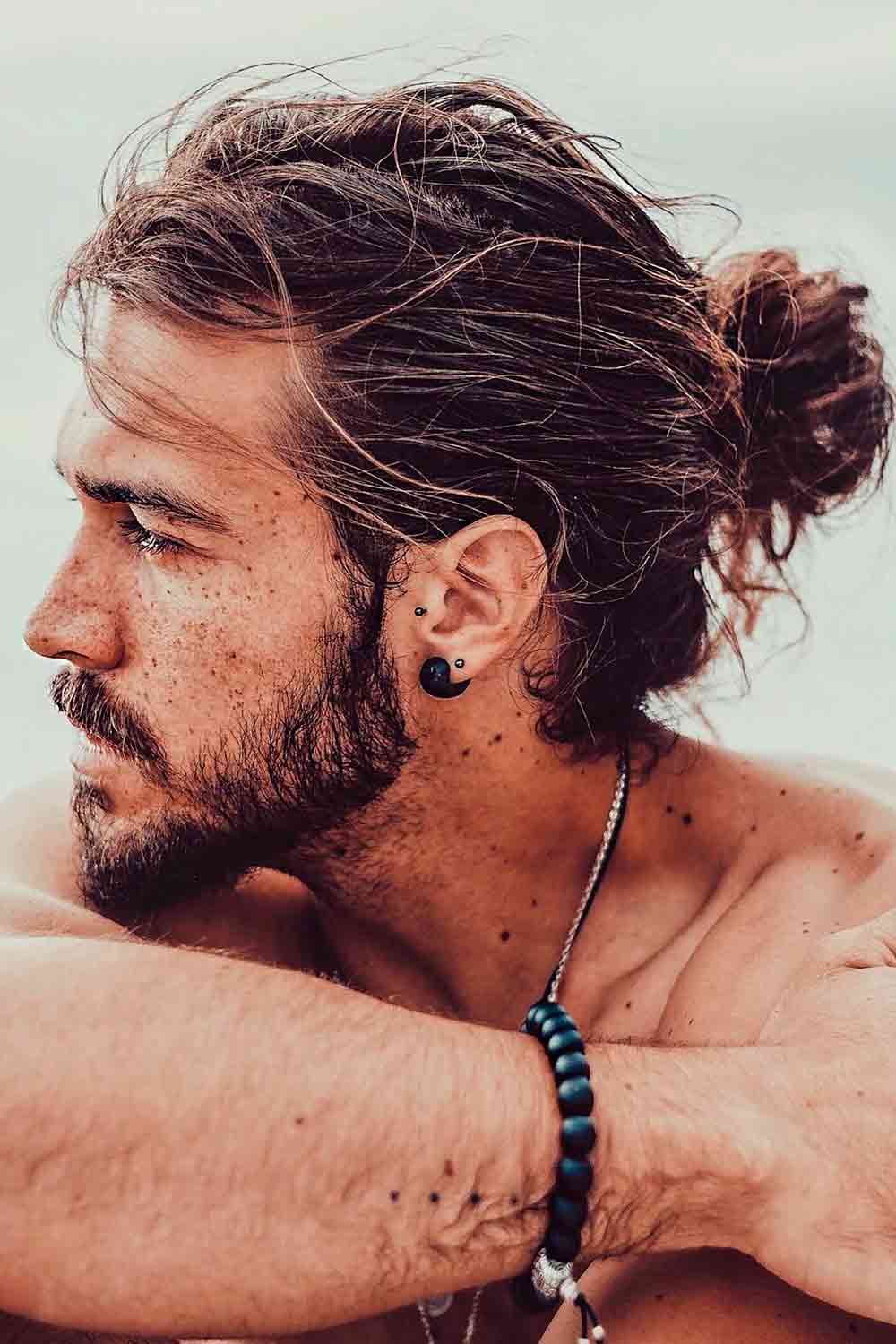 Source: @jeromathew via Instagram
i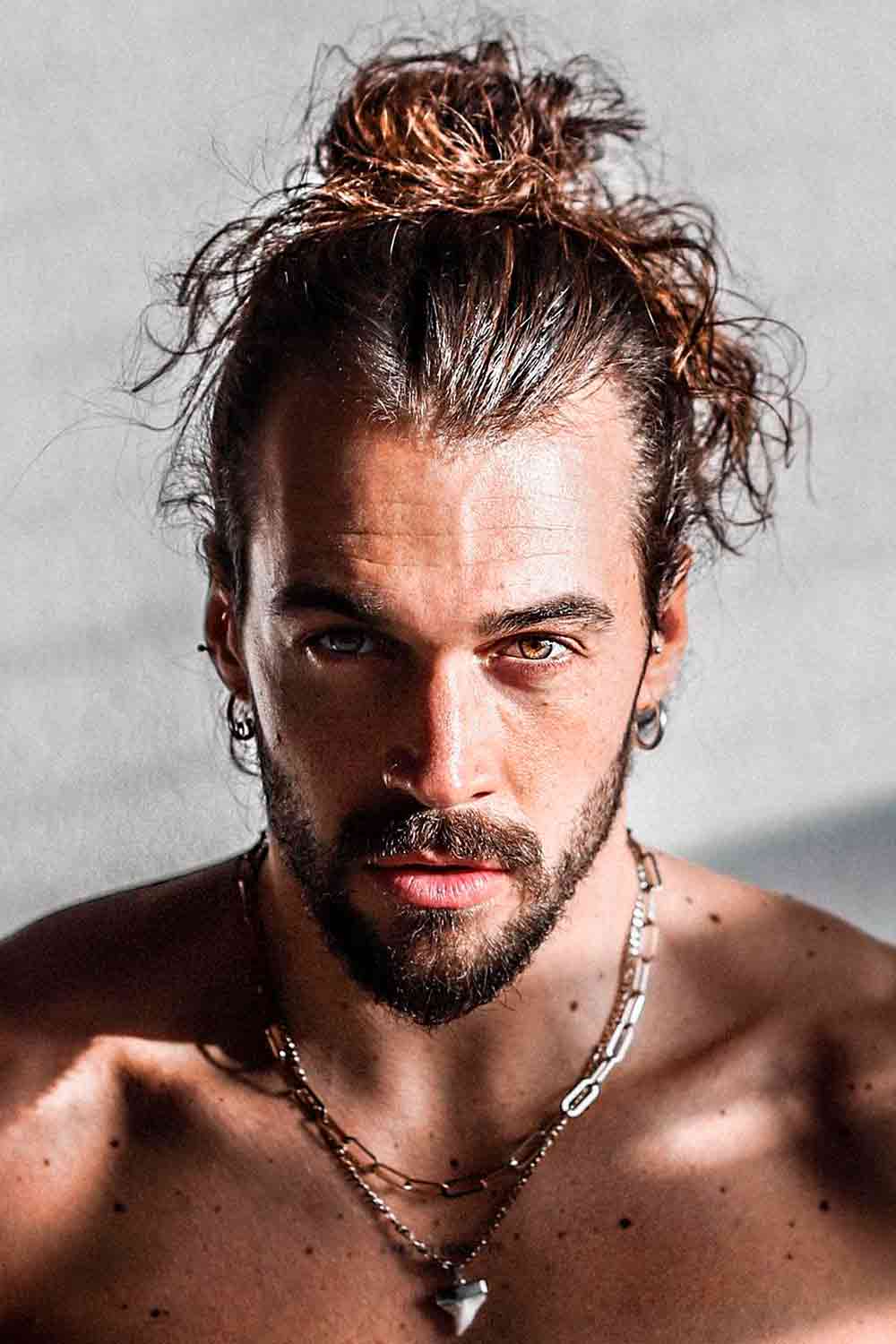 Source: @jeromathew via Instagram
i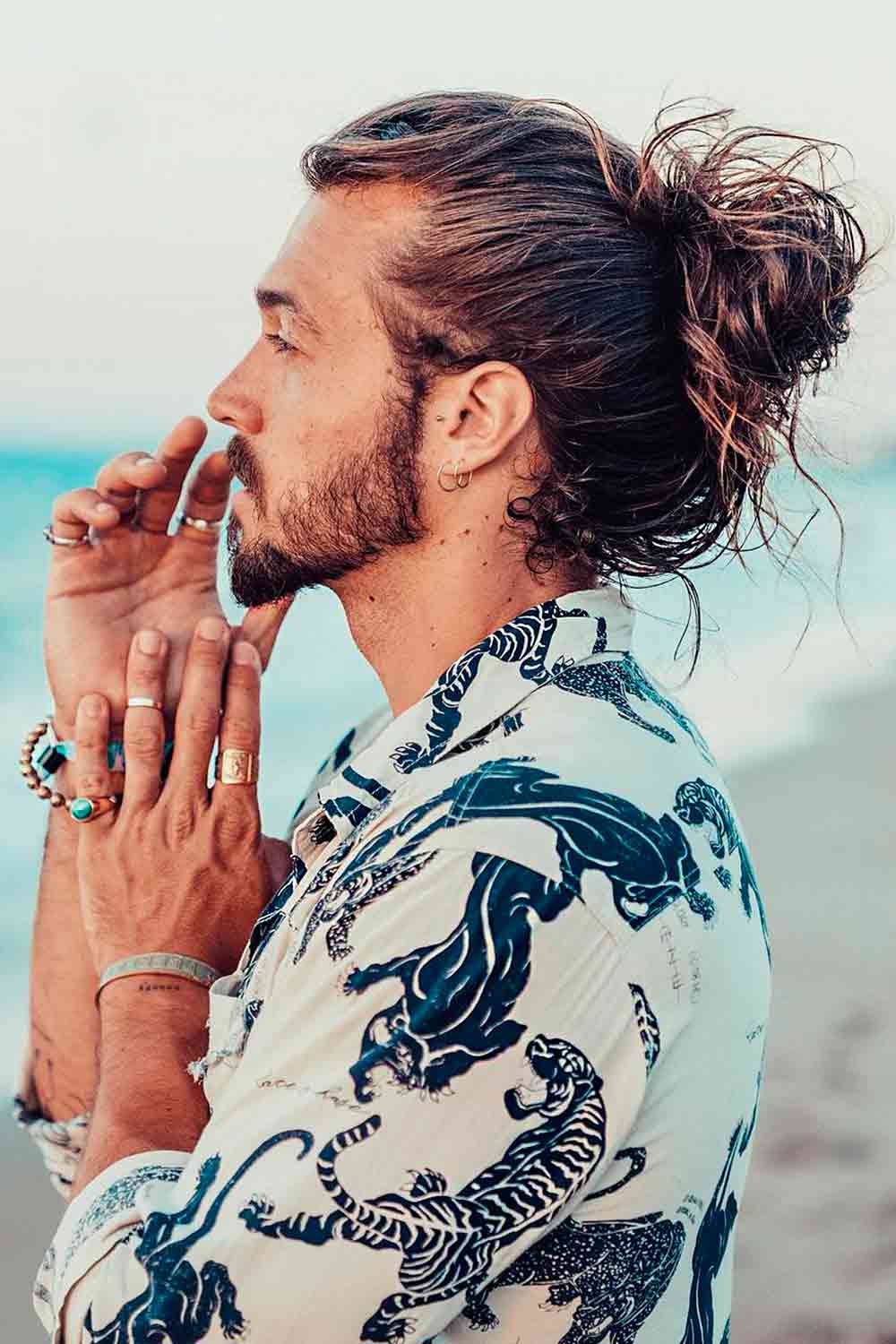 Source: @jeromathew via Instagram
i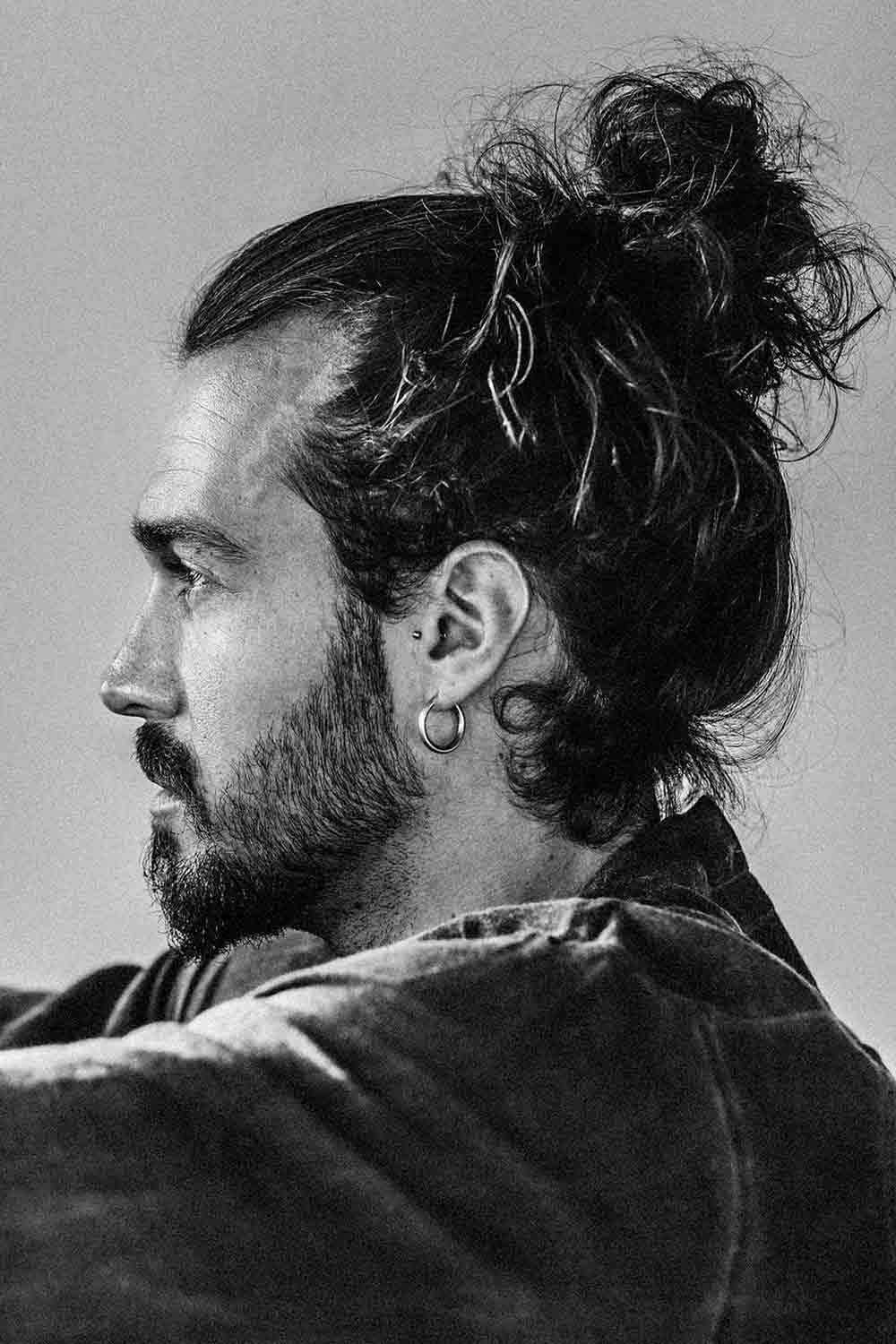 Source: @jeromathew via Instagram
i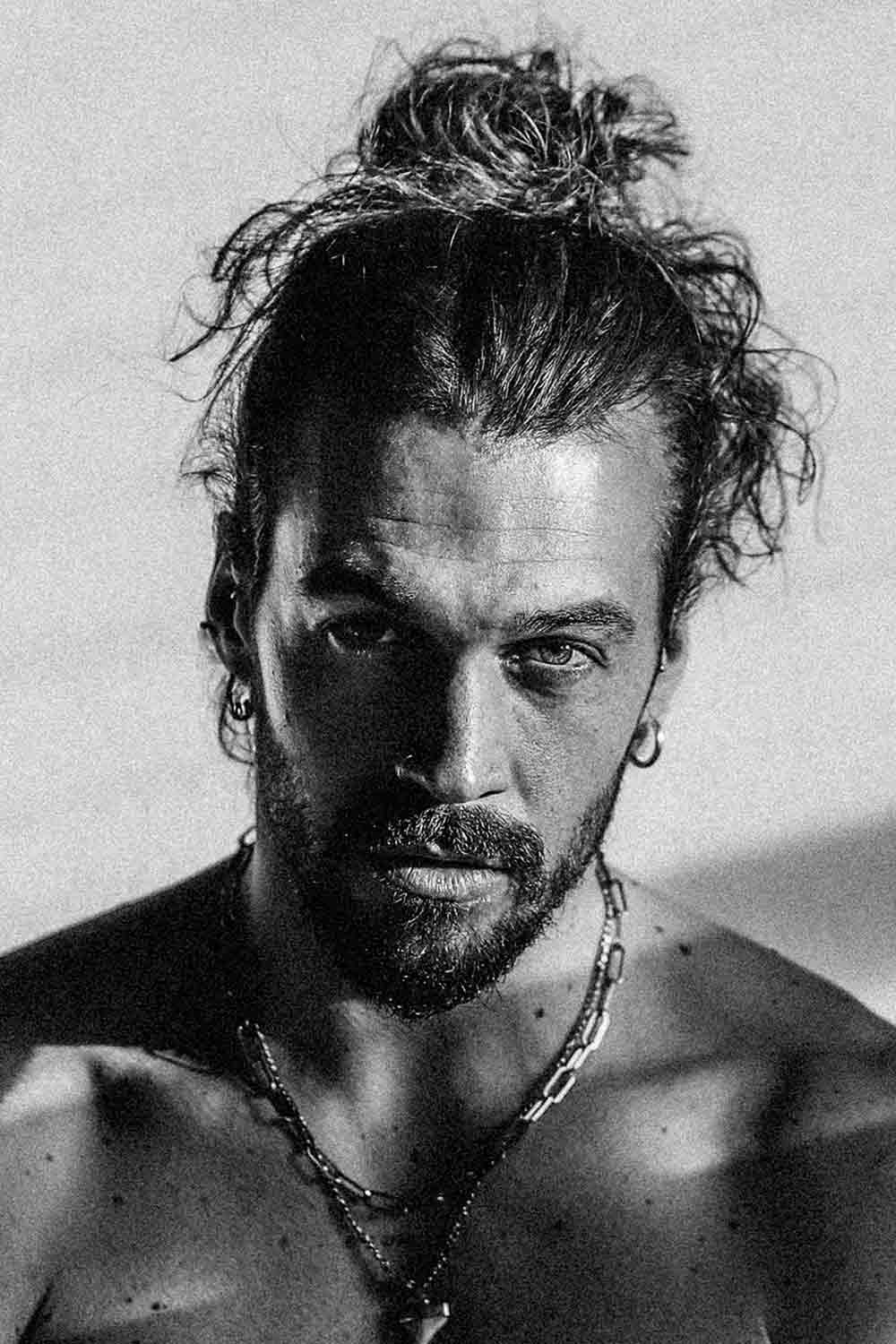 /
Long Slicked Back Hair
If you're wondering how to sleek back hair, just always remember to fix it with some styling products after brushing the locks back. Classy and exquisite, slick back hair will become an apparent gem of the mens long hairstyles collection.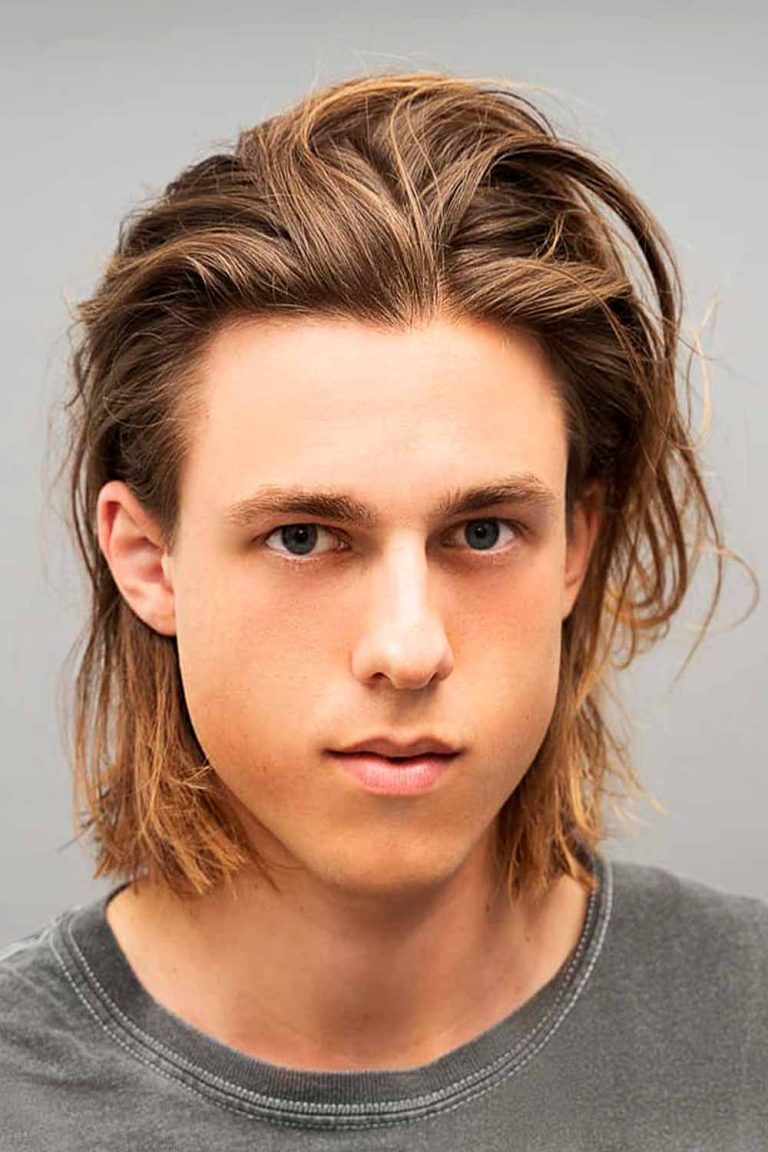 Source: @keller_konturen via Instagram
Long Straight Hair Men
Nothing like the classic straight man locks! This is a no pomp-and-show look for a plain Jane kinda day. When done right, long straight hair men could complete a sleek look. The focus here is only on the length which makes it important to keep the ends trimmed and frizz-free.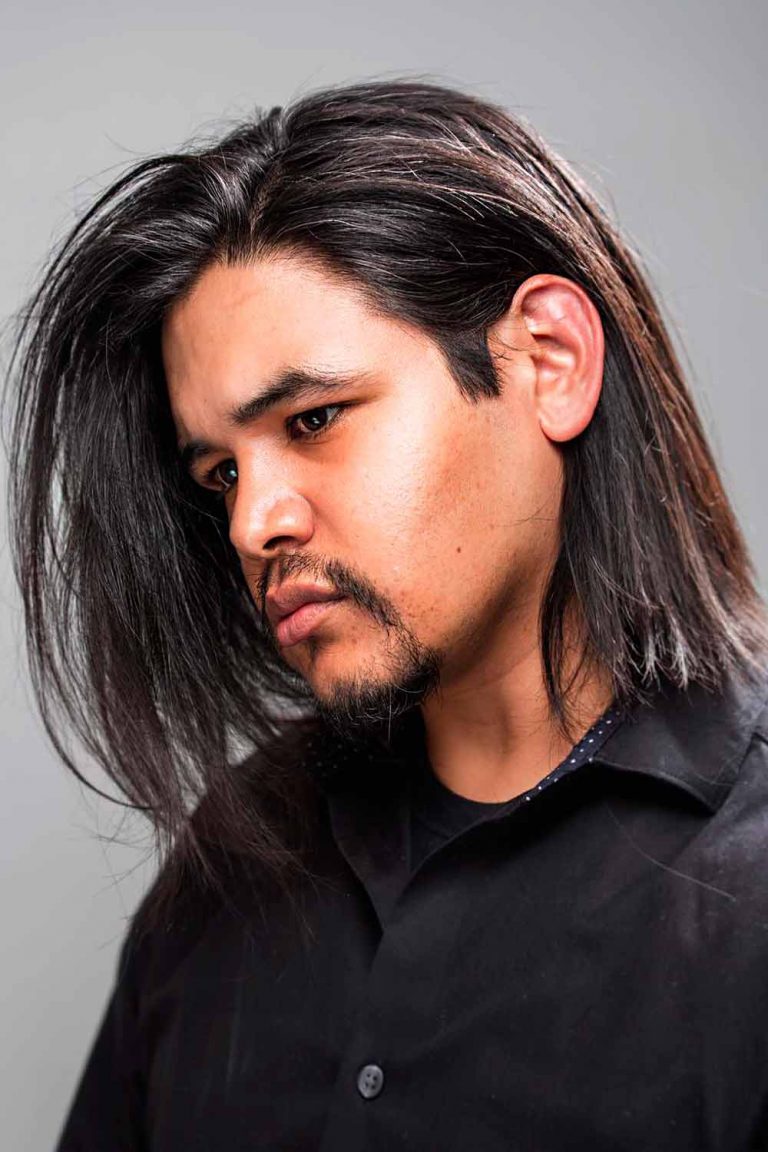 Source: @andrewdoeshair via Instagram
High Knot Men's Long Hairstyles
A high knot is one of those long male hairstyles that keep your locks in order without sacrificing their length. Besides, it has a masculine warrior vibe, which is a great addition to the practical side of top knot hairstyles.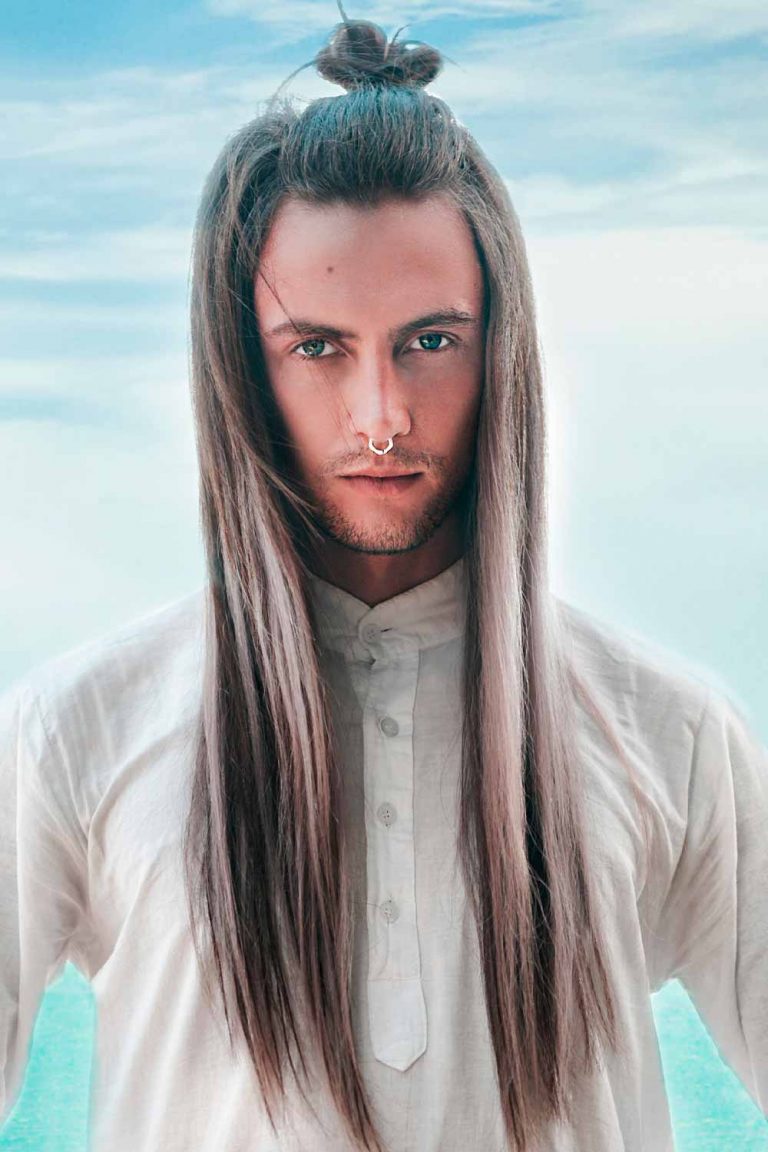 Layered Mens Long Haircuts
A long layered haircut is a versatile and stylish choice that involves cutting the hair into multiple layers of varying lengths. This long hair style man adds texture, movement, and volume to the hair while maintaining a longer length overall. The longer layers provide a soft and flowing appearance, allowing for different styling options such as tousled or slicked-back looks. This haircut is suitable for men who want to achieve a trendy and contemporary hairstyle with a touch of sophistication.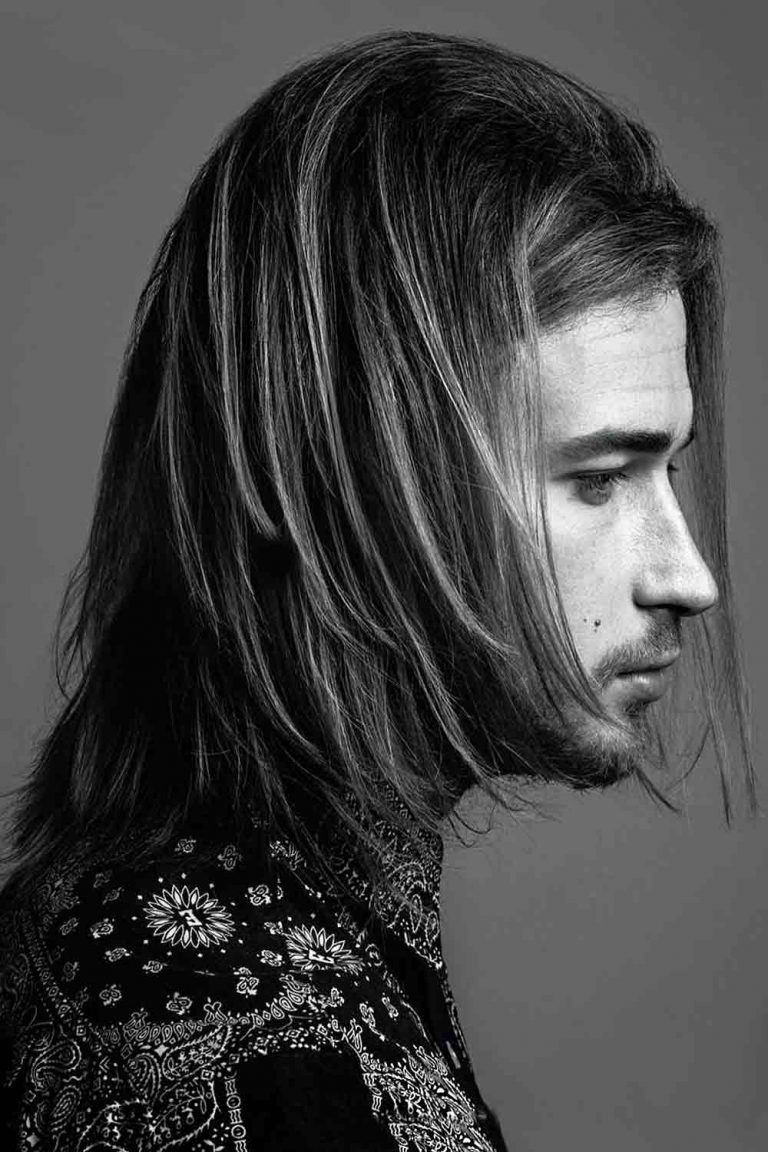 Source: @joth_davies via Instagram
Wavy Hair Middle Part
Long middle part hair male emphasizes the natural texture of wavy hair while maintaining a clean and polished look. The middle part is achieved by parting the hair in the center, allowing the wavy locks to fall on either side of the face. This style has gained popularity due to its versatility and ability to suit various face shapes and personal styles.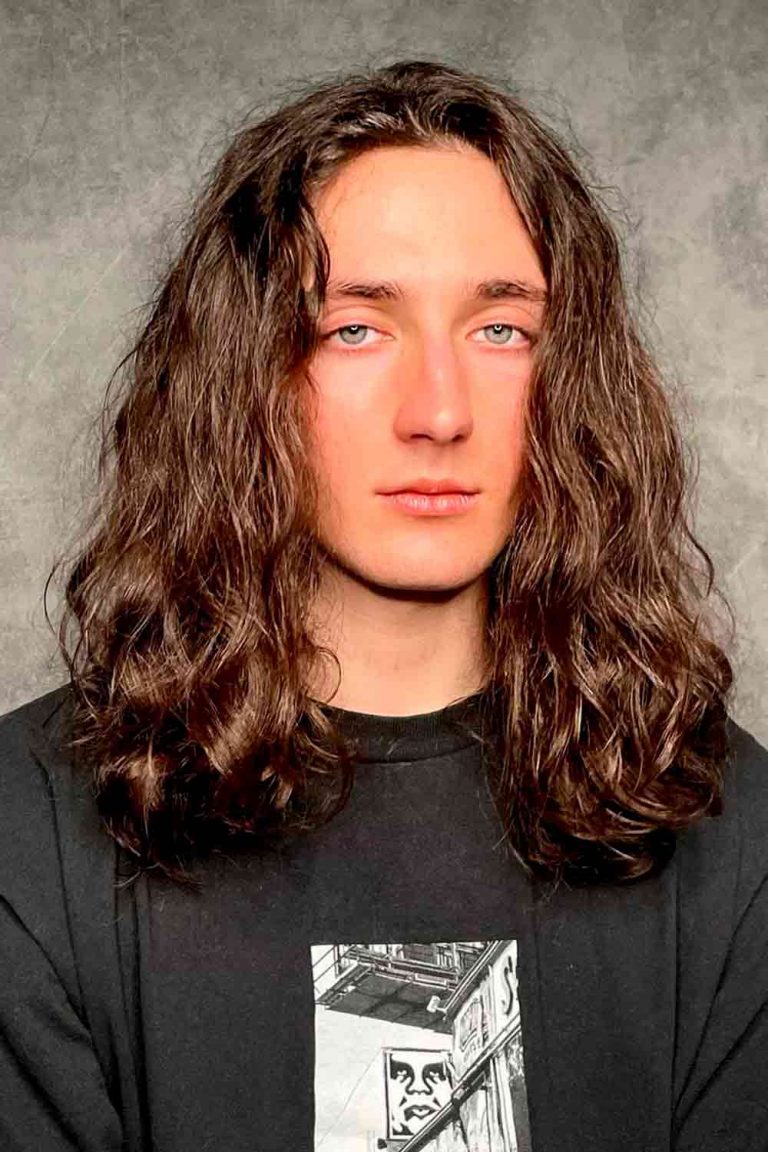 Source: @cut_and_color via Instagram
The Half-Up Mens Long Hairstyle
Just what you need on a Monday. Kick the blues away with this sleek yet messy hairdo. Part your hair into 2 unequal sections from the nape of your neck. Pull the major section into a hair tie and make a loose knot. Let the bottom strands fall free on your shoulders and neck. Your jawline steals all the limelight in this super-quick hairstyle.
Zhuzh up the look with dry shampoo applied into the roots on a bad hair day.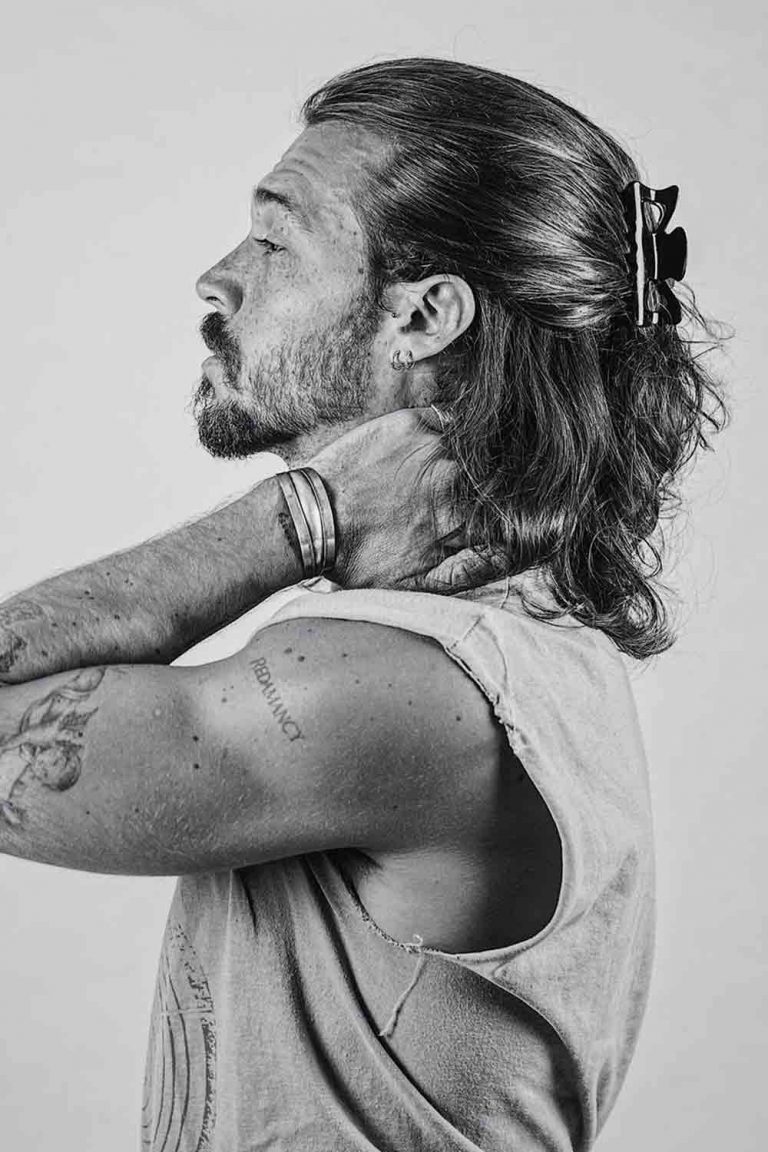 Source: @jeromathew via Instagram
Long Braid
Now this one's for the bold. If you are looking to go all experimental with your long hairstyles men, why not dye and braid them! Neon and pop hair colors like aqua blue, neon green, lime, electric purple, and bright orange are current favorites among guys. Or add some highlights for your natural braids for men.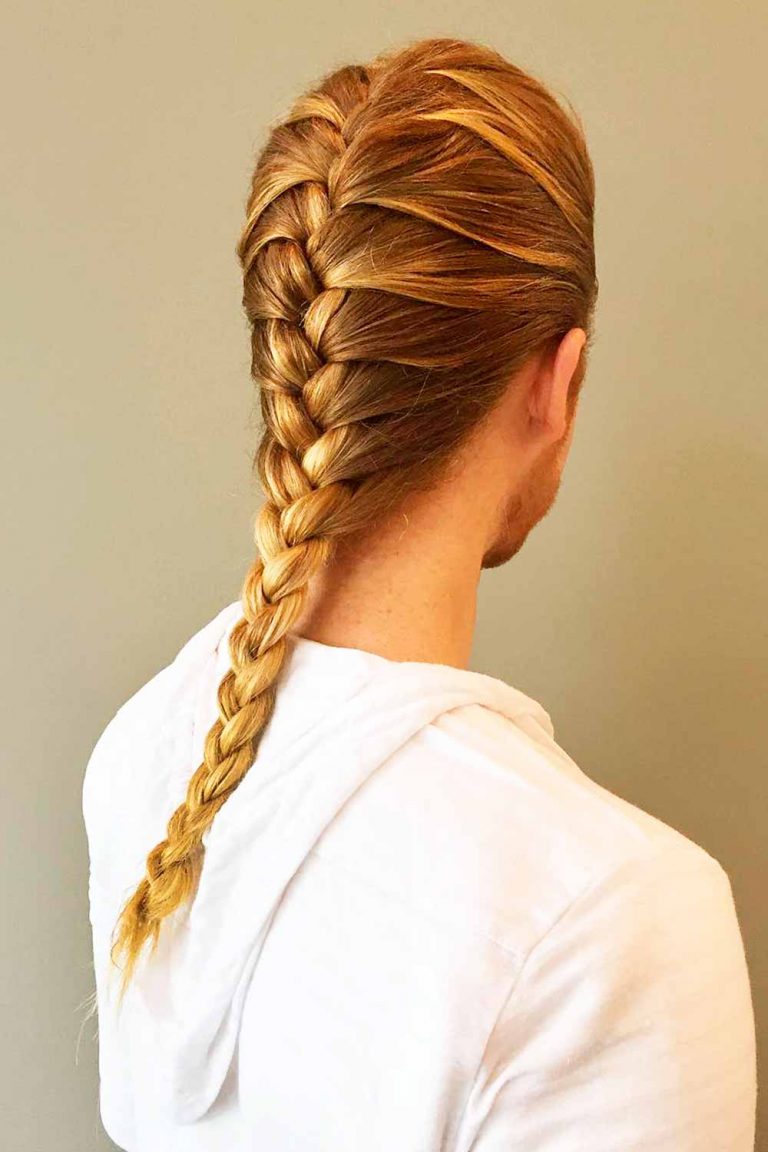 Source: @matthewmane via Instagram
Long Hair Curtain Bangs
Apparently, guys with long hair, especially if they're straight hair men, don't have to make much effort in order to style their divine hair. Just a middle part hair men will be more than enough.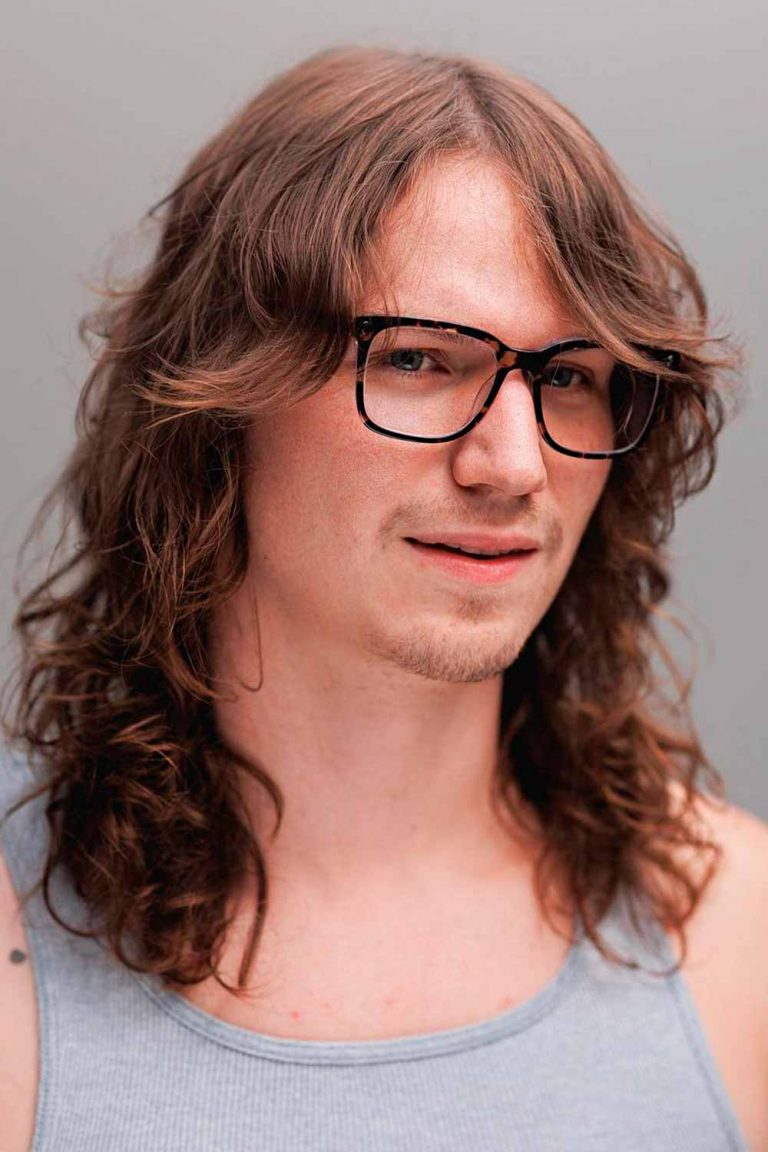 Source: @andrewdoeshair via Instagram
Bro Flow
Tight and bouncy, bro flow haircut is a genuine wonder of nature. You can leave it to grow completely independent to get an incredible messy hairstyle, or you can choose the trendiest look for yourself from the variety of weaves.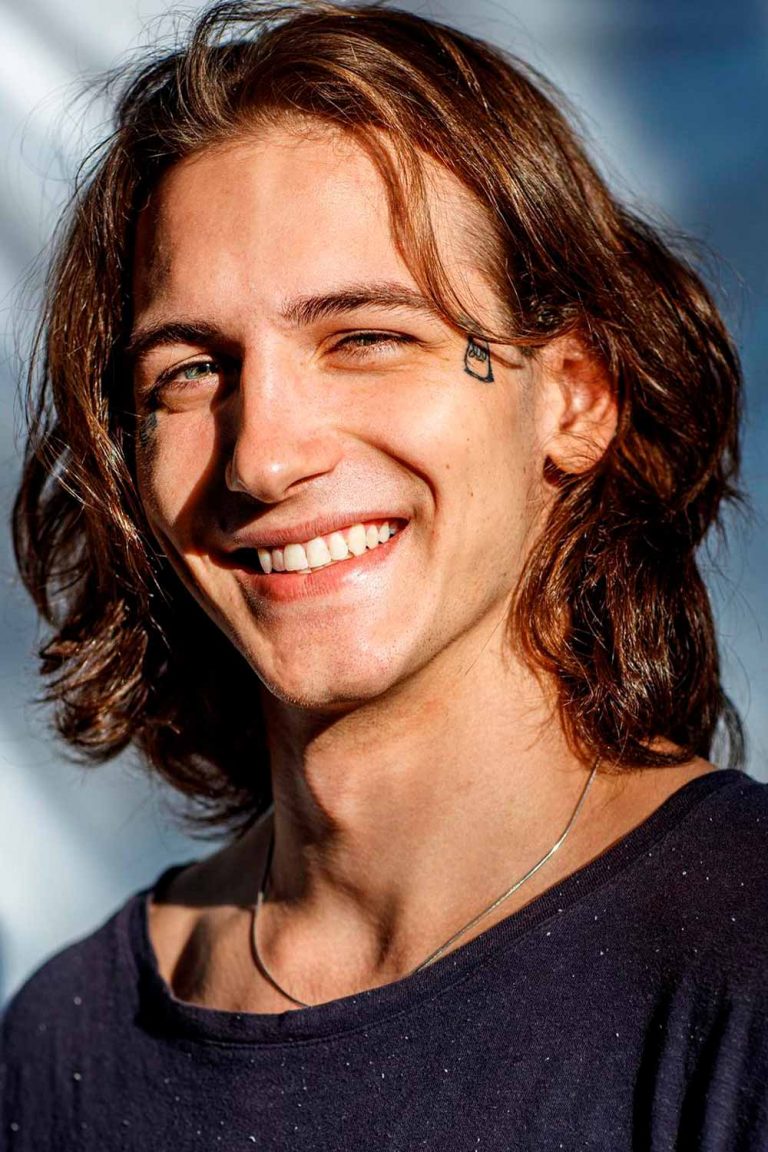 Source: @ilyaratman via Instagram
Blonde Wolf Cut
The hair is typically styled in a tousled and slightly messy manner, resembling the unkempt yet stylish appearance of a wolf's mane. The blond color adds an additional touch of boldness and modernity to the look, creating a striking and eye-catching effect. The wolf cut is popular among fashion-forward individuals seeking a contemporary and edgy hairstyle that exudes confidence and individuality.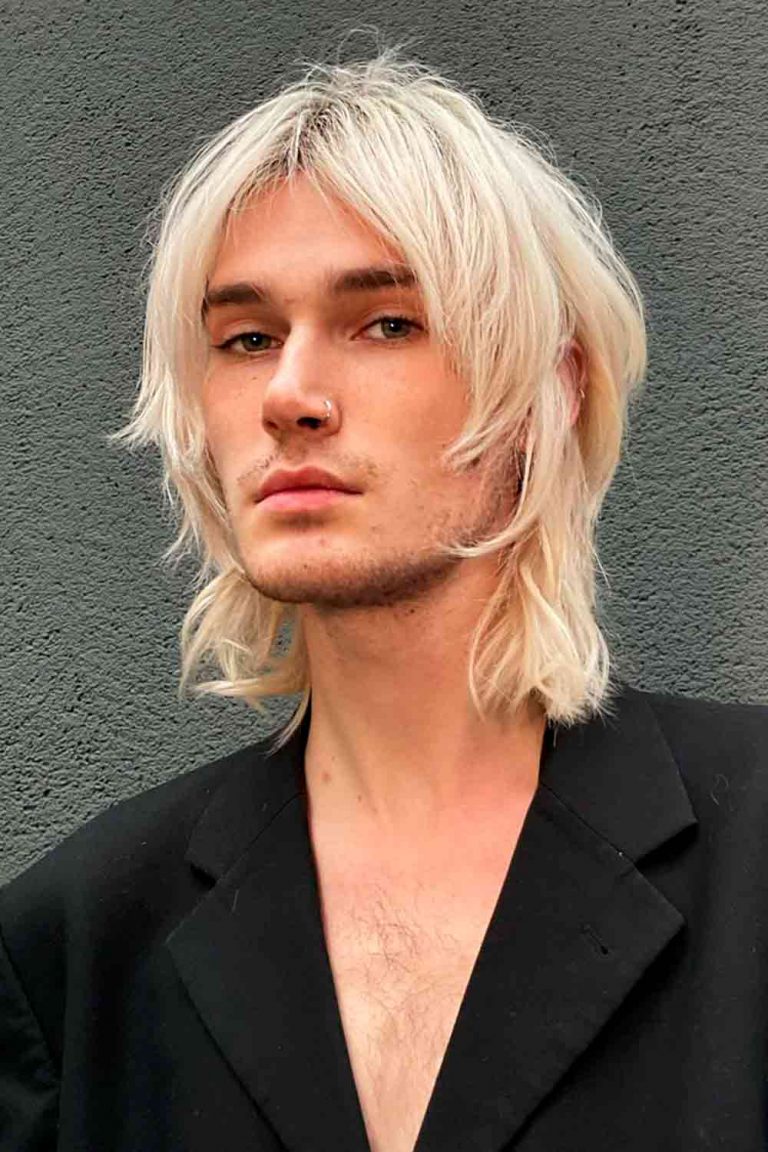 Source: @cut_and_color via Instagram
Man Bun Braids
Being one of the fanciest man bun styles, this disheveled yet stylish look would be appropriate for any occasion, whether formal or casual. By combining the man bun braids, you can gain an even more refined look with an undercut. Also, as man braids doesn't require any special skills or practice, it would really benefit those guys who have no idea how to do a man bun.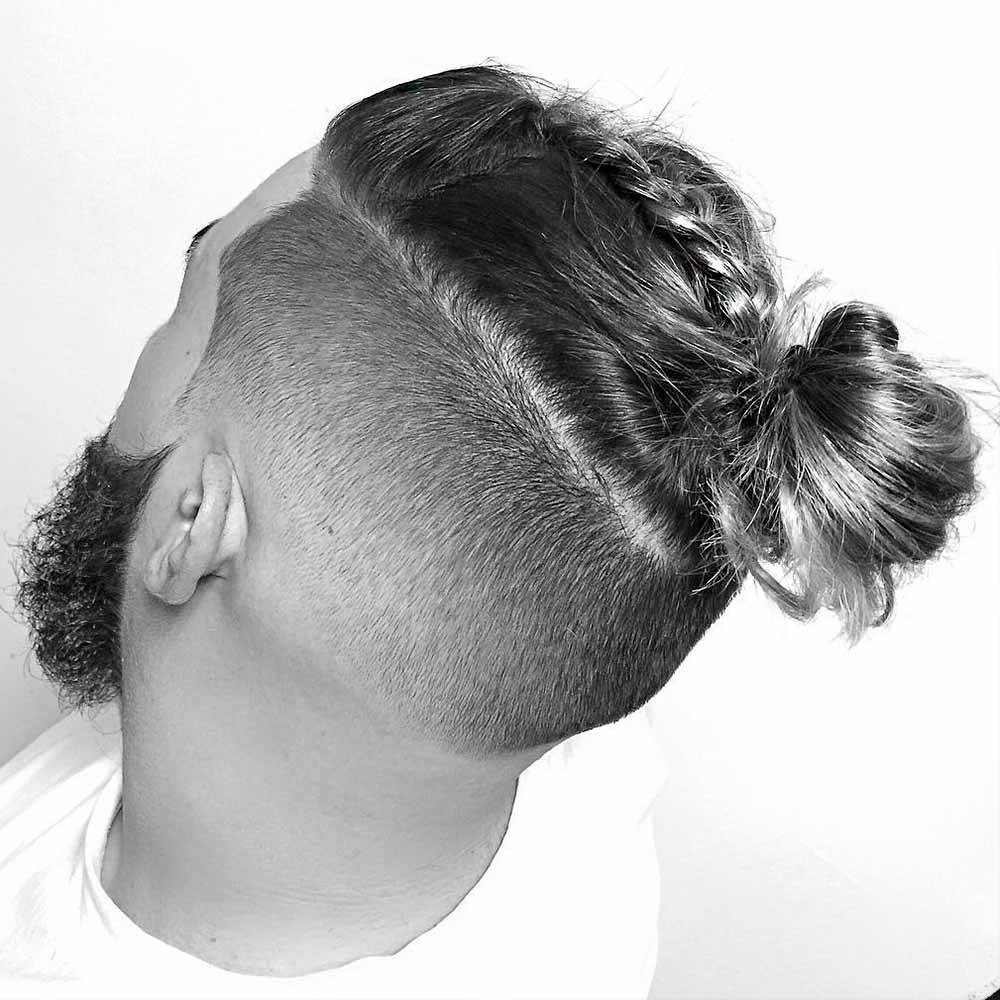 Source: @mikeyyyyyyy_ via Instagram
Curly Hair Ponytail
Some days, you don't feel like wearing either a bun or loose hair. For such occasions, a classic man ponytail would be the real savior. Just add a blob of gel or pomade for extra shine. Another advantage of a ponytail is that it allows you to take your locks away from your face. Such long hair hairstyles men can be exceptionally flattering. On the one hand, they emphasize your masculine facial features, and on the other hand, they don't sacrifice the length of your hair.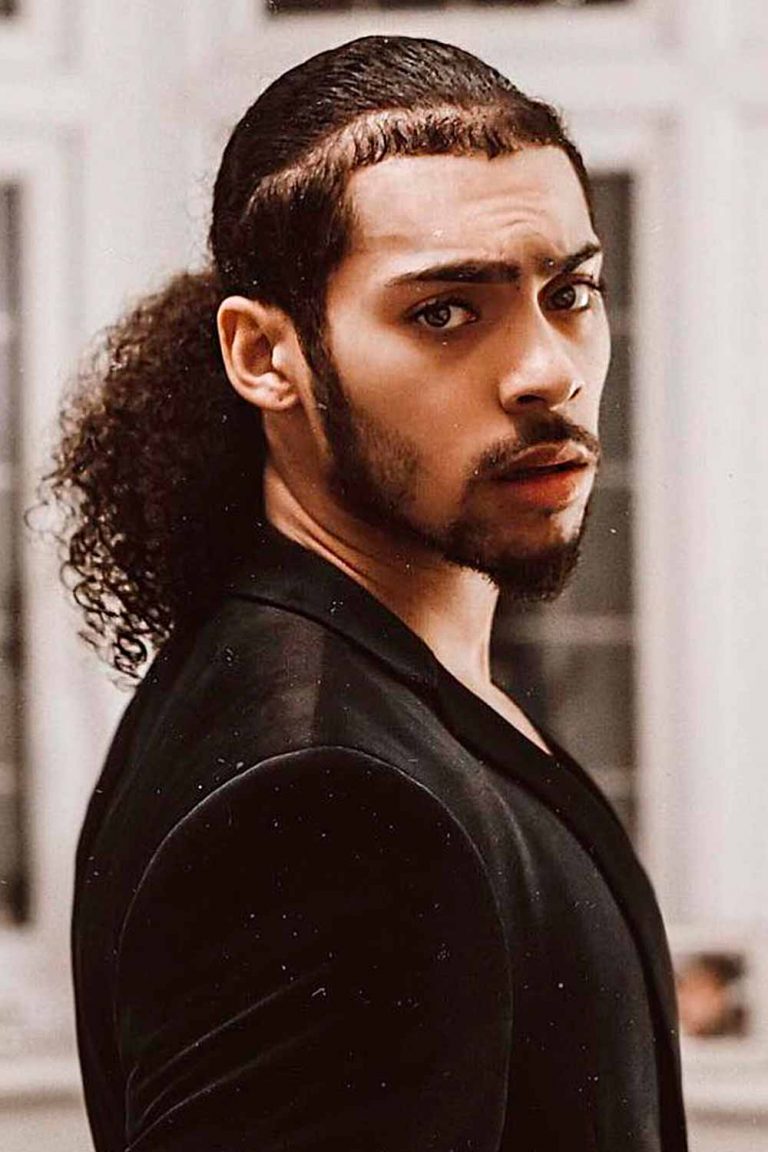 Source: @rtizt via Instagram
Big Cornrows With Beads
Such an impressive hairstyle for truly long hair is actually very easy to recreate. Just brush your hair up into a ponytail, divide it into equal strands, and braid them. When it's done, roll the braids around the bottom of the ponytail and fix their ends with the pins. Even though these cornrows do require some effort, after you master the braids for men, it will be like a piece of cake for you.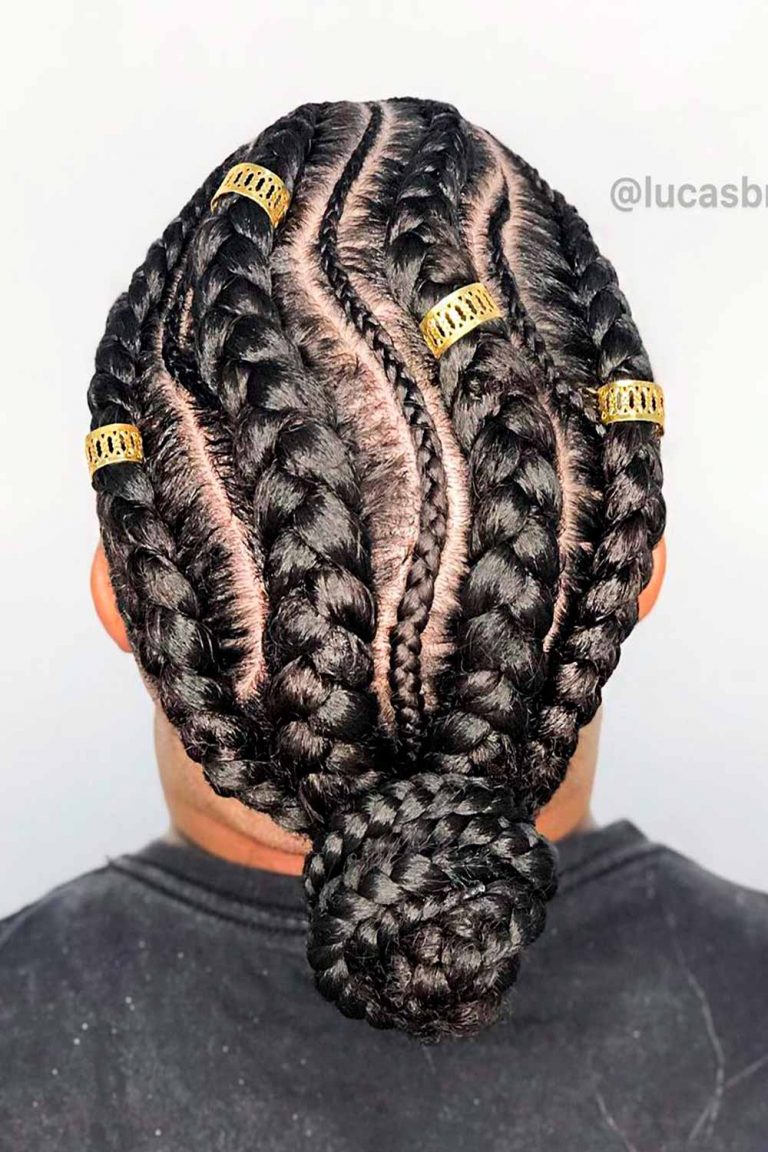 Source: @lucasbraids via Instagram
Straight Brushed Back Medium To Long Hair
Even though there is a great number of slick back hairstyles, the traditional undercut gives the edgiest and chicest touch to your look. To achieve such a brushed back, just gather all the hair back, and voila! The star of the mens long hairstyles is up.
Source: @mattyconrad via Instagram
i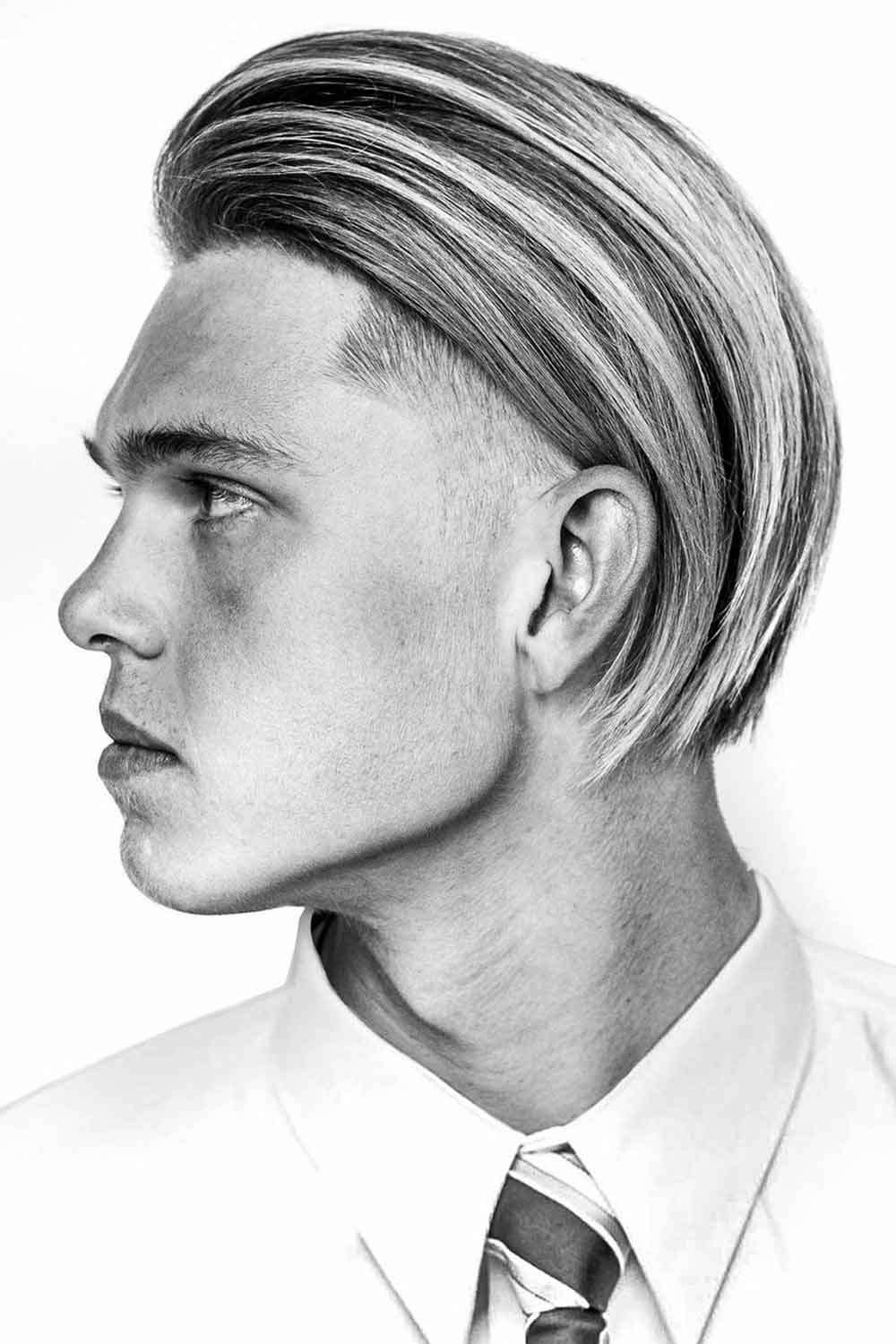 Source: @andrewdoeshair via Instagram
i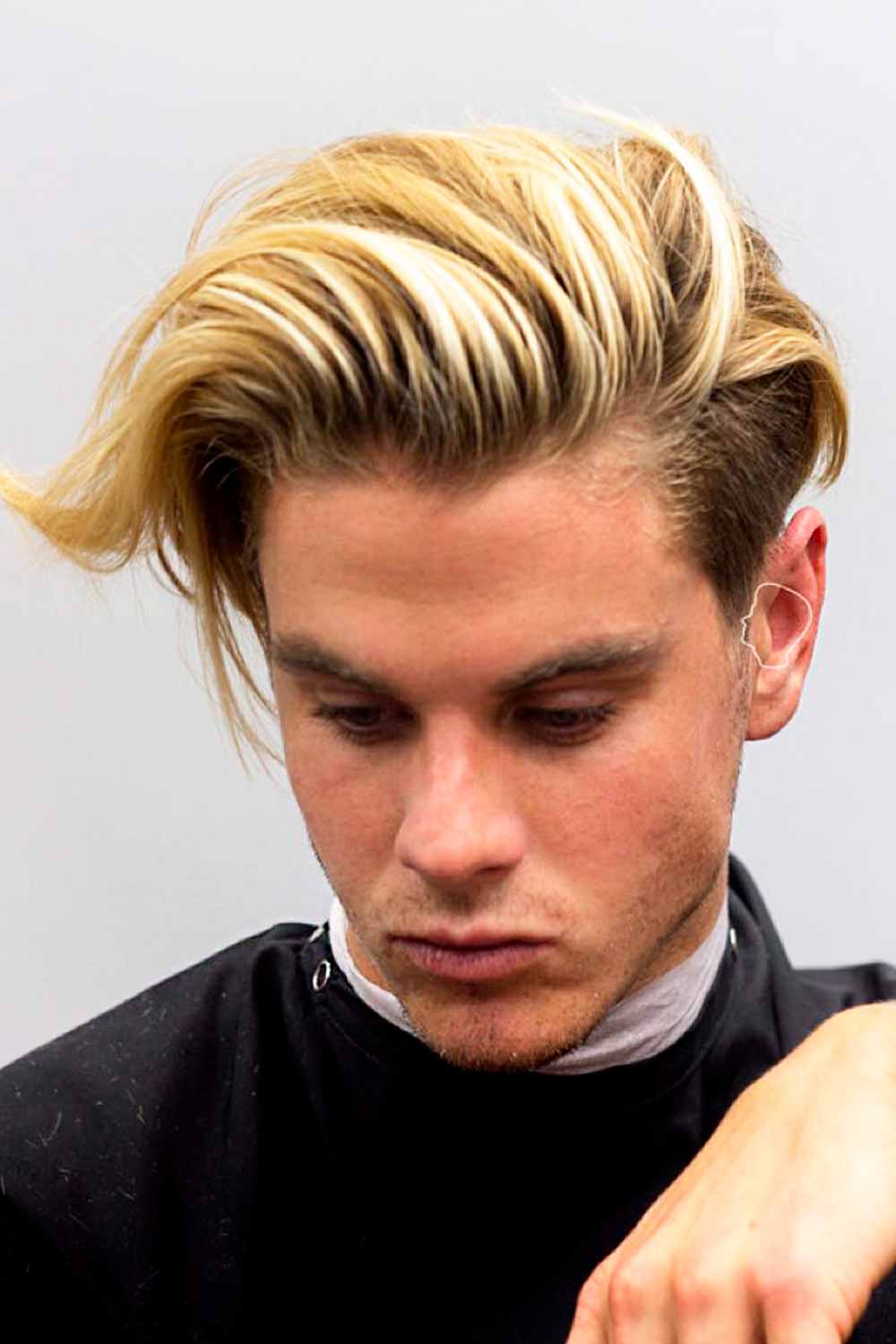 /
Long Curly Hair Men
Choose the hairstyle based on your hair length, texture, and type. Remember that long curly hair in men always takes more time and effort to grow and maintain. But, boy is it worth it!
Source: @najeebatallah via Instagram
Faux Hawk Viking Braids
Want to rock long hair with shaved sides? Viking braids are your best bet. These braids look killer if you have strong, dense, defined, and longer hair on the top part of your scalp. To achieve this style, part the top hair into a box. Shave and cut the rest of the hair on the sides as much as possible. This will automatically give a 'lift' to your top hair.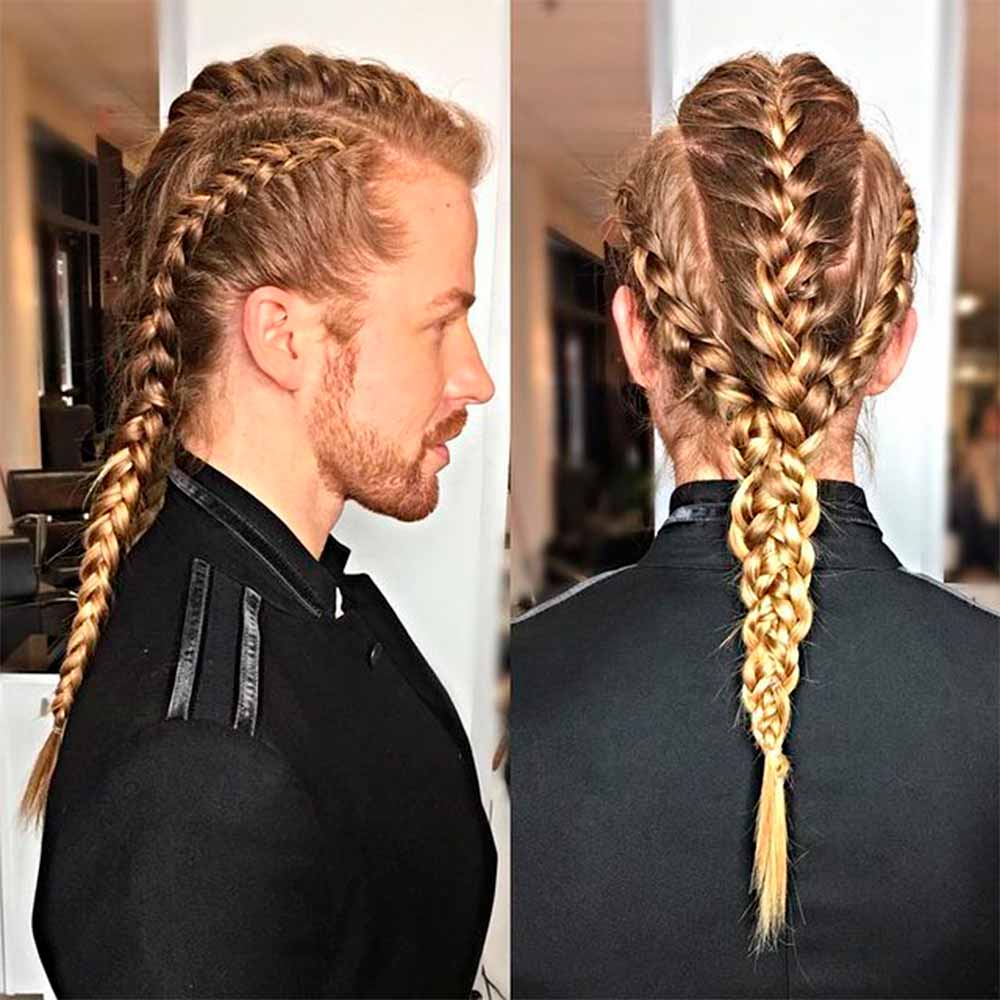 Half-Up Ponytail Long Hairstyles For Men
Long hair guys love to put their locks in a pony. But did you know that you could also add a trendy and bold touch to it? Enhance your long hair with half-up ponytail and you will notice how it makes a world of difference.
Simple Braid Long Hair Men Styles
Another awesome way to avoid chopping off your long hair male mane when it is starting to drive you mad is by gathering your tresses in a braid. You do not have to go for something overly elaborate. A simple braid will work just fine.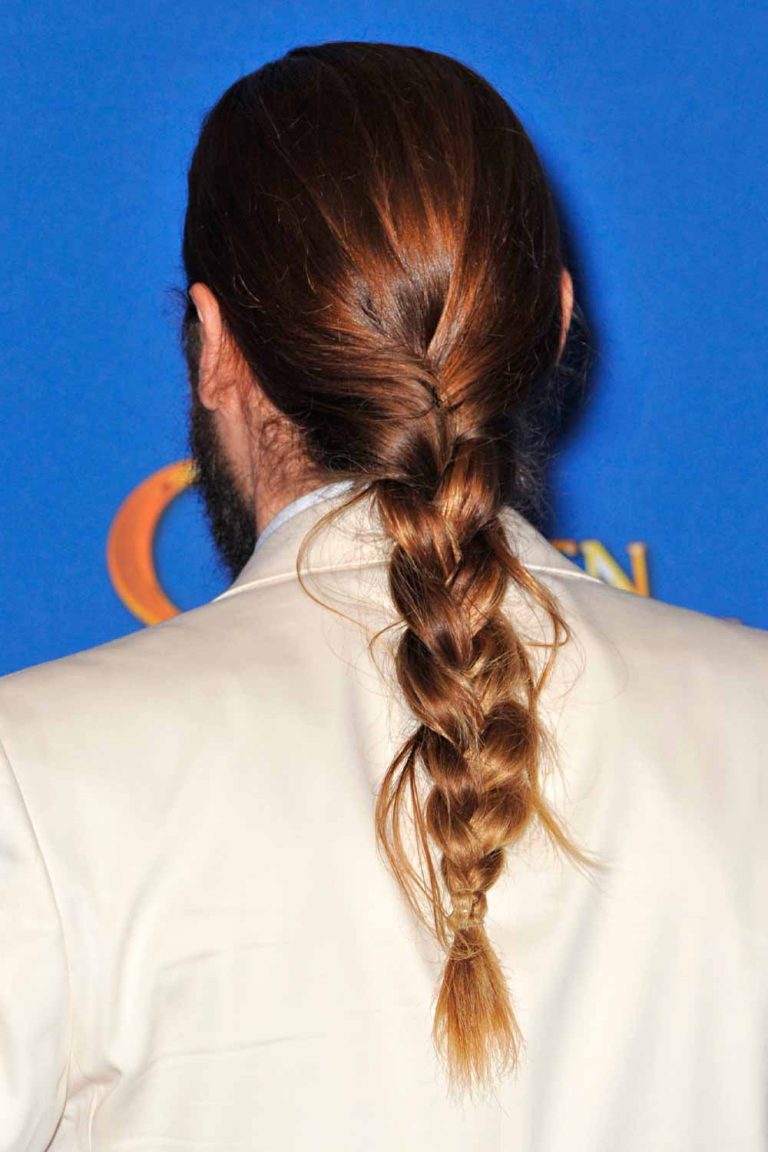 Featureflash Photo Agency/Shutterstock
High Curly Man Bun
Ask yourself, "What is a man bun?" Even if you're not really into long hairstyles for men, most likely, the first thing that comes to your mind would be "a messy knot." And you'd be more than right. The original man bun suggests an updo that is offhandedly twisted on the top of the head and secured with an elastic band or hair clip. In case you've ever wondered how to do a man bun on curly hair men, this could be a quick guide for you.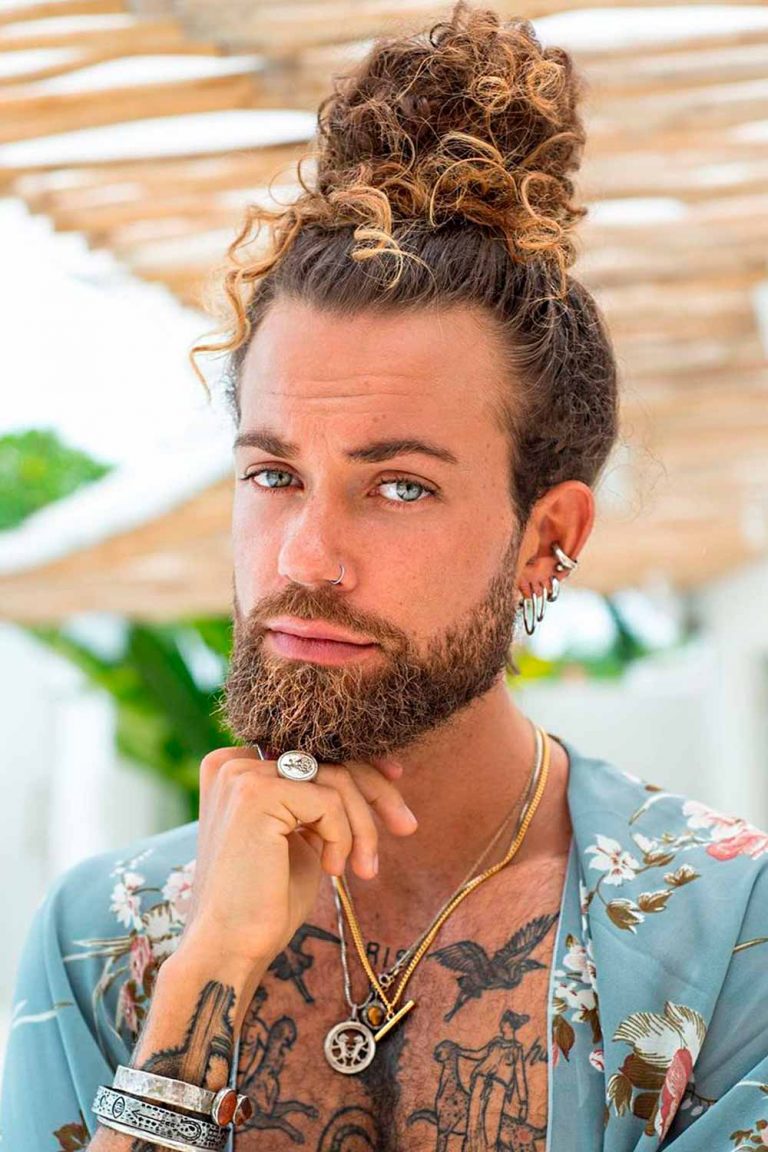 Source: @hank_ge via Instagram
Long Cornrows
Long vertical cornrow braids are absolutely stunning on their own. However, you can enhance the crazy cornrows with razor undercut sides and a hint of color.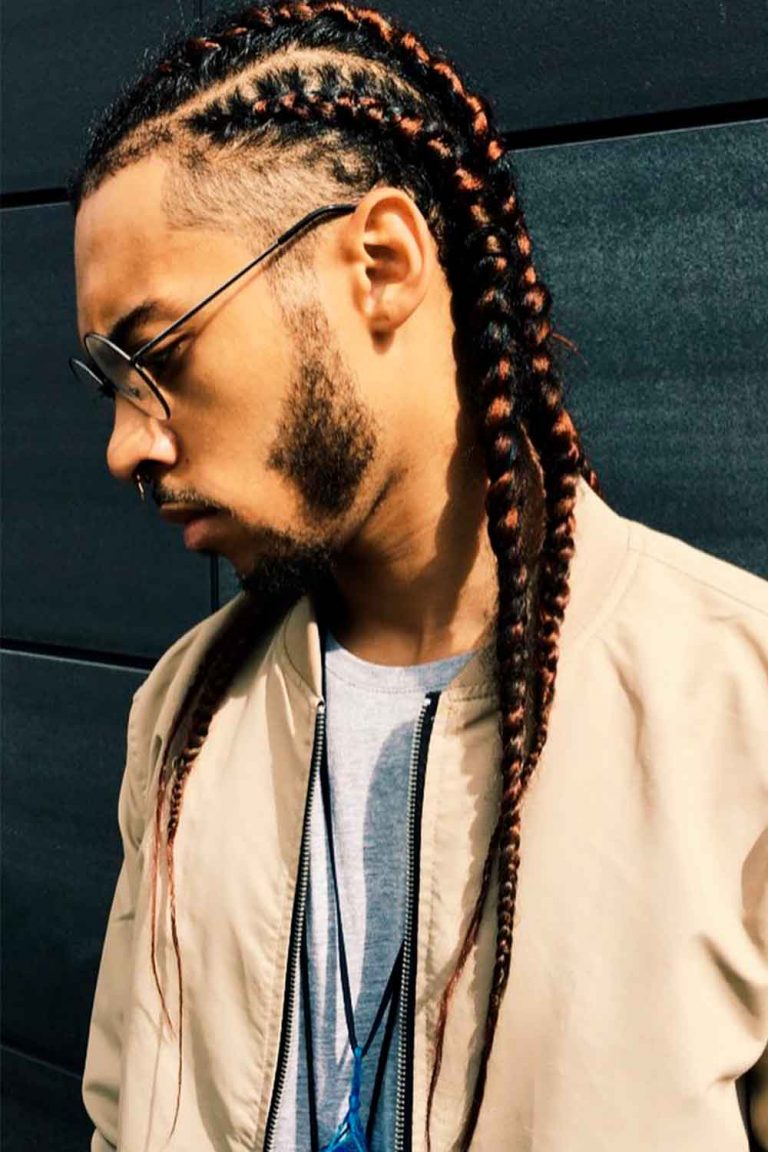 Source: @rtizt via Instagram
Long Fishtail Braids
A fishtail braid look is an unforgettable experience. However, you can double this bohemian effect of the mens long hairstyles by doubling the number of the fishtail braids.
Source: @grahamsnaturalcurls via Instagram
Side Parted Bob Long Hair Haircuts Men
Looking hot? Exactly! Try this haircut and you will not go unnoticed.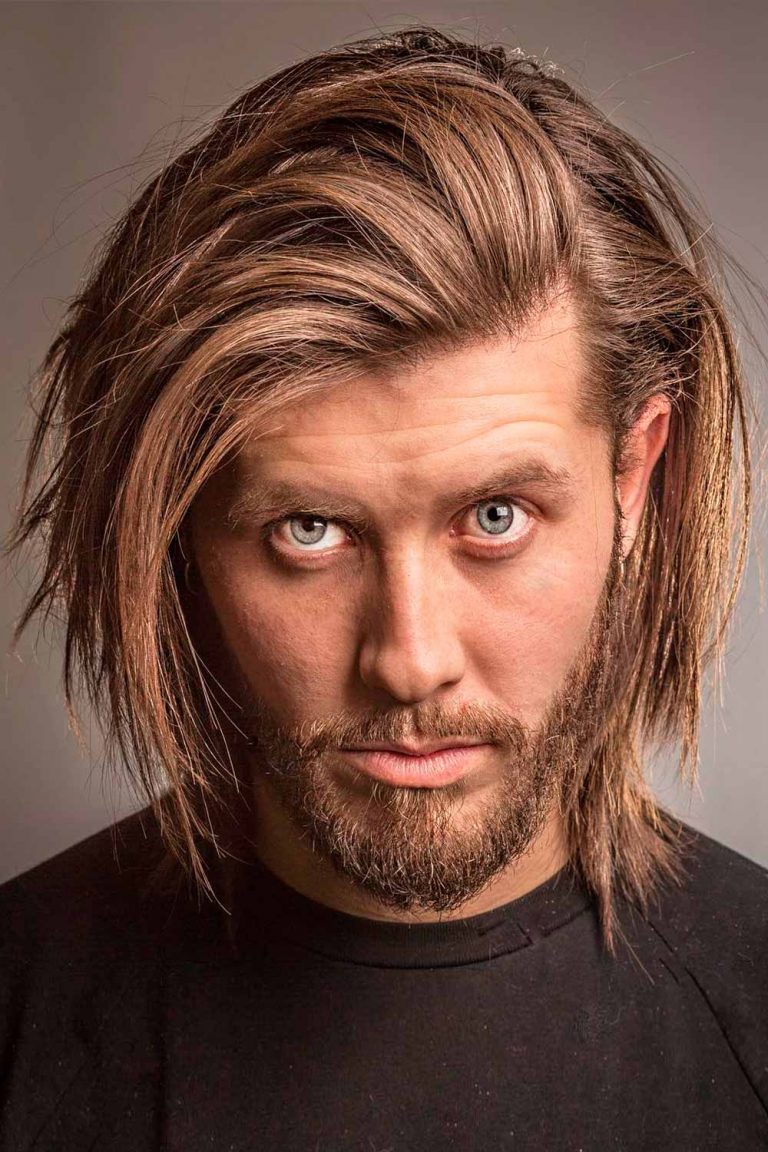 Source: @tombaxter_hair via Instagram
Half-Up Braided Bun Mens Long Hairstyles
Braided buns are an easy way to maintain the braids and give you a neat look. This is one hairdo that shows off your hair length and highlights your face contours. French, Dutch or side braids can be the base of this look. Once you get the braids done, just pull the top section into a loose bun. Secure with a hair tie. Let the bottom bunch of braids hang loose on your upper back or shoulders.
Complete this hairstyle with either a long beard, a stubble, or a close-clipped beard. Hello, hottie!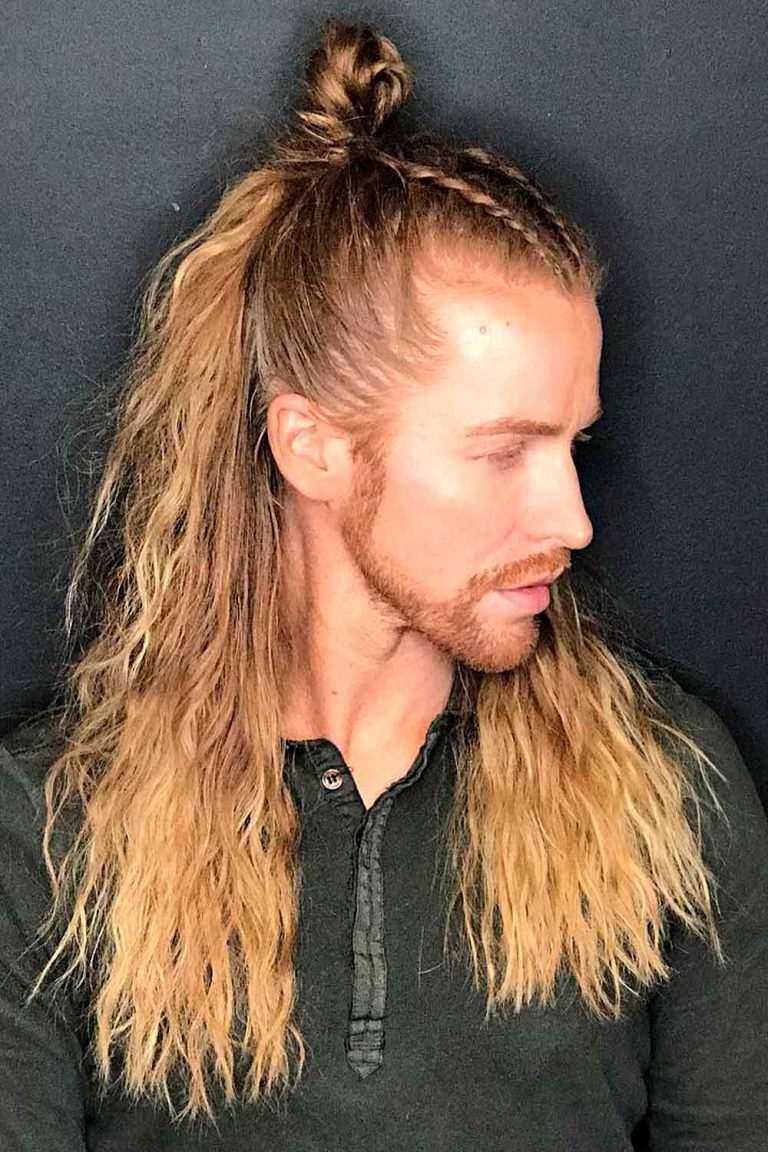 Source: @matthewmane via Instagram
Men Long Hairstyles With Bandana
Long haircuts for men call for hair accessories. If you want it to be not only stylish but also practical, tie a bandana around your head. In addition to giving your appearance a trendy touch, it also stops your hair from getting into the way.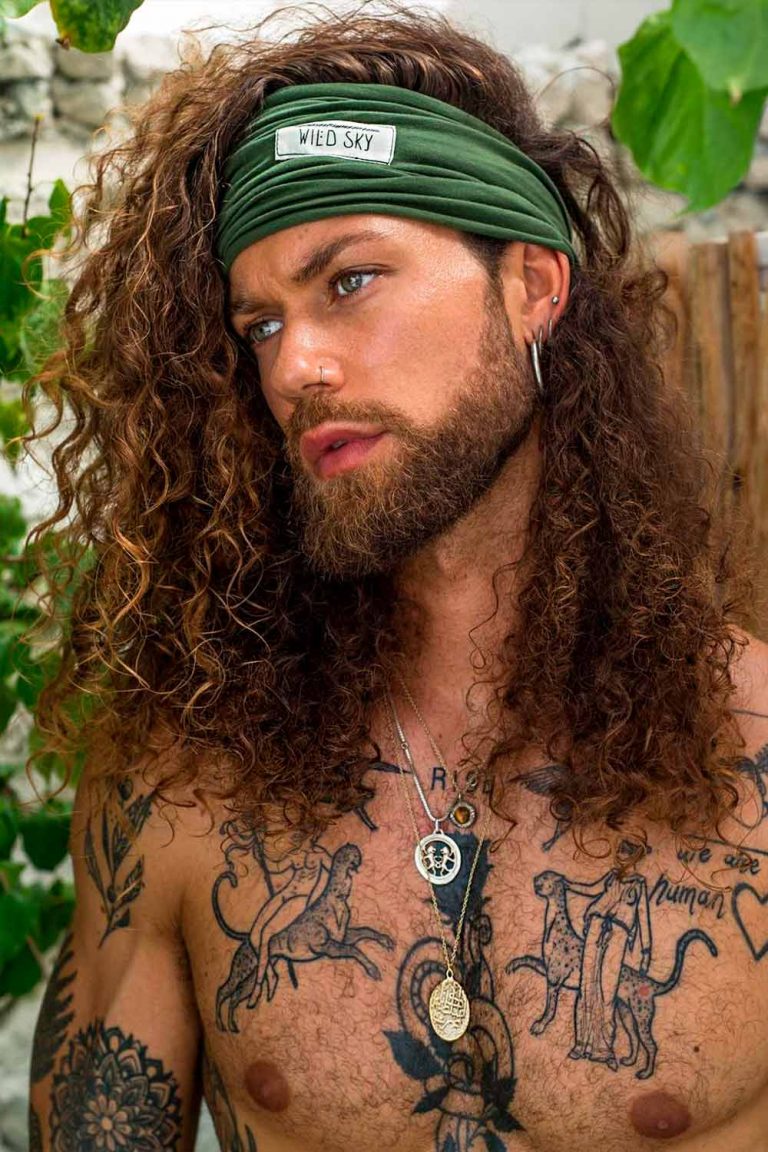 Source: @hank_ge via Instagram
Braided Top Low Fade
Man braid styles have become popular in recent years. Guys with long hair experiment with different mens long hairstyles, including braids. Combine it with fresh low taper or low fade cut for more completeness.
Source: @ahmetaslanhairsalon via Instagram
i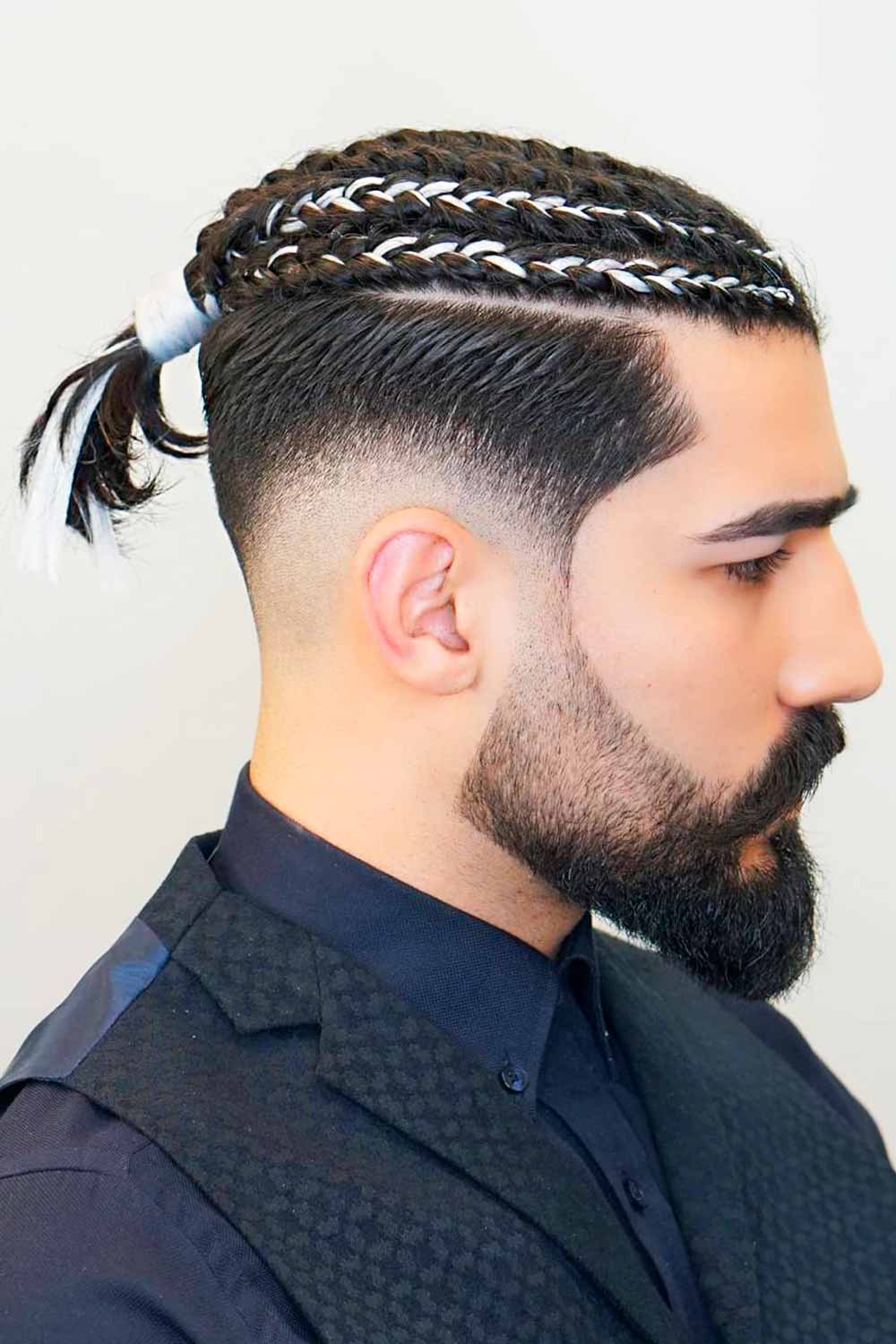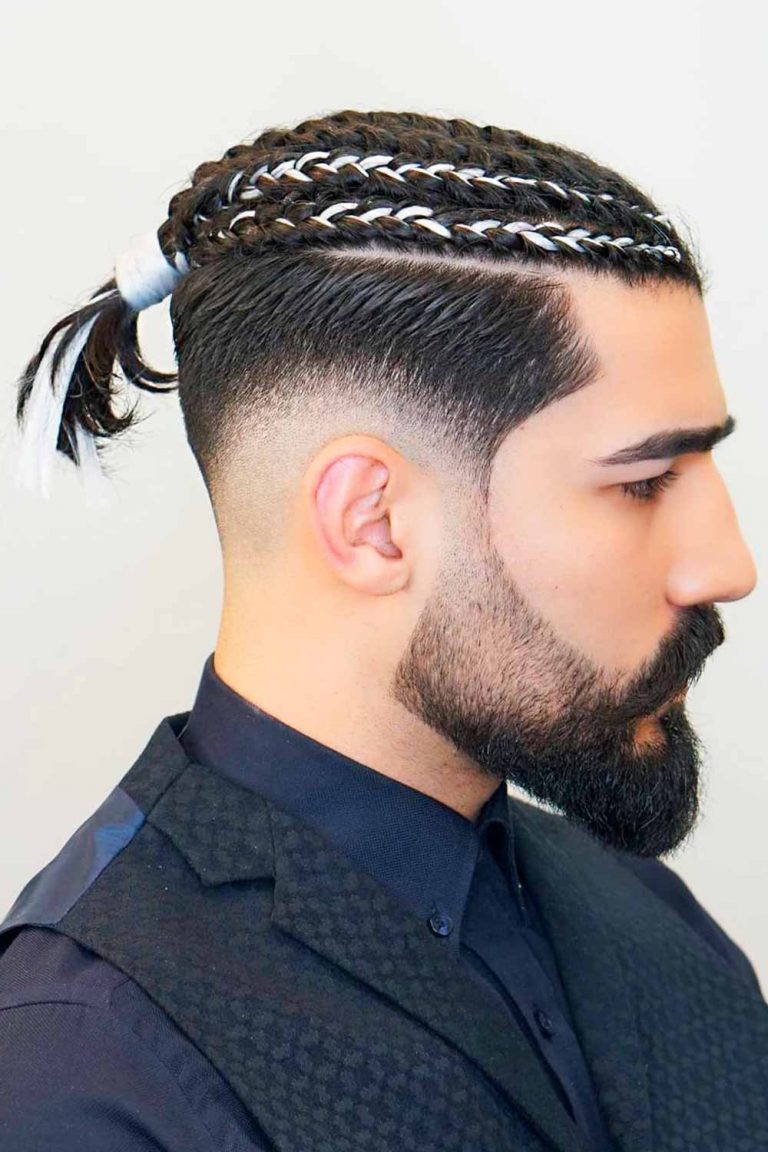 Source: @ahmetaslanhairsalon via Instagram
i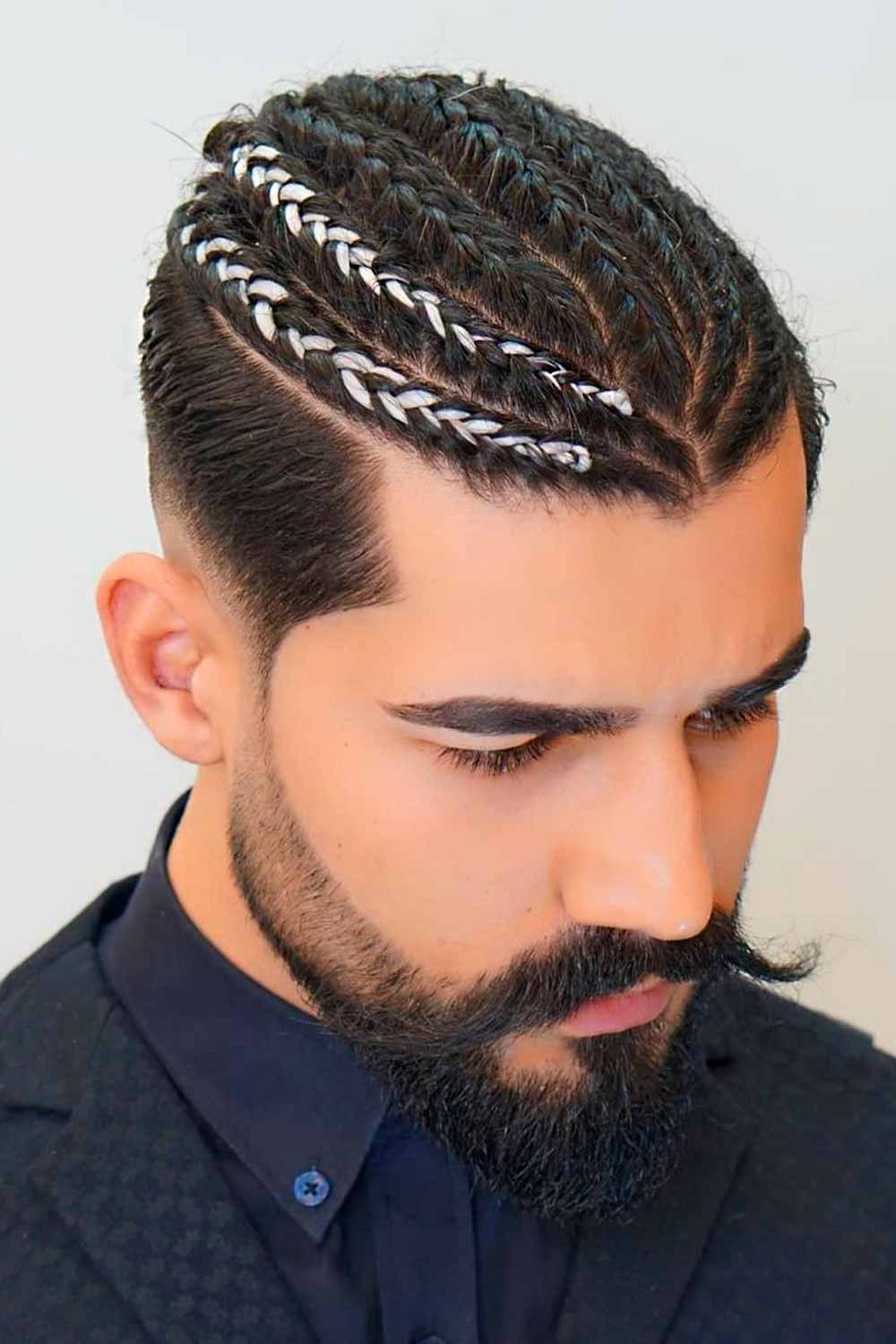 Source: @ahmetaslanhairsalon via Instagram
i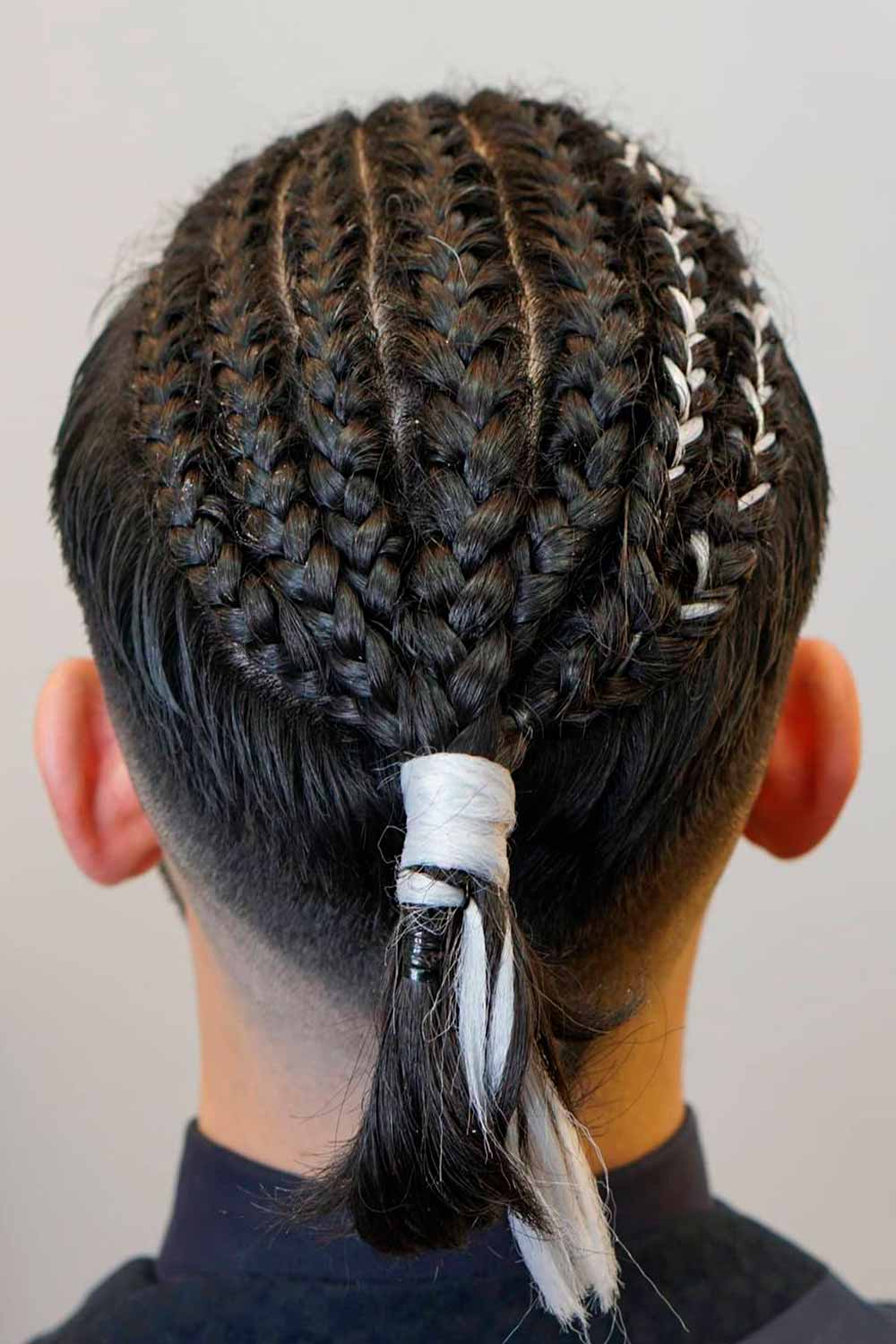 /
Box Braids For Men With Long Hair
To achieve this look, invest in a good hairstylist that uses genuine hair color products. Once your hair color is fixed all you need to do is braid your hair! You can flaunt a loose, messy single braid or wear tight long corn-row or box braids. Adding an undercut gets you a +100!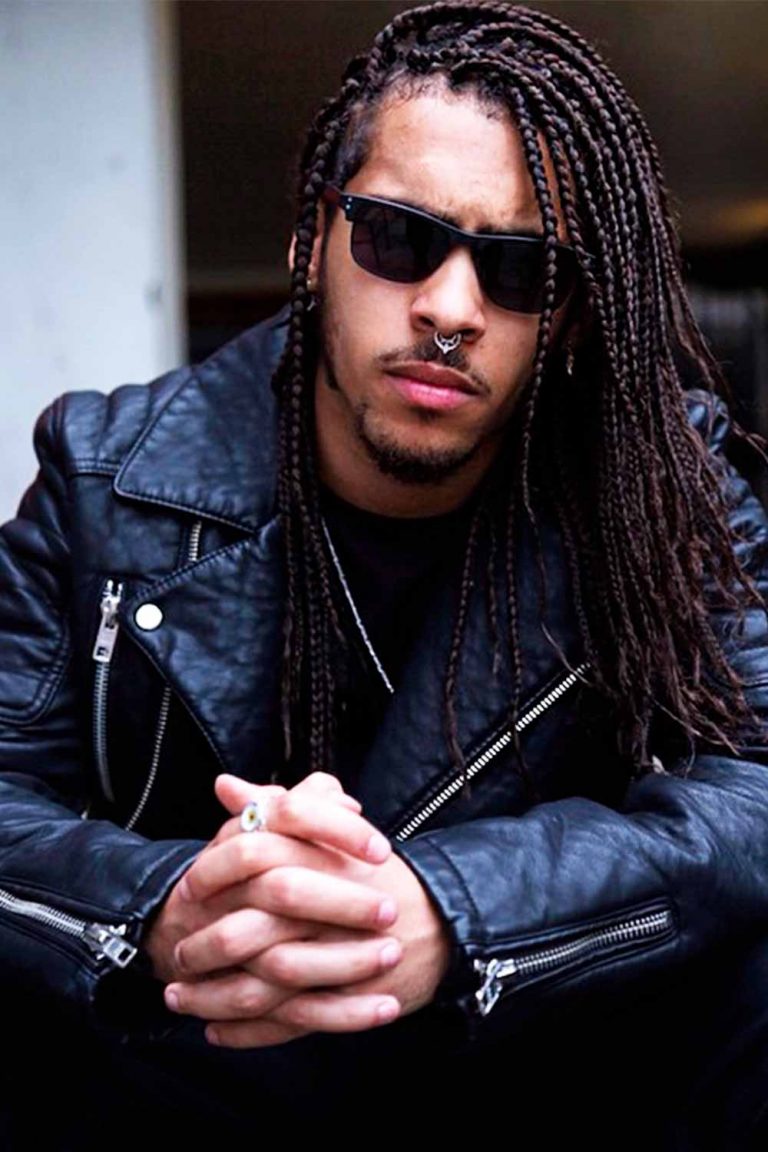 Source: @rtizt via Instagram
Long Layered Mullet
Long modern mullet styles look extremely fresh in any environment. To get the most out of them, make sure your hair is some shaggy style. Brush it thoroughly and create your mullet haircut at your neck-level.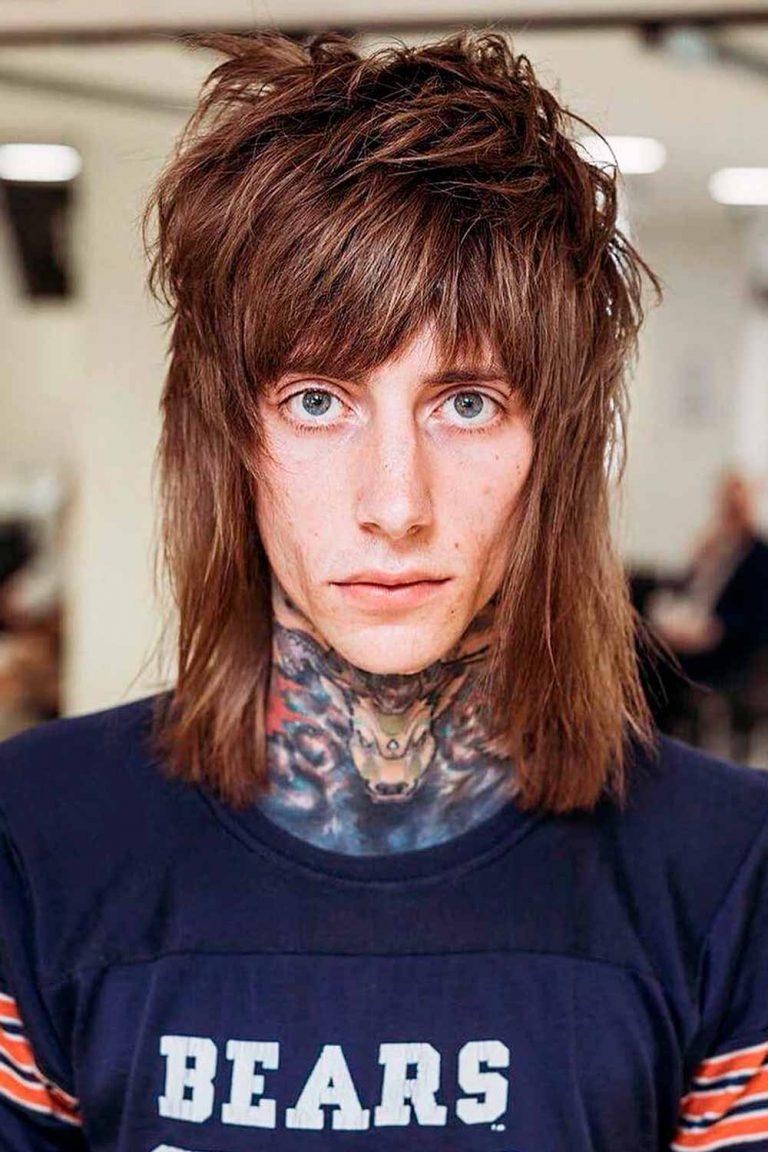 Source: @dexterdapper via Instagram
Man Bun With Bandana
Longer hairstyles for men can sometimes make men feel compromised. So that it will not happen, you may want to complement your look with something that shows off your virility as much as possible. And that is when a bandana comes into play. What facial hair style you are going to rock is up to you. Yet, you can rest assured that when you pair your long hairstyle with a beard, no one will question your masculinity.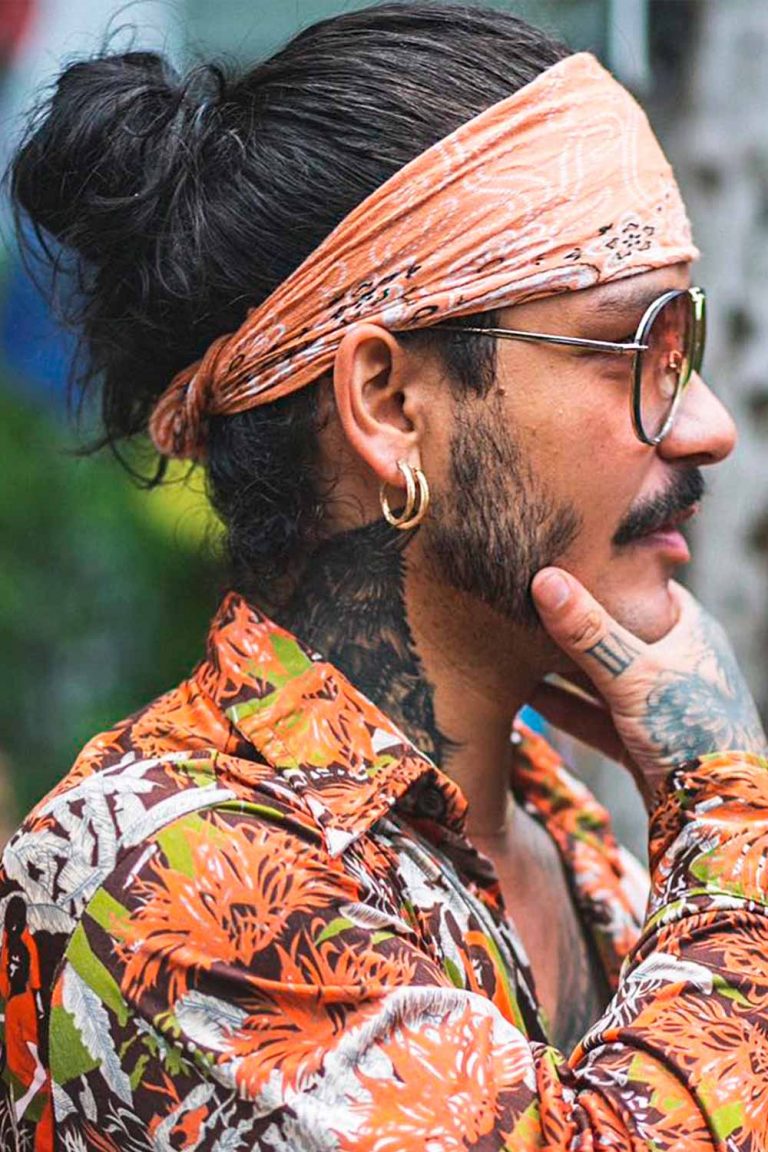 Source: @mikeyyyyyyy via Instagram
Braided Top Undercut Fade
If you want to really pop with your OMG braided hairstyles, then you should definitely try the braids with an undercut. We strongly recommend starting with this unbelievable simple men long hair styles. It's very eye-catching and graphic due to the undercut sides with carved partings.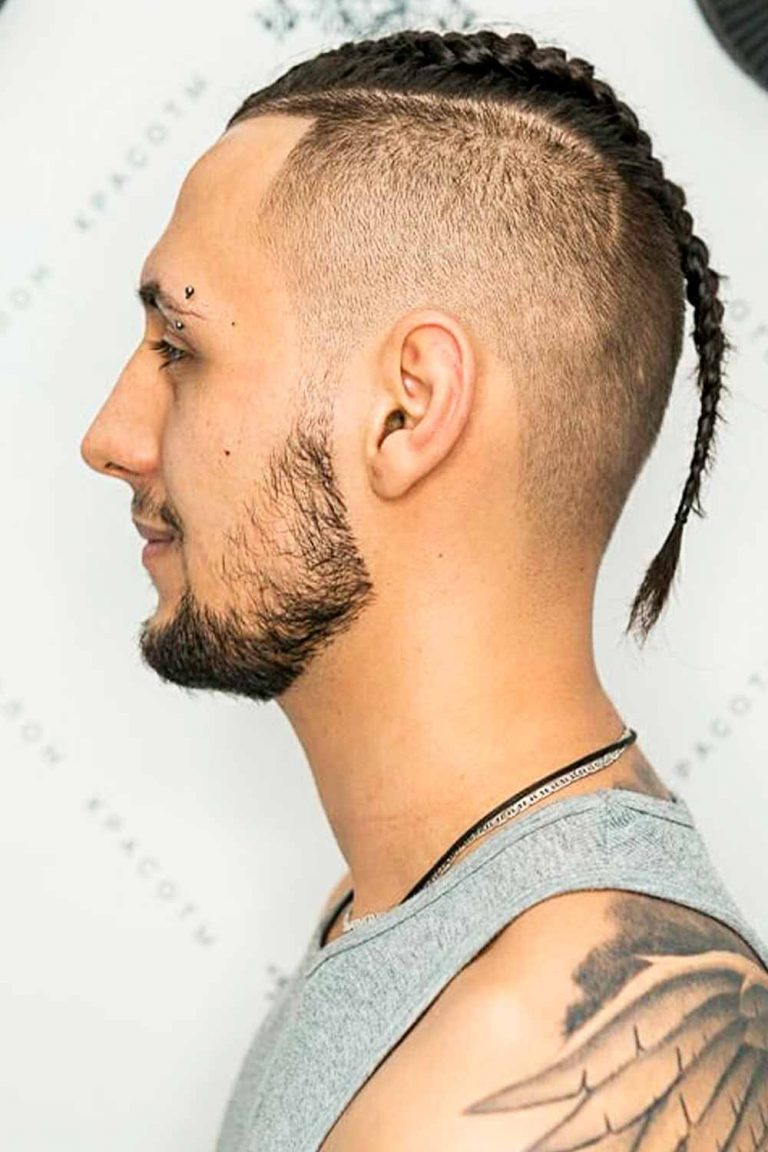 Source: @nata_grigorovich via Instagram
Undercut Design With Braids
Still looking for an unusual and eye-catching hairstyle? Have a look at these cornrow braids. Unlike classic braids, the cornrow braids with undercut design create a more neat and modest look.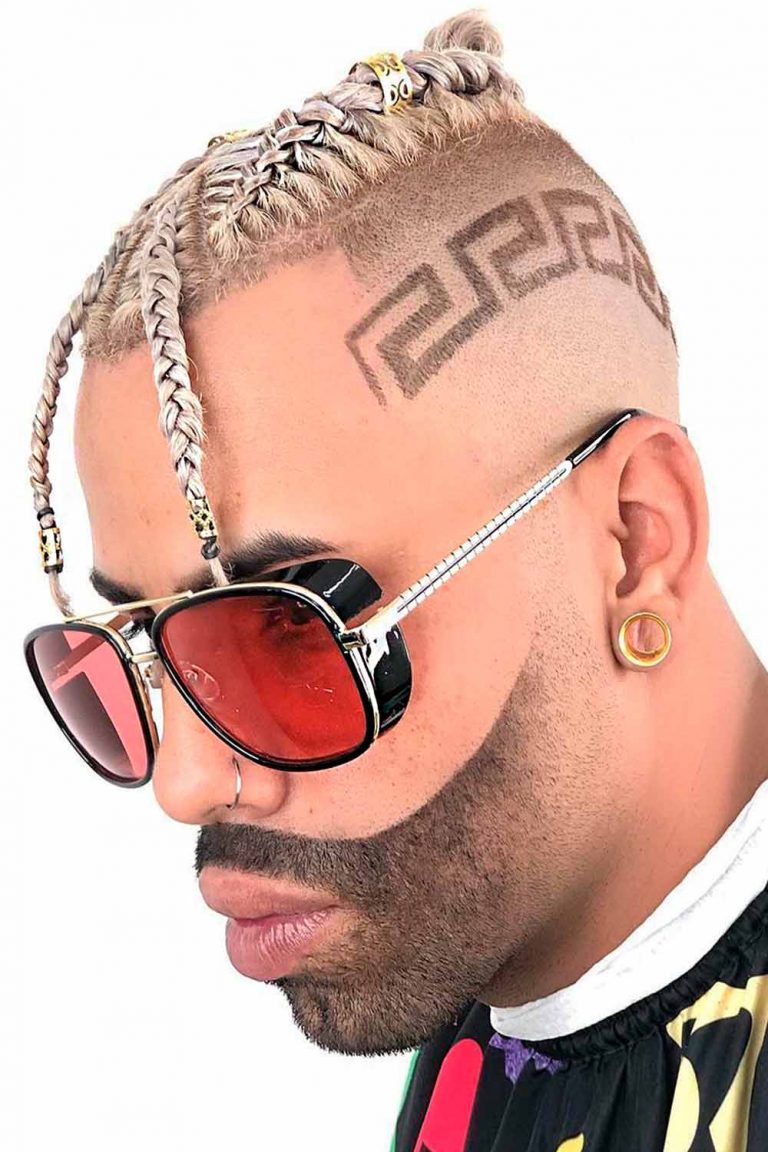 Blonde Dreadlocks
You can never go wrong with a classic hairstyle, even if it is dreadlocks. If you guy with long hair and do not like to experiment with your hair look much, just go for traditional dreads. As they already appear quite intricate and elaborate, they do not require additional styling while a short stubble of facial hair will not hurt.
Source: @exotismos via Instagram
i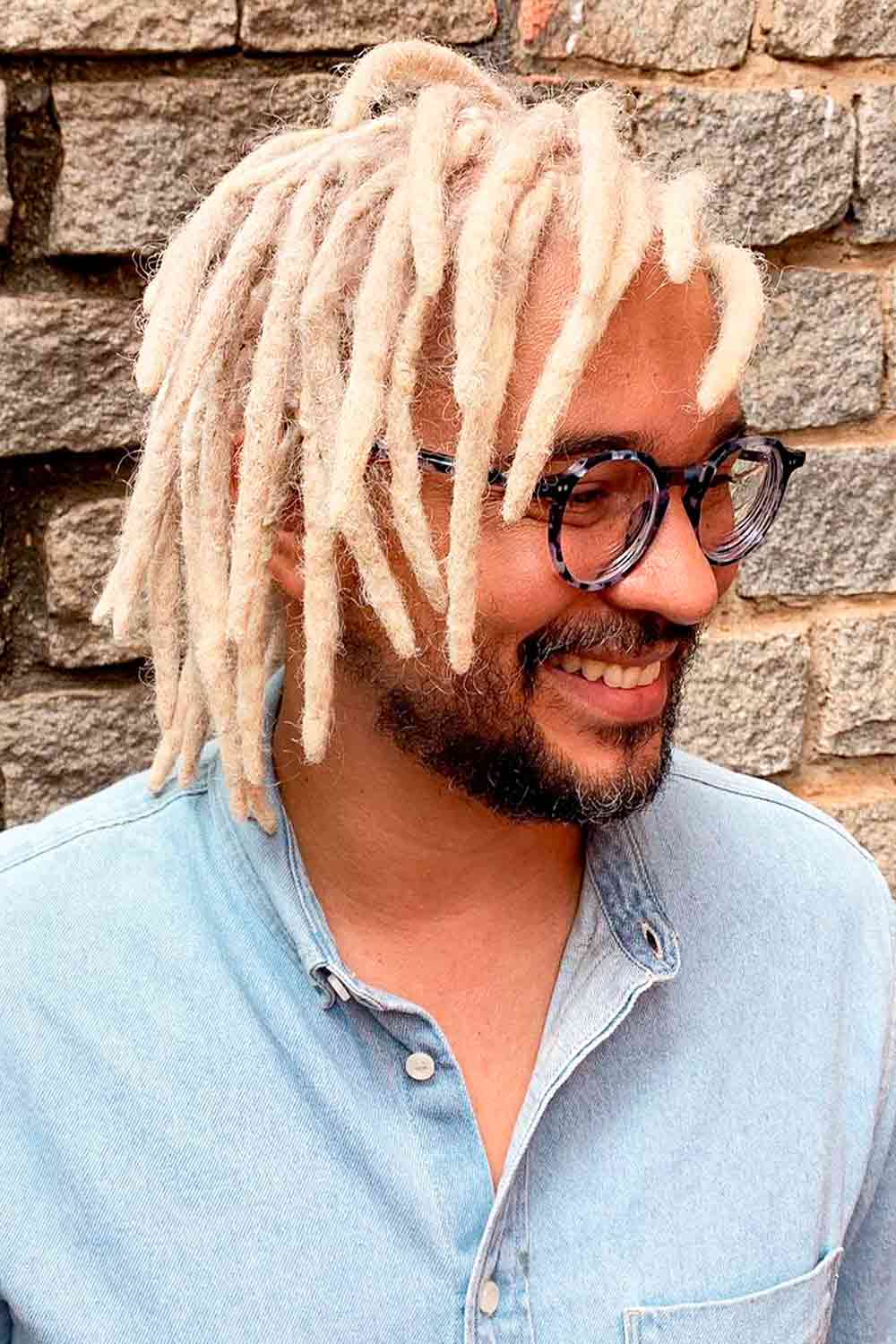 Source: @exotismos via Instagram
i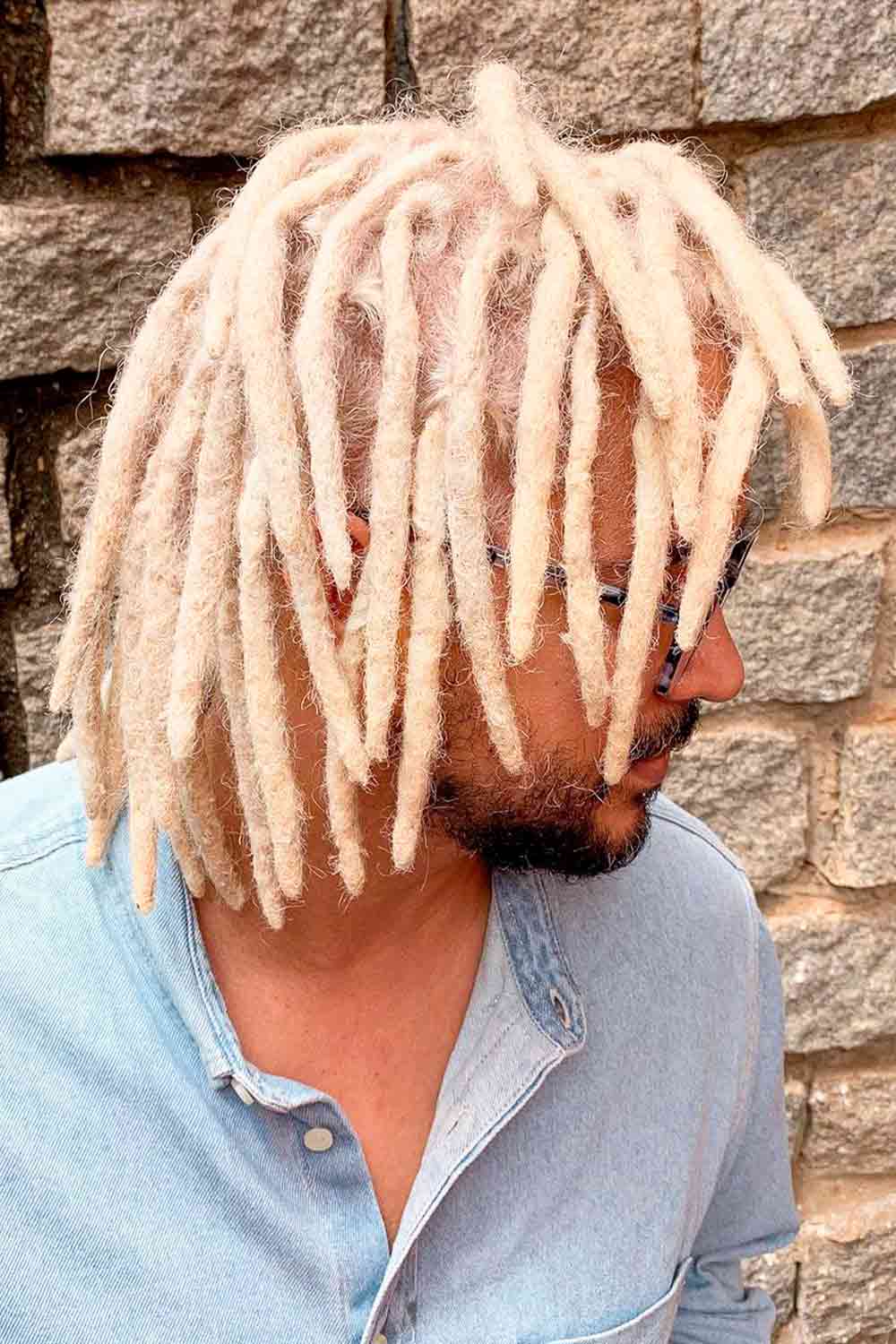 /
Messy Long Hair Men
However, if you don't feel like doing any excessive manipulations with your hair, consider going all natural and wearing it simply loose. Add some hair highlights to look really stylish.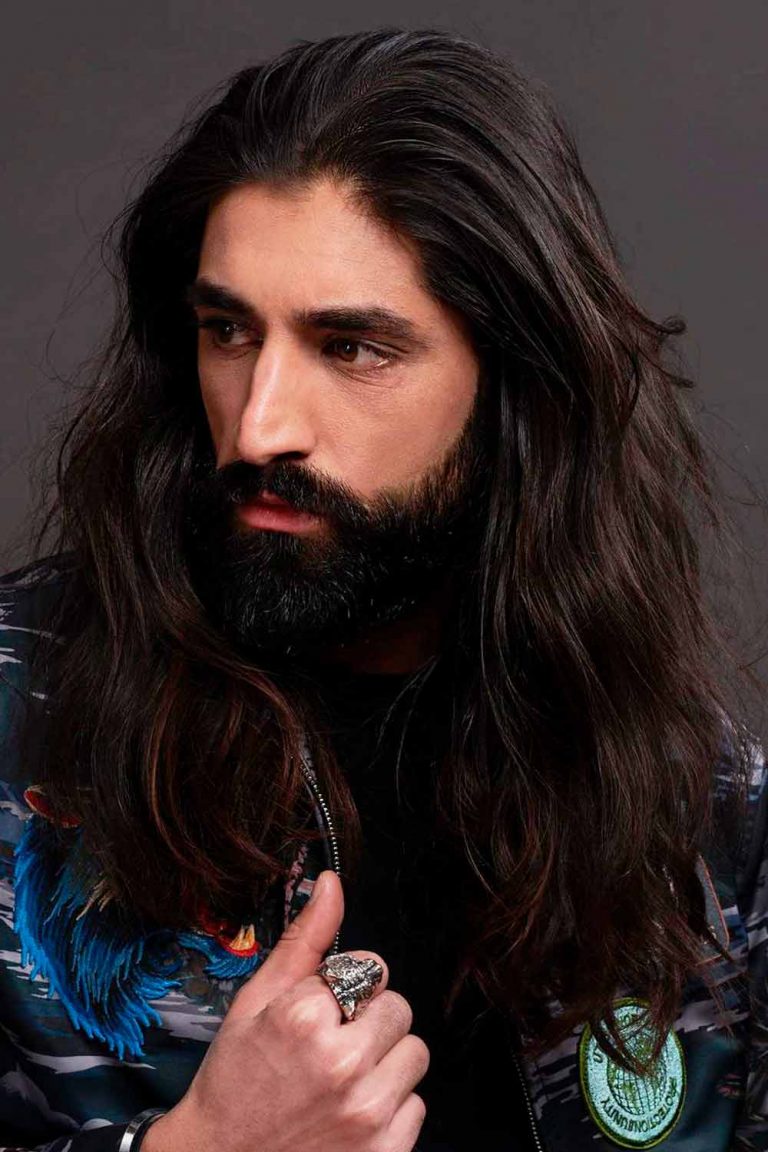 Source: @dexterdapper via Instagram
Messy Man Bun Long Hair Fade
Are you looking for something casual still don't want to lose the edge? Try this undercut man bun, which perfectly balances the messy man bun with clean and neat buzzed sides. Having a man bun undercut gives your hairstyle a non-trivial look, which makes it stand out among mens long hairstyles.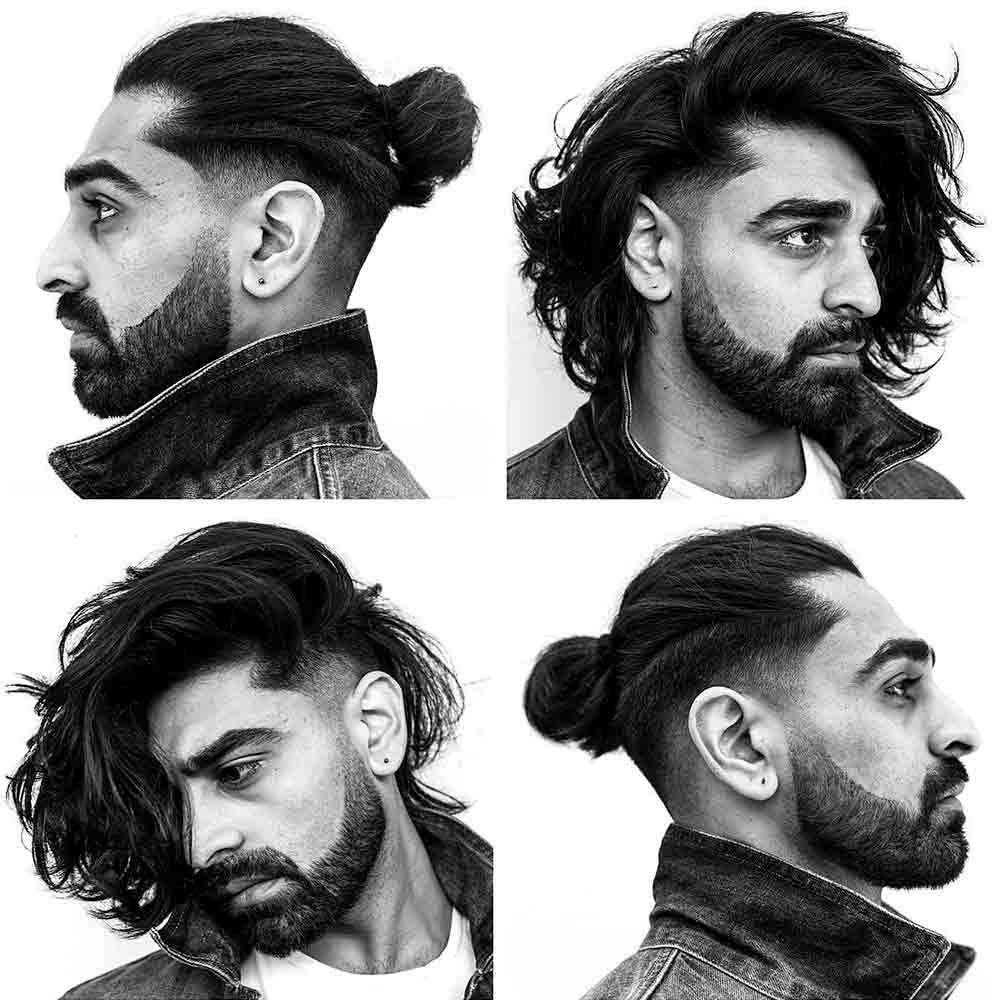 Source: @r.braid via Instagram
Long Curly Hair
You can infinitely look for the best hairstyles for men with curly hair. However, no matter what curly hairstyles for men you choose, your ringlets will always look stunning because they were born to be like that.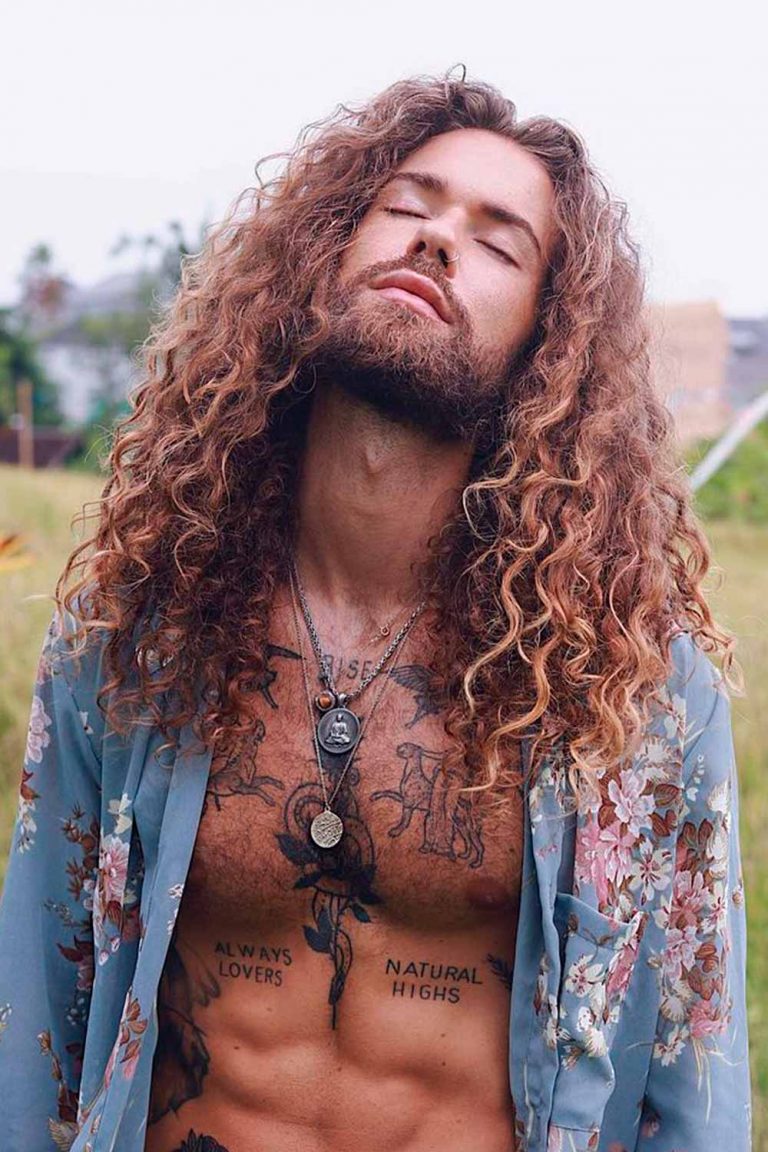 Source: @hank_ge via Instagram
Mullet Shag Haircut Men
The mullet haircut exudes a stylish and daring vibe, blending diverse components to achieve a distinctive and attention-grabbing appearance. The unkempt crown characterized by longer, layered locks contributes to enhanced volume and texture. Meanwhile, the sides are skillfully faded or tapered, producing a seamless flow between the extended top and the shorter side sections.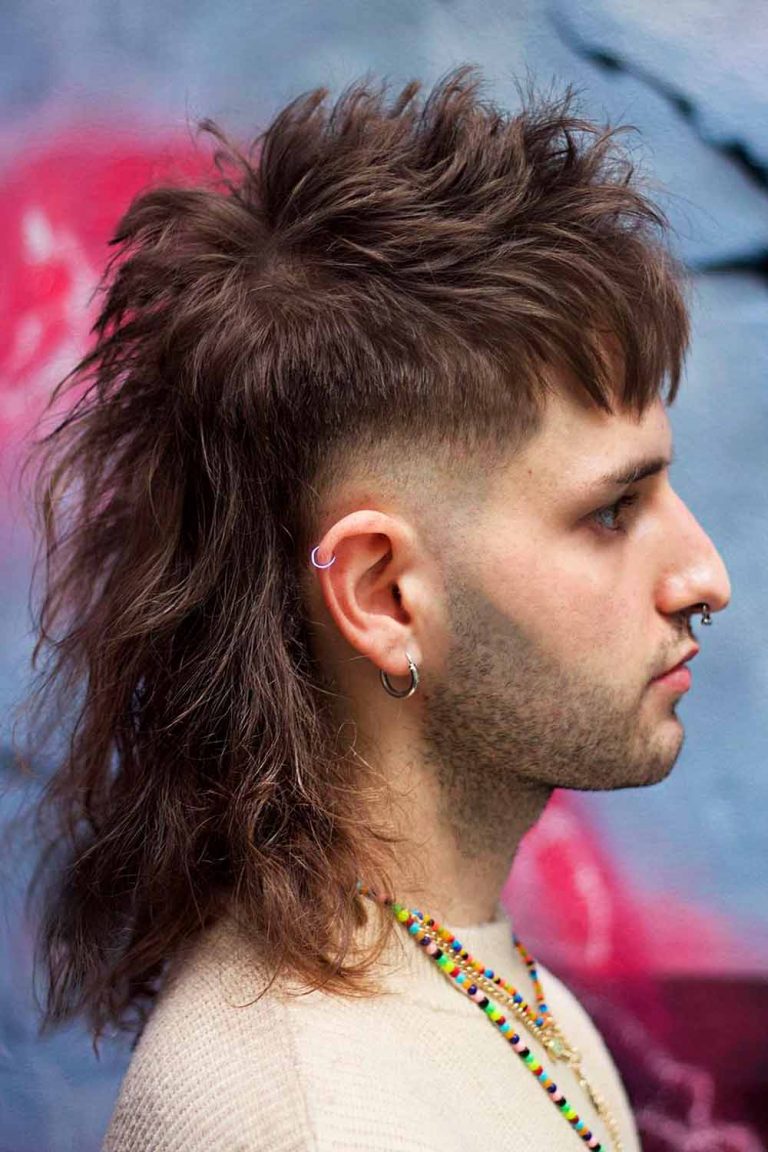 Source: @paulmacspecial via Instagram
Long Wavy Hair With Bangs
Long hair with bangs is a trendy and stylish hairstyle that combines the allure of flowing waves with the boldness of bangs. This look embraces natural texture and volume, allowing the wavy locks to cascade down the shoulders or back in a carefree manner. The addition of bangs adds a touch of edginess and frames the face, enhancing facial features.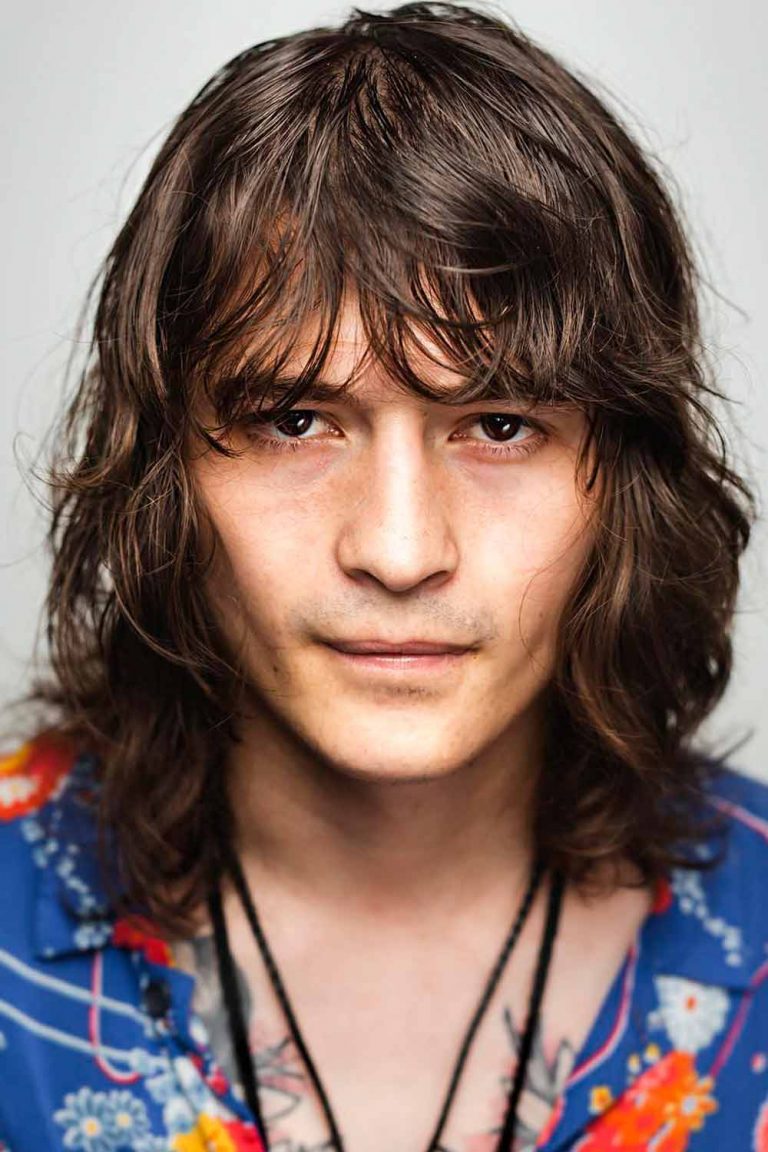 Source: @andrewdoeshair via Instagram
Side Part
This style combines the rugged appeal of disheveled locks with a touch of classic sophistication brought by the side part. The hair is allowed to grow out to a considerable length, resulting in a natural and tousled appearance. The side part adds structure and definition, providing a balanced and polished look to the overall hairstyle. It's an ideal choice for those seeking a laid-back yet stylish aesthetic that exudes confidence and individuality.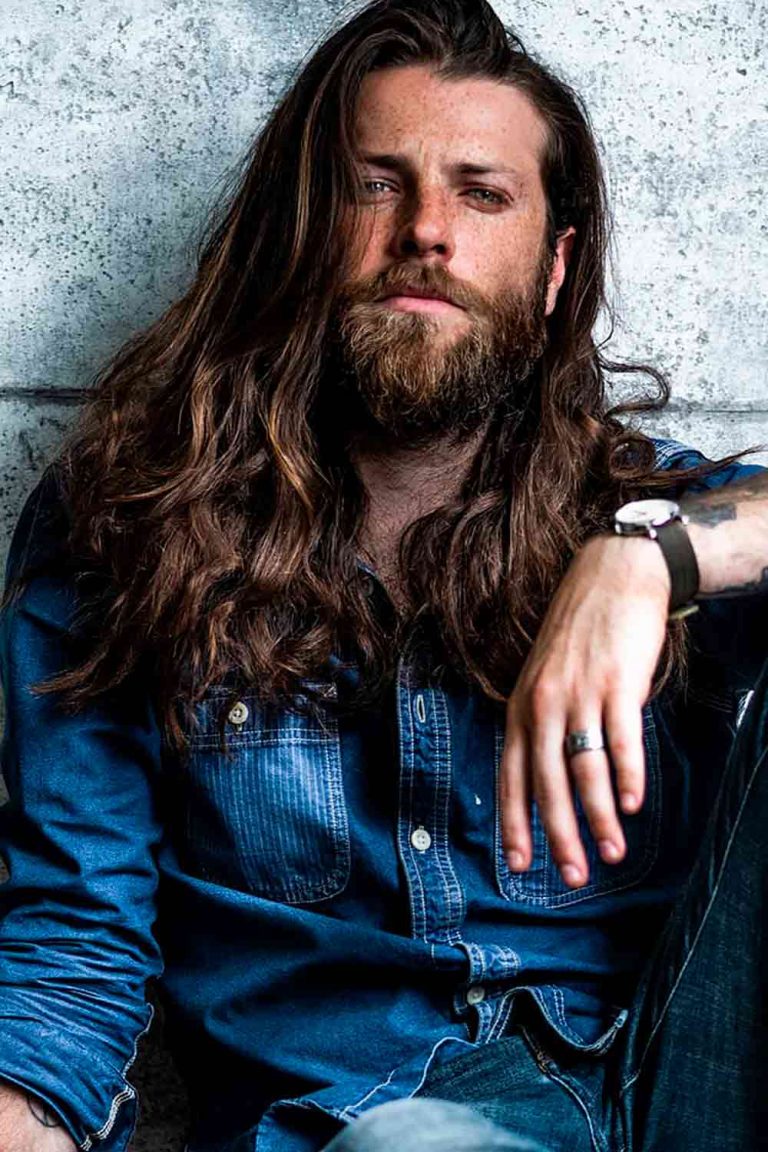 Source: @lanedorsey via Instagram
Shoulder Length Hair
This style is characterized by medium-length hair that falls around the shoulder line, creating a balanced and versatile look. Shoulder-length hair offers men the opportunity to experiment with various styles, including loose and tousled waves, sleek and straight locks, or even tied back in a ponytail or bun. It provides a modern and contemporary appearance while allowing for flexibility in styling options.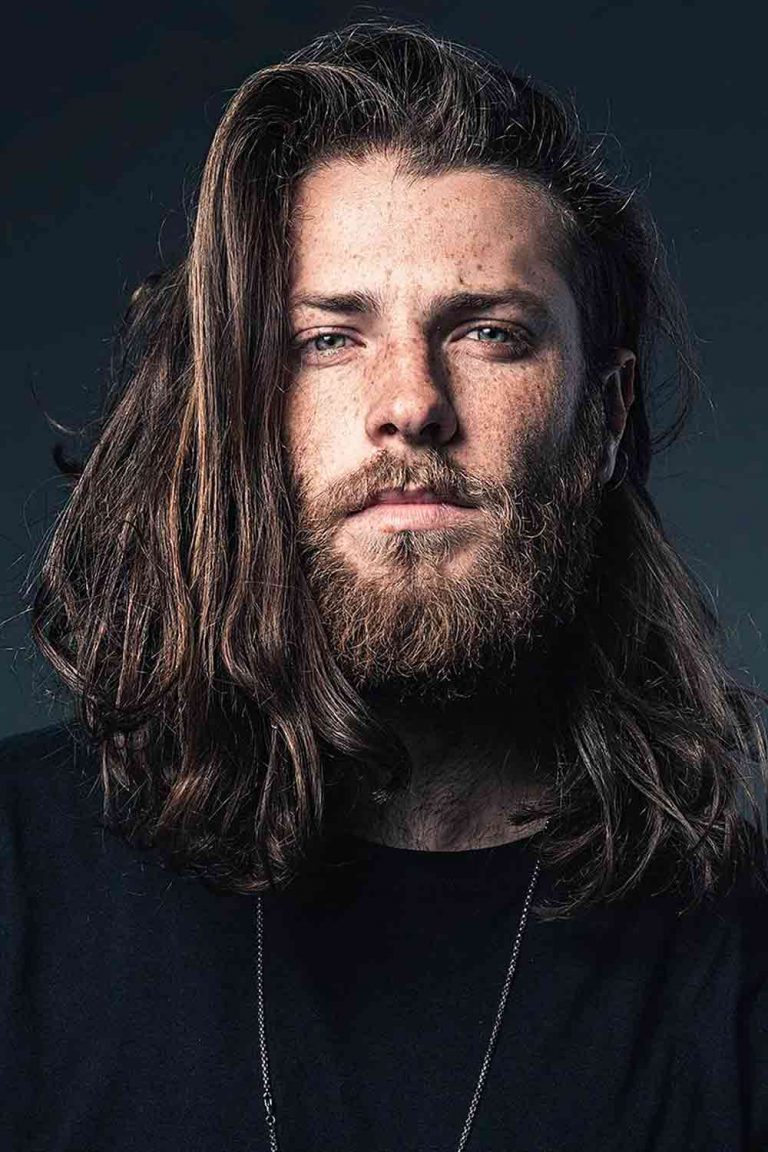 Source: @lanedorsey via Instagram
Long Tail Mullet
Mullets feature shorter hair on the sides and longer hair at the back, creating a distinctive contrast. The long tail of hair is often styled and maintained with various techniques, such as braiding, tying, or using hair products. Mullet hairstyle gained popularity in recent years, appealing to those seeking a unique and edgy look.
Source: @exotismos via Instagram
i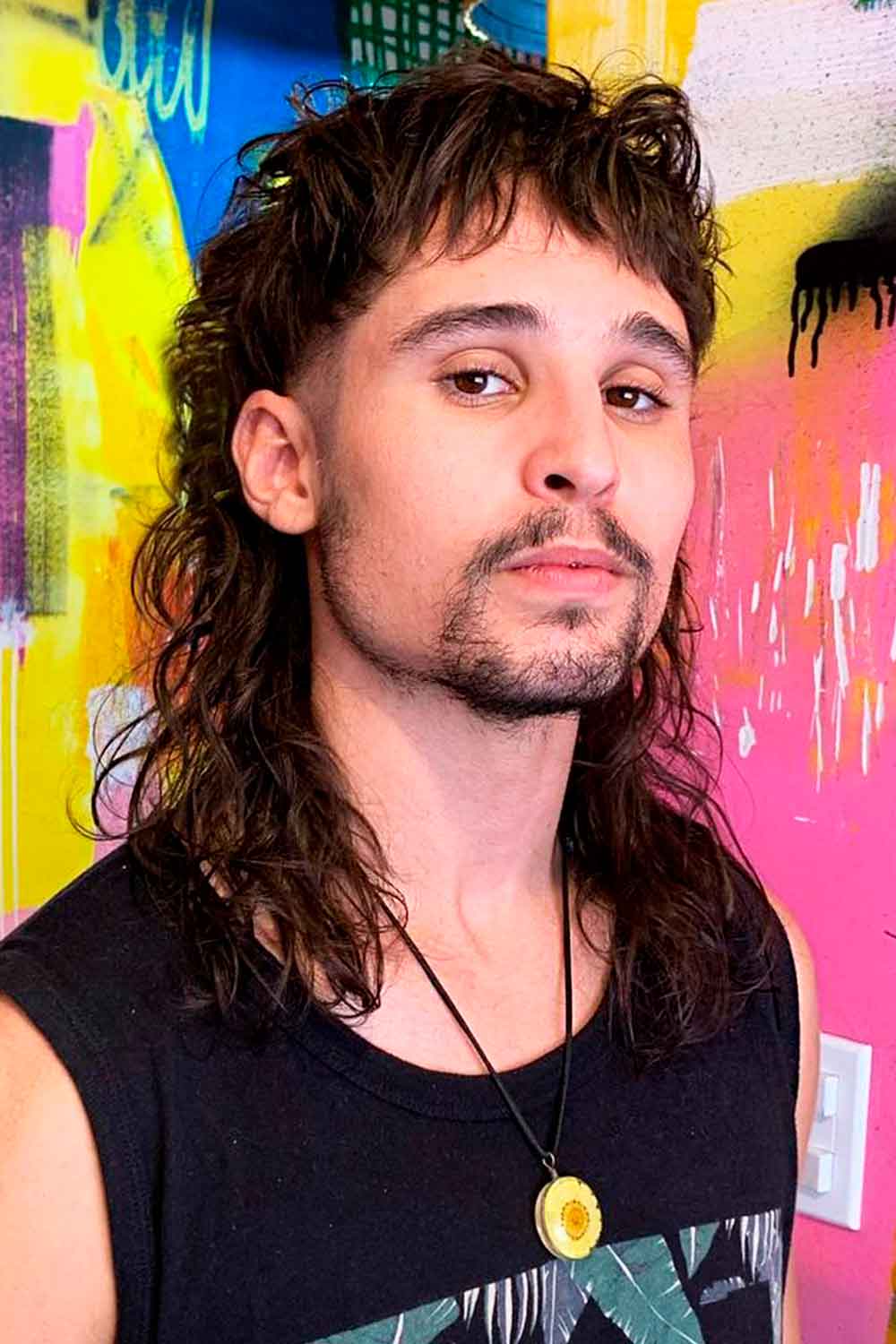 Source: @exotismos via Instagram
i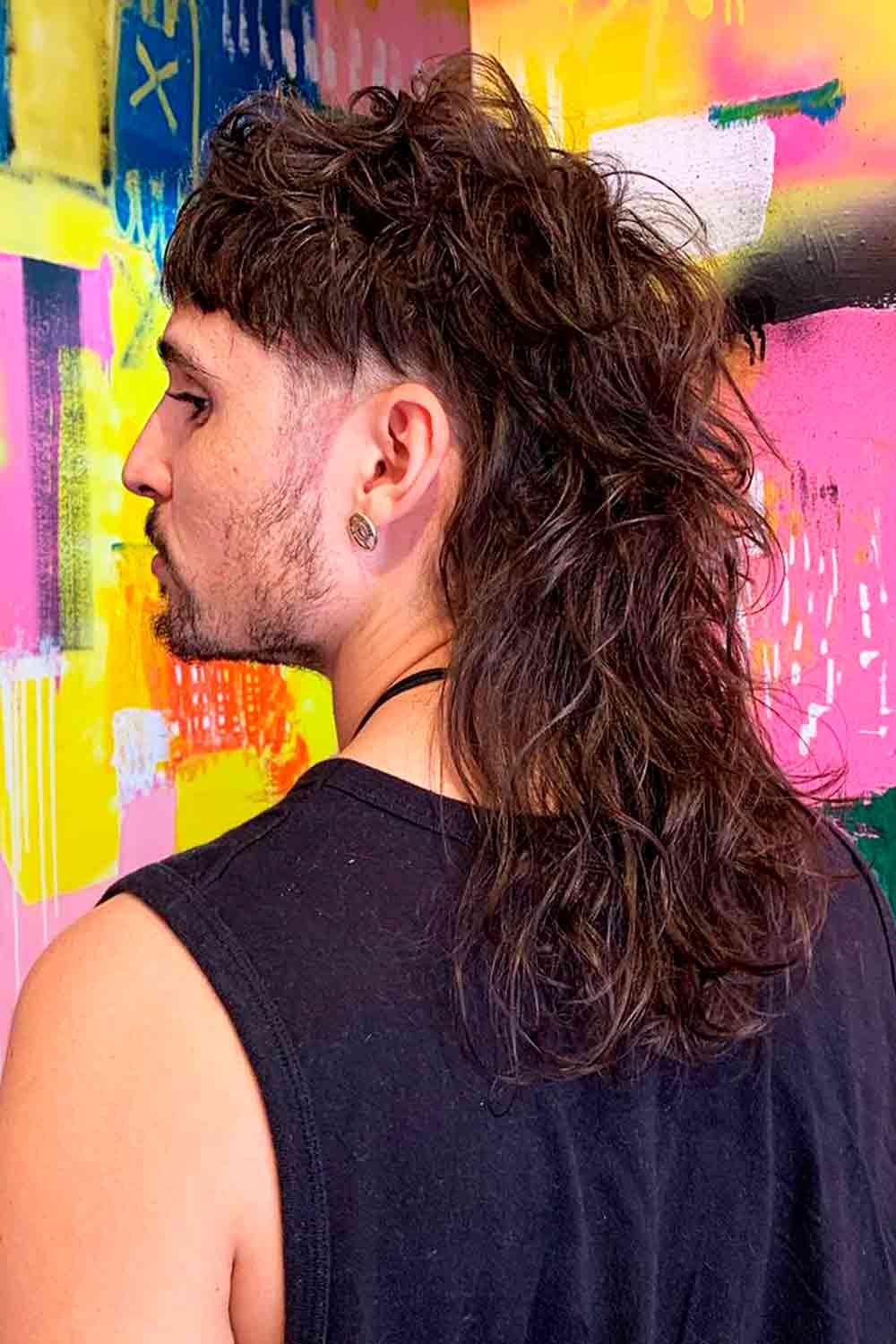 /
Twisted Hair
The final step is to braid the top hair. Try Dutch braids or dread braids and twist them in the end. Use some hair wax to fix the look. Leave your hair like this as long as you can. Use dry shampoos or leave-in conditioners to run longer without a hair wash.
You know what's the best part? Faux hawk braids help you grow our hair longer naturally. Now isn't that amazing?
Box Braids Bun
Another one for the experimental freak in you. Box braids are stylish, funky, and full of personality. If you are ready to maintain them and go out-of-the-box, these matted long locks are what you should be looking at. Box braids can be worn man-buns, knots, half-knots, or left loose. Get ready to bring out the wild child in you already!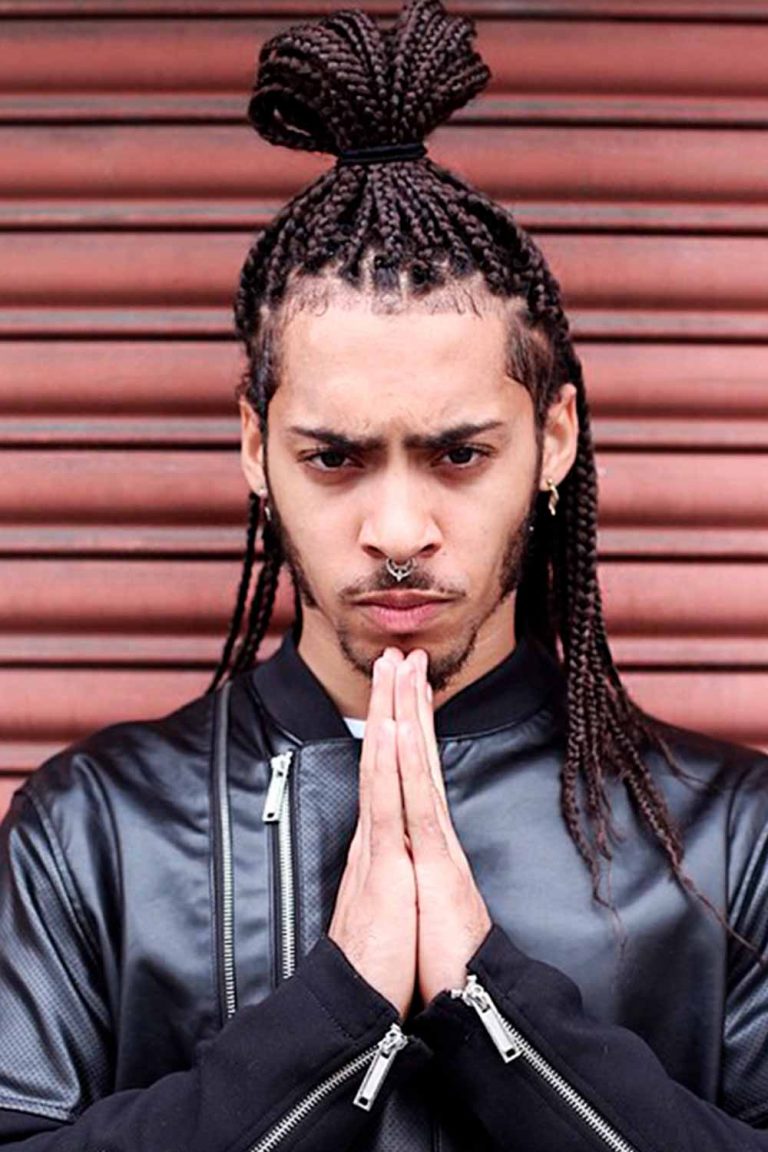 Source: @rtizt via Instagram
High Curly Bun
Hairstyles for men with long hair have plenty of forms and variations. They allow the guys to get the most out of their natural gift and enhance its beauty. When there is always a brilliant idea for your long hairstyle, you can finally enjoy the process of wearing it.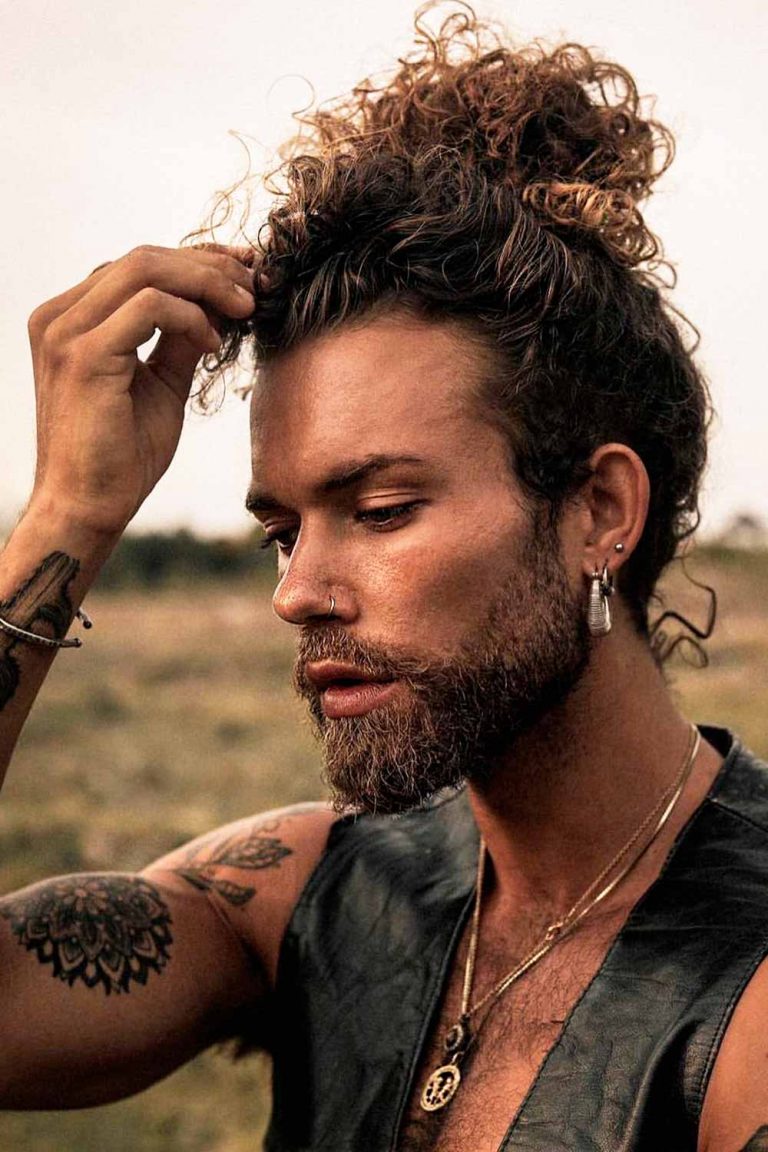 Source: @hank_ge via Instagram
Mens Long Hair Styles For Occasion
Long straight hair looks the best if you are blessed with thick and healthy hair. You can always blow-dry or iron your hair to maintain it. Don't forget to use a heat-protectant serum or spray before doing so. Invest in hair care products that promote shine and frizz-control for best results. Your man bun will last the whole event and will look neat and appropriate.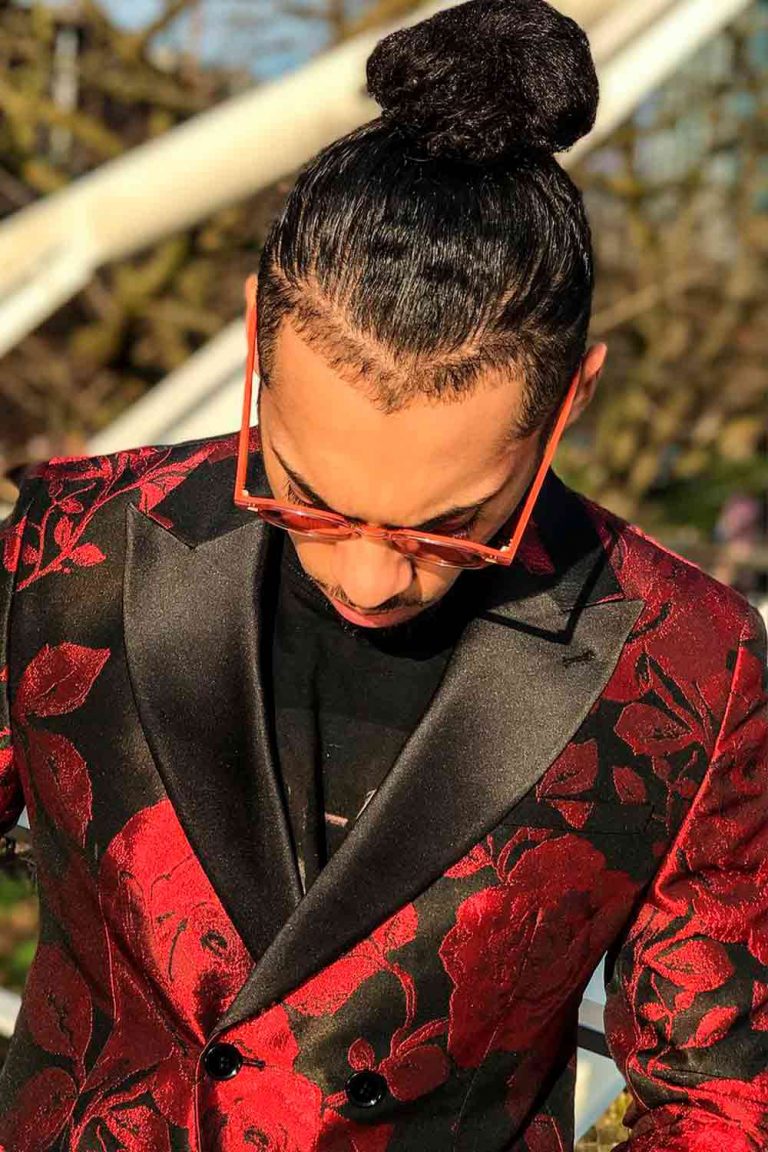 Source: @rtizt via Instagram
Flipped Ends For Straight Hair
Do hippie values resonate with you? Then you should definitely try on one of the most iconic hippie hairstyles, which features long flipped ends. This look allows you to complement it with any kind of facial hair style, from short to long, but a full coarse beard pairs with it best.
Undercut With Braided Top
Dreamy braids look great not just on women. Wear the braid with an undercut. Rub in some dry shampoo or leave-in conditioner to solve the oily scalp issue.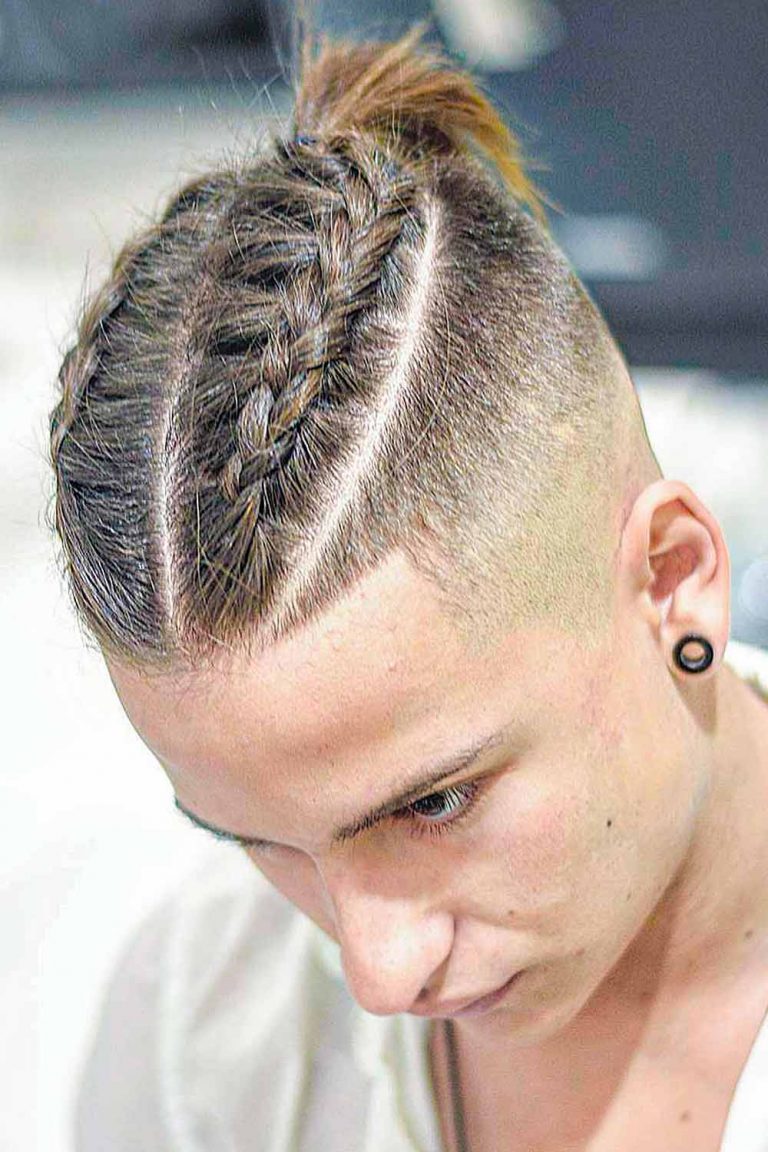 Source: @spukthebarber via Instagram
Viking Long Braids Undercut
In case you're seeking some simple updos for long hair, this look might come in handy. Just create several braids of different sizes and separate the top part of your hair. This will give your look a faux hawk braid effect.
High Bun Back Braids
Your curly locks do not differ much from loose hair in terms of their ability to be tied or braided. Thus, if you want to pull off a high bun, you are very welcome to do so. It will not only look cool and unusual but also take away hair from your face, thus revealing your masculine features.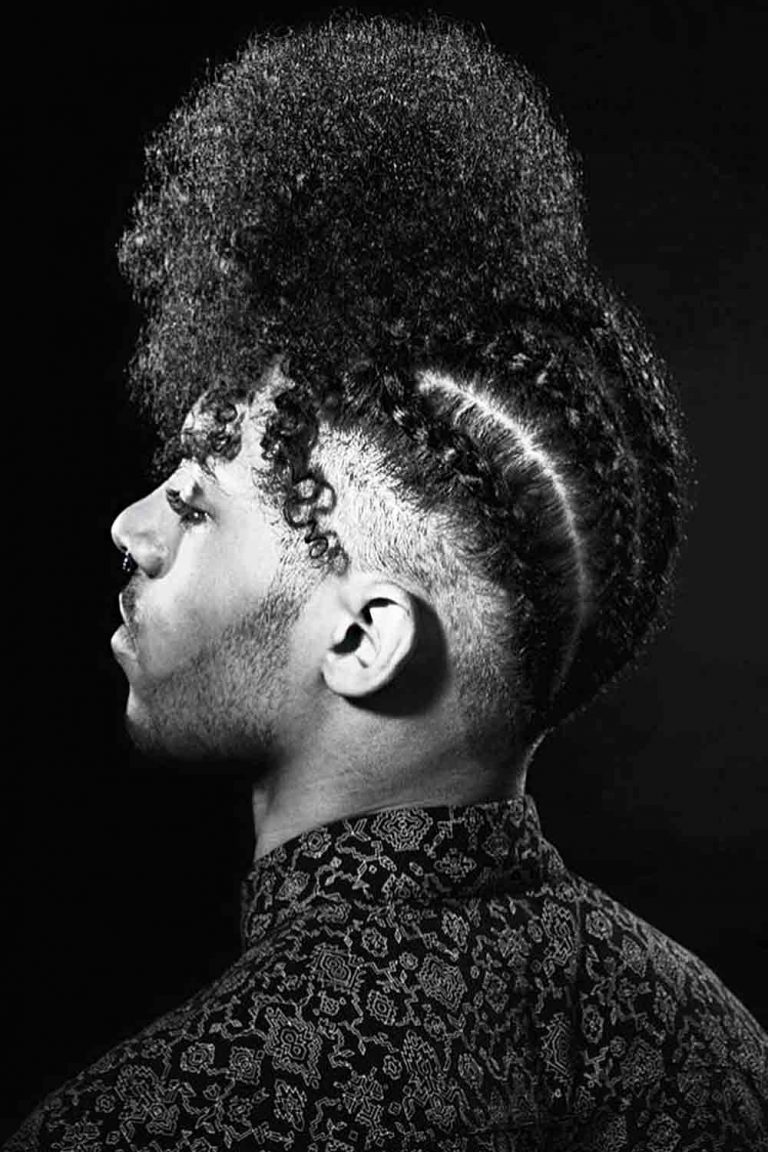 Source: @rtizt via Instagram
Long Dreadlocks
If you were genetically gifted with the thick mane, play around it with dreadlocks. The rugged appearance of such long hair styles enhanced with the dreads accentuates your masculinity and brutality.
Source: @lanedorsey via Instagram
Thin Bun Long Hair Styles For Men
Are you totally a man bun guy but planning to attend some formal event? Or you just want your hair to look smart and elegant? Here's a nice option for you. Simply pull your hair back into a small bun and use a bit of styling product to tame any flyaways. Such straight mens long hairstyles always look appealing and sophisticated.
Messy Top Knot
The top knot men wear the most is basically a half-bun. It's perfect in the way that it combines loose and gathered hair. Another reason that makes the top knot so popular is the opportunity to style the second-day hair in it.
Source: @lanedorsey via Instagram
Surfer Hair
Amid wavy hairstyles for men, the surfer hair look is out of the competition. This sexy and breezy coiffure looks best with shoulder-length surfer hair.
Source: @spizoiky via Instagram
Really Viking Hairstyle
Fan of the Vikings and the Norsemen? You gotta slay this hairstyle. Long Viking braids with undercuts or fully shaved sides are a classic Scandinavian long hair statement. With a stubble or a heavy beard, this hairdo will definitely add to your nordic vibe.
How To Choose The Best Men's Long Hairstyle For Every Day
This is the most asked and unanswered question. In a nutshell, there's no set formula to swear by. Ideally, the best-suited long hairstyle for you should support your natural hair texture. Anything against it will involve high maintenance than long mens hairstyles.
What you'll first need is a decent haircut. If you have dense and shoulder-length hair, you can get some light layers at the ends. Straight hair can take heavier layering and punk hairstyling. If your hair is fine and tends to get curly or wavy, you should avoid heavy layering to control the frizz.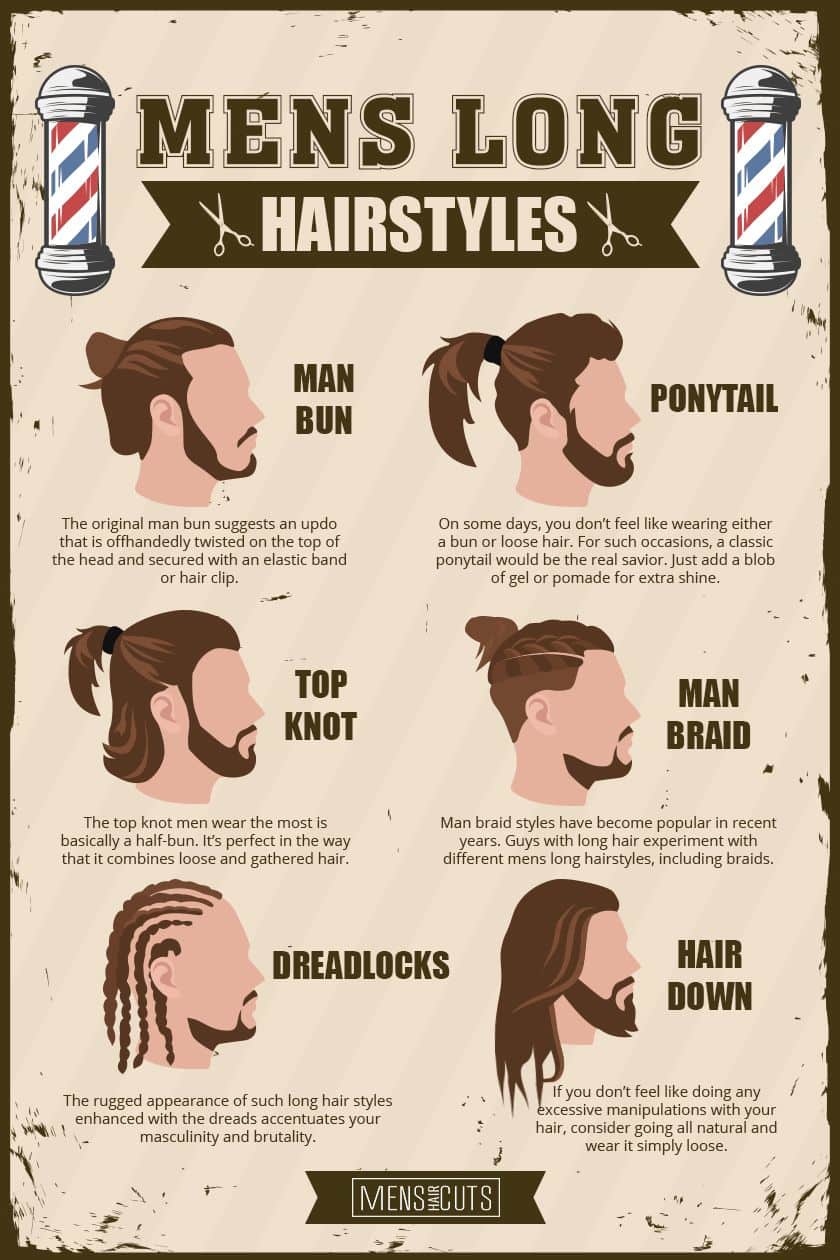 Some basic long hairstyles can get a complete facelift by just introducing highlights. The right highlights can get you the tanned (totally Insta-worthy) vacay look without going anywhere! And the not-so-right ones could get more 'feminine'. So, choosing the shade is key. It is best to work with your stylist here.
And if you have to suit-up for work, try to keep the hair game simple and neat with a mild gel situation. Tuck some locks behind your hair so that the length doesn't distract and stays manageable.
Now that you get the drift, let's take a look at the easy and low-maintenance options. Pick what suits the best for you and run to your stylist.
How To Style Mens Long Hairstyles
Obviously, the way you are going to style your hair greatly depends on the look you are striving to achieve. You can wear it loose and messy on casual weekends with friends. When you are headed at a formal event, it is better to tie your locks in a ponytail or a man bun. In the times when you are feeling playful, go for something intricate and eye-catching, such as a man braid. As you can tell, the variety of options is endless. Just read more to learn how to style long hair men and pick out the style that suits your mood and occasion best.
FAQs: Long Hairstyles For Men
How long is long hair for guys?
Not sure how long is long hair for guys? Well, it all depends on the desired hairstyle. Ideally, to grow out your hair long enough to be able to pull off the trendiest long hairstyles for men, you should leave it alone for about a couple of years. It does not mean though that during this period you cannot cut it. Instead, you should regularly visit your barber to chop off split ends. Once your hair reaches your chin level, it can be considered long.
What long hair says about a man?
Have you ever wondered what long hair says about a man? At first sight, you might think that your personality is not linked to your hairstyle. However, many people believe it is. To some, long hair means that the person sporting it is persistent, determined and patient. He or she is ready to devote as much time to their goal as possible, which means that they are also committed.
Is men's long hair unprofessional?
Many people have prejudice when it comes to long hair on a man. They consider it appropriate only for specific ambiance, namely formal. But, is mens long hair unprofessional? Like most things in our life, it depends. There are certain jobs where long hair is not welcomed or even not allowed. However, the way you have your long hair styled defines whether it goes against or with the dress code rules. So, if you want to flaunt long hairstyles for men to work, you are free to do so. Just be picky when you choose a look.
What can men do with long hair?
So, what can men do with long hair? You will be pleasantly surprised by the diversity of options you have. First, you can tie it in a top knot, which is a middle ground between a high pony and man bun. For an elegant and professional look, you can pull your long tresses in a low pony. If you feel yourself skilled enough, you can braid your locks, thus achieving an intricate and eye-catching hairstyle. If you do not feel like styling your hair, just wear it loose. This is a great opportunity to show off your mane. Besides, you can give your locks some movement and dimension by adding highlights. Or, if you are up to a drastic change, you can even get them dyed. Finally, in case you are pretty much fed up with your long hair, it could be high time to get a cut.
REFERENCES:
Whatever the occasion we have the inspiration you need to style your hair any which way. Source
Guides about grooming shaving products, reviews and How To Instructions so you can achieve the perfect shave with a DE or Safety razor. Source
Get the facial hair grooming tips, hair advice, and product recommendations from the editors of Esquire. Source