Many people love the look and feel of wearing dreadlocks for men. Not only are they a low maintenance look for medium to long hair, they make an unforgettable statement no matter who wears them. There are a few things you should understand about dread lock hair before you make the twist hairstyles. From hygiene concerns to the health of the hair, learning more about the process will help you decide if this braided look is ideal for you. While dreads can be quite a versatile style that often has many different meanings, there are some cons to wearing dreads. (The most important being, the damaging effects they can have on your hair once you unravel them.)
Popular Dreads Hairstyles
Dreads have remained very popular until the present day. However, there are still many unjustified stereotypes about them. Two of them stand out the most. For some reason, people think that those who wear locks don't wash their hair. But we know how much time and effort it takes to maintain the style. The second concerns affiliation with some religious or Rastafarian groups. However, in the modern world, practically anyone is allowed to wear anything they wish, and it shouldn't mark an imprint on them. So, make yourself comfortable and jot down the best ideas for dreadlocks hairstyles.
Dreaded Bun + Undercut Fade
If this is your first-time locs and you aren't ready to try too wild dread men's long hairstyles yet, start with a classic hairdo. Just wear them in a bun with an undercut, thus bragging about the thickness and length of your thatch.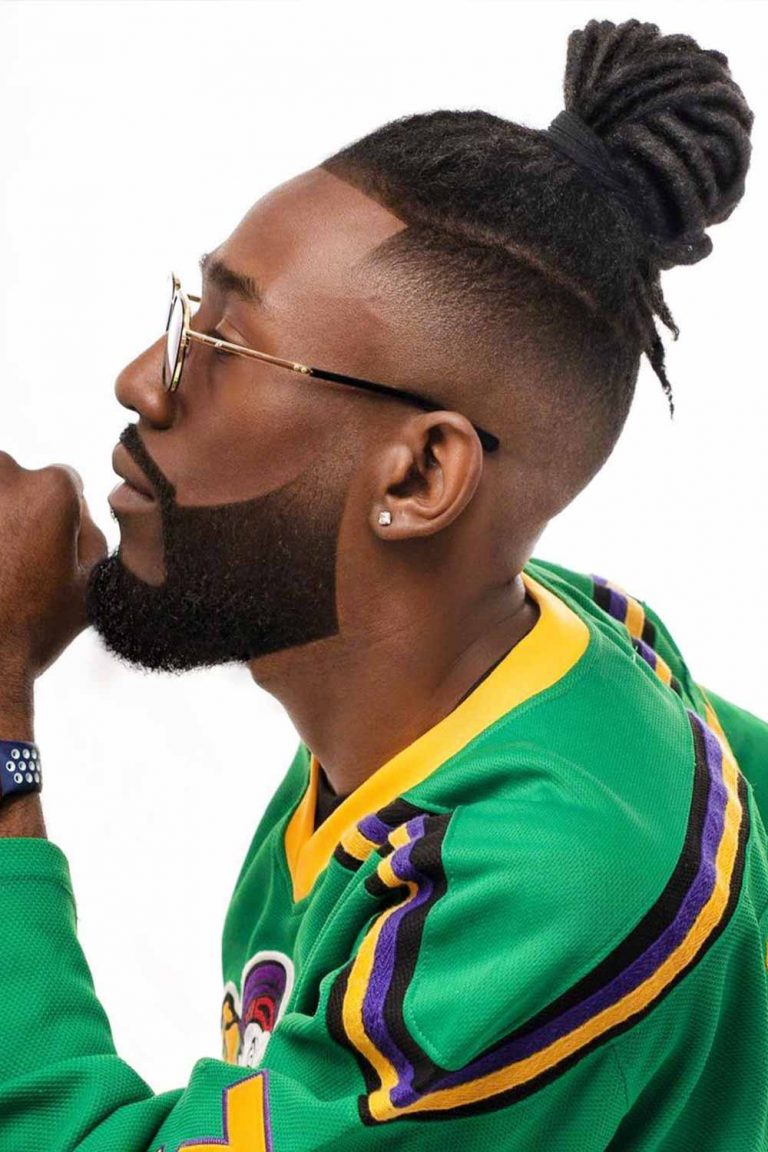 Source: @los_cut_it via Instagram
Hip Hop Dreads
If you favor hip-hop, you probably thought about trying out the dread locks the artists prefer. Mid-length dreds fall freely around the head. To rock the look even more, add an ombre effect to the tips.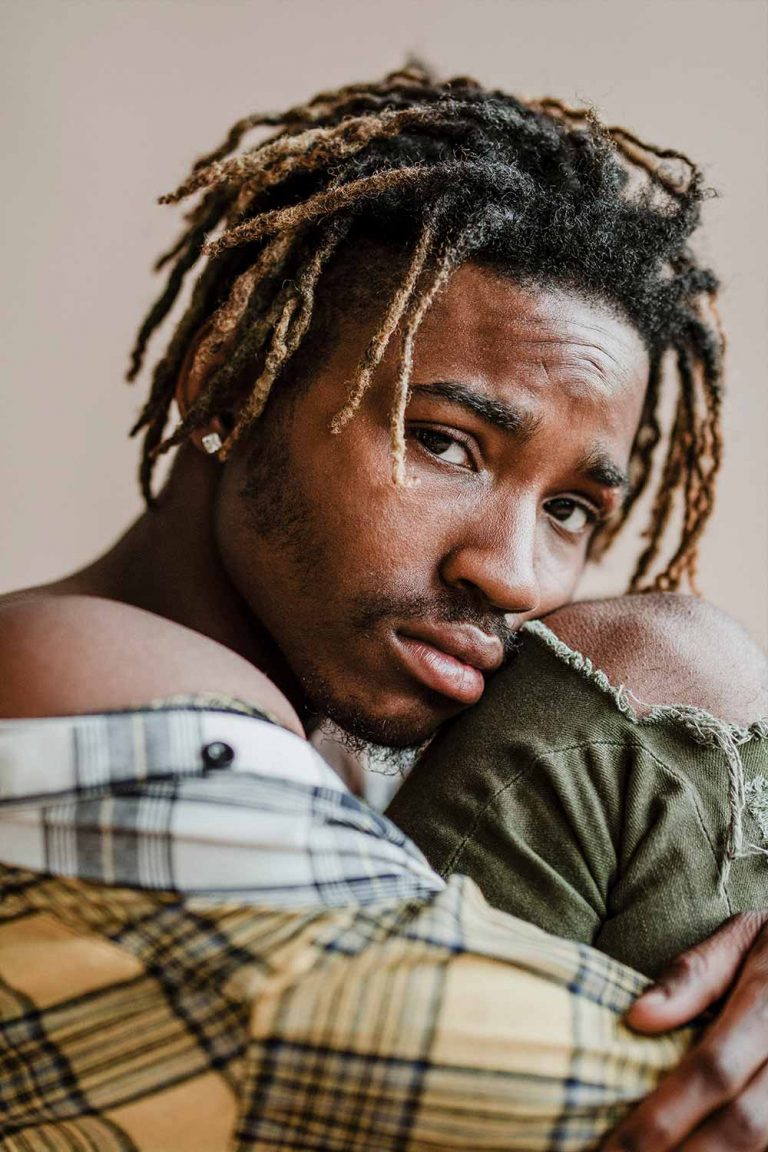 Long Twist
Getting dreadlocks for men on long hair can be quite exhausting. You may need to spend the whole day in the braider's chair and there is no guarantee that the hairstyle will be finished. But do not worry. You do not need to chop off your tresses. Just opt for twists instead of traditional locs and you are good to go.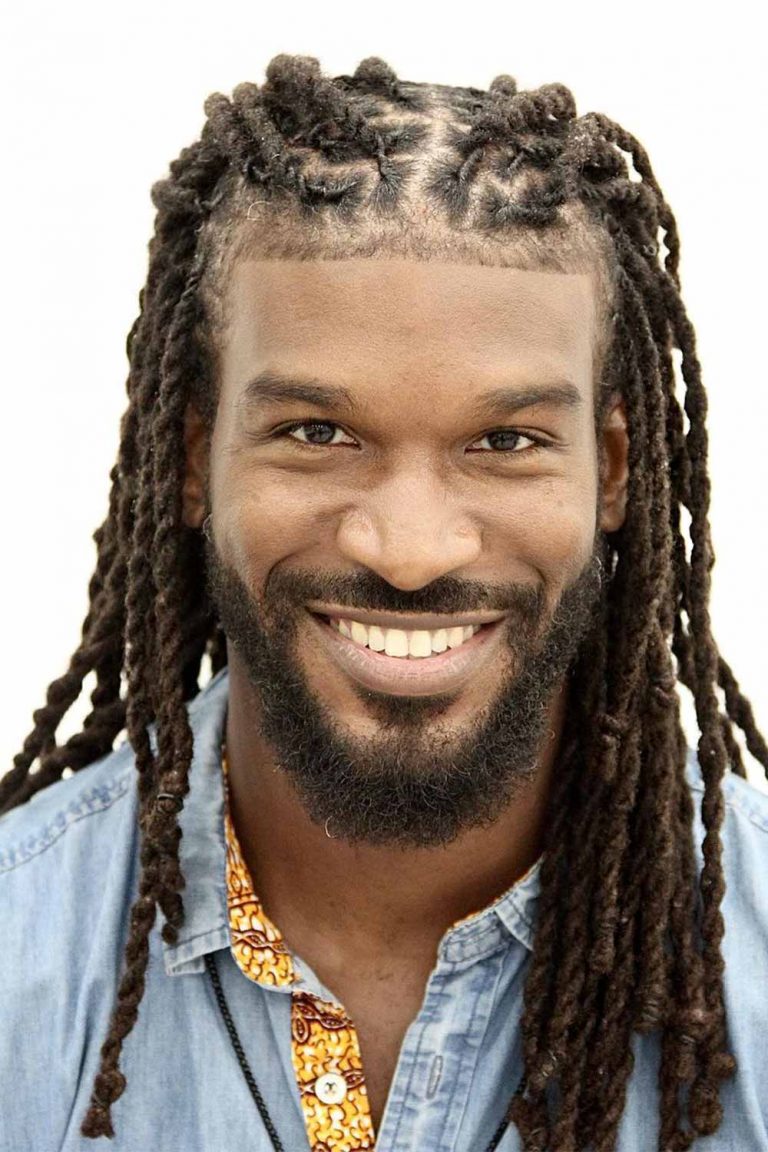 Source: @adrianfanus via Instagram
Dreadlocks For Men With A Fade
Paring top head freeform dreads with a high bald fade haircut is the most popular version of the look. If you want a cool and trendy but clean cut hairstyle, short dreads with a fade is your best choice.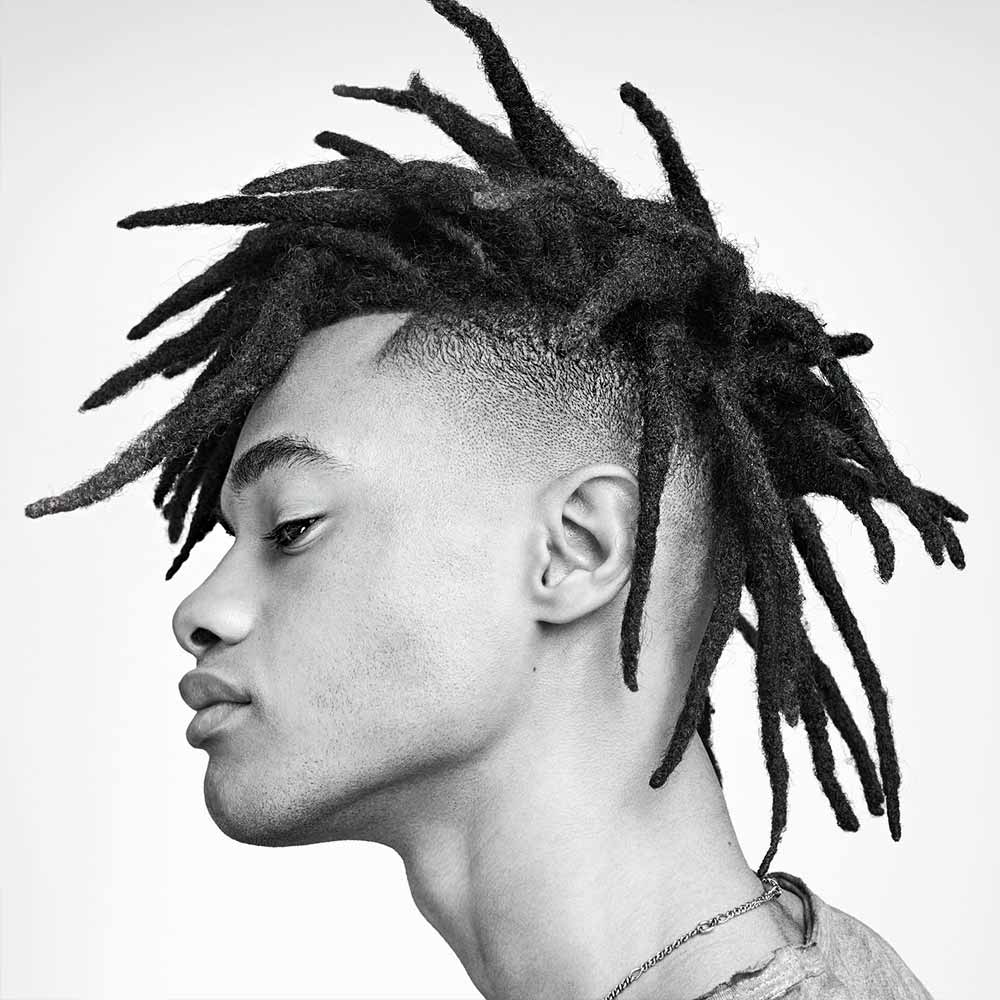 Source: @mikeyyyyyyy_ via Instagram
Undercut + Assembled Twisted Locks
Those guys who want to pull off dreads without much fuss should go for an undercut dreadlock hairstyle. In this way, you will need to work only with the hair on top, which takes much less time and effort. For an intricate turn to your hairstyle, opt for twisted locs and assemble them so that they create an ornate pattern.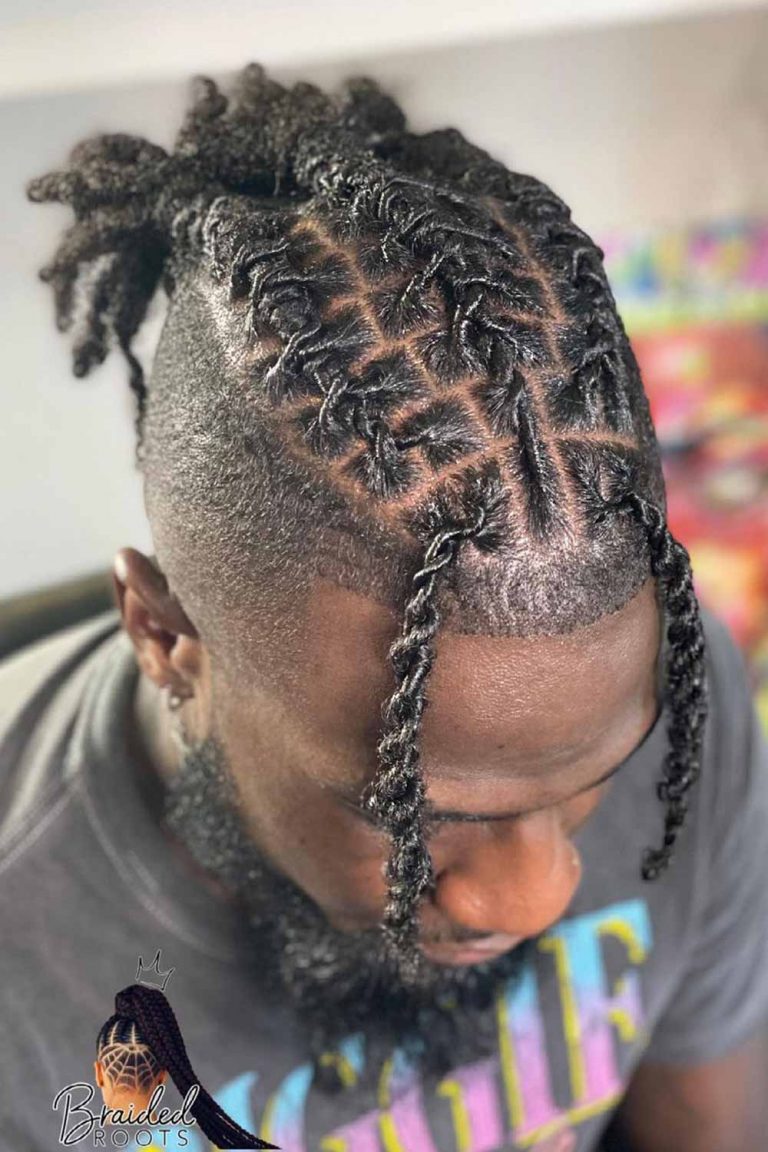 Source: @braidedroots via Instagram
Loc Retwist
If you are a man who is not afraid to stand out in the crowd, then loc retwists are your way to go. The style is pretty complicated to do and requires quite a lot of maintenance. Yet, it is absolutely worth it since you are going to just rake in compliments.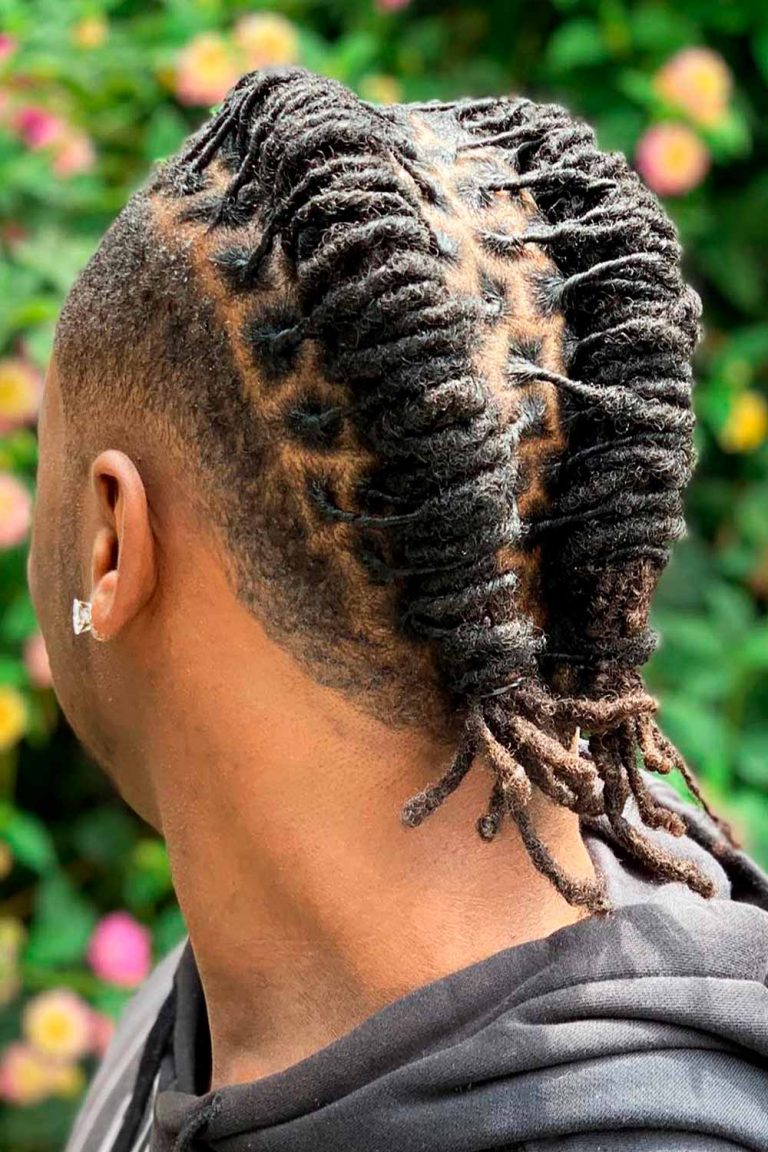 Source: @braidedroots via Instagram
Highlighted & Twisted Dreads Into Pony
In those moments when you get tired of your long dreadlocks for men or you need your hairstyle to fit a professional environment, simply pull them into a ponytail. Whether to opt for a high or low pony depends on your personal preferences and the dreads style you have. Yet, to add more boldness to such a low key look, you can dye your locks in a bleach blonde color.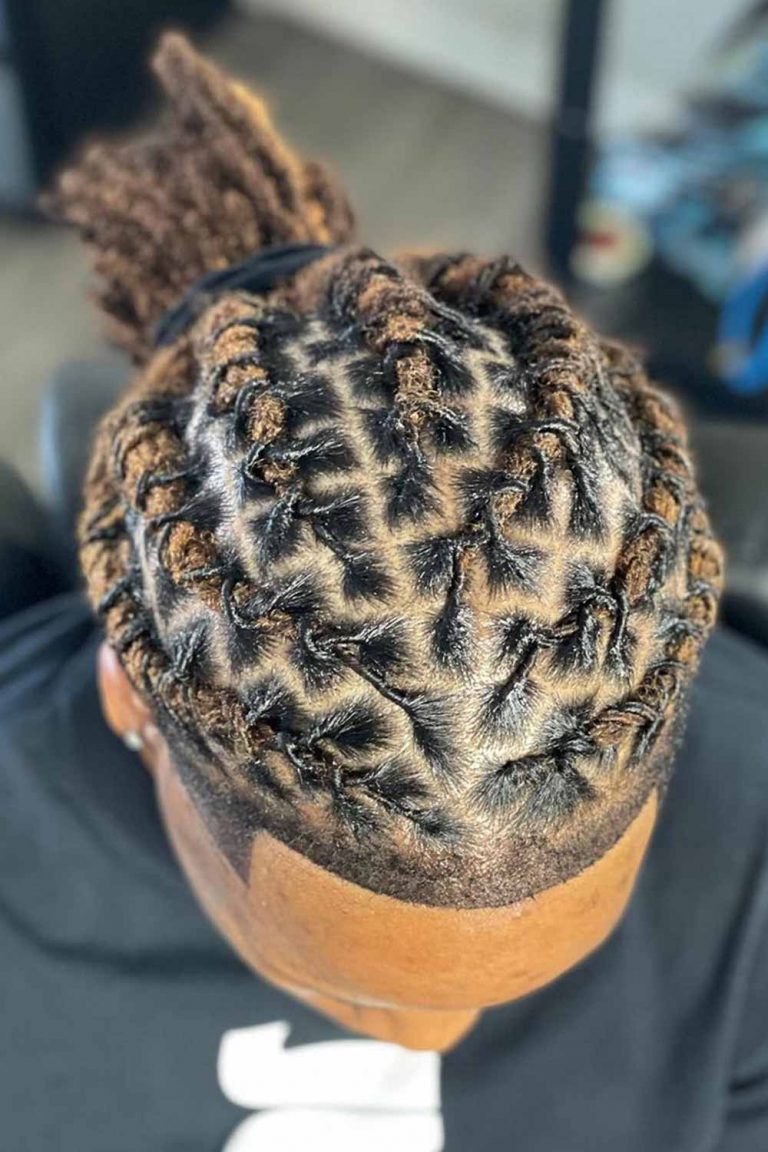 Source: @braidedroots via Instagram
Pigtails
No matter what dreads styles you choose, both white guys with dreads as well as black men with dreads always look virile. Even if you decide to try such a trendy yet controversial dred locks hairstyle as pigtails, you can rest assured that it will not take away from your masculinity.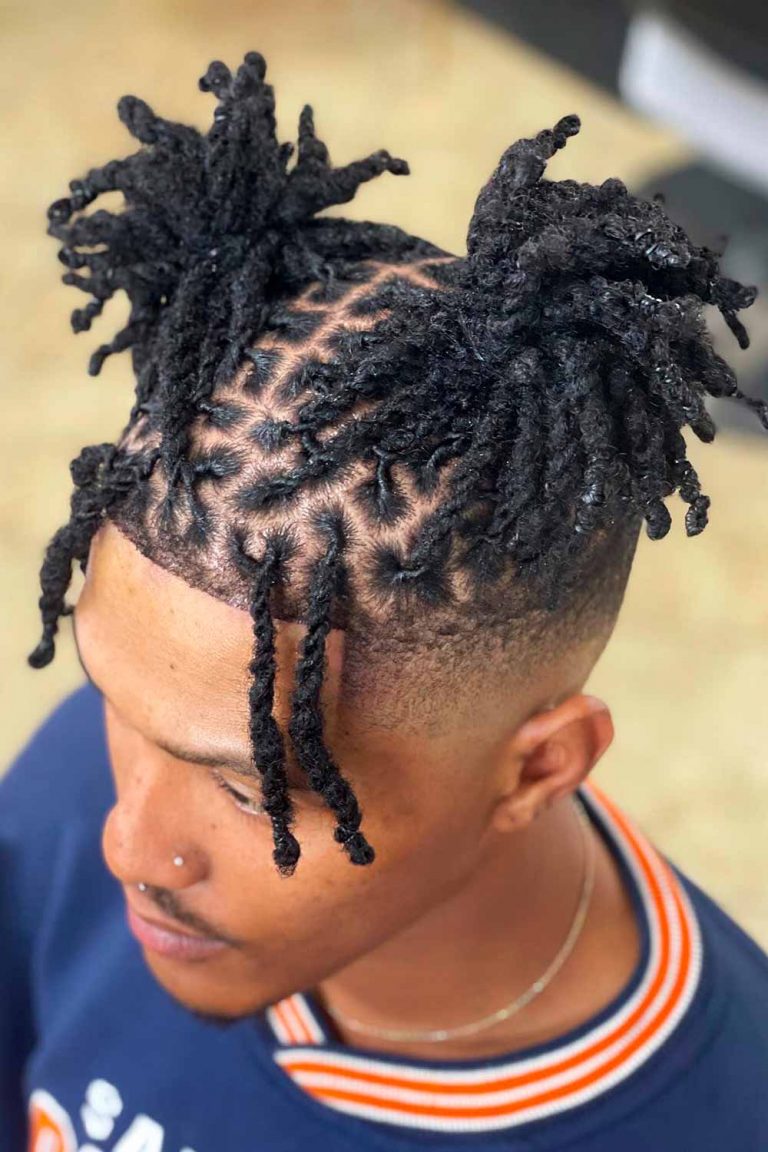 Source: @braidedroots via Instagram
Urban Dreads
Does life in the big city carry you away? Showcase your love for the intense rhythm of megacity by opting for freeform dreads. They look relaxed and effortless, yet upon close inspection, you notice how elaborate this hairstyle is.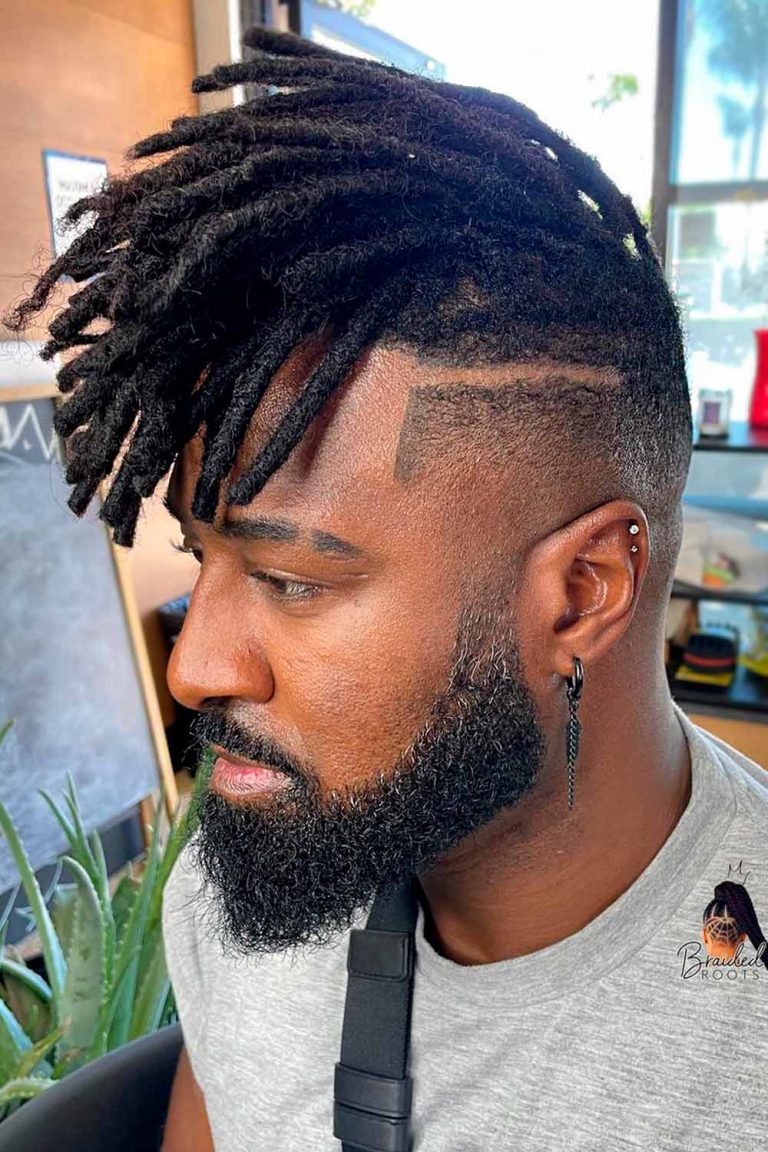 Source: @braidedroots via Instagram
Dreaded Mohawk
Mohawk haircut looks cocky and stylish in all its variations. Mohawk dreads are no exception. Wear them short or medium length with the burst fade. Mohawk hair styles are so popular because they offer a lot of styling opportunities for the top, while the sides don't require much maintenance.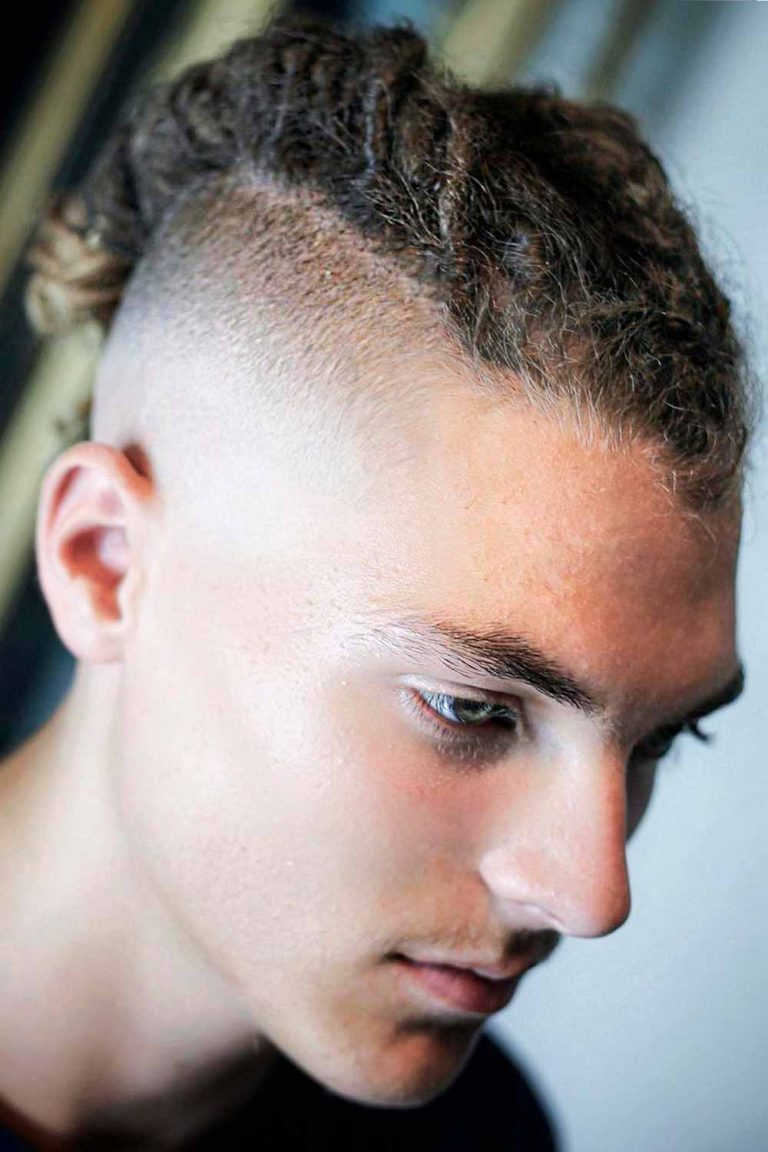 Source: @mikeyyyyyyy_ via Instagram
Long Hot Dreads
Long white men dreadlocks look really hot and eye-catching. We can barely imagine how much time you've spent growing them out and how much effort it has taken. Besides, long dreadlocks styles for men allow for a myriad of sporting options. You can get them tied in a trendy man bun, top knot, or ponytail. There are so many dread styles to choose from that you're certain to find your very own dreds style.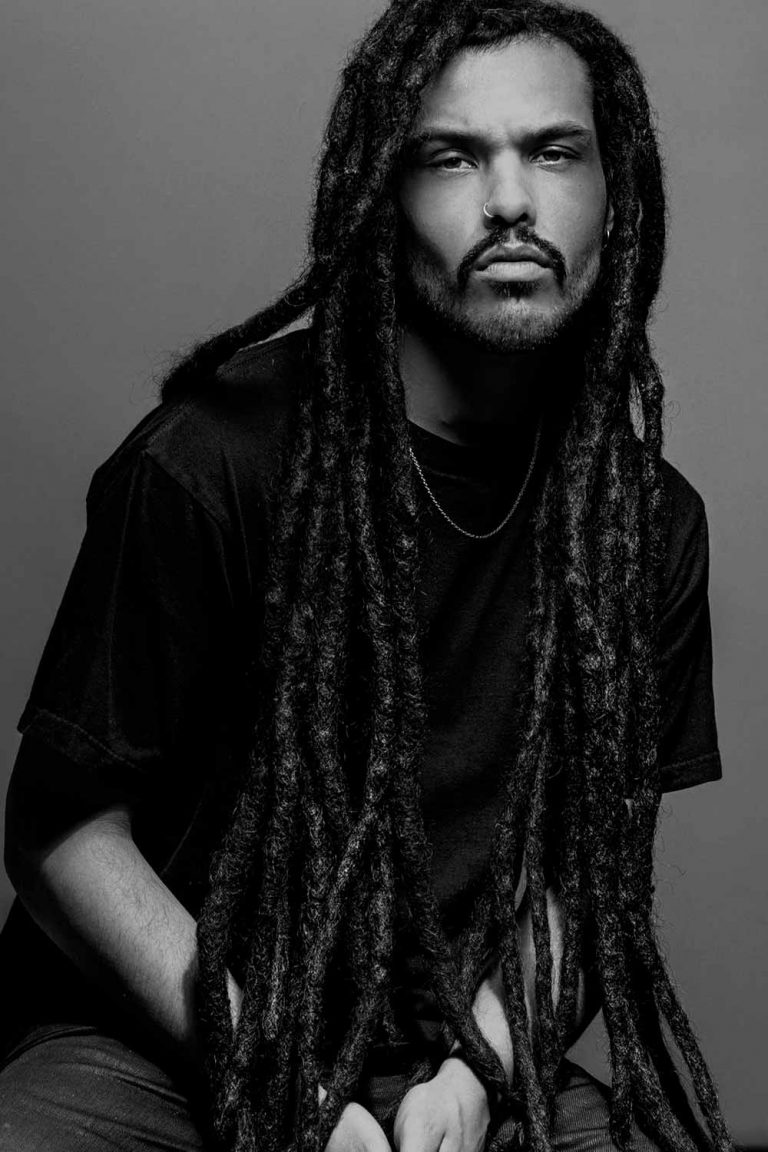 Source: @chezeus via Instagram
Two Braids
Dreadlocks men often opt for nowadays are definitely on the edge. Even though there are tons of styling options, they continue to pop up every day, which makes us very happy. So enough depriving yourself of a really cool and stylish hairstyle and getting yourself dreadlocks.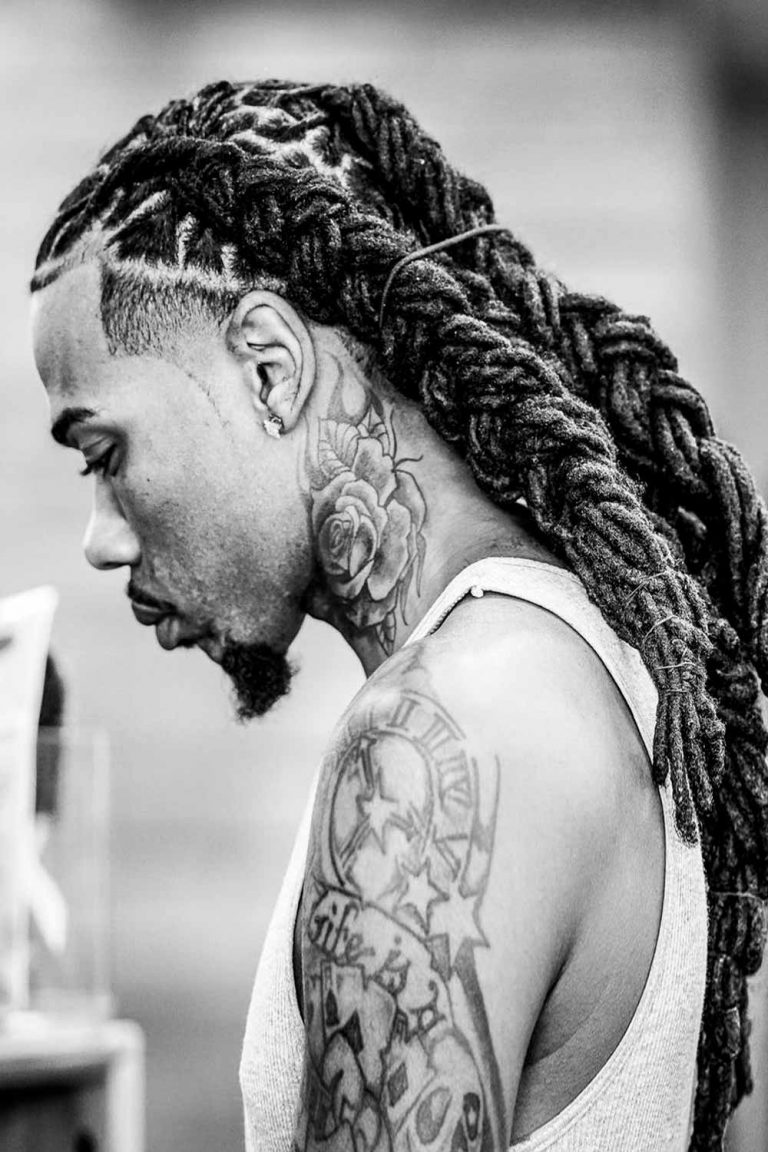 Source: @andyfadepro via Instagram
Long Locks With An Undercut
One of the greatest things about locks is that no matter whether you rock natural dreadlocks for men or faux hawk dreads, they still look cool and trendy. Hence, if you want to pull off a hairstyle with long locks, you are welcome to do so. For extra contrast, you can complement it with an undercut on the sides and back.
Short Dreads
Even though short dreads aren't as noticeable as other locs hairstyles, they have many benefits compared to longer dreads. Short dreadlocks for men can be managed, maintained and styled much easier than long ones.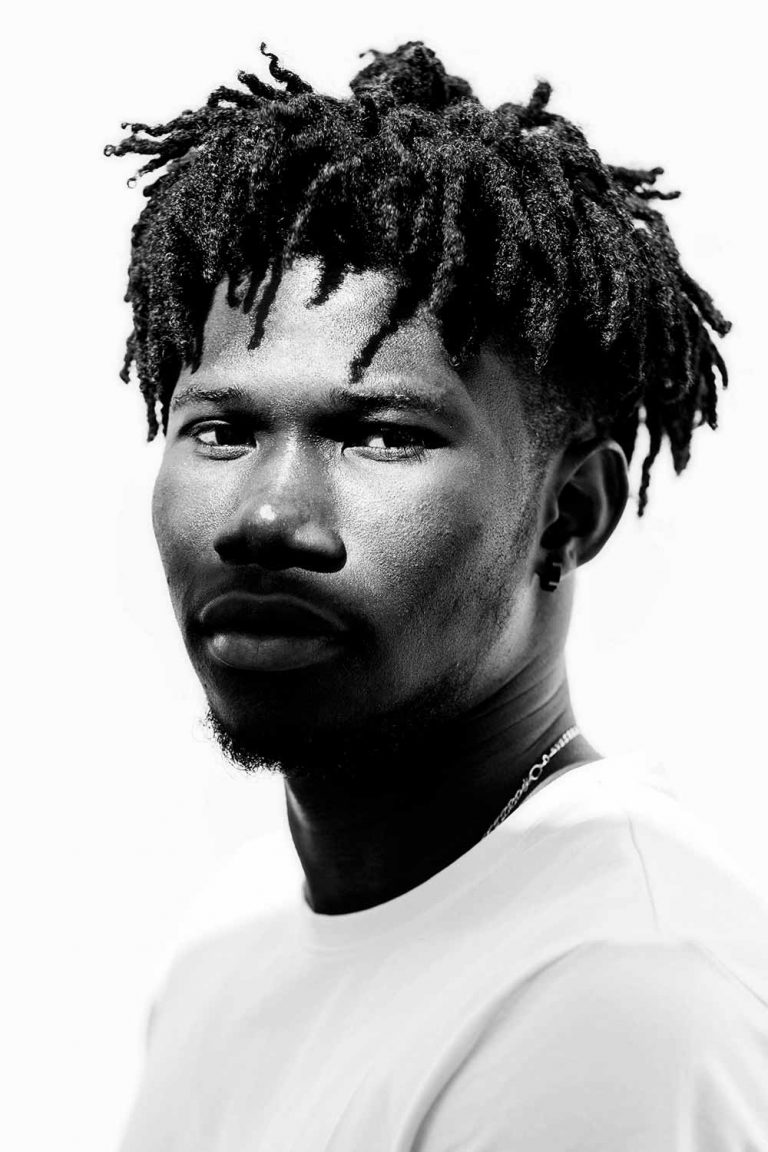 Curly Dreads
We may surprise you, but dreadlocks can be curled in the same way like any other hairstyle. To add a little texture to your hair before curling, you can crochet dreads yourself or ask the professional opticians or dreadlocks artist to do it for you.
Medium Locks With Undercut
If you want to keep the focus on your dreadlocks only, it's hard to imagine a better option than the undercut. The perfect length of the locks with tapered back and sides is medium so don't' grow out your hair too much.
Tattooed Sides
This hairstyle can be regarded as Asian dreadlocks by right. Asiatic people love pairing locs with tattoos. However, not only do they cover the whole body with tattoos for men but also shave the sides of the head and add a tattooed masterpiece there.
High Top Dreads
High top dreads are a very popular hairstyle for a reason. Thanks to their undercut design, they're really low-maintained. Ask your barber to give your sides and back a taper fade, while the top should be left longer. To bring the look into the modern day, add a line-up and two symmetrical curved lines as a design element.
Neat Skinny Dreadlocks Undercut
Dreadlocks offer many styling options, which depend on the thickness, length and the way of wearing (i.e. loose, braided, gathered, etc.). If you want to keep it neat and sophisticated, try a skinny dreadlock style. You can pair it with a connected beard to complete the look.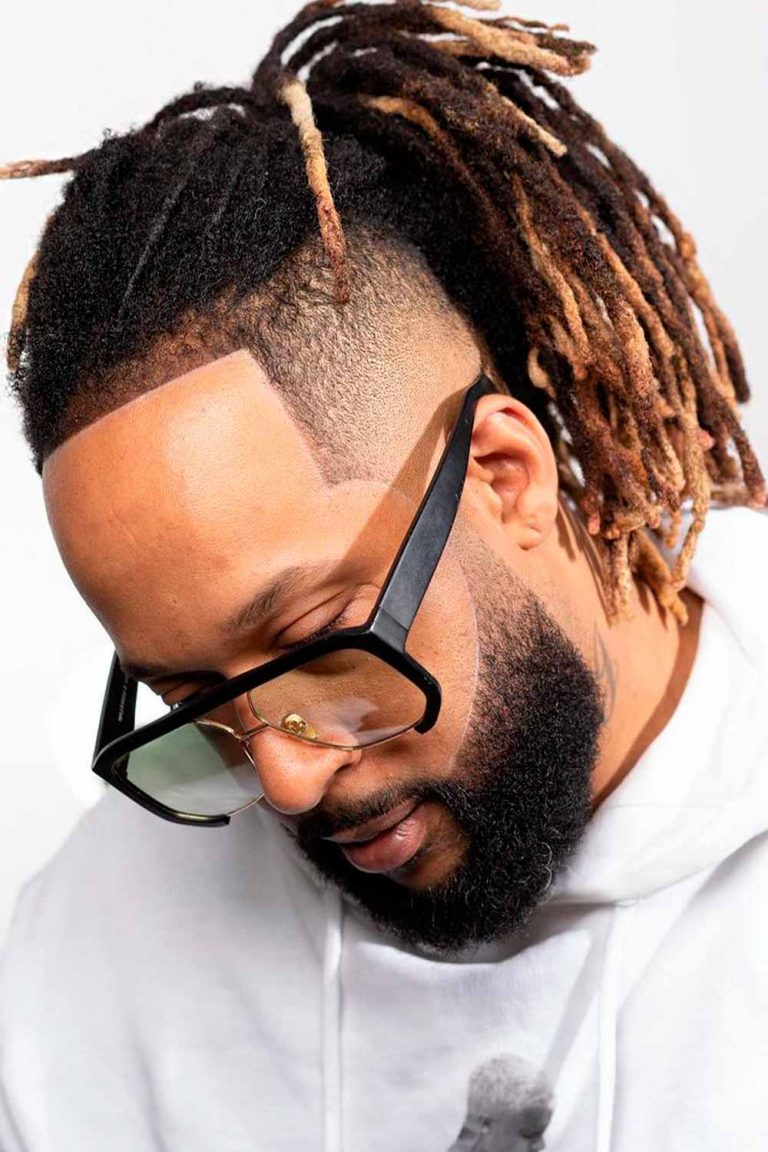 Source: @andyfadepro via Instagram
Wicks Dreads
When opting for dreadlocks men get a chance to show off their superb sense of style. If you want to be one of them, try natural and low-key wicks hair. For added enhancement, complement them with a line-up along the forehead and temples. And a confident impression is a key to success, of course.
Source: @hayden_cassidy via Instagram
Short Spiky Dreads
This take on dreads is unique and striking. You didn't expect to see dreds spiked up, do you? It's an excellent option for those guys who aren't into long hair though want to wear dread locks. To add even more contrast, you can go with a high skin fade haircut on the sides and back.
Source: @fernthebarber via Instagram
Comb Coils
When you have short thick kinky hair, comb coils are your best bet. They come out bouncy and movable, which makes the style not only defined but also dynamic. Though, it is most likely that you will not be able to create it on your own. So, an extra pair of professional hands will not hurt.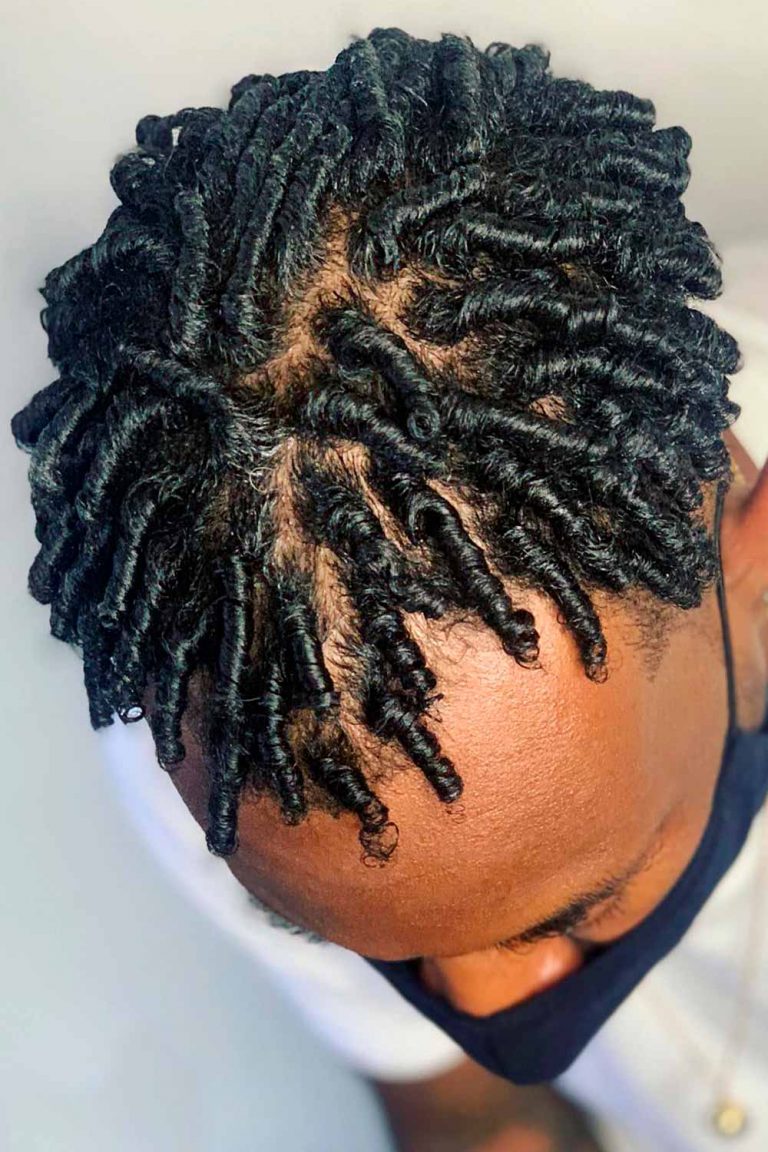 Source: @braidedroots via Instagram
High Bun
People may find your hairstyle creative and elegant. They don't know that a man bun is a perfect way to reduce the heaviness of the long dreads. Just kidding. Wearing your locs up really looks unusual and exquisite. However, it does give a relief of the burden you carry.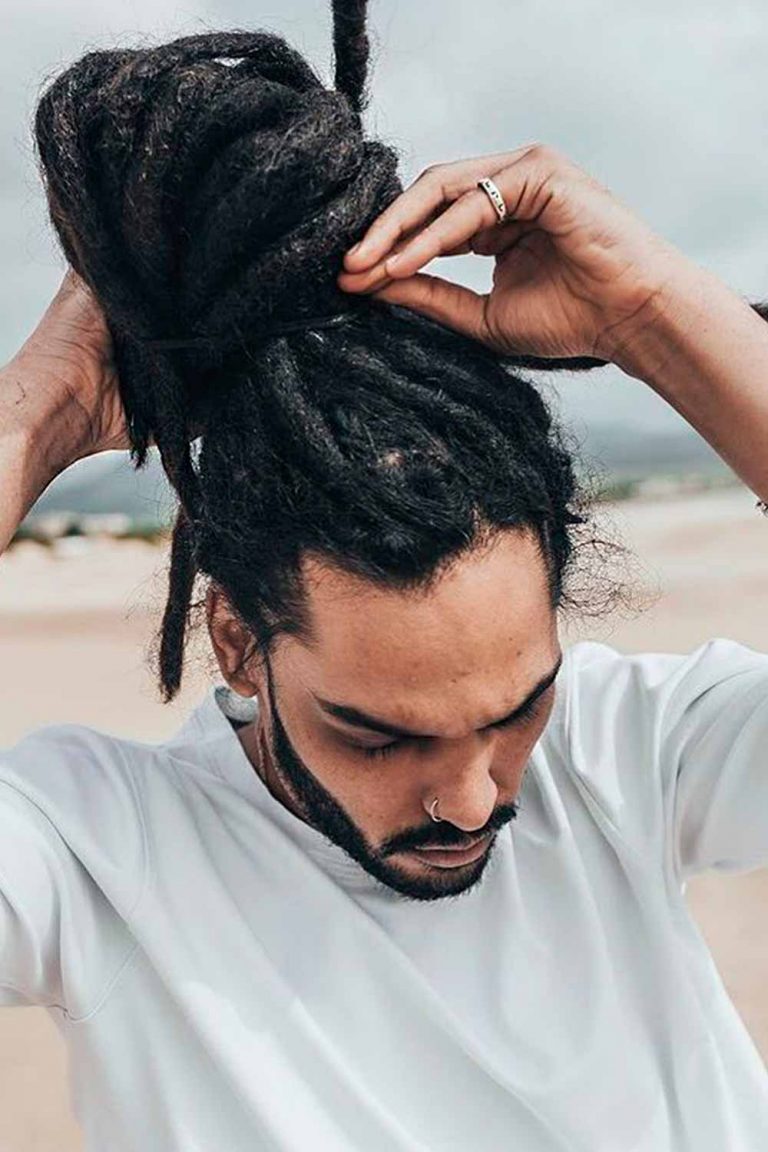 Source: @chezeus via Instagram
Dreads In Ponytail
Dreads gathered in a ponytail are a serious rival of the bun dreadlocks styles. However, the former is a bit more popular among men. The thing is the man bun is still a very controversial hairstyle because some people consider it an inclination into the feminine side. As for the man ponytail, there are no stereotypes as strong as this one.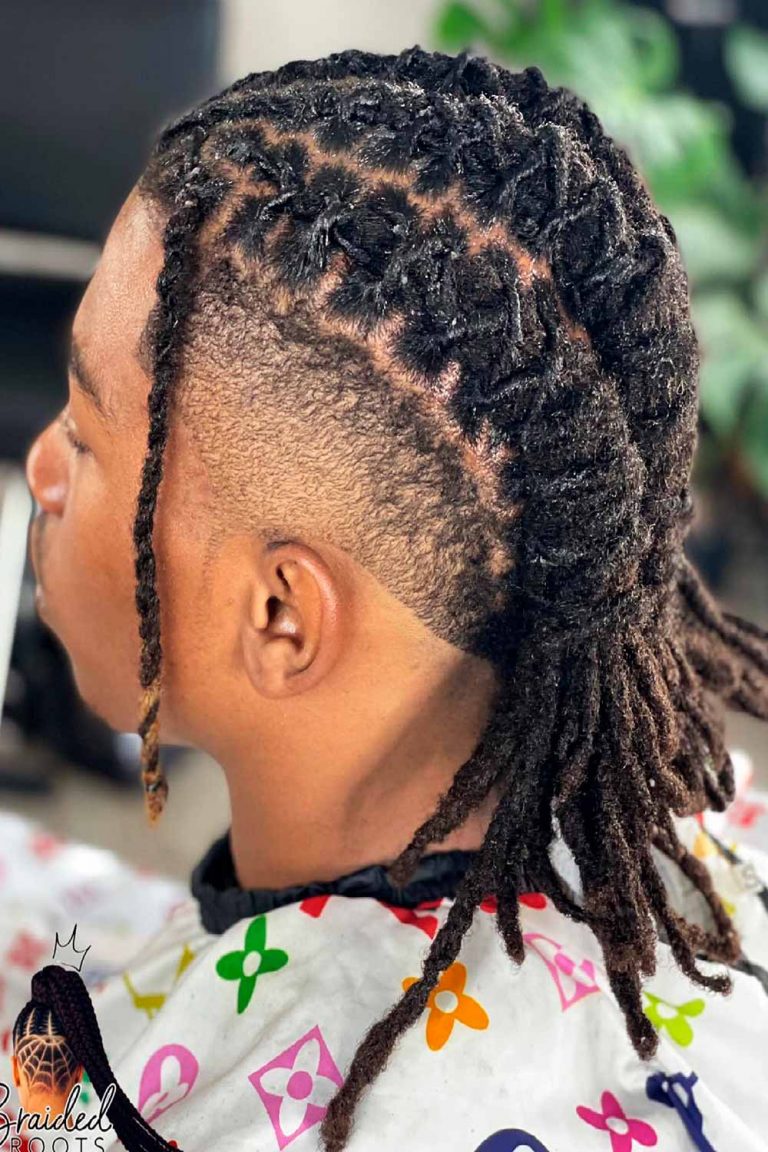 Source: @braidedroots via Instagram
Braided Dreads
Embrace your creativity and try this chic look. Dread styles for men can be fanciful and complex, like these braided dreads that add an exclusive texture and depth to the look. Just keep in mind that it's much easier to deal with thinner locks because they allow you more precision.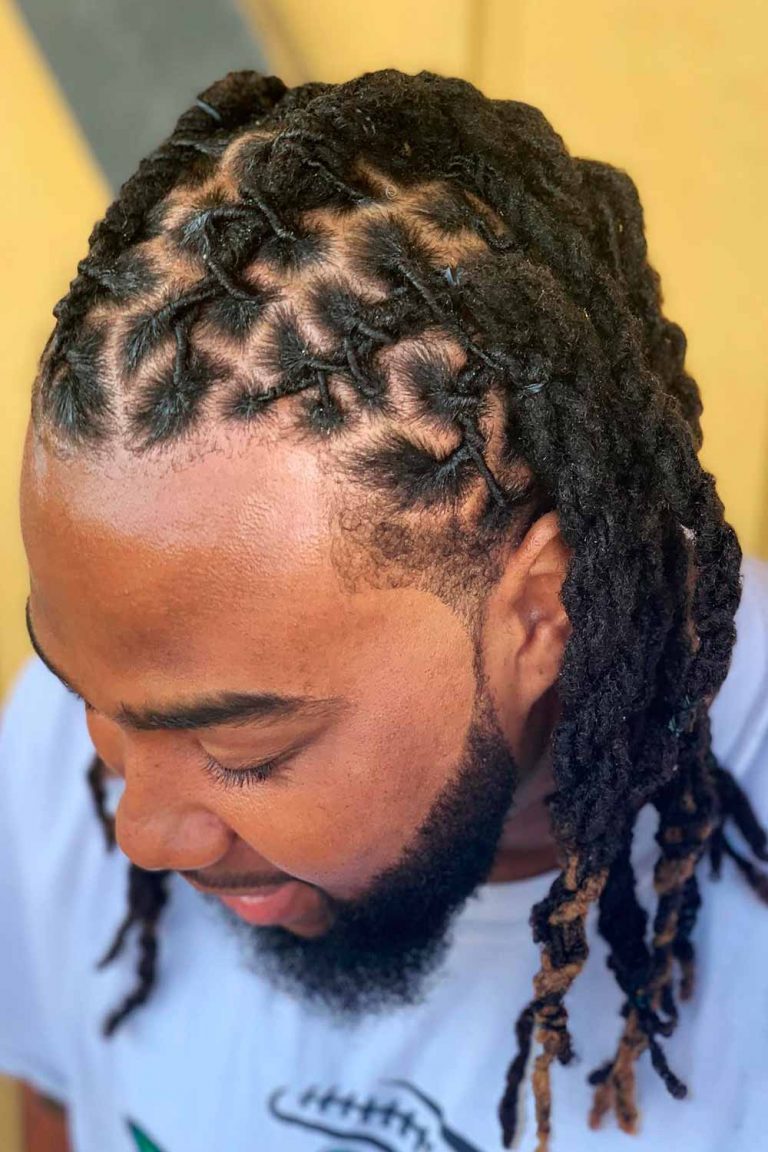 Source: @braidedroots via Instagram
Dyed Dreads
If talking about white people dreads won't be the most common hairstyle among them. The main reason for this is probably that locs create a striking contrast with the fair skin tone. In case you find white people with dreads looking way too intense and unbalanced, try dying or bleaching your locks to get various colors. In this way, white dreads seem softer and more harmonious.
Source: @fernthebarber via Instagram
Updo Style
It's so easy to show off your black men dreadlocks when they're styled in an updo. This hairstyle is extremely versatile. So, if you're keen on experiments, give a go your imagination. Also, it's a great way to take your hair away from your face, which will make wearing dreads an easy task. Look at The Weeknd and try to wear these men's hairstyles like him.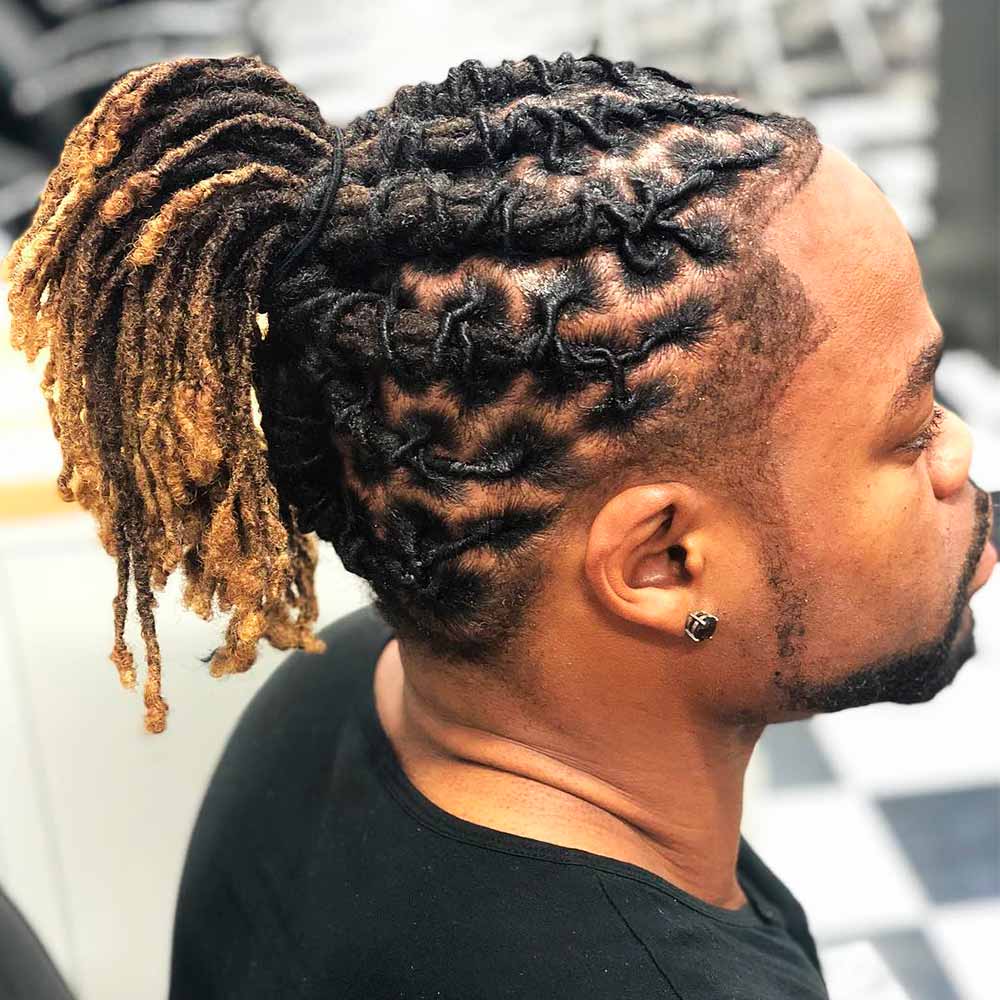 Source: @braidedroots via Instagram
Half Updo
When they are tired of wearing their dreads men start to create different cool dread styles. Take, for instance, this half updo, which features the top section of your locks tied in a high ponytail whereas the rest of the hair is left loose.
Blonde Locks
A white guy with dreads may look decent no matter what color they are. Yet, for an added touch of style, you can dye your hair in blonde. White dreadlocks look unusual and bold, allowing you to make a strong fashion statement.
Accessorized Boho Dreads
If you want to put an extra twist on your rasta hair style, embellish it with some cool dreadlock accessories. Bands, rings, beads, there is a vast majority of options. The choice depends on your personal preferences and style.
Hippie Style
The true dread meaning is the freedom of self-expression. And this resonates with the hippie values. Thus, why not take advantage of it and rock your dreadlocks in a hippie style manner?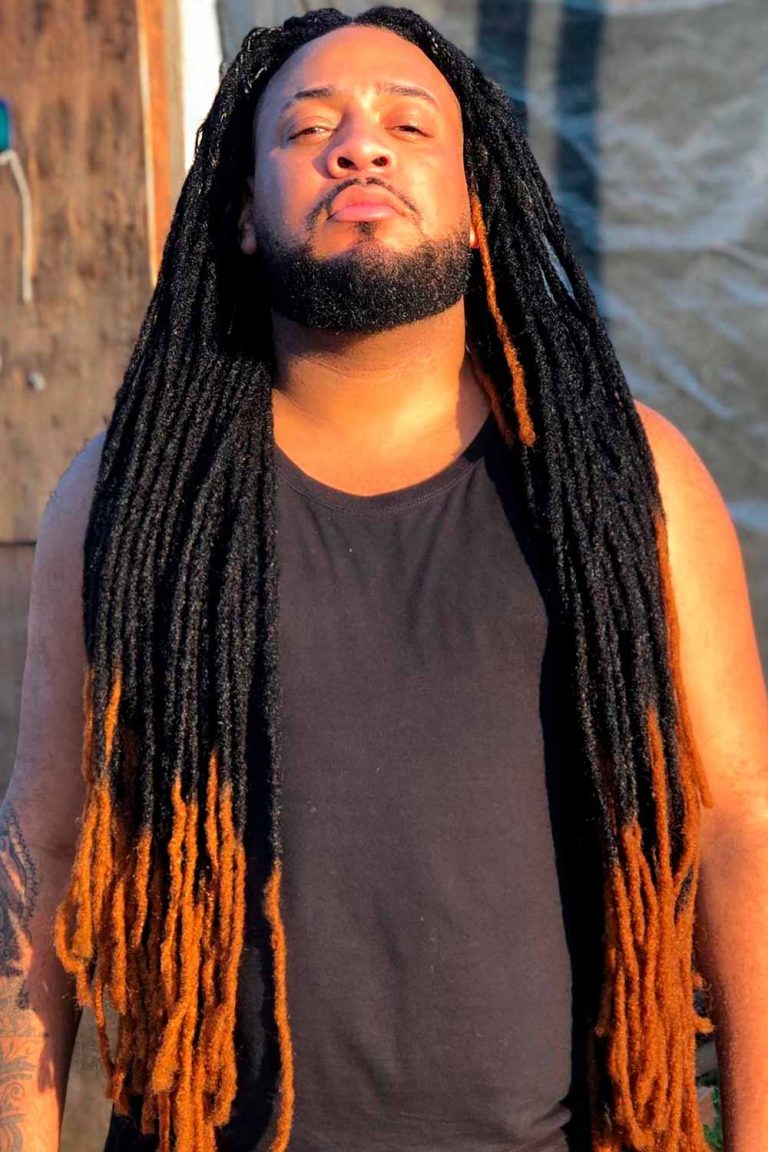 Source: @lucasbraids via Instagram
Dreadlocks Top Knot
When you need a formal and neat hairstyle, you should not necessarily get rid of your dreadlocks. You can simply push the upper section of them back and tie it in a top knot.
Dreadlocks With A Twist
Dreadlocks make up a base for a myriad of your trendy hairstyles creations. Thus, you can put a cool twist on your locks by complementing them with a popular haircut or dyeing in a contrasting color.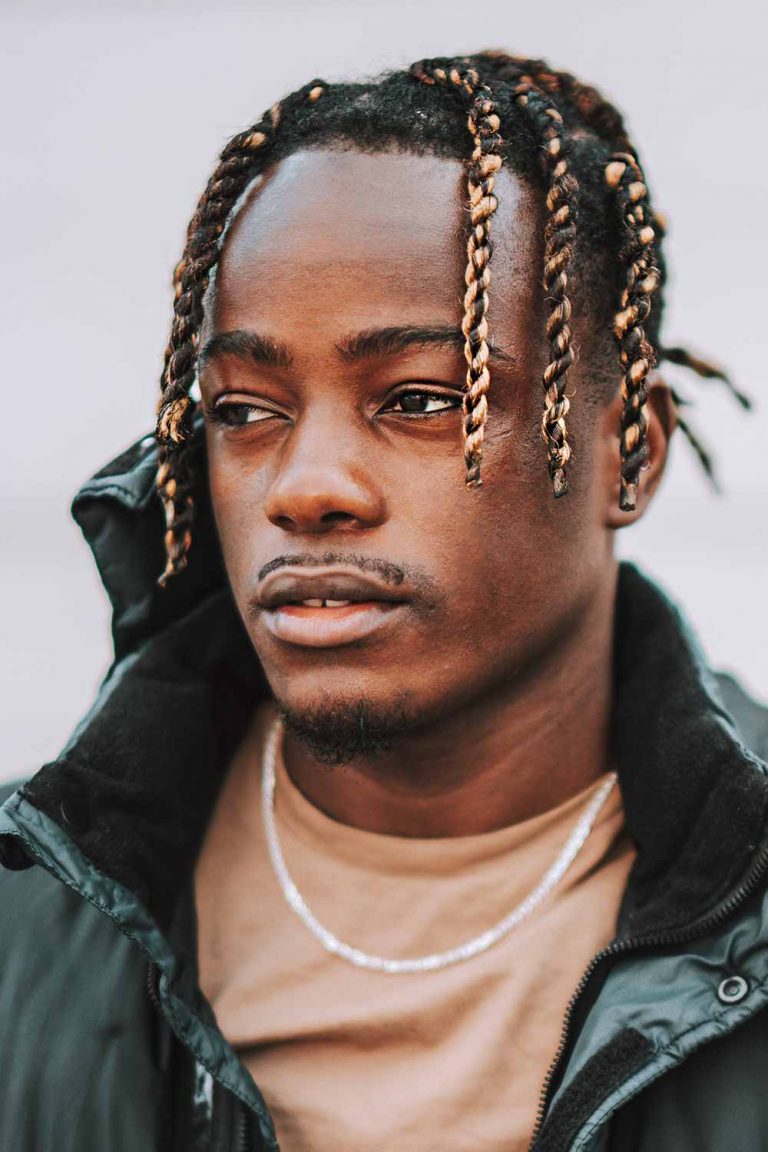 Chunky Twist
This white guy dreads are chunky and solid, which makes them pop up against his subtle bone structure. Complementing them with a coarse beard puts a final touch on this Viking dreadlocks look.
Source: @iisakkinummi via Instagram
Short Ombre Locks
If you do not want to experiment with dread hairstyles but still desire to spruce up your short hair locks a little, then it is a good idea to play around with their color. Employ one of the trendiest dyeing techniques of late, which is ombre.
Bright Style
Even though men dreadlocks hairstyles are a surefire way to stand out from the crowd, you can make it even more prominent. Add a hint of color to them by weaving in colorful strands. And don't be afraid to experiment with bright shades. In case you worry that you won't be able to pull it off, enhance your hairstyle with matching element in your outfit.
Colored Full Bun
Actually, color play can be exploited even when you already sport quite intricate loc hairstyles, like a full bun. Moreso, in this way, your dreadlocks look even bolder and edgier. Thus, the more color you engage, the better.
Half Pony With Undercut
Dreads with fade make up a stylish and fashionable combo. To accentuate it even more, tie the top section of your locks in a half pony and get an undercut on the back and sides. If you undercut only sides, you will get a trendy twist on a dread mohawk.
Short Dreads With Bandana
Are you after relaxed and free form dreads styles? Then simply tie a bandana around your head to add a neat touch to your locks and you are good to go.
Savanevich Viktar/Shutterstock
Asian Yellow Dreads
Have you seen how cool and unconventional Asian hairstyles with dreads looks? In this case, you should also try to dye your dreads in a bright color. We like yellow, as it creates much contrast and appears unique.
Viking Loc Styles For Men
The signature Viking hairstyle almost always features braids. You can take it to another level and give a modern feel by switching braids for twisted dreads.
Red Dreads
For added contrast and boldness, give man dreads hairstyles a touch of color. For instance, weave red strands into black men dreads to achieve a striking and eye catching appearance.
Rasta Men With Locs
Guys with dreadlocks often choose the Rasta men style as their source of inspiration and we cannot blame them. Rasta men locks are one of the coolest dreadlock styles possible.
Dreads With Beads
Although a black man with dreads already looks stylish and trendy, you can enhance your hairstyle by adorning it with beads. You are offered to pick out the material, color and style depending on your preferences and outfit.
Dreadlocks Boys Long Hairstyles
Boys long haircuts can be different: layers, bobs, or dreaded hair. Try a similar hairstyle on your summer vacation. Believe me, your child will love to feel like a native.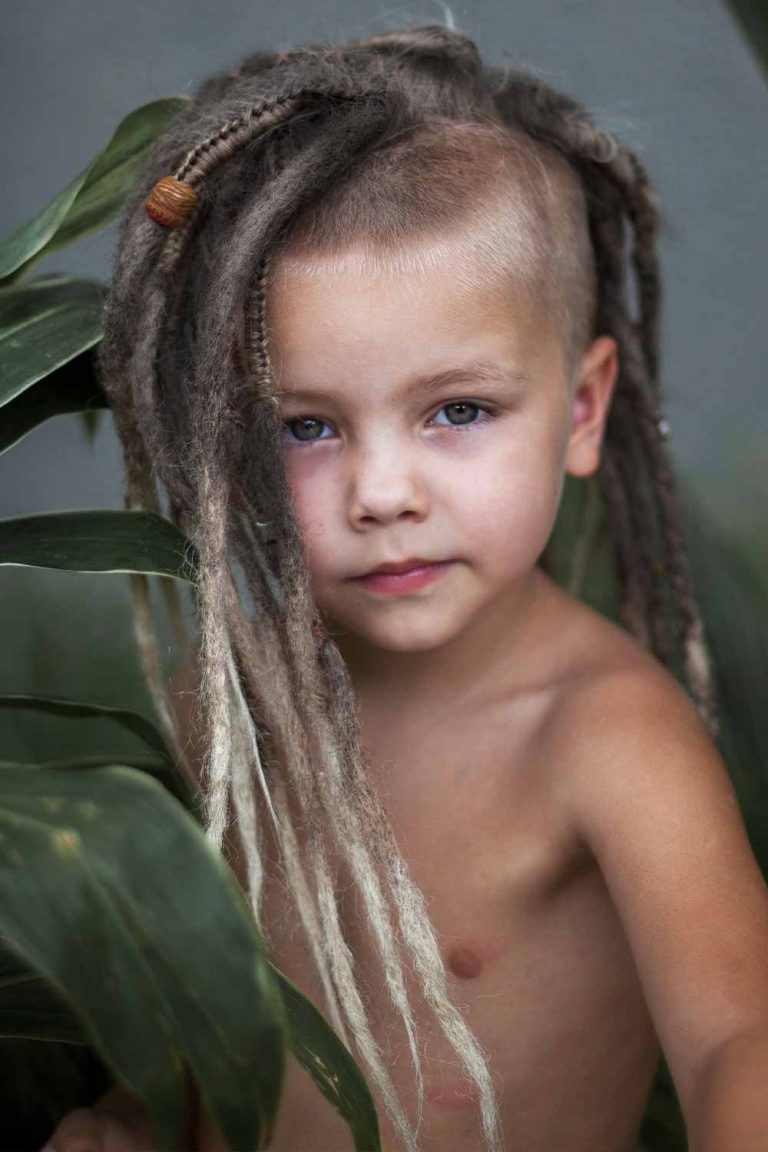 Extra Long Dreads
Undercut With Dreadlocks Pony
Dreadlocks & Shaved Sides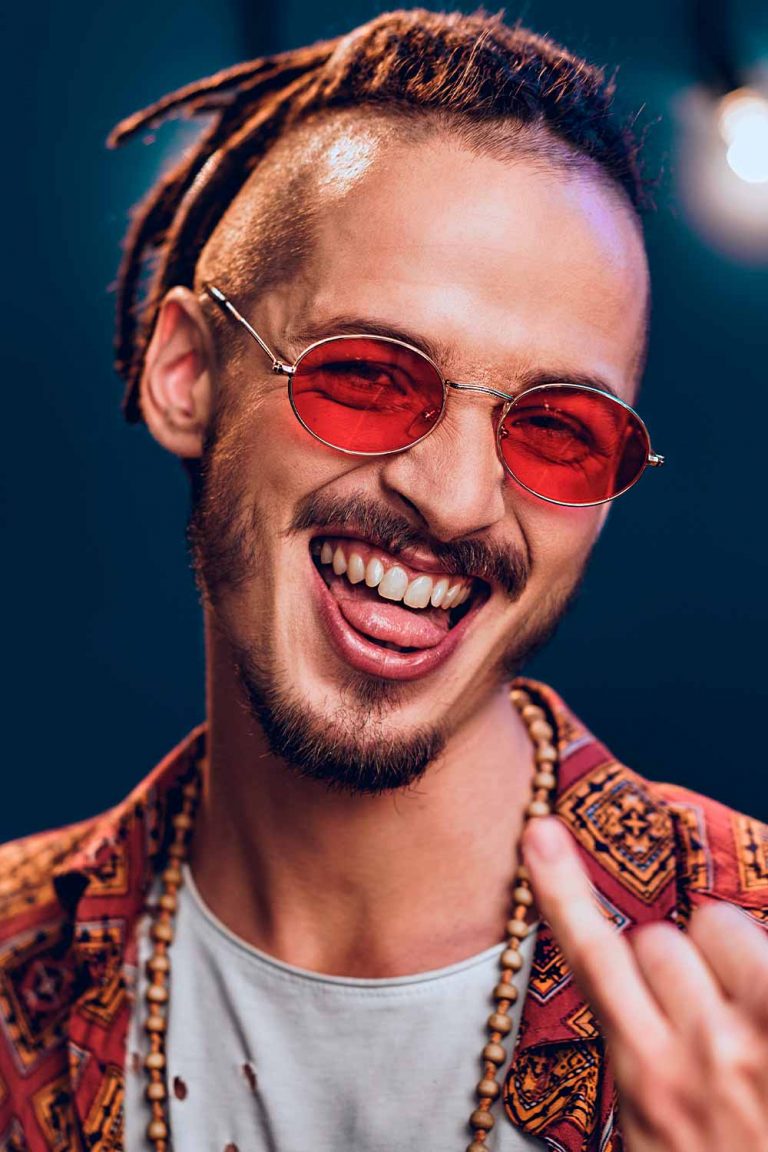 Medium Side Swept Dreads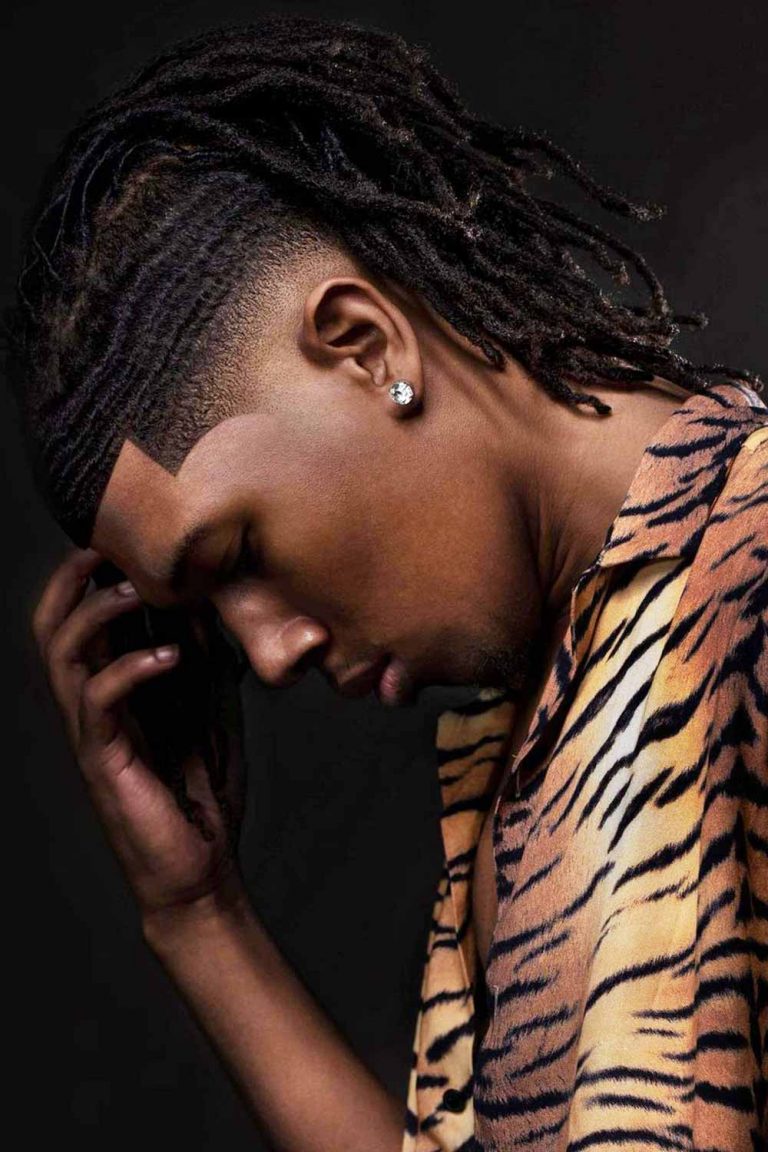 Source: @los_cut_it via Instagram
Swept Back Ombre Dreads
High Pony Dreadlocks
Long Dreadlocks With A Headband
Side Swept High Pony
Super Short Dreaded Top
Thick High Pony
Undercut Design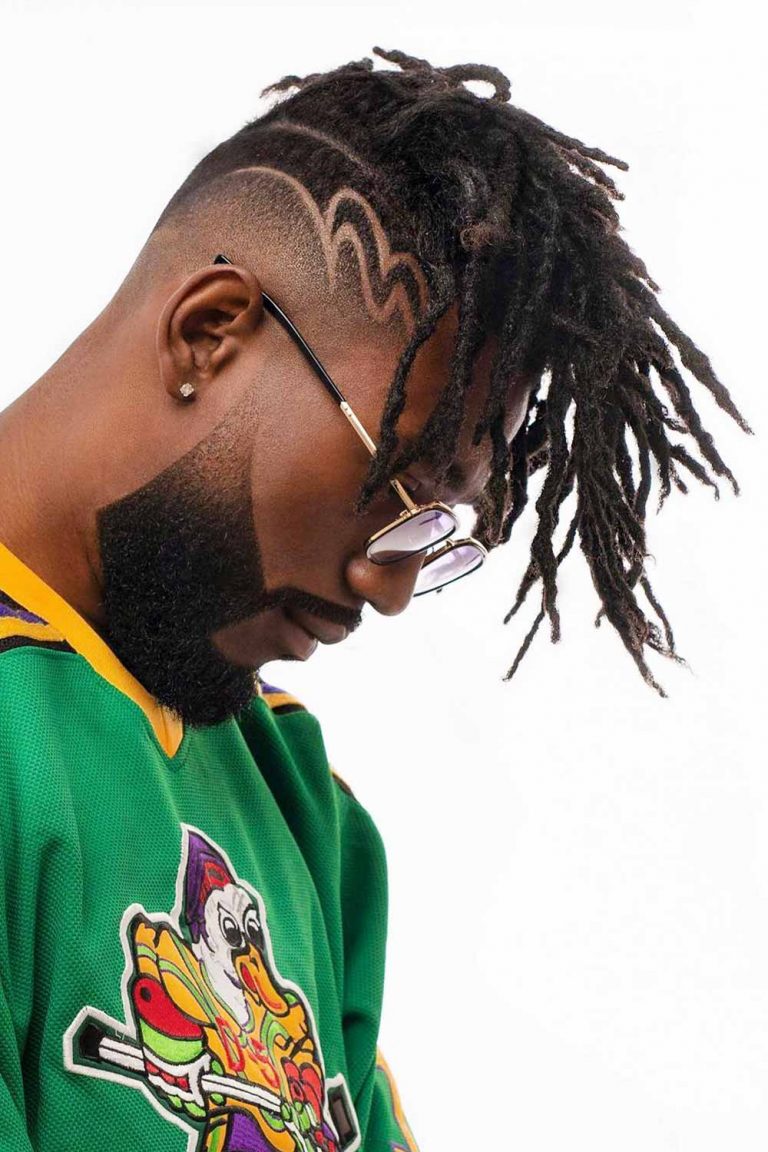 Thick And Decorated
Curly Green Locks
Braided And Dreaded
Updo Madness
Bandana High Bun
High Pony With Blonde Ombre
Long And Grey
Bob Thin Dreadlocks
Black And Blonde
Textured Low Dreads
Short Sides Long Top
Disconnected Undercut With Short Dreads
Braided Locks
Brushed Back Undercut
All Over Locks
You can leave dreadlocks only on a half of your head if you want to lighten up your hair a little. In this way, they still look cool and stylish. Moreso, the shaved part allows you to show off your strong masculine facial featured while making the dreads the focal point of the look.
Dreadlocks: A To Z
History Of Dreadlocks
Dreadlocks are rich in history and meaning. Originally mentioned about 3800 years ago in Indian writings, their infamous roots were worn by many ancient people from Egyptians and emperors to the caveman. The Rasta movement that took place in Jamaica is where the coining of the name transpired. Dread, meaning horror and fear, became symbolic of this hairstyle. But fear not, this guide will help you get beautiful dreads that smell and look amazing.
How To Start Dreads
To get started on dreading your hair you'll need to ensure the texture it a bit ruffed up. This means you'll want to ditch the conditioner. Gather a teasing and a dreading comb, rubber bands, hair clips, a locking accelerator, and most importantly, a dread wax. You should be able to find all of these supplies at your local beauty store. Once hair is freshly washed and dry, you'll divide into small square sections and secure each section with a hair elastic at the roots. Using a teasing comb, backcomb each section till you get to the scalp. Be sure to tease all the way to the ends. Secure the ends with an elastic band, and then begin twisting each section with dread wax. Viola! The work is done.
While twisting and dreading the hair isn't difficult, you'll want to make sure you regularly shampoo your hair and really work the cleanser into the scalp to avoid any odor. The last thing you want is a hairstyle that isn't clean, as that can result in scalp sores and tops of itching. Because twisting the hair and allowing it to mat can be damaging long-term, many people give their dreads a break and get a good haircut after wearing them. If you don't already have one, invest in a deep conditioner and be sure to keep those tresses well quenched after de-matting your dreadlocks. In some cases, dreads can be worn too long and have to be cut out with shears. Be prepared to go shorter after wearing this look, or think twice before getting twisted.
How To Make Dreads
There are many ways how to make dreads, actually. Almost all of them require you to start with washing and air-drying your hair as well as dividing it into squares and securing with rubber bands. Twist and Pin method suggests twisting each section until it forms a ball. Using the Backcombing method, each section of hair should be teased toward the head. When the hair is dry, pull each section apart. Twisting requires you to twist each section to and fro between the fingers. Dread Braiding has a very literal name. You just need to braid each section of the hair.
Brush Rubbing implies brushing and rubbing the hair clockwise around the head without dividing into sections. With Twist and Rip method, you first divide the hair into squares and only then wash it. Freeform Dreadlocks is a low-effort method. You just do nothing special to your hair and wait until it's locked. For the Dread Perm, you go to the salon and get your hair chemically ruined so that it could dread easily. Loomed Dreads method also requires going to the salon where you're going to get dread extensions. As of today, the most effective and hair-friendly way how to make dreadlocks is backcombing.
How To Wash Dreadlocks
Basically, nothing much will change with your hair washing routine. Just wash your dredlocks at least once a week to maintain good hygiene. And again, use residue-free shampoo, which means that the shampoo should not leave anything in the hair after rinsing. It's crucial because the hairs become covered with residues, and this makes dreads loose. Moreover, when residues accrue in the locks hair gets prone to growing mold.
How dirty are dreadlocks? Despite the common misconception that your hair should be dirty to lock up, it does not. Instead, you should not forget to wash it regularly, otherwise, it will become smelly. More so, when your hair is clean, it forms dreads much faster. The frequency depends on how dirty are dreadlocks. Once you feel that they require a refresh, feel free to hop into the shower and give it to them.
7 Tips To Styling
We know that you just can't wait to see the best dreadlock styles for men. Don't rush though. To keep your locks nice and tight, remember these 7 tips:
Cut down on washing. Frequent washing will make your hair smooth, and thus, you won't attain the fuzzy look you're striving for.
Go wild. Don't limit yourself to one style. There are numerous dreadlock hairstyles for natural hair out there. And you can come up with even more.
Get inspirited. Check out men's hairstyle websites, fashion magazines or pages of celebs on social networks for hair inspirational ideas.
Go eco. Use natural products only because they'll keep your locks healthy.
Keep backcombing. To refresh your hairstyle, you'll need to tease your hair toward your scalp every now and then.
Educate yourself. Learn how to dread in different ways, not only the one you're sporting.
Keep waxing. Use a special dreadlock wax to style and maintain your locks.
FAQs
How much does it cost to do dreadlocks?
The price for dreadlocks varies depending on many factors, such as the complexity of the style, additional tools and accessories and labor involved. Thus, should you decide to go for freeform locks, they will cost you nothing. In its turn, the price for professionally installed dreads can be anywhere between $200 and $800.
Are dreads bad for your hair?
Dreads can be harmful to your hair only if they are maintained incorrectly. That said, you need to wash them regularly and dry thoroughly to prevent the buildup of hair products and mold growth accordingly. In addition, it is important to condition your hair and protect it with a head wrap. Finally, do not style and twist your locks too often, as this can lead to hair breakage, thinning and loss.
What do dreadlocks symbolize?
In Western civilization, the symbolism of dreads was to emphasize the unimportance of a physical appearance and vanity. There is also another belief in Western and Eastern cultures that the energy of your body, spirit and mind can leave your body by means of the hair and the head top. Thus, to keep the energy inside, which will make you healthier and stronger, your hair should be knotted or locked.
How do you get dreadlocks?
Here is a quick tutorial on how to do dreadlocks:
1. Brush your hair to eliminate any knots and tangles.
2. Divide the hair into square equal sections and fasten them with elastic bands.
3. Take a strand of hair, pull it out and twist.
4. Divide the strand into two sections and rip it up.
5. Work your way down to the end of the strand.
6. Using a dreadhook, crochet in all the hairs that stick out, pulling them through the strand.
7. With the same technique, dreadlock the rest of the hair.
How do dreads work?
As dreads are a number of individual braided or matted strands, it makes sense to study a single dread. The phenomenon of the dreadlock is based on the fact that when left intact, your hair starts to tangle and form separate matted spirals or coils, which look like yarn or rope pieces. On closer examination, dreads remind of steel wool. As the fibers are intertwined very tightly, they create a whole mass.
Do dreads smell?
If you take care of your locks properly and wash them every week, then they will not smell. Otherwise, your hair will become smelly no matter whether it is dreaded or not.
How dirty are dreadlocks?
There is a common belief that dreads are dirty. Yet again, regular washing will help you to break this myth.
REFERENCES:
Dreadlocks, also locs, dreads, or in Sanskrit, Jaṭā, are ropelike strands of hair formed by matting or braiding hair… Source
Dreadlocks also called dreads, it is a style created by allowing the hair to matt into locks. Source