When sporting box braids men instantly bring their hair to the spotlight. Even though this style requires some time and effort on your part, it fully pays off with tons of admiring gazes you will instantly collect. If you are unsure of how to do box braids and what styles there are, you have come to the right place. In our guide, we have put together all the necessary information to nail this fashionable hairstyle. Do not hesitate to make good use of it.
*We may earn money from affiliate links on this page. Please check out our disclosure policy for more details.

What Are Box Braids?
If you are not sure what are box braids, here is quick insight. This is a type of braids for men that implies separating portions of your hair and braiding them so that they form squares on your head.
Source: @dexterdapper via Instagram
i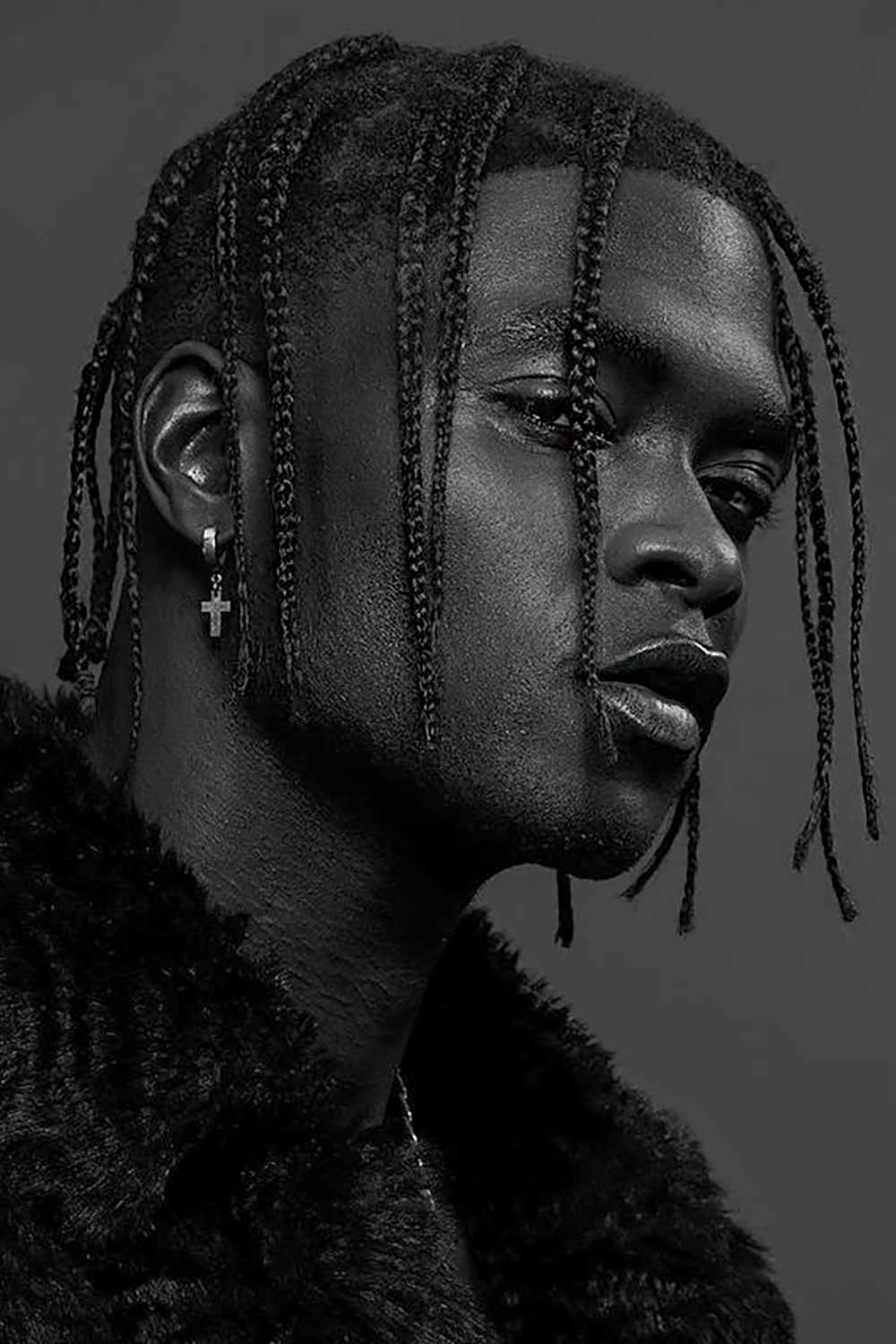 Source: @braidedroots via Instagram
i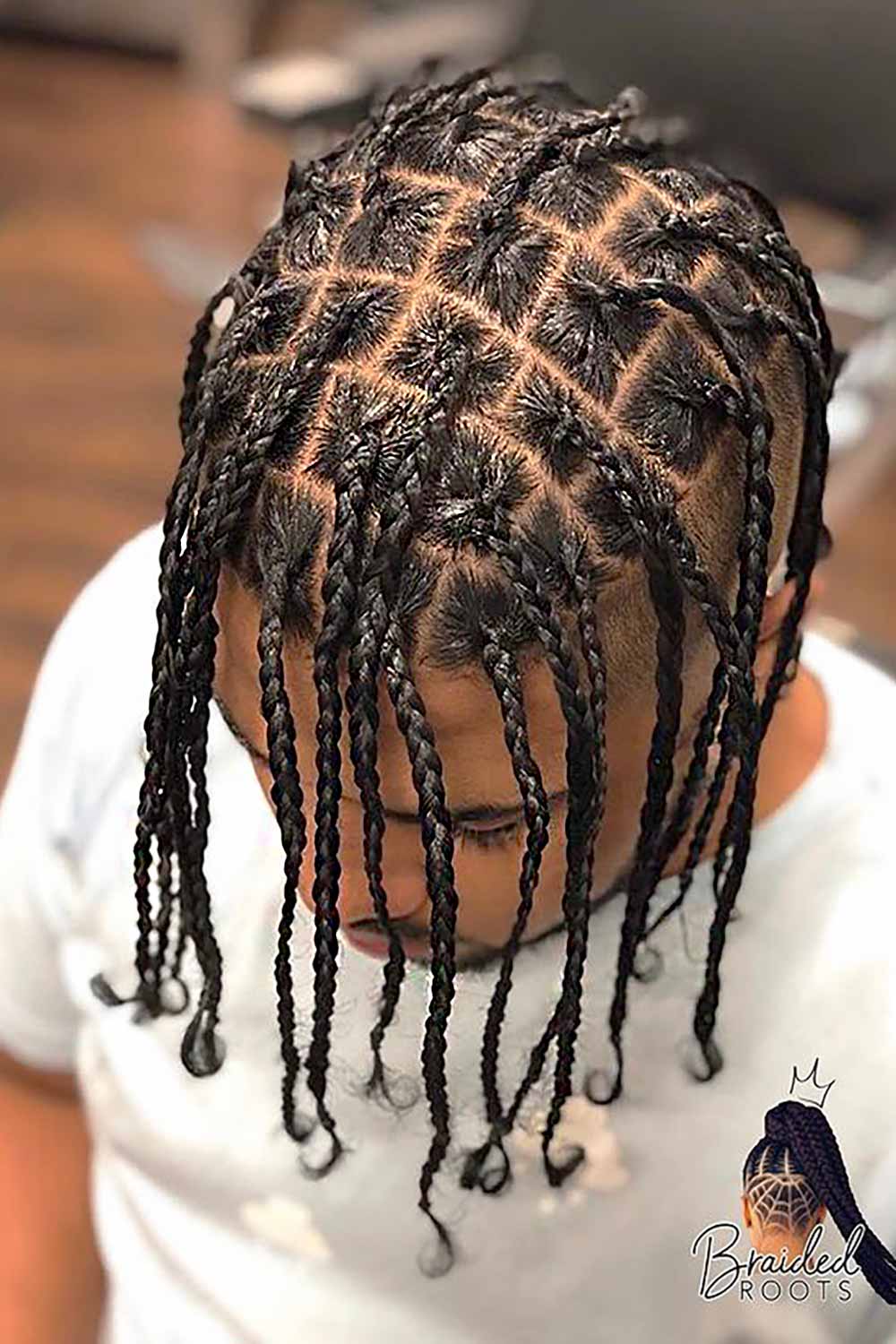 /
Top Box Braids Hairstyles
Now that you know how to box braid your own hair, it is time to explore the most popular box braids men styles.
Box Braids Undercut
If you find the answer to how long does it take to do box braids frustrating, then an undercut will become your real savior. In addition to reducing time for braiding, it also provides you with a look that attracts a lot of attention.
Source: @braidsvolna via Instagram
i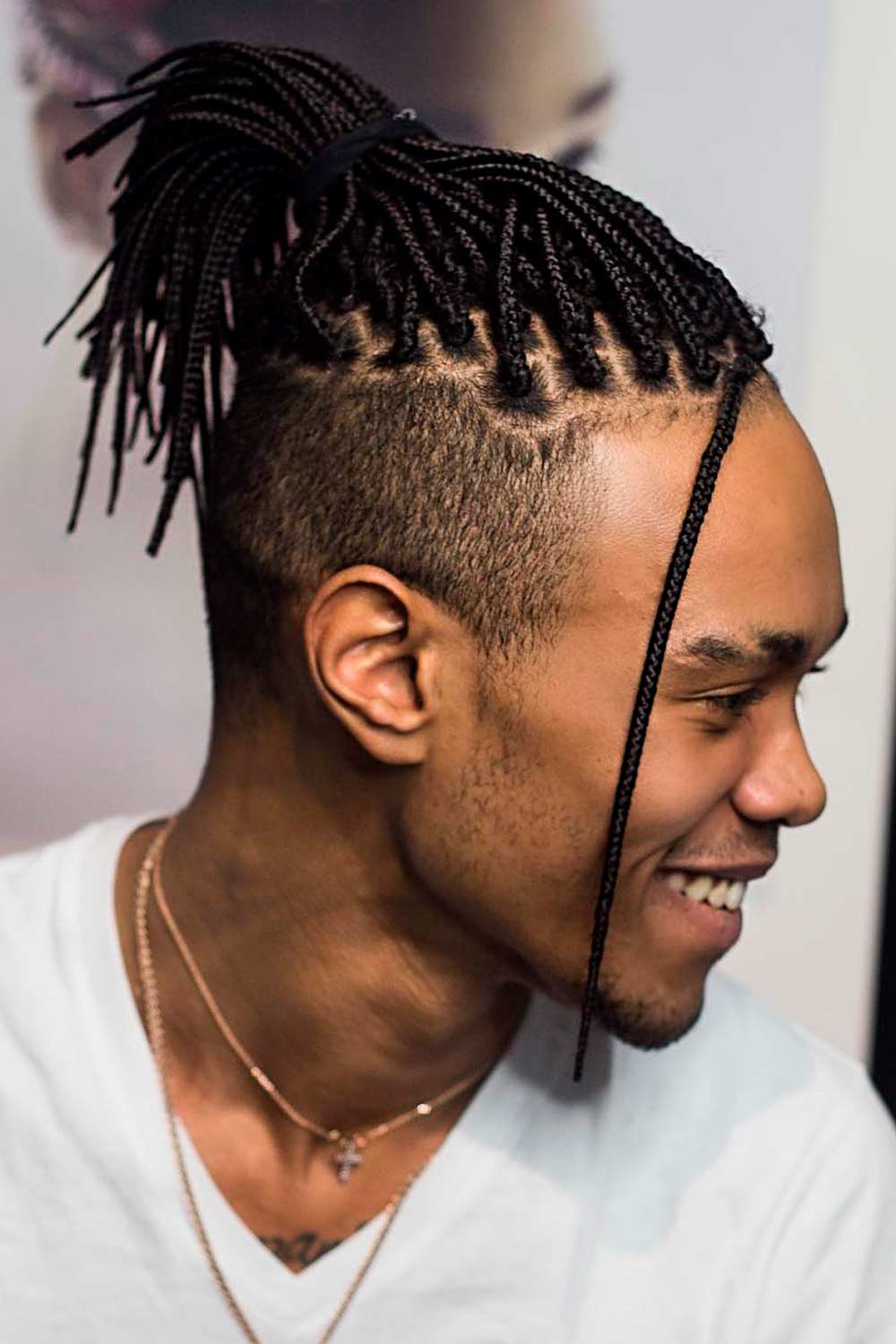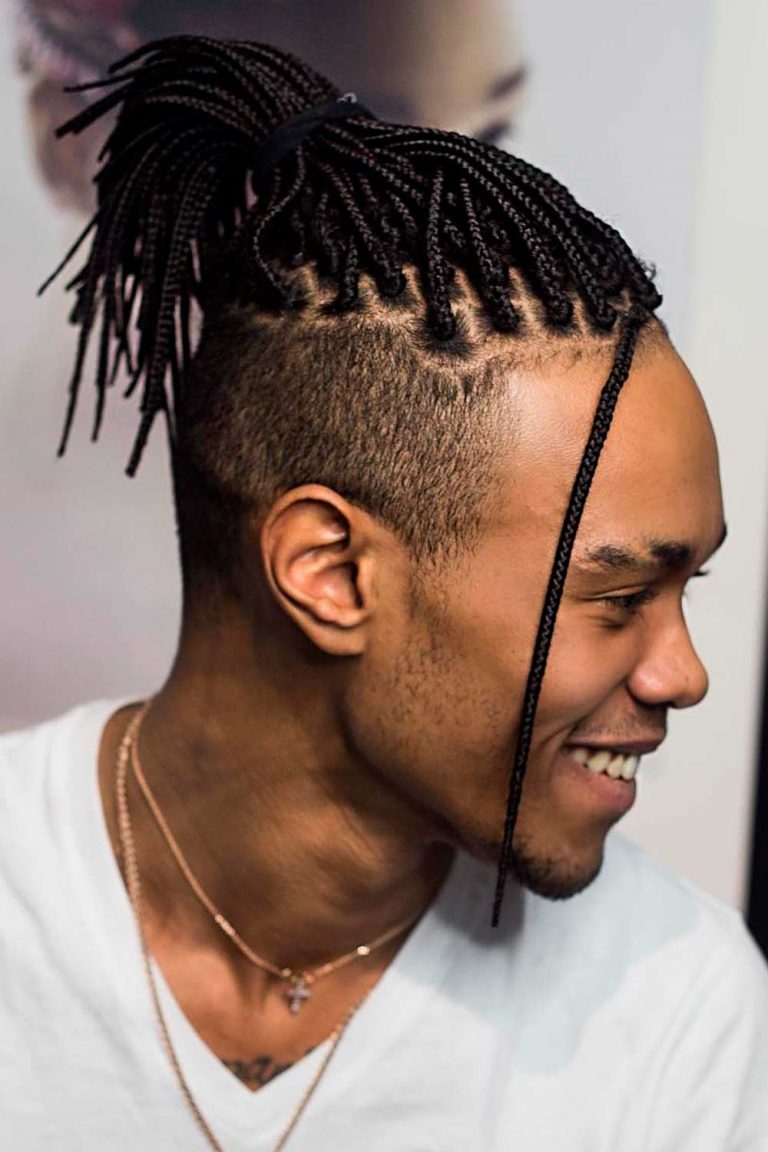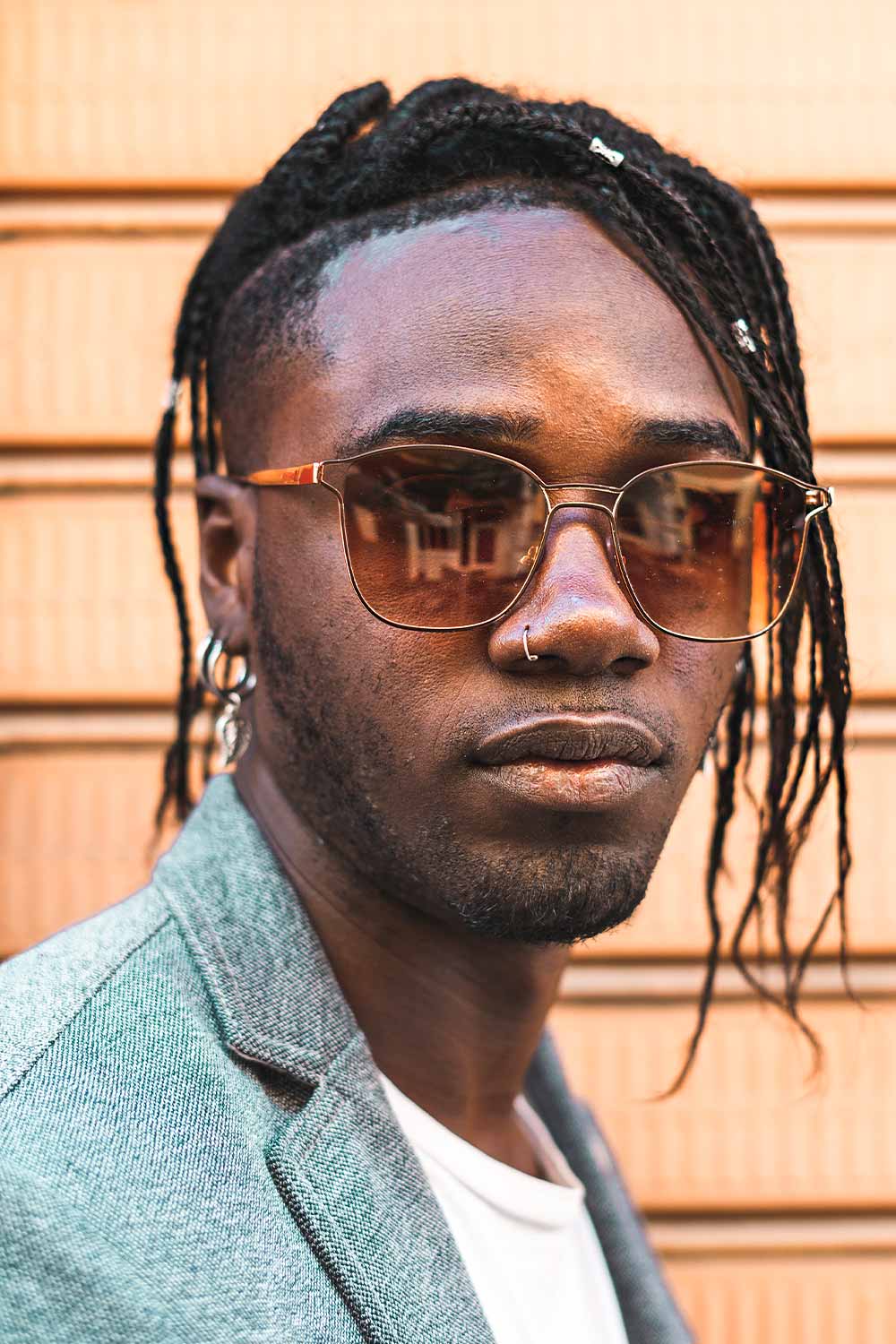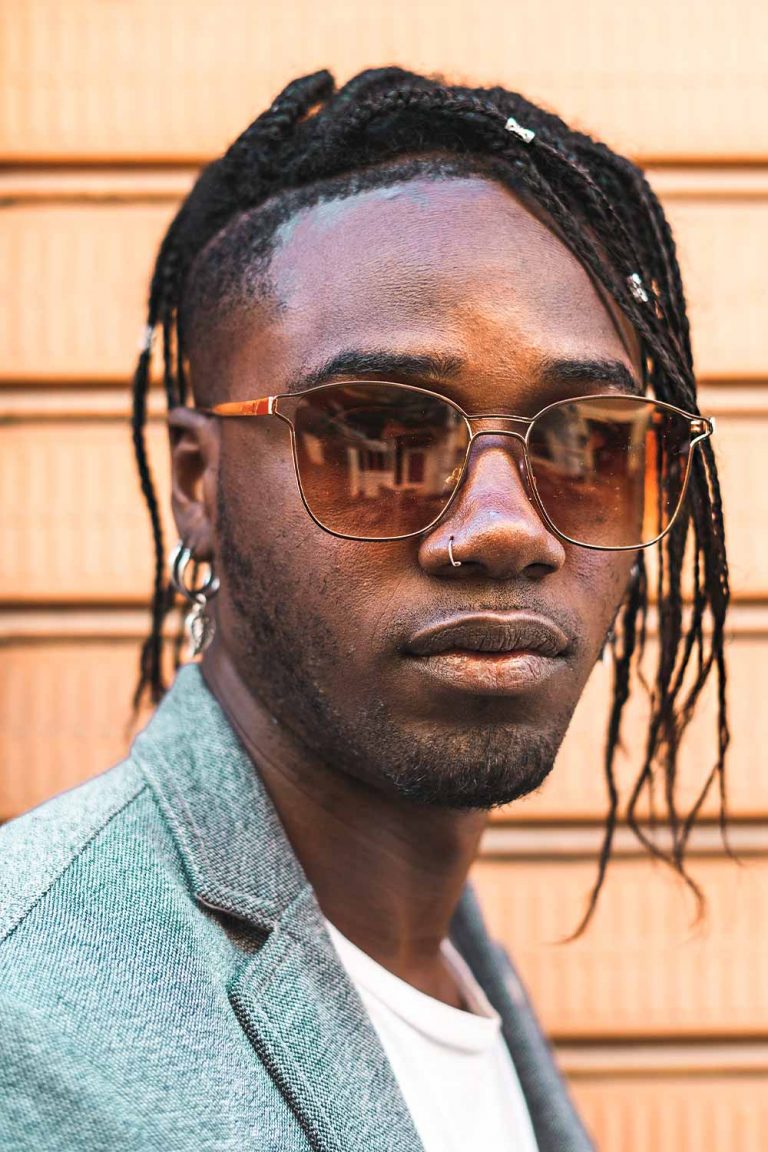 /
Box Braids With Fade
Pairing a fade with braids guarantees that your hairstyle will not go unnoticed. Mens box braids with fade look more contrasty and pronounced than their classic version.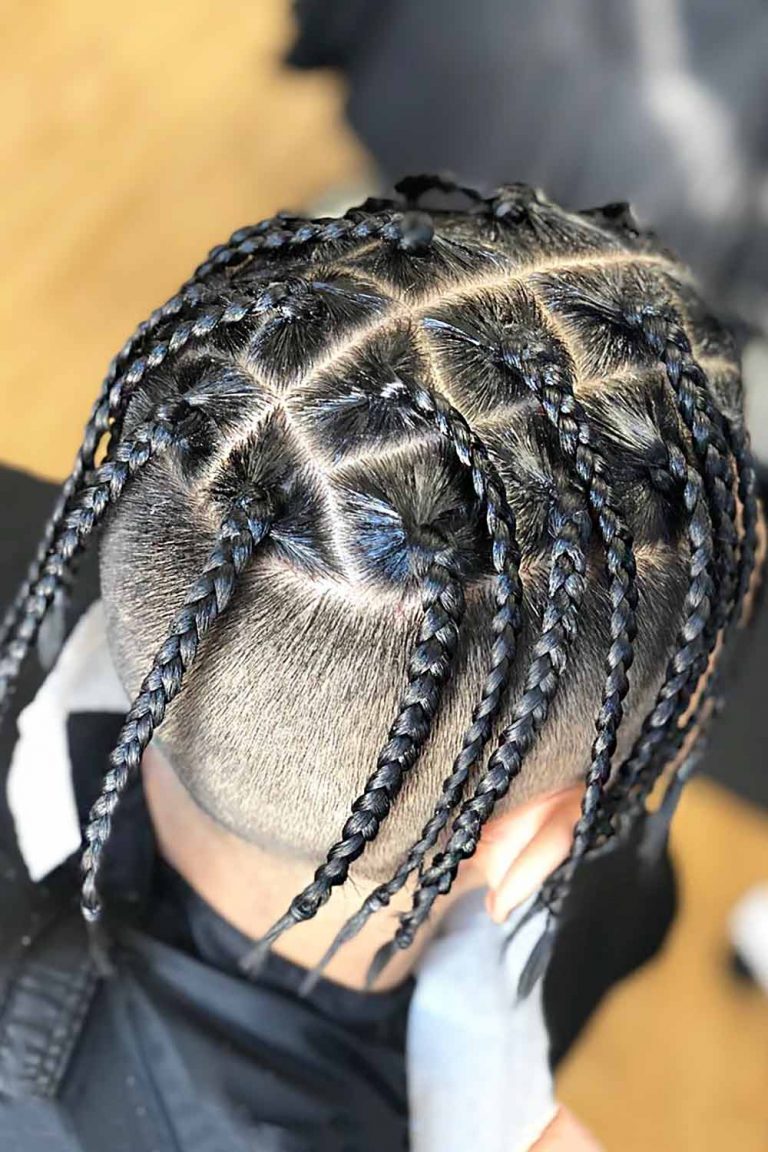 Source: @braidedroots via Instagram
Long Single Braids For Men
To pull off long box braids men do not always need to grow out their locks. They can get away with the help of hair extensions and get long single braids for men.
Source: @dexterdapper via Instagram
i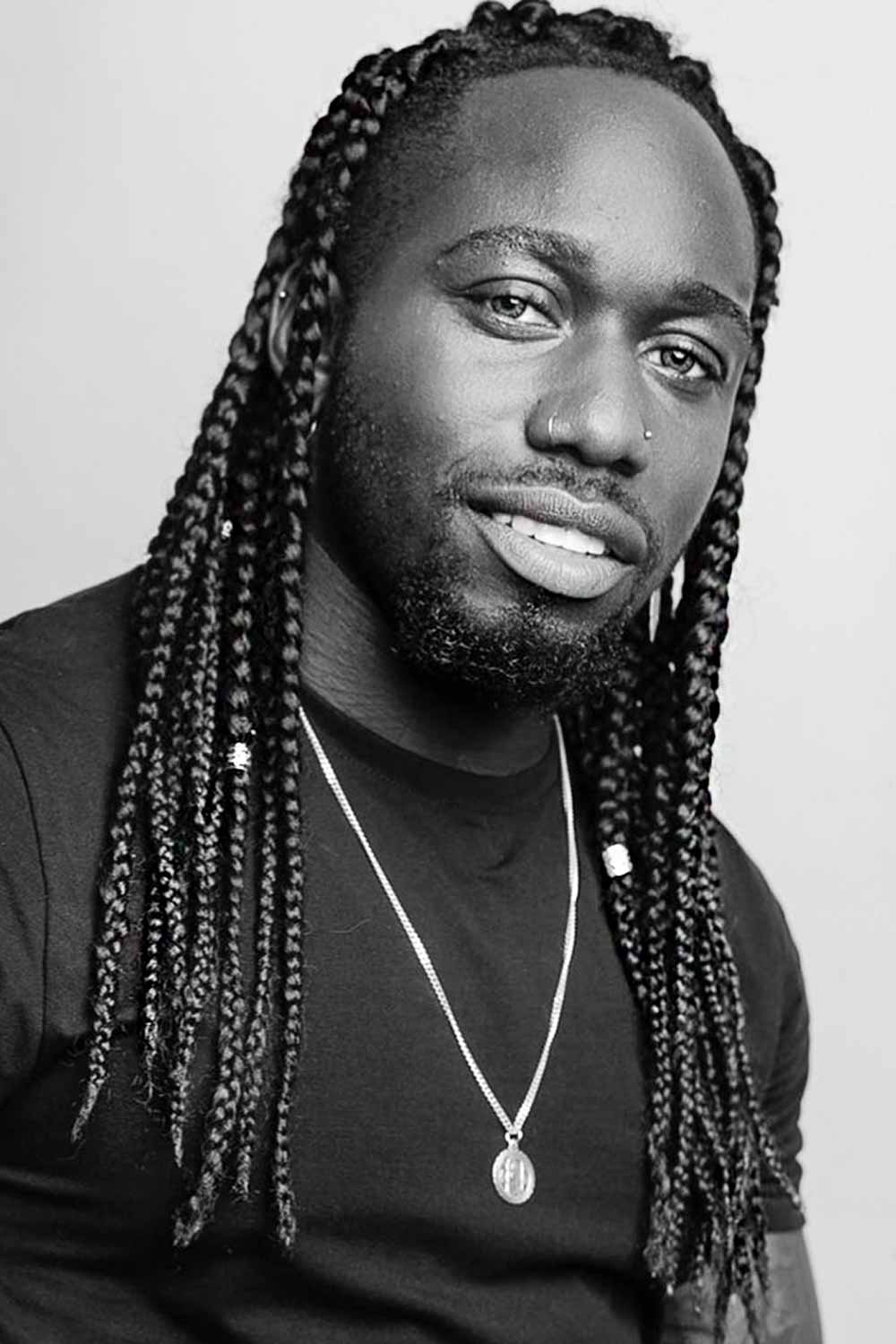 Source: @dynasty_barbers via Instagram
i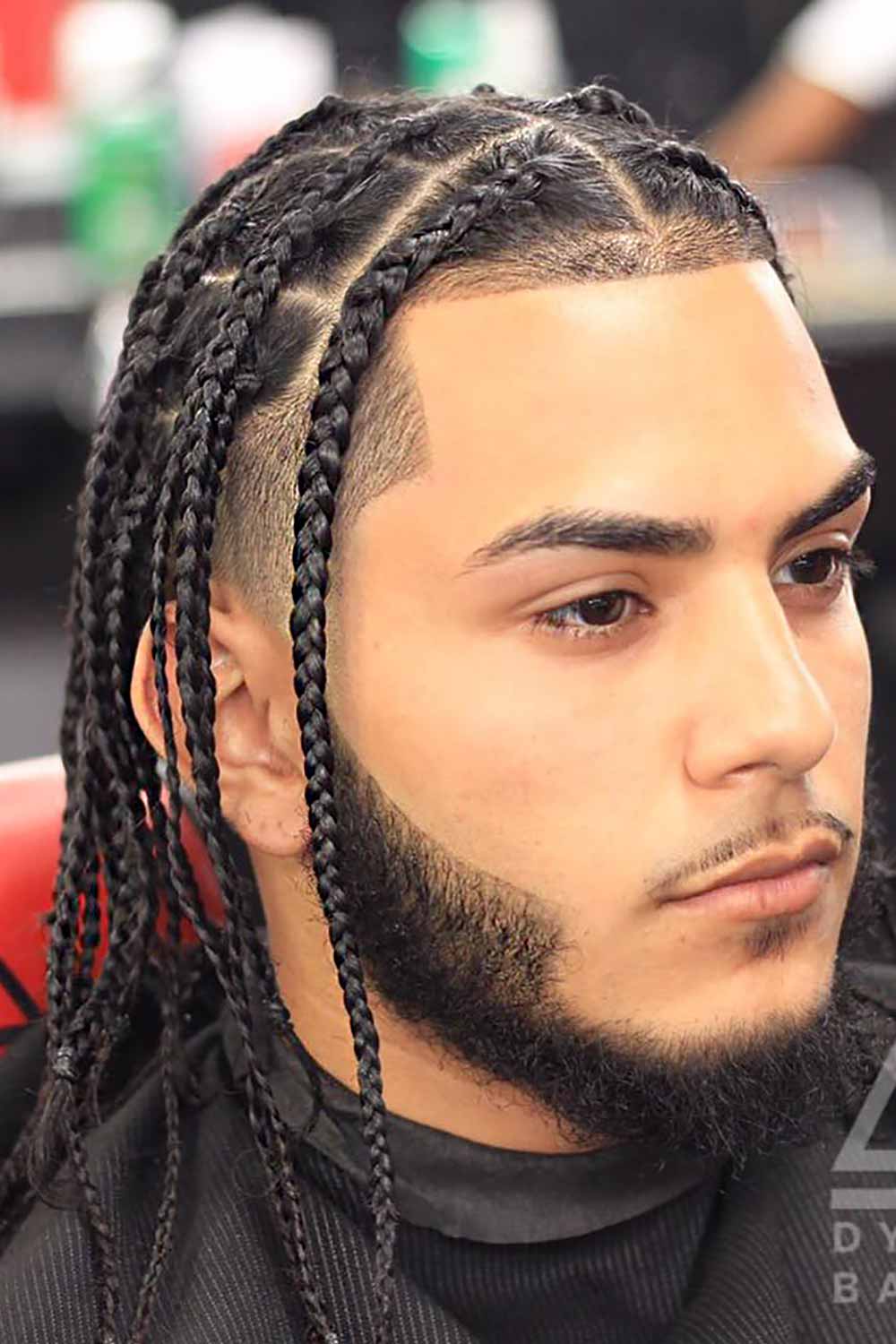 /
Short Box Braids
Not only are short box braids easy to get and maintain but they also look low key, thus being suitable for most situations.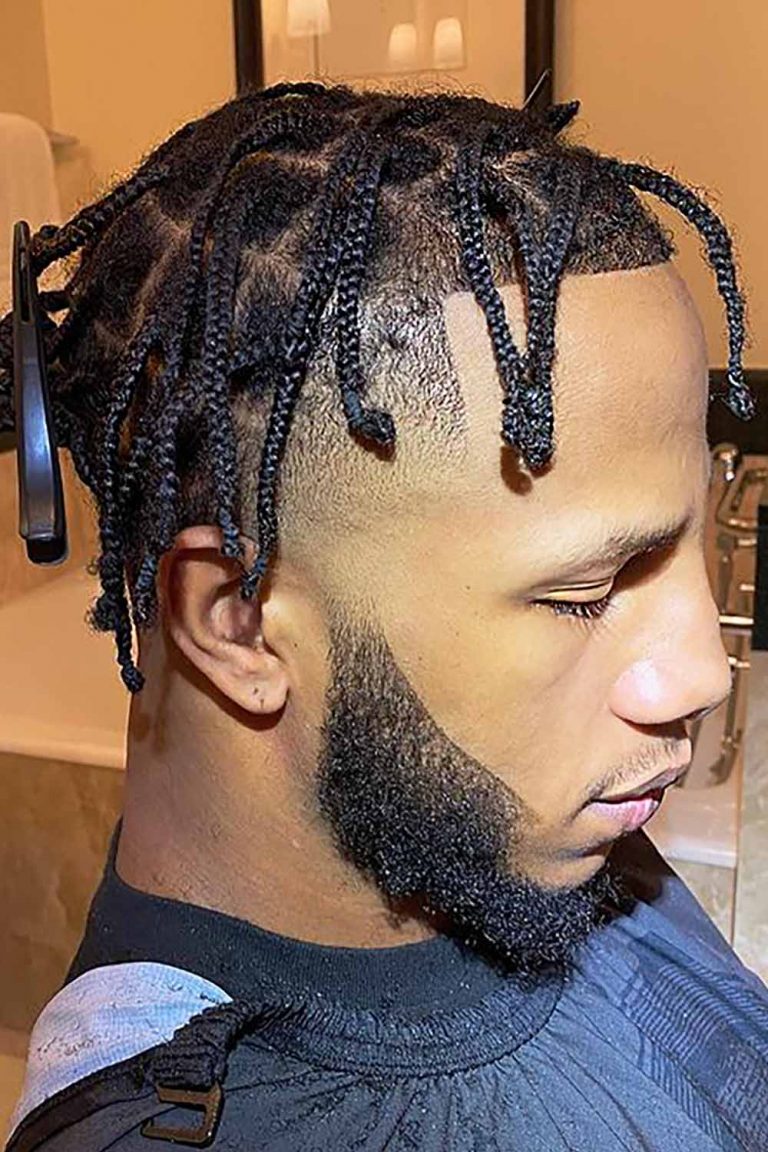 Source: @ledanieljames via Instagram
Thick Box Braid
Thick box braids are not only about a bold look but they also have a practical meaning. They protect black braids men and give it a more defined appearance around the edges of sections.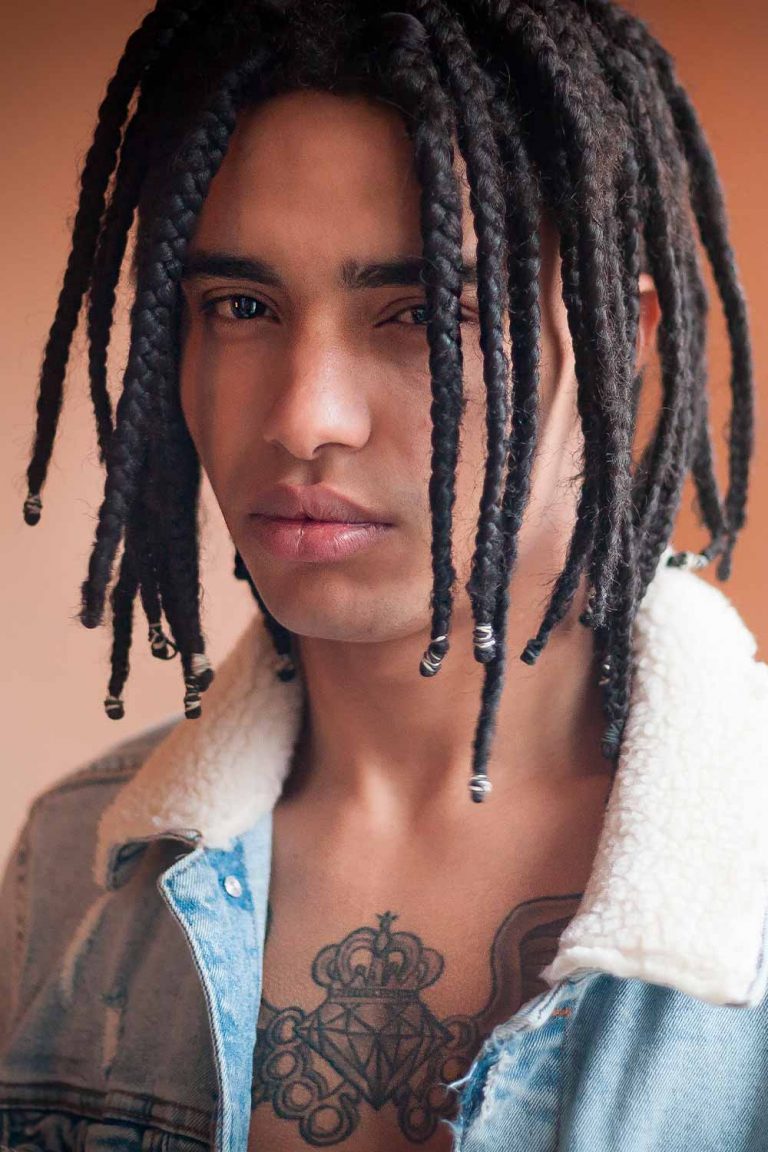 Small Hairstyle
In case you have a bit more time on your hands, consider thin box braids. There is a high chance that you will have to spend the whole day in the braider's chair but the effort is absolutely worth it. Different embellishments, such as beads and rings, turn out awesome on such a hair look.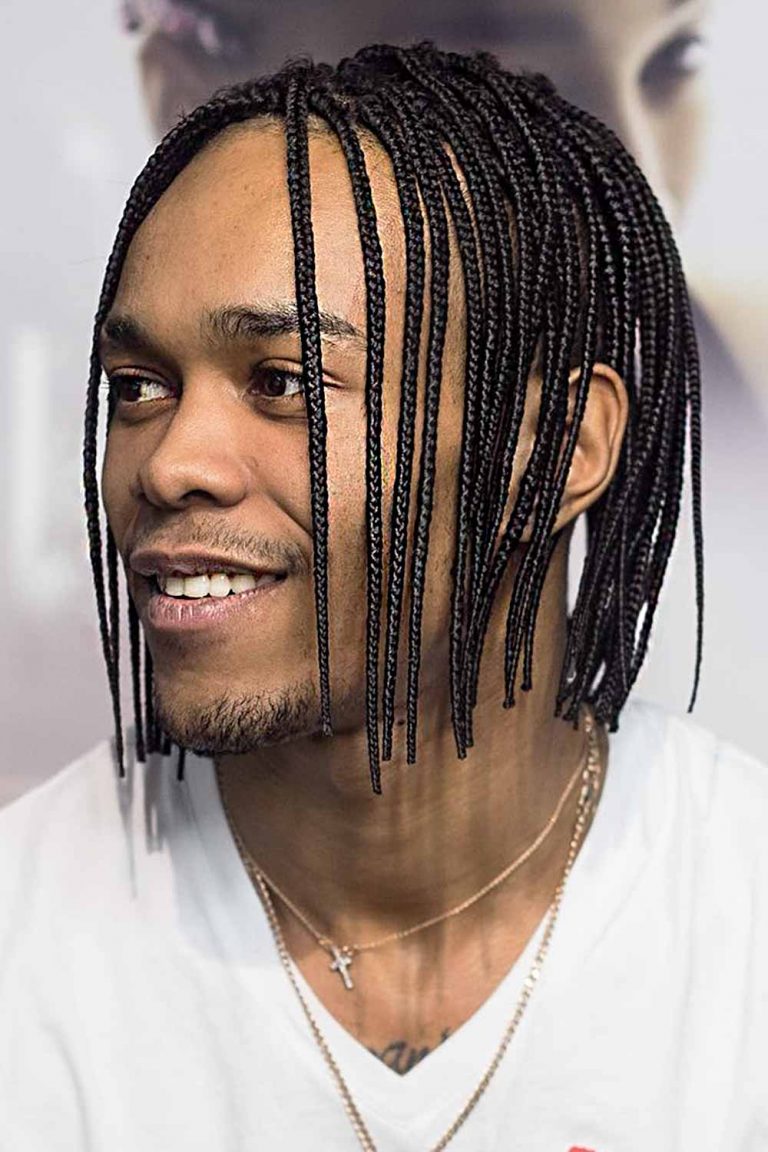 Source: @braidsvolna via Instagram
Box Braids With Beads
Box plaits hairstyles allow for various hair accessories with beads being the most popular. You can choose the size, style, color and even number of beads to match your outfit and the occasion.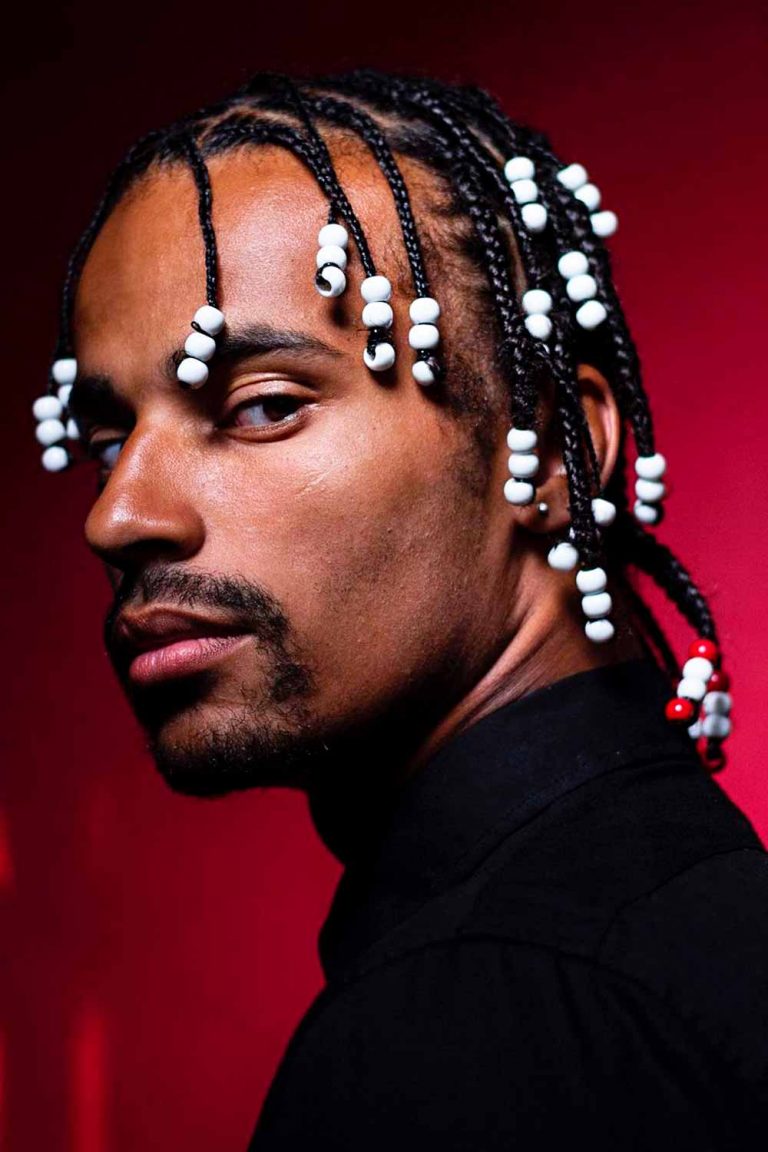 Source: @braidsvolna via Instagram
4 Box Braids Men
When it comes to box braids Black men are offered a plethora of styling variations. In addition to different types of braids and partings, you can play around with the number of braids. The more is not always the better. Sometimes, you should stick to the rule that less is more. As such, four box braids are a failsafe option.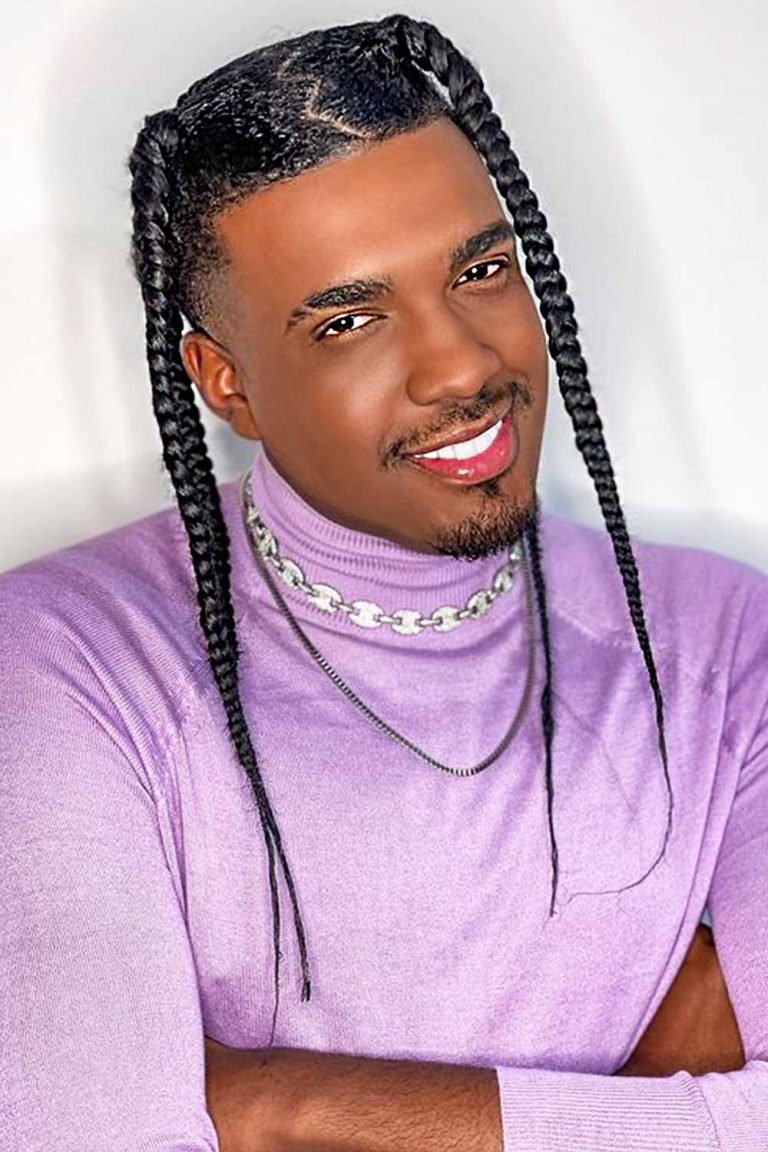 Source: @lucasbraids via Instagram
Thin & Purple Box Braids Men
As we mentioned earlier, braids can be as thin as you wish. However, you can give them a definition by adding a pop of color, such as purple threads, for example.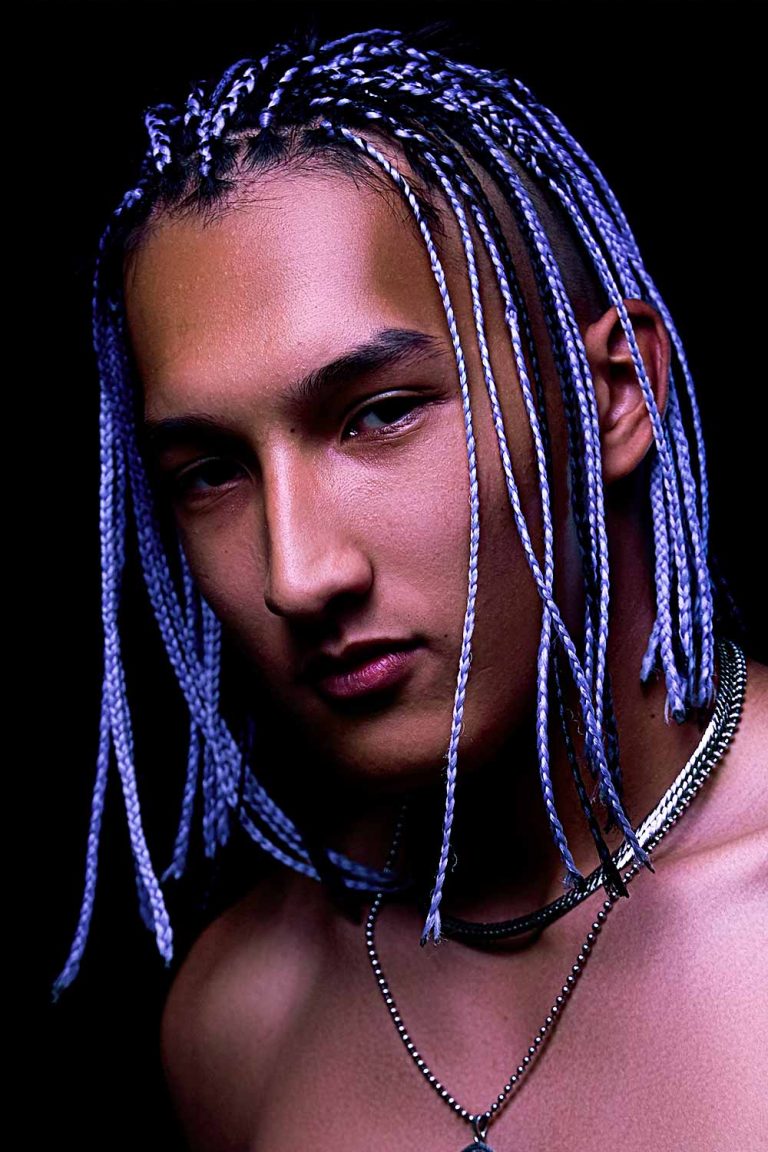 Blonde Men Box Braids
While box braids are most of the time regarded as black men braids, this is not always the case. White men with box braids may look as stylish and trendy as black.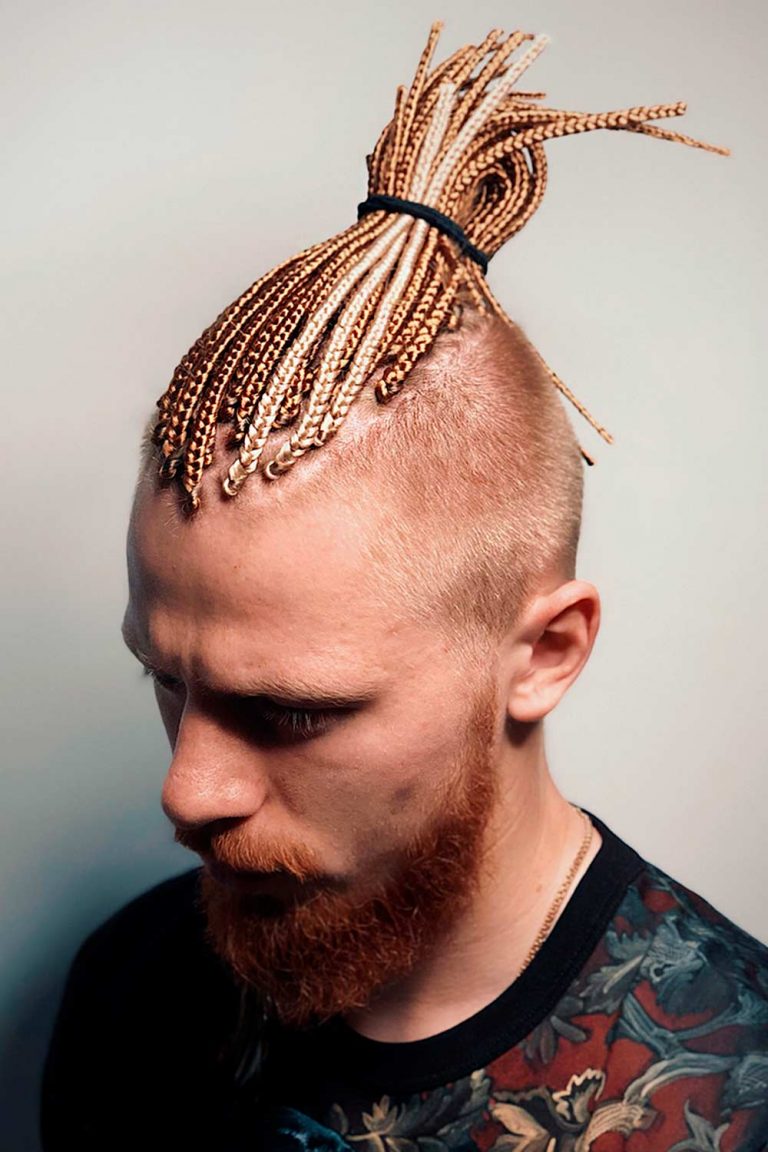 Source: @braidsvolna via Instagram
Medium Box Braids
If you want to channel Travis Scott braids, then you should have mid-length hair. This look offers you a middle ground between short and long braids.
Colored Box Braids
Even though a box braids men style is already very eye-catching, you can enhance its impact by adding blue or yellow strands and adorning them with beads. White guys with box braids look especially cool.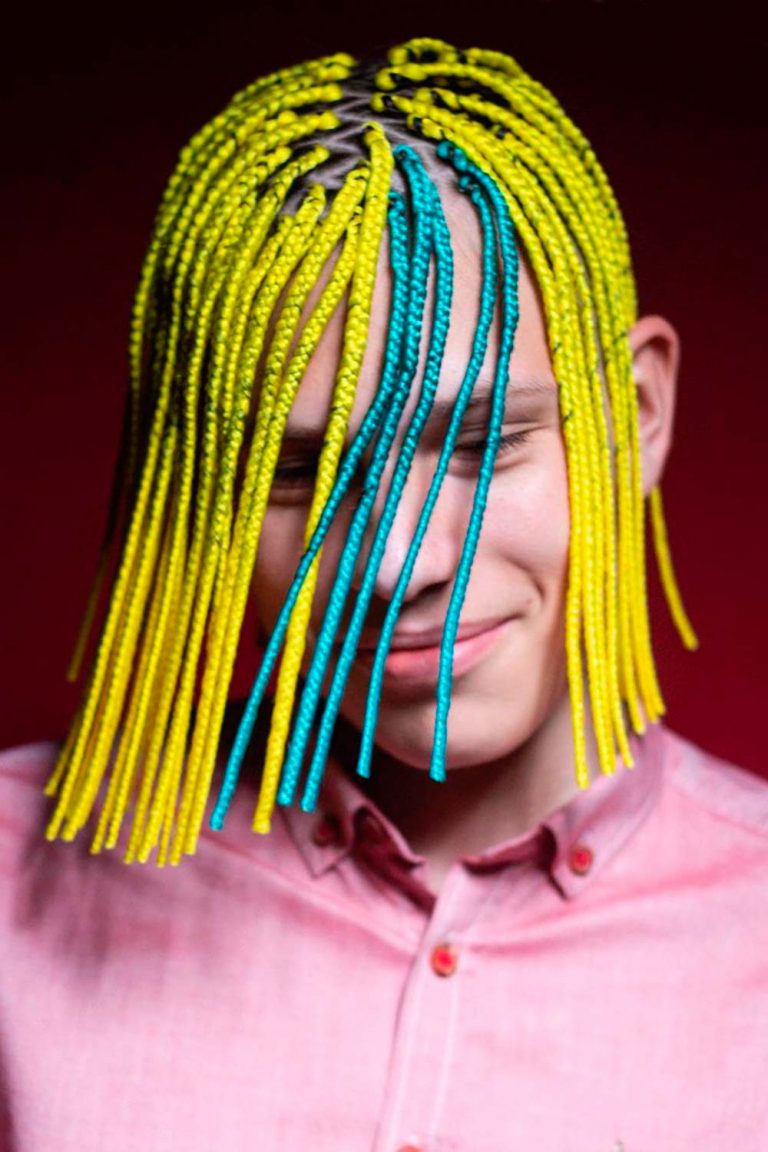 Source: @braidsvolna via Instagram
Twisted Hair
There are plenty of ways to nail box braids, from twisted hairstyles to triangle box braids. You can also combine them in one style.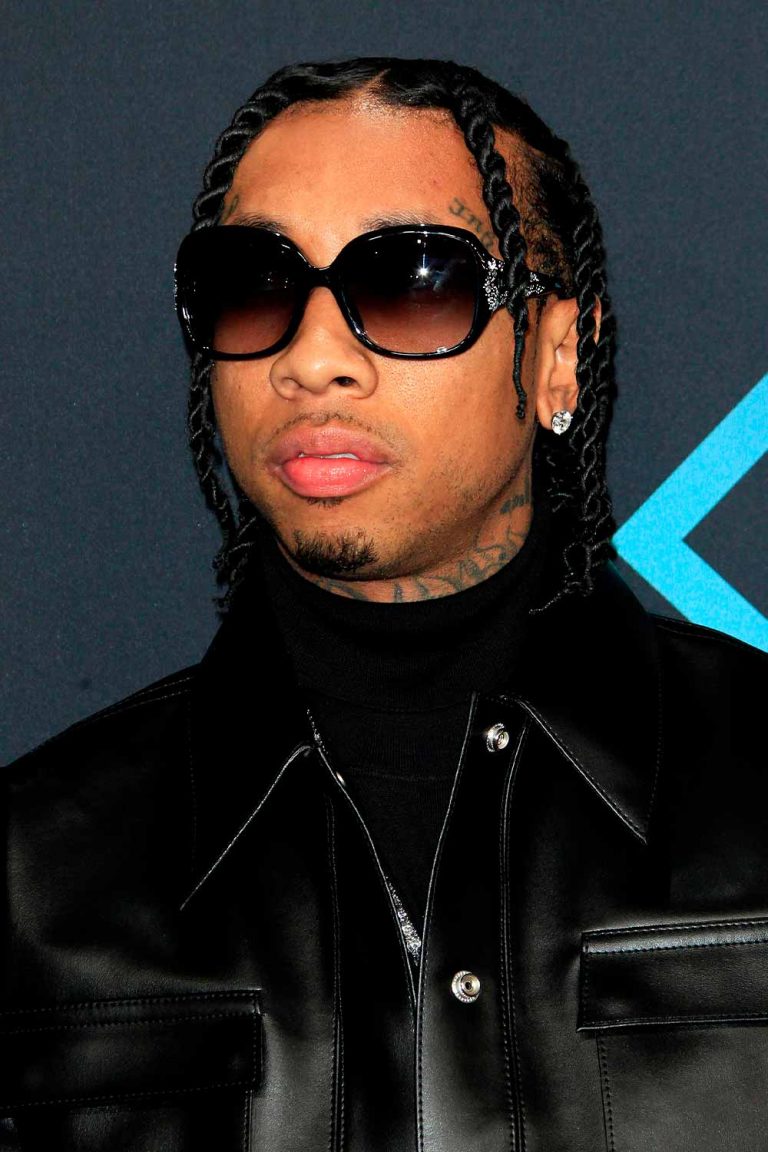 Kathy Hutchins|Shutterstock
Box Braids Man Bun
Bet you did not know that with box braids guys are offered a myriad of styling options. If you want your box hairstyle to be both practical and trendy, you can tie your male box braids into a man bun. While taking the hair away from your face, it creates a fashionable and modern look.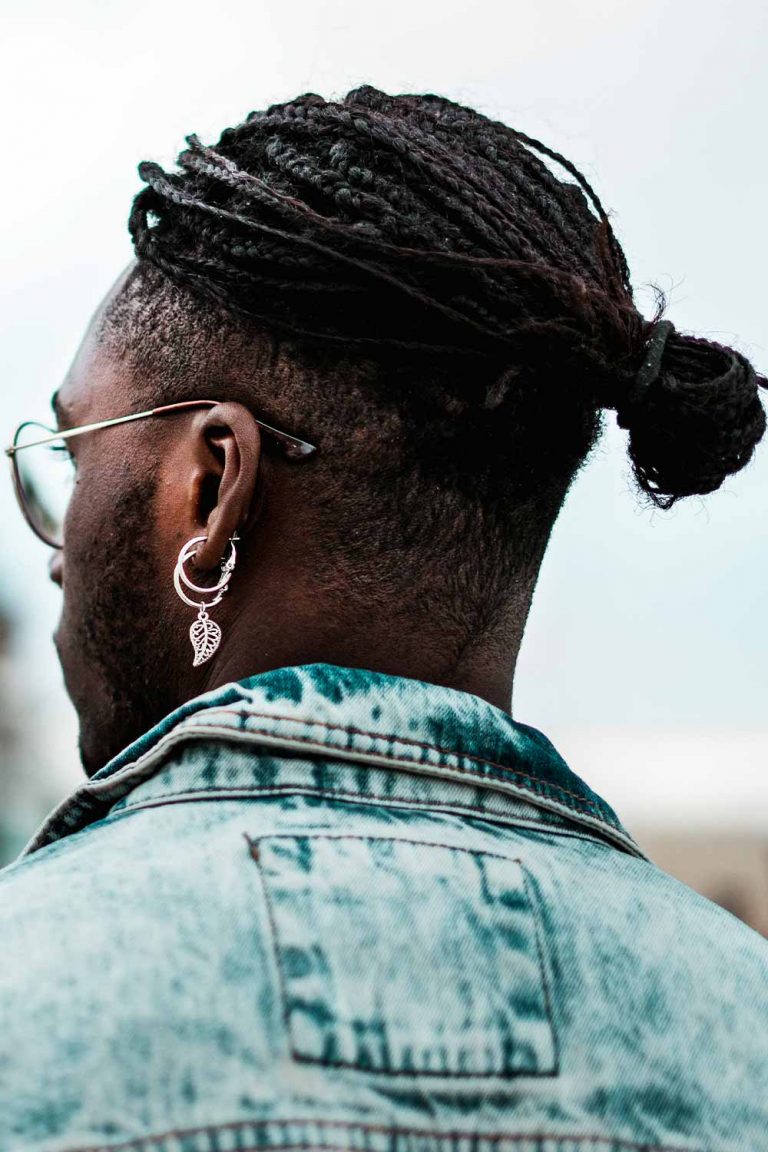 Triangle Braids
Although a box braids men hairstyle implies dividing your hair into square sections, aka boxes, this should not necessarily be the case. You can play around with the pattern, trying other shapes, such as triangles. Not only does a triangle box braids male hairstyle look unique and eye catching, but with the right approach, it will still create boxes on the head.
Source: @lucasbraids via Instagram
i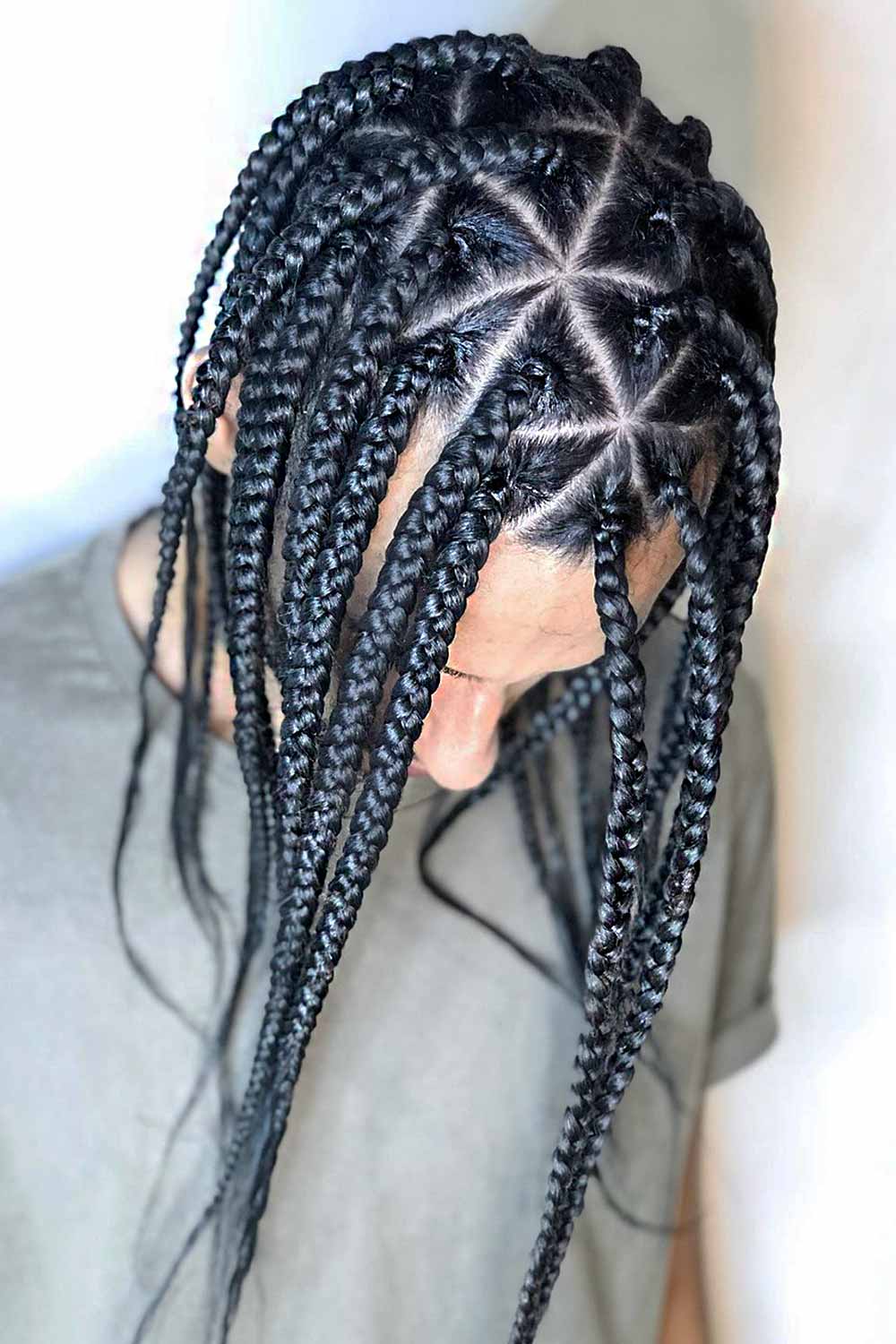 Source: @lucasbraids via Instagram
i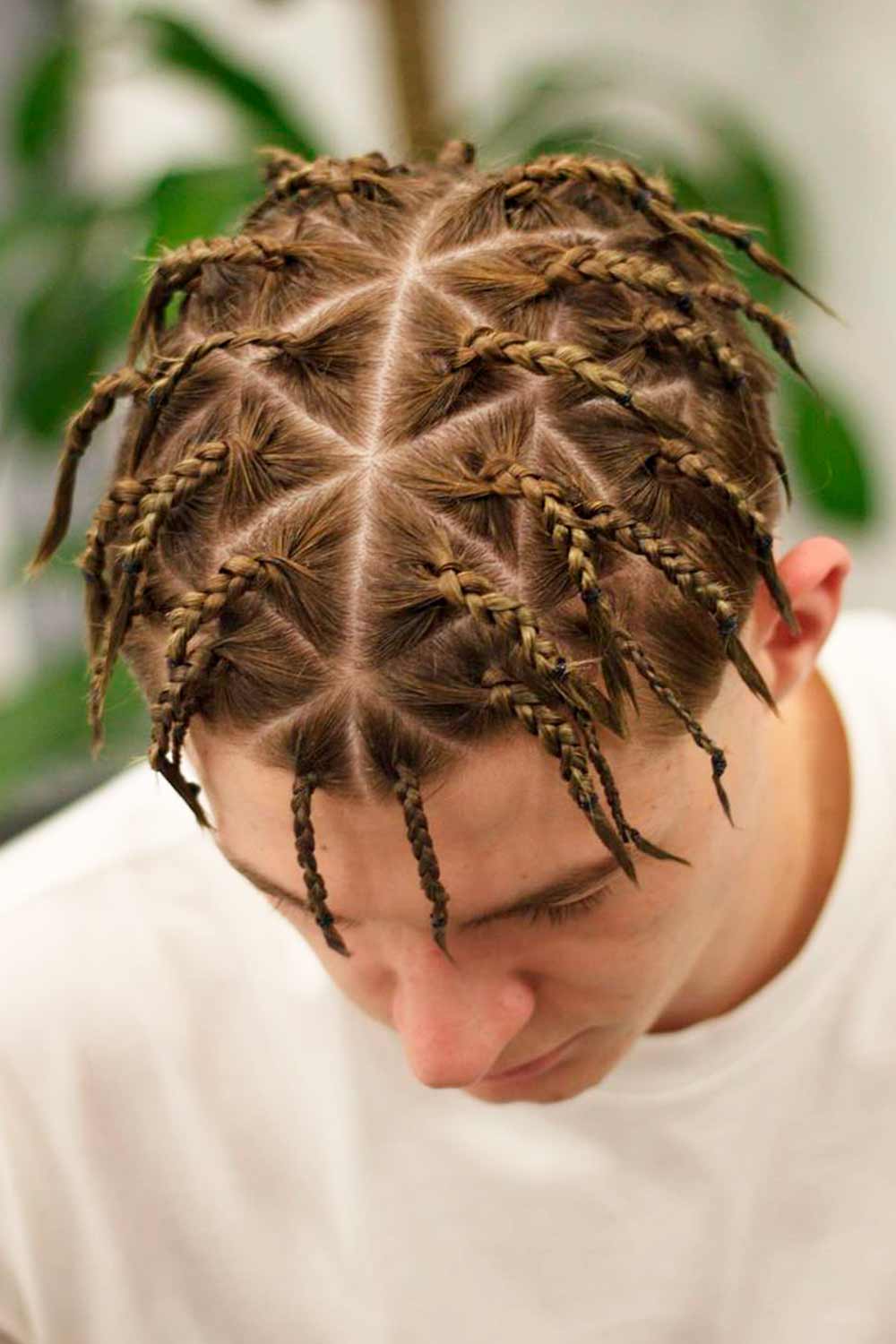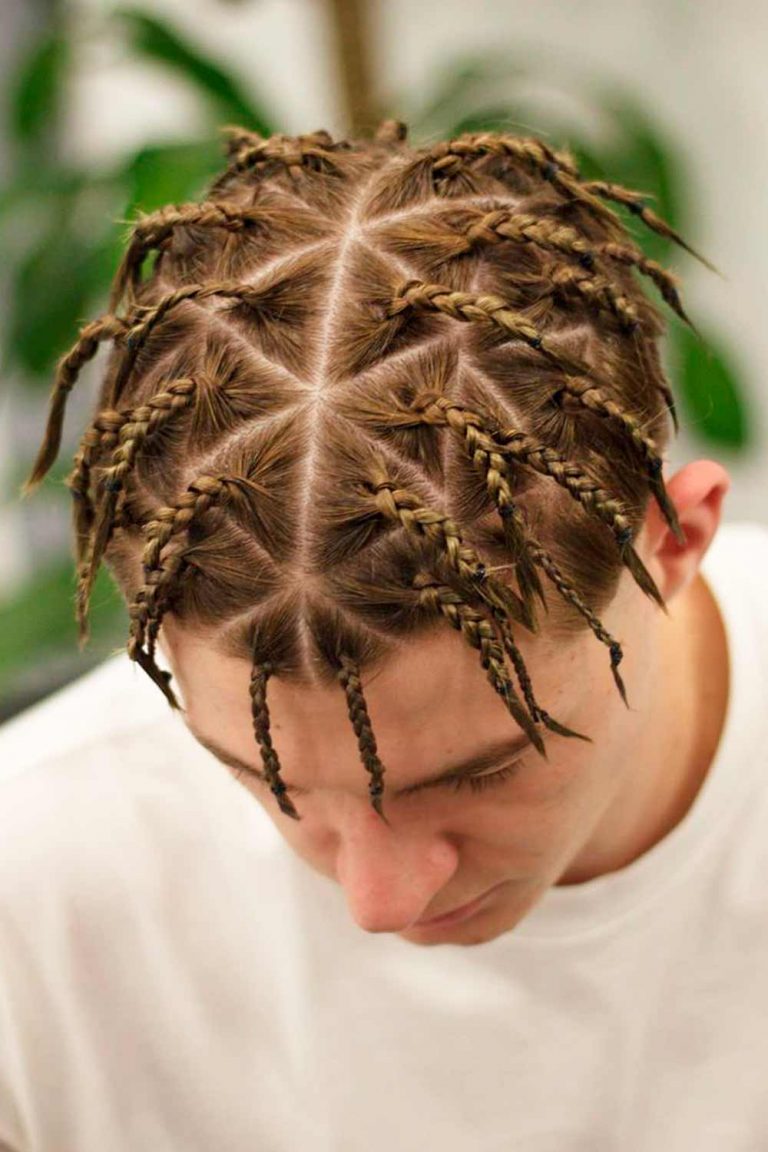 /
Box Braids With Cornrows
If your braider is skillful enough, you can ask them to combine different types of braids in one look. Thus, to complement their box braid men can add cornrows to it. Together, they make up a bold and striking hair look.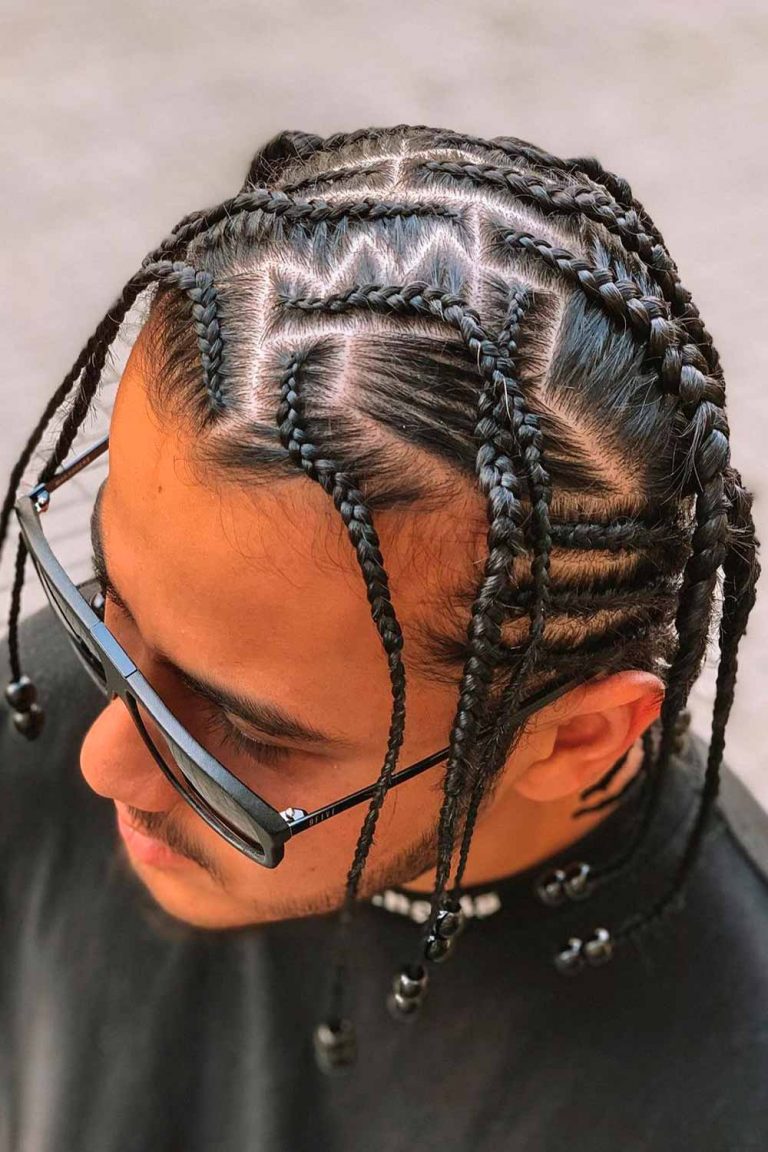 Source: @braidsvolna via Instagram
Box Braids For Boys
Boy box braids do not differ much from man box braids. They are also cool, stylish and fashionable boys long hairstyles. However, you may want to keep the look low key and simple to make sure it abides by the school dress code.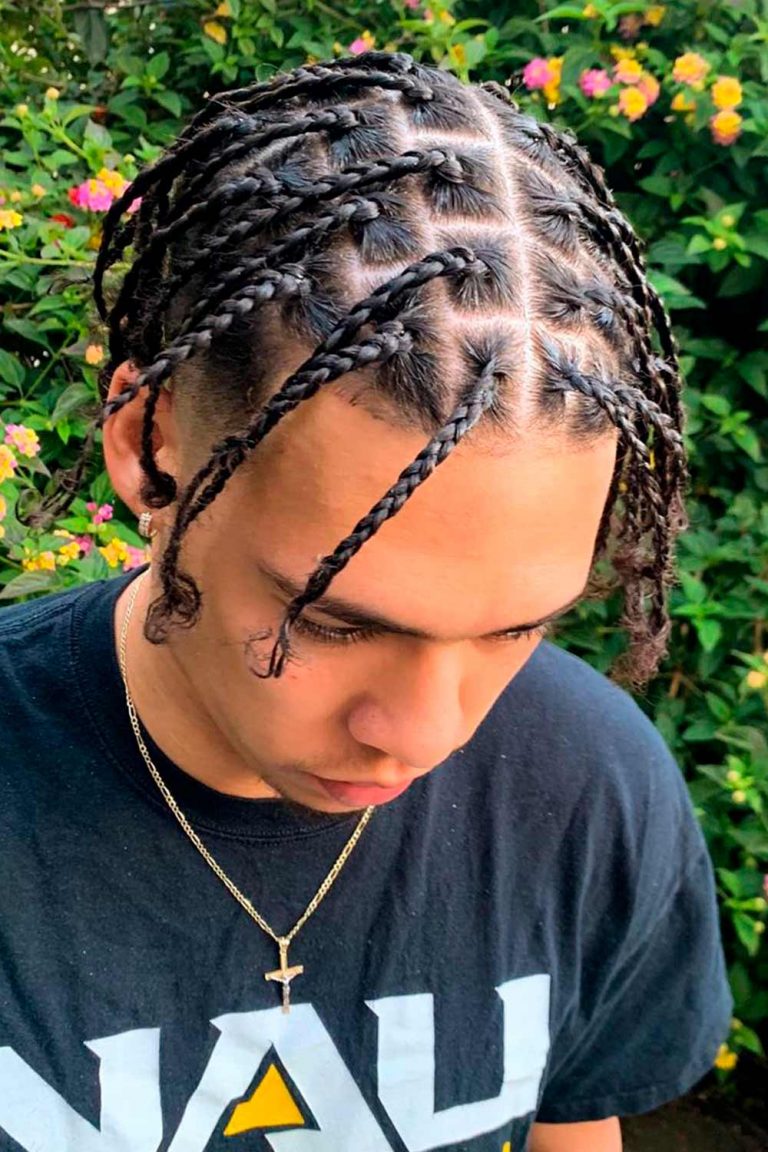 Source: @braidedroots via Instagram
Spider Braids
One of the most unusual takes on a boxes hairstyle is spider braids. The key to success in this look is to divide the hair into equal sections at the beginning and braid it very neatly so that the pattern comes out sharp and crispy.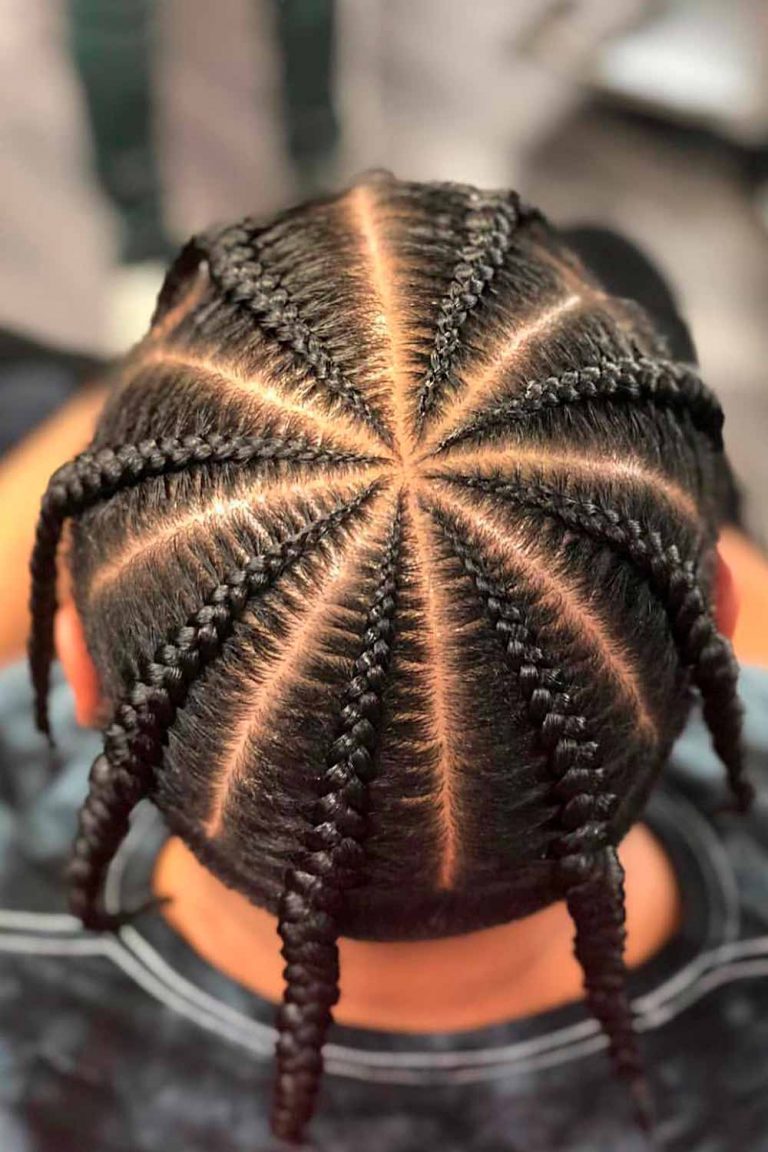 Source: @dynasty_barbers via Instagram
Two Strand Twist Men With Fade
For Black men box braids, you are free to choose any braiding technique. If you are looking for something stylish yet effortless, go for two strand twist. They require less time to create than other mens box braids styles, but the result is still very impactful. To give the hairstyle extra boldness and emphasis, complement it with a fade.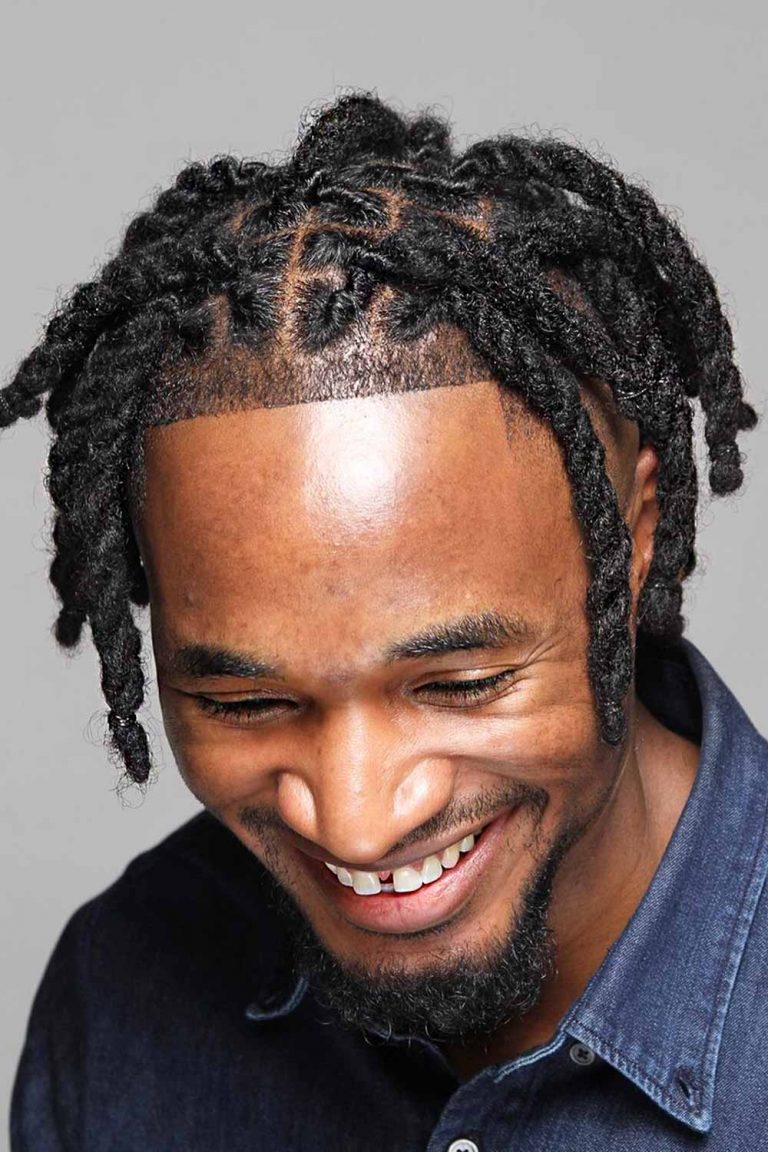 Source: @adrianfanus via Instagram
Big Pop Smoke Braids
For box braids men short hair also works pretty well. Instead of the length, you may put emphasis on their thickness. Big chunky box braids are guaranteed to bring you to the center of attention. Plus, you can get the look relatively fast compared to the majority of other braided hairstyles, including pop smoke braids.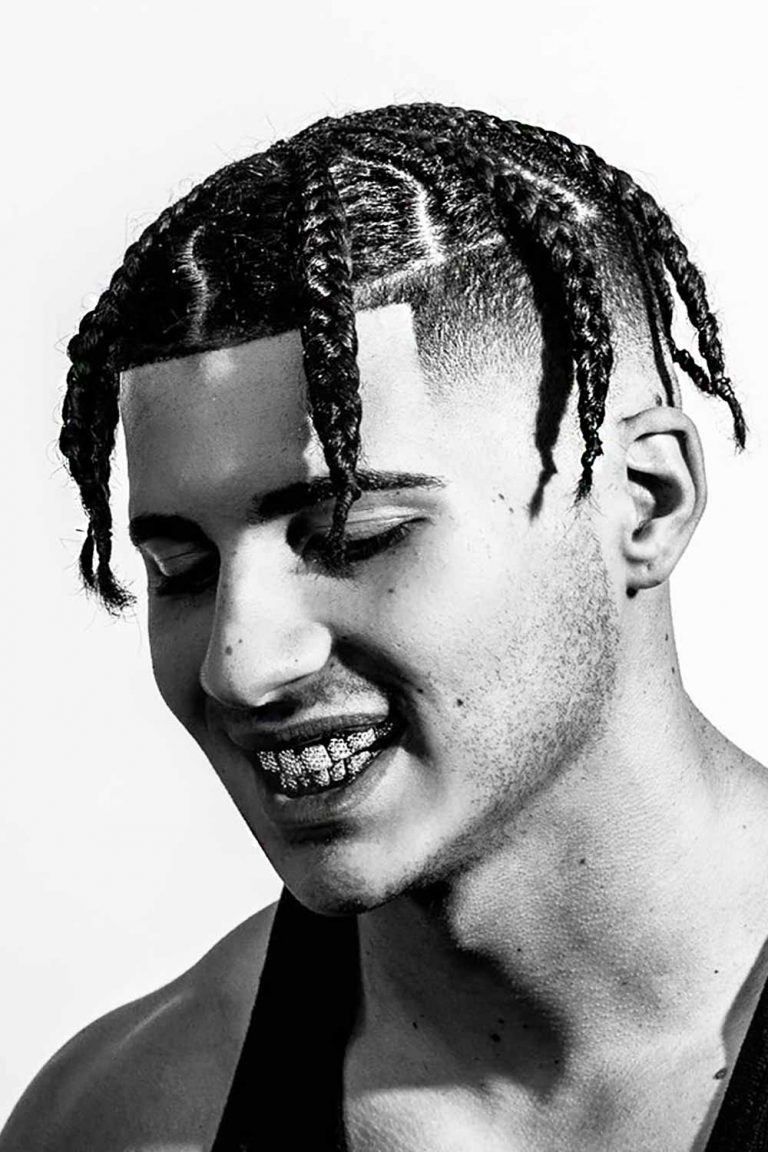 Source: @andyfadepro via Instagram
Geometric Box Braids Men's
Get ready to be in the spotlight with this geometric box braided hairstyle. Your braider should be skilled enough to be able to create such a pattern. However, as it comes out very eye catching and unusual, it will fully pay your off with tons of dropped jaws and envious gazes.
Source: @dynasty_barbers via Instagram
i
Source: @braidedroots via Instagram
i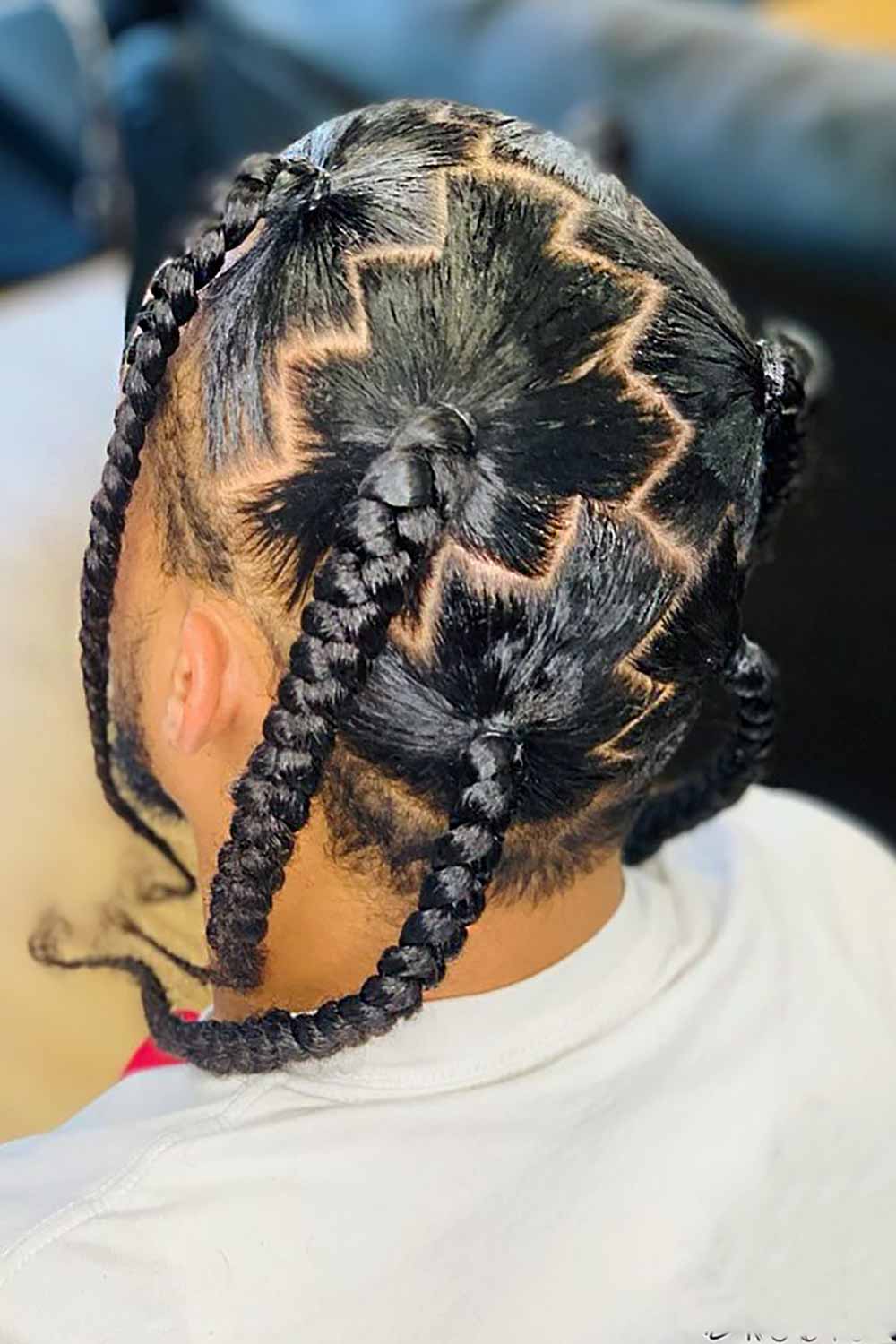 /
Red Box Braids Hairstyles Men
To make them more individual braids men hairstyles can be upgraded in many different ways with a vivid color being one of the easiest. Red box braids will not leave you unnoticed for sure. So, if you want to have all eyes on you, you can never go wrong with this daring hair look.
Source: @braidsvolna via Instagram
i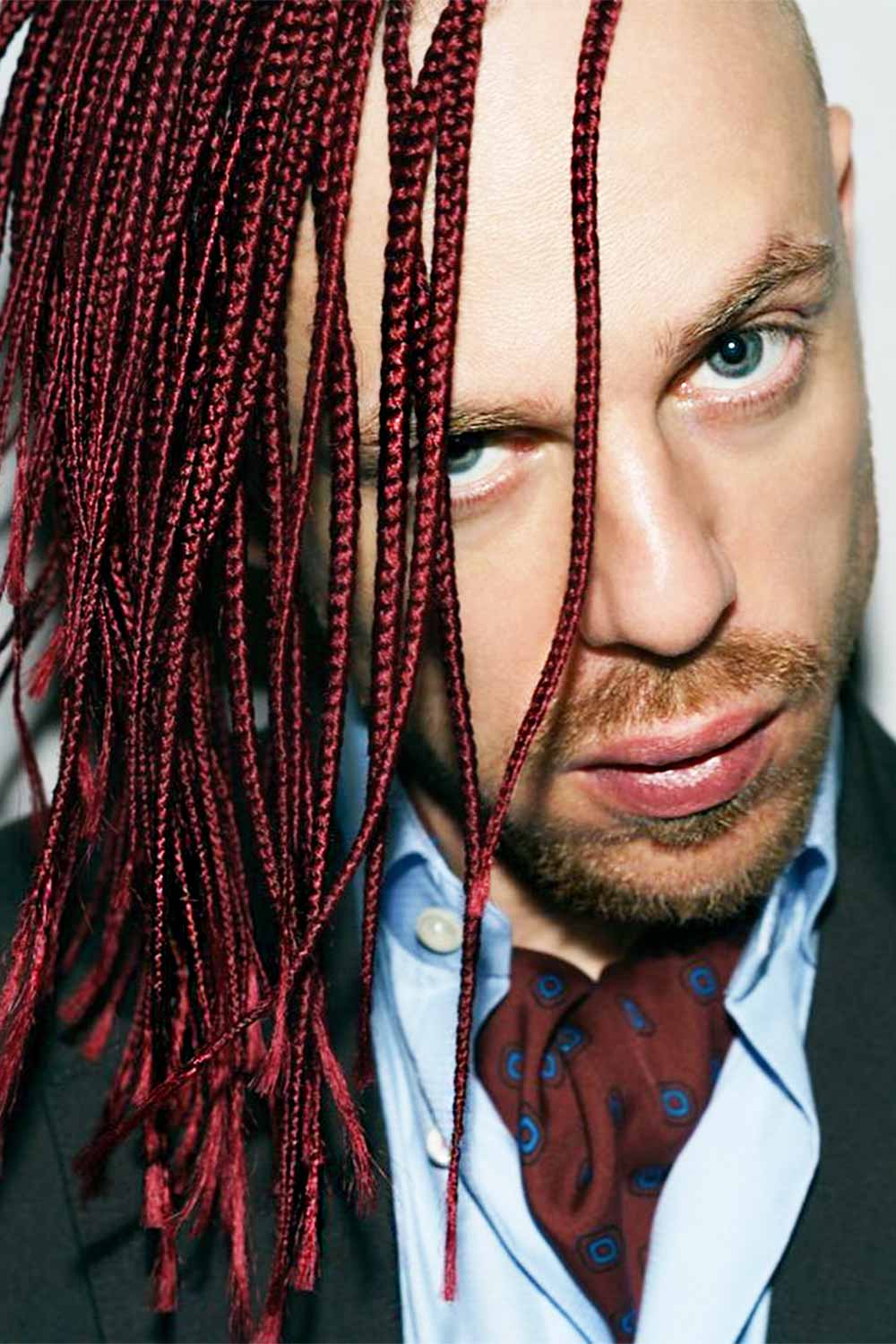 Source: @braidsvolna via Instagram
i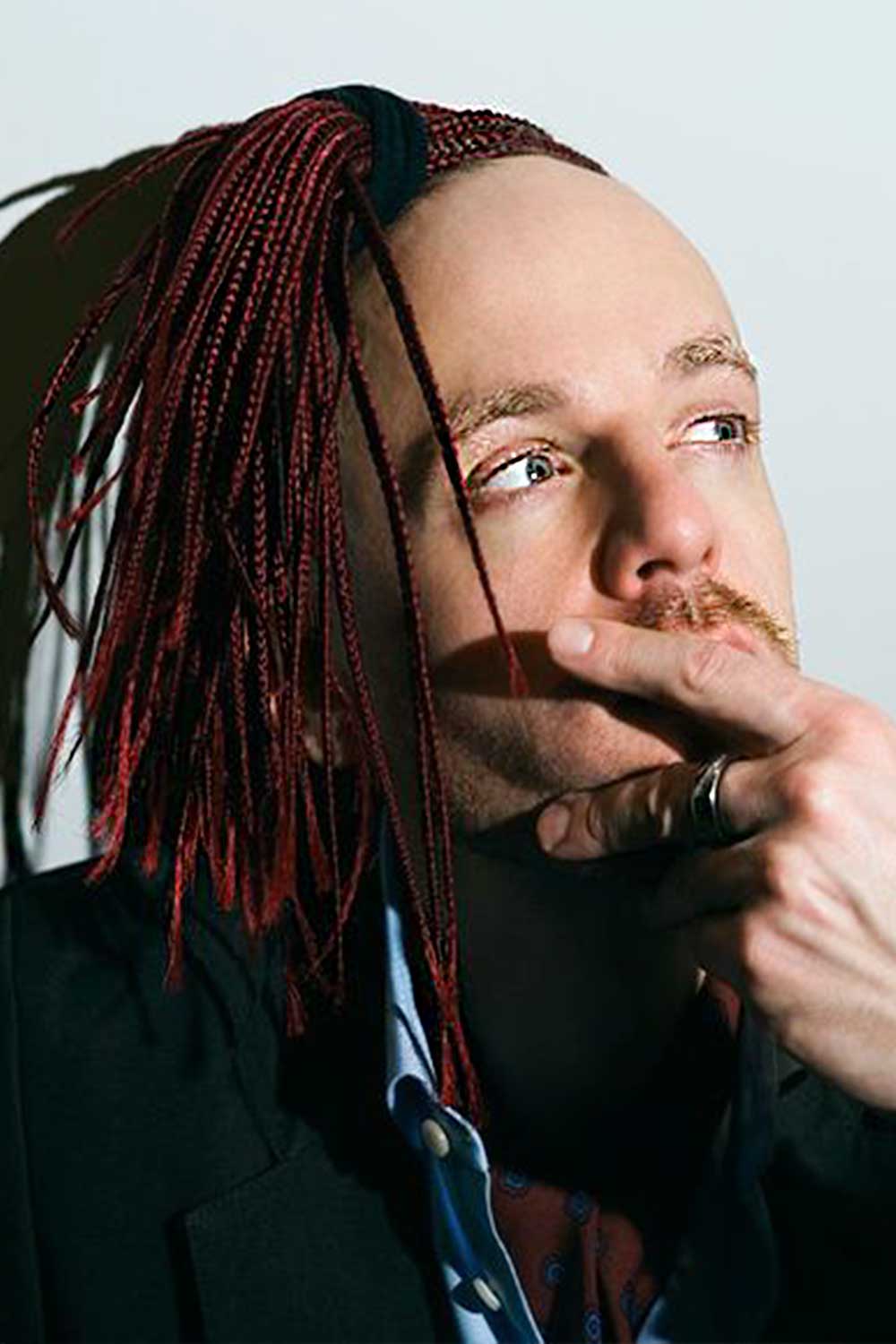 /
Box Braiding Your Hair According To Your Face Shape
When choosing the most suitable box braids styles for your very preferences, it is also important to take the shape of your face into account. Here are all of them broken down for your convenience:
An Oval Face Shape: As an oval face is considered perfectly proportioned, any hairstyle works for it and box braids are no exception.
A Square Face Shape: Men with square faces have a sharp jaw line. Hence, they should get box braids hairstyles that help to enhance it.
A Triangle Face Shape: Those with triangle faces usually possess narrow foreheads and broad jaw lines. Therefore, steer clear of bangs and fringes, choosing box braid styles with pulled back hair instead.
A Diamond Face Shape: If your hairline is narrow and the jaw line is pointed, then it is most likely that you have a diamond face. If this is the case, opt for box braids men hairstyle where the parting is definite.
A Heart Face Shape: Guys with heart shaped faces should take their eyes and cheekbones to the center stage. Thus, large box braids for men with bangs, fringes and voluminous sides are your way to go.
An Oblong Face Shape: So as not to make an oblong face look even longer, choose short and small box braids over long ones.
A Round Face Shape: For round faces, chin and shoulder length box braids are the most complimentary.
Source: @braidsvolna via Instagram
How To Do Male Box Braids
Of course, the most failsafe way of how to do box braids is by entrusting this task to a professional. Yet, as this might turn out a little pricey, our step by step guide may become really handy.
Wash your hair with a shampoo and apply a conditioner.
Allow the hair to air dry.
Eliminate tangles and knots by combing your hair with a comb that has wide teeth.
If you have extremely curly tresses, blow them dry beforehand.
Get a trim in case you have split or uneven ends.
Grab a comb with wide teeth and use it to separate four equal sections of hair.
Rub a moisturizing gel or cream into your hair tips to avoid frizziness.
With a rat tail comb, single out a strand of hair that is 2.5 cm wide. For small or medium sized box braids, this measurement should equal 1.3 cm, while for big box braids, it should be 5.1 cm.
Start braiding the section of hair from the top, attaching a synthetic strand to it.
Tie the end of your braid with an elastic band.
Should there be any flyaway hairs, trim them off with scissors.
Immerse the ends into hot water to seal them.
FAQs
How long does your hair have to be to get box braids for guys?
To get box braids for men, your hair should be at least 3-4 inches long.
How long are box braids supposed to last?
How long do box braids last depends on how well you maintain them. Yet, ideally, you should not leave your boxed braids in for more than 6-8 weeks.
How do guys take care of box braids?
To ensure box braids on men last as long as possible, they should stick to the following routine:
1. Apply a hydrating leave-in conditioner to your box braids every morning.
2. Follow up with rubbing a blob of coconut oil into the braids and scalp.
3. Wash your box braid hair once a week with a special solution consisting of shampoo and water mixed together in a spray bottle.
What are box braids for men?
Men box braids are a kind of hairstyle where you divide your hair into equal square areas and braid them adding synthetic strands.
How much does box braids cost?
Prices for box braid hairstyles may vary depending on the length of your hair and the complexity of the look. Generally, they range from $160 for short box braids to $220 for long box braids.
What should I do to my hair before getting braids?
Prior to getting a box braids style, you need to cleanse and condition your hair deeply, then cut off any split ends and eliminate knots and finally, find a hair stylist that knows well how to box braid.
How can I sleep with box braids and not ruin them?
To keep intact their box braids men should follow the next tips:
– Switch your satin or cotton pillowcases and sheets to silk ones.
– Moisturize your hair before going to bed with a leave-in conditioner in spray or water.
– Do not use heavy hair oil, cream or butter very often.
– Gather your hair and put a silk head wrap around it.
REFERENCES:
Box braids are a type of hair-braiding style that is predominantly popular amongst the African diaspora. Source
Read more about Braid from Allure, and discover new ideas, makeup looks, skin-care advice, the best beauty products, tips, and trends. Source